Driver Tracking – How to Track Delivery Drivers on Routes
Driver tracking, GPS tracking, and fleet tracking are among the most essential logistics processes of any delivery business – be it a small courier startup or large enterprise last mile carriers such as UPS, FedEx, and DHL. Gathering and analyzing fleet performance metrics and performance indicators for drivers will offer you valuable insights into what works the best for your unique business and what doesn't.
Table of Contents
What Is Driver Tracking?
Driver tracking is also known as last mile carrier tracking and can refer to two types of tracking: driver tracking for customers and driver tracking for carriers.
Driver tracking for customers enables customers to track and trace their package delivery. On the other hand, driver tracking for carriers offers delivery businesses full visibility into their logistics operations.
Ideally, delivery businesses should aim to leverage both GPS tracking types. To help carriers achieve this, delivery management software should offer features and capabilities such as:
| Driver Tracking for Customers | Driver Tracking for Delivery Managers |
| --- | --- |
| Branded tracking page or customer portal | Reports with driver performance metrics |
| Automatic customer delivery alerts and notifications | Route deviation notifications and fraud detection |
| Live driver or order tracking on map | Live driver and order tracking on map |
| Give paperless proof of delivery (POD) | Collect paperless proof of delivery (POD) |
| Communication with drivers | Live communication with drivers |
| Improvement of customer satisfaction | Identification of underperforming drivers |
How to Leverage Driver Tracking Successfully
To leverage driver tracking, you will need more than just watching your drivers on a map. Tracking drivers is only a small part of making your operation more efficient. You'll also need:
Here's how to track your delivery drivers successfully using delivery management software in 6 easy steps:
1. Implement Delivery Management Software With Driver Tracking Features
It's a given: the first step to track delivery drivers efficiently is to implement delivery management software that offers the features and capabilities you need to grow your business and become more customer-centric.
Route4Me route optimization software for deliveries has an extensive features catalog that can accommodate any routing scenario – no matter how specific. Moreover, Route4Me offers you the possibility to customize your routing solution and only pay for the features you need.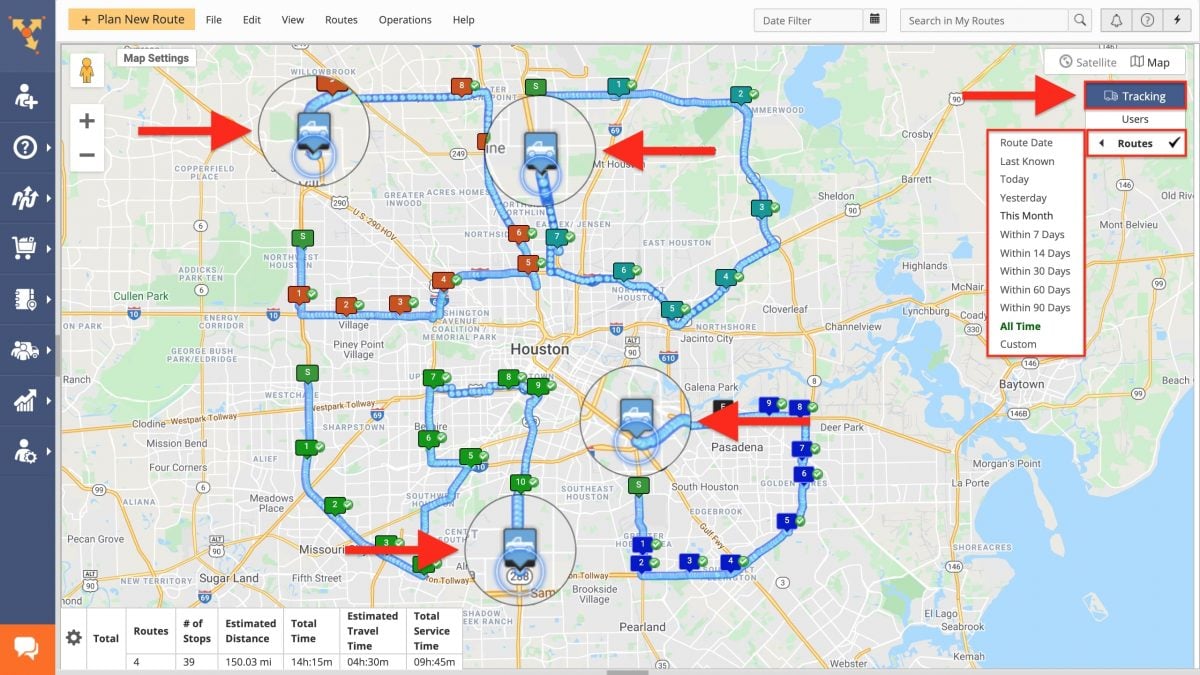 2. Create Profiles for Your Delivery Drivers on the Route Planner
To be able to output driver performance metrics and dispatch routes easily, you have to create an organizational structure with all your team members on your delivery management solution. This way, you will be able to assign clear responsibilities and have a better overview of who does what and how well they do it.
With Route4Me, you can create profiles for route planners, dispatchers, delivery drivers, delivery managers, and analysts. Alternatively, you can import drivers in bulk using Bulk Driver Import.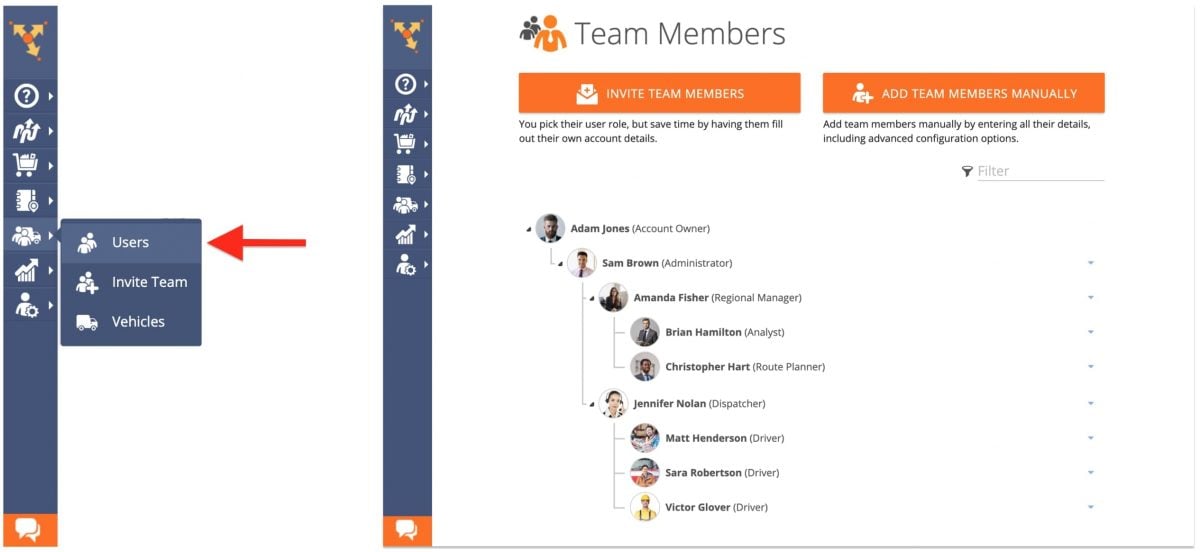 3. Import Delivery Information from Your CRM or eCommerce Platform
Next, sync your CRM contacts or import your customers' delivery information from your eCommerce platform. You can integrate Route4Me with HubSpot, Zoho, Pipedrive, Salesforce, Magento, Shopify, BigCommerce, WooCommerce, and more! Furthermore, you can choose to import your addresses from: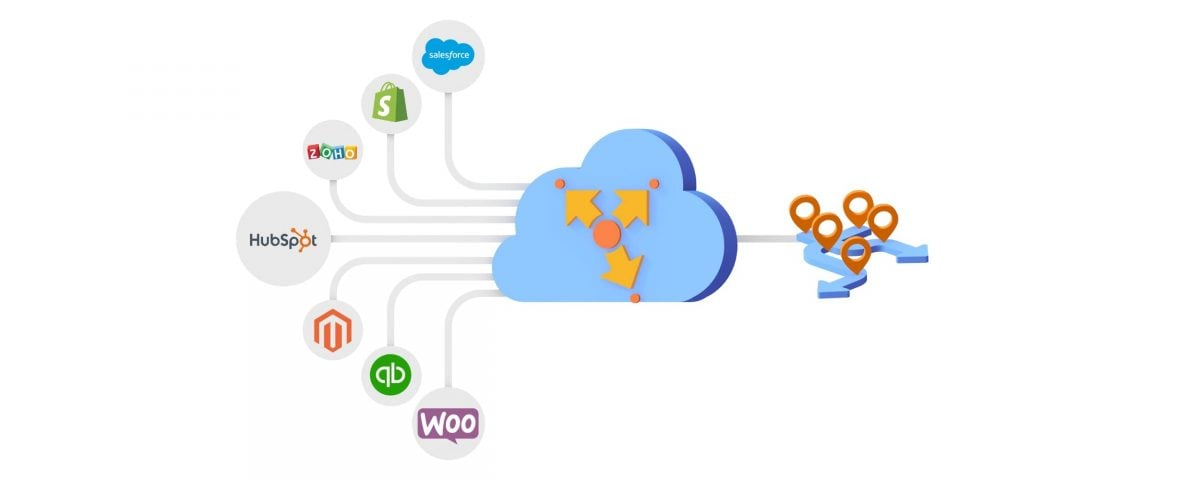 4. Create Delivery Routes With Multiple Stops and Optimization Constraints
As soon as you have your contacts synced, you can start mapping your customers' addresses. With Route4Me, you can either choose to plan and optimize a delivery route with no route optimization constraints or add business rules and fine-tune a route as per your specific needs, such as: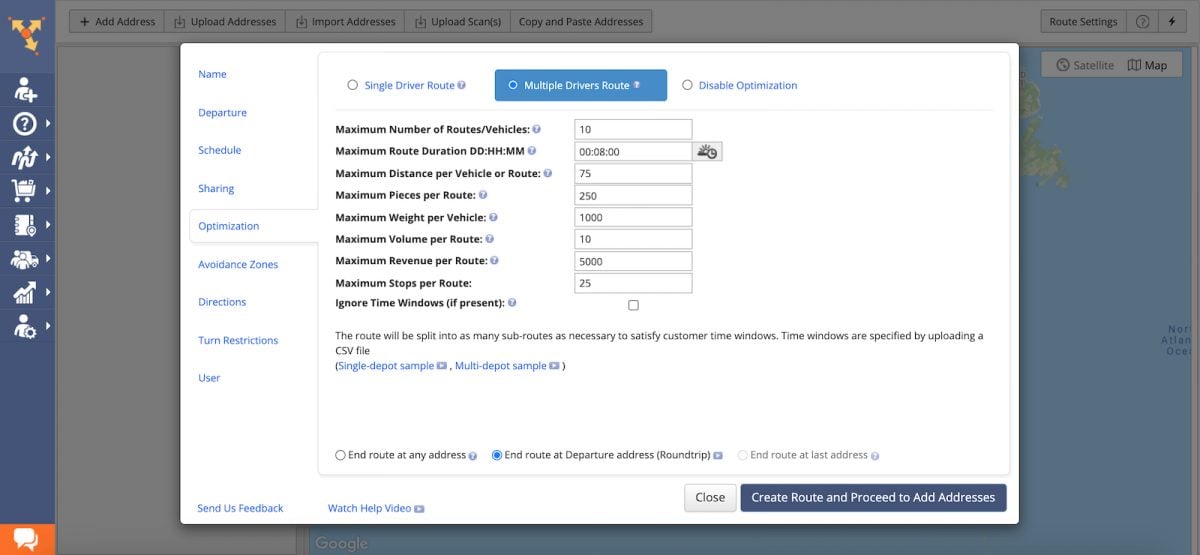 5. Dispatch the Routes to Delivery Driver Apps
After your routes are ready, you can assign drivers to routes. Route4Me allows you to send routes straight to your drivers' iOS or Android route planner apps.
The Route4Me route planner apps are equipped with voice navigation. Since drivers don't have to focus on their maps and will be less distracted behind the wheel, voice GPS navigation promotes driver safety and comfort. Other features and capabilities of the Route4Me route planner for delivery drivers include:
Marking stops as visited and departed
Live traffic map layers
Avoiding highways and toll roads
Paperless POD and Sign on Glass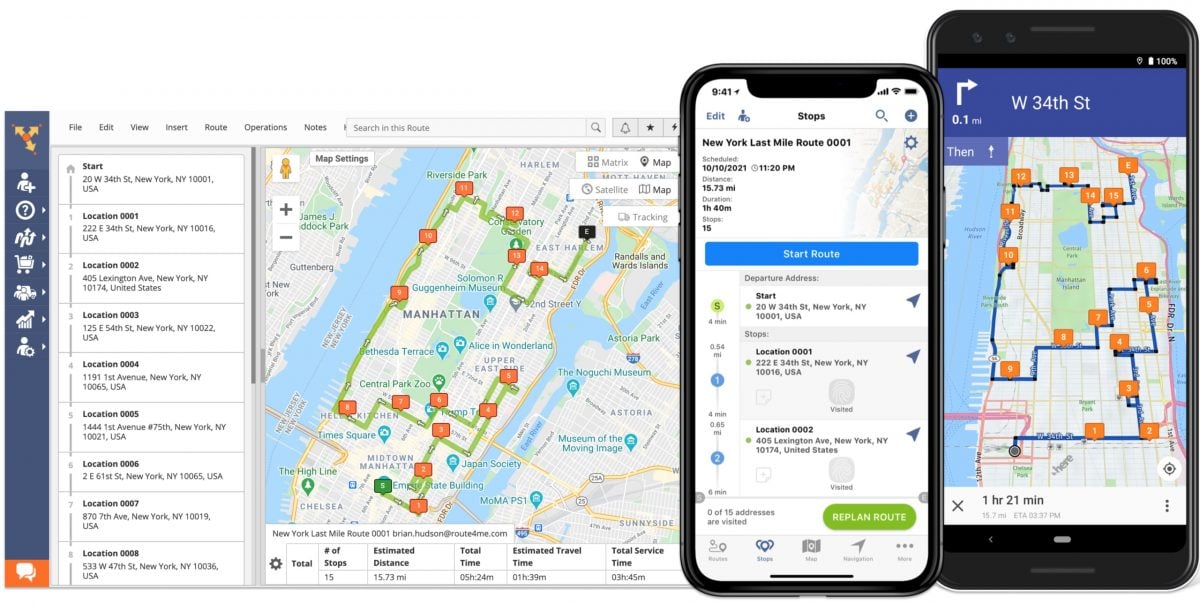 6. Start Driver Tracking on a Live Map
As soon as your drivers start navigating the dispatched routes on their route planner apps, you can track route progress on a live map. With Route4Me, you can also watch an animated tracking history video with drivers servicing stops on a map after they've completed the routes.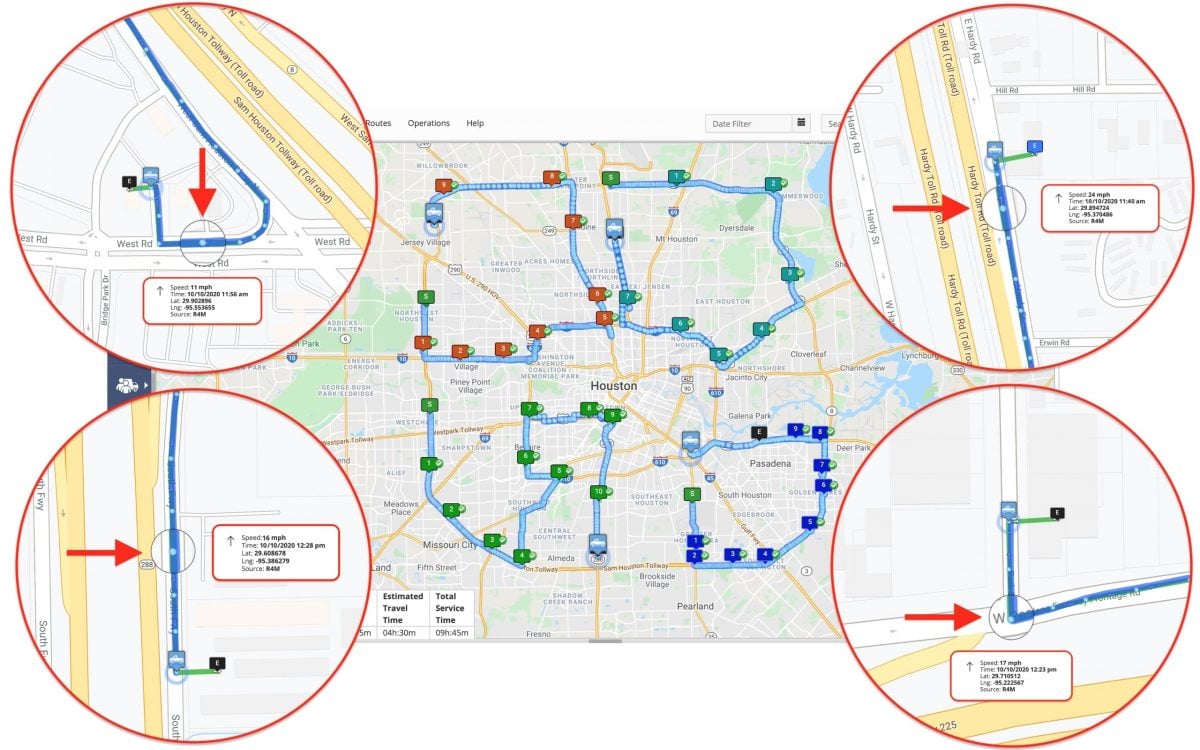 7. Collect Paperless POD
To improve operational accountability and stay compliant with delivery confirmation requirements and regulations, you should consider switching from paper POD tickets to paperless proof of delivery. This way, you'll have to invest less time in scanning or filing proof of delivery documents.
With the Route4Me route planner app, you can enable mandatory POD capturing. This feature will help you ensure that you have electronic proof of delivery for each completed delivery service. Moreover, Route4Me makes drivers' jobs easier by enabling them to collect POD in different file formats, including voice recordings, videos, images, Sign on Glass electronic signatures, and text.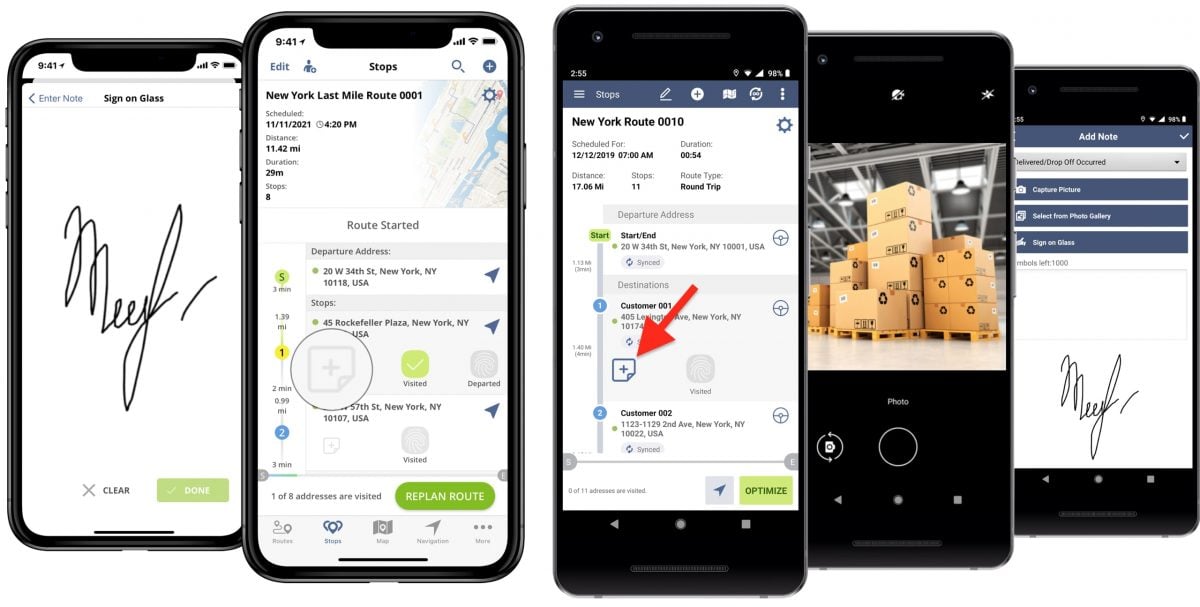 8. Analyze Driver Performance and Driver Tracking KPIs
Finally, all that's left to do is analyze the data gathered by your delivery management system. Route4Me collects and interprets driver performance KPIs relevant to your business. Among the fleet KPI metrics and key performance indicators for drivers included in the Route4Me reports, you can check:
Total number of planned routes
Total number of stops
Planned vs. actual distance
Planned vs. actual visited stops
The number of ePOD files collected
And more!
To have more control over your entire delivery service and ensure your route planning efforts pay off, the Route4Me delivery management system allows you to identify any route deviation and unauthorized idling in near real-time.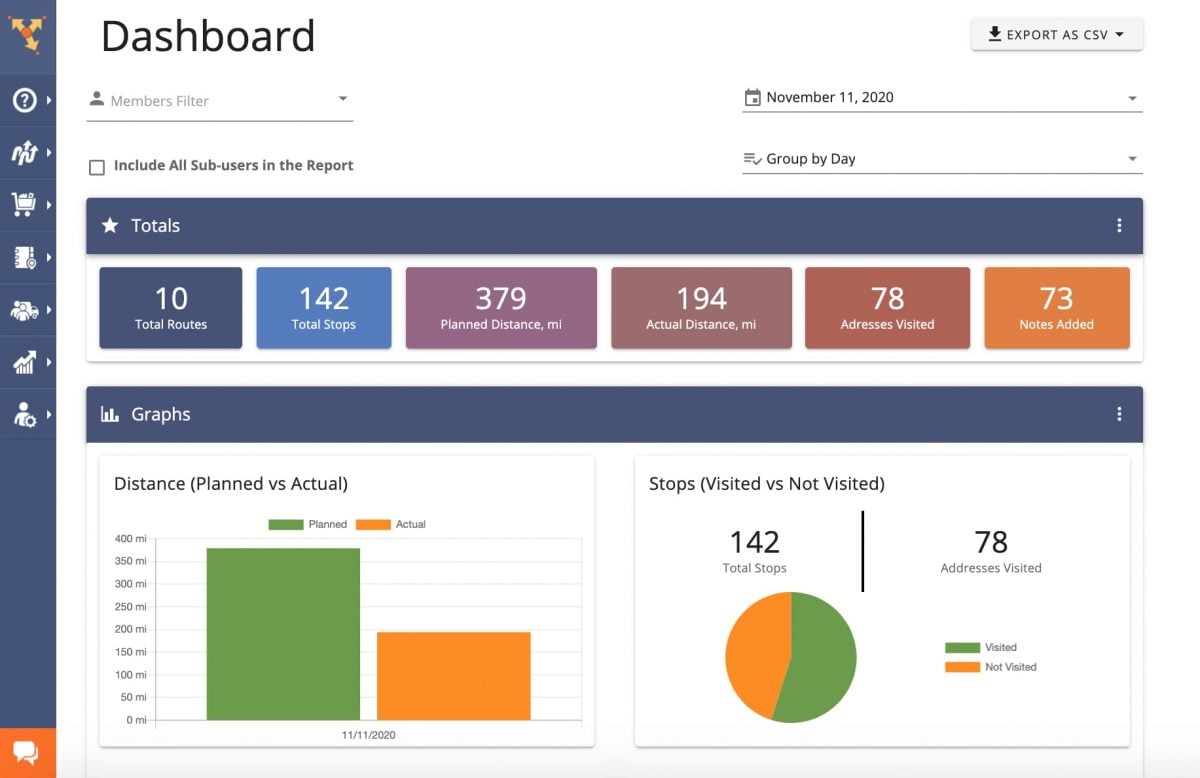 Driver tracking is a complex process. It's more than just watching drivers on a map going from A to B. Delivery driver tracking requires careful planning and fleet monitoring. Route4Me can help you keep driver activity and driver behavior monitoring in check. With its complex GPS tracking capabilities, the Route4Me delivery management system will help you track drivers and accurately measure fleet management performance metrics.