In-App Voice-Guided Navigation – Android Route Planner
Route4Me's Android Multi-Stop Route Planner App provides seamless continuity throughout the entire last-mile route planning, optimization, and navigation process. Route4Me's Route Planner app supports integrated GPS navigation, allowing you to easily navigate your optimized routes without switching between different apps. Specifically, in-app navigation supports voice-guided driving directions for driver safety, walking and bicycling directions, adjustable 3D maps, dynamic ETAs, and live traffic.

Table of Contents
Using Android Route Planner In-App Voice-Guided GPS Navigation
First, go to "Routes" in the app's main menu and then open the route you want to navigate. Next, tap and hold the "Hold to Start Route" button to start your route. After starting the route, you can tap on the route's header to check such route details as route start time, distance, number of stops, predicted route duration, and more. Additionally, learn more about Starting, Navigating, and Completing Routes Using the Android Route Planner App.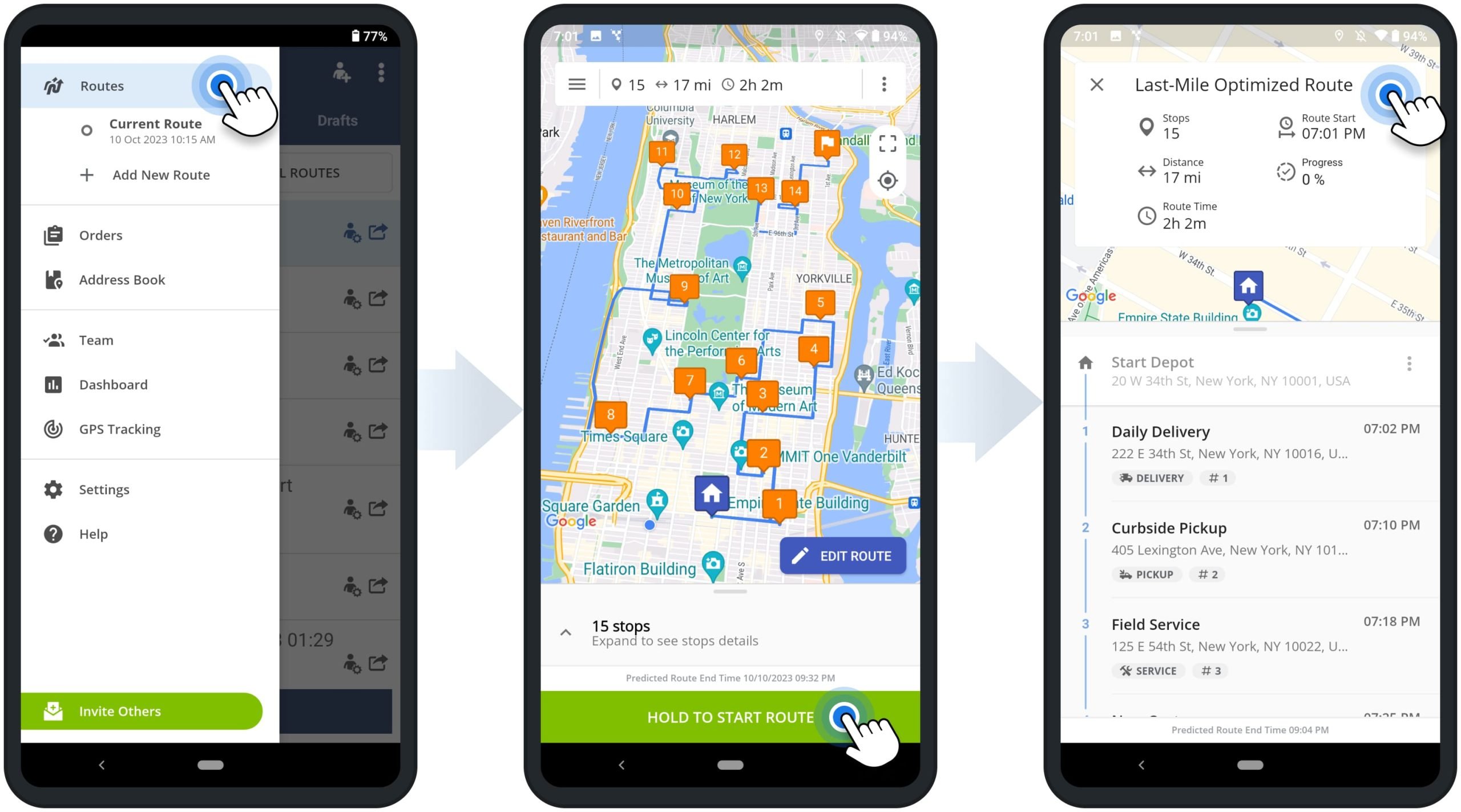 To navigate to a specific route stop from your current location, tap the "Navigate" button next to this stop. When you launch the navigation on your Route4Me Android Route Planner app for the first time, select "Route4Me In-App Navigation" to use Route4Me's integrated navigation. After that, whenever you start navigation, the app will automatically use Route4Me's In-App Navigation by default. Equally important, you can change this in the app's navigation settings at any time.
In addition to the in-app voice-guided navigation, Route4Me's Route Planner app also supports third-party navigation apps. In detail, you can navigate Route4Me-optimized routes using Google Maps, CoPilot GPS, HERE WeGo, Waze, Uber, etc.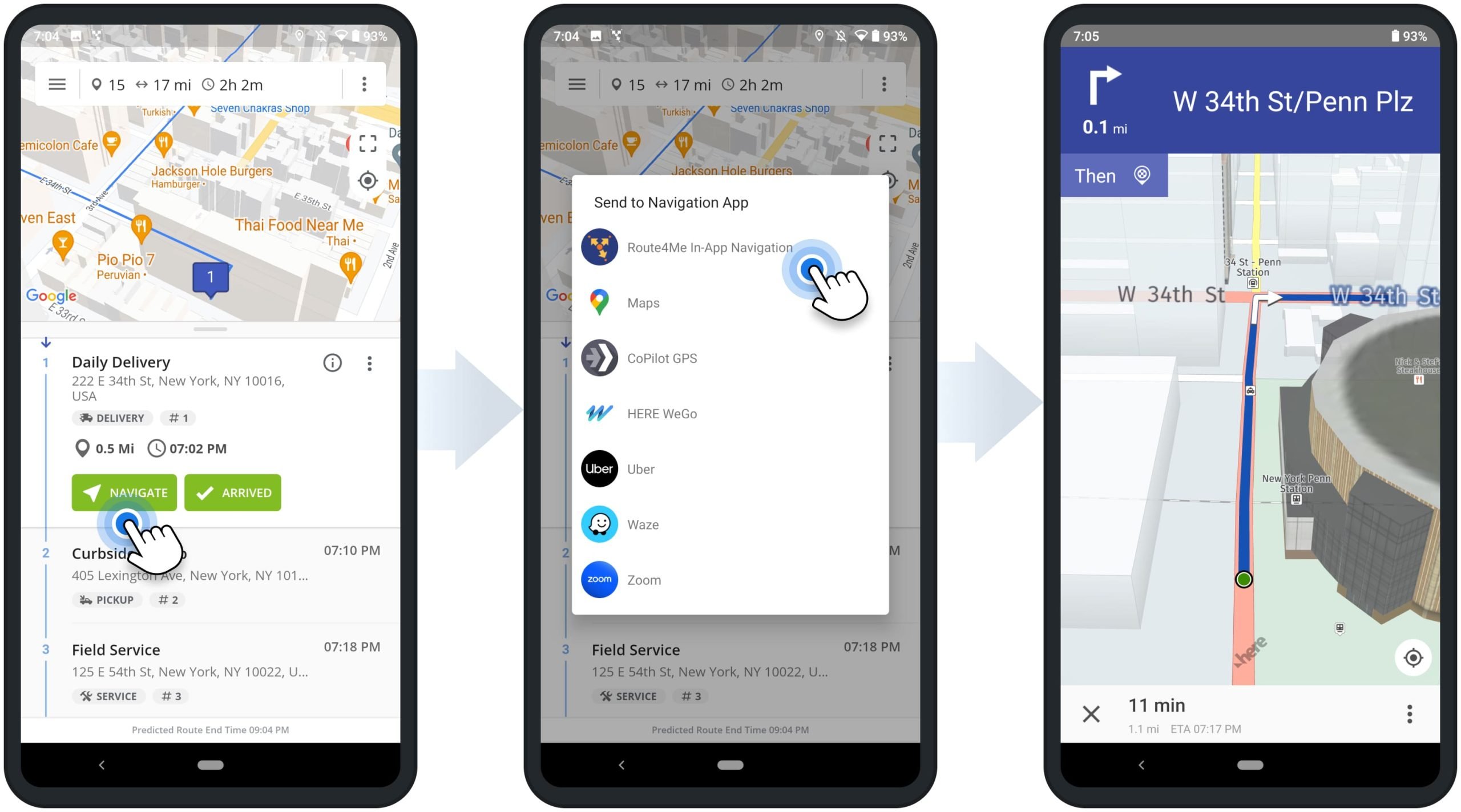 At the top of the navigation map, you can see the turn directions for the next maneuver. Every next turn is automatically voiced by the app. At the bottom of the GPS navigation map, you can see the estimated time of arrival at the last route stop and the estimated remaining navigation distance. Route4Me's in-app navigation factors in traffic and other real-time conditions, so the navigation ETA can change accordingly while navigating the route. Further, you can learn how to enable Single Stop Navigation and Continuous Route Navigation.
To adjust your navigation map, you can use gestures. Specifically, Pinch to Zoom to zoom in and out on any location on the navigation map. Two-Finger Drag Up or Down to switch between 2D and 3D navigation map.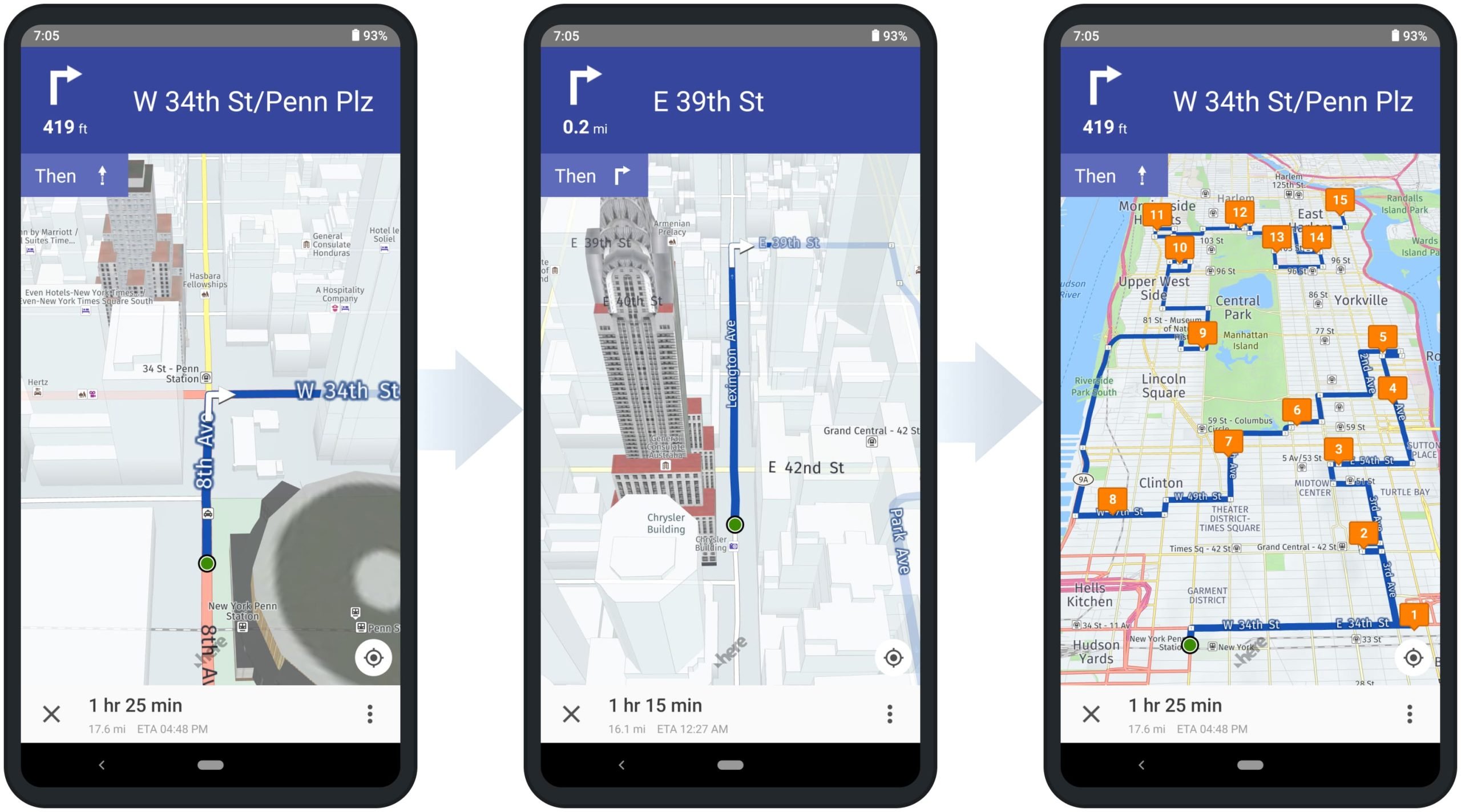 Route4Me Android Route Planner In-App Navigation Settings
To change your navigation settings, go to "Settings" in the app's navigation menu and then adjust the following settings: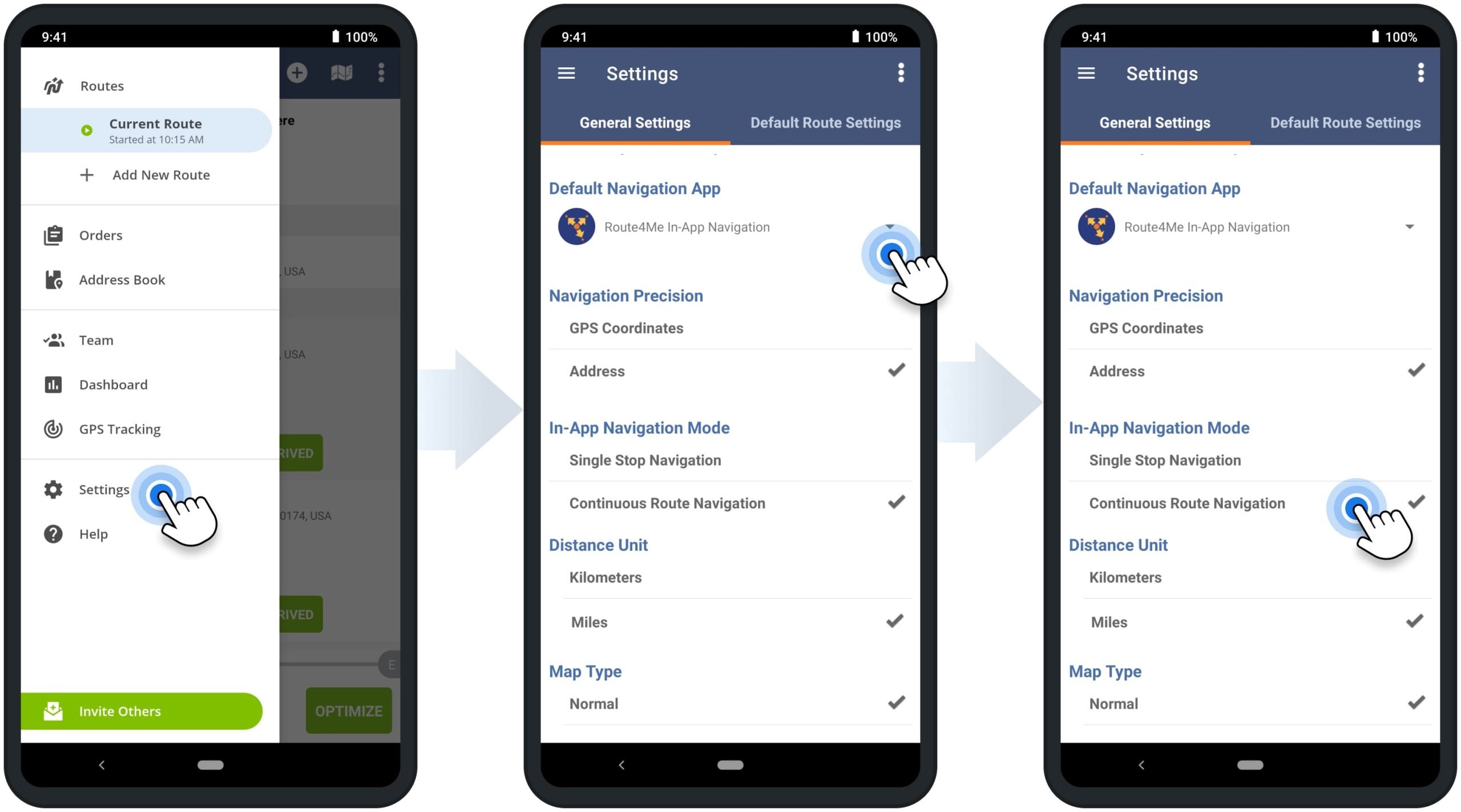 | Settings | Description |
| --- | --- |
| Distance Units | Select the preferred distance units: miles or kilometers. Accordingly, the selected distance units will be used in the in-app navigation and all other app interfaces. |
| Default Navigation App | When you start navigation, the respective route stop will be automatically sent to the selected Default Navigation App: Route4Me's In-App Navigation, Google Maps, HERE WeGo, CoPilot GPS, Waze, Uber, etc. For the most optimal and accurate navigation directions and experience, we recommend using Route4Me's In-App Navigation. |
| In-App Navigation Mode | Single Stop Navigation allows you to navigate to one stop at a time. Continuous Route Navigation allows you to navigate the entire multi-stop route without closing the navigation. Equally important, the In-App Navigation Moden applies to Route4Me's integrated navigation only. All third-party GPS navigation apps support single-stop navigation only. |
Visit Route4Me's Marketplace to Check out Associated Modules: