iOS In-App Voice-Guided Navigation – iPhone Route Planner
Route4Me's iOS Driver Route Planner app is designed to enable you to effortlessly plan, optimize, and navigate routes of any complexity right on your iPhone. For maximum convenience and safer navigation, Route4Me's iOS app features integrated in-app voice-guided navigation.
Drivers that navigate with voice-guided navigation are safer than those who have to look at a map on a tiny screen every minute or even more frequently. Furthermore, with integrated navigation, drivers don't have to switch back and forth between a routing app and a navigation app. Fewer distractions mean lower accident risks, less driver fatigue, and increased productivity.
Since Route4Me's in-app navigation is fully integrated, it permits users to avoid possible algorithm conflicts when sending navigation directions from one app to another. For more navigation precision, you can also navigate by addresses and location coordinates. Navigating by coordinates helps to find those route destinations that don't have an address or need to be visited at a precise point on the map.
The navigation map is extremely detailed. You can use gestures to adjust the perfect map angle, switch between map perspectives to see streets and buildings in 3D, and more.
To navigate a planned route, open the preferred route from Routes in the navigation menu. After that, tap on the Start Route button to start the opened route, and then tap on the Navigation Icon next to the route destination to which you want to navigate from your current location.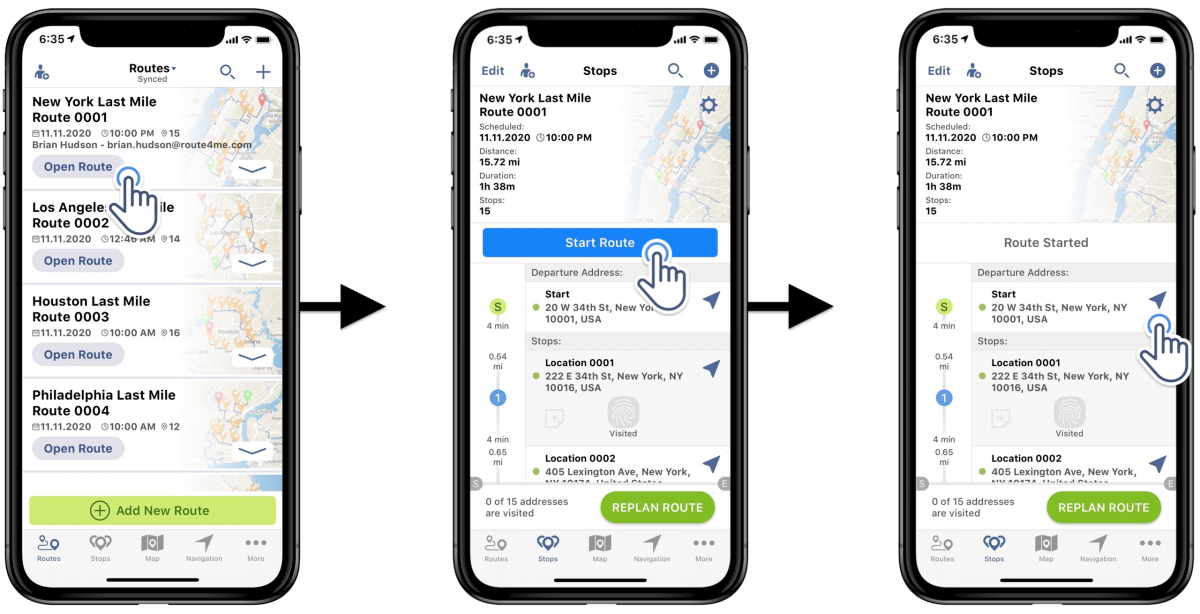 Next, select the Route4Me In-App Navigation from the list of navigation options. Then, select the preferred Navigation Precision Option to navigate to an address or to the latitude and longitude coordinates of a location. Once the navigation is launched, you can navigate the route in near real-time with turn-by-turn voice directions.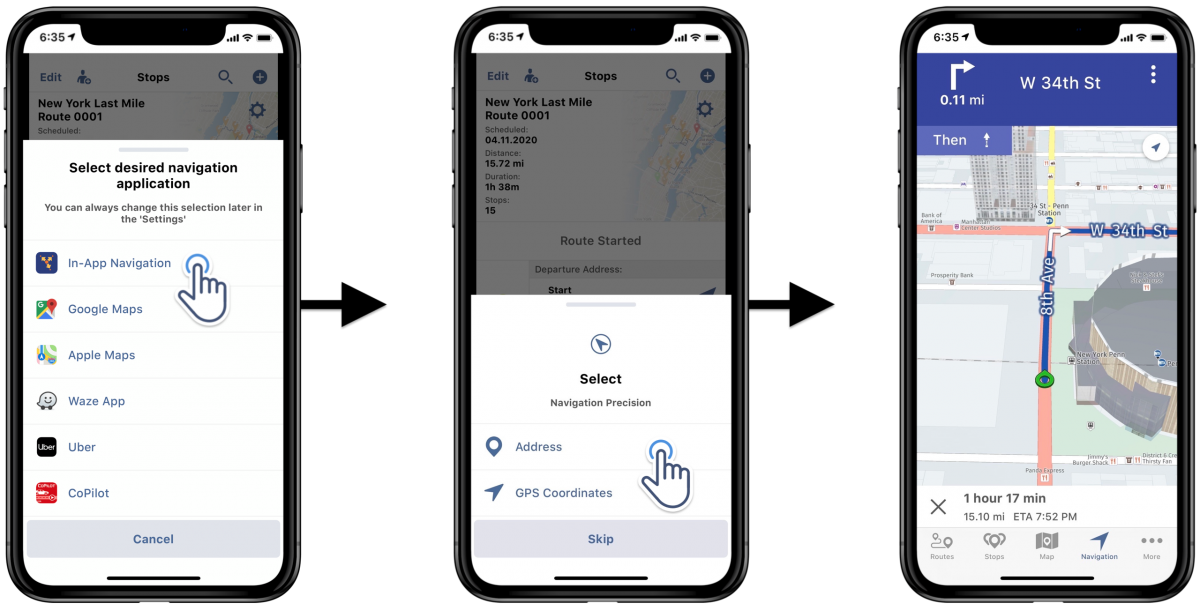 At the top of the navigation map, you can see the directions for the next maneuver. Every next navigation maneuver is automatically voiced. At the bottom of the navigation map, you can see the ETA and the estimated remaining navigation distance.
Since Route4Me's iOS in-app navigation accounts for the traffic and other near-real-time factors, the navigation ETA can fluctuate accordingly throughout the navigated route. As the route progresses, the time remaining before the arrival at the last route destination is updated in near real-time accordingly.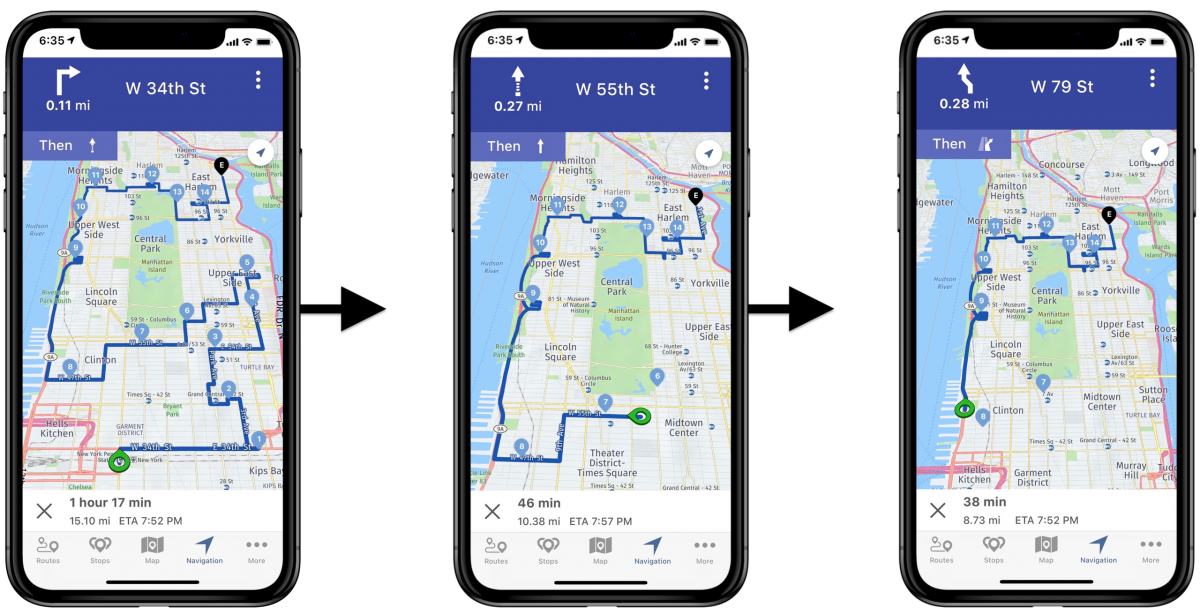 You can adjust your navigation map for optimal user experience and convenience using the following gestures:
Pinch to Zoom allows you to zoom in and out on any point on the navigation map. By zooming in you can get a more detailed look at street addresses, building shapes, business names, etc.
Two Finger Drag Up allows you to switch to a 3D navigation map perspective.
Two Finger Drag Down allows you to switch to a 2D navigation map perspective.
Two Finger Rotation allows you to rotate the navigation map and look at your current location, route destinations, and navigation lines from any preferred angle.
One Finger Drag allows you to move around the navigation map.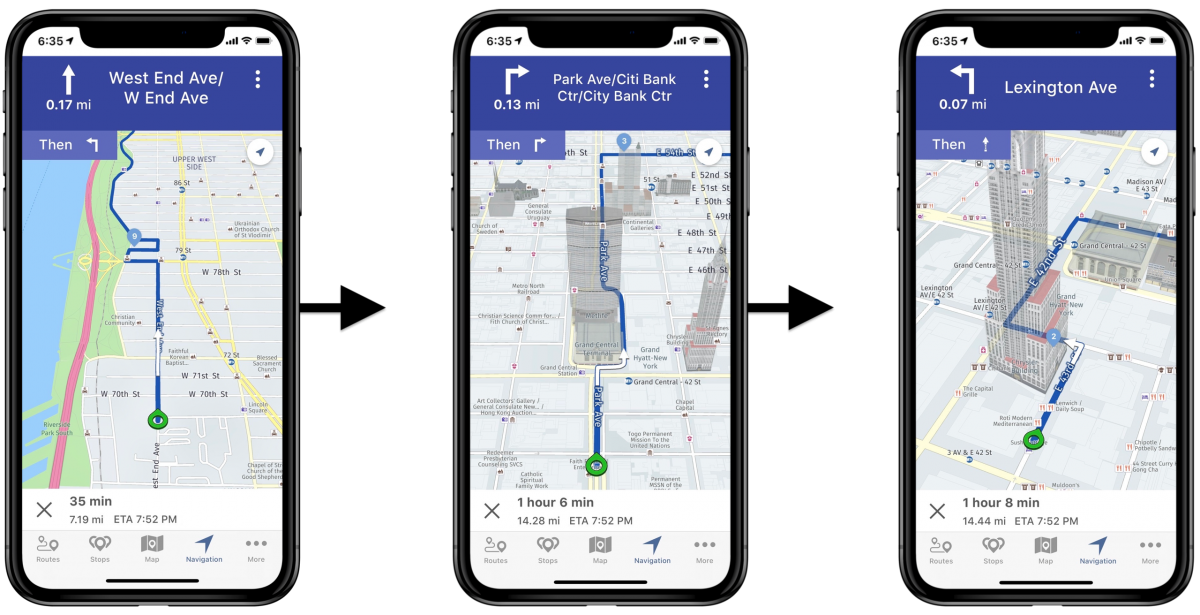 As the navigated route progresses, navigation driving lines following the driver will disappear. NOTE: Marking destinations as Visited and Departed doesn't affect the navigation or navigation ETA metrics. Since Route4Me's in-app navigation accounts for the current conditions at the time of the navigation, your navigation directions can be different from the driving directions of a planned route.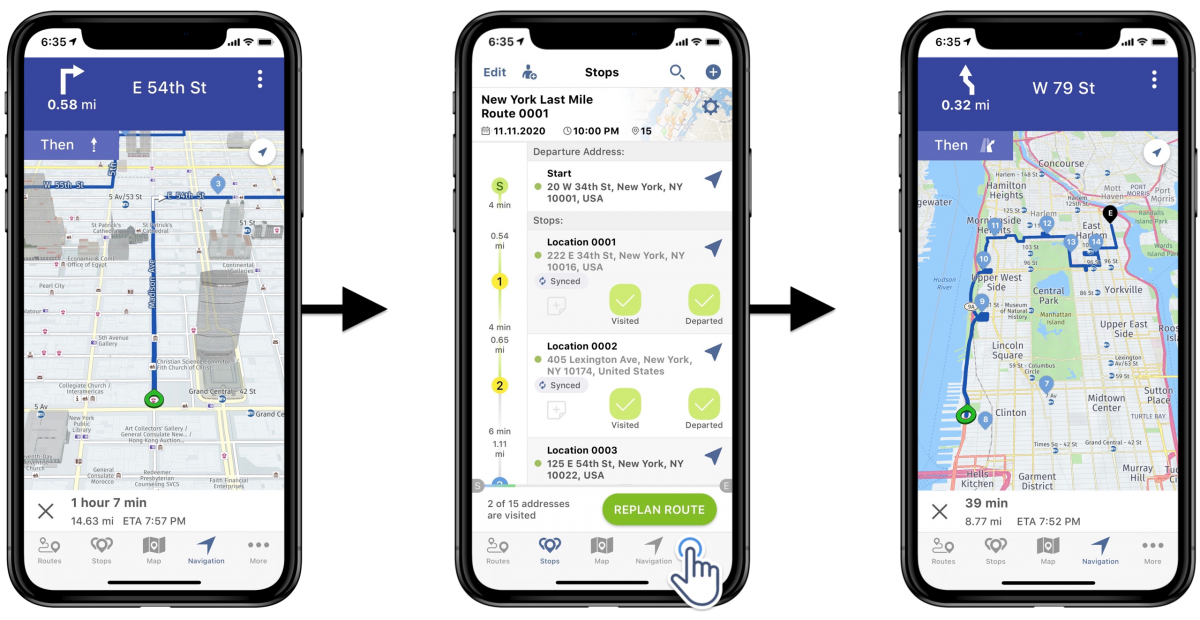 To adjust the navigation map settings, tap on the three dots menu icon in the top right corner of the app:
Full Screen opens the navigation map in the full-screen mode on your iOS device.
Auto Zoom automatically zooms in on your current location after moving around on the navigation map.
3D Perspective enables the 3D map perspective, allowing you to see 3D shapes of streets, buildings, etc.
Pause Navigation pauses and resumes navigation. You can pause navigation when you need to stop voice navigation directions or open another app.
Close Navigation closes the navigation completely. You can resume navigation from your current location at any time.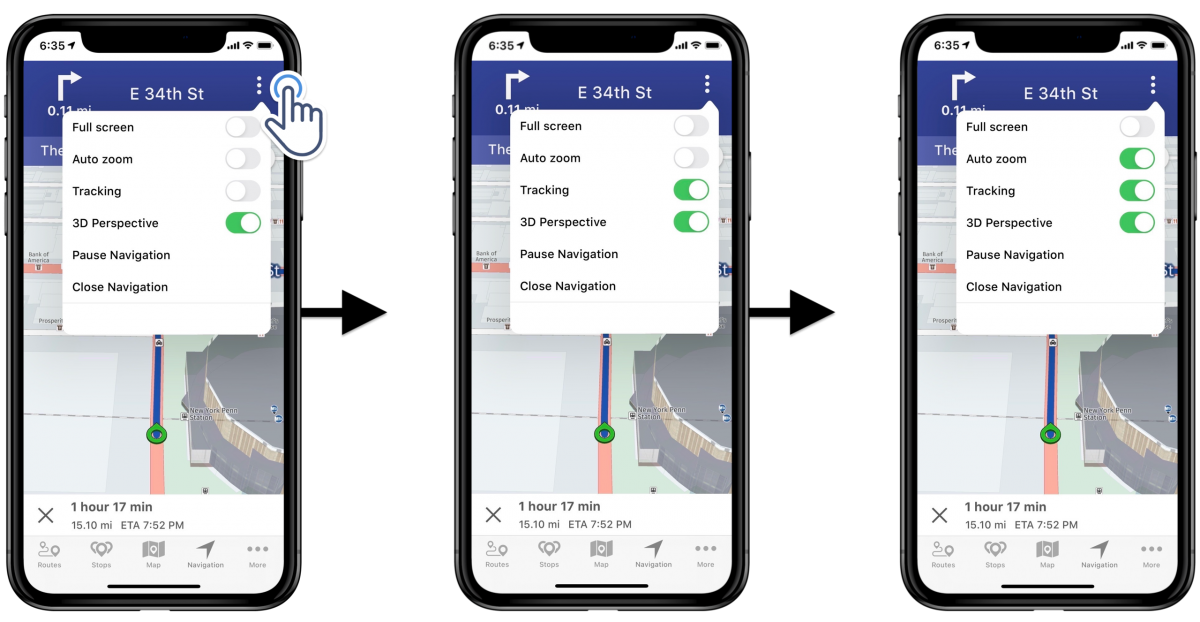 Visit Route4Me's Marketplace to Check out Associated Modules: