Route Summary Table – Real-Time Route Planning KPIs
The summary table provides a detailed overview of relevant performance metrics, route planning KPIs, route optimization KPIs, and logistics KPIs aggregated and displayed in one place. To view the summary table of a particular optimized route, first, open this route in the Route Editor or Routes Map. Once the route is open, the summary table is displayed at the bottom of the route's map. The values in all columns of the summary table are updated in real-time as the delivery drivers, sales reps, or field technicians progress through their multi stop routes.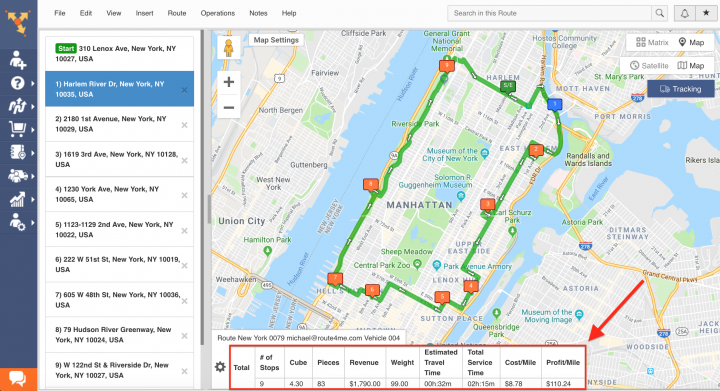 You can easily customize the default columns displaying logistics KPIs in the summary table to show only the preferred and relevant routing metrics. To customize the summary table, first, click on the gear icon located on the left side of the summary table at the bottom of the map.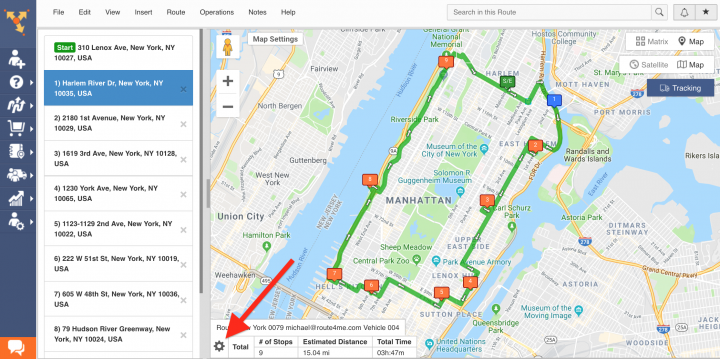 Alternatively, click View → Customize Summary Table Columns.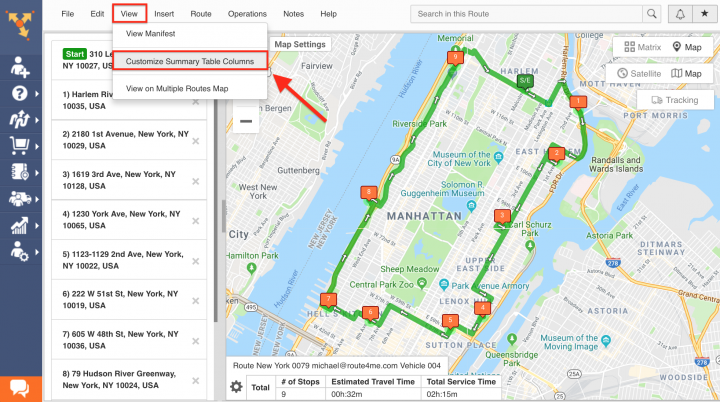 The information is organized into six tabs: Operational, Vehicle Utilization, Distance, Time, Rates and Density. Navigate through the tabs and select the preferred logistics KPIs and routing metrics by checking or unchecking the boxes next to the corresponding items. If you want to view all data from a particular tab, click on the check-box next to the corresponding tab. Once you select the preferred data, click Done to finish.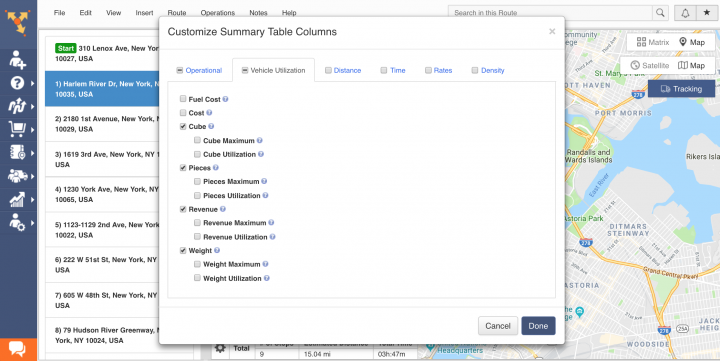 The selected logistics KPIs are displayed in the summary table respectively.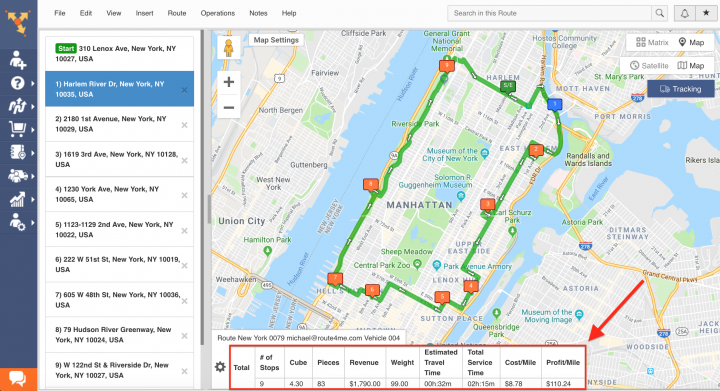 Detailed descriptions of all summary table logistics KPIs are provided below. Alternatively, you can hover your mouse cursor over a question mark icon next to a particular item to view its brief description.
| Tab | Checkbox Name | Description |
| --- | --- | --- |
| Operational | Progress | Displays the visiting progress of the stops on the route (in percentage). |
| Operational | # of Stops | Displays the total number of stops/addresses on the route. |
| Vehicle Utilization | Cost | Displays the cost of visiting and servicing the stops on the route. |
| Vehicle Utilization | Fuel Cost | Displays the total estimated cost of the fuel consumed for completing the route. |
| Vehicle Utilization | Cube | Displays the total cubic volume for the route. |
| Vehicle Utilization | Pieces | Displays the total number of pieces being picked up or dropped off on the route. |
| Vehicle Utilization | Revenue |  Displays the total revenue that is expected to be generated from the route. |
| Vehicle Utilization | Weight | Displays total weight being picked up or dropped off on the route. |
| Distance | Estimated Distance | Displays the total planned distance for the route. |
| Distance | Actual Traveled Distance | Displays the actual distance traveled by a driver on the route at a given point or upon route completion. |
| Time | Estimated Travel Time | Displays total planned travel time for the route. |
| Time | Actual Travel Time | Displays the actual time traveled by a driver on the route at a given point or upon route completion. |
| Time | Wait Time | The total amount of inactive time that is spent on waiting (i.e., arriving at a stop before the opening of a time window, etc.). |
| Time | Stem In | The time it takes to get from the depot to the first stop on the route. |
| Time | Stem Out | The time it takes to get to the depot from the last stop on the route. |
| Time | Time in Traffic | The total time spent by a driver in traffic. |
| Time | Total Service Time | The estimated amount of time spent on servicing all stops/addresses on the route. |
| Time | Actual Time on Site | The actual amount of time spent servicing all stops/addresses on the route. |
| Time | Total Time | The estimated total duration of the route. |
| Rates | Cost/Mile | The estimated cost incurred per driving one mile on the route. The total sum of all route costs divided by the total route distance. |
| Rates | Profit/Mile | The estimated profit generated per driving one mile on the route. The total sum of all per-address/per-stop profits divided by the total route distance. |
| Density | Stops/Distance Density | The total number of unique stops/addresses on the route divided by the total distance of the route. |
| Density | Stops/Hour Density | The total number of unique stops/addresses on the route divided by the total route duration. |
| Density | Transactions/Hour Density | The total number of orders/items on the route divided by the total route duration. |
| Density | SPORH | The total estimated number of stops visited per one on-road hour. |
| Density | TPORH | The total estimated number of transactions performed per one on-road hour. |
| Density | Cubic/Stops Density | The total sum of the cubic volume of all the orders/items on the route divided by the total number of stops on the route. |
| Density | Cubic/Distance Density | The total sum of the cubic volume of all the orders/items on the route divided by the total distance of the route. |
| Density | Pieces/Distance Density | The total sum of all the pieces in all the orders/items on the route divided by the total distance of the route. |
| Density | Weight/Distance Density | The total sum of the weight in all the orders/items on the route divided by the total distance of the route. |
| Density | Weight/Stops Density | The total sum of the weight in all the orders/items on the route divided by the total number of stops on the route. |
Visit Route4Me's Marketplace to Check out Associated Modules: