Telematics Gateway – Connect Vehicles and Telematics Vendors
With Route4Me, you can build and manage a fleet of cars, vans, trucks, trailers, semis, or heavy equipment and then effortlessly and efficiently manage, organize, and coordinate them all from one platform. Route4Me provides flexible vehicle settings that allow you to design detailed vehicle descriptions that can best accommodate the particular needs of your business or unique business model.
Moreover, with Route4Me's advanced account-level permissions management, you are able to adjust the visibility of your entire fleet for your team members with just a touch of the button, allowing them to view and edit vehicles, only view vehicles without editing, and so on (learn more).
For more convenience, if you are already using the services of a particular telematics vendor, Route4Me enables you to frictionlessly import vehicles from any preferred telematics vendor into your Route4Me account (i.e., Verizon Connect, Networkfleet, Fleetmatics & Telogis, etc.). After the import, you can modify the details of your imported telematics vehicles, dispatch them to routes, track vehicle fuel expenses, and much more.
To establish a telematics connection with a particular telematics vendor and import vehicles into your Route4Me account, first, go to "Telematics Gateway" from the navigation menu. Next, click on the "Add Telematics Connection" button in the top left corner of the screen.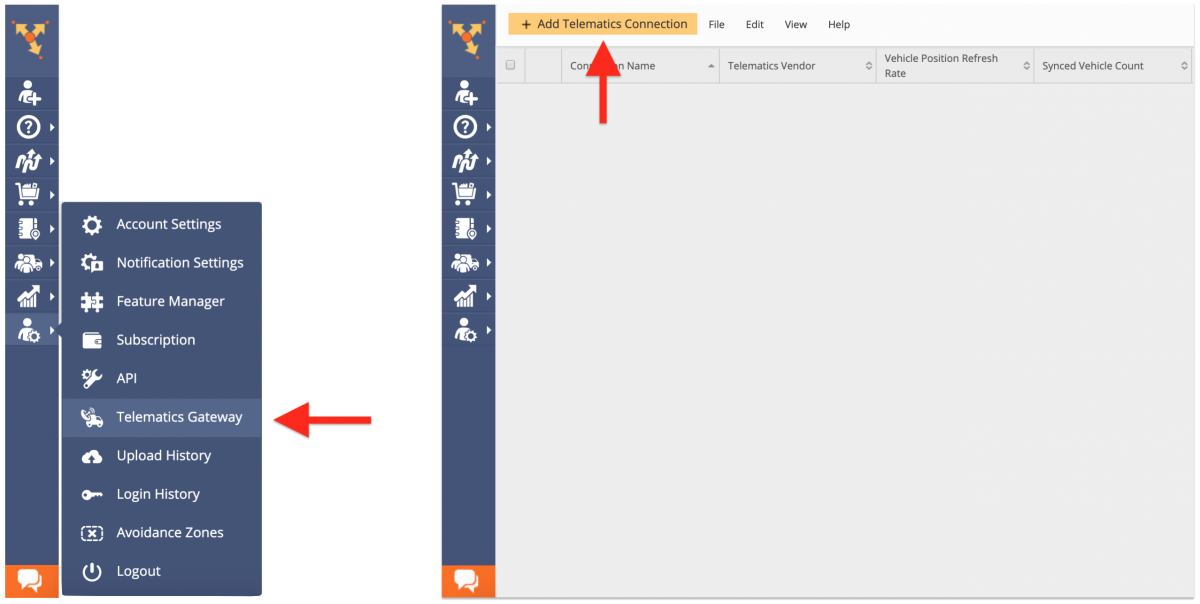 After that, input the alias for the new telematics connection into the "Connection Name" field and then select one of the integrated telematics vendors from the corresponding list. If you want to import vehicles from the telematics vendor that is not integrated with Route4Me, you can request the corresponding integration from our Customer Success Team. You can find the instructions on establishing a telematics connection with the already integrated vendors on this page.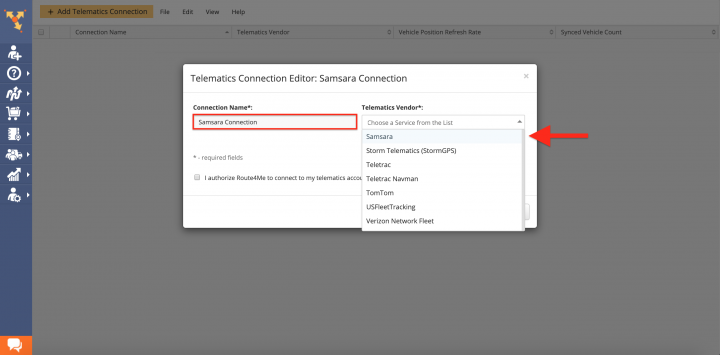 Next, input the required telematics vendor account information into the corresponding fields and then define the preferred vehicle position refresh rate accordingly. NOTE: Depending on the selected telematics vendor, you may be required to fill out different account information fields.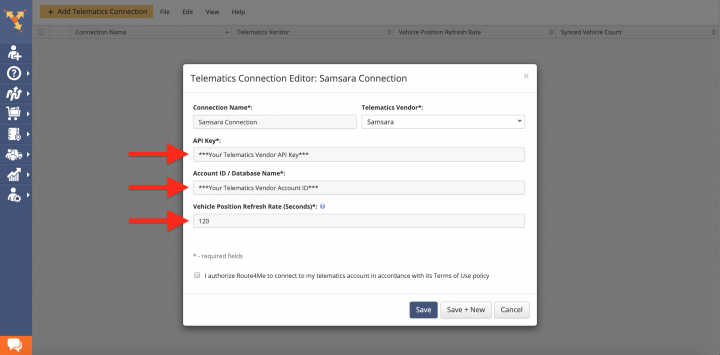 The Vehicle Position Refresh Rate is the frequency at which Route4Me's telematics gateway retrieves vehicle tracking data from the corresponding telematics partner. Most telematics vendors receive and store data between 1 and 5 minutes, while other vendors can capture data at a higher frequency. With Route4Me, you are able to set up the preferred Vehicle Position Refresh Rate and extract the tracking data as quickly as every second.
To finish establishing the telematics connection, check the authorization box at the bottom of the window to agree with Route4Me's Terms and Use policy, and then click on the "Save" button.

Once the telematics connection is established, depending on the integration settings, all corresponding vehicles are automatically imported from the select telematics vendor into the Route4Me Vehicle Editor in your Route4Me account. After importing vehicles from the preferred telematics vendor, you can edit the imported vehicles, assign the imported vehicles to routes, and more.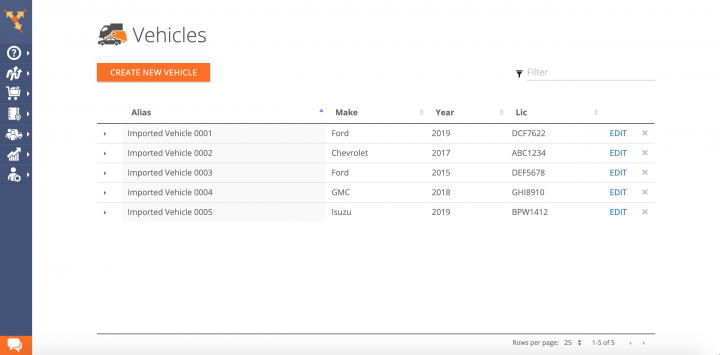 Visit Route4Me's Marketplace to Check out Associated Modules: