Route4Me Telematics Gateway – Import and Connect Vehicles
With Route4Me's last mile optimization and fleet management software, you can easily create and coordinate a fleet of cars, vans, trucks, trailers, semis, heavy equipment, and any other vehicles. Add custom vehicle parameters, dispatch routes to vehicles, check vehicle tracking history, track GPS vehicles on the map in real-time, and more.
In addition to manually adding your vehicles, you can automatically import telematics vehicles from various telematics vendors. For example, Route4Me supports integrations with such telematics vendors as Verizon Connect, Geotab, Samsara, Azuga, Fleet Complete, and many more. Additionally, you can learn more about Route4Me's supported telematics integrations.
On this page, you can learn how to establish telematics connections between your Route4Me account and a telematics vendor, import and connect telematics vehicles, dispatch routes to GPS vehicles, and more. Additionally, learn more about manually adding vehicles to your account.
Table of Contents
Add and Manage Route4Me Telematics Connections
To add a new telematics connection to your Route4Me account, go to "My Account" and then "Telematics Gateway" from the navigation menu,  and then click on the "Add Telematics Connection" button.

Next, add a custom alias for the new telematics connection in the "Connection Name" field. After that, select the preferred telematics vendor from the respective list and then fill out all mandatory fields. Equally important, depending on the selected telematics vendor, you may be required to fill out different account information fields.
The Vehicle Position Refresh Rate is the frequency at which Route4Me's Telematics Gateway retrieves vehicle tracking data from the corresponding telematics partner. Most telematics vendors receive and store data between 1 and 5 minutes, while other vendors can capture data at a higher frequency. With Route4Me, you can set up the preferred Vehicle Position Refresh Rate and extract the tracking data as quickly as every second.
Additionally, you can learn more about what Telematics Vendors are Integrated with Route4Me. If you want to connect vehicles from the telematics vendor that is not integrated with Route4Me, you can request an integration by submitting the respective request to Route4Me's Customer Success Team.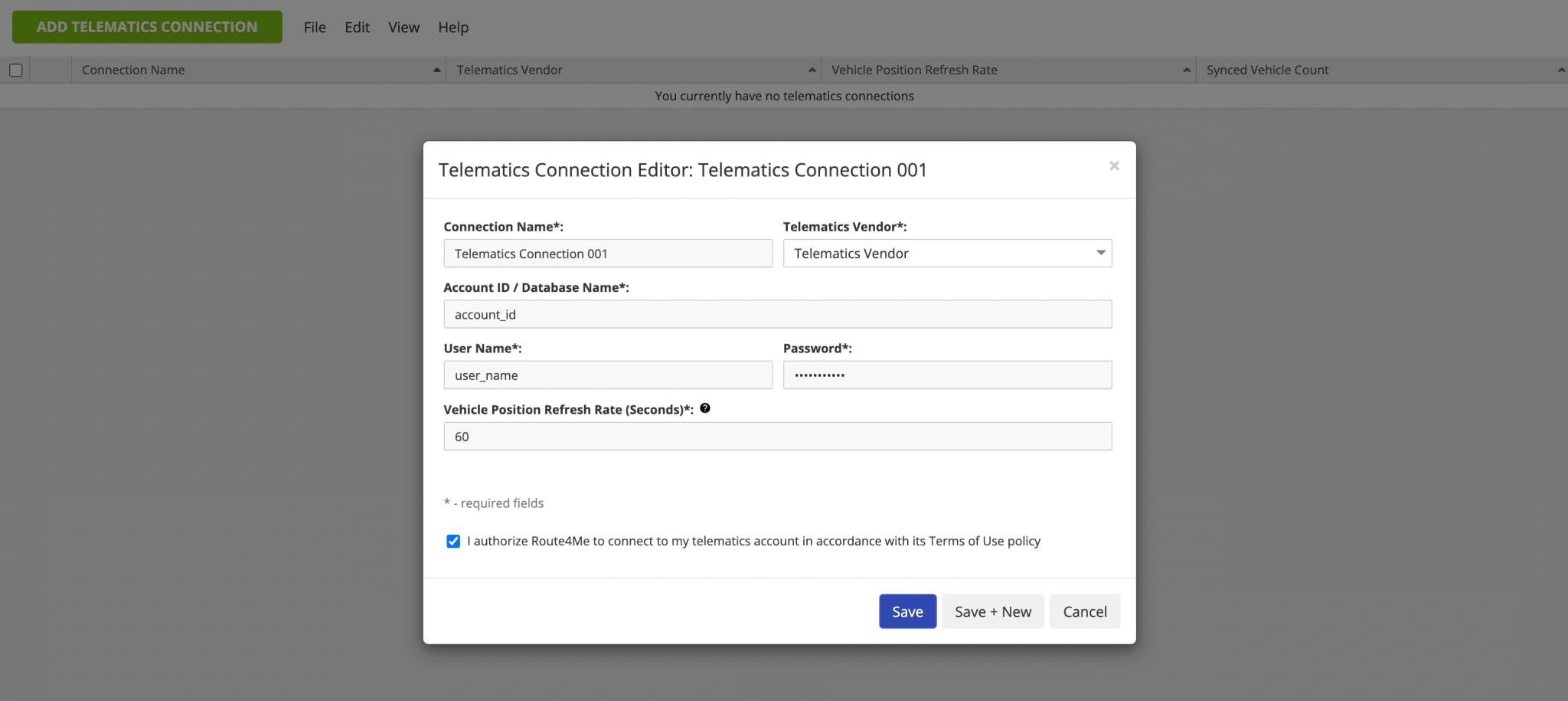 Once the telematics connection is established, Route4Me will automatically synchronize and import vehicles and vehicle data from your telematics vendor to your Route4Me account. Accordingly, in the "Synced Vehicle Count" field, you can check the percentage of successfully synchronized and imported vehicles. To Edit a Telematics Connection, click on the gear icon next to the preferred connection and then select the preferred option.

Activate and Connect Imported Telematics Vehicles
After establishing a telematics connection, Route4Me automatically imports your telematics vehicles and vehicle data. After that, you can activate successfully synchronized vehicles. To do so, on your "Vehicles" page, go to the "Pending" tab. Next, click on the check mark icon next to the imported telematics vehicles you want to activate. Additionally, you can activate multiple vehicles at a time by checking the boxes next to the preferred vehicles and clicking on the "Activate" button.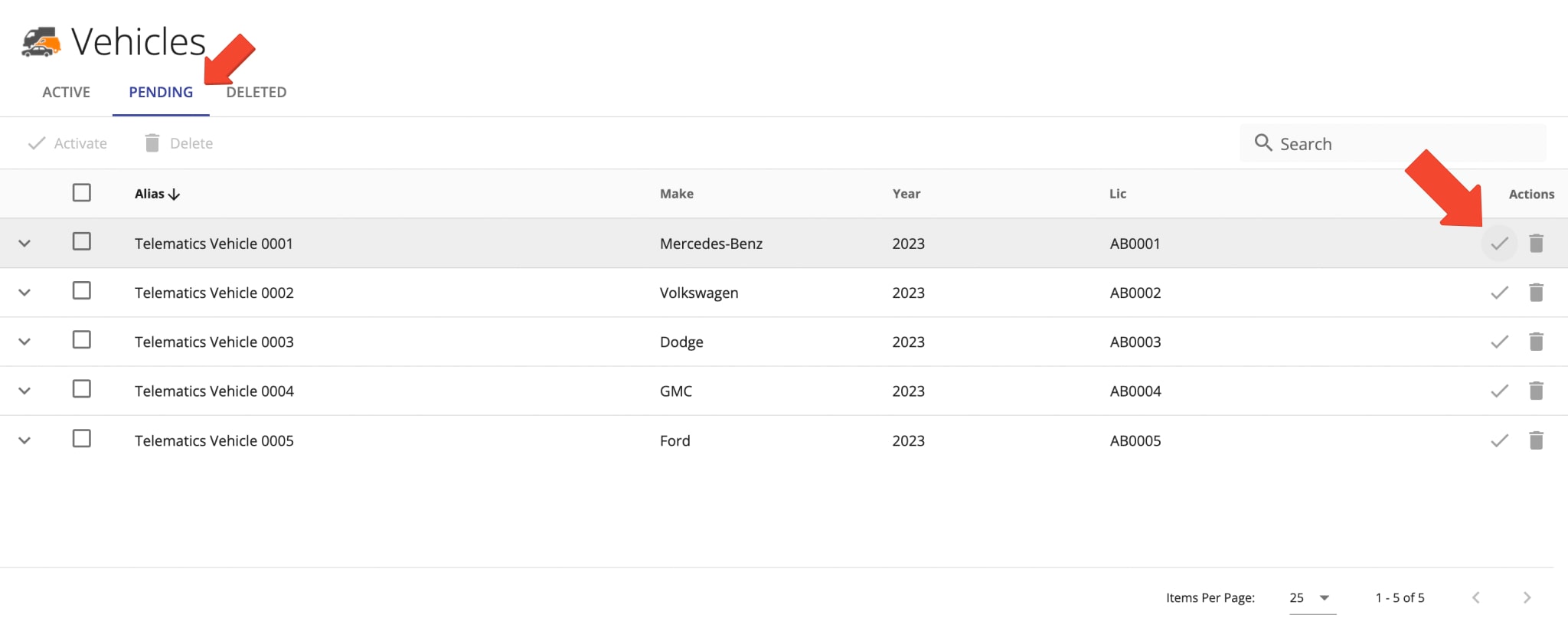 Once you activate an imported telematics vehicle in the "Pending" tab, this vehicle becomes available in the "Active" tab. Accordingly, in the "Active" tab, you can see and manage vehicles that can be assigned to routes.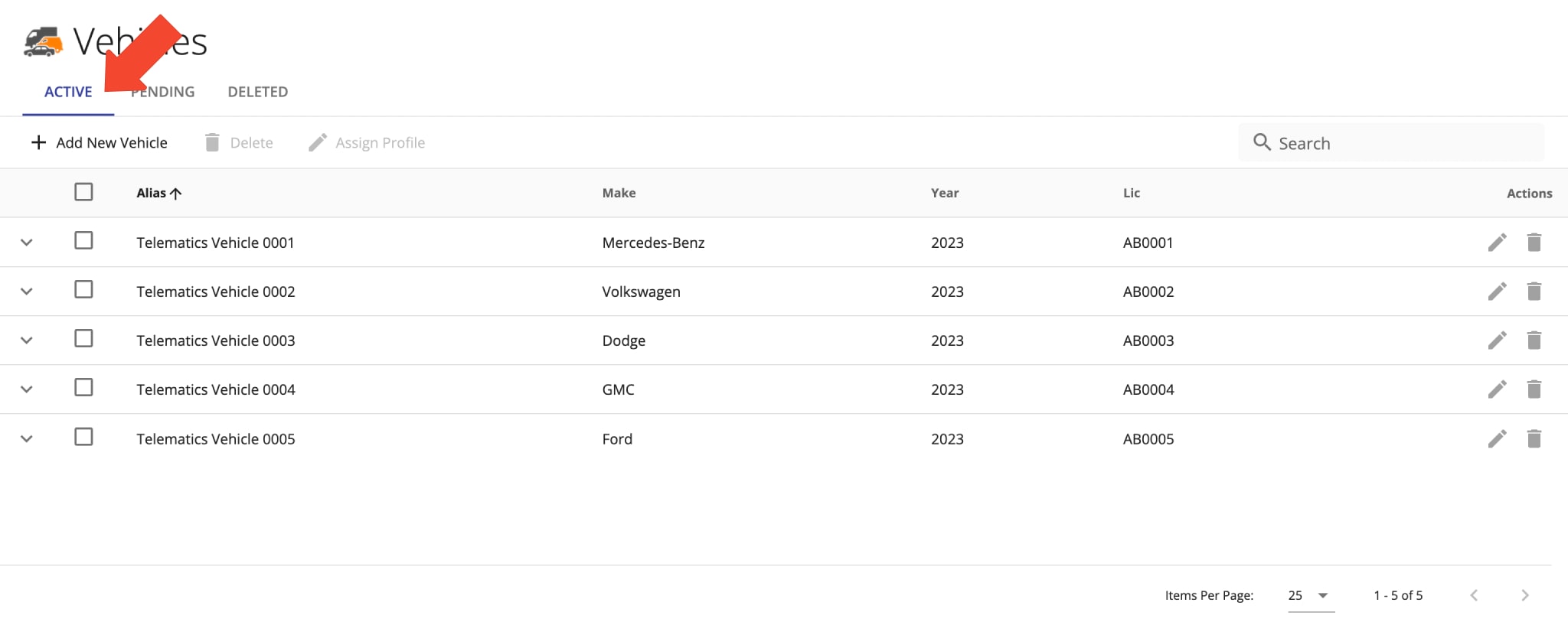 Dispatch Routes to Vehicles – Assign Telematics Vehicles to Routes
To dispatch a route to a telematics vehicle, assign the vehicle to the preferred route. To assign a telematics vehicle to a route on the Routes Map or Routes List, right-click on the route, select "Assign Vehicle" from the menu and then select the preferred vehicle. To assign the same telematics vehicle to multiple routes at once, select the preferred routes by checking the boxes next to them. Next, go to "Edit" at the top of the screen, select "Assign Vehicle" from the menu and then select the preferred vehicle from the list. Correspondingly, assigned vehicle names are displayed in the "Vehicle" column in the Routes Map and Routes List.
Accordingly, once you assign a telematics vehicle to a route, the route is dispatched to the given vehicle in real-time. Additionally, you can learn more about Route4Me's telematics vehicle route dispatch and GPS vehicle tracking.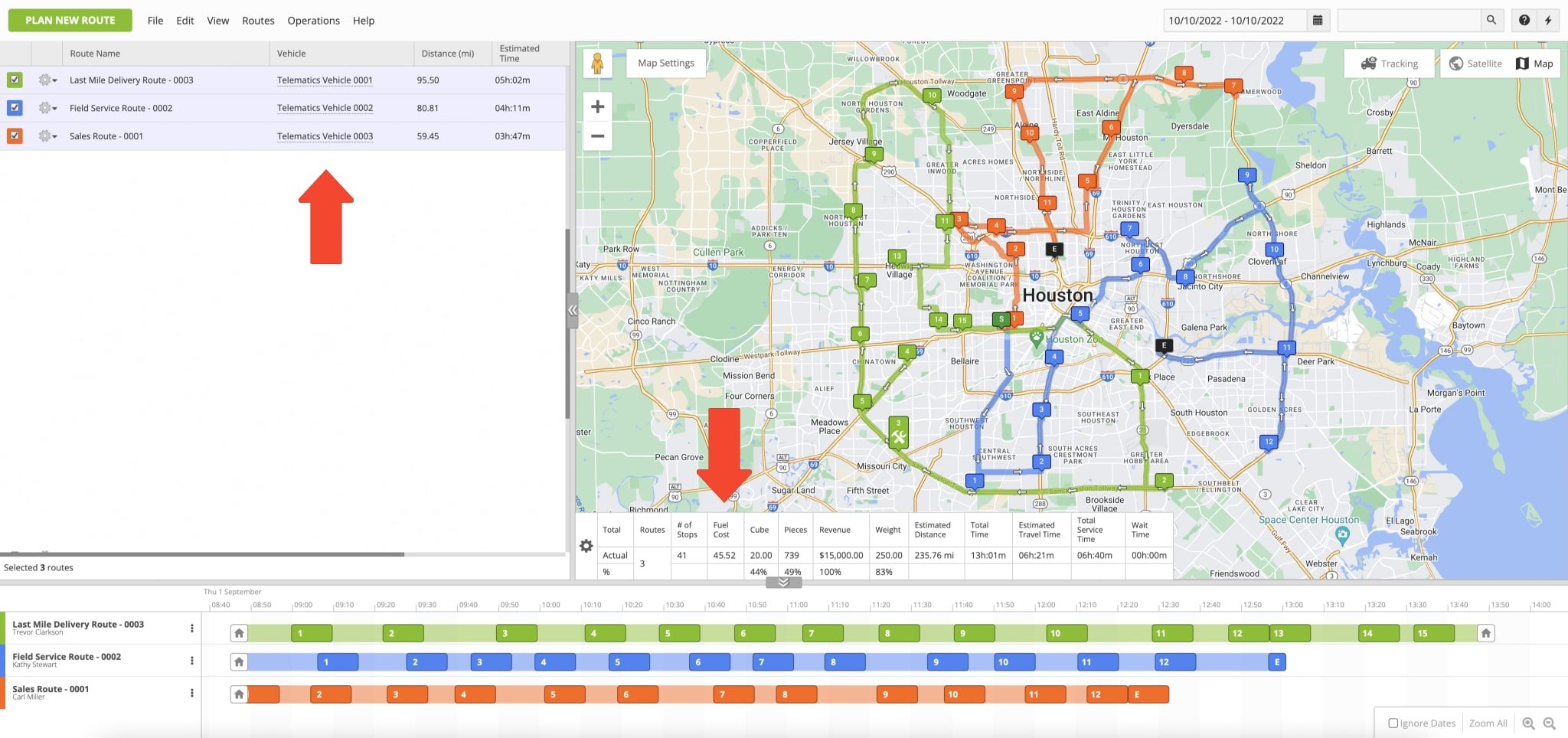 GPS Vehicle Tracking – Track Telematics Route Vehicles
Furthermore, once you dispatch a route to a telematics vehicle, you can start tracking the vehicle on a map in real-time and check the telematics vehicle route tracking history. Specifically, Route4Me will automatically collect the telematics data from the GPS trackers and telematics devices installed on your vehicles and display it on the map. Additionally, you can track manually created vehicles if the driver is using Route4Me's Mobile App.
Visit Route4Me's Marketplace to Check out Associated Modules: