Legacy Subscriptions on Android Route Planner App
Route4Me's Mobile subscription plans consist of selectively assembled feature packages designed for route planning, route optimization, voice-guided navigation, driver tracking, and more. When purchasing a Route4Me mobile subscription, you can plan and navigate multi stop routes of any complexity using only your mobile device. To ensure that you and your team can use the Route4Me route optimization software on any preferred mobile device, Route4Me features dedicated Android and iOS Route Planner apps that can be downloaded from the Apple App Store and Google Play. The Route4Me Android Route Planner app is also supported on Zebra devices – the world's most rugged devices on the market for extreme conditions. To make your user experience more flexible, when you purchase your Android Route Planner subscription plan through Google Play and link this subscription to your Google Play account, you can log into the Route4Me Route Planner app on any iOS or Android mobile device using your Route4Me account credentials.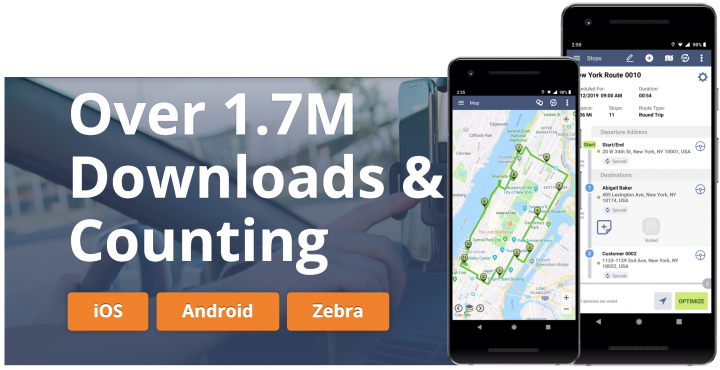 To get you started, Route4Me offers the Mobile Free Android Route Planner subscription that allows planning and optimizing up to 10 free routes per month without any payments and no credit card attachments. Thus, you can experience all the benefits of optimizing multi stop routes without having to make any decisions right away. To get the Mobile Free account, tap Sign Up For Free on the main login screen and then follow further registration instructions respectively.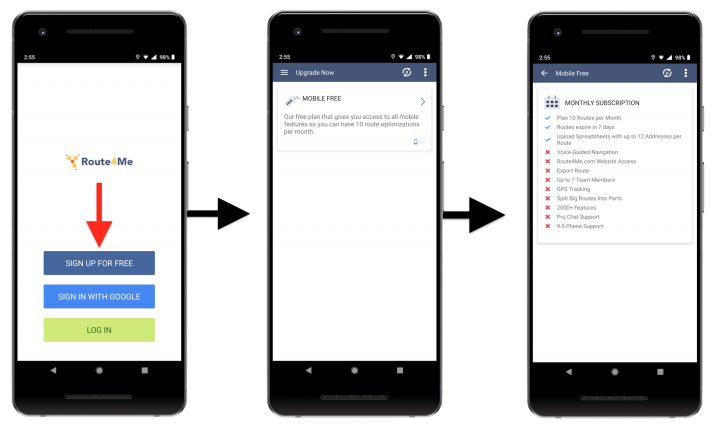 You can open your upgrade options in one of the following ways:
Tap on the Upgrade to Mobile Unlimited button at the bottom of the screen right after the registration;
Tap on the optimization icon in the top right corner of the screen;
Go to Upgrade from the navigation menu.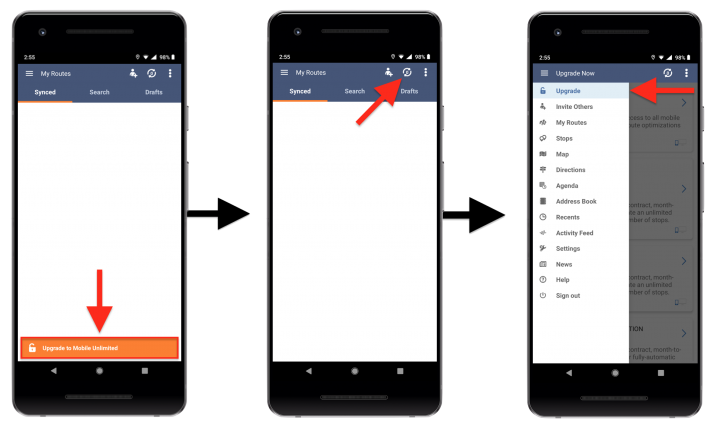 Route4Me's Mobile Unlimited Android Route Planner subscription plan is the most cost-effective solution for business owners and individual contractors who want to use Route4Me exclusively on their mobile devices for planning and optimizing unlimited routes with multiple destinations.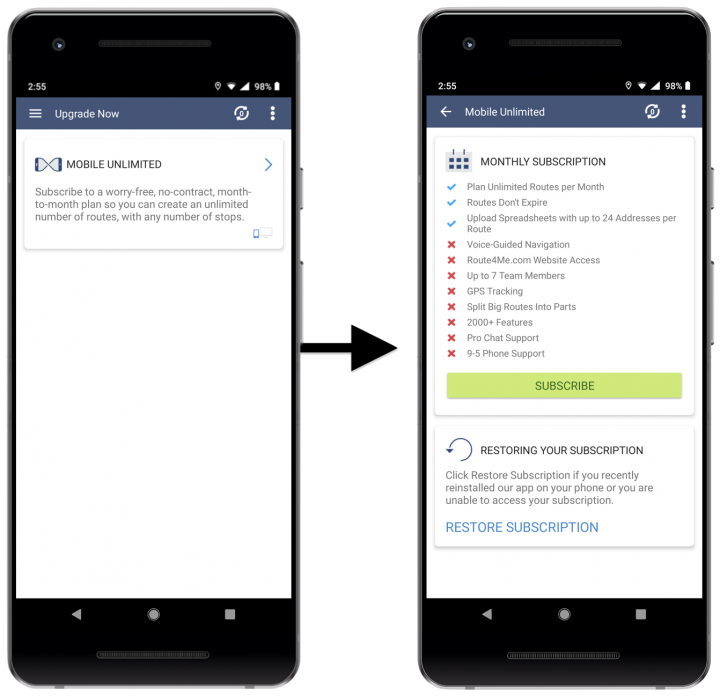 Route4Me's Voice-Guided Navigation subscription plan includes all the necessary features for planning and optimizing an unlimited number of the most cost-effective routes, as well as safely and efficiently navigating these routes using Route4Me's in-app voice-guided navigation.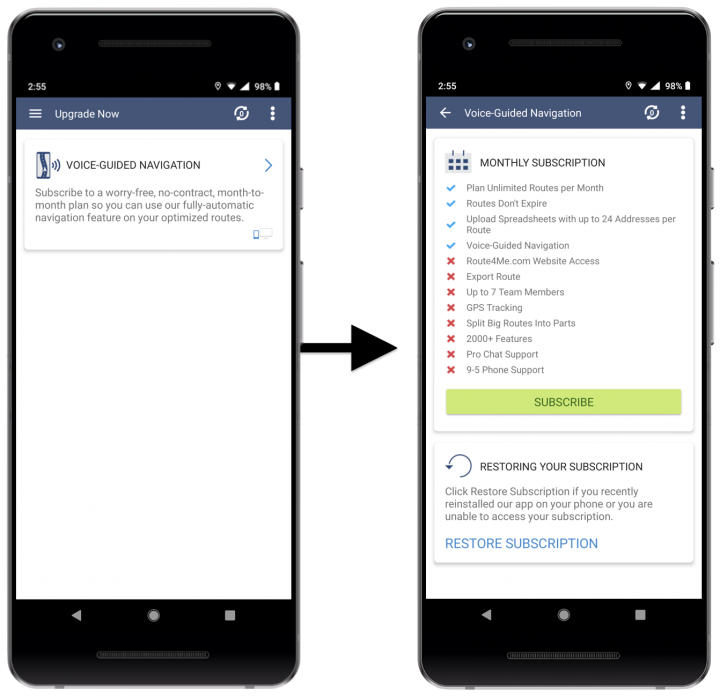 Currently, Route4Me supports but no longer offers the following legacy Route4Me Business subscription plans: Independent Professional, Team Navigation, Business, and Enterprise subscriptions.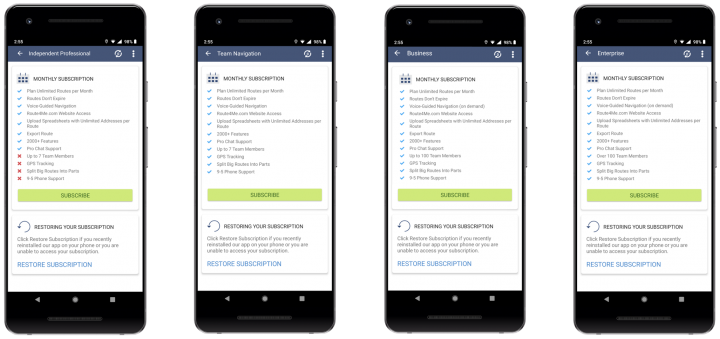 The table below provides the list of all features and functionalities included into the subscription plans that are currently offered by Route4Me, as well as the legacy subscription plans that are supported but can no longer be purchased.
| Included Features | Mobile Unlimited | Voice Guided Navigation | Independent Professional | Team – Navigation | Business | Enterprise |
| --- | --- | --- | --- | --- | --- | --- |
| Currently Offered | Yes | Yes | Legacy | Legacy | Legacy | Legacy |
| Subscription Duration | Monthly/Annual | Monthly/Annual | Monthly | Monthly | Monthly | Monthly |
| Plan Unlimited Routes | | | | | | |
| Routes Don't Expire | | | | | | |
| Upload Spreadsheets | Up to 24 Addresses per Route | Up to 24 Addresses per Route | Unlimited Addresses per Route | Unlimited Addresses per Route | Unlimited Addresses per Route | Unlimited Addresses per Route |
| Voice-Guided Navigation | | | | | | |
| Route4Me.com Website Access | | | | | | |
| Additional Team Members | | | | Up to 7 Members | Up to 100 Members | Over 100 Members |
| GPS Tracking | | | | | | |
| Export Routes | | | | | | |
| 2000+ Features | | | | | | |
| Split Big Routes into Parts | | | | | | |
| Pro Chat Support | | | | | | |
| 9-5 Phone Support | | | | | | |
Visit Route4Me's Marketplace to Check out Associated Modules: