Mobile Subscriptions Features – Android & iOS Route Planner Apps
Route4Me's Mobile Route Planning Apps are designed to help you optimize and streamline delivery, field service, field sales, and other last-mile routing operations. In this guide, you can learn about the features offered by Route4Me's Mobile Subscriptions and supported by the Android Route Planner and iOS iPhone Route Planner apps. Accordingly, depending on your subscription type and account settings, you can have a different set of available features. Additionally, you can learn more about the difference between Route4Me's Mobile and Marketplace Subscriptions and the features they support.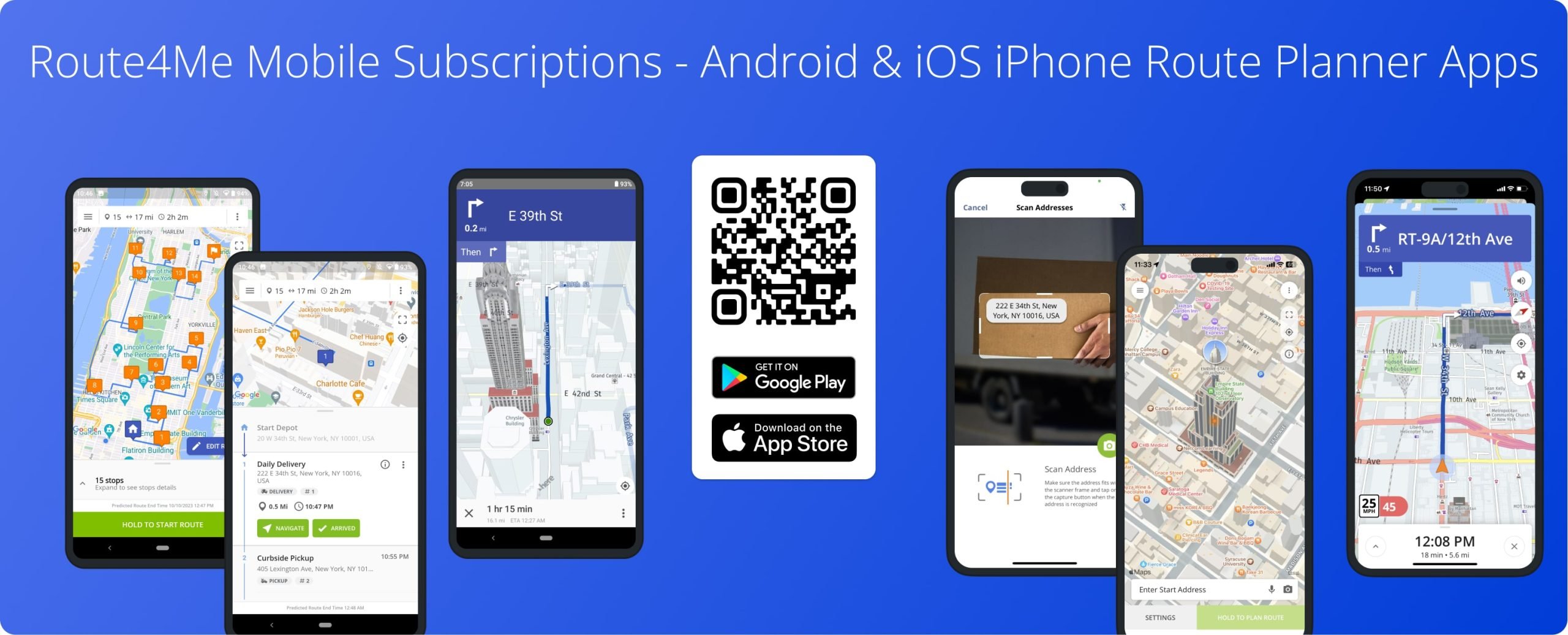 iOS iPhone & iPad Mobile Route Planner App
Android Mobile Route Planner App
Route4Me Mobile Subscriptions & Mobile Route Planner Features
Route4Me offers Monthly and Yearly Mobile subscriptions. Both subscription types include the same features, where the only difference is the subscription duration. Below, you can find the list of features and capabilities included in Route4Me's Mobile subscription plans (Monthly and Annual) on the Android and iOS Route Planner apps.
Feature
Android App
iOS (iPhone & iPad) App
Add Addresses and Import Route Data
Add Addresses to Routes Manually
Enter Addresses on Android
Enter Addresses on iPhone
OCR Address Scanner
Scan Addresses on Android
Scan Addresses on iPhone
Add Addresses with Voice Dictation
Dictate Addresses on Android
Dictate Addresses on iPhone
Select Addresses from Device Contacts
Route Device Contacts on Android
Route Device Contacts on iPhone
Use Route4Me Address Book
Address Book Routing on Android
Address Book Routing on iPhone
Import Files with Addresses and Route Data
Address File Import on Android
Address File Import on iPhone
Google Drive Route File Import (CSV & XLS)
Google Drive Address Import on Android
Google Drive Address Import on iPhone
Dropbox Route File Import (CSV & XLS)
Dropbox Address Import on Android
Dropbox Address Import on iPhone
Upload Route Files from Device (CSV & XLS)
Device File Upload on Android
Device File Upload on iPhone
Use Current Location Address
Add Current Location on Android
Add Current Location on iPhone
Plan Multi-Stop Routes
Plan Multi-Stop Routes (Map and Manually Sequence Multi-Stop Routes)
Plan Routes on Android
Plan Routes on iPhone
Unlimited Route Planning
Plan Unlimited Routes on Android
Plan Unlimited Routes on iPhone
Unlimited Route Addresses
Add Unlimited Addresses on Android
Add Unlimited Addresses on iPhone
Schedule Routes
Schedule Routes on Android
Schedule Routes on iPhone
Dynamic Route Start Time
Dynamic Route Start Time on Android
Dynamic Route Start Time on iPhone
Optimize and Sequence Multi-Stop Routes
Optimize Routes (Map and Automatically Sequence Multi-Stop Routes)
Optimize Multi-Stop Routes on Android
Optimize Multi-Stop Routes on iPhone
Unlimited Route Optimizations
Optimize Unlimited Routes on Android
Optimize Unlimited Routes on iPhone
Unlimited Stops Sequencing
Sequence Unlimited Stops on Android
Sequence Unlimited Stops on iPhone
Round Trip Route Optimization
Supported
Supported
Lock Last Destination Route Optimization
Supported
Supported
End Anywhere Route Optimization
Supported
Supported
Disable Route Optimization and End Anywhere
Supported
Supported
Disable Route Optimization and Round Trip
Supported
Supported
Default Route Optimization Settings Profile
Supported
Supported
Route Directions Optimization
Shortest Time Route Directions Optimization
Shortest Time Directions on Android
Shortest Time Directions iPhone
Shortest Time with Current Traffic Directions Optimization
Shortest Time with Traffic Directions on Android
Shortest Time with Traffic Directions on iPhone
Route Management
Save Routes
Save Routes on Android
Save Routes on iPhone
Routes List
Routes List on Android
Routes List on iPhone
Routes Map
Routes Map on Android
Routes Map on iPhone
Change Route Optimization Settings
Modify Optimization Settings on Android
Modify Optimization Settings on iPhone
Update Route Directions Settings
Modify Directions Settings on Android
Modify Directions Settings on iPhone
Reschedule Planned Routes
Reschedule Routes on Android
Reschedule Routes on iPhone
Export Route Files (CSV and Google Spreadsheets)
Download Routes on Android
Download Routes on iPhone
Duplicate Routes
Duplicate Routes on Android
Duplicate Routes on iPhone
Share Routes
Share Routes on Android
Share Routes on iPhone
Delete Routes
Delete Routes on Android
Delete Routes on iPhone
Stops Management
Insert Stops into Planned Routes
Insert Addresses into Routes on Android
Insert Addresses into Routes on iPhone
Change Route Stops Sequence
Resequence Routes on Android
Resequence Routes on iPhone
Edit Route Stops Addresses and Information
Edit Stops on Android
Edit Stops on iPhone
Route Stops Service Times
Stops Service Times on Android
Stops Service Times on iPhone
Route Stops Custom Data
Custom Data on Android
Custom Data on iPhone
Open Route Stops on the Map
Open Stops on Map on Android
Open Stops on Map on iPhone
Delete Route Stops
Remove Stops from Routes on Android
Remove Stops from Routes on iPhone
Route Progress Tracking
Start and End Routes
Start and End Routes on Android
Start and End Routes on iPhone
Arrived Stop Status
Mark Stops as Arrived on Android
Mark Stops as Arrived on iPhone
Done Stop Status
Mark Stops as Done on Android
Mark Stops as Done on iPhone
Dashboard with Route Analytics
Route Dashboard on Android
To Be Added Soon
Proof of Delivery, Field Service, Field Marketing, Field Sales Management
Add Text Notes
Add Text Notes on Android
Add Text Notes on iPhone
Image Attachement
Add Images to Stops on Android
Add Images to Stops on iPhone
Photo Attachement
Add Photos to Stops on Android
Add Photos to Stops on iPhone
Signature Capture and Attachement
Sign on Glass on Android
Sign on Glass on iPhone
Video Attachement
To Be Added Soon
Add Videos to Stops on iPhone
Audio Recording Attachement
To Be Added Soon
Add Audio Recordings to Stops on iPhone
Scan Barcodes
Barcode Scanner on Android
Barcode Scanner on iPhone
Navigation and Route Directions
Share ETA
Share ETA on Android
Share ETA on iPhone
Integrated Voice-Guided Navigation
In-App Navigation on Android
In-App Navigation on iPhone
Third-Party Navigation Apps Support
Support
Support
Google Maps Navigation
Google Maps Navigation on Android
Google Maps Navigation on iPhone
Waze GPS, Maps, Traffic Alerts & Live Navigation
Waze Navigation on Android
Waze Navigation on iPhone
CoPilot Navigation
CoPilot Navigation on Android
CoPilot Navigation on iPhone
Apple Maps Navigation
Not Supported by Platform
Apple Maps Navigation on iPhone
Turn-By-Turn Route Directions
Turn-By-Turn Directions on Android
Turn-By-Turn Directions on iPhone
Default Navigation App
Default Navigation on Android
Default Navigation on iPhone
Single Stop Route Navigation
Single Stop Route Navigation on Android
Single Stop Route Navigation on iPhone
Continuous Route Navigation
Continuous Route Navigation on Android
Continuous Route Navigation on iPhone
Navigation by Address
Navigation Precision on Android
Navigation Precision on iPhone
Navigation by GPS Coordinates (Latitude and Longitude)
Navigation Precision on Android
Navigation Precision on iPhone
Refresh Route Directions
Refresh Route Directions on Android
Refresh Route Directions on iPhone
Address Book List and Map
Address Book List Customer Management
Address Book List on Android
Address Book List on iPhone
Address Book Map Customer Management
Address Book Map on Android
Address Book Map on iPhone
Insert Addresses into Planned Routes
Insert Addresses into Routes on Android
Insert Addresses into Routes on iPhone
Edit Address Book Customers
Edit Addresses on Android
Edit Addresses on iPhone
Dial Customers from Address Book
Dial Addresses on Android
Dial Addresses on iPhone
Add Addresses to Favorites
To Be Added Soon
Add Addresses to Favorites on iPhone
Delete Address Book Customers
Delete Addresses on Android
Delete Addresses on iPhone
Offline Mode – No Internet
Offline Mode
Offline Mode on Android
Offline Mode on iPhone
Open Loaded Routes, Stops, and Routes Map
Open Routes Offline on Android
Open Routes Offline on iPhone
In-App Voice-Guided Navigation
Offline Navigation on Android
Offline Navigation on iPhone
Third-Party Navigation Apps
Offline Third-Party Navigation on Android
Offline Third-Party Navigation on iPhone
Mark Stops as Arrived and Done
Mark Stops as Arrived & Done Offline on Android
Mark Stops as Arrived & Done Offline on iPhone
Set Stop Status
Set Stop Status Offline on Android
Set Stop Status Offline on iPhone
Add Text Notes to Stops
Add Text Notes Offline on Android
Add Text Notes Offline on iPhone
Proof of Delivery and Service Attachement
Add Signatures and Images to Stops Offline on Android
Add Signatures and Images to Stops Offline on iPhone
Scan Barcodes
Scan Barcodes Offline on Android
Scan Barcodes Offline on iPhone
Synchronize Pending Data Collected Offline
Sync Pending Data on Android
Sync Pending Data on iPhone
Driver Safety Features
Hands-Free Voice-Guided Navigation
Voice-Guided Navigation on Android
Voice-Guided Navigation on iPhone
Dark Mode (Automatic)
To Be Added Soon
Dark Mode on iPhone
Authentication and Sign-In
Email and Password Sign-In
Email & Password Sign-In on Android
Email & Password Sign-In on iPhone
Google Single Sign-On (SSO)
Google SSO on Android
Google SSO on iPhone
Apple ID Sign-In
Not Supported by Platform
Apple ID Sign-In on iPhone
Microsoft SSO
Microsoft SSO on Android
Microsoft SSO on iPhone
App Settings
Power Save Mode
Battery Saver Mode on Android
Power Save Mode on iPhone
Invite to Route4Me
Invite Others to Join Route4Me on Android
Invite Others to Join Route4Me on iPhone
Password Reset
Reset Password on Android
Reset Password on iPhone
Distance Units (Kilometers and Miles)
Adjust Distance Units on Android
Adjust Distance Units on iPhone
Map Settings: Normal, Satellite, Hybrid, Terrain
Map Settings on Android
Map Settings on iPhone
Customer Support
24/7 Live Chat Support
Live Support Chat on Android
Live Support Chat on iPhone
Support Contact Form
Support Contact Form on Android
Support Contact Form on iPhone
In-App Tutorials
To Be Added Soon
In-App Tutorials on iPhone
Knowledge Base Access
Support Portal Access on Android
Support Portal Access on iPhone
Visit Route4Me's Marketplace to Check out Associated Modules: