What Is Route Planning in 2023? Trends and Best Software
Route planning is the secret behind last-mile efficiency and profitability. If you are running a last-mile business, you most likely need to map multiple locations and plan multi-stop routes on a daily. Independent courier services, food delivery, field sales, cleaning services, florists, catering, landscaping, maintenance, and many other last-mile businesses have to solve almost the same integral logistics problems: how to deliver more with less, make routes more profitable, increase customer satisfaction and loyalty, etc.
In this article, you will learn everything you need to know about route planning in 2023 and how your last-mile business can benefit from it. Here you can learn about routing best practices, route optimization software, routing in different industries, and more. Furthermore, this post will help you better understand your last-mile routing needs and choose the best route planning map software for your particular routing requirements and unique business model.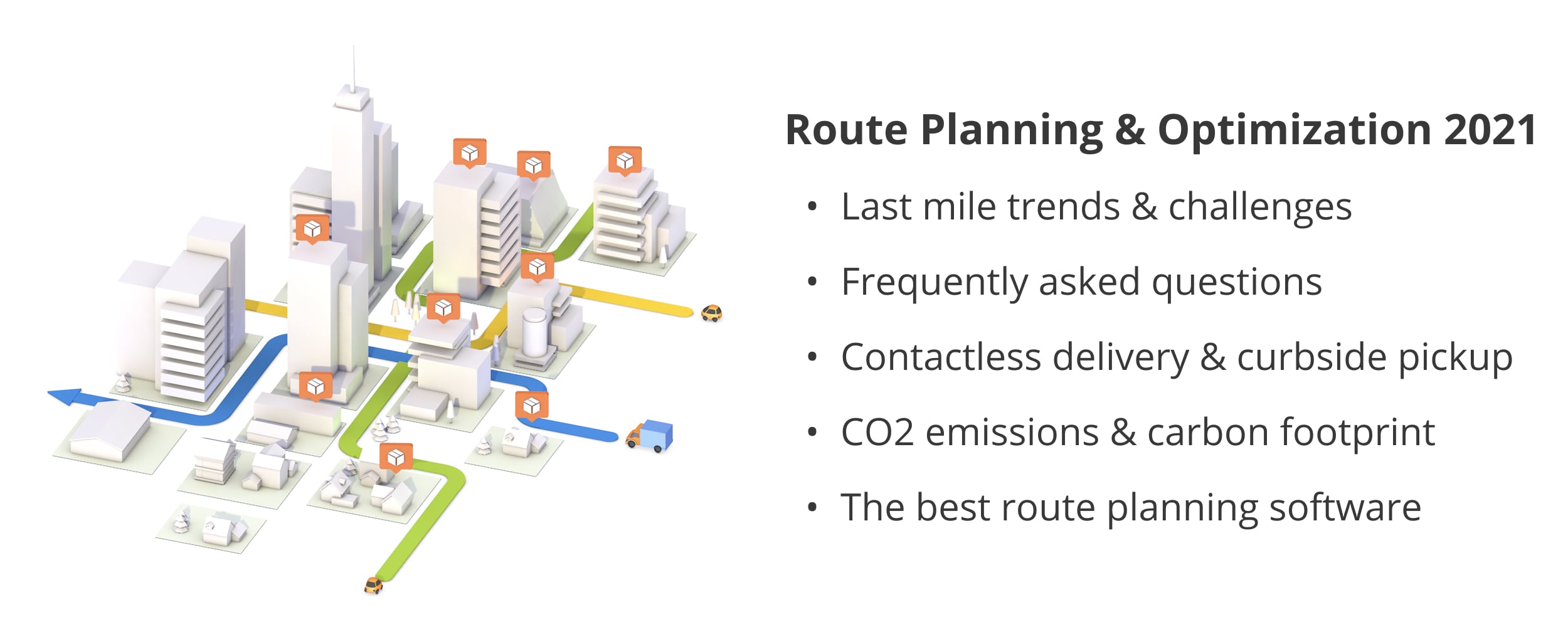 Table of Contents
Route Planning Definition
The definition of route planning refers to the process of mapping multiple locations or addresses and visiting them in the most cost-efficient sequence possible. However, this is just the core of the route planning definition everyone agrees upon. That being said, depending on specific routing needs, industry, and the involved logistics processes, this definition can include thousands of business rules, customer variables, team and fleet constraints, etc. And this article aims to be an extensive guide on routing and explore all its dimensions while providing you with all the necessary information to win the last mile.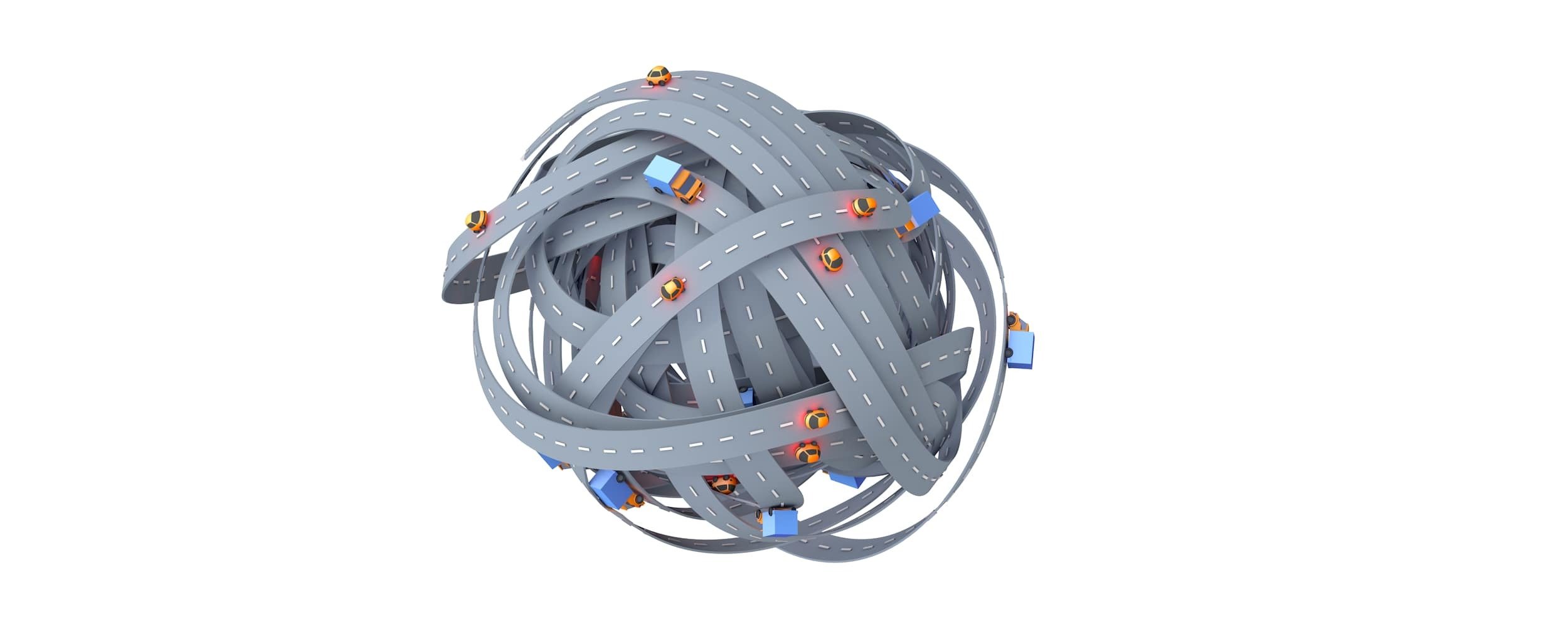 Frequently Asked Questions About Route Planning
Below, we've answered the most frequently asked questions (FAQs) about route planning, most of them submitted by Route4Me users, business owners, dispatchers, managers, and drivers. Whether you are looking for route planning software or just want to learn about planning profitable routes, our FAQ section will provide all the answers and help you save time on researching the topic.
Route Planning by Business Type and Industry
All last-mile business types and field-oriented industries that deliver products or services to customers can plan optimal routes to improve their bottom line and increase customer satisfaction. For instance, food delivery, retail stores, meal delivery, online stores, small couriers, installation and maintenance, healthcare and pharmaceutical, pest control, waste collection, laundry and cleaning, catering, field sales, e-commerce, and many more.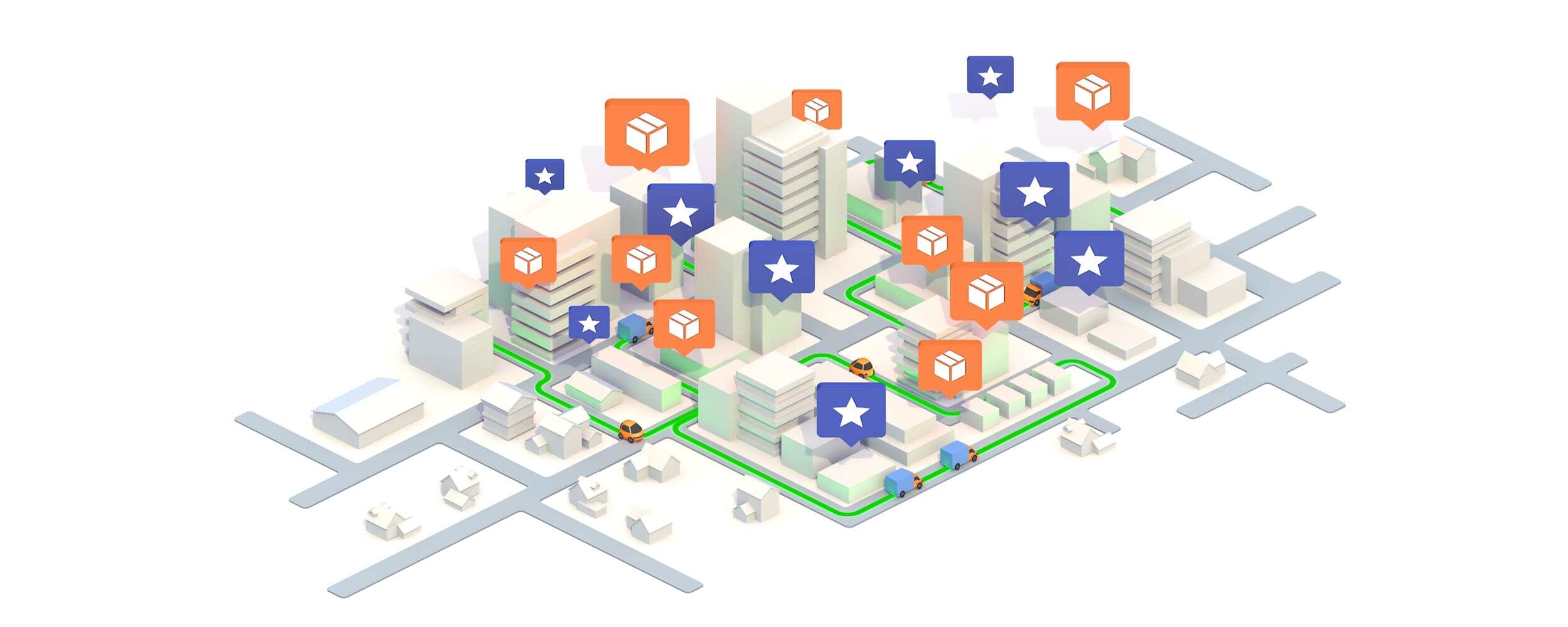 Small Businesses Route Optimization
Additionally, all business sizes can benefit from using use routing tools for their unique needs. For instance, small businesses don't have the same resources like Amazon or UPS. But they can still optimize their routes without breaking the bank using affordable routing software.
Medium-Sized Businesses Logistics Optimization
Similarly, medium-sized businesses can use route optimization tools to make more deliveries and visit more customers without any additional vehicles and drivers. Basically, planning Amazon routes and providing UPS shipping without the Amazon and UPS costs. Moreover, with the best route optimizer apps, medium-sized enterprises can easily provide Amazon delivery and UPS delivery quality without the same high costs.
Enterprises Last Mile Planning
Finally, route making for enterprises enables companies to save thousands – if not millions – of dollars. How? By cutting fuel expenses, minimizing accident risks, lowering CO2 emissions, and more. Additionally, enterprise-grade software also supports such features as route reporting dashboards, customer notification services, real-time driver tracking, planned vs actual route metrics, driver performance monitoring, etc.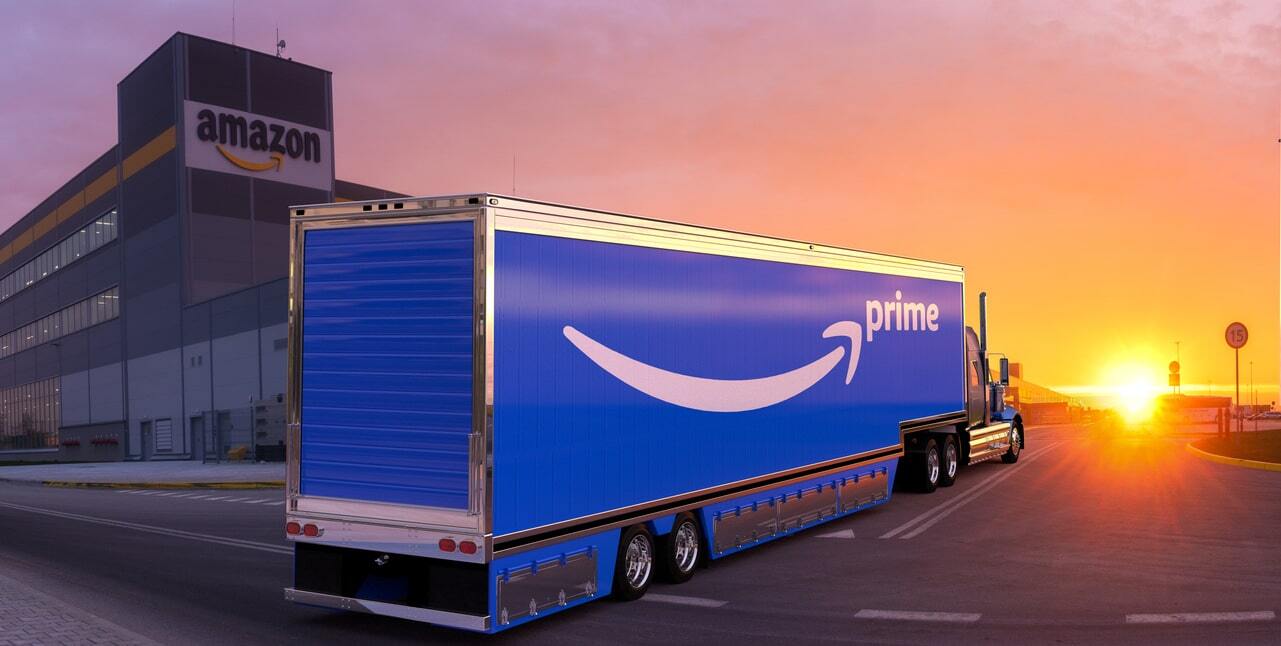 Furthermore, your route optimization app should also support integrations with third-party systems. For example, your can easily integrate Route4Me's route planner with:
Vehicle maintenance software
Purchasing and accounting software
Fulfillment services
Workload management apps, etc.
Additionally, you can easily integrate with various customer relations management (CRM) tools, such as HubSpot, Zoho CRM, Pipedrive, etc. Or, e-commerce platforms like Shopify, Magento, WooCommerce, and other online stores.
Last Mile Trends in 2023
The COVID 19 pandemic forced many brick and mortar shops to close physical venues and open online stores, changing their business model fundamentally. Moreover, restaurants, bars, and other similar establishments had to switch to curbside pickup, delivery, takeout services, or other servicing methods that minimized social interaction. All this introduced one more step before the usually store-bought product reached the end customer: last mile delivery.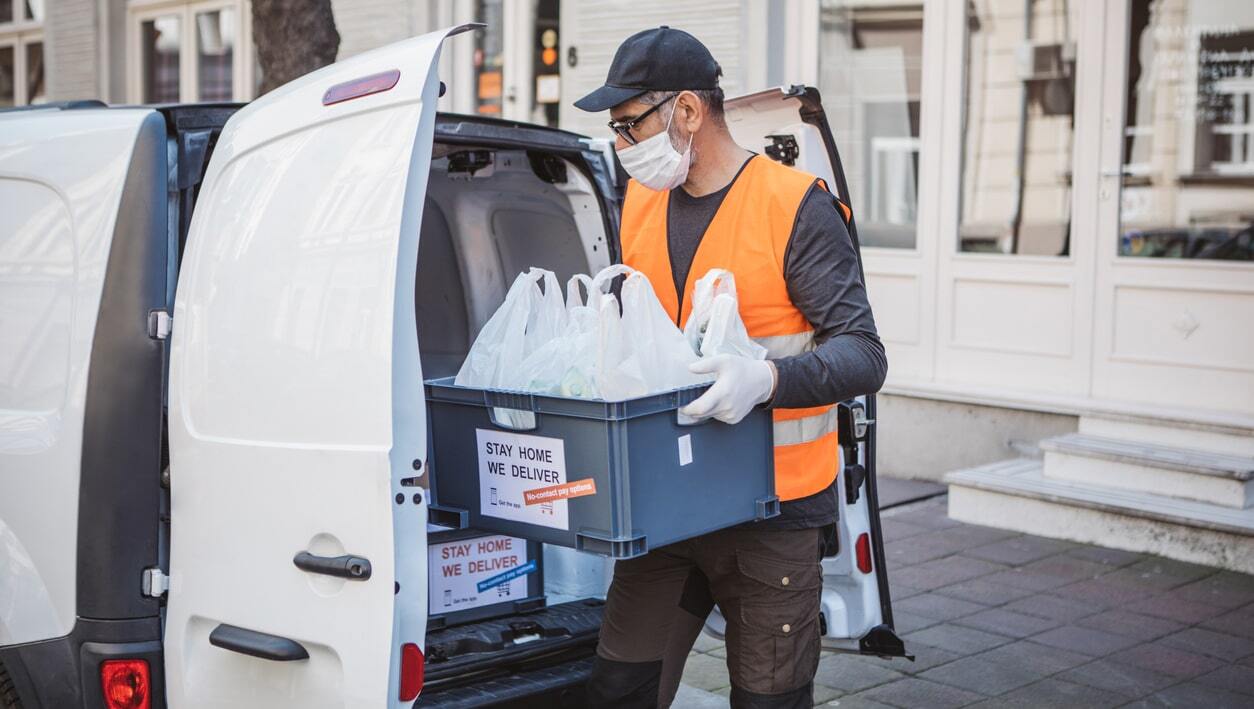 The average consumer was suddenly heavily reliant on delivery for the most basic needs. Therefore, contactless delivery, curbside pickup, and the people making these possible were the true heroes of the pandemic, helping people purchase products without exposing themselves to the highly contagious virus. In fact, this was the time when many consumers made their first online purchase.
Combined with more and more people getting comfortable with online shopping and with businesses turning to a digital-first approach, the pandemic accelerated eCommerce adoption globally. This resulted in a surge in demand not only for e-retailers and eCommerce delivery businesses but also for last mile carriers that had to find ways to deliver more with less overnight. On the other side of the fence, businesses that kept delivery in-house had to swiftly figure out how to deliver as fast and as cheap as possible just to stay afloat.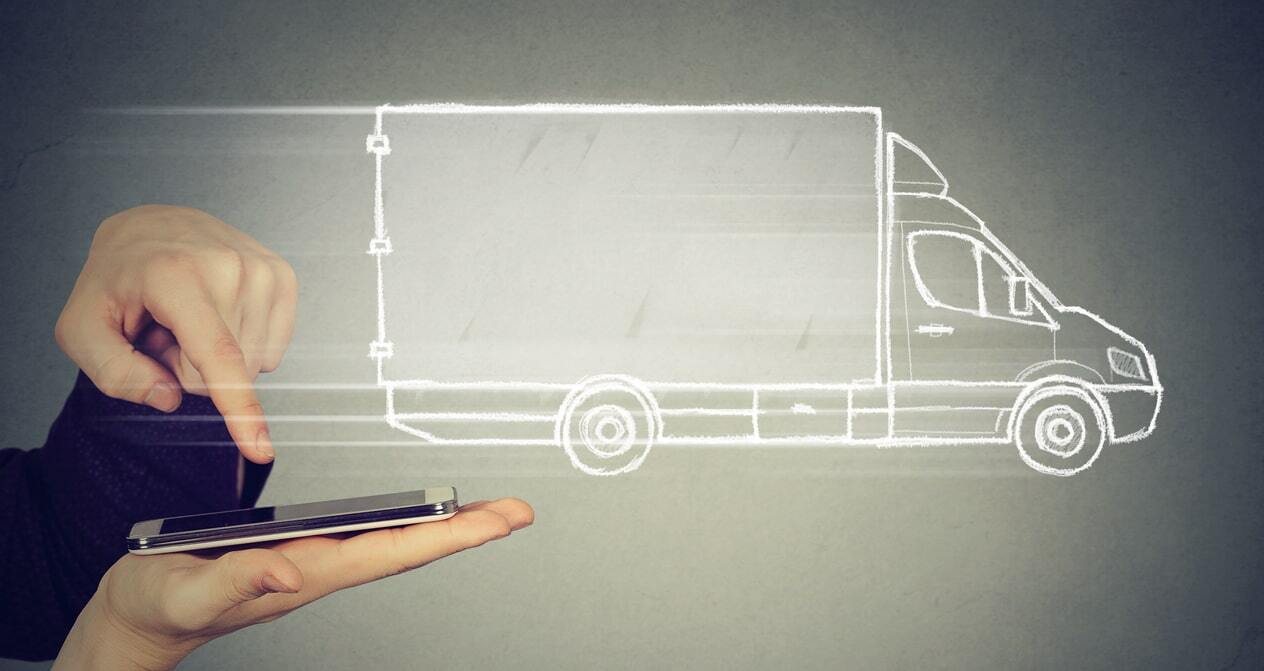 In the post-COVID world, consumer behavior might not change back. This means there's a high chance that customers worldwide would still order most of the items on their shopping lists online. As a result, route planning and route optimization have become vital to delivery-based businesses and order-at-home customers alike. Well optimized routes translate into more orders fulfilled, faster deliveries, and happy customers.
Learn about last mile optimization in the post-COVID-19 world in our Free Last-Mile Delivery eBook.
The Best Route Planning Software 2023
Finding the best route planning software in 2023 can be tricky. Whether you are an individual contractor or driver or you are running a last-mile business, your route optimization software must be able to accommodate your unique logistics and routing needs. Below, you can learn about some of the most popular routing software and the best route planner and delivery driver apps in 2023.
MyRouteOnline Route Optimization Online Multi-Stop Planner
With the MyRouteOnline route planner, users can create routes with no more than 350 stops. Although it offers a couple of more advanced tools for route optimization for multi-stops routes (such as service times and optimization goals), MyRouteOnline is suitable for small and medium-sized fleets. It is available both as a web-based routing platform as well as a mobile application for iOS and Android named MyRoute App.
You can learn about MyRouteOnline pricing on their official website. If you are looking for a more professional software designed for commercial and business use, you can consider various MyRouteOnline alternatives.
MapQuest Driving Directions and Maps
MapQuest is a free online web mapping service. It's similar to other free route mapping apps like Google Maps, HERE Technologies, etc. The MapQuest trip planner supports basic route optimization capabilities, allowing you to re-order stops on your route and selecting the shortest time and shortest distance optimization. Furthermore, the MapQuest driving directions can avoid tools and highways, show IRS reimbursement for the trip, MapQuest mileage, etc.
However, the MapQuest route optimizer is limited to optimizing up to 26 locations based on your preferences. Overall, MapQuest directions and MapQuest routes are excellent for non-commercial drivers who need to map several locations and optimize simple routes. Additionally, this app is free, although it comes with on-map ads. A better MapQuest route planner alternative for last mile businesses should provide:
Optimization rules
Business constraints
And other industry-specific features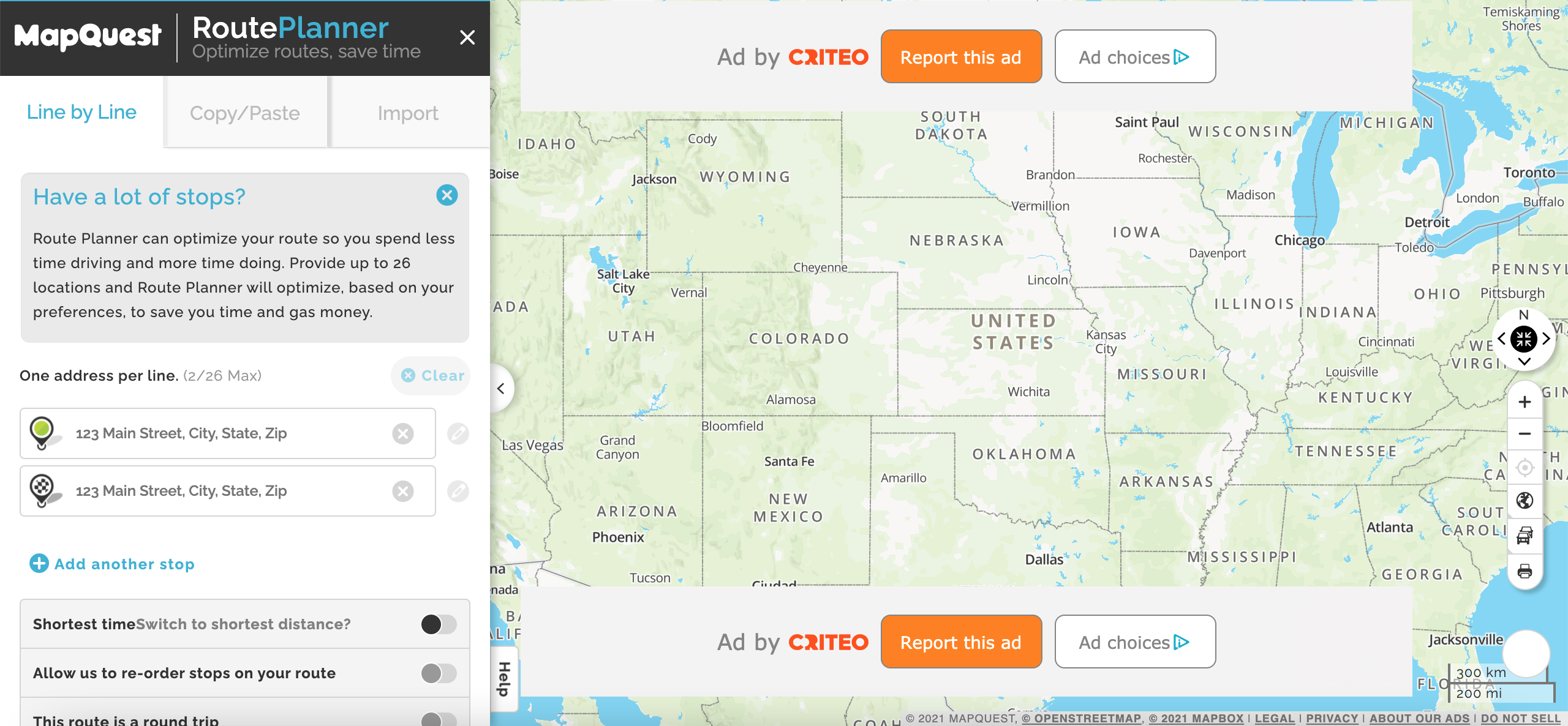 Circuit Delivery Planning Software
The Circuit Route Planner allows users to plan unlimited routes with up to 500 addresses per route. Additionally, the Curcuit multi stop routing features recipient notifications and a Circuit for teams mobile app with proof of delivery collection. Overall, this software is great for delivery route optimization, driver management, and delivery management. Learn more about the Circuit Delivery Route Planner pricing on their website.
However, the Circuit app is good for creating simple and uniform routes. Namely, Circuit enables users to map routes with identical deliveries, uniform fleets, drivers with the same skills, etc. In detail, this app can't account for different vehicle types, pick-up and delivery stop types, vehicle capacity, driver skills, customer availability, curbside delivery, and many other business constraints. A Circuit alternative should offer more optimization constraints for mixed fleet optimization, delivery constraints, vehicle parameters, and other routing rules and restrictions.
Upper Routing Software
Upper's is a route optimization software fit for couriers, meal delivery, retail delivery and other small last mile businesses. It offers basic but useful routing features, including:
Mapping multiple stops
Avoiding different road types
Dispatching routes, etc.
Additionally, the Upper route planner also features a user-friendly mobile route app for delivery drivers. The Upper mobile app allows drivers to receive dispatched routes, use navigation and collect signature POD. Learn more about the Upperinc pricing on their main website.
However, since the Upperinc software is designed for small businesses only, it works for a limited number of industries and business types. Specifically, it can't accommodate last mile businesses with multiple vehicles that have different parameters, drivers with different skills, etc. Additionally, its mobile app doesn't support such field service features as barcode scanning, contactless delivery, etc. An Upperinc route planner alternative would provide a more diverse set of optimization options, work not only for delivery but also for field service, etc.
Onfleet Last Mile Delivery Software
The Onfleet delivery optimization software is a well-rounded route optimization software. It supports multiple features for small and mid-sized businesses to enterprises. Onfleet's web platform provides multiple optimization options, fast route dispatch, and customer notifications. Additionally, their mobile app supports all the features you need to navigate routes and complete last mile deliveries on time. Moreover, being an enterprise-grade route optimization software, Onfleet supports various CRM and third-party system integrations.
However, both the web and mobile apps are focused on the last mile delivery only. Thus, the number of businesses that can use Onfleet's solution is limited. Additionally, Onfleet's pricing is based on the per-task billing mode. Consequently, as your business grows, you will have to pay more for your subscription. You can check for Onfleet alternative software on business software reviews websites like Capterra, G2, or Software Advice.
Routific Delivery Planning Software
The Routific route planner offers delivery management-specific tools, including:
Additionally, Routific's mobile app for drivers supports handy POD collection tools such as in-app electronic signature capture. Overall, it's a great tool to map delivery routes for small and medium-sized delivery fleets. Moreover, Routific pricing is fairly reasonable for this type of local delivery software.
However, Routific's delivery planner may not work for last-mile businesses that need to map service routes, sales routes, etc. Learn more about the Routific alternative that includes more features in addition to the local delivery.
Locus or Locus DispatchIQ Software
Locus is a dynamic route optimization software for delivery planning and route scheduling. The Locus routing solution supports such smart logistics features as:
Intelligent clubbing of orders
Delivering insights
Autonomous and supervised route optimization
Proprietary vehicle allocation engine
And more!
Learn more about Locus pricing and subscription plans on their website.
OptimoRoute Delivery Routing and Field Service Scheduling
OptimoRoute is a delivery planning and field service scheduling software. The OptimoRoute software solution supports such features as:
Mobile workforce management
Route analytics
Schedules for deliveries
And other features used by last-mile businesses
Moreover, OptimoRoute can be used for optimizing HVAC services, post, laundry, medical courier services, and dry cleaning, retail and distribution, waste collection, pool maintenance, etc.
Learn more about OptimoRoute pricing details on their official software website. Learn about OptimoRoute alternative software.
WorkWave Service Software for Business Automation
WorkWave is a field service management software used in such industries as:
Lawn care
Cleaning services
Alcohol delivery
Medical transport
And many more
The WorkWave service software provides goal-specific solutions designed to drive profitability and automate specific businesses.
Learn more about WorkWave pricing and what packages they are offering on their website. Additionally, learn more about WorkWave alternative software.
DispatchTrack Last Mile Delivery and Order Tracker
DispatchTrack is an enterprise-level routing and dynamic ETAs software that helps last mile businesses optimize logistics and improve customer satisfaction. The DispatchTrack routing software provides such features as:
Strategic planning
Delivery self-scheduling
Customer communication
Order tracker
Contactless delivery, etc.
Find out about the DispatchTrack pricing on their official product website.
Route4Me Last Mile Optimization Software and Route Planner App
The Route4Me Route Planner is the world's most used route sequencing and optimization software for small businesses and enterprises. Furthermore, Route4Me provides a continuous process from routing and scheduling all the way to route dispatch and real-time navigation. With over 32,000 customers, Route4Me is used by businesses across industries such as:
Overall, Route4Me helps businesses achieve a 300% increase in the cost-effectiveness of most routing and logistics activities without additional investments. Namely, businesses using Route4Me can grow without adding more drivers, vehicles, or any other expensive assets. And Route4Me's modular approach to custom routing solutions enables to accommodate all types of last-mile companies. Additionally, you can read more about Route4Me route planner reviews on the Capterra top route planning software reviews website, G2 software reviews, Software Advice business route planning SaaS reviews, and other similar platforms.
Route Planning Free Software Trial
So, is there a route planner that can route for me for free?
Yes, Route4Me offers new users a Free Route Planning Software Trial for 7 days. That means a week of free of charge, automated route planning.
Can I use my real business data to plan my route for free and check out the benefits?
Yes, Route4Me's free routing software trial offers you the chance to experiment with your own customer data base. With Route4Me, you can create fast and profitable routes customized for your unique business needs. Moreover, you don't need to input your credit card details when signing up for the free route planner trial.
Sounds Great! Show me How to Map My Route for Free right now!
d
Disclaimer
All the trademarks, logos, and brand names on this page are for identification purposes only. We do not endorse these trademarks, logos, and brand names. All the trademarks, logos, and brand names are the property of their respective owners. If any of the trademarks, logos, and brand names are your property or the property of your company, and you would like us to remove them from our website, please contact us at [email protected] to submit your request.

Visit Route4Me's Marketplace to Check out Associated Modules: