Route4Me Address Geocoding and Location Mapping Software
For your convenience, we've collected some of the most frequently asked requests for proposals (RFP) questions about Route4Me's address geocoding and validation. We hope that this post will help you better understand how our software works and make the most out of your Route4Me solution. However, if you can't find an answer to a specific question, please contact our Customer Success Team.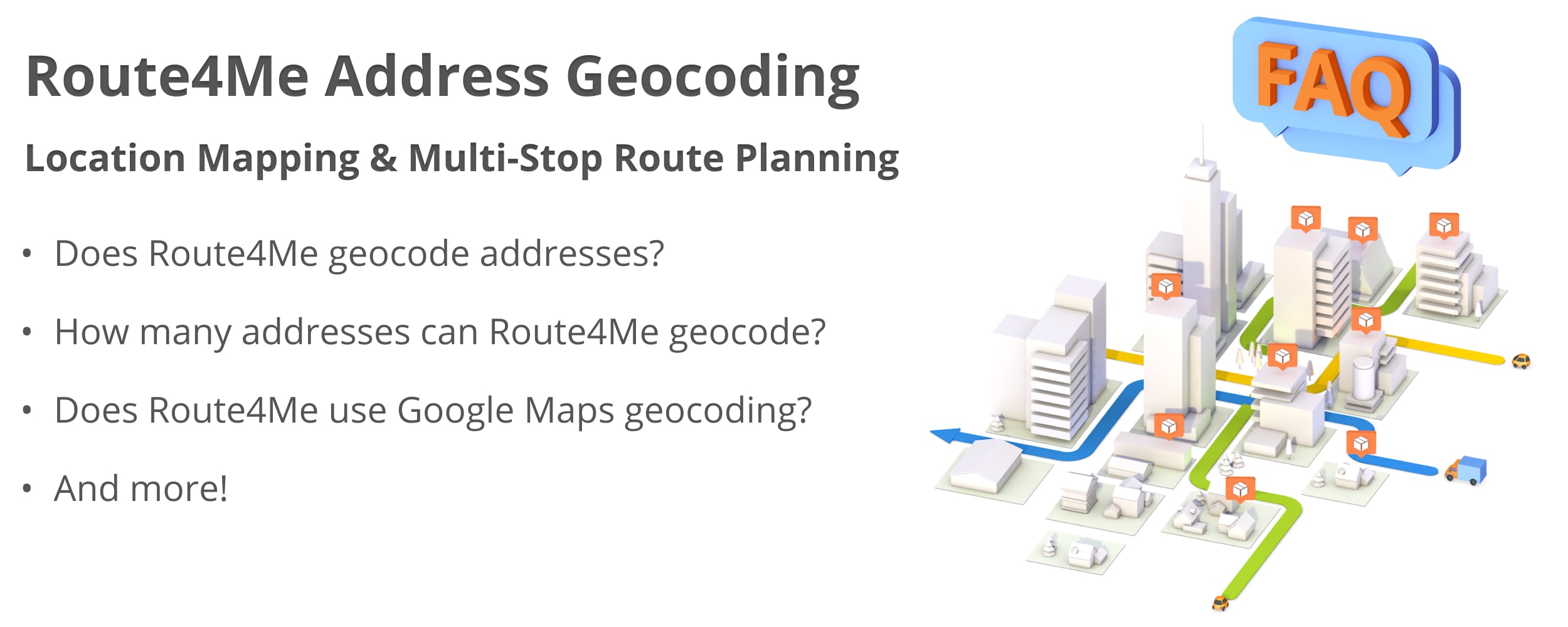 Frequently Asked Questions About Route4Me Address Geocoding
Yes, Route4Me's Web Route Optimization Software and mobile Route Planner Apps support fast and powerful address geocoding. In detail, when you add or import addresses, Route4Me automatically geocodes and validates each address and location. Next, Route4Me automatically corrects incomplete, incorrect, or invalid addresses and provides multiple address choices.
Furthermore, Route4Me enables you to map and route even non-geocodable addresses, new and unregistered addresses, etc.
Additionally, you can learn more about Working With Non-Geocodable Addresses and Locations by visiting the respective tutorial.
Yes, Route4Me supports reverse geocoding, allowing you to convert geographic coordinates (latitude and longitude) into an address. Thus, you can easily map multi-stop routes using the geographical coordinates for route destinations.
Route4Me automatically geocodes and validates all addresses and locations that you add into the system. Specifically, when you add or import an address, the system automatically:
Locates it on the map
Assigns the correct latitude and longitude coordinates
Autocompletes the address
And then shows the geocoding confidence
The geocoding confidence determines how accurately the given address was geocoded. Additionally, Route4Me can detect and suggest multiple address options.
Thus, Route4Me's address geocoder enables you to use only valid and the most accurate addresses and location coordinates for mapping and optimizing your multi-stop routes.
Route4Me leverages Google Maps Platform geocoding to provide its users and customers with the most accurate location mapping results. Specifically, Route4Me uses Google's Geocoding API that converts addresses into exact GPS coordinates (latitude and longitude). Additionally, Route4Me also uses Google's reverse geocoding that converts location coordinates into readable addresses.
Thus, the combination of Route4Me's patented route sequencing algorithms and Google Maps' precise mapping provides Route4Me users with the most optimal high-precision routing.
Route4Me can map and geocode hundreds of thousands of addresses. In detail, all you need to do is import addresses from a file, a connected system, CRM, or pick addresses right from the map. Then, Route4Me will geocode, autocorrect, autocomplete, and show all imported addresses on the map. For ultra-fast geocoding results, our routing experts recommend geocoding up to 500 addresses at a time.
You can add and import addresses into Route4Me for planning routes, mapping customers on the Address Book Map, generating orders, etc. Furthermore, you can import or add addresses into Route4Me in multiple ways: upload a spreadsheet, pick addresses from the map, manually input addresses, import addresses from Google Drive, Dropbox, and other services, and more.
Route4Me can map and geocode hundreds of thousands of addresses. For extra fast routing results, our routing experts recommend geocoding up to 500 addresses at a time.
Yes, by default, Route4Me automatically validates, autocorrects, and autocompletes invalid and incorrect addresses that you upload into the system. Therefore, Route4Me uses only valid and correct addresses and location coordinates when you map customers, generate orders on the map, plan and optimize routes, etc.
Yes, Route4Me's Android Route Planner and iOS Route Planner mobile apps support high-quality and precision location geocoding and address validation. Specifically, when you add or import addresses on Route4Me's Mobile Route Planner, the app automatically geocodes, validates, and autocorrects your addresses for the most precise and accurate route planning results.
You can geocode addresses using Route4Me's mobile apps when planning routes, generating orders, picking locations from the map, adding to the Address Book, and more. Additionally, the app can show your geocoded addresses and locations on the interactive map.
Yes, Route4Me combines Google Maps geocoding with its proprietary route optimization algorithms for the most accurate multi-stop route planning. Specifically, the Google Maps geocoder provides Route4Me with the most reliable and precise mapping data in the world that is refreshed in real time.
Thus, Route4Me's easy-to-use route planning and Google Maps mapping data allow users from around the world to save time, reduce driving time, and make more money. Learn more about how Route4Me uses Google Maps geocoding and how it helps various last mile businesses make more money.
Yes, Route4Me supports address clustering, allowing you to display address clusters on the Address Book Map. In particular, address clustering provides a more user-friendly user experience when mapping large amounts of addresses that are located relatively close to each other.
To use address or location clustering, simply enable it on the map and Route4Me will automatically group addresses in proximity to each other when you are zooming out.
Visit Route4Me's Marketplace to Check out Associated Modules: