Switch from MyRouteOnline to Route4Me
Table of Contents
Why You Use Route4Me as a MyRouteOnline Alternative
What differentiates Route4Me route optimization software from MyRouteOnline routing solution is Route4Me's flexibility and ability to adapt to any unique business needs and logistics requirements – no matter how complex. Route4Me's cutting-edge route optimization engine, together with its reliable driver tracking solutions and route planning analytics, is enabling you to generate actionable intelligence while cutting costs, improving fleet asset allocation, and increasing the overall efficiency of your last mile operation. No doubt – Route4Me route optimization software is the best MyRouteOnline alternative on today's market. With Route4Me, you can effortlessly organize all your routing data in one centralized interface that can be easily accessed by multiple users from any computer device or using one of the dedicated iOS and Android route planner apps.

Route4Me Marketplace
Unlike other MyRouteOnline alternative platforms, Route4Me's Marketplace enables you to configure your own custom subscription and include only those features and functionalities that accommodate the particular needs of your business or business model. For more convenience, you can choose among various industry-specific packages of preselected modules which are focused on solving the unique problems inherent to specific industries. Customizing your subscription plan allows you to gain more control over your operations, as well as eliminate unnecessary and undesired expenses.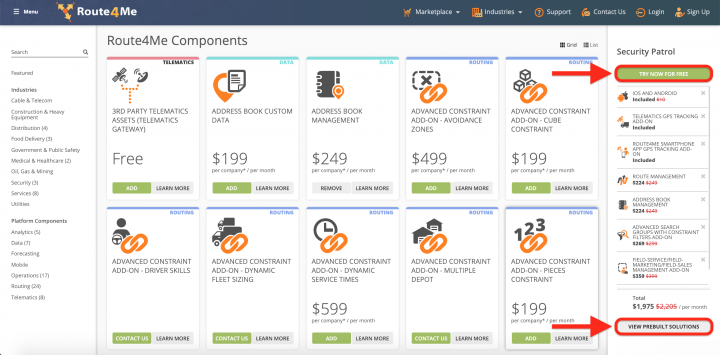 Route4Me is the best MyRouteOnline alternative on the market.
How to Switch from MyRouteOnline to Route4Me
Switching to Route4Me is fast and easy; all you need to do is download or copy your MyRouteOnline routing data and import it into your Route4Me account. To do so, first, create a new Route4Me account using the Marketplace. You can get a free trial for 7 days without any payments or attachments.

To download your routing data, log into your MyRouteOnline account and then click on the Export button in the bottom left corner of the main screen.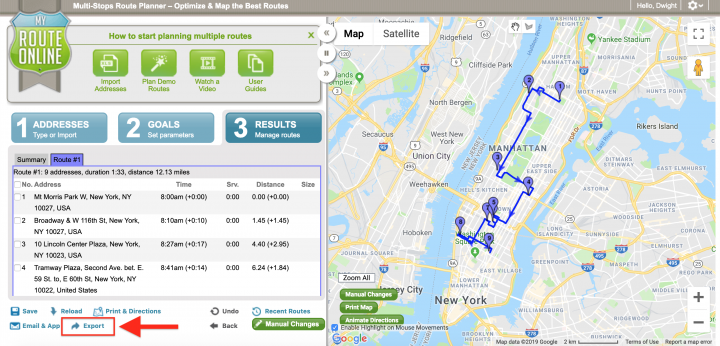 Once you downloaded your MyRouteOnline routing data, proceed to format it into a spreadsheet and upload it into your Route4Me account.
Formatting Files for Uploading to Route4Me
To import routing data into your Route4Me account, first, format it into a spreadsheet. For a spreadsheet to be successfully processed, it should contain a header row and data rows. The header defines the type of information you are importing, while the corresponding data rows contain the actual information you input into the system. The only mandatory column is the Address column which should include the street name and number, city, state, and zip code. Currently, Route4Me supports CSV, XLS, and XLSX upload spreadsheet file formats.

Importing MyRouteOnline Data into Route4Me for Planning Routes
To start planning routes using the downloaded MyRouteOnline data, first, go to Plan New Route from the navigation menu.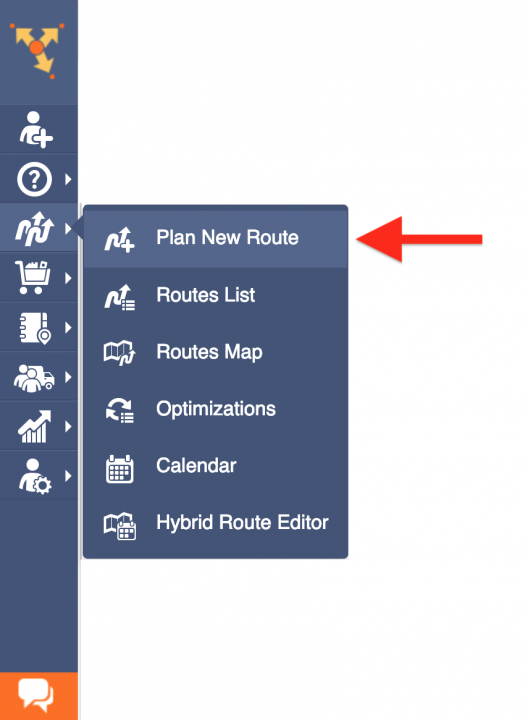 Next, select one of the corresponding import methods. Route4Me offers multiple methods for importing your data into the system. You can upload spreadsheets with thousands of addresses or contacts, and Route4Me will do all the computing and processing for you, delivering corrected and geocoded route destinations. Route4Me allows you to upload scanned documents, import files from various cloud-based storage services, or pick addresses right from the map using Route4Me's Interactive Map Editor. Select Upload a File to use the formatted spreadsheet.
After that, specify the preferred route parameters and then click on the corresponding button to proceed.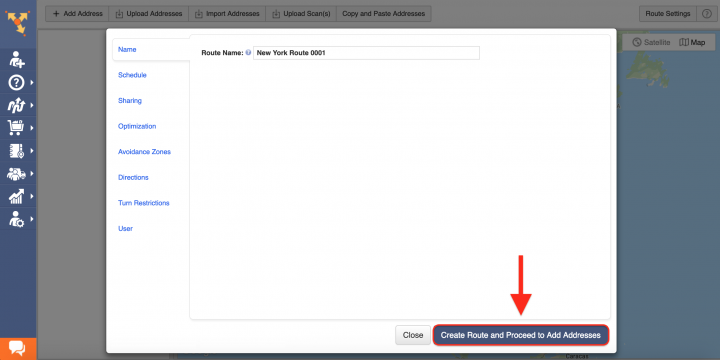 Then, either drag and drop the file/spreadsheet into the corresponding window or click Browse File to Upload and then upload the file from your device. Currently, Route4Me supports CSV, XLS, and XLSX upload file formats. For the most accurate results, it is recommended to use CSV file format spreadsheets.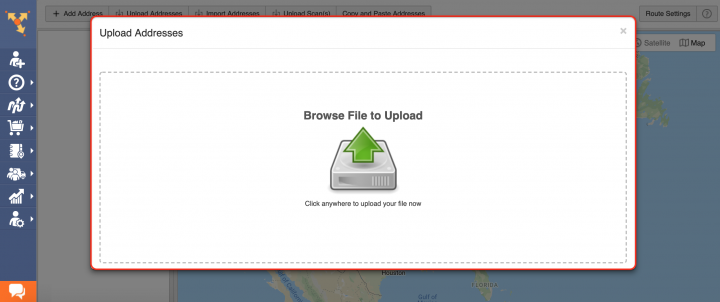 Once you uploaded the spreadsheet, Route4Me processes the imported data and displays it in the corresponding window. For the system to process the data automatically, select the Auto (attempt detection) option, respectively.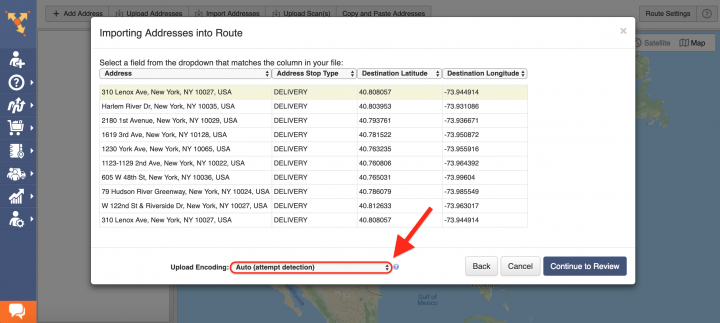 Alternatively, you can manually match column titles to the data contained in the corresponding columns.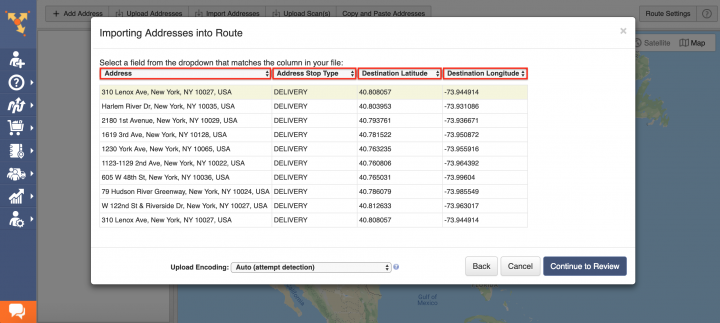 Next, click Continue to Review.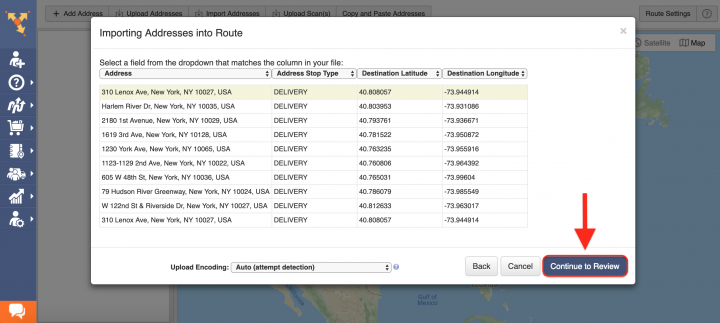 In the Verify Addresses on Map window, you can view all imported and processed addresses on the map, as well as check their geocoding statuses. Green colored dots indicate that the corresponding addresses were successfully geocoded with High Confidence. Addresses that have yellow colored dots next to them should be reviewed and fixed accordingly.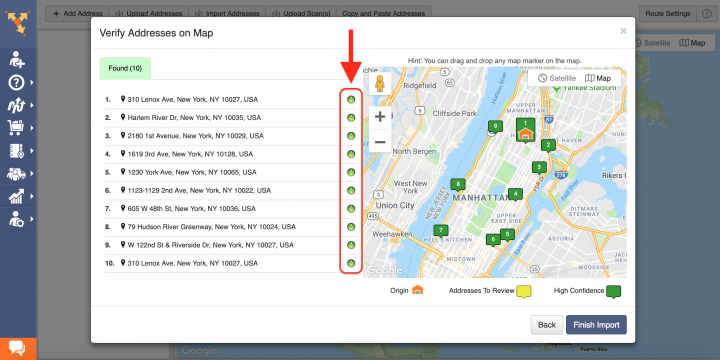 Geocoding is the process of giving/assigning latitude and longitude values/coordinates to street addresses for accurate location detection and precise GPS tracking.
After reviewing the imported addresses, click Finish Import to plan the route.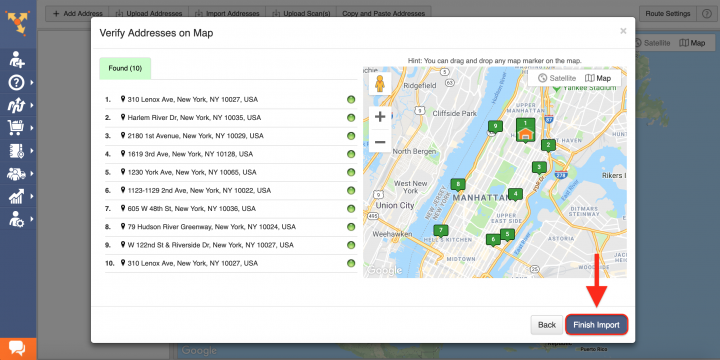 Once the route is planned, it is optimized and then opened in the Route Editor where you can modify it, as well as added to the Routes List with all your routes.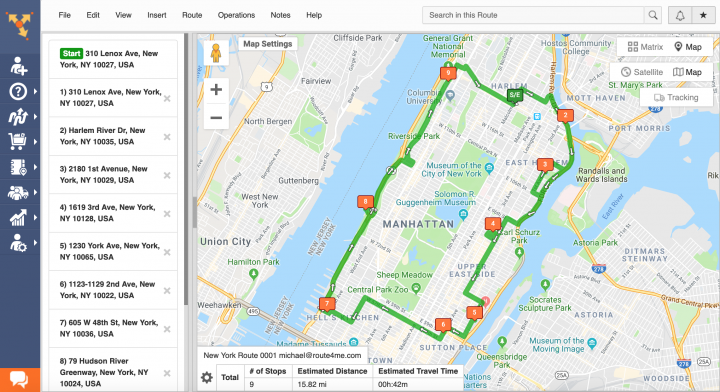 Disclaimer
All the trademarks, logos, and brand names on this page are for identification purposes only. We do not endorse these trademarks, logos, and brand names. All the trademarks, logos, and brand names are the property of their respective owners. If any of the trademarks, logos, and brand names are your property or the property of your company, and you would like us to remove them from our website, please contact us at [email protected] to submit your request.

Visit Route4Me's Marketplace to Check Out Various Industry-Based Subscription Plans: