Route4Me Software Basics
Table of Contents
Route4Me's Web Platform is one of the most efficient and cost-effective dynamic routing software solutions on the market. Route4Me uses advanced algorithms that can solve the Traveling Salesman Problem (TSP) and the Vehicle Route Problem (VRP) in seconds, allowing you to easily plan the most time-efficient and cost-effective routes. The Route4Me routing software takes care of all calculations and computing processes, delivering user-friendly tools for planning and optimizing routes of the highest complexity taking into account numerous virtual and realistic constraints.
Route4Me offers a free route planner and route optimization trial so that you can use your own business and routing data to see the benefits for your unique business. Get a Free  7-Day Trial Today!
Route4Me Routing Software Marketplace
Route4Me's Marketplace enables you to configure your own custom subscription plan and include only those features and functionalities that accommodate the particular needs of your business or business model. For more convenience, you can choose among various industry-specific packages of preselected modules which are focused on solving the unique problems inherent to specific industries. Customizing your subscription plan allows you to gain more control over your operations, as well as eliminate unnecessary and undesired expenses.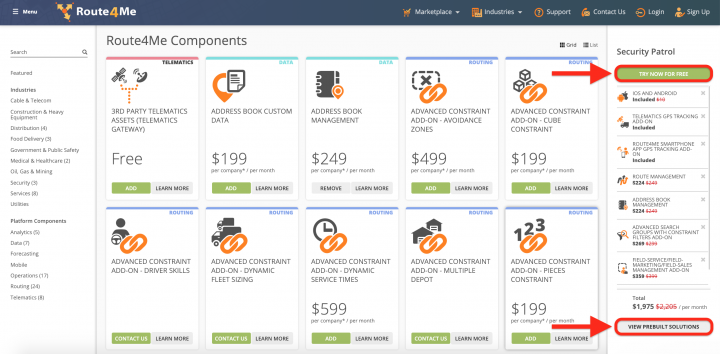 Route4Me's Mobile Applications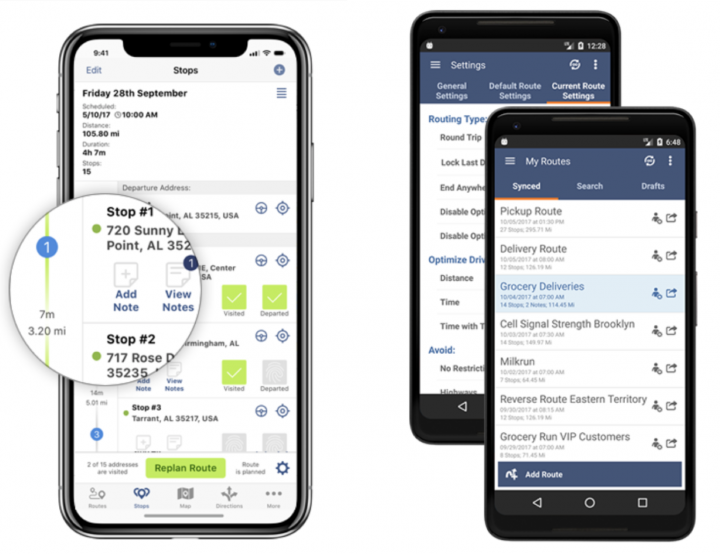 The Route4Me routing software supports Android and iOS mobile applications that are aimed at giving you maximum flexibility for planning and optimizing your routes on the go. Route4Me's Android and iOS apps allow managers and dispatchers to maintain stable and flexible channels of communication with the field personnel in real-time. Mobile apps also increase your security and the security of your clients through various verification and data input features. Route4Me's mobile applications support advanced GPS tracking features for precise and easy-to-use navigation. Route4Me is also supported on the Zebra devices – the world's most rugged devices on the market for extreme conditions.
Advanced Route Management
The Route4Me routing software provides advanced and user-friendly tools for planning, dispatching and managing your routes. Route4Me's Route Editor allows you to view and edit your routes on the interactive map with aggregated metrics and various adjustment settings as well as multiple tracking options. Using the Route Editor, you can adjust your planned routes in real time and instantly synchronize the changes across all associated devices. You can also use the Timeline in the Routes Map for moving stops between different routes in real time. The Routes List enables you to easily organize and manage all your routes in one place. Route4Me's Address Book can store the contact information of all your customers as well as their locations and other custom data.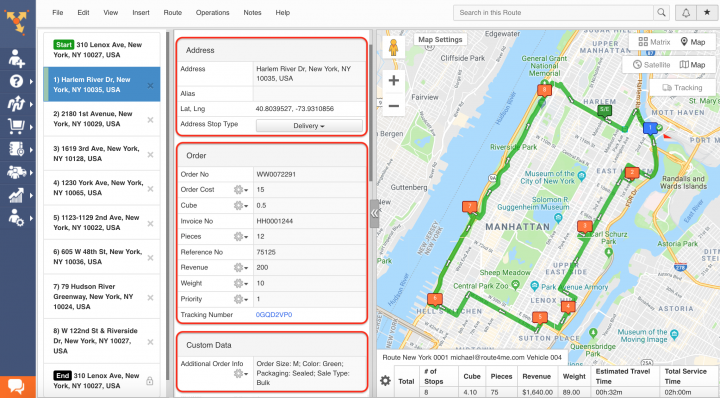 Managing Users and Vehicles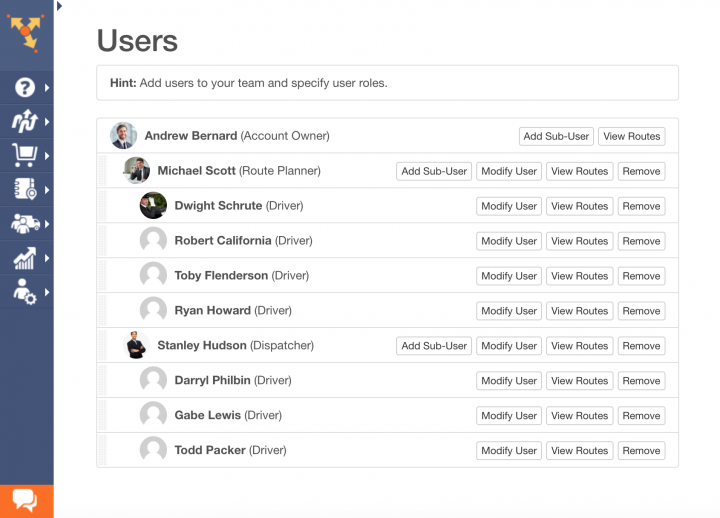 The Route4Me routing software provides convenient and adjustable settings for managing your team members. You can easily add and control multiple users based on your needs and preferences. Route4Me allows you to create users with different levels of access to the data and set various permissions and restrictions for the most effective delegation of duties and tasks.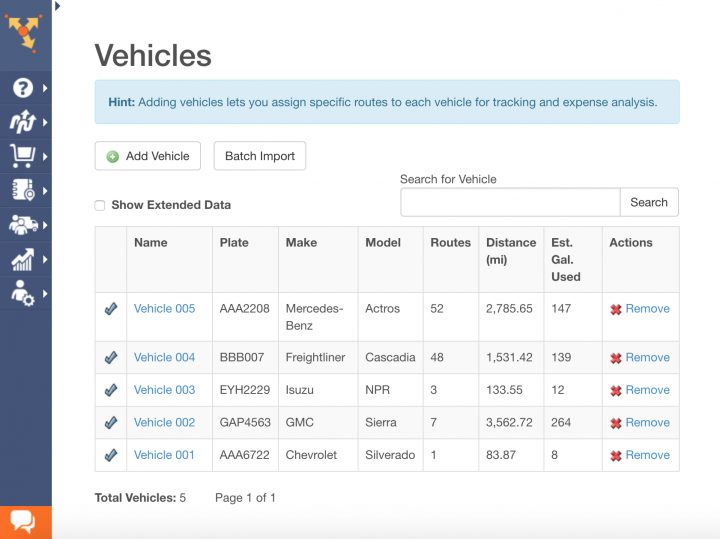 With Route4Me you can create and manage your fleet of vehicles in the most efficient way. You can add multiple vehicles to your Route4Me account and assign them to your routes. Route4Me provides a set of detailed and adjustable parameters for your fleet to ensure that you always assign the right vehicles to the right routes. Depending on your local traffic regulations, many roadways may have mandated vehicle restrictions, such as height, weight, hazardous materials, level of emissions, etc. With Route4Me's Commercial Routing you can easily adjust your fleet for planning and driving commercial routes.
Real-Time Tracking and Communication
Route4Me's advanced real-time tracking features allow you to view the actual location of your team members on the map and easily track their routing activities in real-time. With Route4Me routing software, you can view the tracking history of your drivers to get a proper understanding of everything that is happening with your operations. Moreover, you can also simulate your routes before setting them in progress. The Activity Feed helps you to establish an internal channel of communication with your team in real-time. Route4Me's Android and iOS apps provide instant data synchronization with the Web Platform.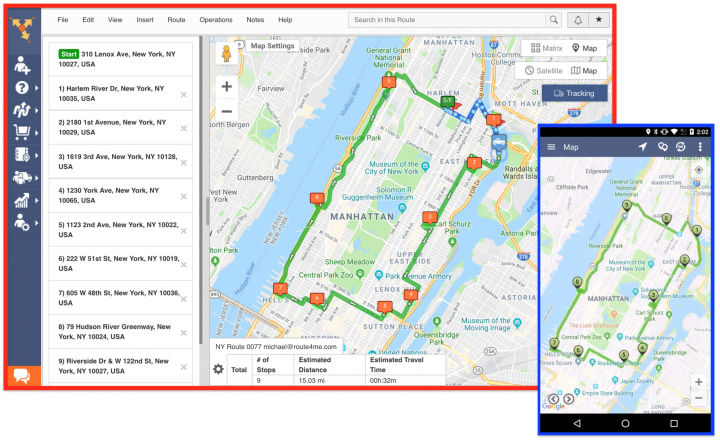 Advanced Analytics
Route4Me's Account Analytics provide various dashboards with aggregated metrics as well as other tools for analyzing your routing activities and auditing your expenses. One of Route4Me's main goals is to lower your operational costs while maintaining a high level of quality and effectiveness of your business.

Visit Route4Me's Marketplace to Check out Associated Modules: