How to Plan a Delivery Route With Multiple Stops
Table of Contents
Even if you need to map more than three or five locations into a route, planning this route manually will not give you the best results. Manual route planning is prone to error and often nearly impossible when routing hundreds of thousands of addresses. The good news is that you can plan a delivery route in 6 easy steps using a multiple stop route planner. Furthermore, you need to step up your game when competing with courier giants like Amazon delivery, UPS, FedEx, and other large last-mile carriers.
Try a free route planner trial and automatically plan the most profitable delivery routes with your real business and routing data to see the real benefits for your specific unique business. Get a 7-Day Free Test Drive Right Now!
How Do You Organize a Delivery Route?
There is a lot that goes into planning delivery routes. First, there's route optimization, which is mandatory for obtaining the most cost-efficient and time-effective routes. Next, you have to consider customer availability, traffic slowdown, order priority, vehicle carrying and loading capacity, and a lot more business rules, customer variables, and optimization constraints.
The good news is that a multi stop route planner can help you plan delivery routes while factoring in all of the above with a click of a button. Adapting your route planning to real-life situations that can delay delivery will help you stay ahead of customer complaints and minimize customer turnover.
What Is the Best Way to Plan a Route With Multiple Stops?
Your best bet when trying to plan a delivery route with multiple destinations is a capable routing software or route planner for multiple stops. These tools can go through millions of routing scenarios in seconds to find the shortest route with hundreds of thousands of addresses. As you probably guessed, doing so manually would take a ridiculous amount of time.
Therefore, a route planner will not only help you improve delivery efficiency but will also help you save time. Moreover, it can also help you make more money.
How?
A multi-stop route planner will enable you to deliver more packages with fewer fleet vehicles and less windshield time. You will minimize the need for overtime, utilize your fleet at its full capacity, and service more customers.
Is There an App for Delivery Routes?
There are multiple options to choose from when it comes to apps for delivery routes. One thing to keep in mind when looking for a solution for mapping multiple delivery and shipping addresses is the value you get for the price you pay. Be careful not to choose a route planner with more features than you need. You should be able to choose the capabilities your business would benefit from – not stick to a standard package of features you'll never use.
Another thing to keep in mind is that free mapping tools, such as the Google Maps route planner, are not suitable for commercial routing. You can add multiple stops to a Google Maps route, sure. But can you optimize it? No. You have to sequence your stops in the best order manually. And you'll only be able to add 10 stops per route.
Here's how to plan a delivery route in 6 easy steps using a multi-stop route planner such as Route4Me or RouteXL:
1. Choose a Route Planner that Suits Your Industry-Specific Needs
Planning a delivery route with a pen and paper is not only outdated but also highly inefficient – and sometimes humanly impossible. You have to consider investing in a capable route planner for delivery drivers. Unfortunately, not any route planner will do the job. For instance, Google Maps multiple stops route planner has limited capabilities. Plus, you might be charged for features, and capabilities your courier service business might not even need.
Look for a tailored routing solution with flexible pricing modules that can adapt to your delivery business requirements.
Route4Me offers you multiple pricing models and features modules to choose from. You can choose the routing building blocks you need to create a route planner that suits your delivery business.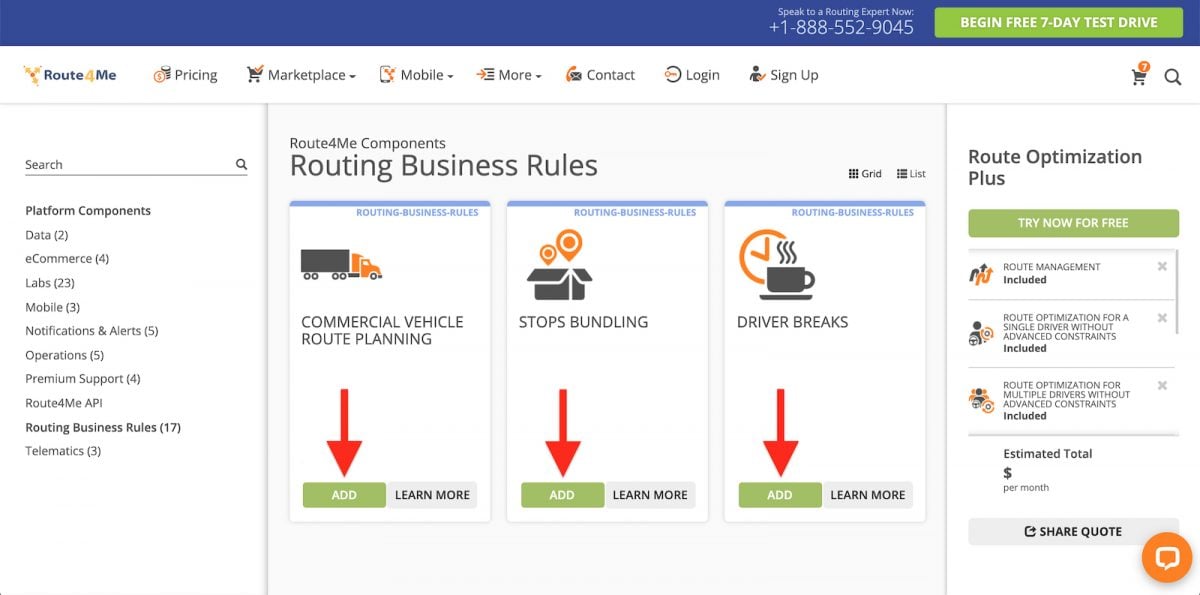 2. Input Your Customers' Delivery Addresses on the Route Planner
Once you implemented the route planner with multiple stops, you're ready to plan a delivery route. First, gather all your customers' addresses and transfer them to the route planner address book. With the Route4Me multi-stop route planner, you can import hundreds of thousands of addresses from spreadsheets, cloud storage, internet-based computer file transfer services, etc.
You can even sync your CRM or eCommerce platform customer details with the route planner. Mapping customers' shipping addresses is as easy as drag and drop.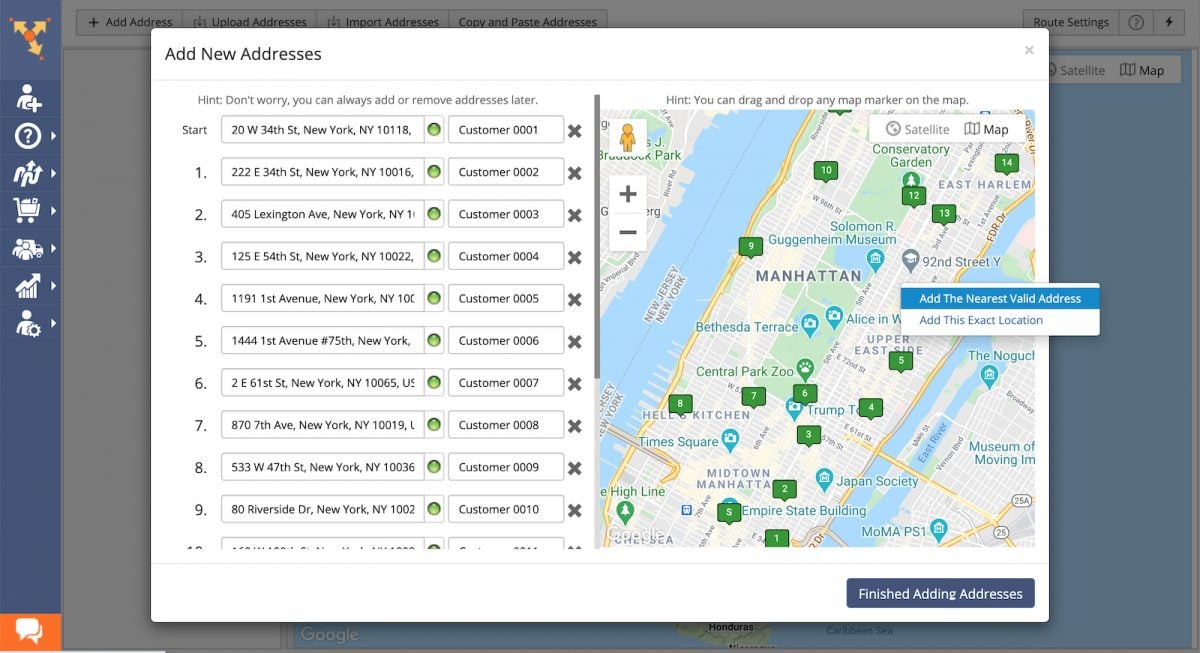 3. Proceed to Plan a Delivery Route
After importing your customers' delivery addresses, it's time to choose those shipping addresses and drop-off locations that need to be routed. Depending on how many delivery drivers are available to be assigned to service those specific stops, you would want to consider splitting the workload evenly among all your team members.
You can manage your workload automatically with the Route4Me route planner for multiple stops. When you have many customers to deliver packages to during a single day, you might need to plan equally-sized routes to be dispatched to each of your delivery drivers.
After figuring out how to distribute your routes, the multi-stop route planner will optimize the routes, and you'll get the fastest and shortest way to service all your customers.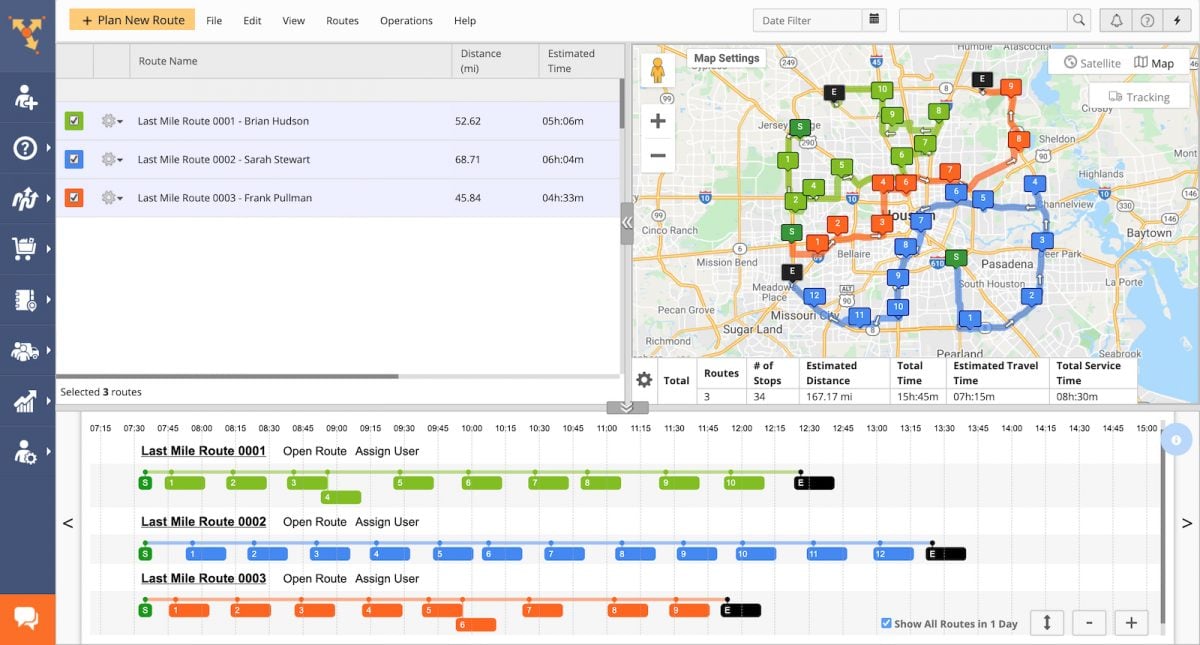 4. Set Routing Business Rules and Optimization Constraints
This step is optional, but it would benefit your delivery business efficiency if implemented.
Your customers might have different visitation schedules or delivery time windows. The delivery cars you're using can fit only a limited number of packages. Traffic and weather conditions might change.
There are many variables that can lead to delivery delays if not taken into account when planning a delivery route. It would be best if you could factor in these customer variables, business rules, and optimization constraints.
Route4Me routing software enables you to fine-tune your delivery routes so you can keep abreast of demand, order fulfillment, and late deliveries.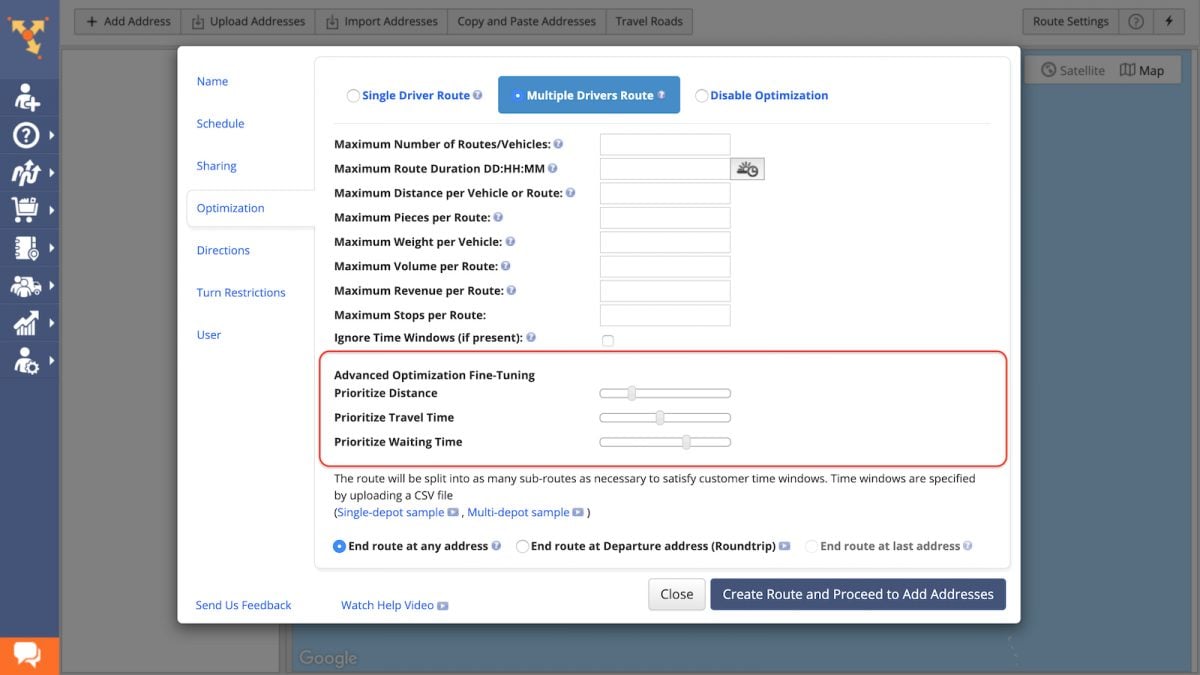 5. Dispatch the Planned Routes to Delivery Drivers
Now that you've got your optimized routes, you can assign delivery drivers to each planned route. Route4Me allows you to dispatch routes to drivers and send the planned routes straight to their route planner apps. What's more, the Route4Me iOS and Android route planner apps enable delivery drivers to:
However, the Route4Me mobile route planner is not designed to suit only the needs of delivery drivers. Route planners and dispatchers can also use the multi-stop route planner app to plan and dispatch delivery routes on the go.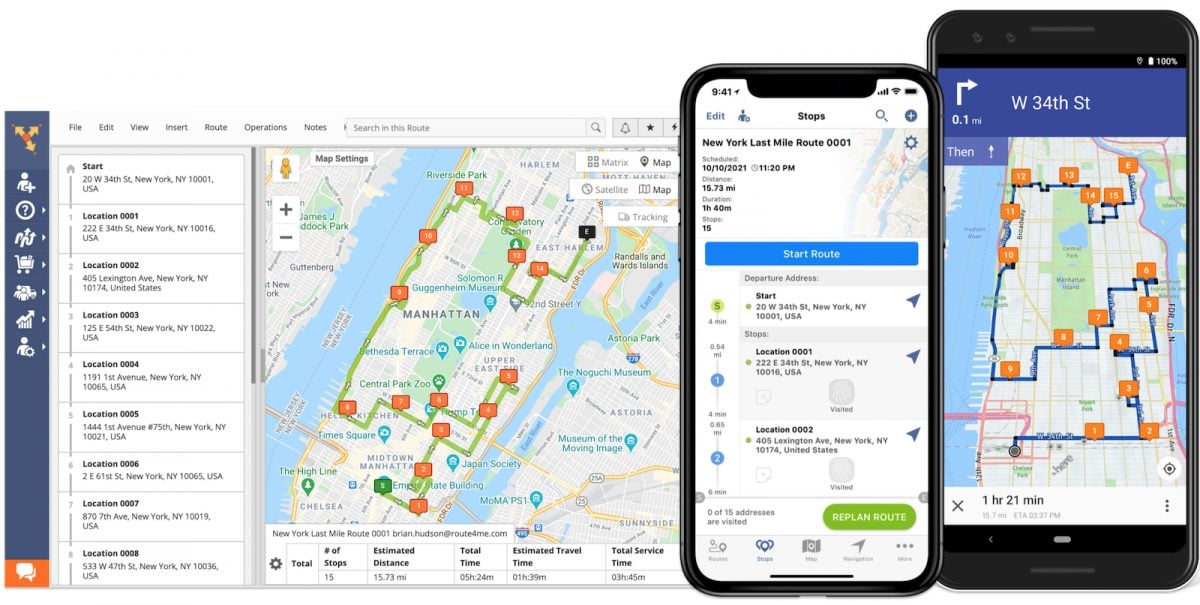 6. Track the Delivery Status and Route Progress
After planning and dispatching your delivery routes to delivery drivers, you can grab a cup of coffee, sit back, and watch your drivers as they progress on the routes.
The Route4Me multiple stop route planner offers you the possibility to track delivery drivers on a live map simultaneously. If you can't keep an eye on your delivery statuses as they happen, you can always watch the drivers on the map after the fact – in a video format – so you don't miss a thing.
This way, you'll be able to identify any route detours or long breaks that may lead to delayed deliveries and unsatisfied customers.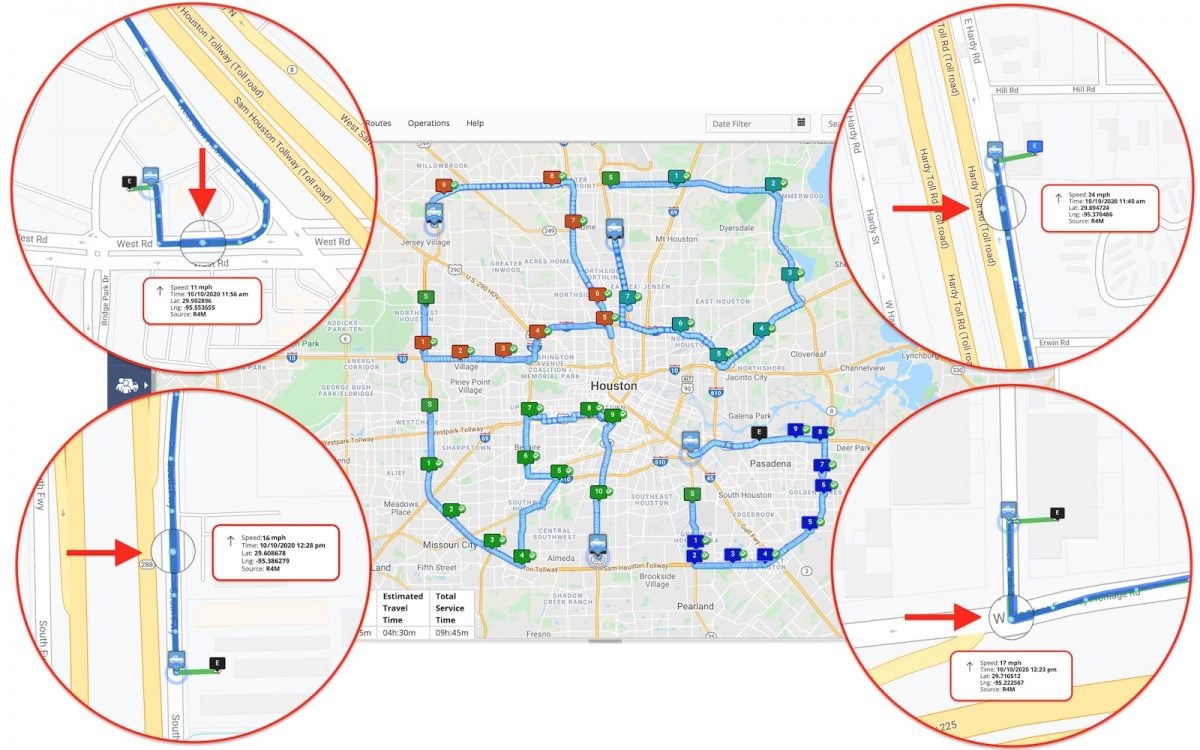 The best thing?
You can complete the 6 steps to plan a delivery route for free. Route4Me offers you a 7-day free trial so you can experience the benefits of proper route optimization and route planning without spending a dime.