How to Plan a Truck Route
Table of Contents
To plan a truck route, you need to find a proper truck router or truck routing software. Otherwise, you'll need to manually trace commercial vehicle routes on a truck driver map while accounting for truck restrictions such as weight restrictions on bridges and height restrictions in tunnels.
When planning routes for regular vehicles, you don't need to factor in any weight and height limitations. On the other hand, truck routing is more complex. To avoid legal consequences and to keep your truckers and the other traffic participants safe, you need to make sure you're using the right tool for planning routes for trucks and commercial vehicles.
Truck routing requires you to account for several state regulations, traffic restrictions, and physical road constraints. Try a free route planner for trucks trial and optimize truck routes with your real business and routing data to see the benefits for your unique operation. Get a 7-Day Free Route Planner Unlimited Stops and Unlimited Tasks Test Drive Now!
What Is Truck Routing or Truck Route Planning?
Truck routing or truck route planning refers to planning routes specifically for commercial motor vehicles (CMVs), more commonly known as trucks. Truck routing is also often referred to as commercial routing, requiring more complex route optimization processes than regular route planning. When planning routes for trucks or CMVs, you have to not only factor in the vehicle carrying and loading capacity but also road restrictions for trucks. Not doing so and ignoring traffic regulations and restrictions for truckers will result in costly fines or worse legal consequences.
Can You Set Google Maps for Trucks?
No, you can't use Google Maps multiple stop route planner for truck routes or truck route planning. Although the Google maps route planner can be useful for truck drivers in terms of finding landmarks, gas stations, parking lots, and restaurants along their way, truckers can't use the Google Maps route planner for truck navigation or commercial route planning.
The Google route planner was designed for personal trip planning – not commercial routing. Not only is not useful for truck routing but planning truck routes on Google Maps can also be dangerous for both truckers and the other traffic participants alike. Therefore, it is not advised to use Google Maps as a truck route GPS app as it can't provide accurate driving directions for truckers
Even if it falls under the category of free truck driver apps, it is not suitable for truck routing.
How Do You Optimize a Truck Route?
To optimize a truck route, you need truck routing software that was specifically designed to calculate the most cost-efficient and time-effective ways to reach multiple stops or destinations while avoiding low bridges and other restrictive roads and elements.
Route4Me's truck route planning software allows you to create detailed profiles for each of your trucks and CMVs. By creating a virtual commercial fleet with all the cargo specifications and technical details, you will be able to plan truck routes that accommodate your specific needs. Route4Me commercial routing software for truckers enables you to plan routes while accounting for:
Weight, height, width, and length restrictions
Low clearances or bridges
Road types like paid toll roads and highways
Tunnels, etc.
How to Plan Truck Routes Using a Route Planner
A truck routing software solution or a truck route planner will help you map your stops in a couple of seconds. It will help you save time and plan the fastest and most cost-efficient truck routes. After planning a truck route, you can dispatch it to your truckers' route planner apps so they can start using the truck navigation and complete the route.
There are a couple of steps you need to follow to ensure you're truck routes are specifically tailored to your distribution or delivery business needs. Here's how to plan a truck route in 8 steps:
1. Build a Fleet of Commercial Vehicles on the Truck Routing Software
Commercial vehicle and truck route planning requires a digital tool or software for optimal results. You could use a truck app for commercial vehicle routes, truck routing software, fleet routing software, a route management system for truck routes, a truck dispatch, and routing software, etc. Regardless of their official name, these tools are very similar in terms of the purpose they were created for.
So, after deciding on which routing software to use, it's time to add your fleet – vehicle by vehicle – into the route planner. Route4Me's truck routing software allows you to create detailed profiles for each of your CMVs. You can input truck attributes such as:
Truck type
Maximum height
Maximum width
Trailer length
Total weight
Maximum weight per axel
Route4Me allows you to create vehicle profiles for CMVs such as pickup truck, 18 wheeler, cabin, waste disposal, tree cutting, big rig, cement mixer, livestock carrier, dairy, or tractor-trailer.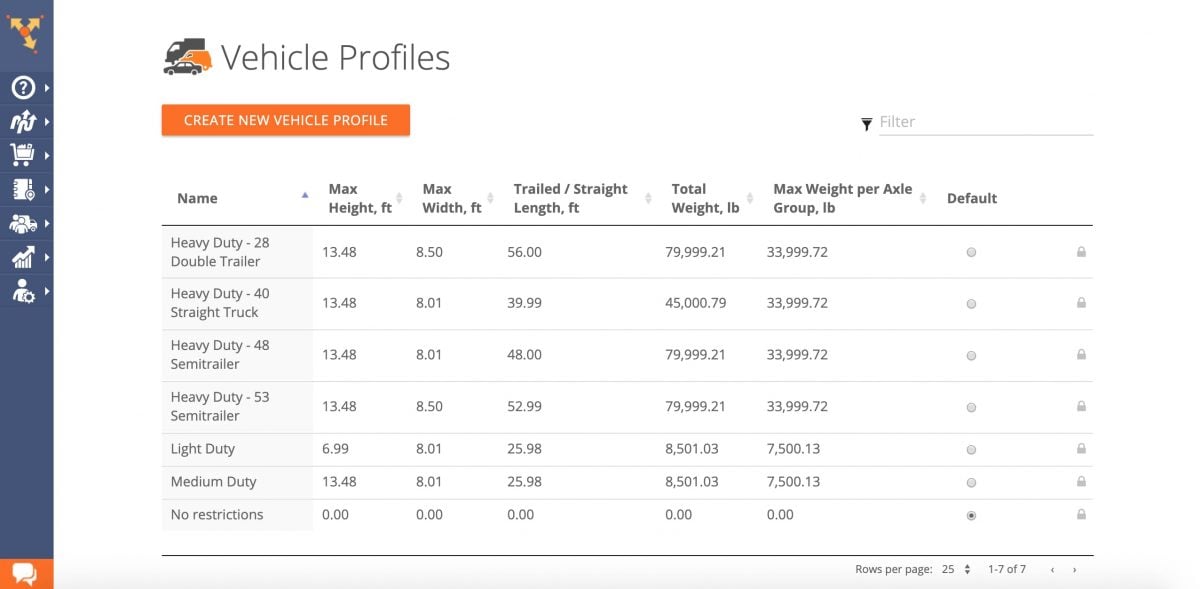 2. Input Addresses Into the Truck Routing Software
As soon as you finish adding your CMVs and trucks to the truck router, you should proceed with gathering your customers' shipping addresses. With Route4Me's truck routing software, you can upload hundreds of thousands of delivery addresses and customer drop off points by using:

3. Select the Preferred Optimization Type
After inputting the shipping addresses, you should select the right optimization type for your route. You can optimize truck routes as per the number of drivers and depots, driver skills, type of fleet, etc.
For example, if your business operates a commercial fleet with different types of vehicles, you would choose the mixed fleet optimization type. Furthermore, if your truck route requires special skills, you could also add in the driver skills route optimization type. The same goes for multiple depots and multiple driver optimization types.
The point is that no matter how specific and customized you want your truck routing outcome, the Route4Me truck routing software can do it.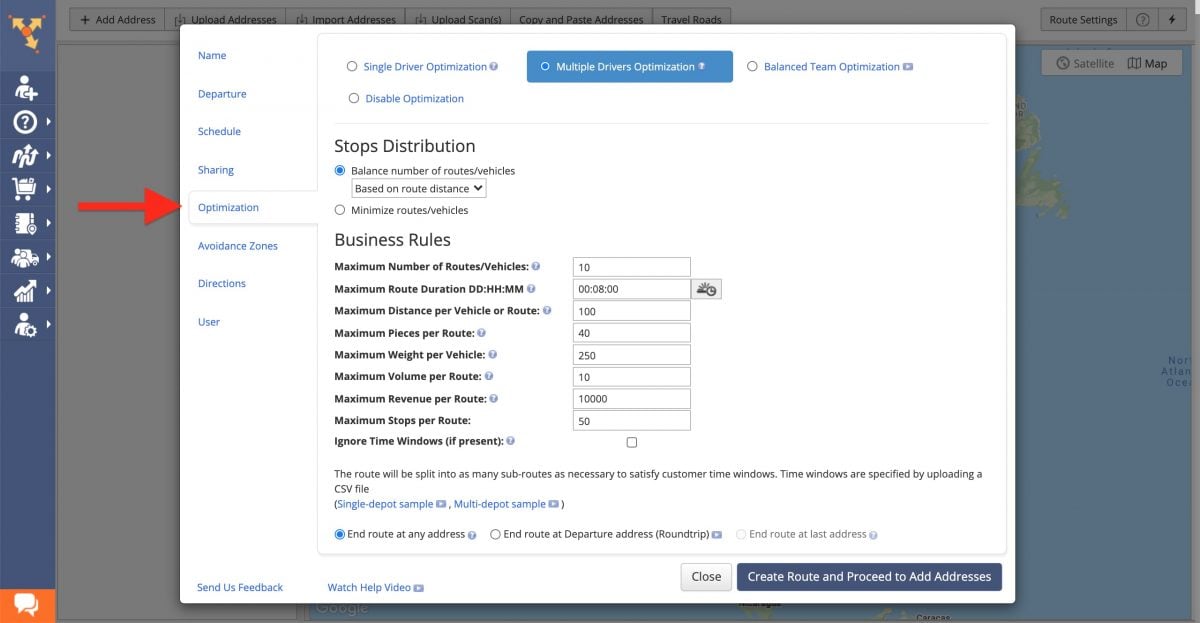 4. Choose Where to End Routes
Next, you need to choose where you want your truck route to end. After the last stop on each route is visited and serviced, you need to decide to end your routes:
At the same stop where they started (roundtrip)
At the last stop
At any address or the most convenient location
When choosing to end the truck route at any address option, the Route4Me truck routing software will automatically calculate the most optimal stop to end the route at.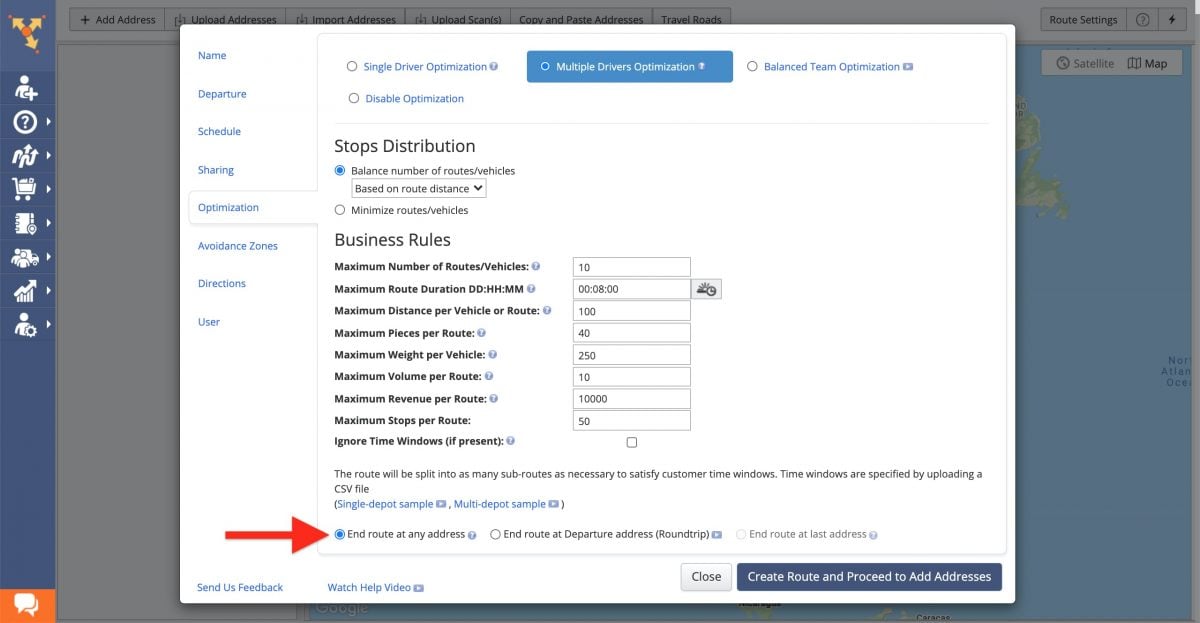 5. Add Optimization Constraints and Business Rules
The last step before getting to optimize your truck route is to add optimization constraints and business rules. When doing so, you will adjust the truck routing outcome so that it matches your customers' needs and business requirements.
The Route4Me truck router allows you to plan and optimize truck routes with: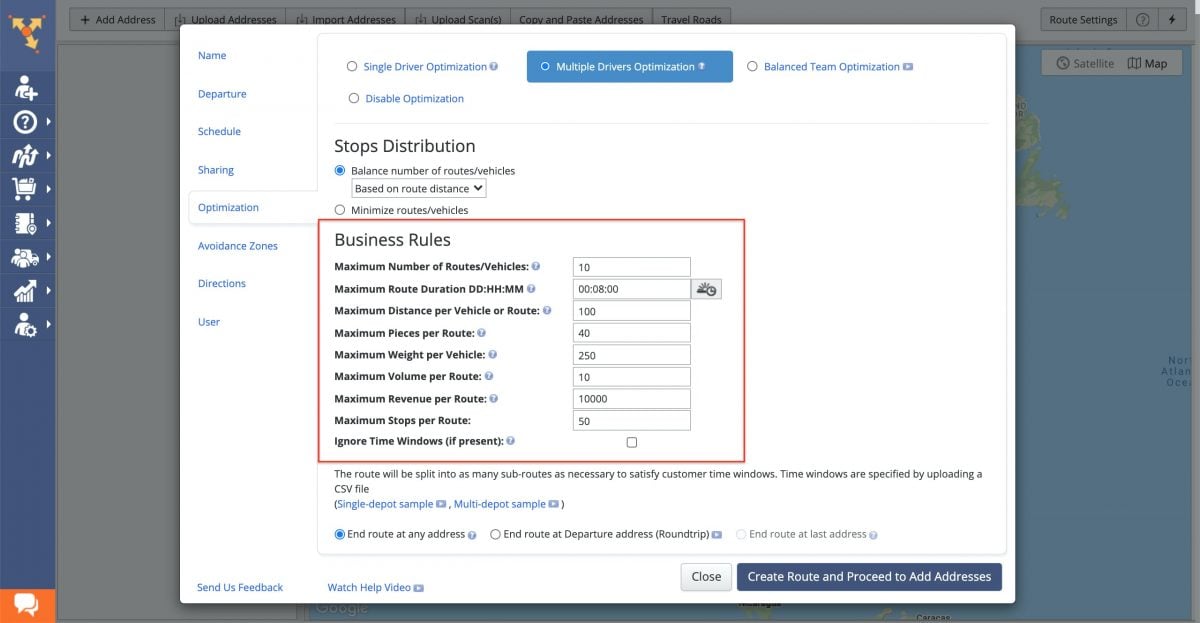 6. Optimize Your Truck Route
After fine-tuning the truck routing and optimization settings, you can press a button and the truck router will create and optimize your truck route according to your preferences. When using truck routing software, you can optimize a truck route in seconds. On the other hand, if you try to manually optimize your truck routes, you will waste time and resources. Plus, the output of manually planning truck routes can not only be dangerous for truckers but also not financially efficient.
Furthermore, a truck routing software solution will help you plan truck routes as per traffic regulations for trucks. For example, trucks are not allowed on certain roads and parts of the city. When planning and optimizing a route for a regular vehicle, disregarding the road restrictions for CMVs, you might end up with a costly fine. Bellow, you can see how different the outcome of each of the two optimization types can be.

7. Dispatch Trucks Routes to Truck Drivers
The next step after optimizing truck routes is to assign them to truckers and CMVs. With Route4Me's truck route planning software, you can send the planned truck routes straight to your truck drivers' iOS or Android free truck driver apps.
The Route4Me free truck driver apps enable truckers to get voice turn-by-turn driving directions, mark stops as visited and departed, collect proof of delivery, and more. The mobile truck routers have built-in truck GPS navigation, truck driver maps, and in-app driving directions for truckers.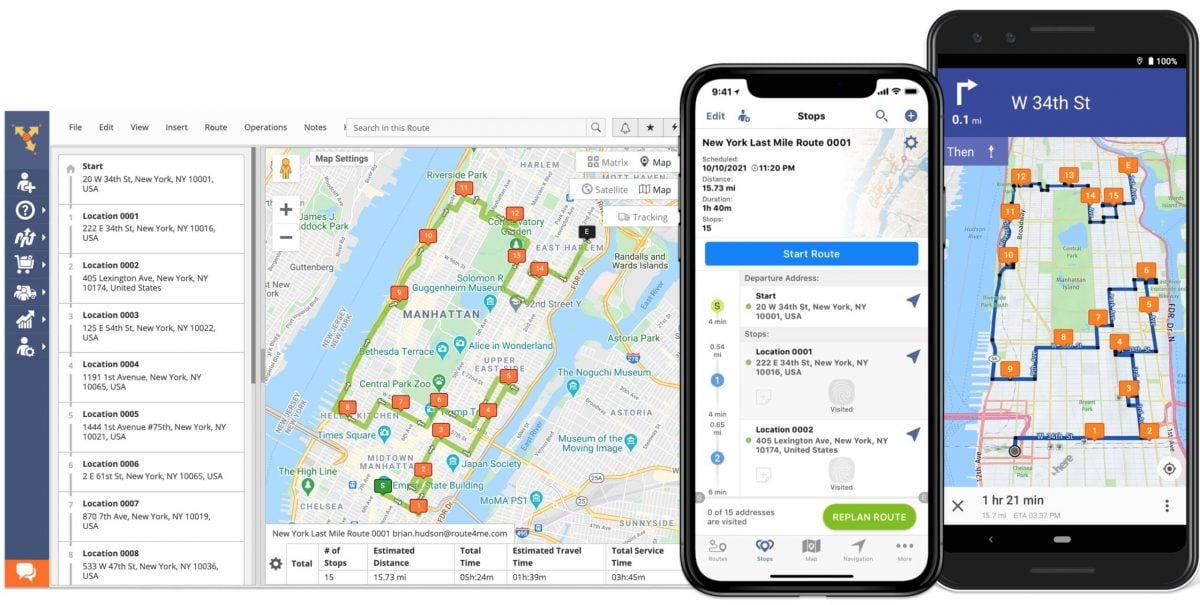 8. Track Truckers While Navigating the Truck Routes
The best truck routing app or truck routing software should offer you the ability to not only plan and optimize truck routes but also to track route progress. With the Route4Me truck router, you can track truckers on a live map as they navigate a planned route. Alternatively, you can also watch the truckers' route activity after the fact, as an animated video of trucks driving on a map.