HAZMAT Vehicle Routing Profiles and Route Optimization
Transportation of hazardous materials is strictly regulated in every country and state. Taking into account numerous government regulations and restrictions, hazmat transportation requires a specialized type of route optimization that is substantially different from the route optimization for regular and even commercial vehicles. Unlike the optimization for commercial vehicles, hazmat route optimization must account not only for the vehicle's parameters but also for the specific type of hazardous materials it is transporting. Thus, for example, a light-duty truck that is transporting radioactive materials is very likely to have different directions and stops sequence than the heavy-duty tank truck that is transporting flammable liquids to the exact same locations. In addition to posing potential risks to public, environment, and driver safety, illegal transportation of hazardous materials can result in enormous fines and even criminal penalties. A US trucking company pleaded guilty to illegally transporting hazardous materials and had to pay a $1.5 million criminal penalty fine to the federal government and a $1.5 million fine to the local environmental fund. With such strict regulations and without the right software and expertise, you can take one wrong turn and unintentionally break the law. With Route4Me, you can minimize the risks and effortlessly optimize cost-effective routes for transporting various types of hazardous materials while complying with the government laws.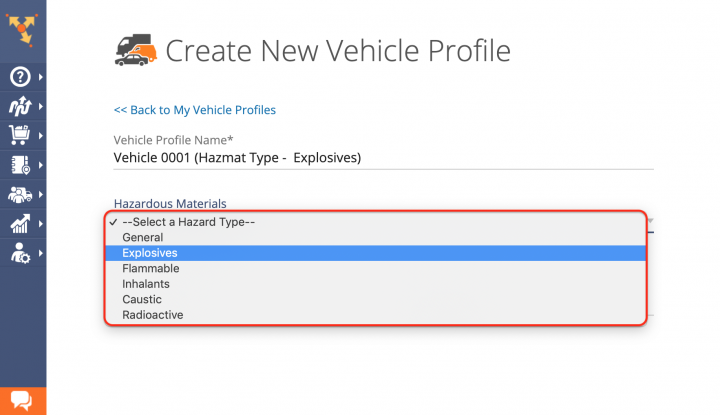 Creating Custom Vehicle Profiles for Hazmat Vehicles
To plan optimized routes for transporting hazardous materials, first, you need to create one or multiple Vehicle Profiles where you can specify your fleet vehicles' dimensions and the type of hazardous substances they transport. To create new Vehicle Profiles, first, go to "Vehicles" from the navigation menu to open the list of all vehicles associated with your Route4Me account (learn more). After that, click on the "Edit" button next to any vehicle in your Vehicle Editor.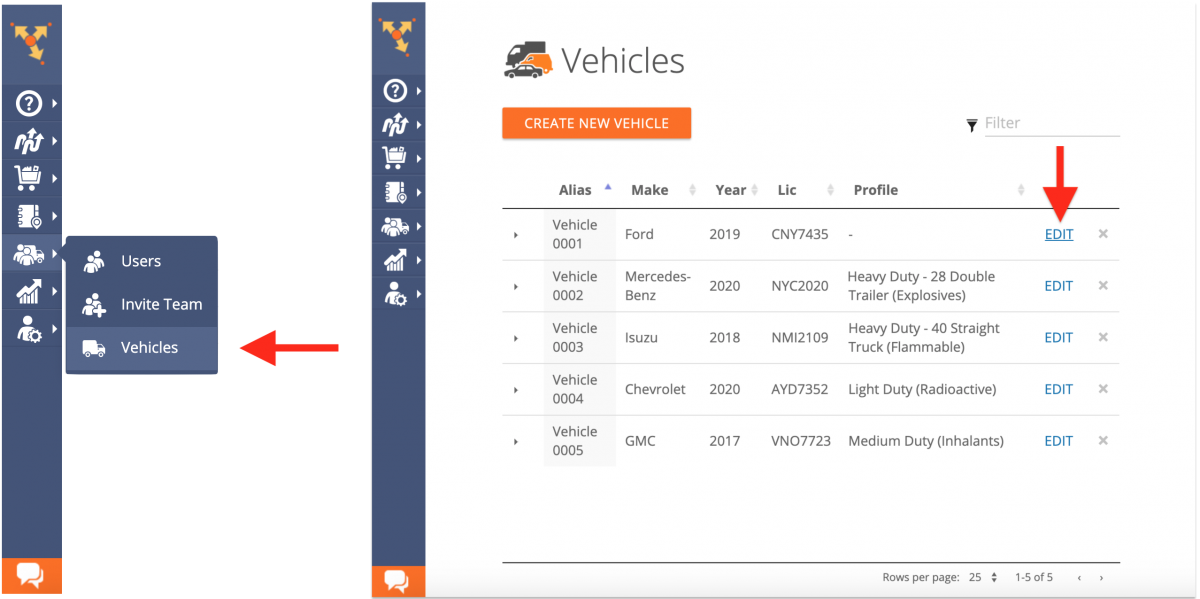 Next, scroll to the "Vehicle Profile" section and then click on the "Manage Profiles" button.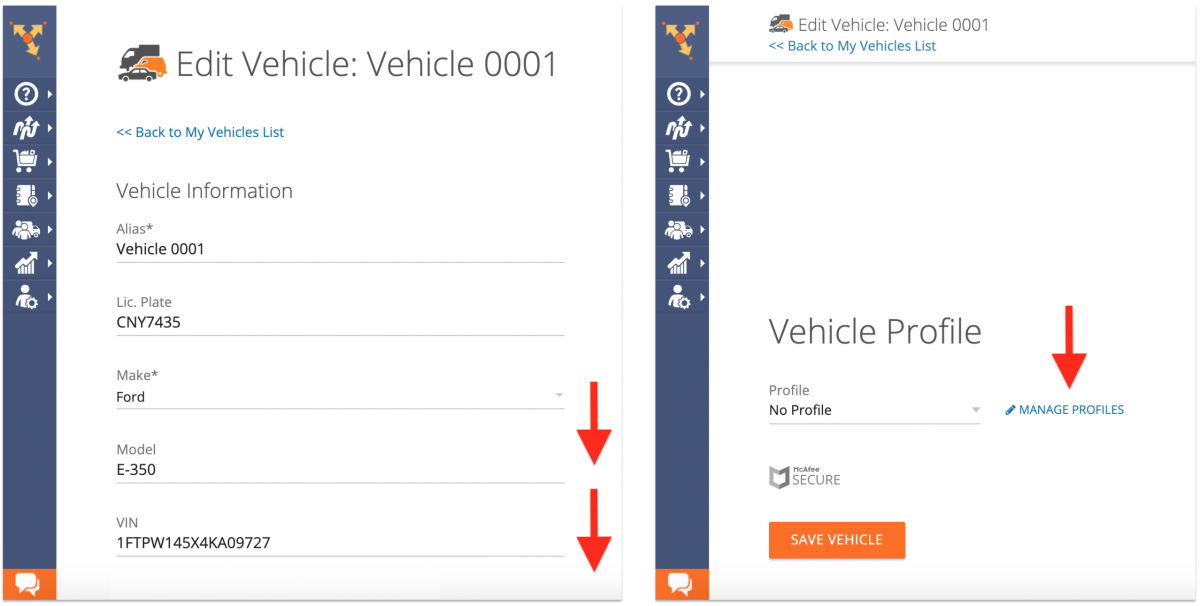 On the "Vehicle Profiles" page, you can view the list of all default and custom Vehicle Profiles on your Route4Me account. To create a new custom Vehicle Profile for hazmat vehicles, click on the "Create New Vehicle Profile" button accordingly.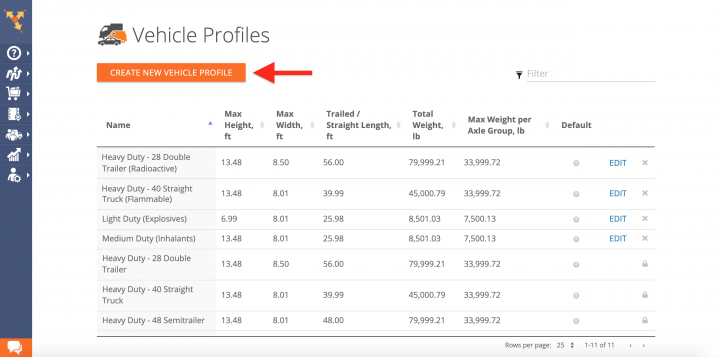 After that, first, create a custom alias/name for the new Vehicle Profile. Next, select one of the available hazmat types that the vehicles with this Vehicle Profile will transport: general, explosives, flammable, inhalants, caustic, or radioactive. To learn more about creating new custom Vehicle Profiles, visit this page.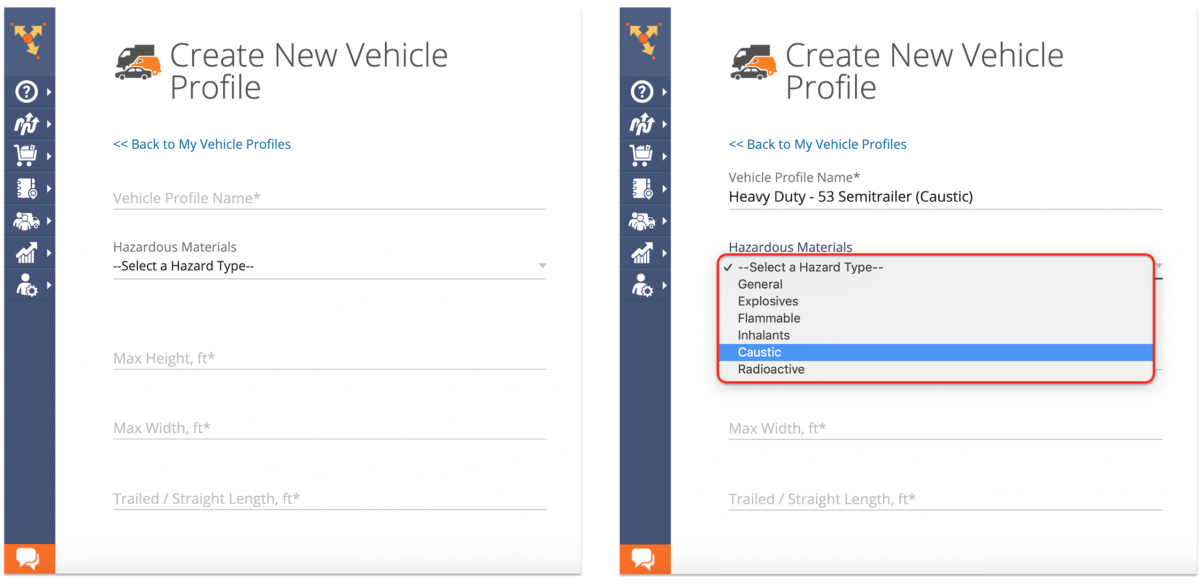 To assign the new hazmat Vehicle Profile to a particular vehicle in your fleet, first, click on "Edit" next to this vehicle.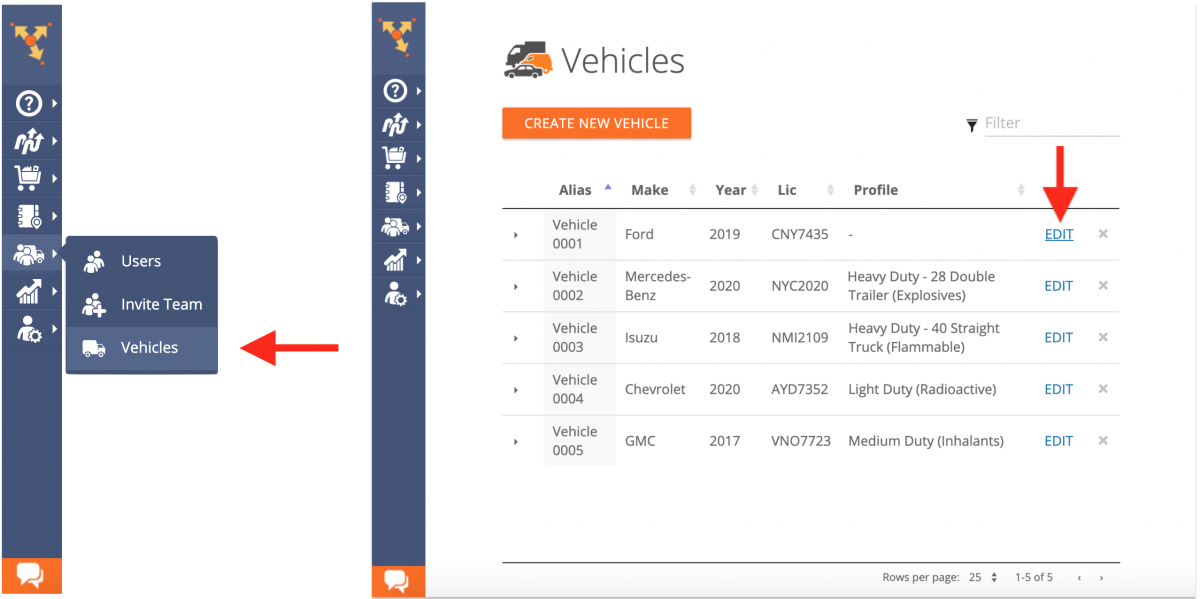 After that, scroll to the "Vehicle Profile" section and then select the preferred hazmat Vehicle Profile from the corresponding list.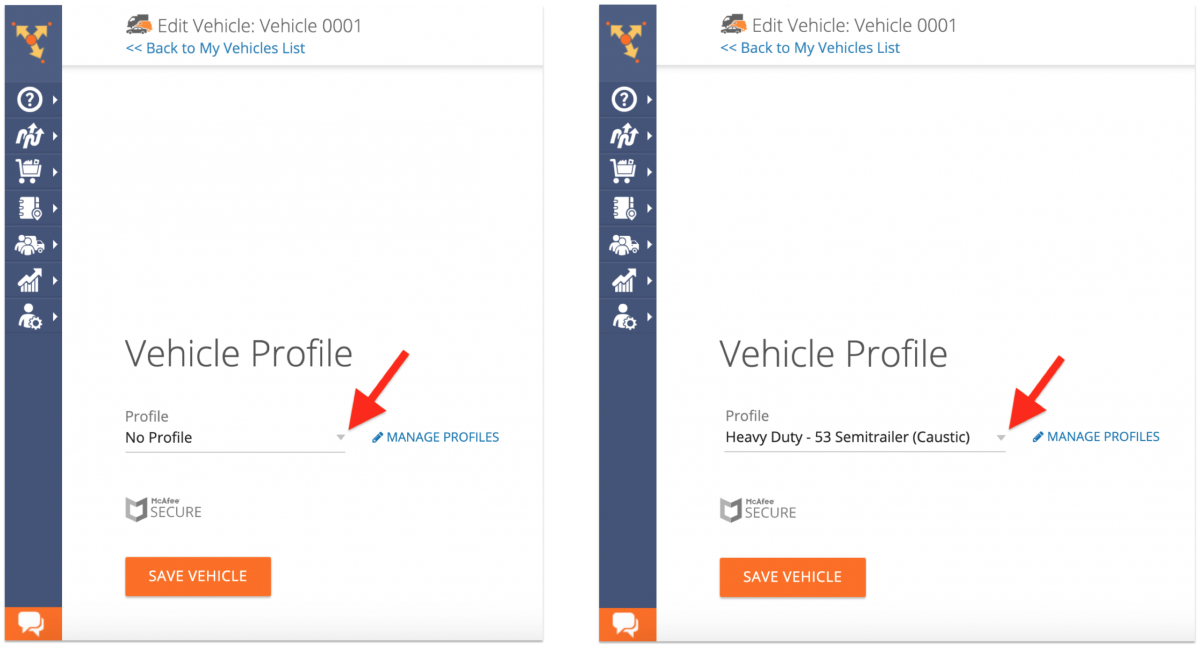 Planning Optimized Routes for Transporting Hazardous Materials
To plan and optimize routes for transporting hazardous substances, first, go to "Plan New Route" from the navigation menu and then select one of the preferred route data import methods (Interactive Map Editor, Copy-and-Paste, Upload a File, or Import Data).

After that, adjust the following route optimization settings:
Go to the "Optimization" tab;
Select the preferred optimization type: Single Driver Route, Multiple Drivers Route, or Balanced Team Route;
Choose where to end the routes after the last stop on each route is visited and serviced.
To learn more about using such advanced constraints as Pieces, Volume, Revenue, Weight, etc., visit this page.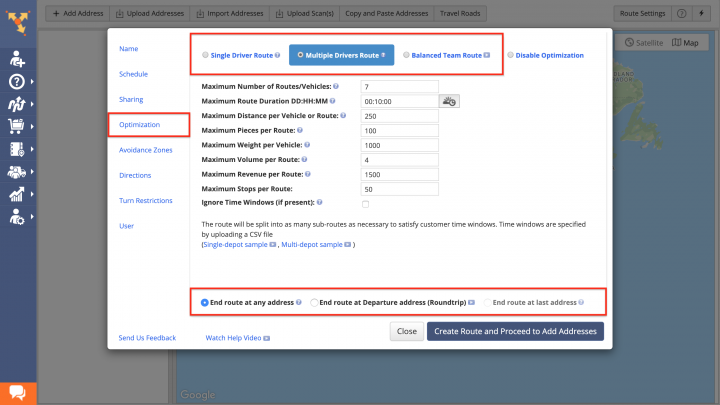 Next, go to the "User" tab, and then select the hazmat vehicle that you want to assign to the route from the corresponding list. After that, specify the rest of the route's parameters to your preference and then click on the "Create Route and Proceed to Add Addresses" button. NOTE: If the vehicle that is assigned to the route doesn't have an assigned Vehicle Profile with a particular hazmat type, the route will not be optimized for transporting hazardous materials.

When you assign a hazmat vehicle to a route, Route4Me optimizes this route accounting for the parameters in the vehicle's hazmat Vehicle Profile and produces the most cost-effective sequence of stops on the hazmat approved roads. Since the vehicles that transport hazardous substances cannot travel on many public roads, Route4Me finds the most optimal detour roads. Thus, to avoid getting fines for driving on prohibited roads, hazmat routes can have longer travel times and cover longer distances than the routes optimized for regular vehicles.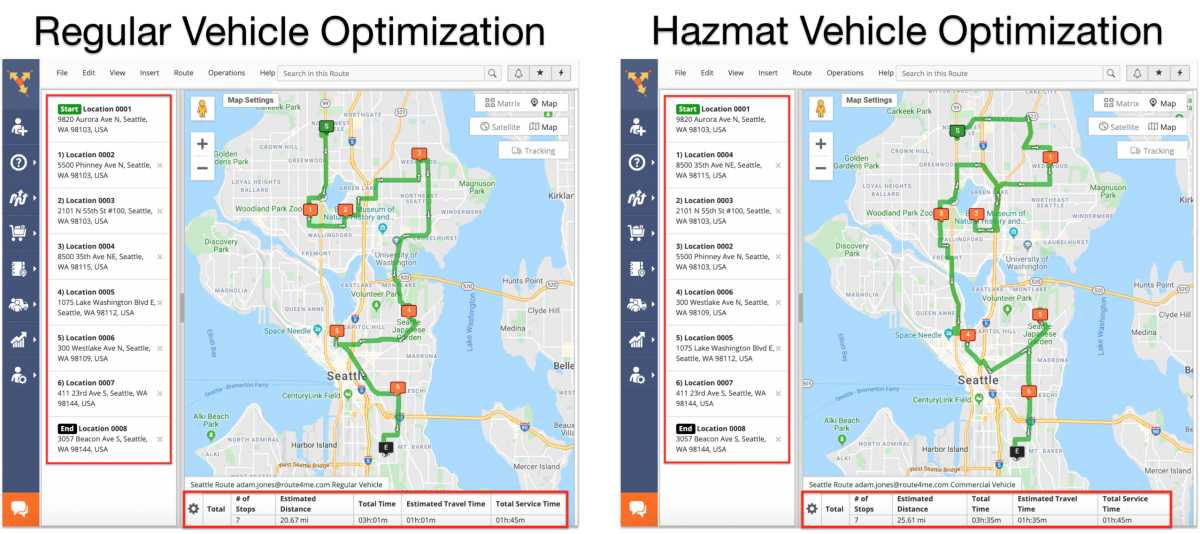 Visit Route4Me's Marketplace to Check out Associated Modules: