Create Commercial Vehicles and Truck Routing Vehicle Profiles
Different countries and states have different regulations, road restrictions, and physical road constraints for commercial vehicles. For example, certain vehicles, such as those that have multiple axles, hazardous materials restrictions, weight, width, height, bridge, and tunnel avoidance, and other Class 1- 8 vehicle restrictions, simply aren't capable of traveling safely on all city roads. In addition to posing a serious danger to public and driver safety, driving commercial vehicles on public roads can also result in substantial fines and law violations. 
To minimize risks, increase operational efficiency, and avoid fines for using prohibited roads, Route4Me allows you to build an entire fleet of commercial light-duty, medium-duty, or heavy-duty vans, pickups, trucks, trailers, semis, tractor-trailers and other vehicles with specific commercial parameters so that you can plan optimized routes that include only commercially approved roads.
To create new fleet vehicles for commercial routing, first, go to "Vehicles" from the navigation menu to open the list of all vehicles associated with your Route4Me account (learn more). After that, click on the "Create New Vehicle" button.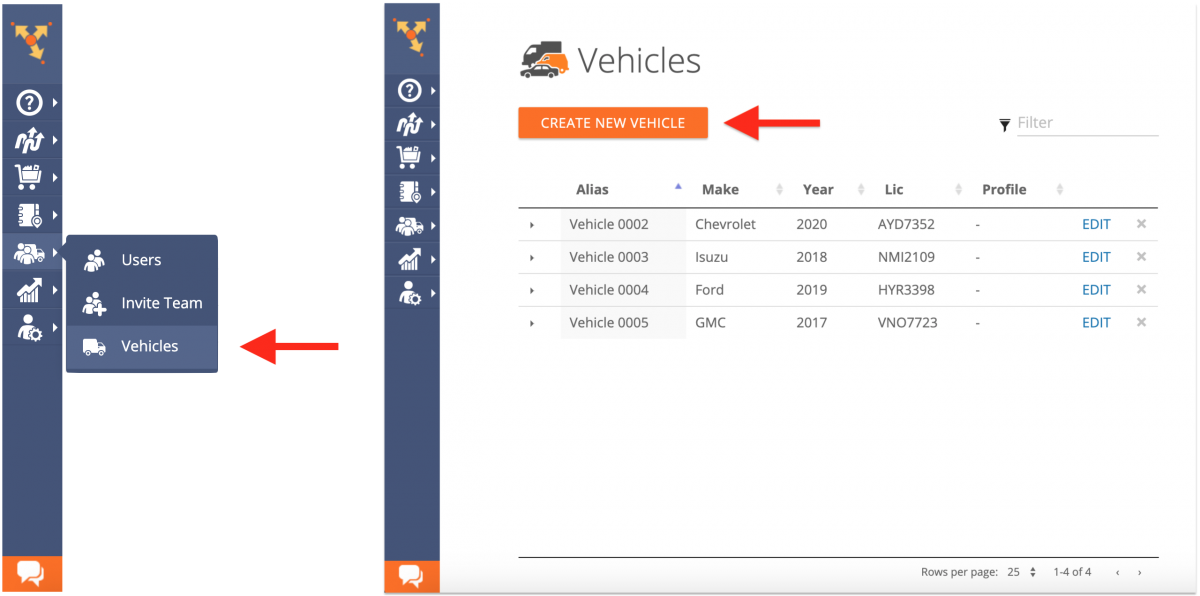 Next, fill out the vehicle's details with the preferred information. In the "Vehicle Information" section, you can add the vehicle's alias, license plate number, make, and model.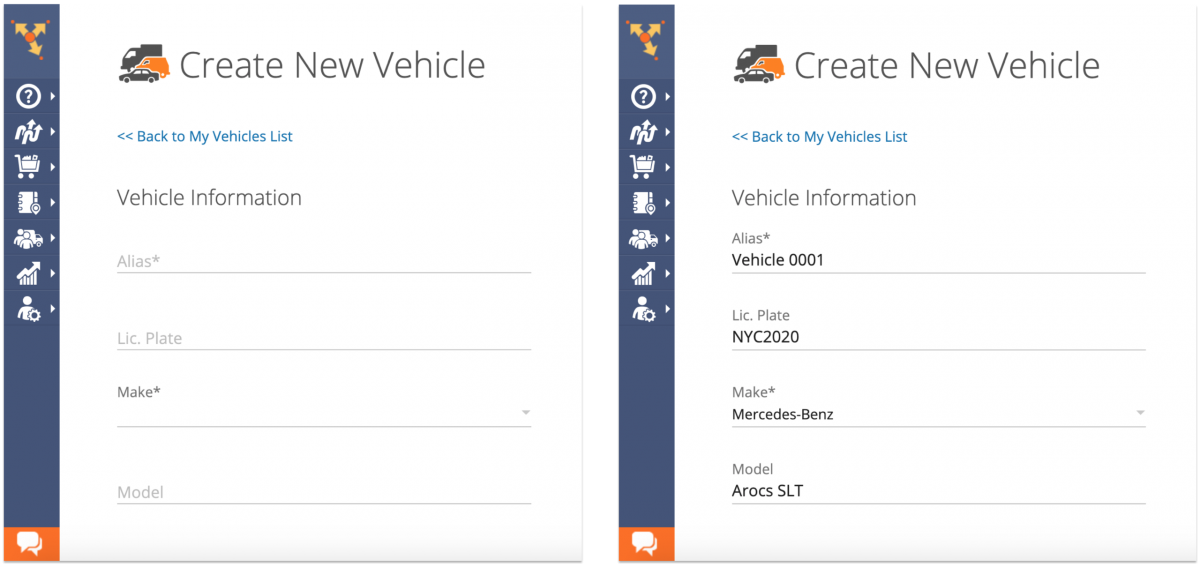 After that, fill out the vehicle's VIN (vehicle identification number), select the vehicle's manufacturing year, and then select one of the following vehicle types: 18 wheeler, big rig, cabin, cement mixer, coupe, dairy, hatchback, livestock carrier, motorcycle, pickup truck, sedan, SUV, tractor trailer, tree cutting, van, or waste disposal. To make the vehicle available for assigning to routes, check the "Active" box accordingly (learn more).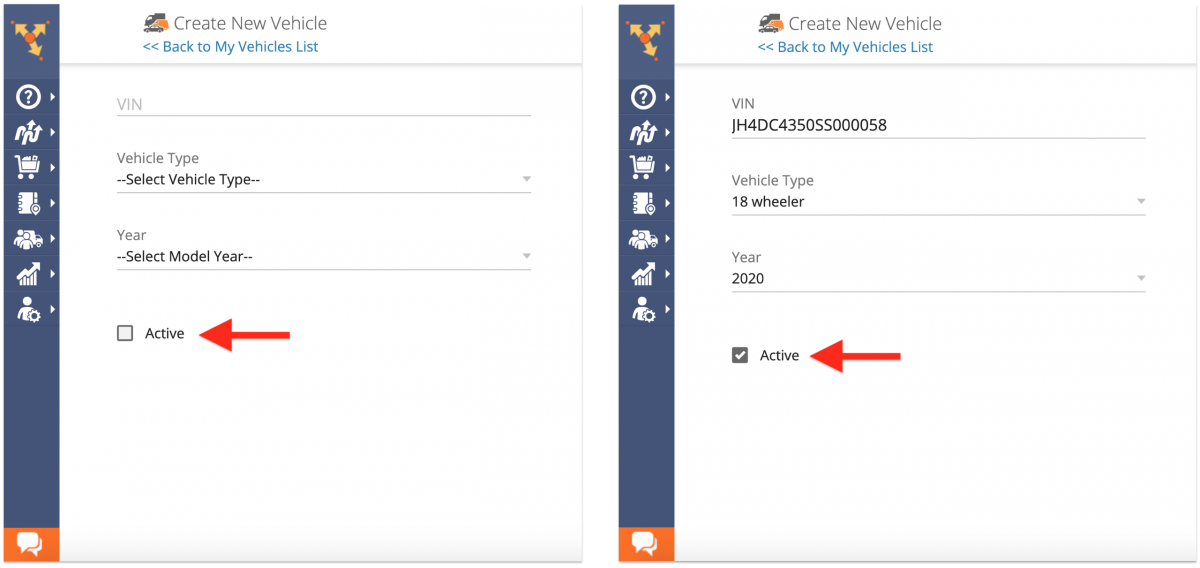 NOTE: To enable Commercial Routing for the given vehicle, in addition to assigning a commercial Vehicle Profile to this vehicle, make sure that one of the following Vehicle Types is selected in this vehicle's profile: pickup truck, 18 wheeler, cabin, waste disposal, tree cutting, big rig,  cement mixer, livestock carrier, dairy, or tractor trailer.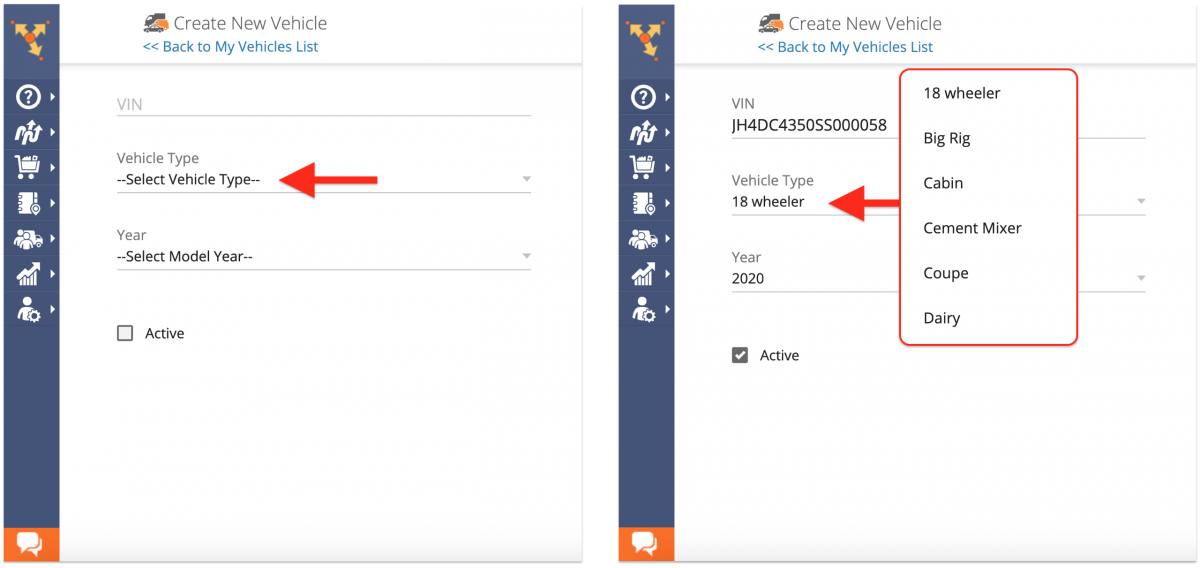 In the "Registration Information" section, select the country and the state in which the vehicle was registered, as well as the year when the vehicle was purchased.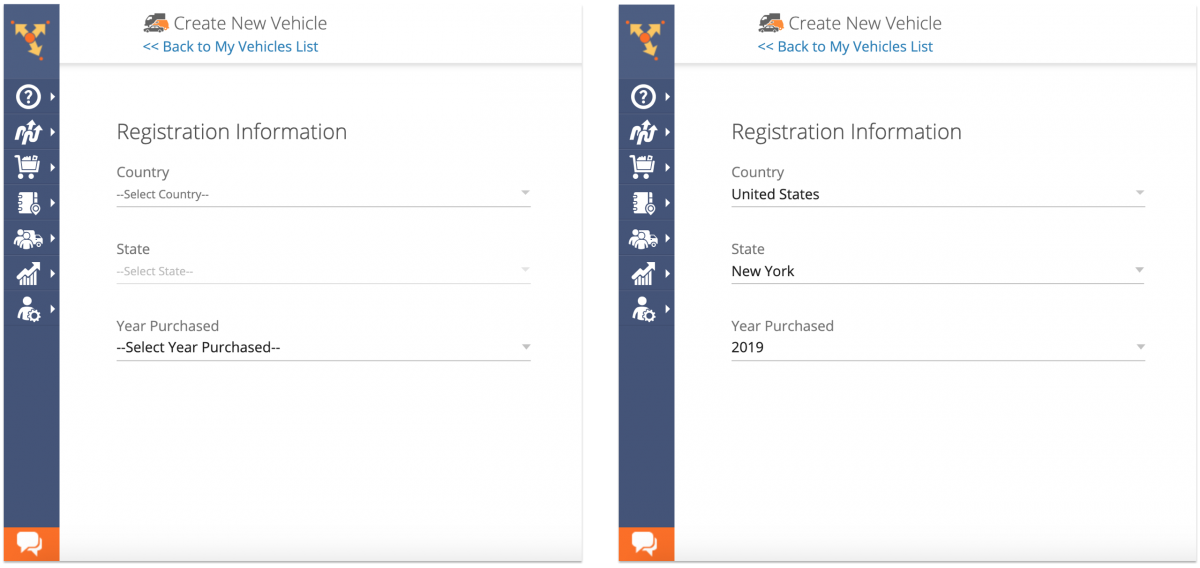 In the "Fuel" section, you can fill out the vehicle's fuel information:
– Fuel Type: Unleaded 87, Unleaded 89, Unleaded 91, Unleaded 93, Diesel, Electric, or Hybrid;
– City, mpg: Average fuel consumption in the city (units can be adjusted – learn how);
– Highway, mpg: Average fuel consumption on the highway (units can be adjusted).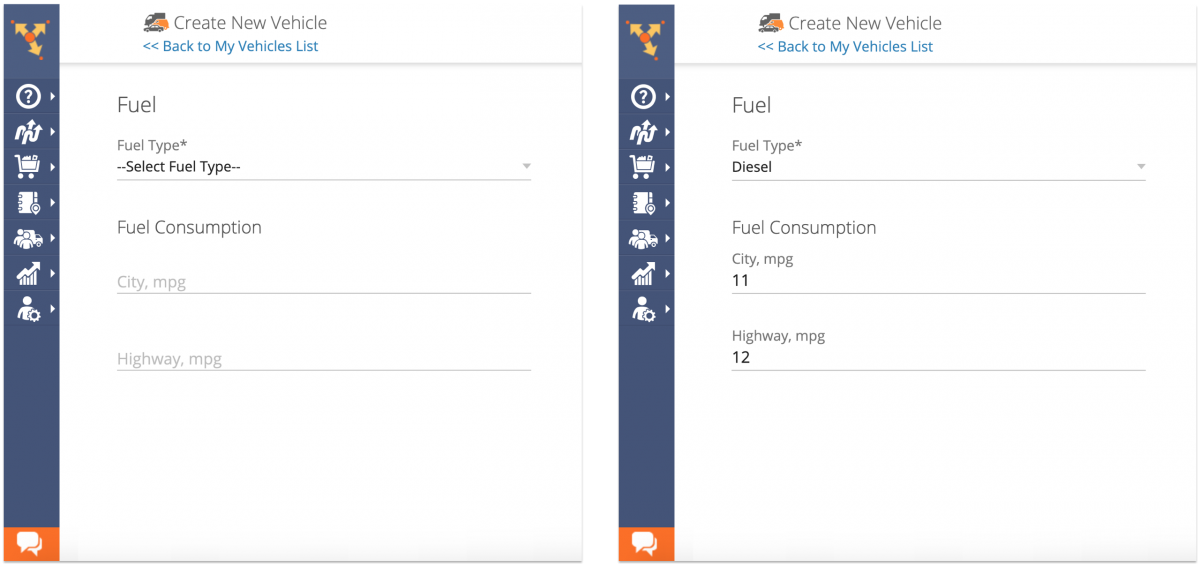 Next, to make the vehicle commercial, you need to assign one of the custom or default commercial Vehicle Profiles to this vehicle. To do so, first, click on the "Edit" button next to this vehicle and then select the preferred Vehicle Profile in the "Vehicle Profile" section. NOTE: Without assigning a Vehicle Profile with commercial parameters to your vehicle, no commercial parameters will be applied to your optimizations and your routes will not be commercially optimized. To view the parameters of all vehicle profiles, click on the "Manage Profiles" button.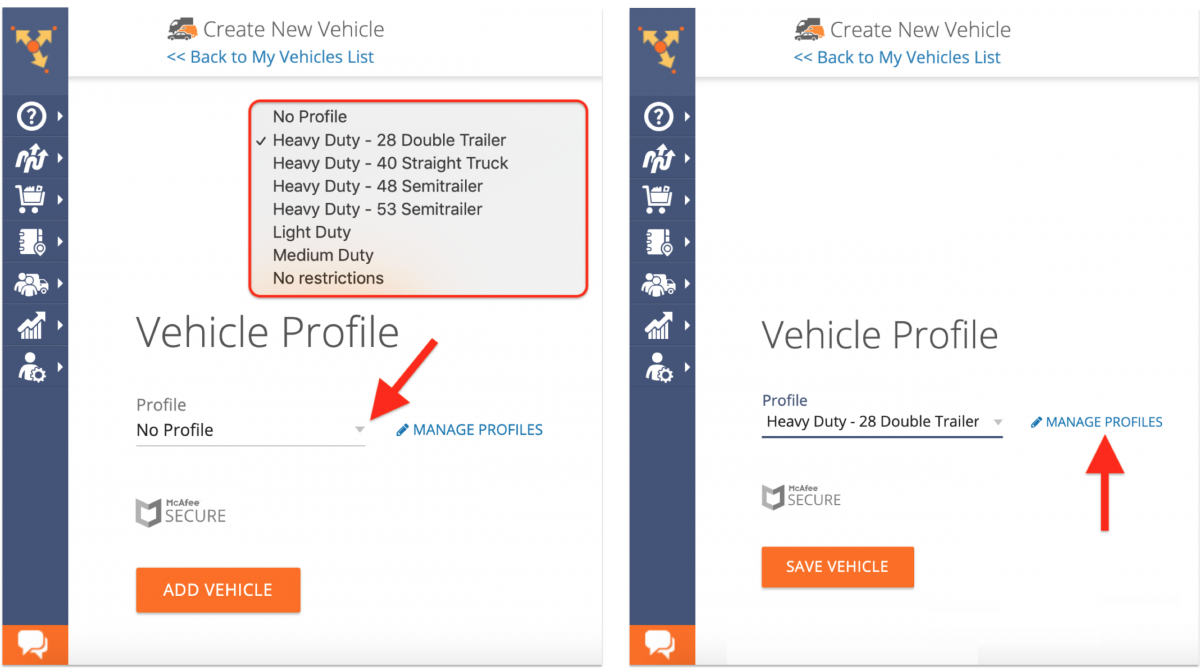 On the "Vehicle Profiles" page, you can view the list of all default and custom Vehicle Profiles on your Route4Me account. NOTE: In order to make a vehicle in your fleet commercial, you need to assign a Vehicle Profile to this vehicle that contains specific commercial parameters. When you assign the vehicle to routes, the parameters from its Vehicle Profile are applied to your optimization and depending on the defined maximum weight, length, and other parameters, your routes are optimized accordingly. To learn more about creating custom Vehicle Profiles, visit this page.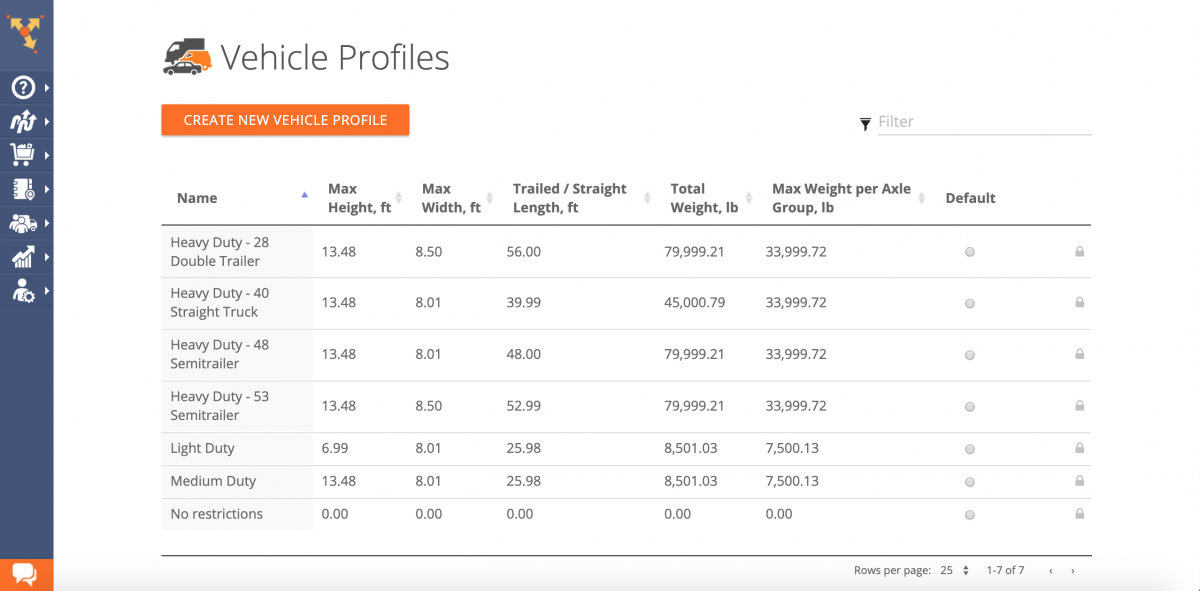 Vehicle Type
Max Height (ft)
Max Width (ft)
Trailed / Straight Length (ft)
Total Weight (lb)
Max Weight per Axle Group (lb)
Heavy Duty – 28 Double Trailer
13.48
8.50
56.00
79,999.21
33,999.72
Heavy Duty – 40 Straight Truck
13.48
8.01
39.99
45,000.79
33,999.72
Heavy Duty – 48 Straight Truck
13.48
8.01
48.00
79,999.21
33,999.72
Heavy Duty – 53 Semitrailer
13.48
8.50
52.99
79,999.21
33,999.72
Light Duty
6.99
8.01
25.98
8,501.03
7,500.13
Medium Duty
13.48
8.01
25.98
8,501.03
7,500.13
No restrictions
To finish and save the vehicle with its added commercial Vehicle Profile, click on the "Add Vehicle" button at the bottom of the vehicle's page. Once the vehicle is saved, it becomes available in your Vehicle Editor accordingly.

To plan commercially optimized routes with the vehicle that has commercial parameters, you need to assign the corresponding vehicle to your routes. After that, Route4Me will take into account all parameters from this vehicle's Vehicle Profile and apply them to the optimization in order to produce the most efficient commercial routes. To learn more about planning commercial routes, visit this page.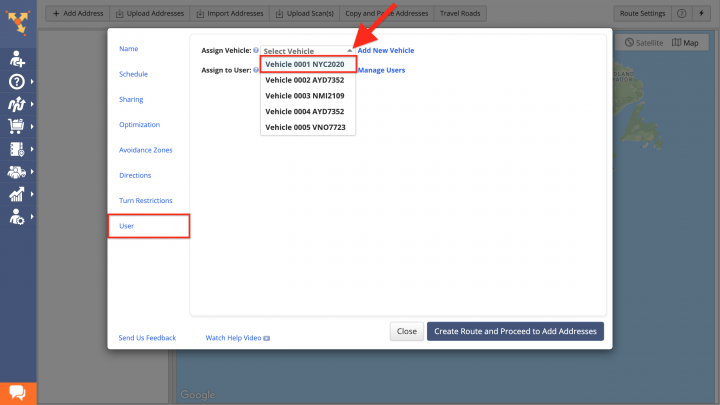 Visit Route4Me's Marketplace to Check out Associated Modules: