Choose The Best Trucking GPS Apps for Commercial Vehicles in 2023
In 2023, the best trucking GPS apps for commercial vehicles offer more features and capabilities than just truck navigation. Thus, when looking at truck GPS solutions, you would consider a complex platform to accommodate all of your truck routing needs.
When planning and mapping truck routes, capable truck routing GPS solutions account for your specific truck dimensions and other commercial vehicle parameters, minimize truck idling, and keep your truck drivers safe.
But there are multiple truck GPS types to choose from. And not knowing the differences between them can make your decision-making process more difficult.
Everyone might have heard about GPS receivers, dedicated truck GPS devices, trucking GPS units, GPS apps, etc. But what's the difference between them? And which one should you choose?

Table of Contents
What Is a GPS Device?
GPS stands for Global Positioning System and consists of a network of 31 satellites, radar stations, and GPS receivers.
A GPS device, also called a trucking GPS unit, uses GPS receivers that can be dedicated or integrated into smartphones, cars, and other objects to calculate their geographical position. And to calculate the geographical position, GPS receivers and devices use software that captures and processes signals sent by at least 4 GPS satellites at once.
Furthermore, dedicated GPS devices are mobile mapping and navigation devices that can be used in cars to provide driving directions on routes. Dedicated GPS devices can also be hand-held and used for hiking, biking, etc. In contrast, integrated GPS devices are built-in components of smartphones, tablets, and other smart devices.
In addition to indicating your geographical position, a GPS device can also:
Calculate the speed of your vehicle
Determine the direction you're heading towards (bearing)
Track vehicles
Calculate the route distance
And more!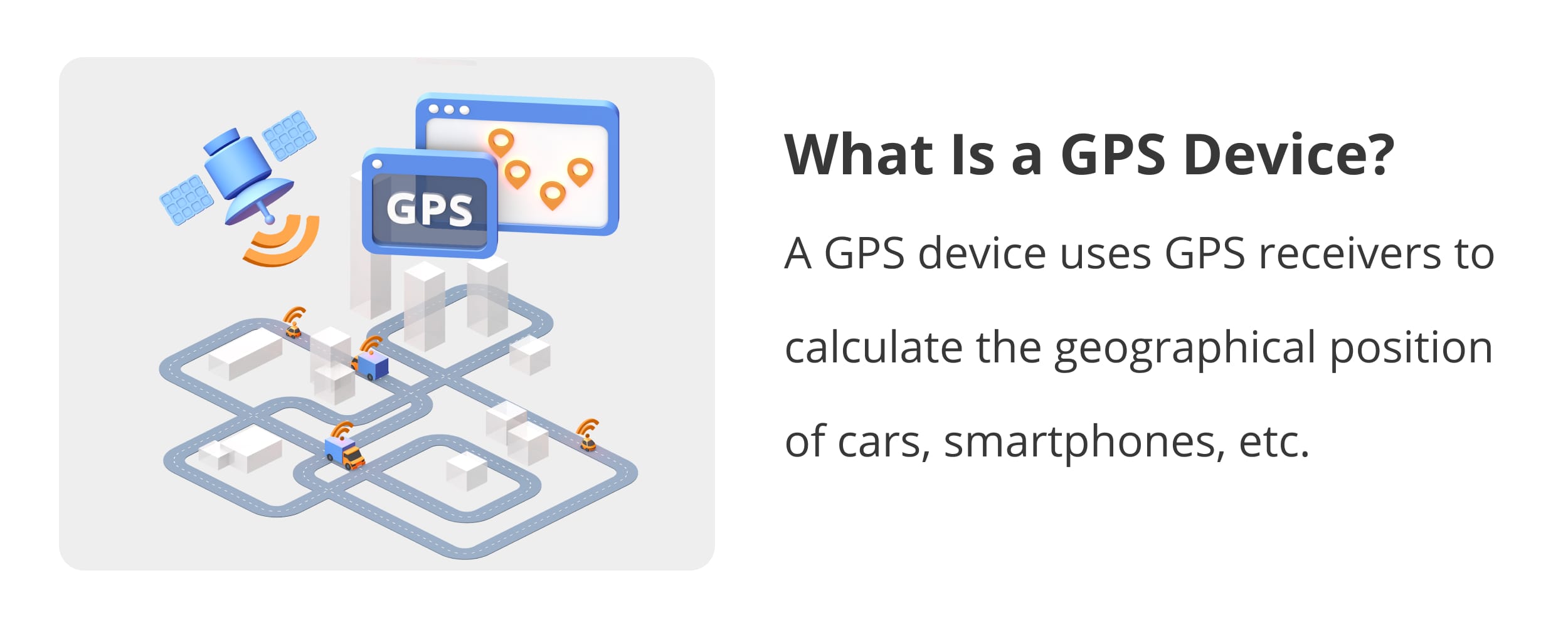 Is There a Special GPS for Truck Drivers?
Truck routing and commercial vehicle navigation are more complex than regular GPS navigation. For instance, trucks are not allowed on certain road types and have weight and height restrictions. For this reason, truckers cannot use mapping services like Google Maps, which is designed for personal use only. Truck drivers need a special truckers GPS app that accounts for all the road limitations for commercial motor vehicles (CMVs).
There are mapping and routing apps for truck GPS and truck navigation that provide turn-by-turn driving directions while factoring in all the necessary CMV parameters and road restrictions necessary to keep truck drivers safe and compliant with traffic laws and regulations.
Aside from trucking GPS apps, truckers can also use dedicated truck GPS devices from providers such as:
Garmin
TomTom
Rand McNally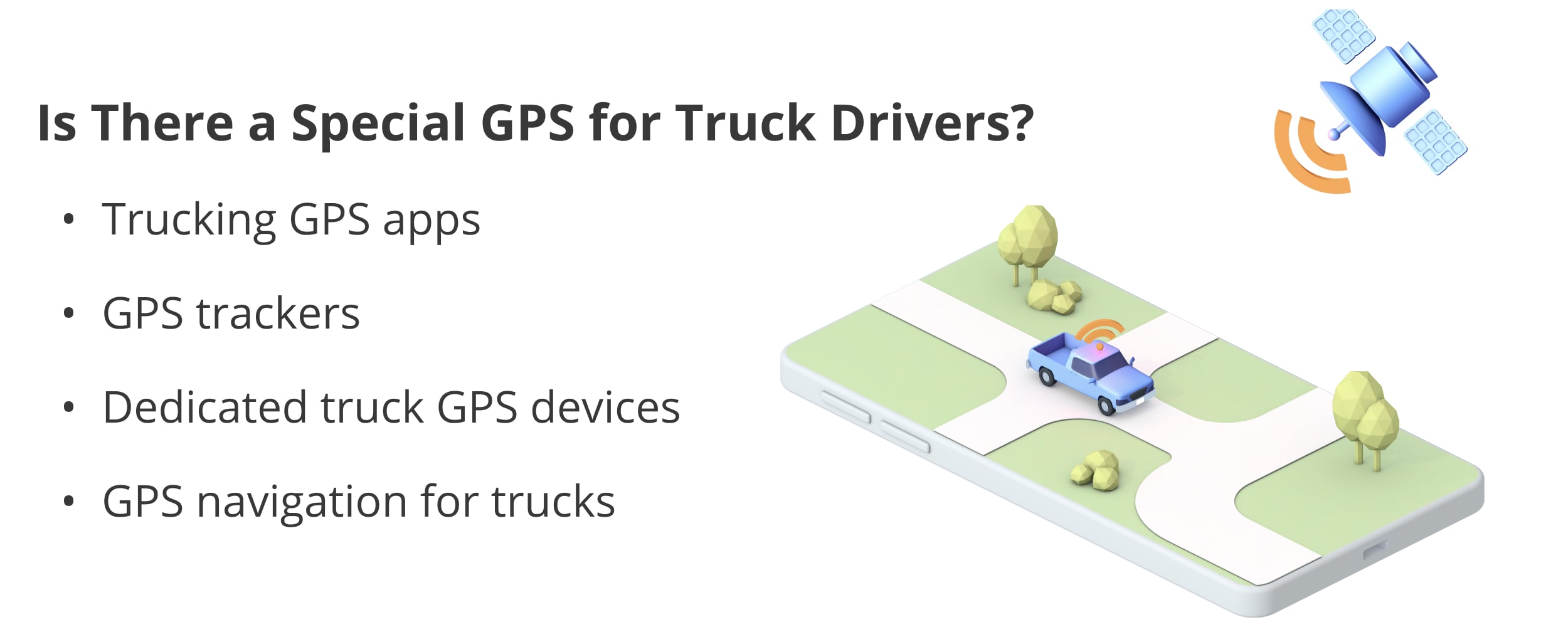 GPS trackers or dedicated GPS devices are also known as GPS units among logistics professionals. Depending on their power source, GPS trackers can be:
Plug-In GPS Trackers
Hardwired GPS Trackers
Battery Powered GPS Trackers
When looking for a complex trucking GPS solution or a truckers GPS app, you need to keep in mind that dedicated GPS devices for truckers can be expensive. Sure, you could find devices with very basic features for under $150. But the best truck GPS devices can go way beyond $300. Unlike expensive GPS hardware, such as Garmin trucking GPS, trucking GPS apps can be more financially convenient and just as efficient as any GPS device.
Moreover, if you're going to invest in a complete truck routing software solution that offers GPS navigation for trucks among multiple other features, you can make more money, save time, and utilize your fleet resources better.
Can You Set Google Maps for Trucks?
The Google Maps route planner is a free online mapping tool, useful for planning personal trips with up to 10 stops. Google's routing service will not optimize the sequence of destinations, arranging them in the same order in which you input them. These are the main reasons why Google Maps is not suitable for planning multi-stop delivery routes, let alone truck routes.
As previously mentioned, truck routing is a more elaborate routing process than regular routing. Routes for CMVs need to account for certain road types, bridges, and tunnels as per the vehicles' weight, height, and other commercial vehicle parameters. Therefore, Google Maps is not suitable for trucks – at least not for route planning.
Google Maps can be useful for truck drivers – but not as a truckers GPS app for navigation. Truckers can use Google's route planner to find parking lots, restaurants, gas stations, landmarks, and more.

What Types of Commercial Vehicles Should Use Truck GPS Apps?
Commercial vehicles come in many shapes and sizes – from trucks, semi-trailer trucks, and vans to buses, trailers, heavy equipment, and even taxis. Even though there can be minor variations from state to state, in the United States, any vehicle that is registered to a company is a commercial vehicle. As per this broad classification, not all commercial vehicles have road restrictions. On that note, if a regular car is used for business, it is considered a commercial vehicle.
Aside from the business-related classification criterion, any vehicle with a gross vehicle weight (GVW) of more than 26,001 pounds is considered a commercial vehicle. On that note, there are 8 weight classes for commercial trucks in the U.S.: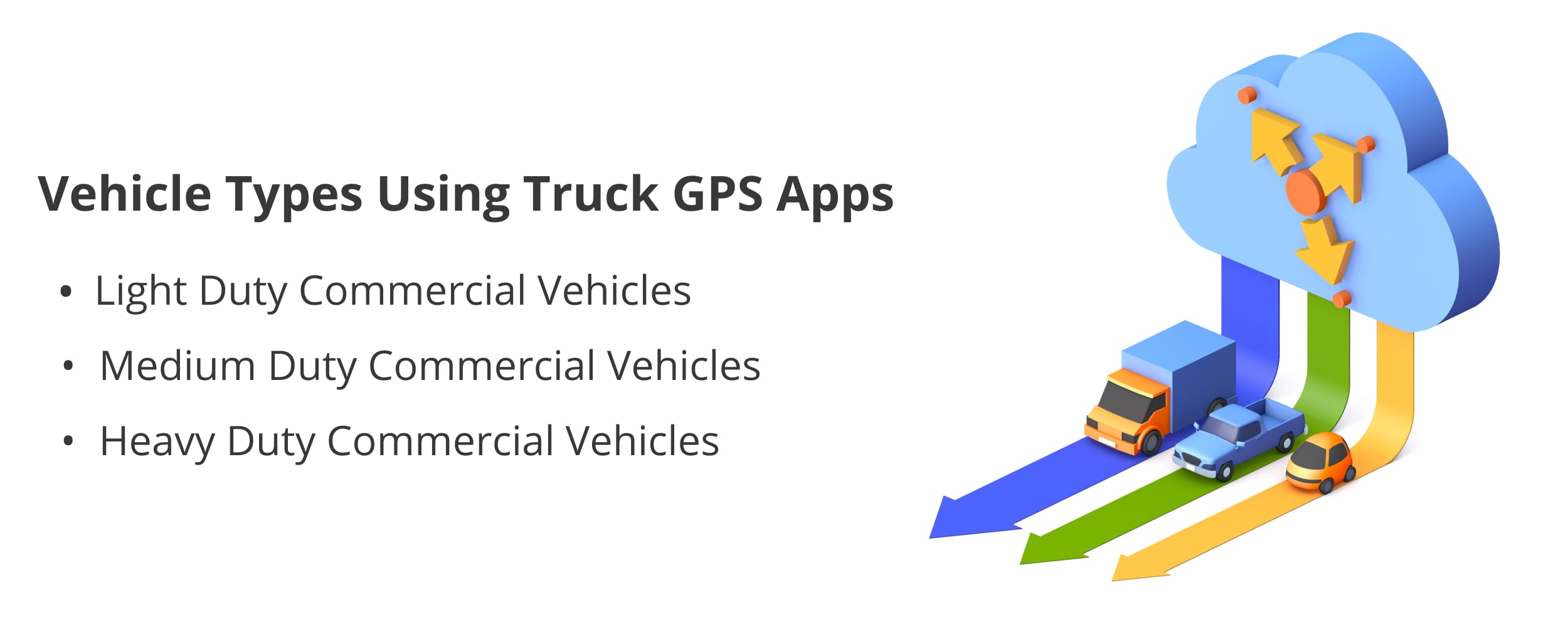 Light Duty Commercial Vehicles
Class 1: commercial vehicles with a gross vehicle weight rating of up to 6,000 pounds. This includes mini-vans, utility vans, pick-ups, etc.
Class 2: commercial vehicles with a gross vehicle weight rating from 6,000 to 10,000 pounds. Examples of class 2 vehicles include mini-buses, step vans, etc.
Class 3: commercial vehicles with a gross vehicle weight rating from 10,000 to 14,000 pounds. Class 3 vehicles can be walk-in trucks, city delivery trucks, etc.
Medium Duty Commercial Vehicles
Class 4: commercial vehicles with a gross vehicle weight rating from 14,001 to 16,000 pounds. This includes conventional vans, utility trucks, etc.
Class 5: commercial vehicles with a gross vehicle weight rating from 16,001 to 19,500 pounds. Examples of class 5 vehicles include bucket trucks, large walk-in trucks, etc.
Class 6: commercial vehicles with a gross vehicle weight rating from 19,501 to 26,000 pounds. Class 6 vehicles can be rack trucks, beverage trucks, single axle trucks, school buses, etc.
Heavy Duty Commercial Vehicles
Class 7: commercial vehicles with a gross vehicle weight rating from 26,001 to 33,000 pounds. This includes refuse trucks or garbage trucks, fuel tank trucks, tow trucks, city transit buses, truck tractors, etc.
Class 8: commercial vehicles with a gross vehicle weight rating above 33,000 pounds. Class 8 vehicles can be dump trucks, sleeper trucks, fire engines, concrete mixer trucks, intercity buses, etc.)
5 Best Trucking GPS Apps for iPhone and Trucking GPS Apps for Android
Ideally, the best truck navigation app for truckers should be able to do more than just guide truckers on their routes. A capable trucking GPS app for truckers should also offer route planning capabilities, accurate navigation directions, voice navigation, and other important features for a trucking company. The most popular GPS apps for truckers in 2023 include (but are not limited to):
PTV Navigator
Sygic Truck GPS Navigation
SmartTruckRoute
Trucker Path
Route4Me Truck Routing software
Let's take a closer look at the features and capabilities that these truck GPS apps for iPhone and trucking GPS apps for Android have to offer.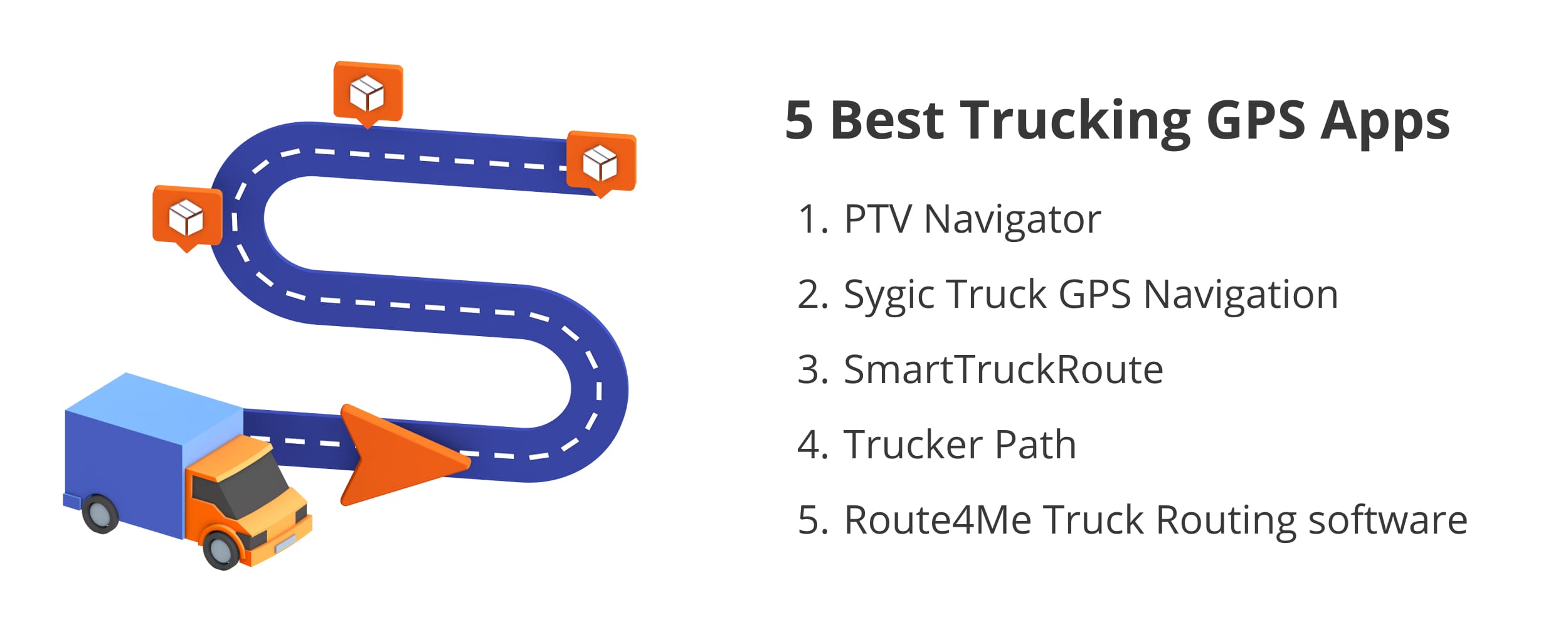 PTV Navigator Professional Navigation for Trucks and Fleets
The PTV Navigator Truck app can help truck drivers plan truck-safe routes that account for road restrictions and real-time traffic information. Moreover, the PTV app enables its users to avoid toll roads and factor in truck restrictions when navigating.
This app is only available for Android. You can learn more about features, functionality, and pricing by visiting PTV's website or Google Play page.
Sygic Truck GPS Navigation
Available for both Android and iOS, Sygic Truck GPS Navigation is one of the most downloaded offline GPS navigation app for truck drivers. The Sygic truck navigation app was designed specifically for trucks, RVs, busses, and vans. In that regard, this truck GPS app offers voice-guided truck navigation, route alternatives, 3D offline maps, route planning that avoids tolls, and a lot more.
A complete overview of Sygic Truck GPS Navigation features and pricing can be accessed on their website as well as the app's Google Play and App Store dedicated page.
SmartTruckRoute Truck GPS App
SmartTruckRoute is also available for Android and iOS devices and enables truckers to create truck-specific routes. It's a mobile tool that aims to help drivers save gas and improve safety through features such as turn-by-turn voice-guided navigation with lane guidance, a built-in Odometer function, live map updates, and more.
To learn more about the SmartTruckRoute Truck GPS App, visit the company's website as well as their apps' Google Play and App Store profiles.
Trucker Path App for Truck Drivers
Trucker Path is one of the most popular mapping and navigation apps for truckers. This app helps drivers identify truck stops, weigh stations, fuel stops, and parking along their routes. Additionally, Trucker Path features trip planning and truck routing capabilities.
Aside from the trucking GPS app, Trucker Path features an enterprise edition fleet management system. Plus, carriers can access the Trucker Path's Truckloads platform where freight companies post freight hauling requests.
Furthermore, the Trucker Path app is available for Android as well as iOS devices.
A complete list of features and capabilities as well as pricing details can be found on Trucker Path's website.
Route4Me Truck Routing and Navigation App
Route4Me is a powerful truck routing and navigation solution. In detail, Route4Me offers seamless continuity throughout the entire route planning and dispatch processes – from route optimization to route navigation and tracking. It features both a cloud-based Route Optimization Web Platform as well as an Android Route Planner and iOS Route Planner app.
Our complete solutions offer you an easy way to reduce operating expenses while also enabling you to:
Optimize truck routes as per your vehicles' load capacity and physical constraints
Track truck drivers in real time and predict any possible delays
Keep a close eye on driver behavior and encourage eco-safe driving and driver safety
Generate reports and audit the efficiency of your entire operation
Easily navigate routes using our in-app voice-guided commercial vehicle navigation
And more!
Moreover, Route4Me's truck routing software works on all makes and models – from sedans and SUVs to vans, RVs, and trucks. Specifically, Route4Me gives you the ability to add any vehicle to your virtual fleet – large or small – while supporting both Mixed Fleet Route Optimization and Uniform Fleet Route Optimization. In addition to all that, with Route4Me you will:
Stay compliant with local regulations
Avoid costly fines and accidents by driving only on truck-appropriate routes
Cut fuel cost
Reduce mileage and minimize the wear and tear of your fleet assets, etc.
Learn everything you need to know about Route4Me's:
By now, you probably know what the best trucking GPS apps should look like. Now it's time to see one in action.
Bottom Line – What Is the Best Trucking GPS App in 2023?
There are multiple trucking GPS apps that can safely guide professional truck drivers on their routes. However, truckers need more than just navigation directions from point A to point B. Namely, truckers also need optimized routes, updated and reliable maps, the ability to avoid toll roads and highways, and more.
That being said, the best trucking GPS apps in 2021 include Sygic Truck GPS Navigation, PTV Navigator, Trucker Path, CoPilot GPS, Truck Map, SmartTruckRoute, Route4Me Truck Routing and Navigation, and others.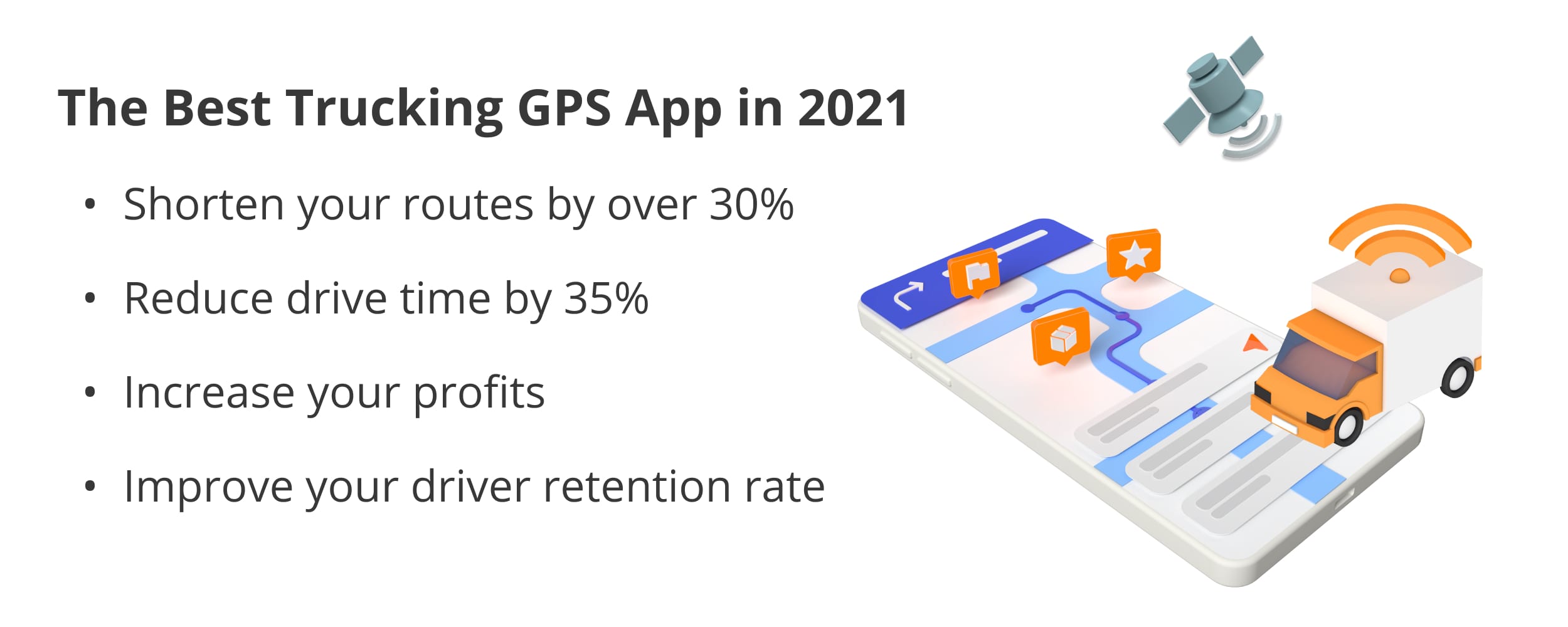 Why Is Route4Me One of the Best Trucking GPS Apps Out There?
With Route4Me, you'll know exactly where your trucks are at all times. Plus, your drivers' performance and efficiency will always be only one click away. Fleet management and truck tracking cannot get easier and more cost-efficient than this.
Furthermore, our trucking GPS apps support any type of truck. Specifically, you can plan and navigate truck routes for any Class 1 to Class 8 vehicle, including:
Heavy-duty trucks
RVs
Beverage trucks
Walk-in trucks
Mini-buses
Semi-trailer trucks
Garbage trucks
And a lot more!
What Can Route4Me Do for Your Business?
You can also track essential fleet KPIs and logistics metrics and generate reports to monitor employee performance and fleet efficiency. For instance, Route4Me enables you to:
Replay your drivers' routes in a GPS history tracking animated video
Collect data for each route you plan and complete
What Benefits Can You Get With Route4Me's Truck Routing and Truck GPS Solutions?
Route4Me's truck routing software and trucking GPS apps can help you:
Shorten your routes by over 30%
Reduce drive time by 35%
Increase your profits
Improve your driver retention rate
Reduce operating costs by up to 30%
Get a return on investment of up to 500%
Truck Navigation Statistics
Truck drivers play a vital role in today's supply chain. Namely, they are responsible for transporting over 70% of the total domestic freight in the US – this translates into over 11 billion tons. This colossal amount of goods was hauled thanks to USA's 3.6 million truck drivers. Even 4 million truckers might sound like a lot, the industry experiences a driver shortage of over 60,000 drivers.
And, possibly because of the shortage, FMCSA's latest Pocket Guide to Large Truck and Bus Statistics uncovers that "driving beyond 8 hour limit since the end of the last off duty or sleeper period of at least 30 minutes" is not uncommon. In fact, there were 13,497 such violations registered in the FMCSA report.
And that's dangerous and life-threatening!
Did you know that from around 6 million fatal crashes, 560 000 involve large trucks and buses?
Luckily, truck routing software can help improve driver safety. For example, Route4Me's truck route planning software can help carriers plan truck routes with scheduled breaks. Moreover, dispatchers and managers can use our truck routing software to monitor truckers in real time. And this is important to ensure every aspect of the operation is going according to plan. This means less room for error, thus fewer accidents.
Delve into the FAQ section of this post to learn more about what apps and software solutions can help your drivers stay safe on the road while making their jobs a little easier. And, if you're struggling with your driver retention rate, read our blog post on How Route Planning Software Can Make Your Driver Retention Strategy Foolproof.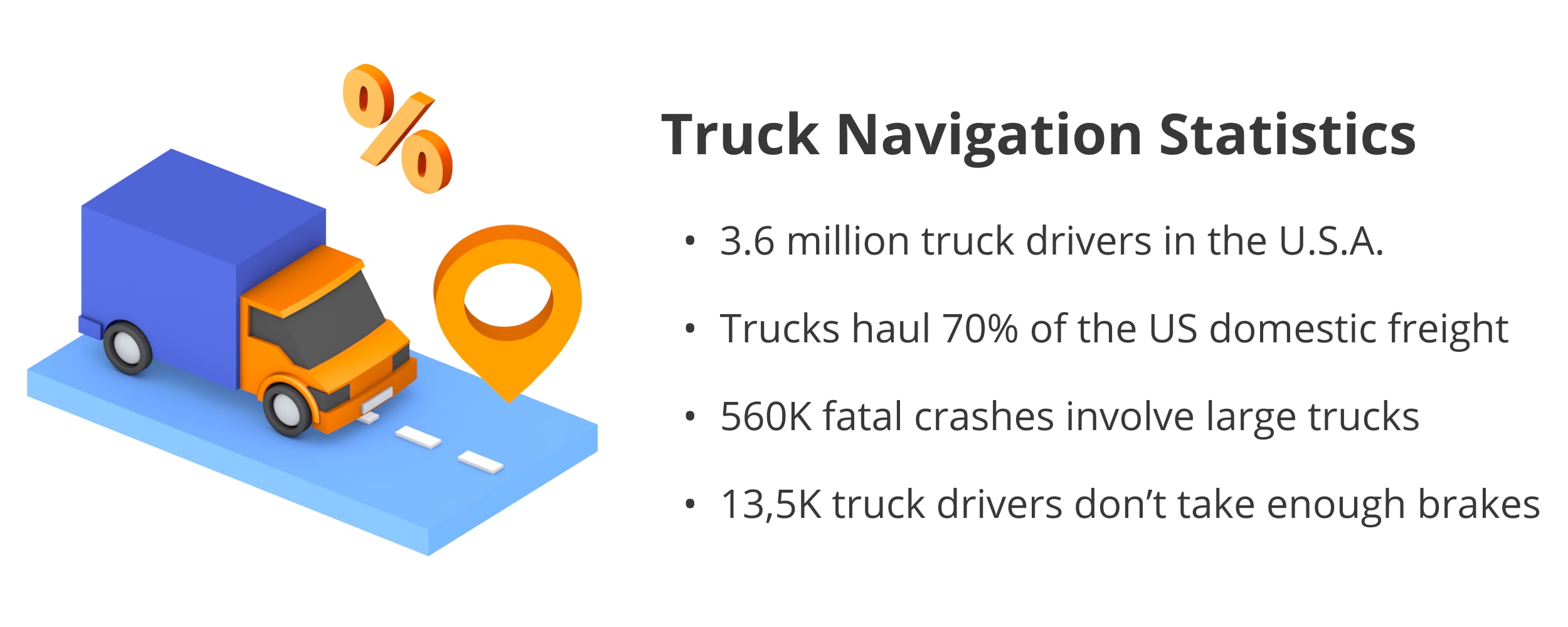 How to Choose the Best Truck GPS App for Commercial Vehicles
When looking for the best trucking GPS app for commercial vehicles, there are a lot of features to keep in mind. Follow these 10 steps to find the right truck GPS for your business with ease.
1. Check If the Truck Navigation App Has Up-to-Date Maps
Having accurate and updated truck maps is critical for planning truck routes and navigating those routes successfully. So, when using outdated maps, your truckers will get incorrect driving directions and could risk not only getting expensive fines but also compromising their safety.
Hence, the best truck navigation app should have maps that always get updated on road closures, road works, road infrastructure changes, etc. To get the best truck route GPS app free trial, download and install Route4Me's Mobile Route Planning Apps.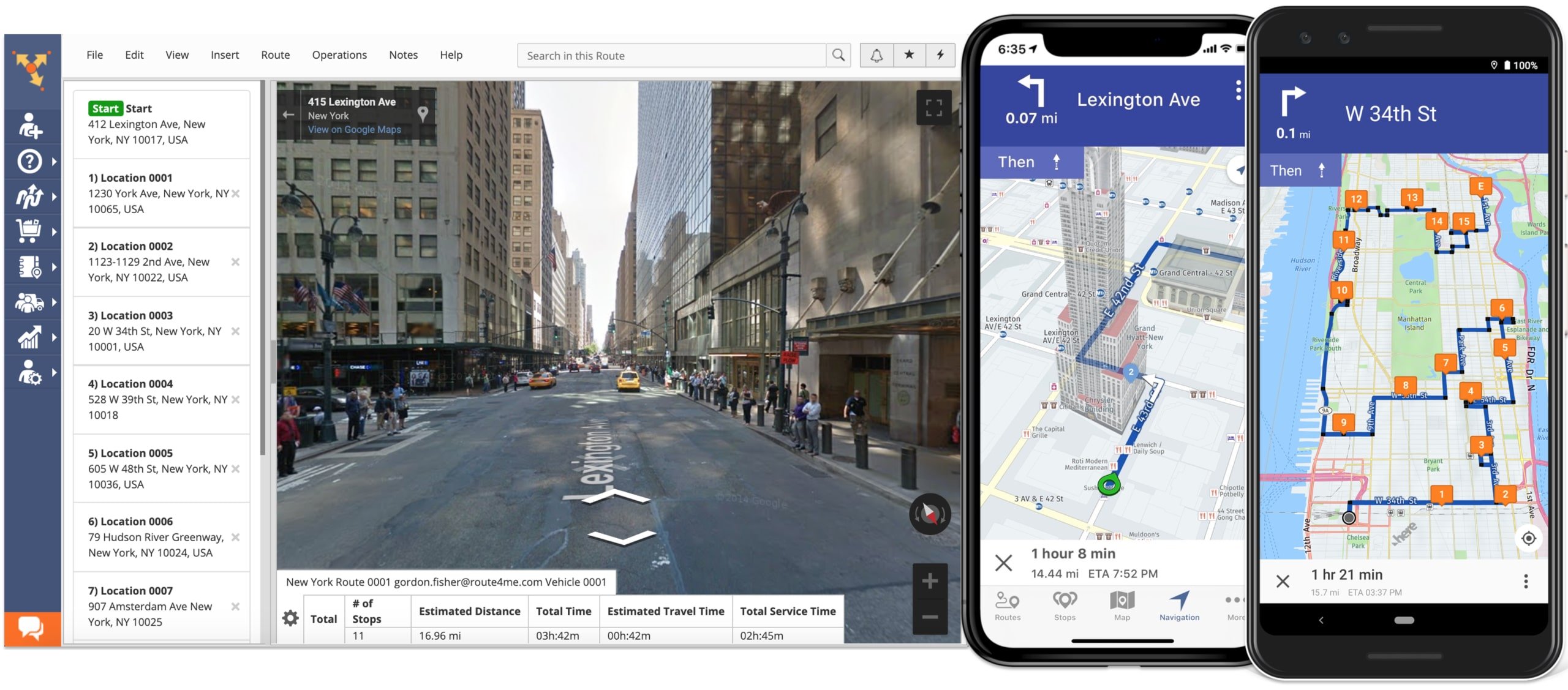 2. Ensure the Trucking GPS App Gives Accurate Navigation Directions
Additionally, accurate navigation directions go hand in hand with updated truck maps. And, if the truck maps are not relevant anymore, the driving directions will surely be dangerous to follow. So, to ensure the most cost-efficient and time-effective routes, you need accurate driving directions for your truck drivers.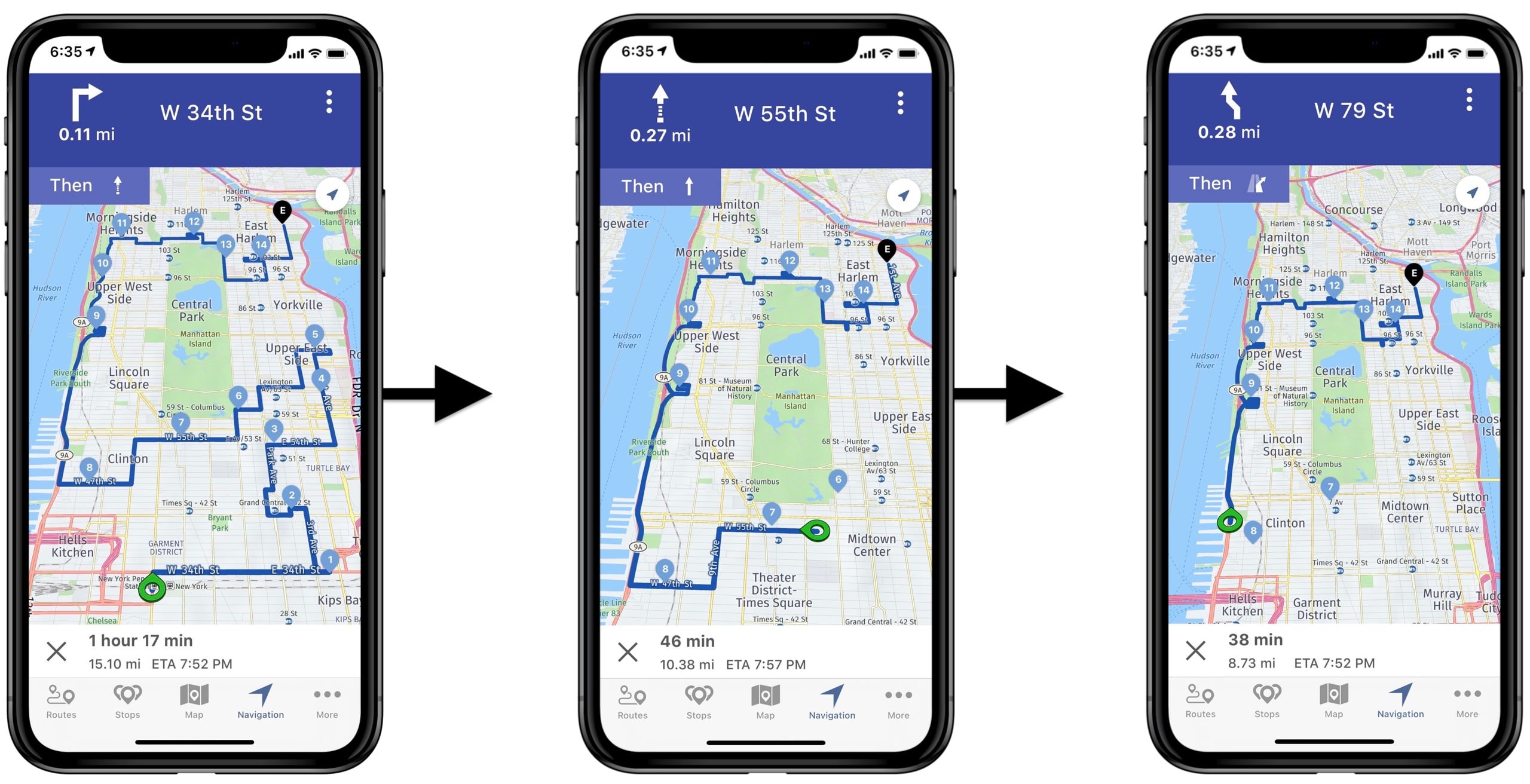 3. Look for a Trucking Route App That Offers Truckers Route GPS Routing Features
A trucking route app can only do so much – guide your truck drivers on planned routes. However, to make sure you're routing your addresses in the most optimal way, avoid unnecessary windshield time, minimize truck fuel consumption, and make more money, you should consider choosing a complete routing solution for trucks.
For example, Route4Me's truckers route GPS routing software can help you:
Plan and optimize the shortest truck routes
Navigate the planned routes with voice GPS navigation for trucks
Track route progress, truck driver behavior, and logistics KPIs and metrics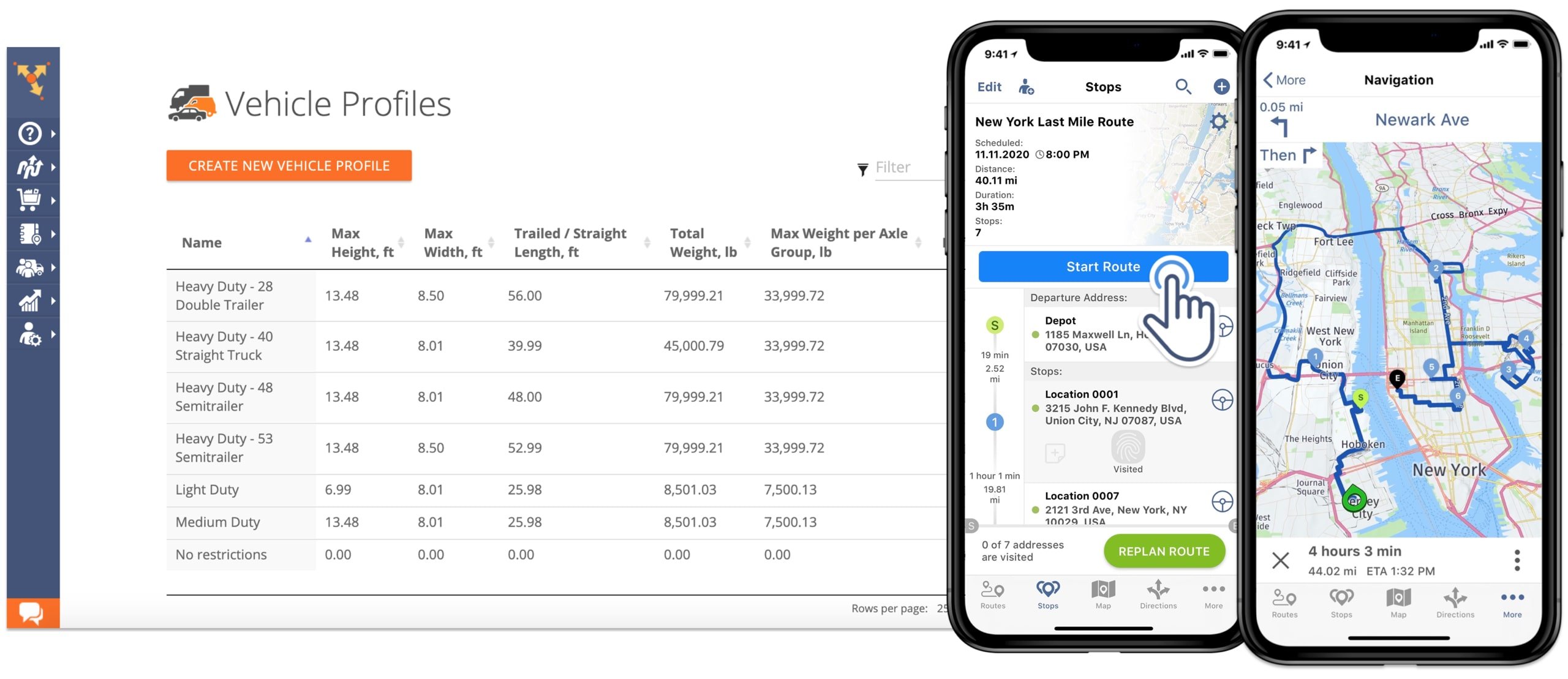 4. Choose the Truck Navigation App With Road Restrictions Monitoring Capabilities
One of the things that can set apart the best trucking GPS app from a mediocre one is the ability to account for ALL road restrictions that your truck drivers might encounter while navigating their routes. Therefore, if you want to ensure compliance and driver safety, you should go for a capable app for truckers that can factor in:
Bridge and tunnel heights limit
Truck weight restrictions
Commercially-approved roads
Other Class 1- 8 vehicle restrictions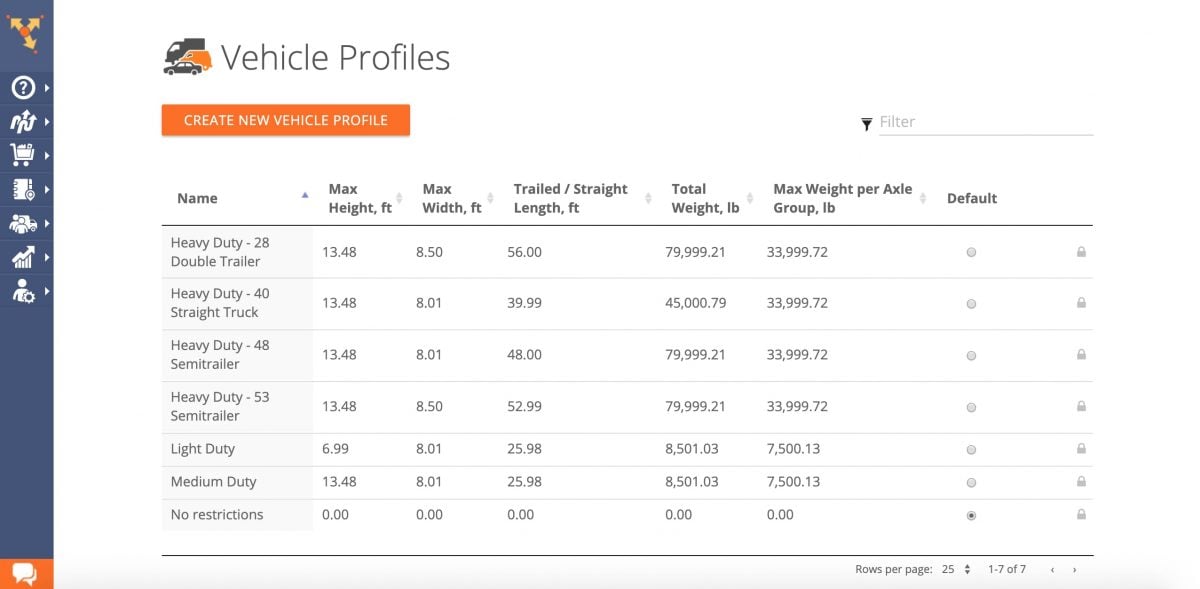 5. Make Sure the In-App GPS Navigation Accounts for Live Traffic
Aside from ensuring that the truckers route GPS app has updated maps, you also need to check if the truck navigation app has a live traffic layer. When having real-time traffic updates at hand, you will be able to avoid traffic jams during a rush hour, provide accurate ETAs, and avoid excessive truck idling.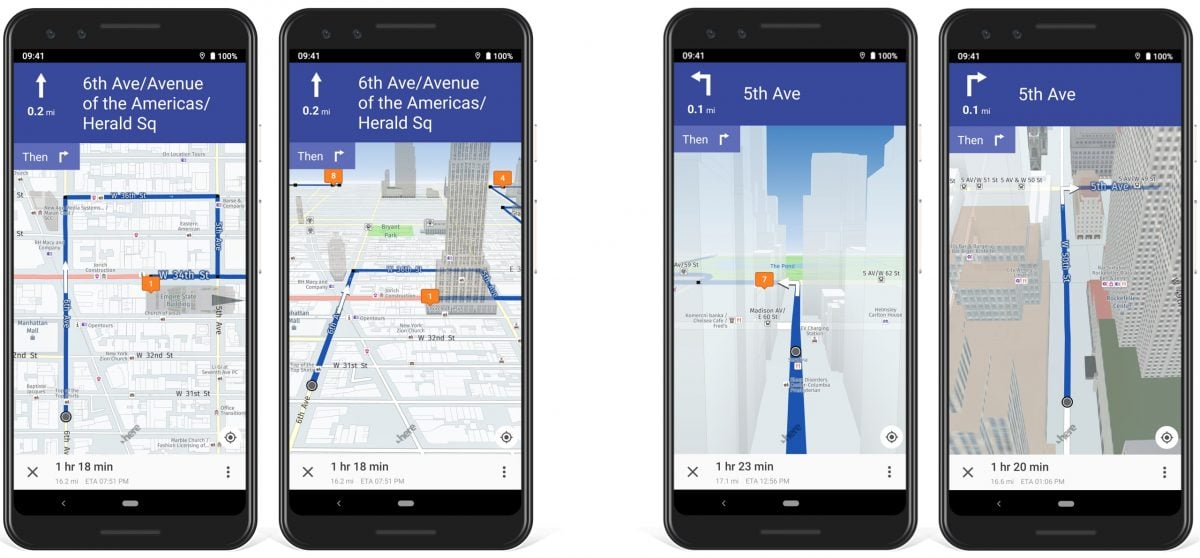 6. Search for Toll Roads and Highway Avoidance Features
Tolls and highway use taxes can make up a substantial percentage of your operating expenses. For this reason, you should look for a trucking GPS app that enables you to avoid toll roads and highways.
Accordingly, the Route4Me Route Planner for commercial routing offers you the ability to exclude toll roads and freeways from your truck routes.

7. Go Over the Fuel Consumption Management Capabilities
When trying to make your trucking company more efficient, truck fuel consumption is definitely worth your attention. For this reason, the best truck navigation app should allow you to track the fuel consumption of your trucks.
For instance, Route4Me enables you to monitor your trucks' fuel consumption and gather historical data about it and analyze it to identify patterns or trends.

8. Prioritize Data Management, Reporting, and Analytics
Although important, fuel consumption is not the only thing you should be able to track. The best truck navigation app should help you gain full visibility into your trucking operation in terms of relevant logistics KPIs and metrics such as:
Total planned routes
And more!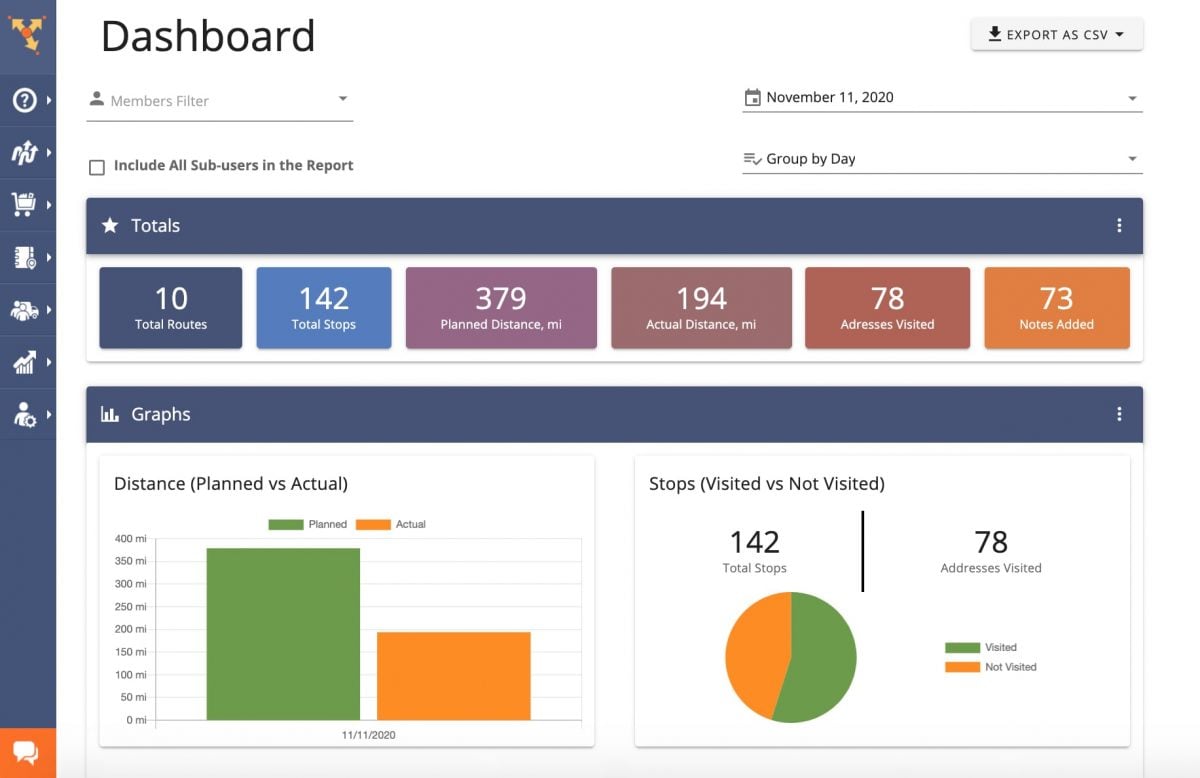 9. Check If the Truckers GPS App Has Voice Navigation
Equally important, voice navigation is a must-have feature when it comes to the best truckers GPS app. In detail, voice navigation will help your truck drivers focus on the road and stay safe while navigating their truck routes.
In addition to voice navigation, Route4Me trucking software offers truckers the convenience to enable the night mode and left-hand mode whenever necessary.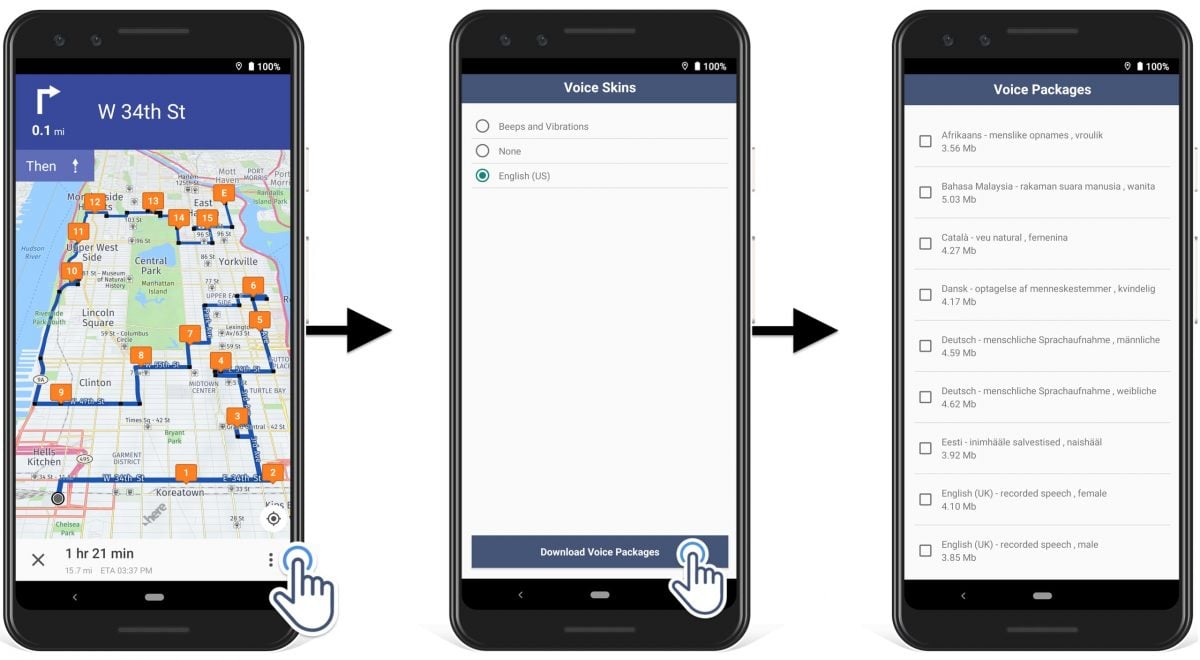 10. Ensure the Fleet Management Features Are Right for Your Trucking Business
Every trucking company has its unique needs and requirements. With this in mind, you should look for a truck navigation app or truck routing software that can accommodate your business needs.
Route4Me offers you the flexibility to choose from multiple routing features so that you can customize your truckers GPS app as you need. With Route4Me, you don't have to pay for unnecessary features.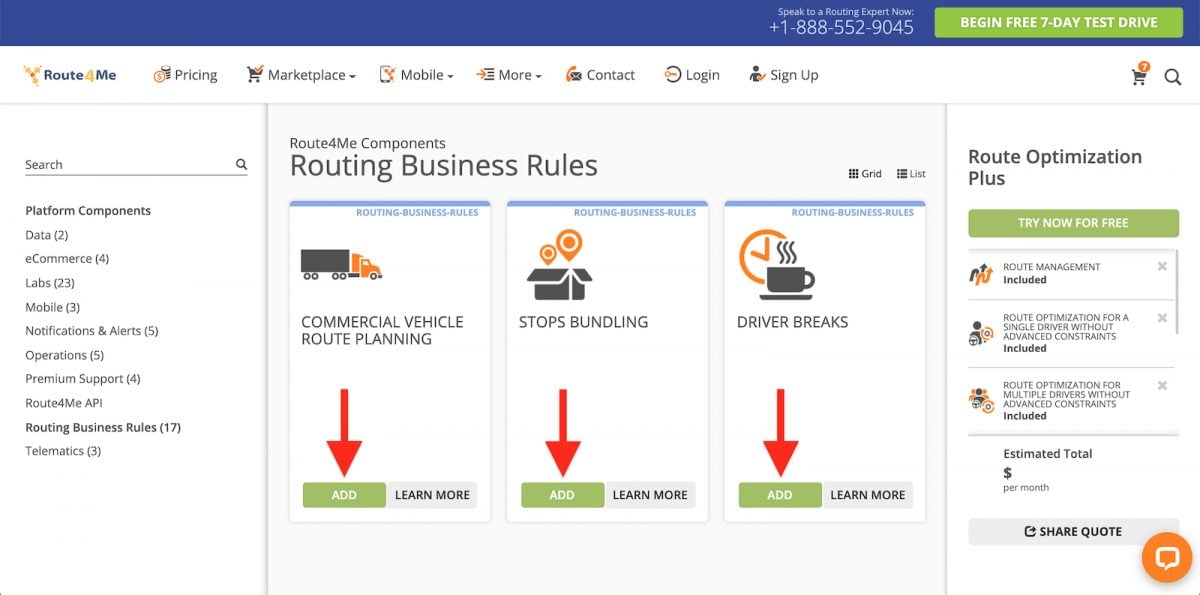 Trucking GPS App FAQ
Below, you will find the answers to the most frequently asked questions about:
The best free trucking GPS apps
Trucking GPS navigation apps
The most in-demand trucking route app
And a lot more!
Keep on reading to learn what is the best GPS app for commercial truck drivers, what is the best app for truckers, and if the popular free truck mapping apps out there are indeed too good to be true.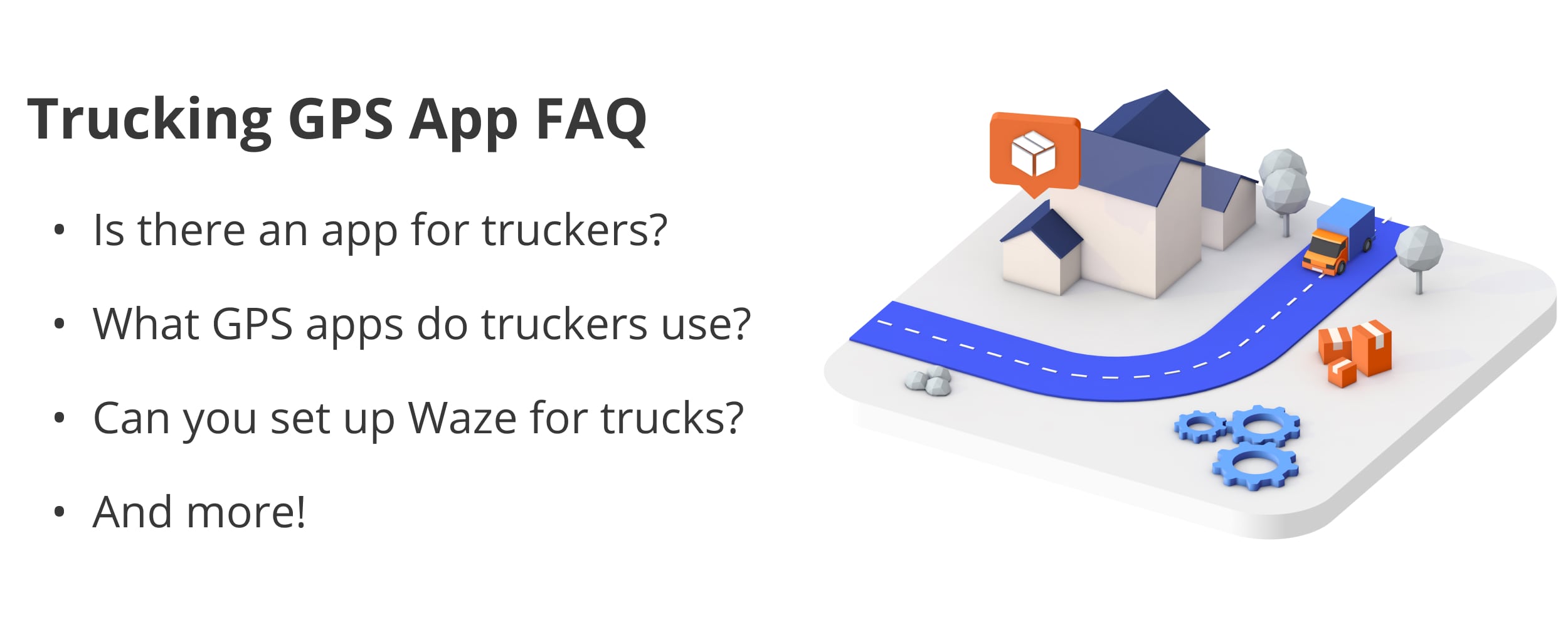 Yes, there are multiple apps for truck drivers available for both iOS and Android mobile devices. Truckers can rely on many apps to make their jobs easier – from truck routing apps and truck navigation apps to apps that locate CAT scales, inspection sites, and fuel stations. On that note, here are the 5 most popular apps for truckers and how they can help:
Trucker Tools: It maps rest areas, truck parking facilities, truck washes, and other useful locations along a truck route.
Waze: The app can inform truckers about upcoming traffic jams, accidents, road closures, and more.
Weigh My Truck: It automatically identifies CAT scales and enables drivers to use mobile pay and receive weight information right on their smartphones.
Gasbuddy: This app features a trip cost calculator and a gas price map.
Rolling Strong: It's a health and wellness app created specifically for truck drivers. It allows drivers to keep track of their overall healthy habits such as nutrition and sleep.
Below, you can also learn about the best trucker navigation apps and truck route planning apps.
The most popular GPS apps for truckers include both free and subscription-based apps. Specifically, truckers that opt for free truck driver apps use Google Maps and Waze. However, Google Maps and Waze can not accurately map truck routes nor account for truck-specific road restrictions. Thus, using such free GPS apps for truckers might result in costly fines and unfortunate incidents on the road.
At the same time, other drivers might prefer using apps that have been developed specifically for professional drivers. Such apps include Trucker Path, Route4Me Truck Routing apps, PTV Navigator, Sygic Truck GPS Navigation, CoPilot GPS, SmartTruckRoute, DAT Trucker, and more.
Continue reading to discover the features and capabilities offered by these apps and how they can help your business. Additionally, you can gain deeper insights into the pros and cons of using Google's route planner for truck navigation in the "Can You Set Google Maps for Trucks?" section of this post.
Waze doesn't feature truck routing capabilities. However, when navigating with Waze, you can choose other vehicle types such as private, taxi, motorcycle, and electric (in US and Canada only).
Google Maps does not feature any weight or height restrictions for commercial routing. Thus, truck drivers can't rely on Google Maps to avoid low bridges and comply with the local regulations for commercial vehicles.
Sign up for our one-week free trial and start planning and navigating the best truck routes with our truck-friendly navigation apps.
Disclaimer
All the information, trademarks, logos, or brand names not associated with Route4Me that are mentioned or displayed on this page are for identification purposes only. The information presented on this page is collected from publicly available sources as of this post's publication date. If you have any questions or issues about the content presented on this page, please contact us at [email protected] and we'll be happy to help.