How to Find the Best Trucking GPS App for Commercial Vehicles
In 2021, the best trucking GPS apps for commercial vehicles offer more features and capabilities than just truck navigation. Ideally, when looking at truck GPS solutions, you would consider a complex platform to accommodate all of your truck routing needs.
When planning and mapping truck routes, capable truck routing GPS solutions account for your specific truck dimensions and other commercial vehicle parameters, minimize truck idling, and keep your truck drivers safe.
There are multiple truck GPS types to choose from. And not knowing the differences between them can make your decision-making process more difficult.
Everyone might have heard about GPS receivers, dedicated truck GPS devices, trucking GPS units, GPS apps, etc. But what's the difference between them? And which one should you choose?
Table of Contents
How to Choose the Best Truck GPS App for Commercial Vehicles
When looking for the best trucking GPS app for commercial vehicles, there are a lot of features to keep in mind. Follow these 10 steps to find the right truck GPS for your business with ease.
1. Check If the Truck Navigation App Has Up-to-Date Maps
Having accurate and updated truck maps is critical for planning truck routes and navigating those routes successfully. When using outdated maps, your truckers will get incorrect driving directions and could risk not only getting expensive fines but also compromising their safety.
The best truck navigation app should have maps that always get updated on road closures, road works, road infrastructure changes, etc. To get the best truck route GPS app free trial, download and install Route4Me's Mobile Route Planning Apps.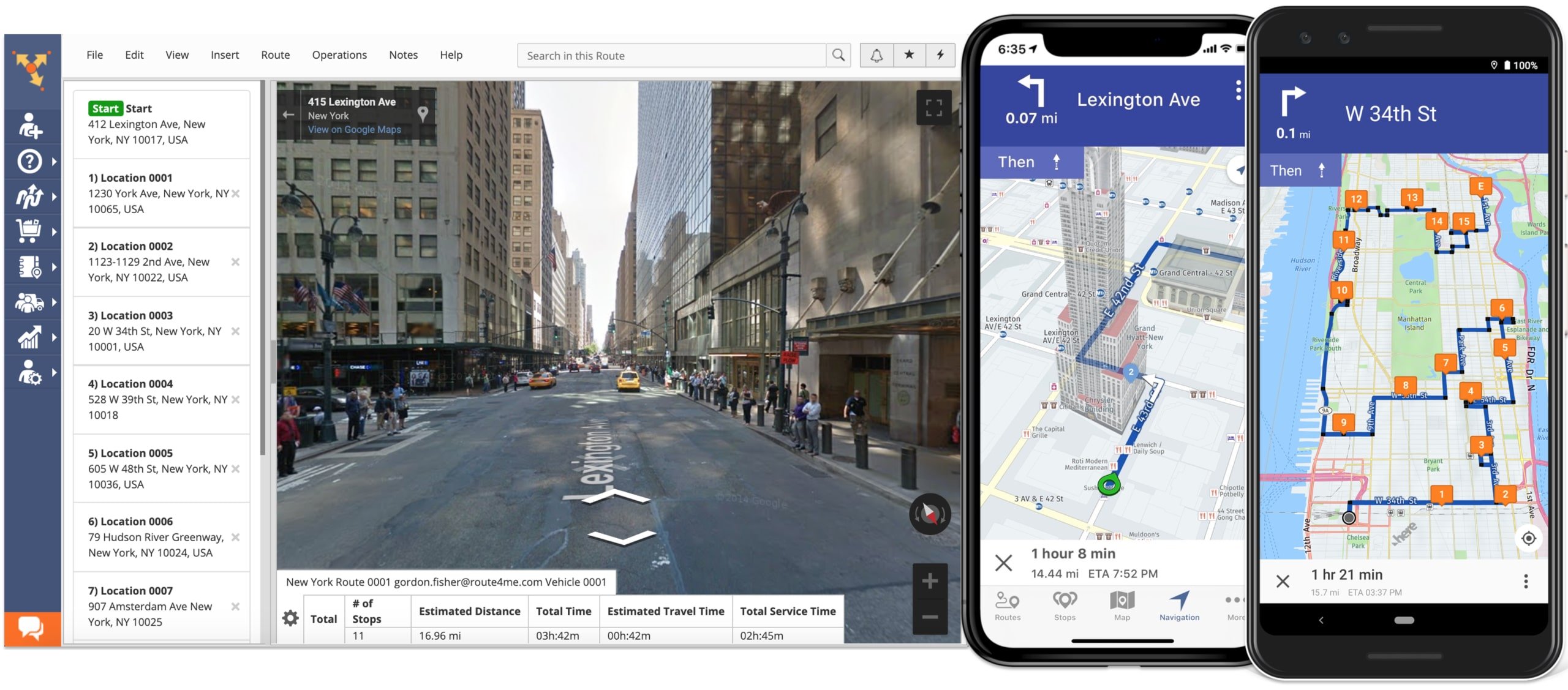 2. Ensure the Trucking GPS App Gives Accurate Navigation Directions
Accurate navigation directions go hand in hand with updated truck maps. If the truck maps are not relevant anymore, the driving directions will surely be dangerous to follow. To ensure the most cost-efficient and time-effective routes, you need accurate driving directions for your truck drivers.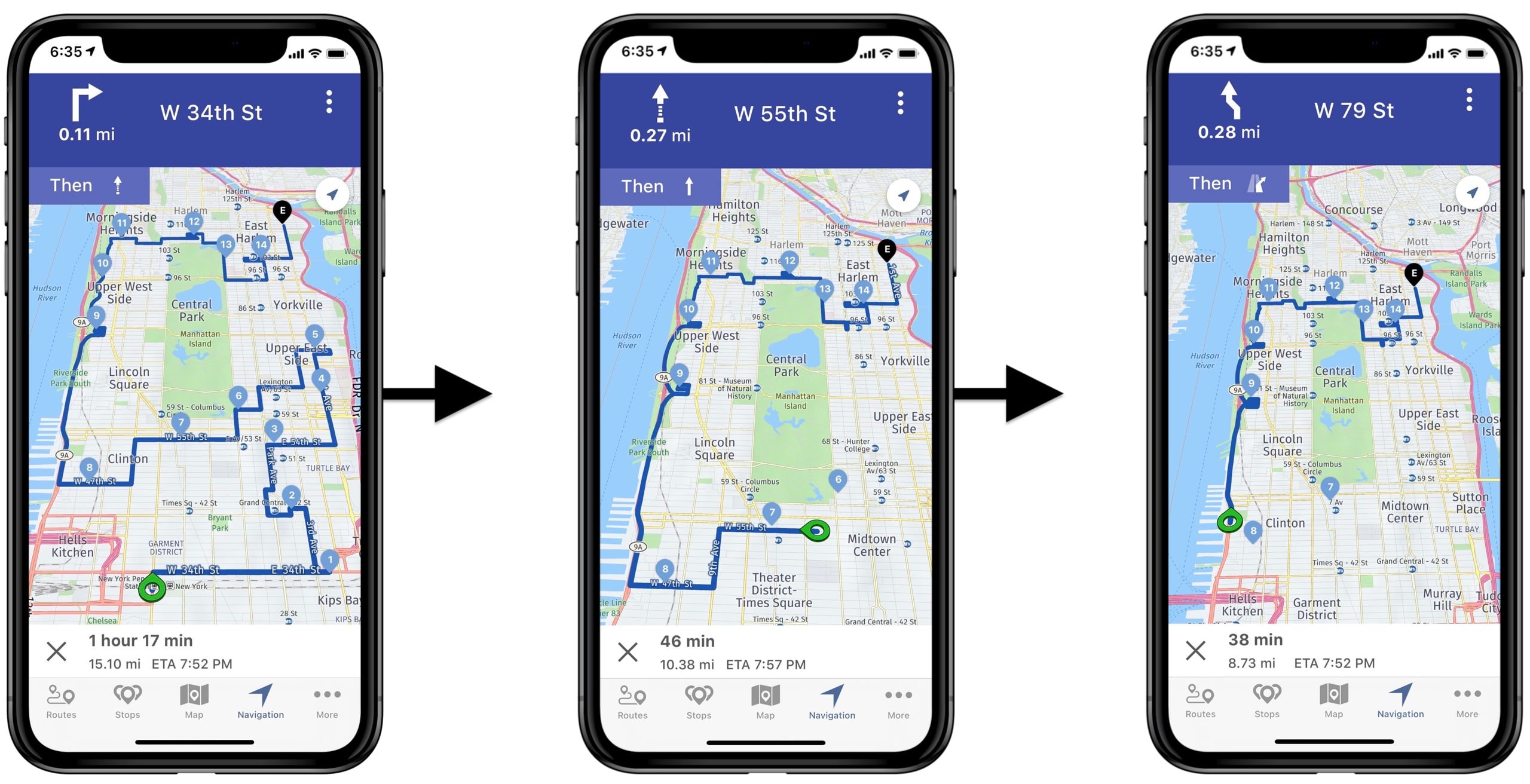 trucking route app
3. Look for a Trucking Route App That Offers Truckers Route GPS Routing Features
A trucking route app can only do so much – guide your truck drivers on planned routes. To make sure you're routing your addresses in the most optimal way, avoid unnecessary windshield time, minimize truck fuel consumption, and make more money, you should consider choosing a complete routing solution for trucks.
For example, Route4Me's truckers route GPS routing software can help you:
Plan and optimize the shortest truck routes
Navigate the planned routes with voice GPS navigation for trucks
Track route progress, truck driver behavior, and logistics KPIs and metrics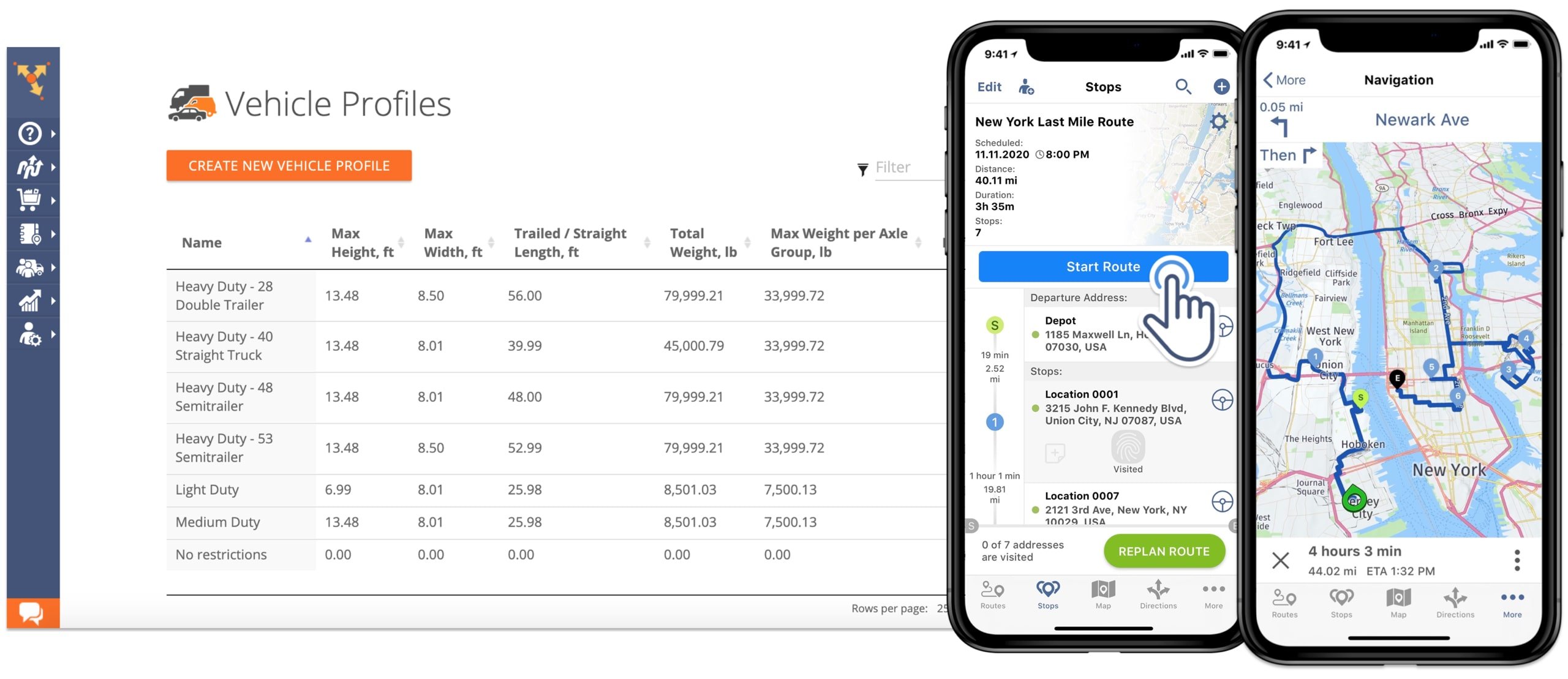 4. Choose the Truck Navigation App With Road Restrictions Monitoring Capabilities
One of the things that can set apart the best trucking GPS app from a mediocre one is the ability to account for ALL road restrictions that your truck drivers might encounter while navigating their routes. If you want to ensure compliance and driver safety, you should go for a capable app for truckers that can factor in:
Bridge and tunnel heights limit
Truck weight restrictions
Commercially-approved roads
Other Class 1- 8 vehicle restrictions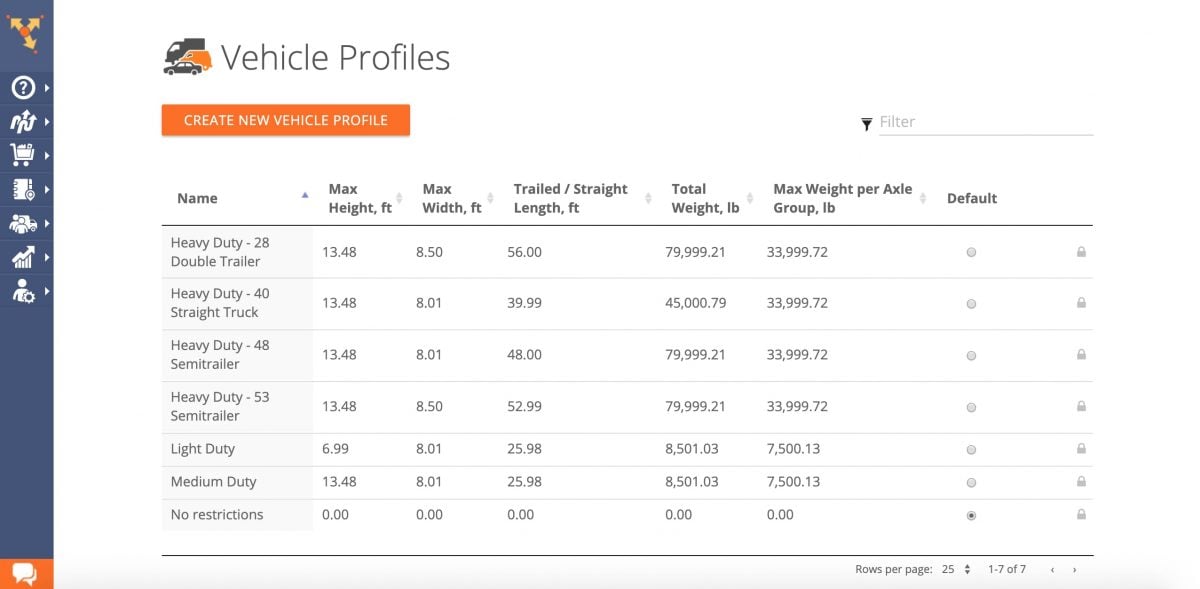 5. Make Sure the In-App GPS Navigation Accounts for Live Traffic
Aside from ensuring that the truckers route GPS app has updated maps, you also need to check if the truck navigation app has a live traffic layer. When having real-time traffic updates at hand, you will be able to avoid traffic jams during a rush hour, provide accurate ETAs, and avoid excessive truck idling.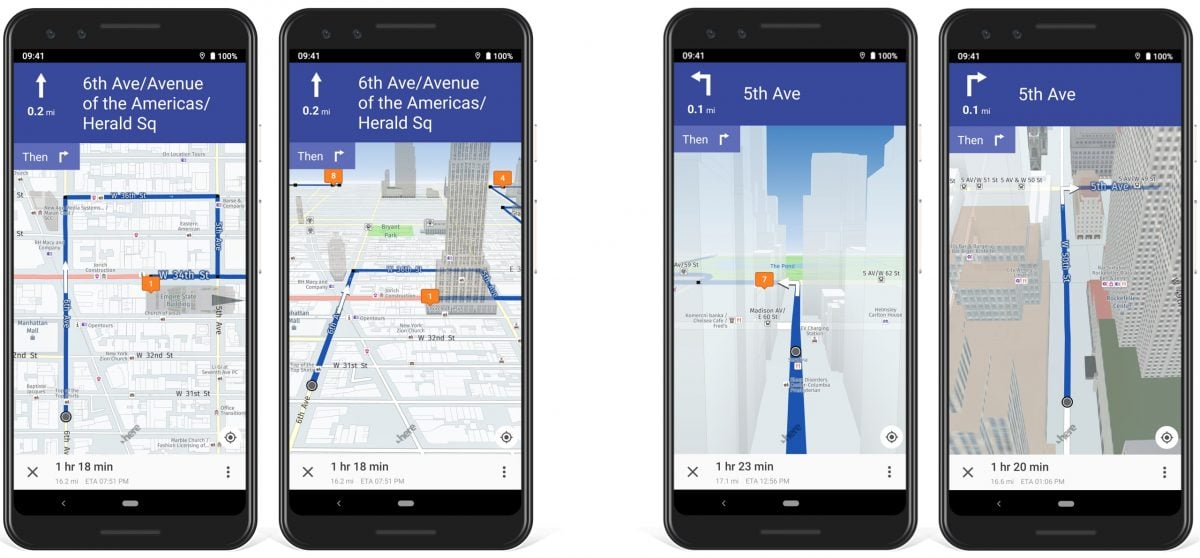 6. Search for Toll Roads and Highway Avoidance Features
Tolls and highway use taxes can make up a substantial percentage of your operating expenses. For this reason, you should look for a trucking GPS app that enables you to avoid toll roads and highways.
The Route4Me Route Planner for commercial routing offers you the ability to exclude toll roads and freeways from your truck routes.

7. Go Over the Fuel Consumption Management Capabilities
When trying to make your trucking company more efficient, truck fuel consumption is definitely worth your attention. The best truck navigation app should allow you to track the fuel consumption of your trucks.
Route4Me enables you to monitor your trucks' fuel consumption and gather historical data about it and analyze it to identify patterns or trends.

8. Prioritize Data Management, Reporting, and Analytics
Although important, fuel consumption is not the only thing you should be able to track. The best truck navigation app should help you gain full visibility into your trucking operation in terms of relevant logistics KPIs and metrics such as:
Total planned routes
And more!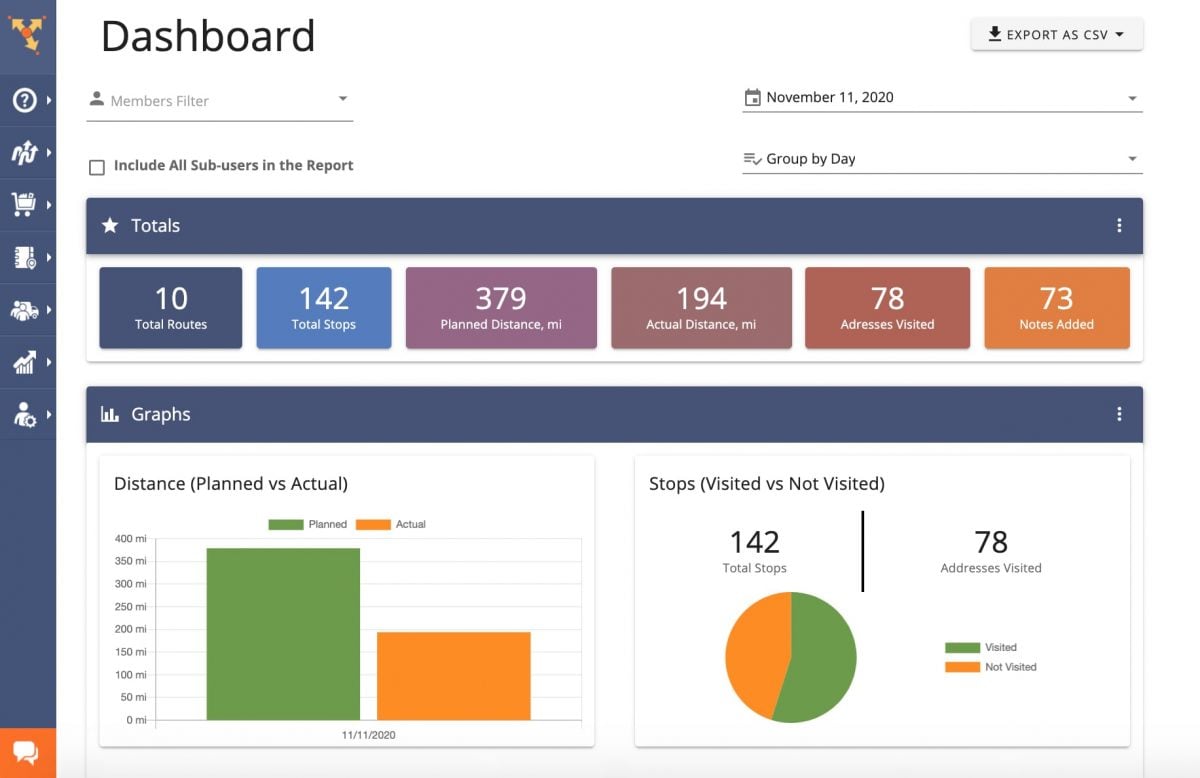 9. Check If the Truckers GPS App Has Voice Navigation
Voice navigation is a must-have feature when it comes to the best truckers GPS app. The Voice navigation will help your truck drivers focus on the road and stay safe while navigating their truck routes.
In addition to voice navigation, Route4Me trucking software offers truckers the convenience to enable the night mode and left-hand mode whenever necessary.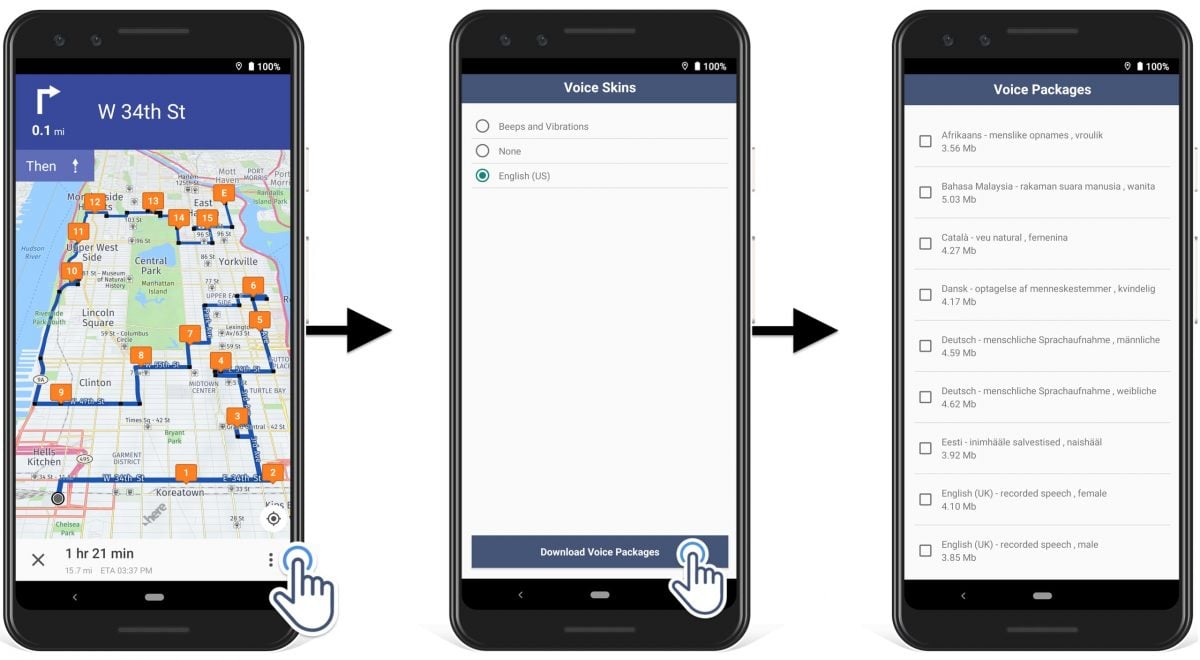 10. Ensure the Fleet Management Features Are Right for Your Trucking Business
Every trucking company has its unique needs and requirements. With this in mind, you should look for a truck navigation app or truck routing software that can accommodate your business needs.
Route4Me offers you the flexibility to choose from multiple routing features so that you can customize your truckers GPS app as you need. With Route4Me, you don't have to pay for unnecessary features.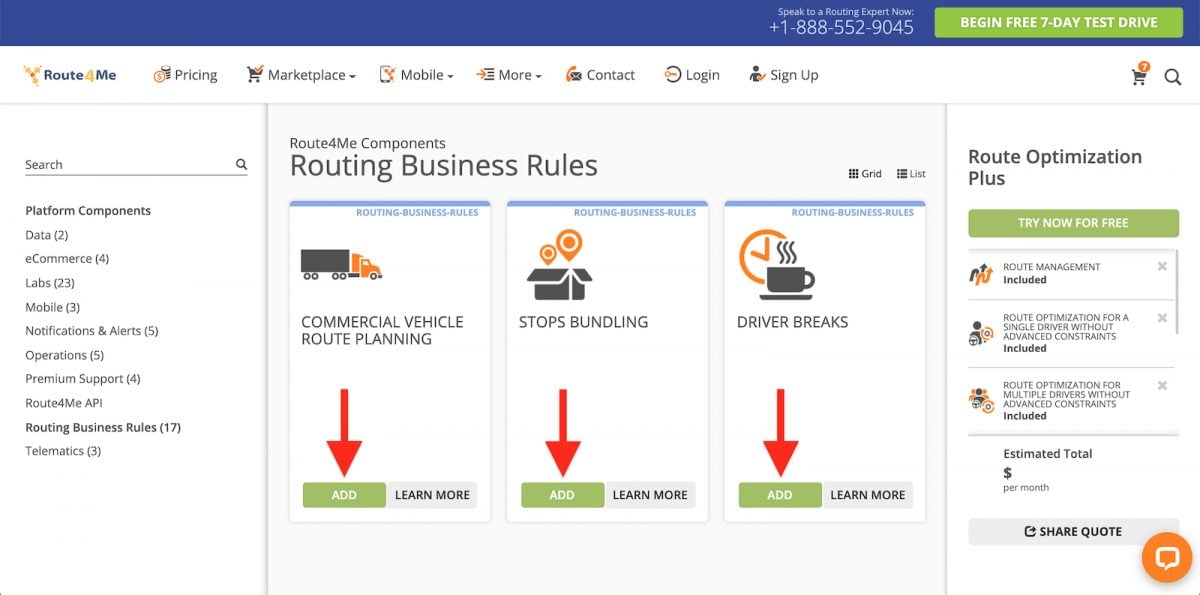 What Is a GPS Device?
GPS stands for Global Positioning System and consists of a network of 31 satellites, radar stations, and GPS receivers.
A GPS device, also called a trucking GPS unit, uses GPS receivers that can be dedicated or integrated into smartphones, cars, and other objects to calculate their geographical position. To calculate the geographical position, GPS receivers and devices use software that captures and processes signals sent by at least 4 GPS satellites at once.
Dedicated GPS devices are mobile mapping and navigation devices that can be used in cars to provide driving directions on routes. Dedicated GPS devices can also be hand-held and used for hiking, biking, etc. On the other hand, integrated GPS devices are built-in components of smartphones, tablets, and other smart devices.
Aside from indicating your geographical position, a GPS device can also:
Calculate the speed of your vehicle
Determine the direction you're heading towards (bearing)
Track vehicles
Calculate the route distance
And more
Is There a Special GPS for Truck Drivers?
Truck routing and commercial vehicle navigation are more complex than regular GPS navigation. For instance, trucks are not allowed on certain road types and have weight and height restrictions. For this reason, truckers cannot use mapping services like Google Maps, which is designed for personal use only. Truck drivers need a special truckers GPS app that accounts for all the road limitations for commercial motor vehicles (CMVs).
There are mapping and routing apps for truck GPS and truck navigation that provide turn-by-turn driving directions while factoring in all the necessary CMV parameters and road restrictions necessary to keep truck drivers safe and compliant with traffic laws and regulations.
Aside from trucking GPS apps, truckers can also use dedicated truck GPS devices from providers such as:
GPS trackers or dedicated GPS devices are also known as GPS units among logistics professionals. Depending on their power source, GPS trackers can be:
Plug-In GPS Trackers
Hardwired GPS Trackers
Battery Powered GPS Trackers
When looking for a complex trucking GPS solution or a truckers GPS app, you need to keep in mind that dedicated GPS devices for truckers can be expensive. Sure, you could find devices with very basic features for under $150. But the best truck GPS devices can go way beyond $300. Unlike expensive GPS hardware, such as Garmin trucking GPS, trucking GPS apps can be more financially convenient and just as efficient as any GPS device.
Moreover, if you're going to invest in a complete truck routing software solution that offers GPS navigation for trucks among multiple other features, you can make more money, save time, and utilize your fleet resources better.
Can You Set Google Maps for Trucks?
The Google Maps route planner is a free online mapping tool, useful for planning personal trips with up to 10 stops. Google's routing service will not optimize the sequence of destinations, arranging them in the same order in which you input them. These are the main reasons why Google Maps is not suitable for planning multi-stop delivery routes, let alone truck routes.
As previously mentioned, truck routing is a more elaborate routing process than regular routing. Routes for CMVs need to account for certain road types, bridges, and tunnels as per the vehicle's weight, height, and other commercial vehicle parameters. Therefore, Google Maps is not suitable for trucks – at least not for route planning.
Google Maps can be useful for truck drivers – but not as a truckers GPS app for navigation. Truckers can use Google's route planner to find parking lots, restaurants, gas stations, landmarks, and more.
What Is the Best Trucking GPS App for Truckers?
Ideally, the best truck navigation app for truckers should be able to do more than just guiding truckers on their routes. A capable trucking GPS app for truckers should also offer route planning capabilities, accurate navigation directions, voice navigation, and other important features for a trucking company. The most popular GPS apps for truckers in 2021 include:
What Types of Commercial Vehicles Should Use Truck GPS Apps?
Commercial vehicles come in many shapes and sizes – from trucks, semi-trailer trucks, and vans to buses, trailers, heavy equipment, and even taxis. Even though there can be minor variations from state to state, in the United States, any vehicle that is registered to a company is a commercial vehicle. As per this broad classification, not all commercial vehicles have road restrictions. On that note, if a regular car is used for business, it is considered a commercial vehicle.
Aside from the business-related classification criterion, any vehicle with a gross vehicle weight (GVW) of more than 26,001 pounds is considered a commercial vehicle. On that note, there are 8 weight classes for commercial trucks in the U.S.:
Light Duty Commercial Vehicles
Class 1: commercial vehicles with a gross vehicle weight rating of up to 6,000 pounds (mini-vans, utility vans, pick-ups, etc.)
Class 2: commercial vehicles with a gross vehicle weight rating from 6,000 to 10,000 pounds (mini-buses, step vans, etc.)
Class 3: commercial vehicles with a gross vehicle weight rating from 10,000 to 14,000 pounds (walk-in trucks, city delivery trucks, etc.)
Medium Duty Commercial Vehicles
Class 4: commercial vehicles with a gross vehicle weight rating from 14,001 to 16,000 pounds (conventional vans, utility trucks, etc.)
Class 5: commercial vehicles with a gross vehicle weight rating from 16,001 to 19,500 pounds (bucket trucks, large walk-in trucks, etc.)
Class 6: commercial vehicles with a gross vehicle weight rating from 19,501 to 26,000 pounds (rack trucks, beverage trucks, single axle trucks, school buses, etc.)
Heavy Duty Commercial Vehicles
Class 7: commercial vehicles with a gross vehicle weight rating from 26,001 to 33,000 pounds (refuse trucks or garbage trucks, fuel tank trucks, tow trucks, city transit buses, truck tractors, etc.)
Class 8: commercial vehicles with a gross vehicle weight rating above 33,000 pounds (dump trucks, sleeper trucks, fire engines, concrete mixer trucks, intercity buses, etc.)
By now, you probably know what the best trucking GPS apps should look like. Now it's time to see one in action.
Start your 7-day free trial today!