What Is Green Logistics in 2023? Sustainable Delivery Apps
Green Logistics, sustainable supply chain, and green last mile delivery, in particular, have gained more and more influence over customers' purchasing decisions. Specifically, in an IBM report, approximately 80% of consumers stated that sustainability is important when it comes to delivery. And, according to Forbes, 68% of consumers are planning to make additional efforts to find environmentally friendly brands. Furthermore, 30% of customers who were not motivated to choose a slower delivery option for a lower price said they would be willing to do so for sustainability and environmental-related purposes.
Considering the latest customer interest in a brand's carbon footprint, you should start auditing your fleet's emissions and work towards a greener delivery operation. Don't know where to start? This guide has got you covered. Read on to learn more about green logistics definition and strategies, sustainable delivery, and a lot more.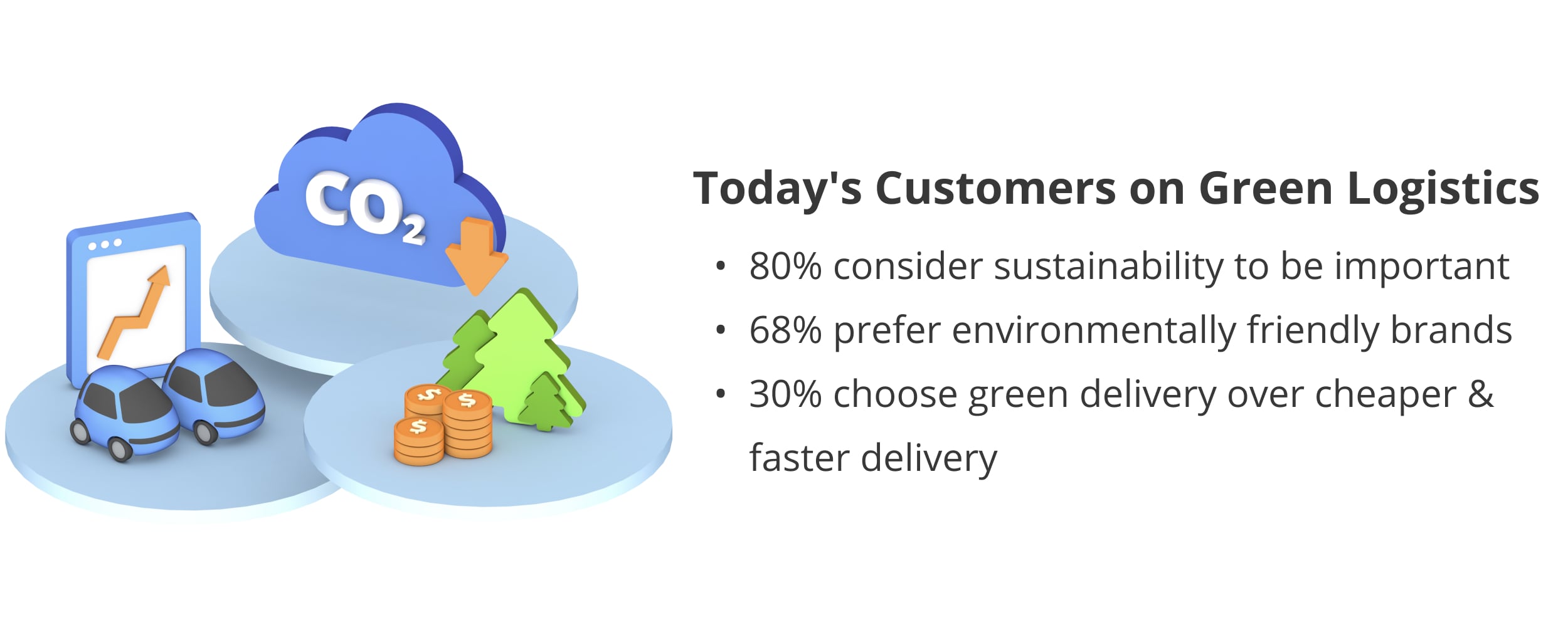 Table of Contents
Green Logistics Definition
The green logistics definition refers to multiple processes and projects a company develops with the purpose of reducing the environmental impact and carbon footprint of their supply chain. Specifically, the green logistics meaning is tightly tied to optimal production sourcing, packaging, delivery, reverse logistics, etc. Furthermore, green logistics efforts can be simplified by first focusing on reducing the carbon dioxide emissions produced by transporting goods through the supply chain – from the first mile to middle mile and last mile delivery.
For example, Route4Me helps logistics professionals minimize their fleet's CO2 emissions without having to invest hundreds of thousands of dollars into expensive greener fleet vehicles. Namely, Route4Me's route optimization software enables businesses to:
All of these benefits translate into an organization's first steps towards a more sustainable delivery, a better brand reputation, cost savings, and more customers. In fact, 4 out of 5 consumers would choose a brand with an environmentally friendly approach. And, this might come as a surprise, but customers would actually trade fast deliveries for green deliveries. However, when using Route4Me's route planner, you don't have to make your customers choose one or the other. In detail, with Route4Me, you can not only reduce CO2 pollution, but you can also offer customers lightning-fast delivery. So, when beginning your green logistics journey with Route4Me, you will minimize your environmental impact while expanding your customer base.

Green Logistics FAQ
Below, you can read the answers to our customers' more frequently asked questions about green logistics. By doing so, you'll gain an in-depth understanding of what green logistics is, how it works, what are the objectives of green logistics, how to implement green logistics, and a lot more.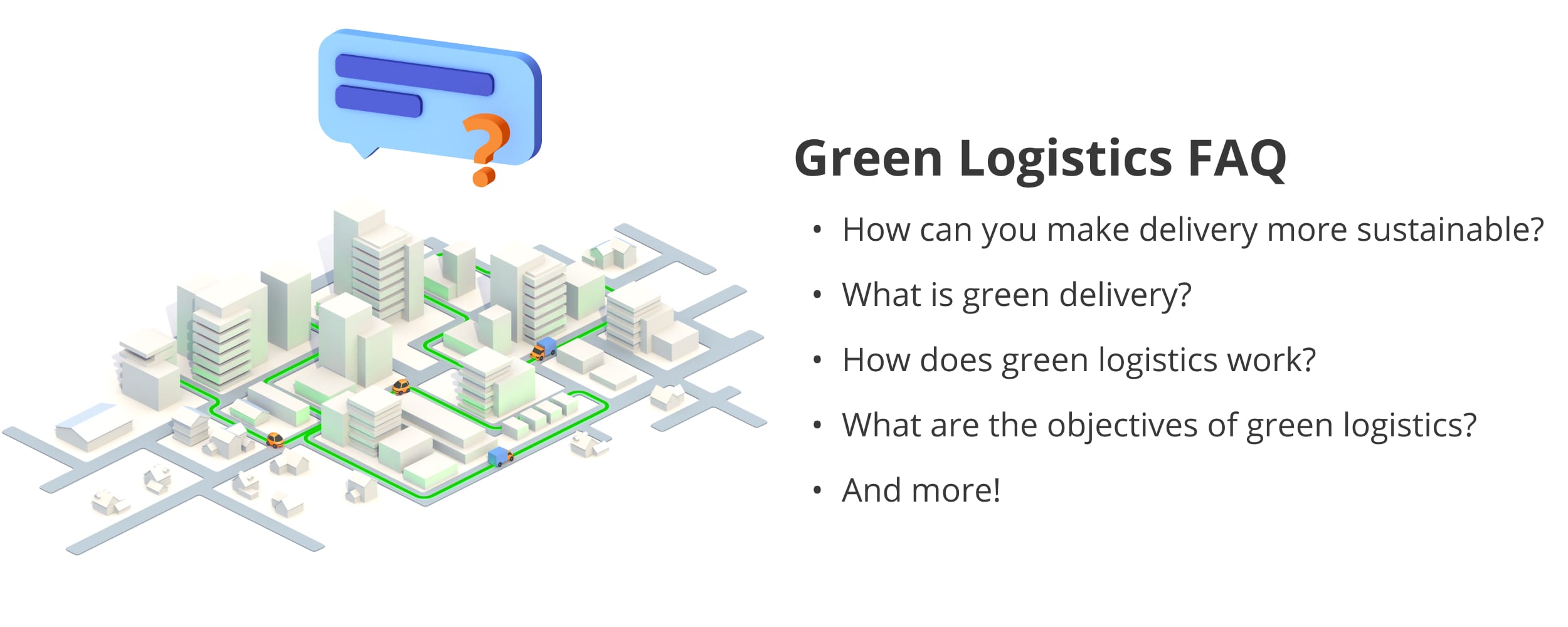 Green logistics is a collection of efforts directed towards measuring and reducing the environmental impact of the logistics processes of a business. Namely, green logistics encompasses all the logistics and reverse logistics activities carried out while forwarding goods within the supply chain. For instance, green logistics includes processes such as:
With Route4Me's route planning software for logistics, you can effortlessly do all that and more. Specifically, the Route4Me route planner helps you create the fastest and shortest routes for your deliveries, monitor your drivers' behavior in traffic, and keep your emissions under control.
Green logistics works by identifying, monitoring, and then creating strategies to reduce the impact that a company's logistics activities have on the environment. For example, Route4Me's route optimization software gives logistics intense businesses the possibility to audit their fleet's carbon footprint and fuel consumption. As a result, logistics experts can come up with practical solutions to specific problems.
For example, a truck that is driven by one driver can consume more fuel than the same make and model truck driven by another driver. In this case, logistics managers need to be able to easily identify the discrepancies in fuel consumption between two drivers and track the activity of both drivers to find quick solutions.
For instance, Route4Me's driver tracking solutions can help identify unnecessary idling, which leads to fuel being burned in vain. Simultaneously, Route4Me's Dynamic Route Deviations Detection feature helps managers spot unauthorized route detours that can contribute to the company's overall carbon footprint.
The objectives of green logistics focus on achieving environmental efficiency within the supply chain. Namely, when going green, logistics experts aim to create a healthy balance between financial efficiency and environmental efficiency. Consequently, the objectives of green logistics include reducing waste through the supply chain as much as possible in an affordable manner.
On that note, Route4Me's route planning software can help logistics companies reduce their carbon emissions without investing in additional fleet assets. Therefore, Route4Me provides an affordable method for:
Keep reading to learn more about how Route4Me's carbon-neutral route planning software can help you achieve your green logistics objectives.
To achieve green logistics, an organization needs to implement multiple strategies that aim to bring their logistics operations as carbon neutral as possible. Particularly, when striving to become environmentally friendly and implement green logistics policies, logistics intense businesses need to find ways to:
Source locally rather than internationally
Strategically creating urban fulfillment centers closer to the end consumers
Track and reduce the carbon emissions of fleet vehicles
Invest in electric vehicles and greener fleet assets
Train drivers to adopt green driving practices, etc.
Green delivery refers to transporting parcels in a sustainable method. This involves the usage of electric cars, plug-in hybrids, hybrid electric vehicles, biofuels, etc. However, these vehicles might represent investments that not any company can afford. Replacing a conventional fleet entirely with an electric fleet might not be feasible.
Therefore, delivery companies can take alternative routes to going green. For example, by adopting a route optimization software such as Route4Me, last mile professionals can reduce the average route distance and decrease their carbon pollution with minimal effort.
To make delivery more sustainable, businesses need to start optimizing their delivery routes. This will enable organizations to reduce their fuel consumption and, therefore, minimize carbon dioxide emissions. For instance, with Route4Me's route optimization software, companies can not only plan the most optimal routes possible, but they can also track fuel consumption and CO2 emissions of their vehicles as well as drivers' performance and behavior. By doing so, logistics professionals will be able to make their fleets greener with minimal effort.
In detail, when tracking fleet CO2 emissions with Route4Me, you can accurately estimate the amount of CO2 that each of your fleet vehicles will produce on their routes. Plus, Route4Me's carbon-neutral route planner enables you to also compare the estimated and the actual CO2 emissions to ensure you're always on top of your green game.
Another way to make delivery more sustainable and reduce pollution is by considering alternative delivery methods such as using electric scooters, bicycles, or even delivering on foot. And, when doing so, you can use the Route4Me route planning software to:
Eco-safe driving is a set of driving practices that are proven to minimize a vehicle's emissions while also reducing fuel and promoting road safety. In fact, the U.S. Department of Energy estimates that eco-driving can increase gas mileage by approximately 15% to 30% (on highways) and 10% to 40% (in stop-and-go traffic) compared to aggressive driving. This can translate into gasoline savings of up to $1.31 per gallon. Therefore, as less fuel is burned, your fleet's carbon footprint decreases.
When implementing an eco-safe driving program across your organization, Route4Me can help you. In detail, Route4Me's route optimization software gives you the ability to track your drivers in real time as well as in retrospect. Specifically, with Route4Me, you can leverage live tracking or watch an animated video with your drivers' GPS tracking history whenever you please. This feature helps you ensure your field employees comply with your newly implemented eco-safe driving program.
Eco-friendly route planning is the process of mapping routes in advance in a way that can prevent idling while keeping the routes as short and fast as possible and minimizing fuel consumption and fleet CO2 emissions. For example, Route4Me's route planning software enables logistics intense businesses to sequence their route stops in the most optimal way and create cost and time-efficient routes that:
Account for live traffic to avoid idling
Support live and dynamic route changes to prevent going back and forth and extra trips when visiting customers
Combine pickup and delivery to save fuel
And more!
To implement sustainable route planning and eco-friendly route optimization, you need to manually plan and optimize your eco-friendly routes. Or invest in a route optimization solution.
The first option will result in time wasted, inaccuracies and errors, as well as a lack of visibility into your operation. In contrast, route optimization software will help you plan the most efficient routes in seconds, keep your fleet emissions under control, minimize fuel consumption, and monitor and prevent aggressive driving and idling. Read on to learn more about the best sustainable route planning and optimization software.
Route4Me is one of the best sustainable route planning and optimization software on today's market. Having over 10 years of experience in helping logistics intense businesses to go green, Route4Me has managed to reduce CO2 emissions by over 10 billion tons. And, since 2010, Route4Me has succeeded in shortening customers' routes by 10 billion miles (22.5B KM).
So, considering Route4Me's decade-long expertise in green logistics and ec0-friendly delivery, Route4Me can be your trusted partner for implementing a carbon-neutral strategy. Continue reading to learn how you can partner up with Route4Me for free.
Decarbonization in logistics is the process of sustainably reducing emissions throughout the supply chain. Additionally, logistics decarbonization can also imply conducting efforts to compensate for an organization's CO2 emissions.
When successful, logistics decarbonization and green supply chain strategies result in a carbon-neutral logistics system. This can be achieved when you:
Amazon's sustainability practices consist of multiple initiatives that aim to help the eCommerce giant reach net-zero carbon by 2040 by striving to:
Utilize 100% renewable energy by 2025
Improve resource efficiency through hundreds of urban fulfillment facilities
Work towards a net-zero carbon delivery model by 2030
Power fulfillment facilities only through solar and wind energy
Use sustainable packaging materials
Invest in electric delivery vehicles
Adopt alternative delivery solutions (such as delivering on foot or on a bicycle), etc.
Eco-Friendly Driving Practices and Sustainable Delivery Tips
Without a doubt, eco-friendly driving practices have a substantial role in an organization's green logistics strategy. Specifically, eco-safe driving promotes fuel efficiency, reduces vehicle wear and tear, minimizes vehicles' CO2 emissions, and lowers accident risks.
When implementing an eco-friendly driving program across your organization, you can:
Avoid aggressive acceleration and braking
Use cruise control to maintain a consistent speed (this can help you drive down fuel usage and emissions by up to 20%)
Invest in vehicles with smaller and more fuel-efficient engines
Remove any unnecessary equipment from inside or on top of your fleet vehicles
Avoid idling more than 60 seconds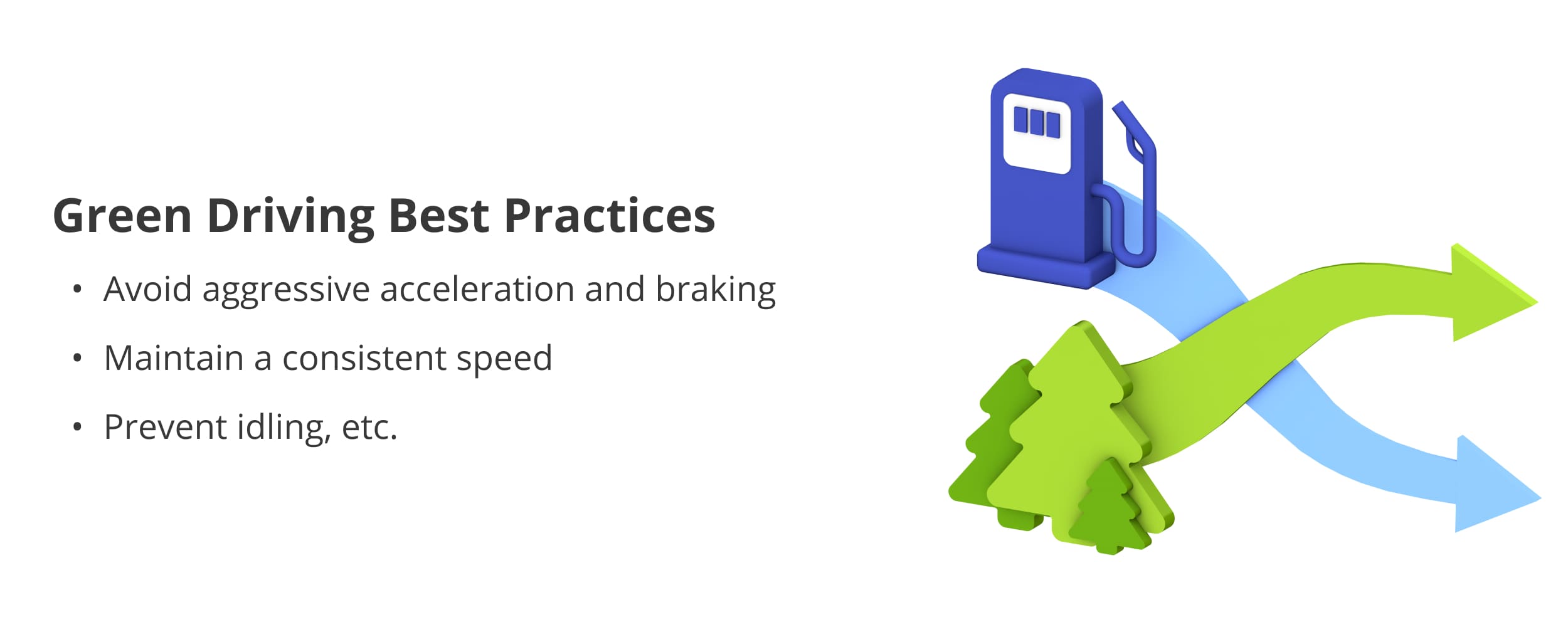 Carbon Neutral Last Mile Route Planning Software Trial
Ready to make the world a better place? Route4Me's carbon neutral last mile route planning software can help you start doing that right away.
Take your first step towards a more sustainable last mile delivery today. It's completely free!
Route4Me offers a free one-week free trial to support your green delivery initiatives.
Start your free eco-friendly last mile route planning software trial right now!