What Is Middle Mile Delivery in 2023? Trends and Software
Lately, middle mile delivery has become a buzzword among logistics experts. Part of it can be attributed to Amazon's ongoing efforts of cutting supply chain costs by running their middle mile operations in-house.
But what is the middle mile exactly? Is linehaul trucking related to the middle mile? How does Amazon do it?  What can logistics intense businesses learn from Amazon's middle mile delivery optimization endeavors?
This article will answer all of your questions and give you a brief overview of what middle mile delivery is and how you can optimize it. Furthermore, below, you can learn about cost-cutting opportunities, fleet management best practices, and software solutions that can help you: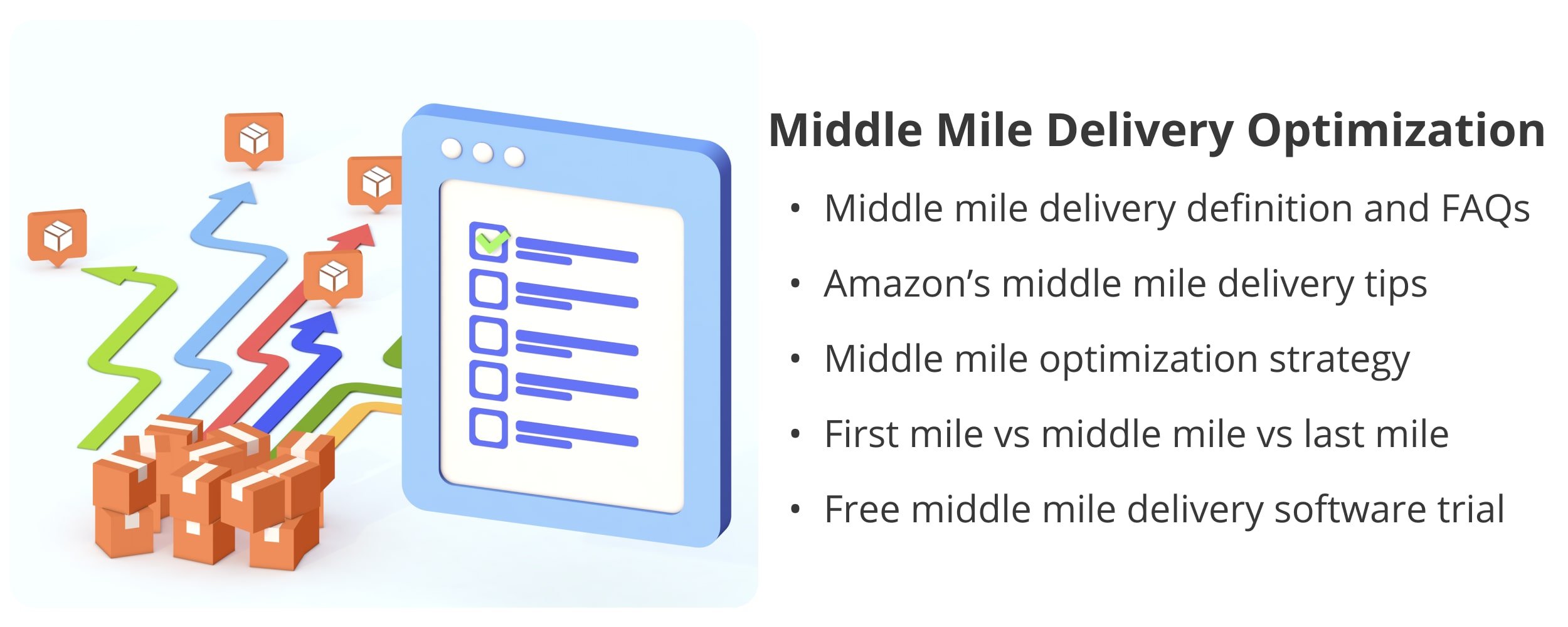 Table of Contents
Middle Mile Delivery Definition
The middle mile delivery definition refers to the supply chain stage in which goods are transported between two warehouses. Moreover, the middle mile delivery meaning can be a synonym for local distribution and local drayage. This means that during the middle mile, products are delivered from the manufacturer's storage facility to a retail store, fulfillment facility, etc.
Although often overlooked, middle mile optimization started to get more attention from logistics professionals. Particularly, some businesses started to recognize opportunities for slashing delivery costs not only by optimizing last mile operations but also focusing on their middle mile.
Read further to get a better understanding of what the first mile and last mile entail and how they are different from the middle mile.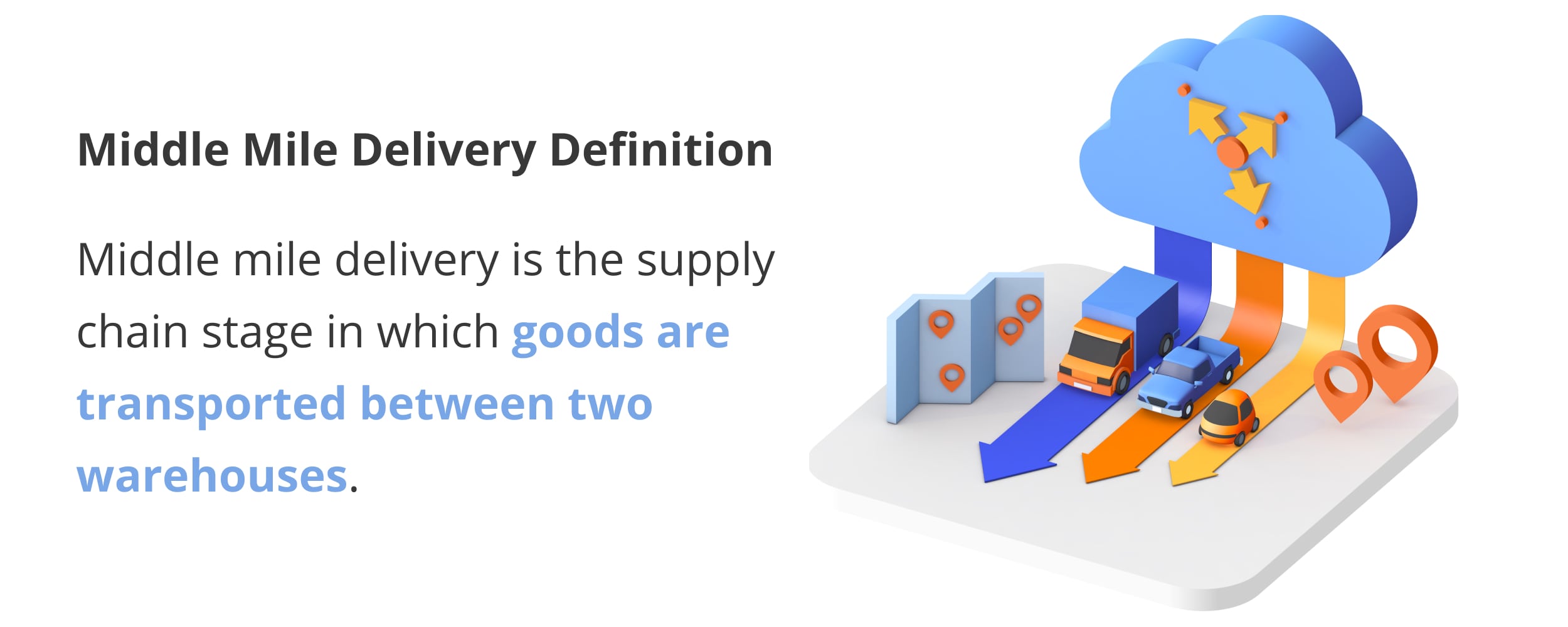 First Mile vs Middle Mile – What Does First Mile Delivery Mean?
The main difference between the first mile vs middle mile is the pickup point, the starting location of the product's journey. Namely, during the first mile, goods are picked up from the manufacturer, a production plant, etc., and delivered to a distribution center or warehouse.
Then, the middle mile begins from the distribution center. Specifically, middle mile drivers pick up the goods from where the first mile drivers deliver them and transport them further within the supply chain. The last stop in a middle mile route would be a retailer's warehouse, a fulfillment center, a last mile carrier's distribution center, etc.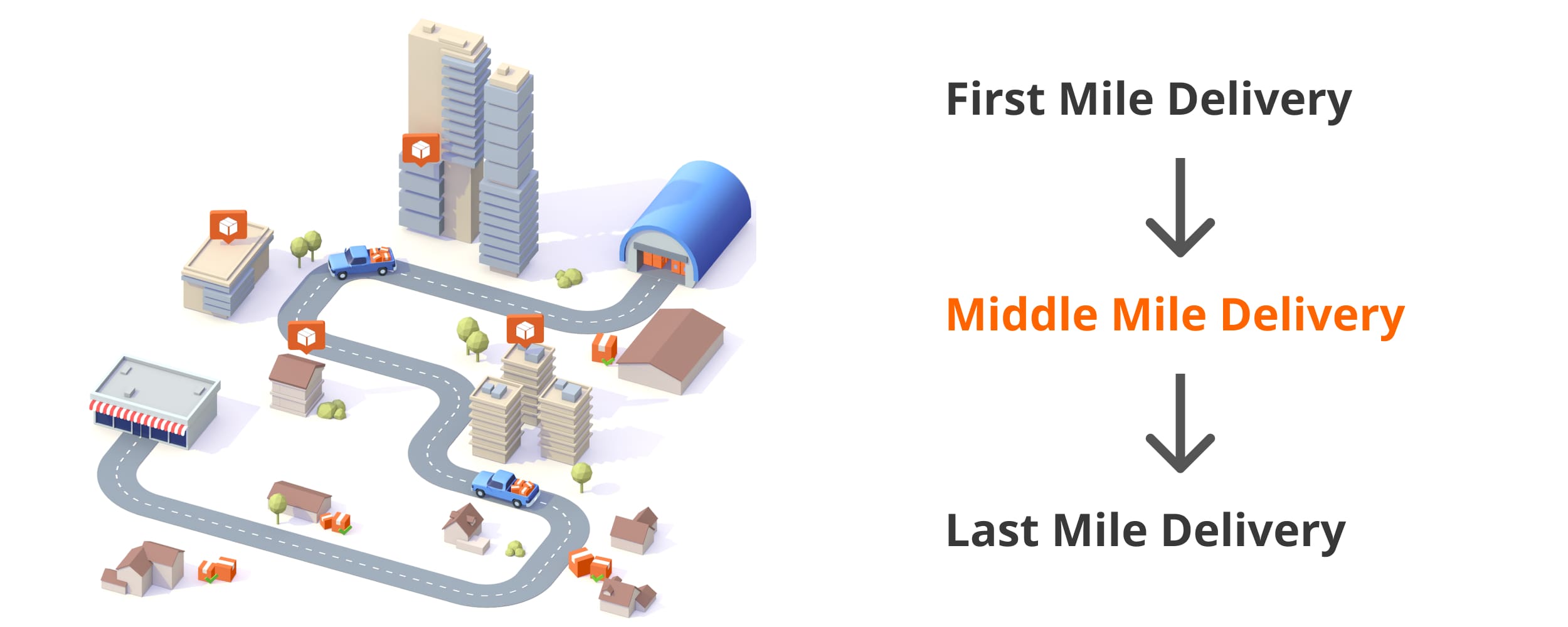 Middle Mile vs Last Mile – What Is Last Mile Delivery?
When it comes to middle mile vs last mile, the difference mainly consists of the delivery destination. Specifically, the middle mile routes end at a warehouse, while the last mile routes entail visiting multiple addresses of end customers.
In detail, middle mile routes go from warehouse A to warehouse B. As a result, these mid mile delivery routes are repetitive and predictable. On the other hand, last mile routes have multiple stops, go through busy cities, and require a more dynamic planning approach.
For example, when using Route4Me's route optimization software, you can plan unique last mile routes as per your daily tasks and goals. Moreover, you can also implement dynamic changes to your routes from your headquarters and immediately and automatically dispatch route updates and synchronize route changes with your drivers' iOS Route Planner and Android Route Planner apps.
At the same time, with the Route4Me routing software, you can also schedule middle mile routes in advance. This means that you can plan a repetitive route only once and then create a schedule for it to be automatically created and dispatched on the scheduled dates. By doing so, you can:
Have better visibility into your team's availability and workload as well as fleet vehicles' load capacity
Gain more control over your route schedules
Schedule fleet vehicles for preventive maintenance service visits
And a lot more!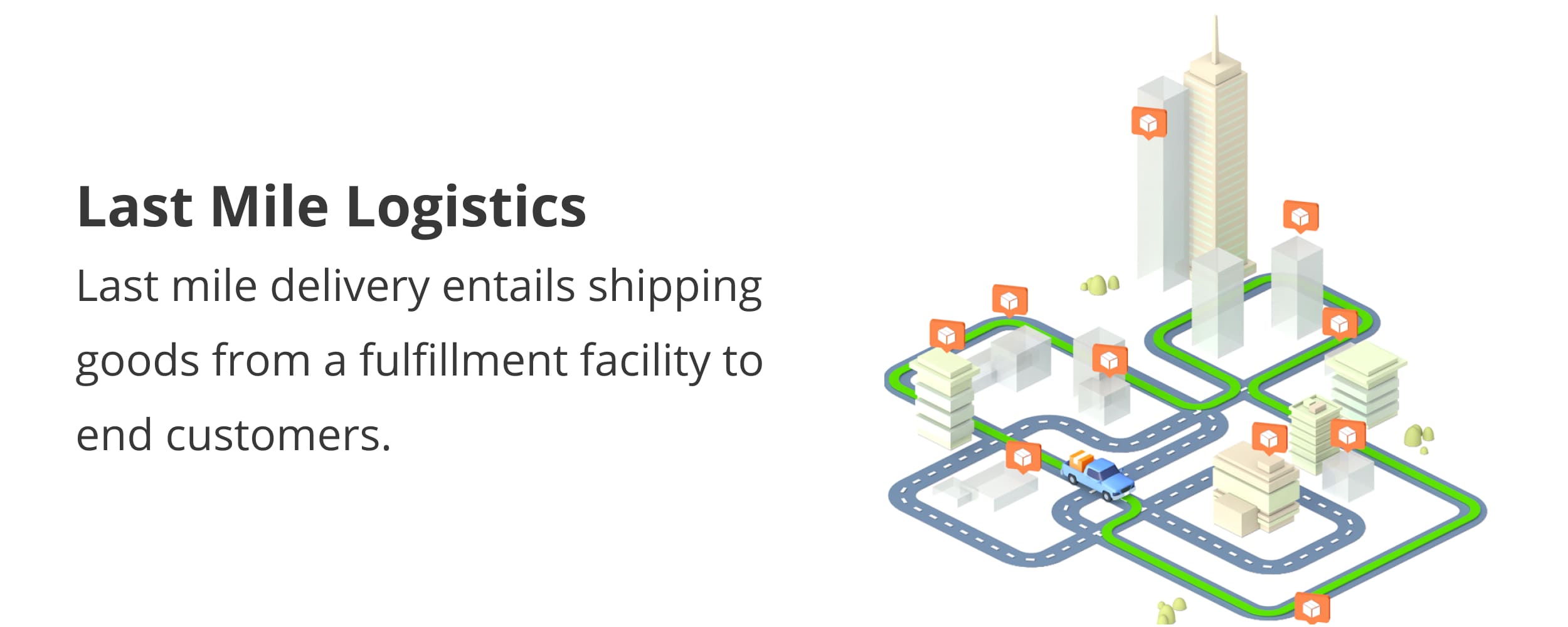 Middle Mile Delivery FAQs
Below, you find the most frequently asked questions about middle mile delivery in 2023. In detail, our middle mile experts have selected the most common questions that Route4Me customers have asked through the decades and answered them in an easy-to-understand manner.
By reading further, you will learn what middle mile is, what middle mile is in logistics, how to optimize your middle mile operations, and much more.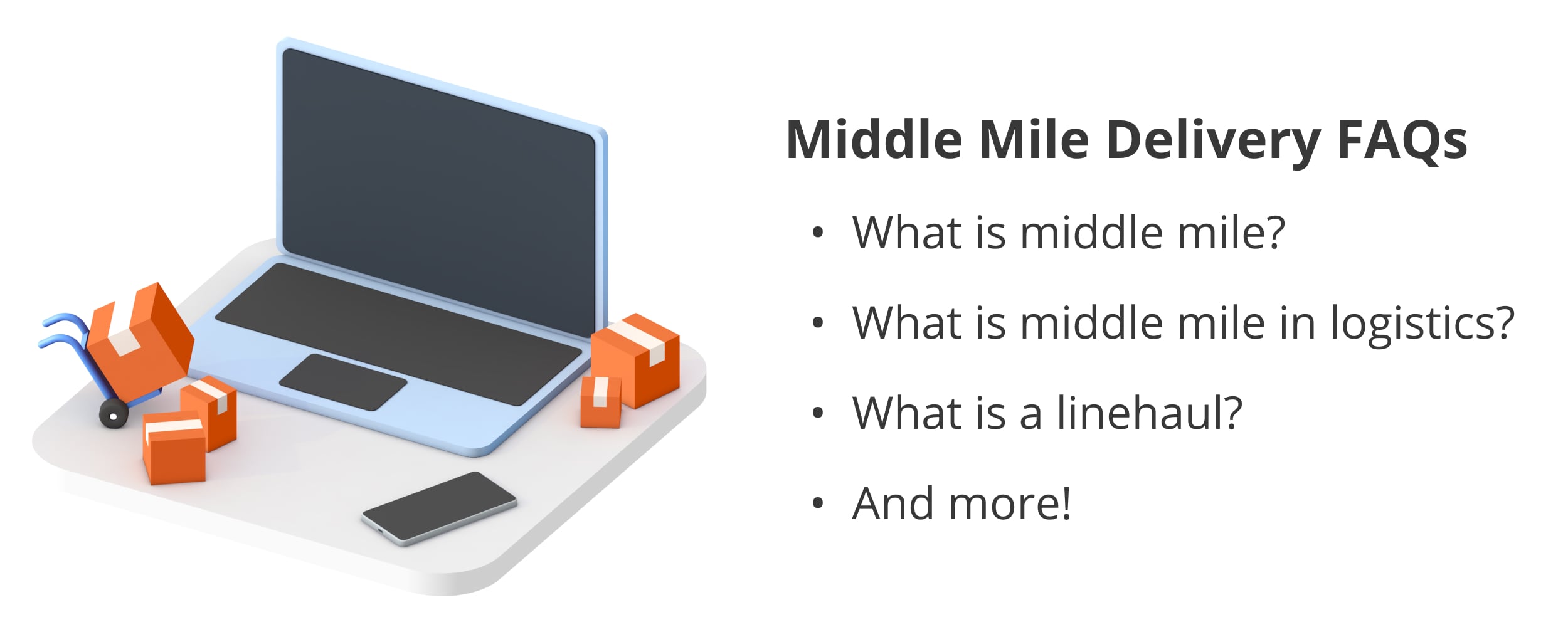 Middle mile is a term used across several industries, from telecommunications to logistics. Middle mile in the telecommunications industry defines the second segment of a telecommunications network that links local networks to the operator's network.
In logistics, the middle mile is also known as the second mile. Furthermore, middle mile in logistics represents the part of the supply chain where goods are hauled from a warehouse to a last mile carrier's fulfillment facility, a retailer's store, etc.
Keep reading to learn more about what middle mile is in logistics, transportation, and supply chain.
Middle mile delivery refers to the process of delivering goods from a warehouse to a fulfillment center. It's the second mile within the supply chain, where goods are transported from the point the first mile ends to the point the last mile begins.
Middle mile routes are usually repetitive, with only a few stops. Therefore, middle mile routing can be easily automated with the right delivery software. For instance, Route4Me supports automated route scheduling for recurring and repetitive middle mile delivery routes and automated route planning and scheduled route dispatch.
You can learn more about Route4Me's recurring routing feature in this Scheduled and Recurring Routing FAQ post.
First mile and last mile delivery are two segments of the supply chain. In detail, the first mile refers to the beginning of a product's journey, while the last mile represents the end of it.
Specifically, during the first mile, manufactured goods are picked up from the production plant and transported to a distribution hub or warehouse. From there, the middle mile begins. Namely, middle mile drivers pick up the products from the respective warehouse and deliver them to last mile carriers' storage and fulfillment facilities. Lastly, last mile carriers ship individual orders to the end customer.
Middle mile delivery is the second segment of the supply chain, following the first mile and preceding the last mile. Thus, mid mile is also referred to as second mile delivery. Depending on a business's unique product sourcing processes, the supply chain might skip the middle mile altogether.
For example, a business sources products locally and then re-sells them to customers. In this case, this business's supply chain would consist of:
The first mile, during which products are transported from the local supplier to the retailer's fulfillment facility.
The last mile, during which the products are delivered from the retailer's warehouse to the end customer.
Middle mile in logistics refers to the operations necessary to move goods between warehouse facilities. Furthermore, middle mile logistics is the supply chain stage before the last mile. It entails processes such as:
So, mid mile logistics it's a complex logistics transaction with lots of sub-processes that need to be calibrated and perfectly timed so that these middle mile deliveries are always on schedule. This is the reason why so many logistics professionals rely on route optimization software such as Route4Me.
For instance, Route4Me enables you to oversee all of your supply chain operations, manage drivers and vehicles, schedule deliveries, plan and optimize middle mile routes, automate route planning, and a lot more. Read on to find out how the Route4Me route planner can help you optimize your middle mile delivery.
Middle mile transportation refers to hauling goods between warehouses, distribution centers, etc. Moreover, middle mile transportation can be a synonym for line haul or sometimes even long haul trucking, where freight is delivered between distant locations.
Route4Me enables middle mile transportation providers to plan, optimize, and schedule the most cost-effective and time-efficient routes. And in case your routes are spanning over long distances, the Route4Me route planner gives you the ability to also schedule driver breaks according to your internal policies and state regulations (i.e., Hours of Service).
Linehaul is the process of transporting freight between two destinations (warehouses, distribution centers, etc.). Moreover, linehaul usually involves navigating interstate routes with long distances. Thus, linehaul can be a part of a middle mile operation requiring on-time delivery of goods to last mile carriers' fulfillment facilities. Therefore, linehaul can have a significant impact on customer satisfaction. That's why linehaul requires precise route scheduling and route planning.
To ensure your linehaul routes are as short and fast as possible, Route4Me's route planning software enables you to automatically compute the most optimal route with almost any number of addresses. You can route hundreds of thousands of addresses in seconds. Read on to learn more about how the Route4Me routing software can help you make your middle mile as efficient as possible with minimal effort.
Middle mile optimization requires you to improve multiple logistics processes: from truckload planning, route optimization, and route scheduling to route dispatch, driver tracking, and the ability to quickly respond to unplanned events. More specifically, to optimize middle mile delivery, you need to have a cohesive view of each and every operation that goes into your middle mile.
For example, Route4Me's route optimization software offers you a complete overview of your planned vs actual route metrics and logistics KPIs through easy-to-understand graphs. Plus, with Route4Me, you can plan, schedule, and dispatch routes while staying connected to your field employees at all times. You can track drivers in real time, view their GPS tracking history, and even enable automatically triggered notifications for when drivers reach a certain destination on their route. Keep reading to learn more about how Route4Me can help you optimize your middle mile.
What Is Middle Mile Amazon?
Amazon middle mile delivery operations are a part of a company-wide effort to increase the efficiency of and the control and visibility over the entire supply chain. In fact, according to James Brumley at the Motley Fool, not long ago, Amazon used to outsource their entire delivery workload to UPS and FedEx. But the giant e-retailer worked towards internalizing all logistics processes.
Moreover, as a result of building a bigger truck fleet to fully support their middle mile delivery volumes and trying to keep that fleet as financially efficient as possible, Amazon became a freight broker in April 2020. Meaning that, now, Amazon's unused trucking capacity is sold to third party customers. This is an example of how businesses can amortize the costs and make money off of new middle mile fleet investments while minimizing inefficiencies through the supply chain due to the increased visibility that an in-house middle mile operation provides.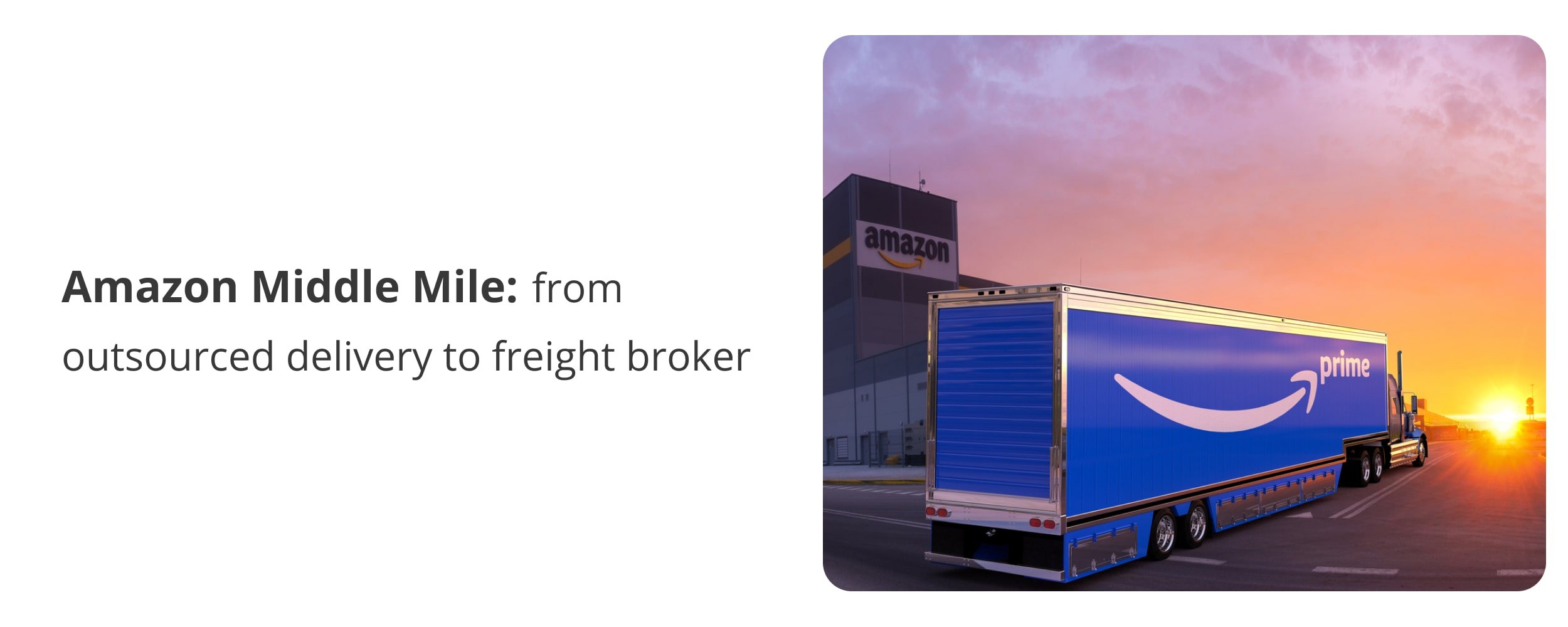 How to Optimize the Middle Mile
To optimize the middle mile segment of your supply chain, you need to ensure that your trucks are following the most time and cost-efficient routes possible. In that regard, Route4Me can help you find the fastest and the most cost-efficient route to visit hundreds of thousands of destinations. In detail, Route4Me automatically calculates the most optimal route you can navigate to reach your stops.
Equally important, you need to account for your vehicles' load capacity when planning middle mile routes. You don't want your trucks to be over or underloaded. With that in mind, Route4Me can also tell you how many vehicles you actually need to efficiently cover your workload. Moreover, Route4Me's Mixed Fleet Route Planning add-on enables you to plan routes for multiple vehicle types with different loading and carrying capacities at the same time.
Another thing to consider when optimizing your middle mile is having an accurate overview of your fleet's availability. For example, with Route4Me, you can assign statuses to your vehicles. This helps you keep a close eye on which vehicles are available for immediate dispatch.
Further, you also have to consider tracking your drivers and monitoring route progress in real time. To help you do that, Route4Me enables you to oversee your drivers' activities live on an interactive map that you can access from the Web Platform as well as the Mobile Route Planner apps. By doing so, you will be able to prevent unnecessary idling and unauthorized route detours that can add up to your fuel expenses.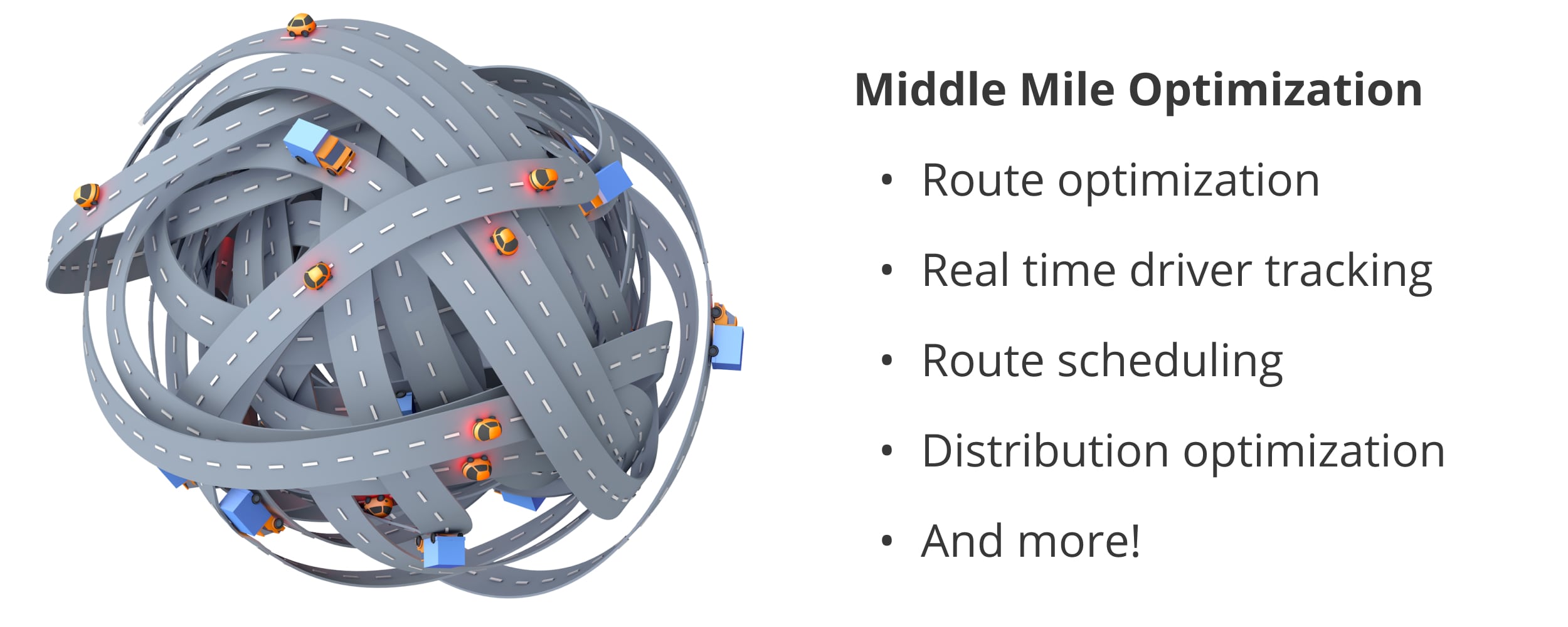 How to Reduce Middle Mile CO2 Emissions
As soon as you start implementing optimization strategies, you will inevitably reduce your CO2 emissions as well. You might need to do so to comply with local regulations as well as establish greener internal policies and standards.
Route4Me's route optimization software can help you plan the shortest routes possible so that you can reduce mileage. Moreover, with Route4Me's in-app navigation, your drivers will be able to follow navigation directions that account for live traffic conditions. This means that the possibility of your drivers getting stuck in traffic jams and burning fuel in vain will be minimized.
Additionally, among your new fuel-saving company policies, you can also include left turn avoidance (or right turn avoidance in left-hand driving countries). The benefits of avoiding left turns on your routes include fuel and time savings. You can read all about why and how UPS avoids left turns and what benefits they managed to leverage by doing so in the How UPS Route Optimization Software (ORION) Helps Drivers Make On-Time Deliveries article.
Furthermore, Route4Me's route planning software features a calculator that can measure your fleet's CO2 pound emissions per individual vehicle or your entire fleet. With this tool, you can estimate the amount of fuel each truck uses per day. This offers you real insights into how successful your efforts of having a greener fleet are.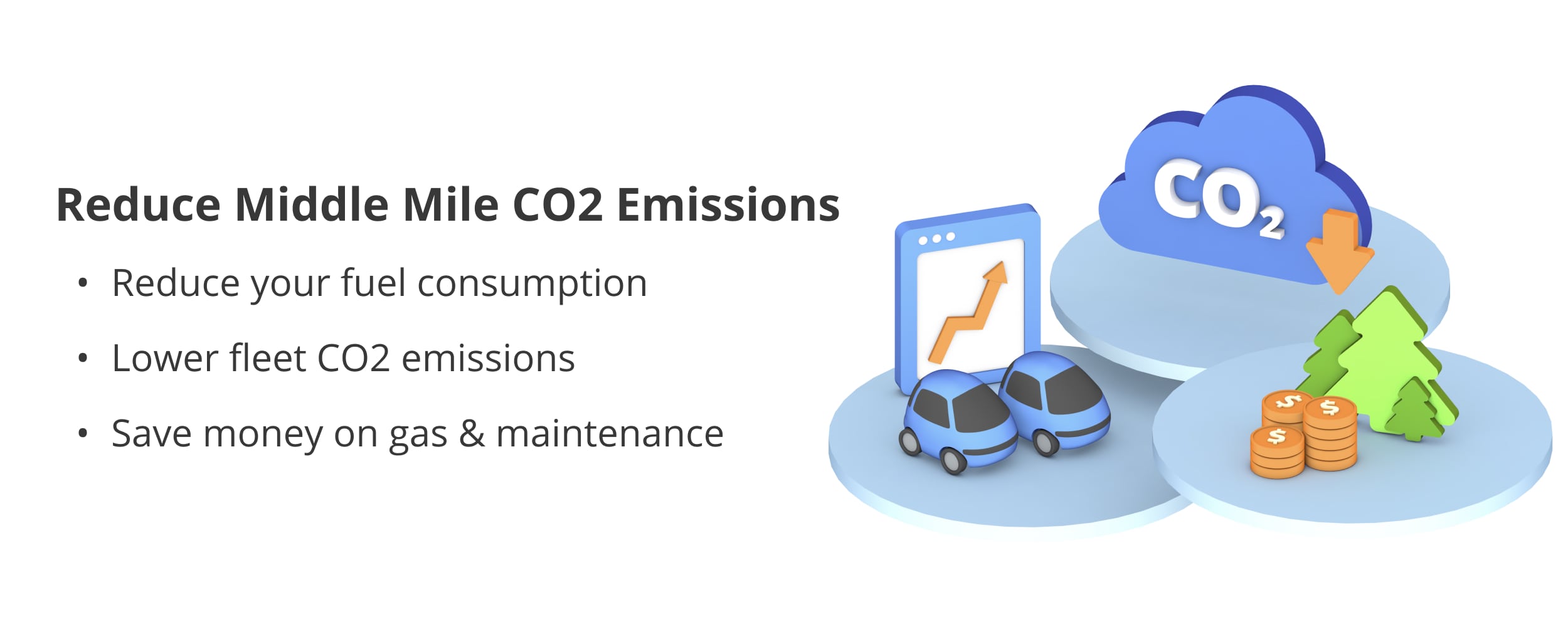 Free Middle Mile Delivery Software Trial
How can you start optimizing your middle mile?
Get a 100% free, no credit card and obligation trial right now and uncover the hidden costs and revenue opportunities. Route4Me offers you a free middle mile delivery software trial for 7 days.