What Is First Mile Delivery in 2023? Optimization Software
First mile delivery is not the first thing that comes to mind when talking about delivery optimization. Instead, last mile delivery takes the spotlight whenever supply chain experts and logistics professionals are on the lookout for cost-cutting opportunities. However, first mile logistics and middle mile delivery deserve some attention as well when it comes to reducing expenses.
To learn more about optimizing your middle mile logistics operations, read our article on How to Optimize Distribution & Middle Mile Logistics. As per discovering how to optimize your first mile delivery processes, read further.
Inside this article, you will find out about the first mile logistics definition, the differences between first mile vs middle mile and first mile vs last mile, and more.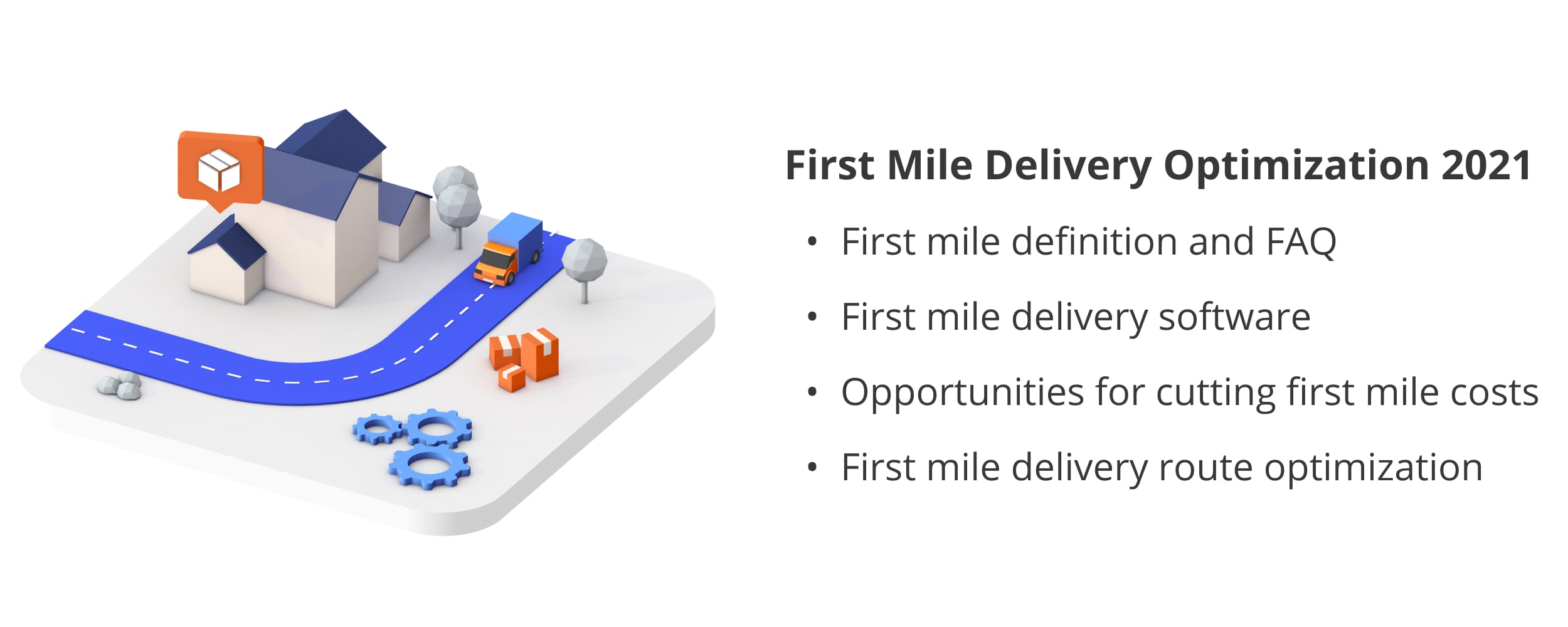 Table of Contents
First Mile Delivery Definition
The first mile delivery definition entails all the logistics operations and processes that go into transporting goods from the factory gate to an urban fulfillment center, a warehouse, a port, etc. Since the first mile is the primary stage of the supply chain, the first mile delivery meaning is oftentimes associated with multiple first mile services such as packaging, liftgate services, lifting and carrying goods, and other similar activities.
But what comes next after the first mile?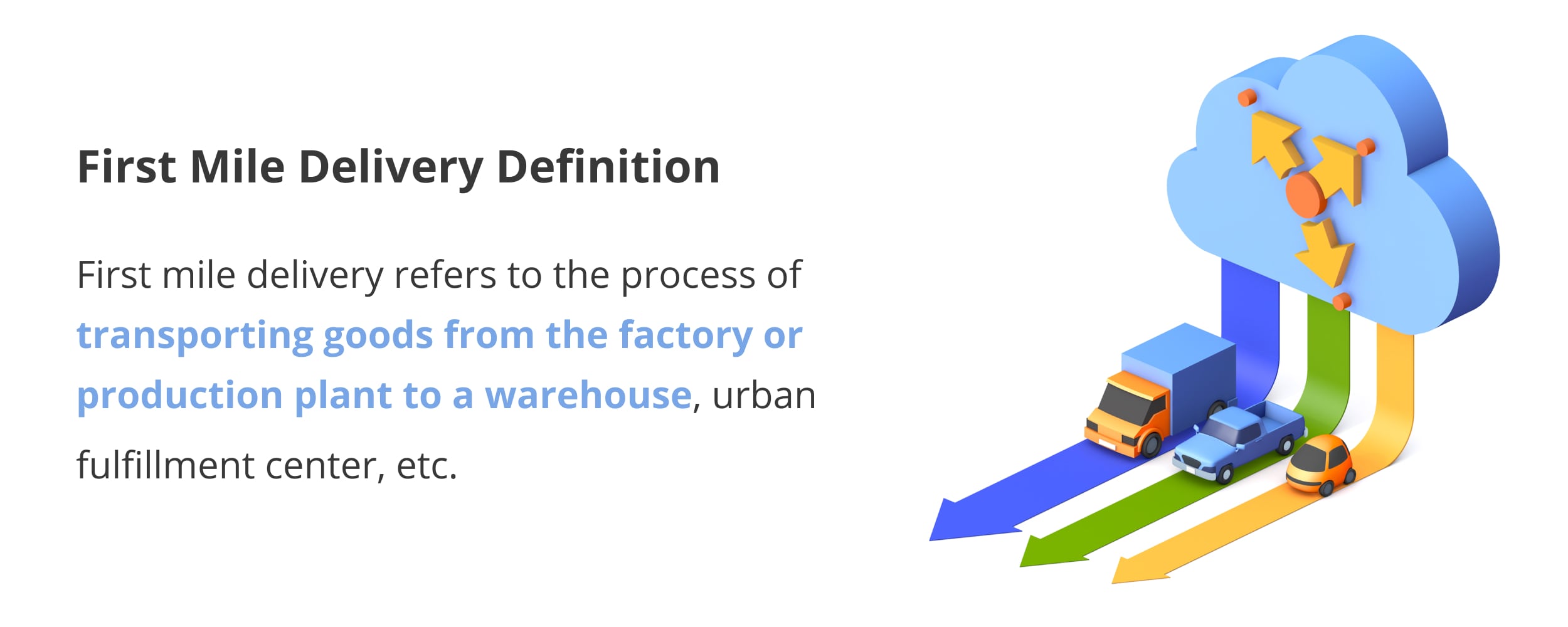 What Is First, Middle and Last Mile Delivery?
Well, it depends on a business's supply chain particularities. Specifically, after picking up the packages from the manufacturing facility, a business might need to deliver the goods straight to a retail store, a last mile fulfillment center, or a middle mile distribution warehouse.
Therefore, depending on the length of a specific supply chain, the first mile can be followed either by middle mile or last mile delivery.
In the middle mile delivery case, the manufactured goods are delivered from the point the first mile ends to the point the last mile begins. Particularly, middle mile logistics is the bridge between two storage facilities and precedes the last mile delivery.
Finally, the last mile is the final supply chain stage in a product's journey. Namely, last mile delivery entails transporting ordered products to the end customer.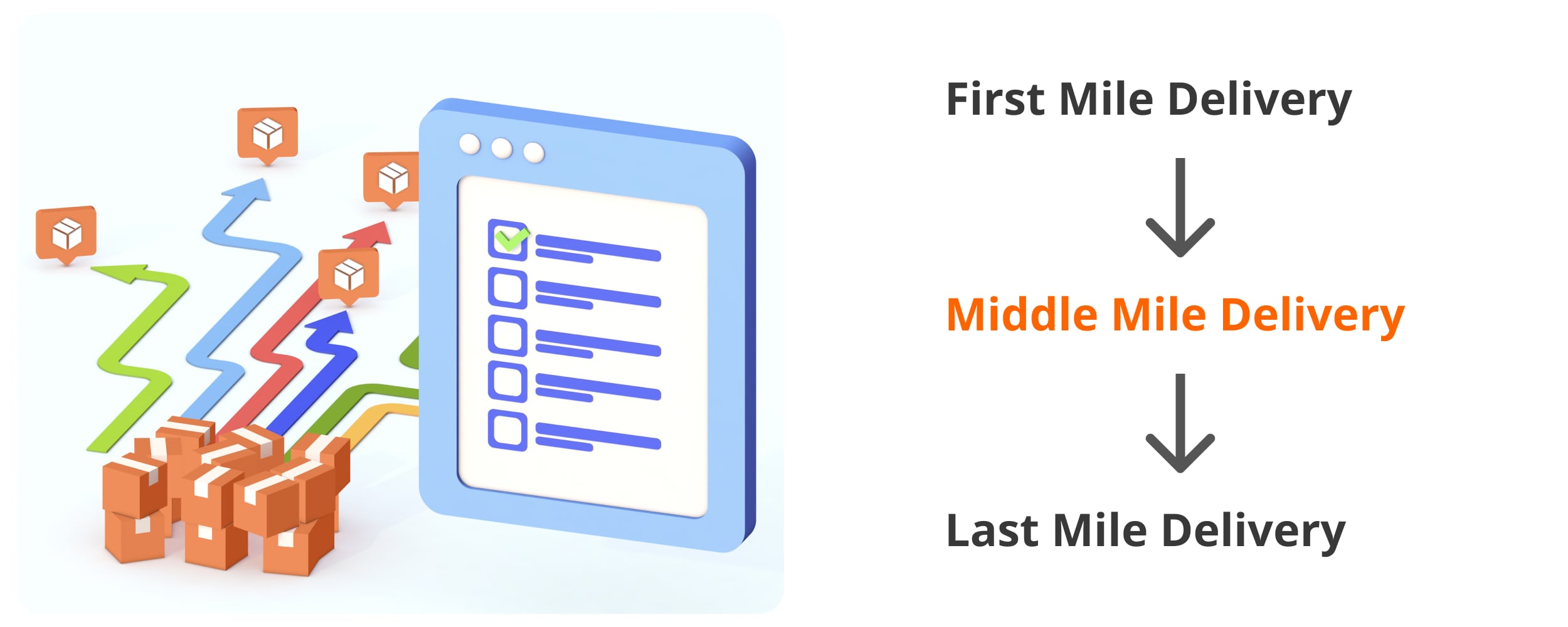 First Mile Delivery FAQ
It might be a lot to take in at once. That's why our first mile experts have collected the most frequently asked questions (FAQ) about first mile delivery from Route4Me customers. And below, you'll find easy-to-understand explanations of each first mile concept that our users wanted to learn more about through the years.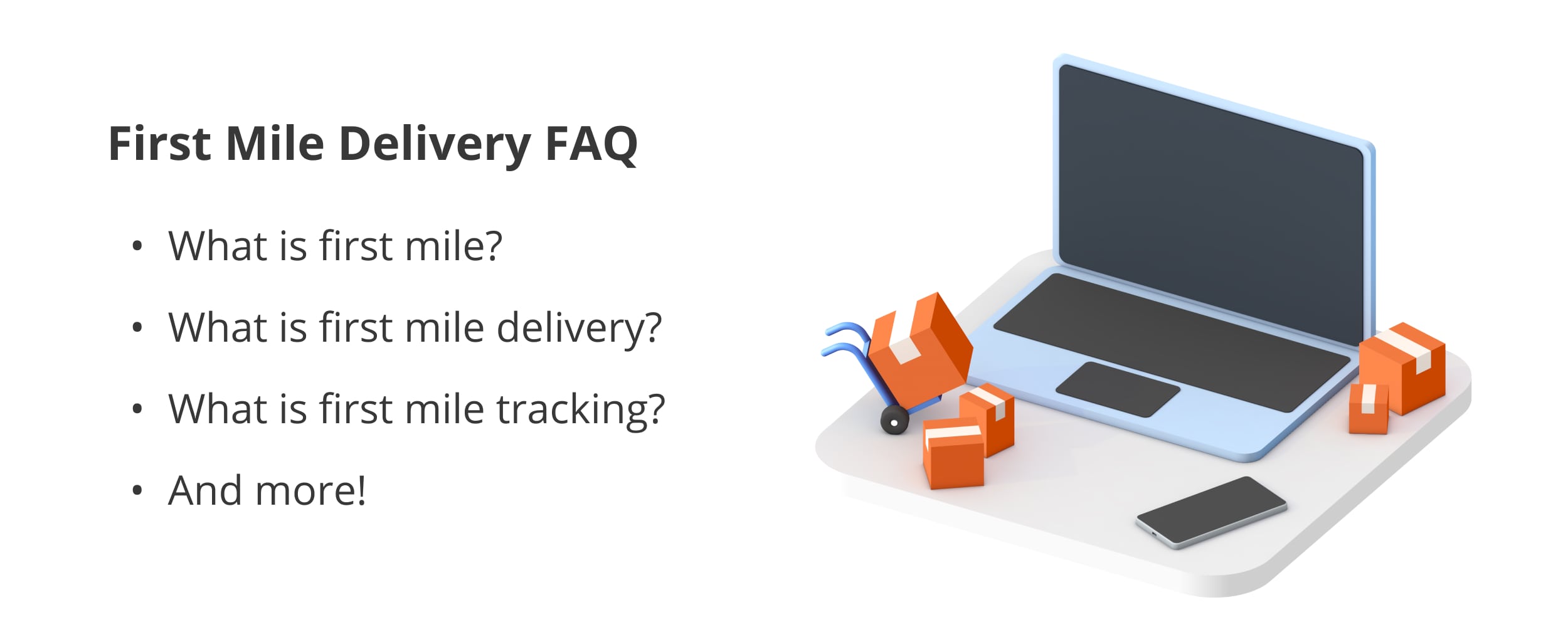 The first mile is the very first step in a product's journey from a production plant to the consumer. Specifically, the first mile represents the process of transporting manufactured goods from a manufacturer to a warehouse, retail store, urban fulfillment center, or other storage facilities.
Moreover, since the first mile is the starting point of the transportation process, any slight delay and mistake will perpetuate and possibly amplify through the entire supply chain. As a result, importers will lose money and even customers.
Luckily, there are ways to prevent any mishaps down your first mile routes. For example, you can use route optimization software, such as Route4Me. In detail, Route4Me can help you ensure that your first mile routes are precisely orchestrated so that your first mile drivers will never be late. Namely, with Route4Me's route planning software, you can:
In conclusion, you can effortlessly keep your first mile deliveries on schedule using route optimization and fleet management software. Read on to learn how you can optimize your first mile routes for free.
First mile in logistics refers to all the processes involved in moving goods from the factory gate to a warehouse. For example, first mile logistics encompasses operations and activities such as:
Order picking and packing
Loading and unloading packages from first mile delivery trucks
First mile route planning and route optimization
Storage and warehousing, etc.
To stay on top of demand and ensure these processes don't delay the delivery, supply chain professionals often rely on fleet management, route planning, route optimization, route scheduling, vehicle dispatch, telematics, and other similar technologies. Even though these first mile software and hardware tools might seem like a complicated mechanism with too many moving parts, the truth is that you can find all that and more inside a single solution.
For instance, Route4Me's route optimization software provides users with the ability to plan, schedule, and optimize first mile deliveries. And, at the same time, dispatch routes, track deliveries, and more. Plus, with Route4Me, you can fuse your favorite telematics, GPS tracking solution, and route planning software through a one-click integration process. It's super simple!
Read these articles on Route4Me's telematics integrations to learn more about how you can connect your route planner to your telematics solution.
First mile delivery is the first step in transporting manufactured products through the supply chain. Specifically, during the first mile, goods are either picked up by carriers that offer first mile services or dropped off by merchants at locations such as a pickup point, post office, etc. From the pickup point, carriers, couriers, postal services, etc., will take over the goods and will deliver them to a storage facility, an airport, a port, or a retail store.
First mile shipping refers to multiple freight forwarding operations that have the purpose of transporting products from the production plant to the next destination within the supply chain. So, in other words, first mile shipping is the very first leg of the journey of delivering goods to the final customer.
First mile tracking is the process of monitoring the progress of first mile drivers as they are transporting products to a specific location. Furthermore, first mile tracking is essential to ensure that drivers arrive on time, don't engage in dangerous driving behavior, avoid unnecessary idling, stay on the planned routes, etc.
For example, Route4Me's route planning software and iOS Route Planner and Android Route Planner apps enable fleet managers to track drivers in real time. Namely, Route4Me's driver apps are always in sync with the web platform, allowing route planners, dispatchers, and managers to have full visibility into the delivery process.
In detail, with Route4Me, you can:
The Best First Mile Delivery Software in 2023
The best first mile delivery software in 2023 should accommodate your unique logistics needs. For instance, if you own a fleet of heavy-duty vehicles, you'll need commercial vehicle routing software. Or, if you have a mixed fleet of light duty vehicles, regular cars, as well as trucks, the best first mile delivery software for you would be a complete route planning and optimization solution for mixed fleets.
The point is that choosing the best software for a first mile delivery operation is a subjective matter. However, there are a couple of first mile software solutions that stand out from their competitors. Such first mile software solutions include:
Route4Me route planning, route optimization, and fleet management software
Track-POD last-mile delivery management software
Fleet Complete GPS tracking solutions & asset management software
Since first mile, middle mile, and last mile delivery imply similar logistics needs, you can learn more about the best software for delivery management by reading our Last Mile Logistics 2023: Trends, Challenges, and Best Practices article.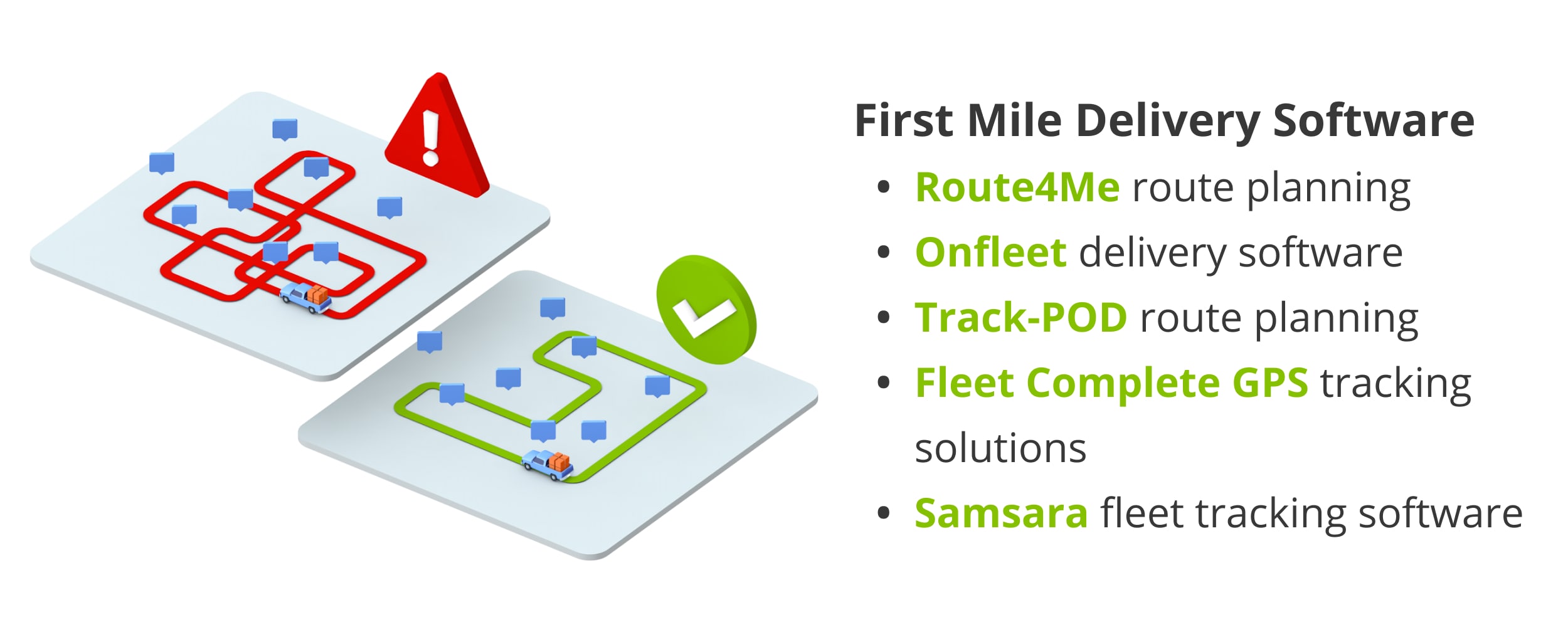 Free First Mile Delivery Software Trial
To experience first-hand how the best first mile delivery software works, Route4Me enables you to sign up for a free trial. Plus, it's so easy to sign up for the free first mile delivery software trial. You don't even need a credit card to do so.
Claim your 7-day test drive and start optimizing your first mile routes today!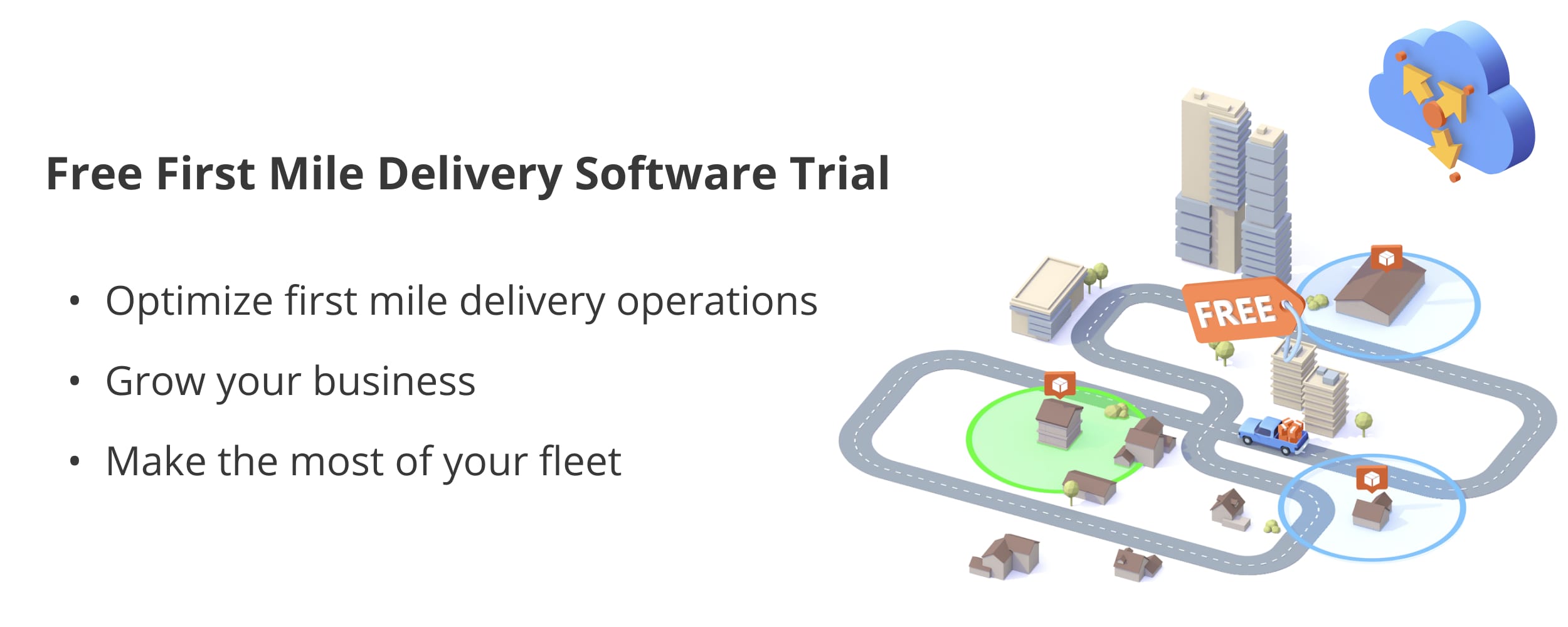 Disclaimer
All the trademarks, logos, and brand names on this page are for identification purposes only. We do not endorse these trademarks, logos, and brand names. All the trademarks, logos, and brand names are the property of their respective owners. If any of the trademarks, logos, and brand names are your property or the property of your company, and you would like us to remove them from our website, please contact us at [email protected] to submit your request.