Regular Vehicle Navigation vs Commercial Truck Navigation
Commercial vehicle routing is significantly different from routing for regular vehicles for multiple reasons. Numerous special state regulations, traffic restrictions, physical road constraints, etc., make routing for commercial vehicles more complex.
Aside from oversized and extremely heavy vehicles, the commercial vehicle category can also include regular trucks. Vehicles with more than 2 axles, HAZMAT restrictions, and special height, width, weight, bridge, and tunnel avoidance can't drive on most public roads. Such Class 1- 8 commercial vehicles are mostly prohibited from driving through most tunnels, bridges, overpasses, and so on.
Not driving a commercial vehicle on designated roads can result in danger to public and driver safety, law violations, fines, and penalties.
That being said, using route planning and optimization software for regular vehicles to plan routes for commercial vehicles may provide extremely inaccurate and dangerous driving directions, false ETAs, etc.
Route4Me's Truck Navigation App is designed to provide the most accurate and efficient driving directions exclusively for commercial vehicles. With our in-app commercial navigation, you can account for overweights, minimize accident risks, avoid fines and penalties for using non-commercial roads, and more. You can define the exact parameters of your commercial vehicle(s), and Route4Me will automatically choose the best commercial roads for your specific parameters.
Examples of Commercial vs Regular Navigation
Since commercial routes must include only commercially approved roads, the distance and travel times of commercial routes, as a rule, are noticeably different than those of the routes for regular vehicles. Moreover, when using the same addresses, in most cases, commercial routes and regular routes will have different stop sequences. Taking into account all restrictions of commercial routing, using "consumer-grade" software for optimizing commercial routes can result in false and dangerous driving directions, as well as inaccurate drive times and distances. For example, the route optimized for a regular car most likely will be more dangerous or even illegal for a heavy-duty straight truck. Below you can find examples of the routes that have identical stops/locations and were first optimized for regular vehicles and then re-optimized for commercial vehicles.
Location – New York, NY, USA | Heavy Duty – 28 Double Trailer
The example below shows the difference between navigation for regular vehicles and commercial vehicles (Route4Me iOS Route Planner). The example below demonstrates how a route that was planned for a regular vehicle was re-optimized into a route for a commercial vehicle and how it affected this route's total distance, time, navigation directions, stops sequence, and other parameters.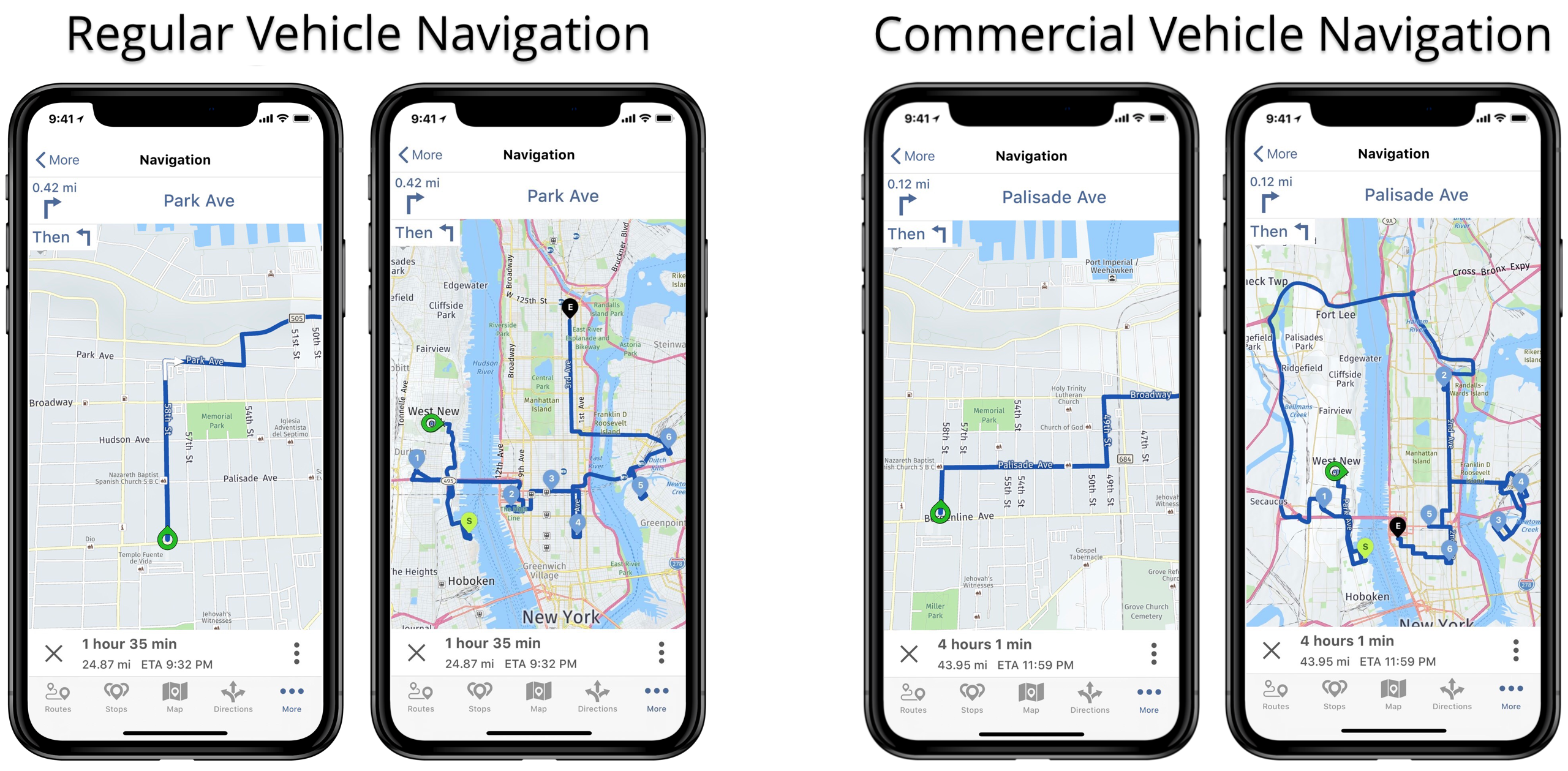 | | Vehicle Profile | Travel Distance | Travel Time (HH:MM) | Route Sequence | Driving Directions |
| --- | --- | --- | --- | --- | --- |
| Regular Vehicle | No Restrictions | 24.87 miles | 01:35 | Default | Default |
| Commercial Vehicle | Heavy Duty – 28 Double Trailer | 43.95 miles | 04:01 | Changed | Changed |
The example below shows how the driving directions on the re-optimized route changed and what roads that could be used by a regular vehicle were avoided for a commercial vehicle (Route4Me Android Route Planner).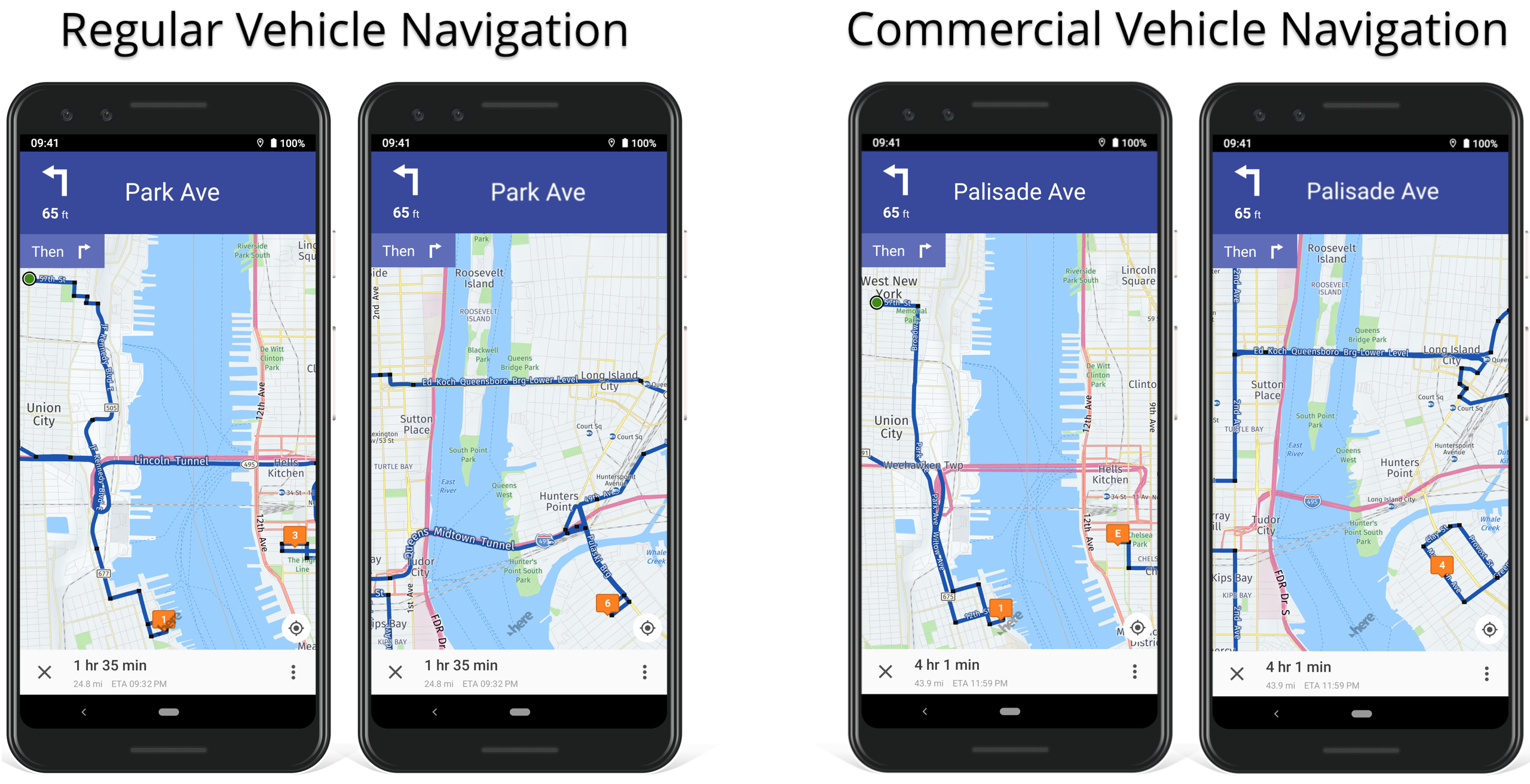 | | Vehicle Profile | Avoided Roads/Structures |
| --- | --- | --- |
| Regular Vehicle | No Restrictions | No Avoidance |
| Commercial Vehicle | Heavy Duty – 28 Double Trailer | Lincoln Tunnel; Queens Midtown Tunnel |
Location – Indianapolis, IN, USA | HAZMAT (Flammable) – 53 Semitrailer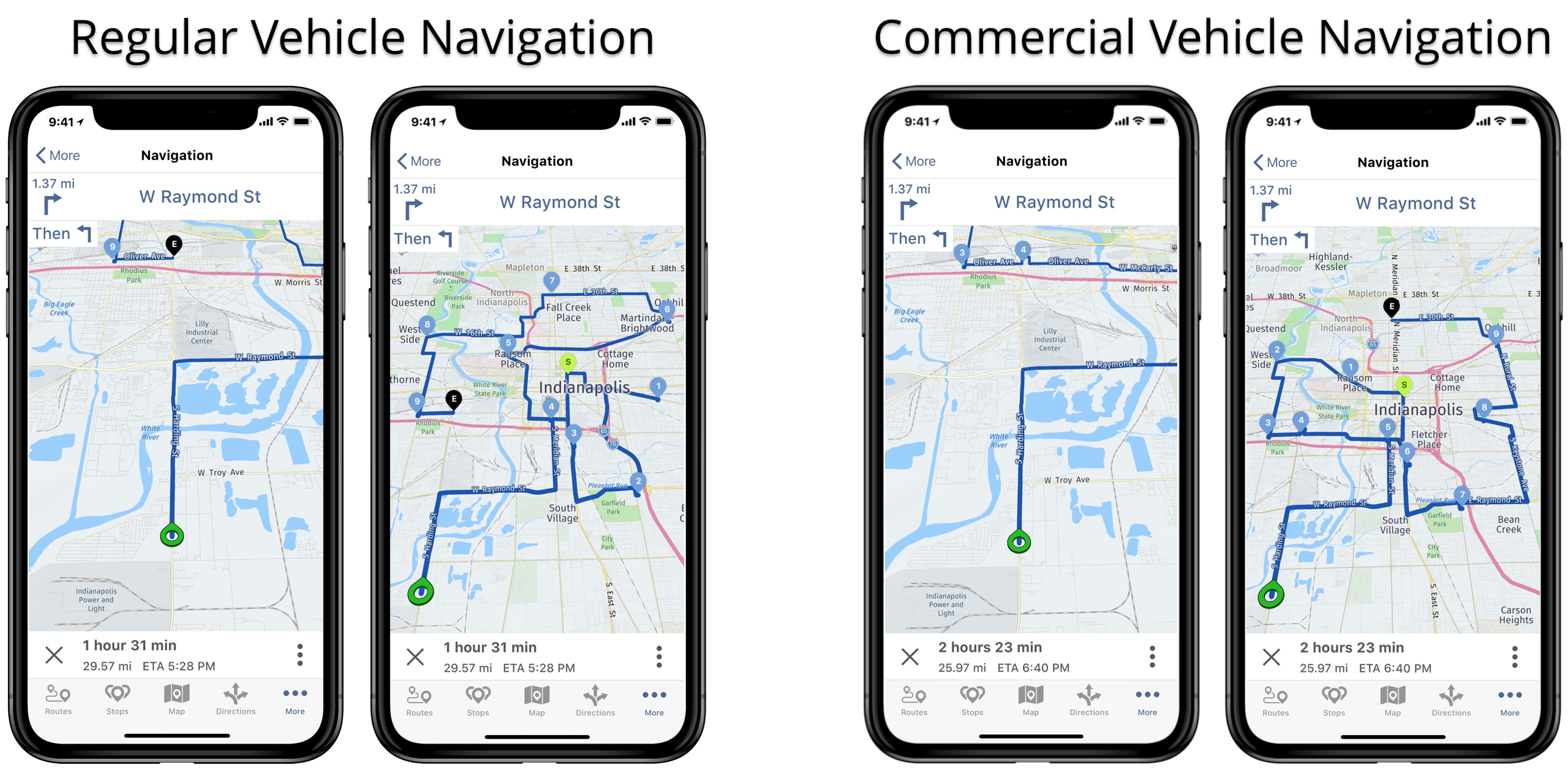 | | Vehicle Profile | Travel Distance | Travel Time (HH:MM) | Route Sequence | Driving Directions |
| --- | --- | --- | --- | --- | --- |
| Regular Vehicle | No Restrictions | 29.57 miles | 01:31 | Default | Default |
| Commercial Vehicle | HAZMAT (Flammable) – 53 Semitrailer | 25.97 miles | 02:23 | Changed | Changed |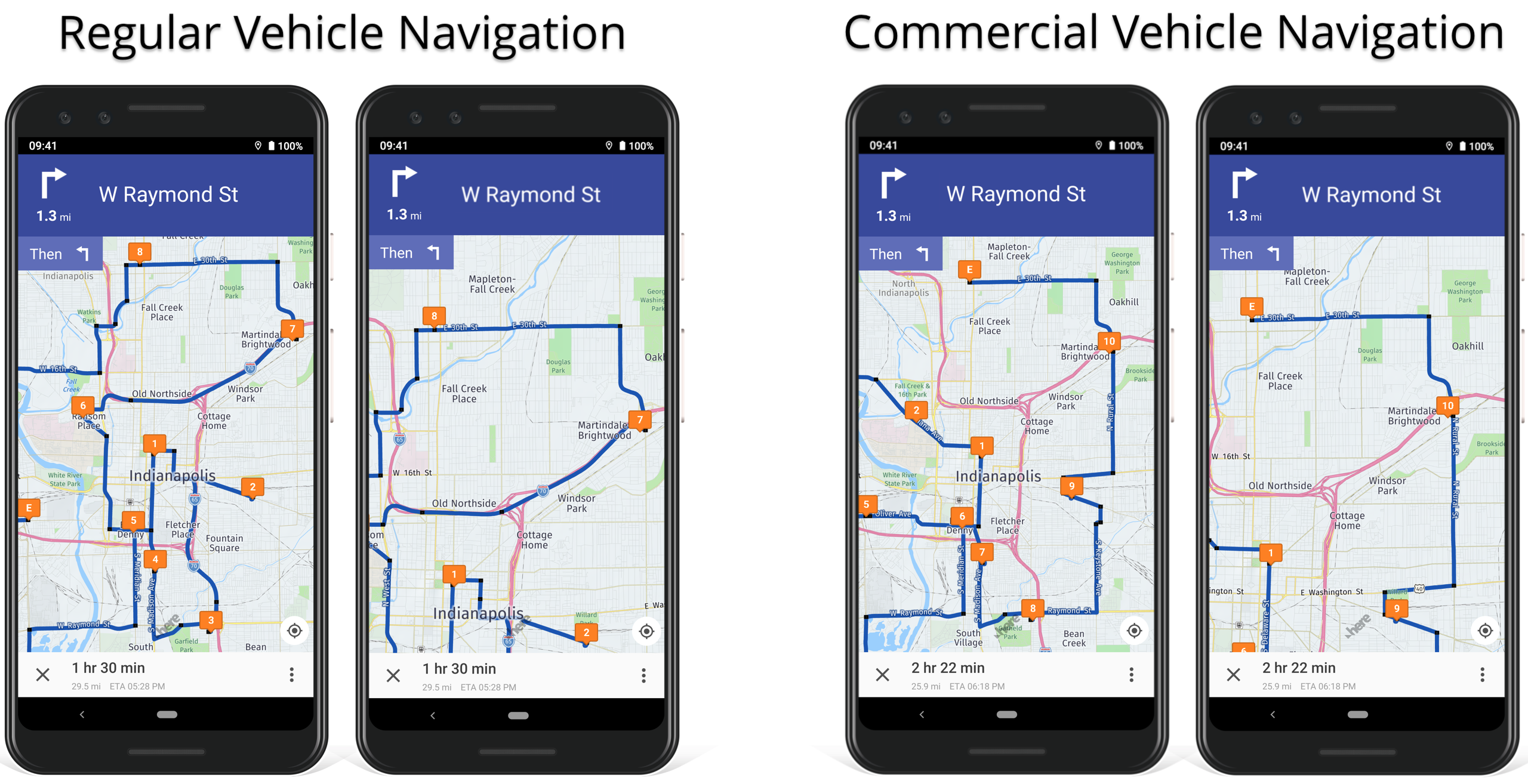 | | Vehicle Profile | Avoided Roads/Structures |
| --- | --- | --- |
| Regular Vehicle | No Restrictions | No Avoidance |
| Commercial Vehicle | HAZMAT (Flammable) – 53 Semitrailer | I-70 and I-65 Interstate Highways |
Location – Boston, MA, USA | Heavy Duty – 48 Semitrailer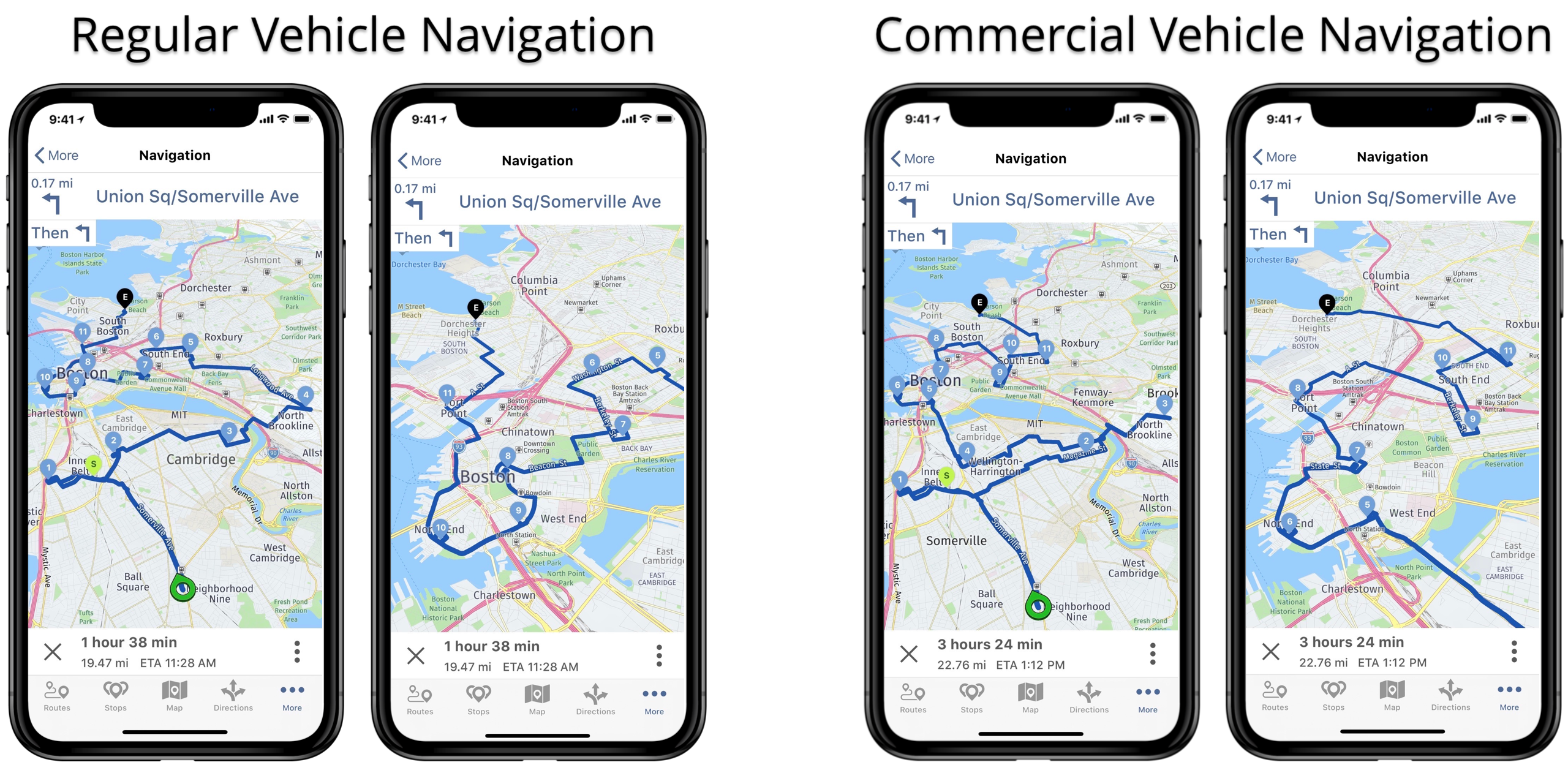 | | Vehicle Profile | Travel Distance | Travel Time (HH:MM) | Route Sequence | Driving Directions |
| --- | --- | --- | --- | --- | --- |
| Regular Vehicle | No Restrictions | 19.47 miles | 01:38 | Default | Default |
| Commercial Vehicle | Heavy Duty – 48 Semitrailer | 22.76 miles | 03:24 | Changed | Changed |
Visit Route4Me's Marketplace to Check out Associated Modules: