Plan Local Delivery Routes With eCommerce Online Orders
Offering eCommerce delivery services is no simple task – especially the route planning process. If you plan routes for local delivery manually, your Magento, BigCommerce, WooCommerce, or Shopify store might lose money – and sometimes even customers.
Although e-Commerce delivery requires a lot of routing and scheduling, it doesn't have to be a cumbersome and time-consuming endeavor. With the right route planner for eCommerce home delivery in place, a track and trace portal (similar to USPS Tracking or UPS Tracking) at your customers' disposal, and a few minutes of your time each morning, you could easily pull off an outstanding eCommerce delivery service.
Table of Contents
How Important Is Fast Local Delivery for eCommerce Customers?
Customers' expectations increase constantly – and giants like Amazon, UPS, and USPS are "to blame". To be able to compete with large enterprise carriers' low shipping costs and delivery speed, you need to make your routes as efficient as they can get. Poor route planning reflects in high shipping costs, late deliveries, and an overall bad customer experience.
Customer canceling orders because of a slow delivery service is not unheard of – on the contrary, it's quite common. Moreover, according to Tinuiti.com, over 40% of potential online sales can be lost due to shipping costs, and almost 25% of customers would cancel an order if the delivery is not fast enough.
Great News for New Shopify Users in 2021!
If meeting the required criteria, some Shopify store owners can rely on the Shopify Local Delivery app to manage order fulfillment. To use the Shopify Local Delivery app, you have to ensure that:
You have a maximum of 20 locations from where you will deliver
The customer uses Shop Pay as the payment option
The customer's delivery address is located in the same state or province as the store's location
The inventory of a location can fulfill an entire order (a delivery location should have all ordered products in stock), etc.
When enabling local delivery for your Shopify customers, you can easily manage your delivery locations, order lists, and optimize delivery routes – all with the same app.
If you can't meet the qualification criteria for the Shopify Local Delivery app, or your business needs exceed the capabilities of the app, read further to learn how the Route4Me route planner can accommodate your routing needs – no matter how complex.
How to Plan Routes for Local Delivery With a Route Planner
A complete route optimization software such as Route4Me will reduce daily route planning and scheduling to a couple of minutes – or even seconds! With a few clicks, you can sync your orders from any customer data management system and map them into the most cost-efficient and time-effective optimized routes for local delivery. Here's how you can plan and dispatch delivery routes in 9 easy steps:
1. Integrate eCommerce Platform With Route Planner
First, integrate your eCommerce platform of choice with the route planner so you can easily sync your customer database and have delivery addresses readily available for routing. Route4Me integrates with Shopify, WooCommerce, Magento, and Big Commerce.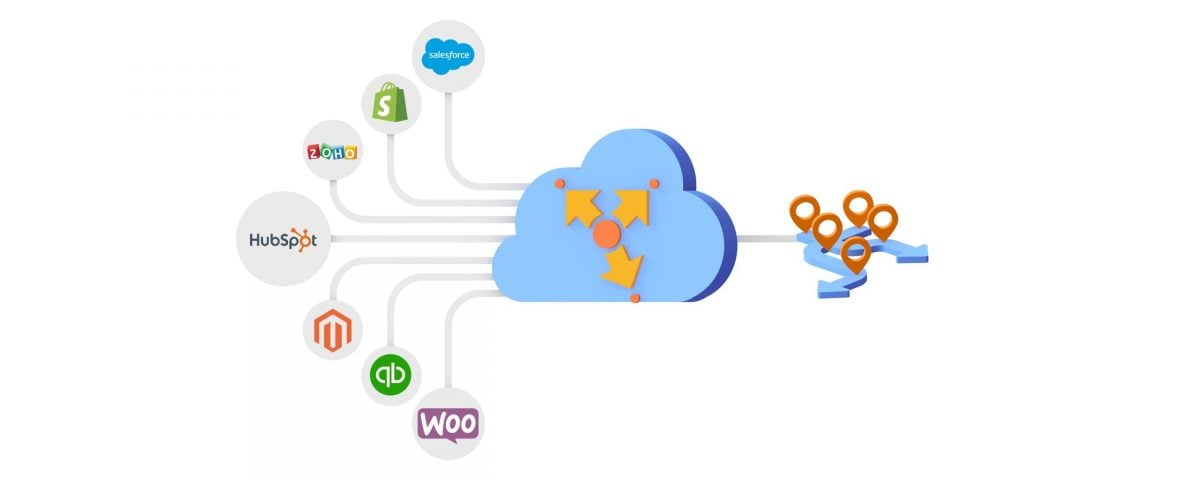 2. Add Local Delivery Drivers and Fleet Vehicles to the Route Planner
Next, create a detailed organizational structure of your eCommerce business. Route4Me allows you to create specific roles with customizable visibility settings for each of your team members – from dispatchers, route planners, regional managers to delivery drivers, administrators, and analysts.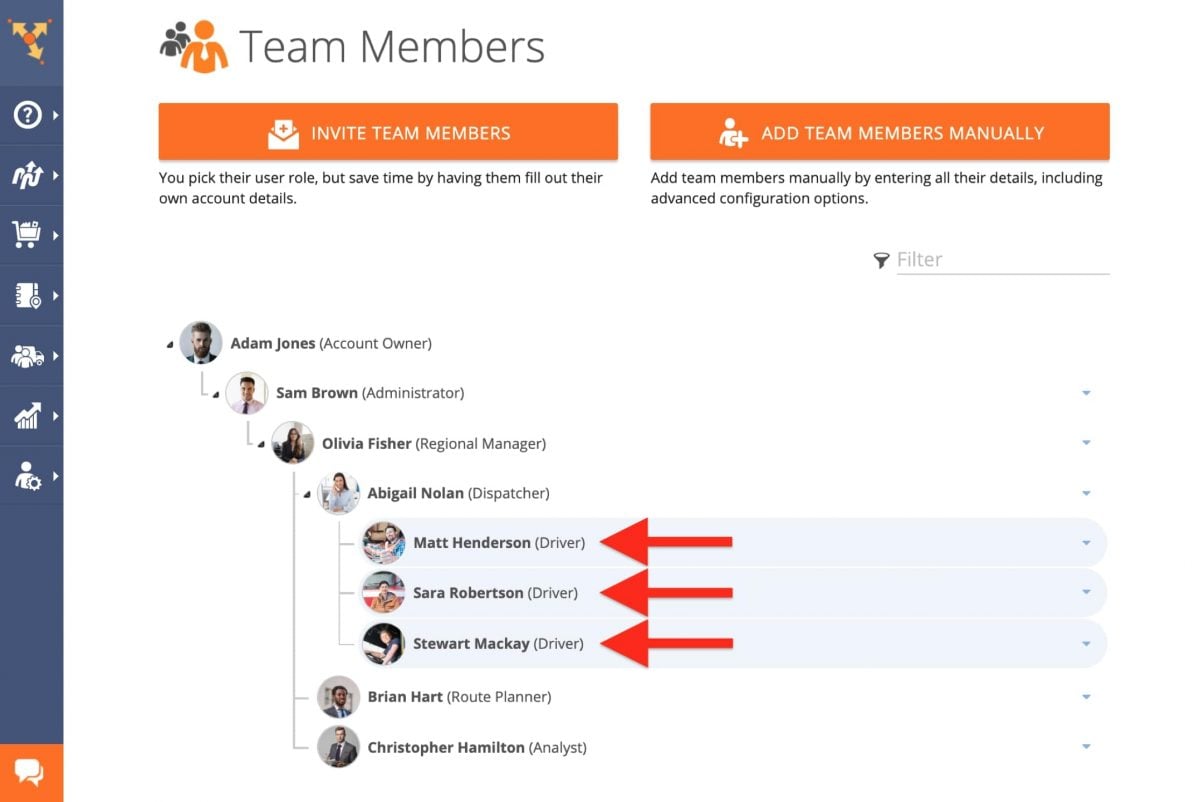 3. Map Online Orders and Plan Optimized Routes
After you've added your team to the route planner, you can proceed with the route planning process – which is easier and more intuitive than you've ever imagined. The Route4Me route planner for eCommerce delivery offers you a visual overview of where your orders are located on the map. As you visualize online orders as map pins, you can draw shapes around specific addresses and plan routes only with the selected territories.
Moreover, Route4Me enables you to tailor routes as per your team availability, customer time windows, vehicle carrying and loading capacity, workload, number of depots, and more!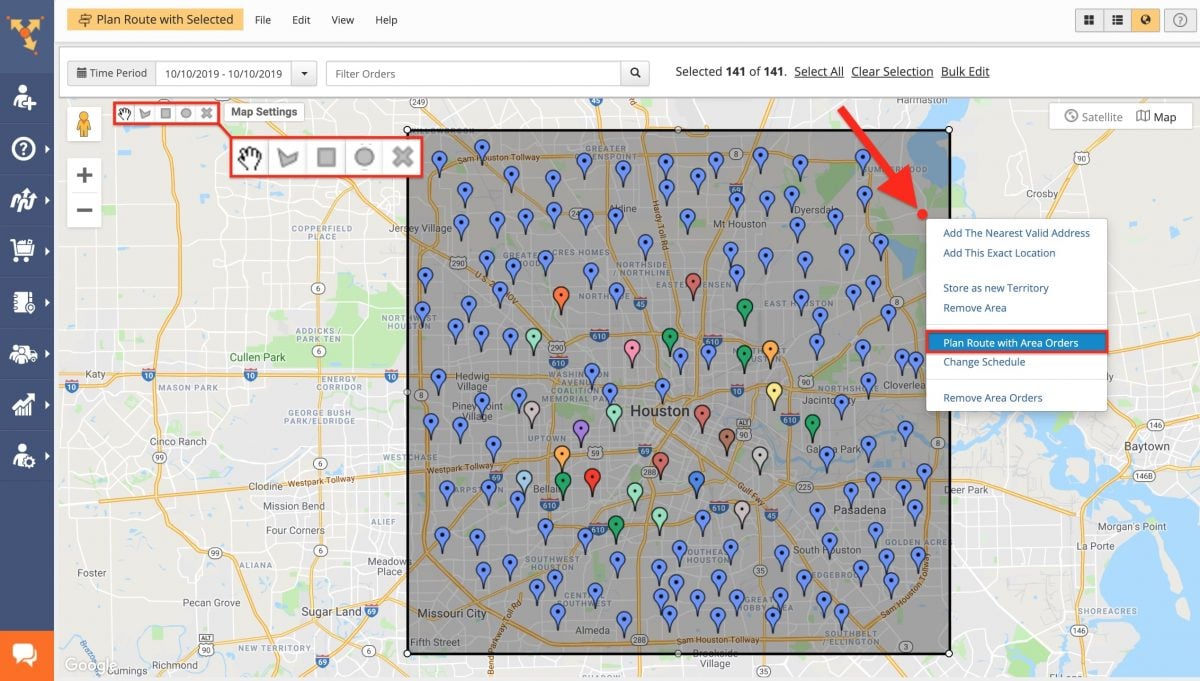 4. Dispatch Local Delivery Routes to Delivery Drivers
As soon as you have your local delivery routes ready, send them right to your drivers' iOS or Android route planner apps. With Route4Me, your drivers will be able to get accurate voice-guided turn-by-turn driving directions, mark stops as visited and departed, collect proof of delivery (POD), and a lot more!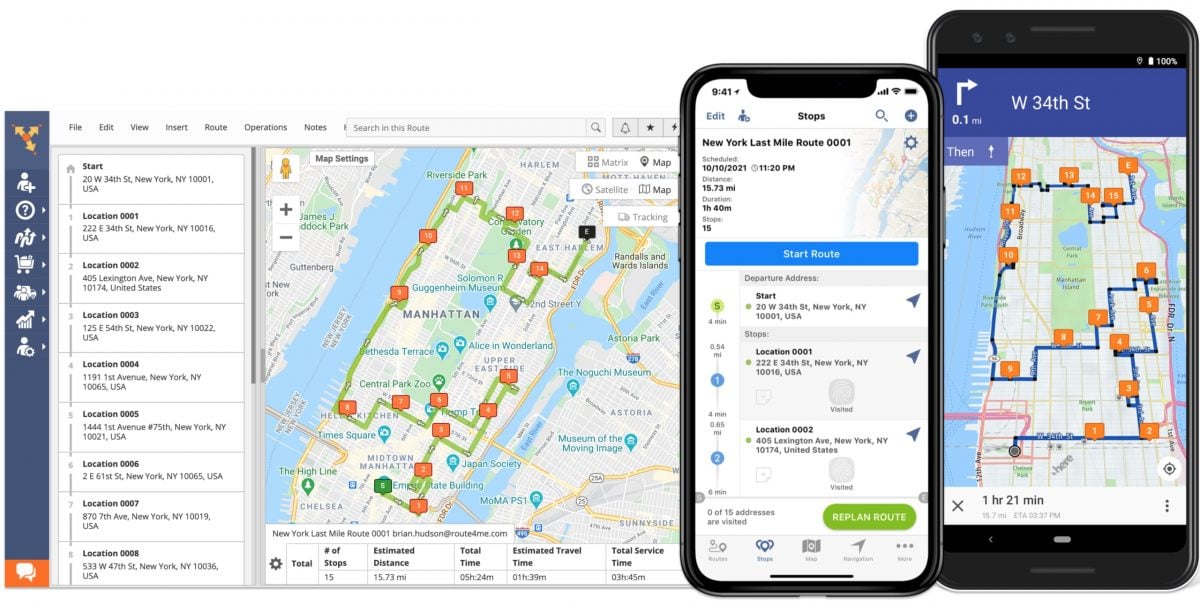 5. Customize Your Track & Trace Customer Portal for Local Delivery
Before your drivers start servicing stops on their routes, you have to make sure your customer portal is branded with your company's logo. This way, the customer-facing side of the track and trace portal will have a more professional feel to it.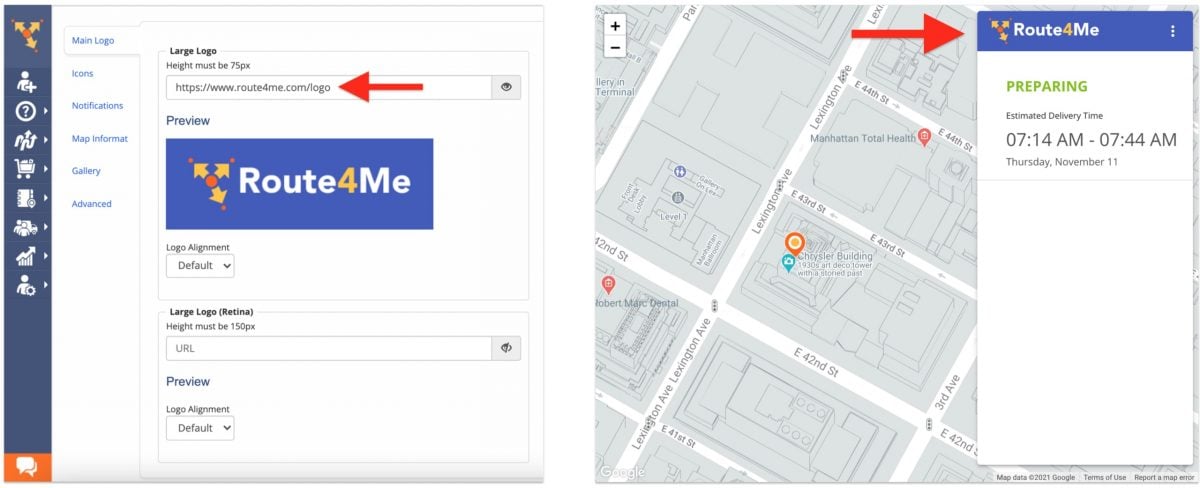 6. Send Delivery Alerts and Notifications to Customers
Personalized and automated delivery alerts and customer notifications go hand in hand with the tracking portal. Both will help you keep your online customers up to date with their order statuses so you can avoid time-consuming "Where is my package?" type of calls.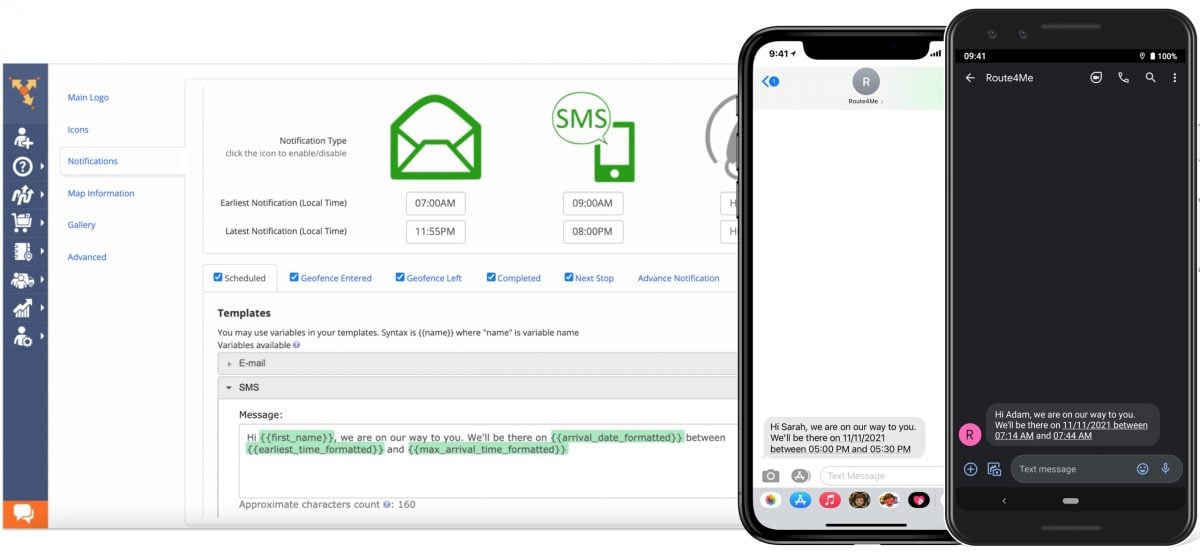 7. Collect Electronic Proof of Delivery on Local Delivery Routes
To avoid disputes regarding "lost" packages while also staying compliant with local proof of delivery regulations, collect electronic, paperless POD. With the Route4Me route planner app, your drivers can collect POD in numerous formats, including eSignatures (Sign on Glass), images, audio recordings, video recordings, text, etc.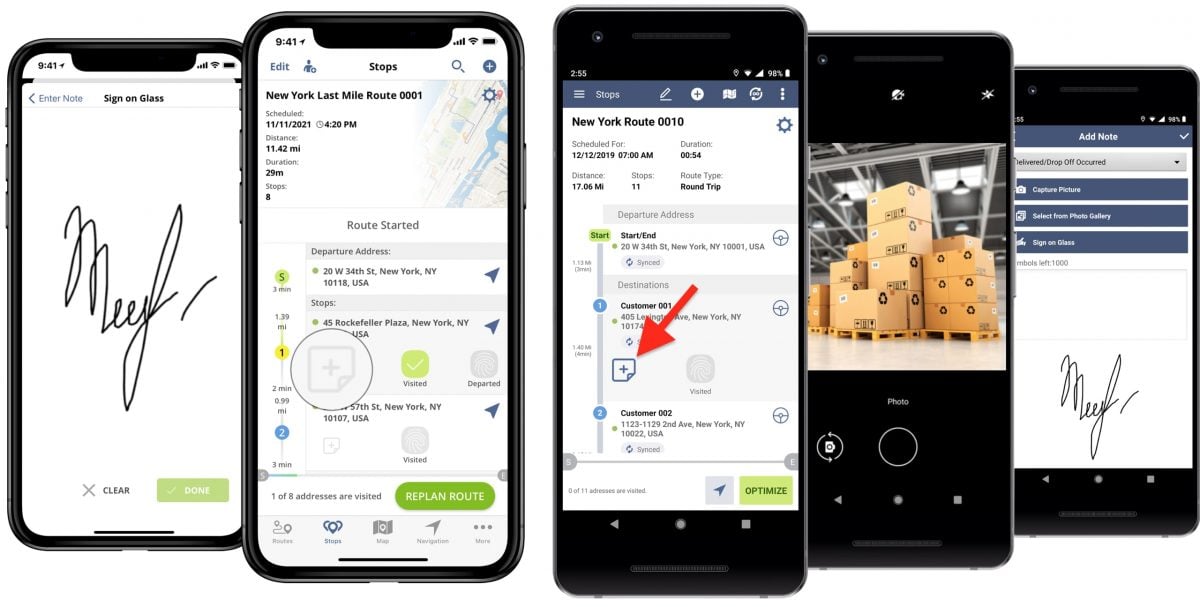 8. Track Driver Progress on Local Delivery Routes
Having a couple of drivers that constantly take longer breaks, make route detours, or idle unnecessarily, can jeopardize your efforts to make your routes more cost and time-efficient. To prevent that from happening, Route4Me routing software allows you to track driver progress both on a live map or as a tracking history video.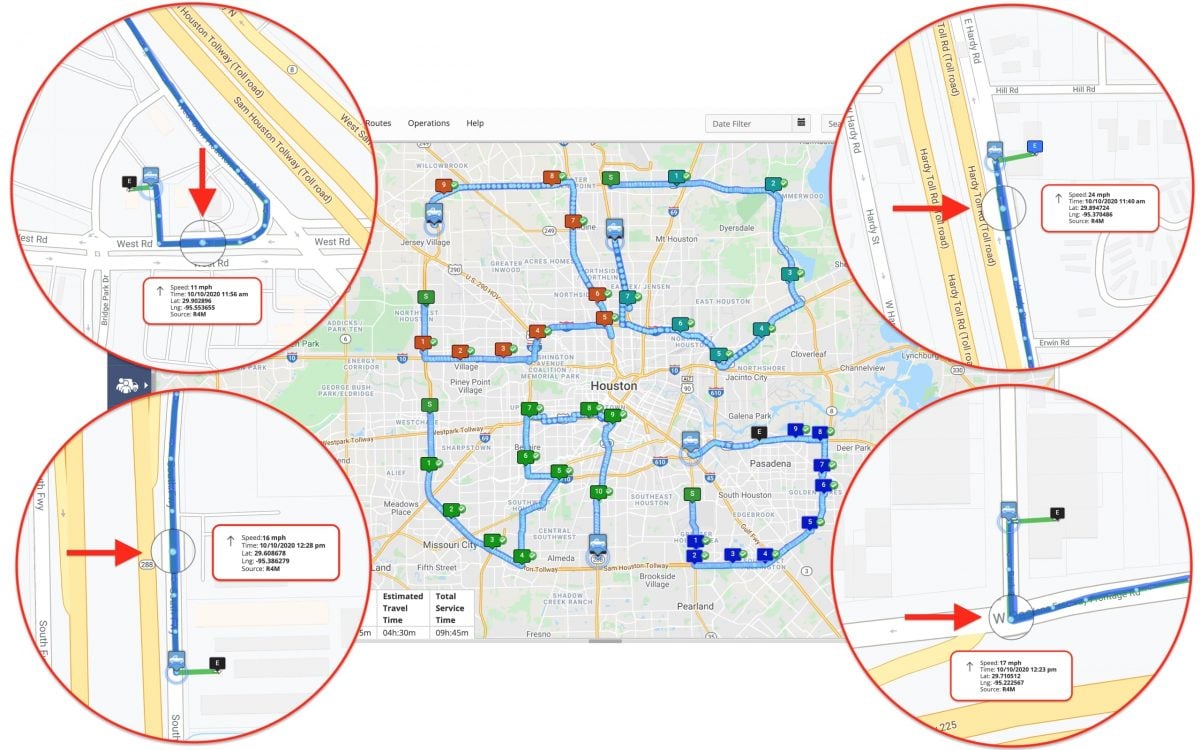 9. Assess KPIs and Local Delivery Metrics
Lastly, to make sure your operation is as efficient as it can be, you should analyze and assess your data. Route4Me's highly comprehensible dashboard will offer you valuable insights into what works and what doesn't. You'll get data on:
The total number of POD files collected
And more!