Address Book List – Add, Manage, and Route Customer Addresses
It is crucial for any successful business to have a single secure and shared place for storing all information about delivery contacts, customers, depots, commercial facilities, warehouses, and any other relevant prospects and real-world locations. Your Route4Me Address Book List is a centralized database of all delivery contacts and customer addresses that are stored on your account. All entries that are saved and modified in your Address Book List can be automatically synchronized across all associated and authorized devices in real-time. Moreover, in addition to the Route4Me Route Optimization Web Platform, your Address Book List can also be accessed from Route4Me's iOS and Android multi stop route planner apps.
To view all delivery contacts and addresses stored on your Route4Me account, first, go to Address Book List from the navigation menu.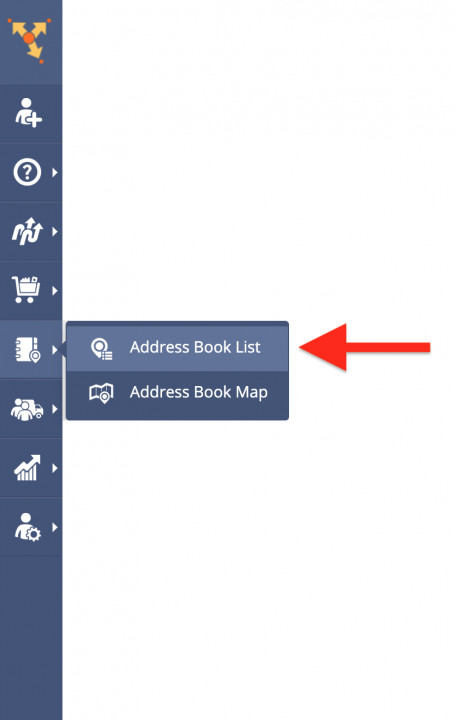 Route4Me's Address Book List allows you to properly organize all your customers' information in one place and share it online with your team members. You can use the Address Book List for saving new contacts and addresses, viewing the information about existing customers and their locations, as well as managing and modifying their profiles to your preference. The Address Book List can also be used for planning entire routes and generating orders.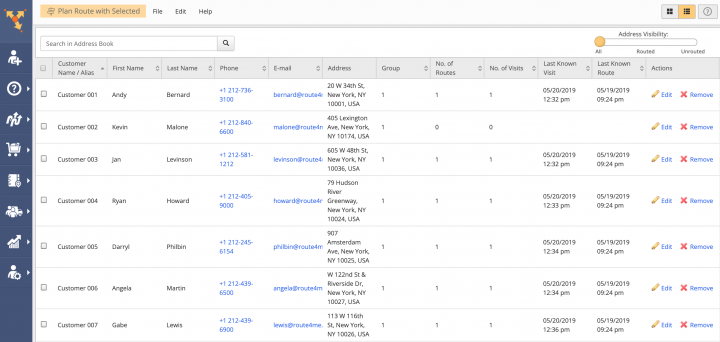 In the Address Book List, you can search for particular customers by their full or partial address, first/second name, email, custom data, and any other details that are contained in their profile.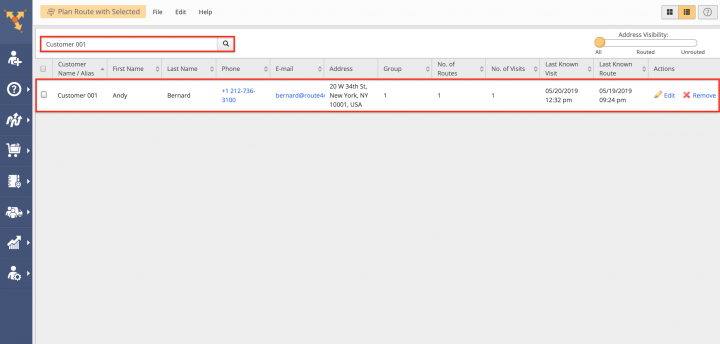 To sort all delivery contacts by a particular parameter, click on the double-headed arrow next to the column by which you want to sort the list.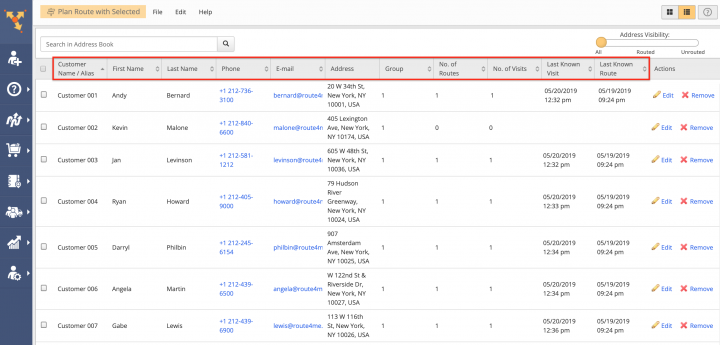 Use the following columns to view all available contact information of the customers in your Address Book List: Customer Name/Alias, First Name, Last Name, Phone, E-mail, and Address.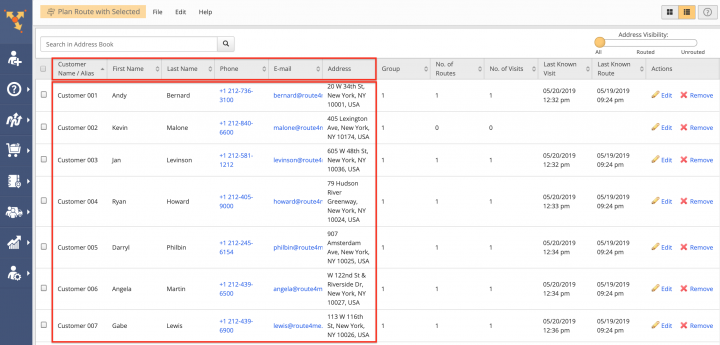 The Group column displays the name(s) of the Search Group(s) with which each corresponding contact is associated.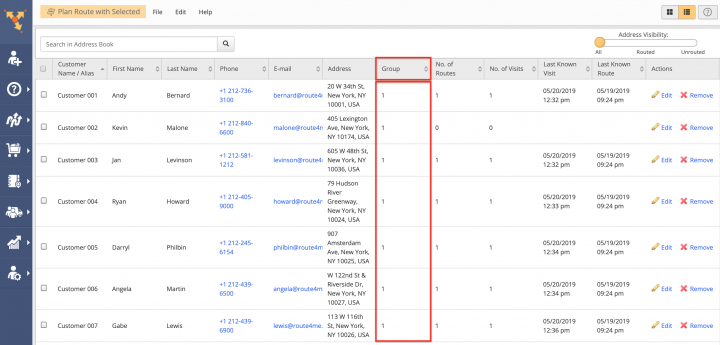 In the No. of Routes and No. of Visits columns, you can view how many times particular customers' locations have already been included into planned routes and visited by delivery drivers, field technicians, sales reps, etc. In the Last Known Visit and Last Known Route columns, you can view when the corresponding customers were visited the last time and when was the last time they were included into a planned multi stop route.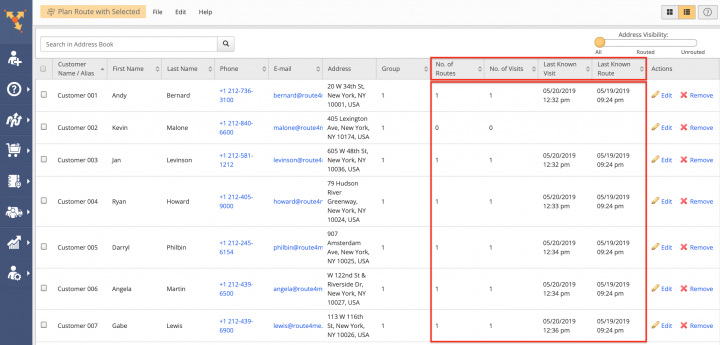 To display only those customers, delivery contacts, or prospects whose locations have already been used for planning routes and/or visited by a delivery driver(s), field technician(s), sales rep(s), etc., drag the Address Visibility toggle in the top right corner of the screen to the Routed position.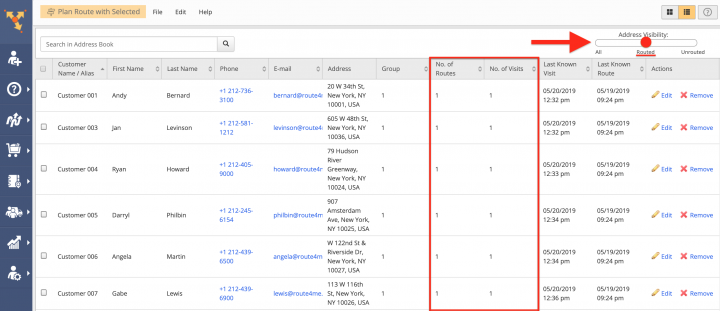 To display only those customers whose locations have not been used in any planned routes and have not been visited by a driver(s), drag the Address Visibility toggle in the top right corner of the screen to the Unrouted position.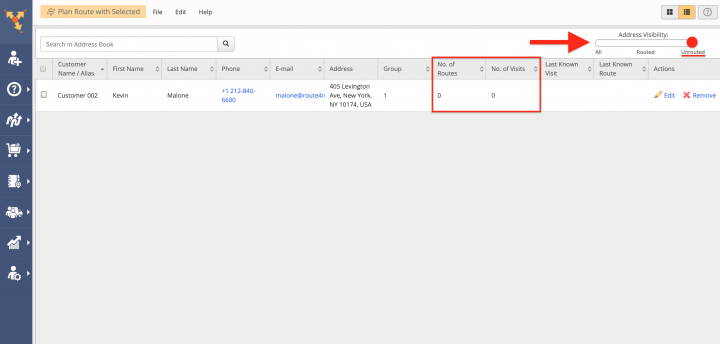 To change the list view of the Address Book to the tile view, click on the tile icon in the top right corner of the screen.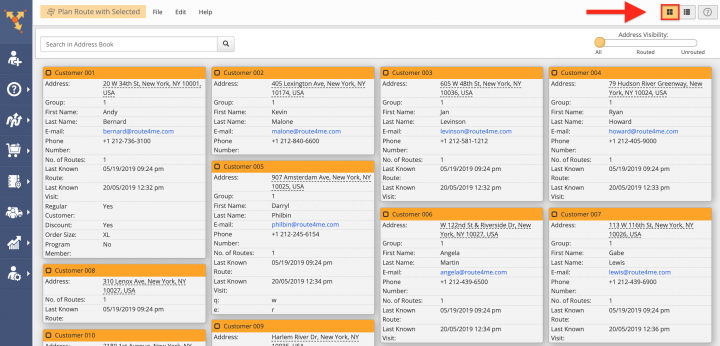 Route4Me route optimization and dynamic routing software provides near real-time data synchronization across all associated computer and mobile devices so that any changes made from the Route4Me Web Platform can be automatically synchronized with Route4Me's iOS and Android route planner apps in a matter of seconds. Thus, managers and dispatchers back at the office can add new or modify existing delivery contacts and sales prospects in the Address Book List and instantly synchronize all updates with the route planner apps of the employees who are out in the field.

Visit Route4Me's Marketplace to Check out Associated Modules: