Managing Your Subscription Using Route4Me's Feature Manager
Route4Me's module-based subscription is designed to fully facilitate virtually any business that requires routing services. With Route4Me, you can precisely tune your subscription plan to include the features and functionalities that perfectly accommodate the particular needs of your business. Using the Feature Manager, you can configure your custom solution by activating additional modules or deactivating the ones you no longer need. Customizing your subscription enables you to gain more control over your operations, eliminate the undesired expenses as well as increase the overall efficiency of your business activities.
To customize your subscription plan, first, go to "Feature Manager" from the navigation menu.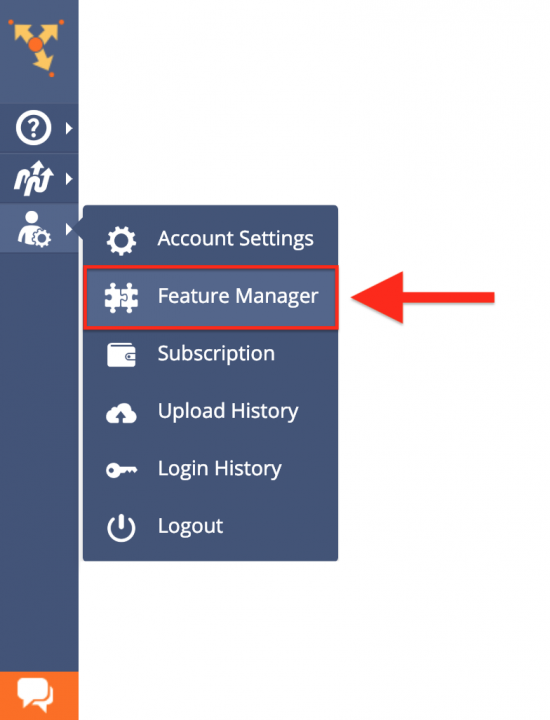 On the "Manage Modules" page, you can configure your subscription plan by activating and deactivating the preferred modules. Use the filter on the right side of the screen to navigate through all available modules.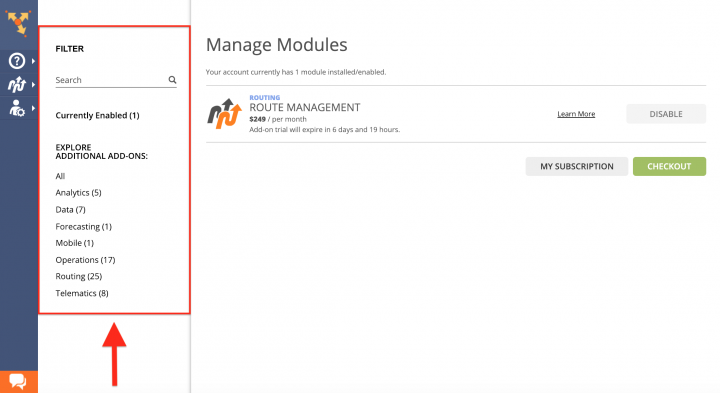 You can search for particular modules by the key-words that they may contain.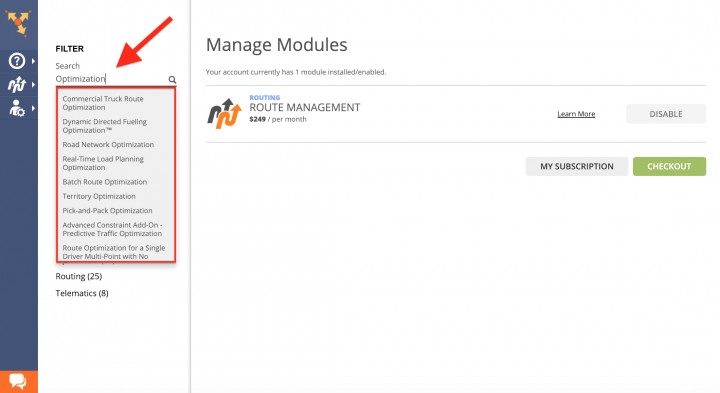 To open the list of all modules or separate groups of modules, navigate through the corresponding categories respectively.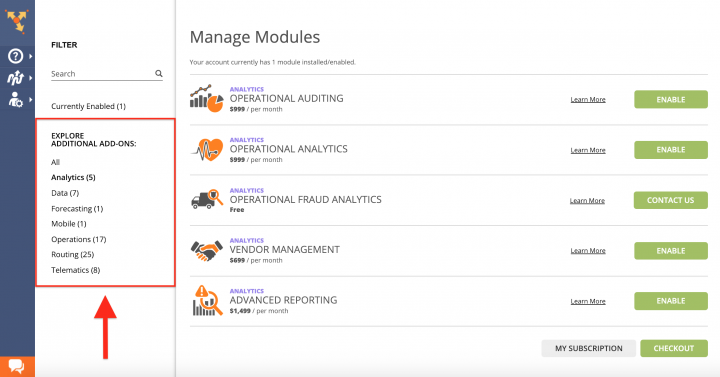 To learn more about the features of a particular module, click on the corresponding button next to it.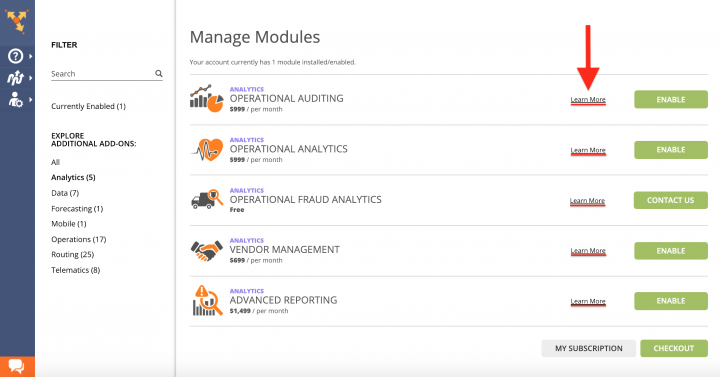 To activate a particular module for your subscription, click on the "Enable" button next to it.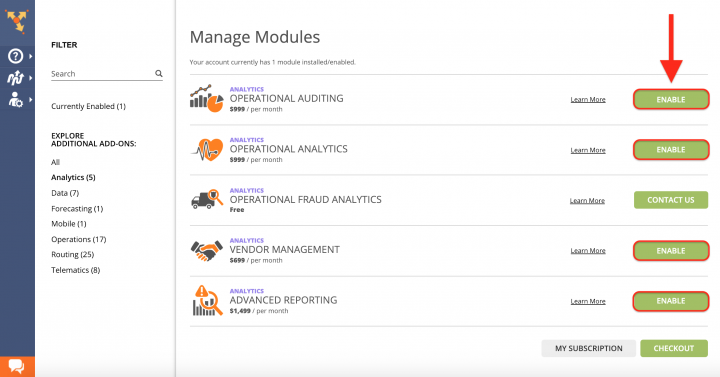 Some modules may require to enable dependencies which are the additional add-ons that also have to be activated to fully benefit from using the corresponding module. Click "OK" to agree, and Route4Me will automatically enable the required dependencies and activate the module.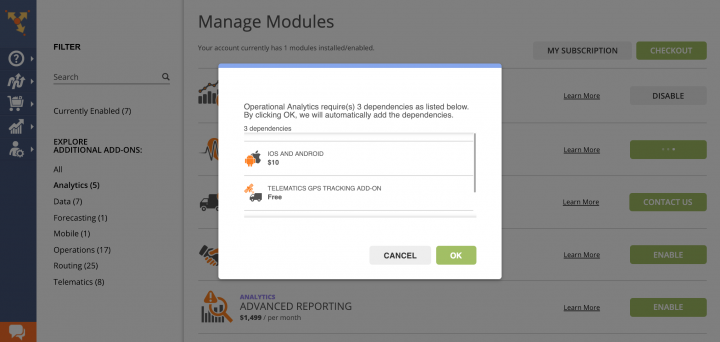 Some modules can be activated only through submitting the corresponding request to our Customer Success Department. The reason for that is because certain modules need to be specially set up and adjusted to perfectly facilitate the particular needs of your business. To submit a request for enabling a module, click on the "Contact Us" button next to it.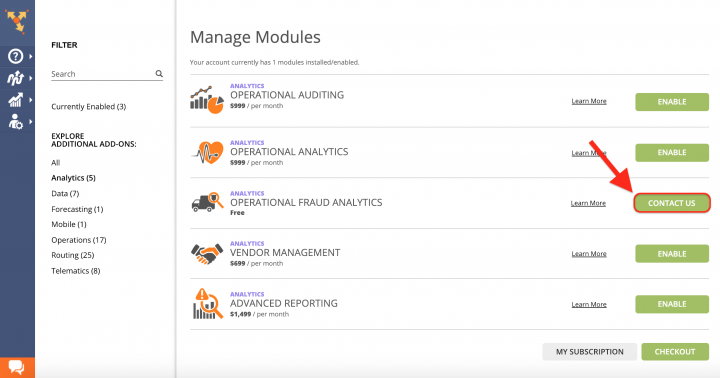 In the contact form, fill out the corresponding fields, providing the reason for your request and the general information about the module that you want to have enabled.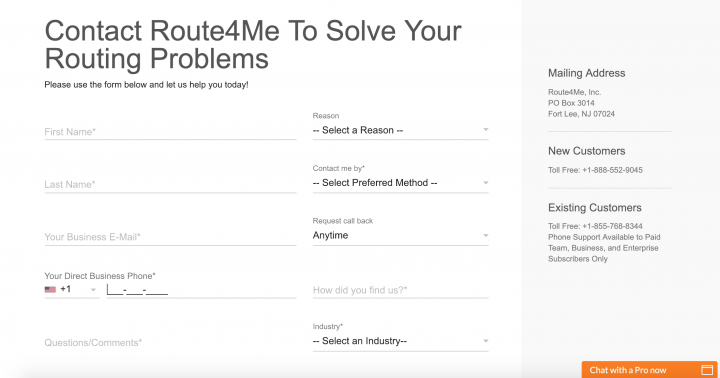 To view all modules that are included in your current subscription, go to the "Currently Enabled" page where you can manage them respectively. To disable a particular module, click on the corresponding button next to it.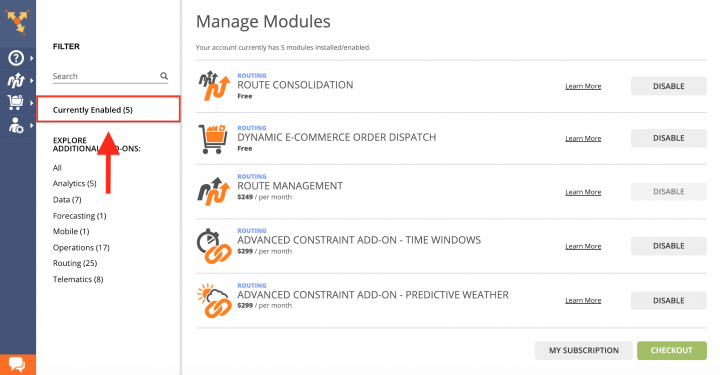 Once you activated all preferred modules or disabled the active ones, click "Checkout" to proceed and update your customized subscription.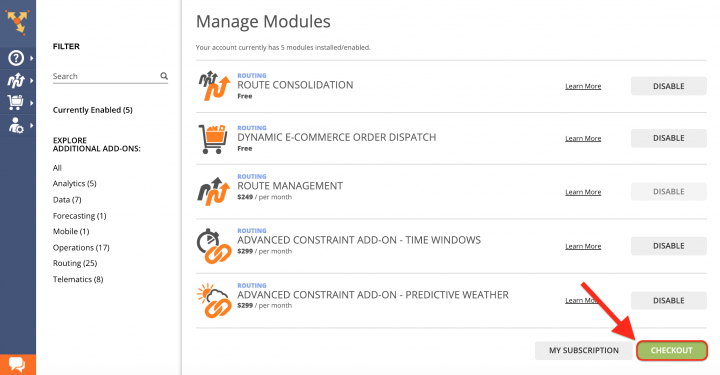 On the checkout page, you can overview the total pricing for your updated monthly subscription based on the selected modules. Click "Proceed" in the top right or bottom left corners of the screen to continue.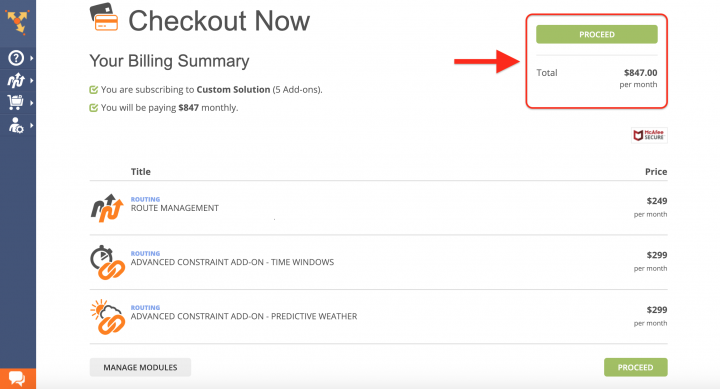 Next, fill out your billing information in the corresponding fields and click "Next" respectively.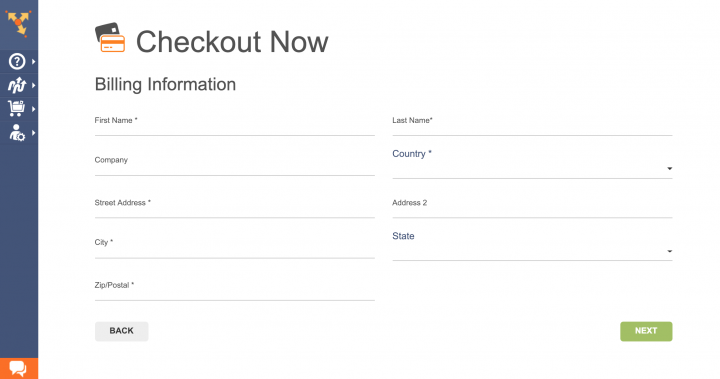 Finally, input your payment method information and click "Begin My Paid Subscription." Once you submit the form, your subscription will be instantly updated/activated as well as the corresponding email with additional details will be sent to your email address.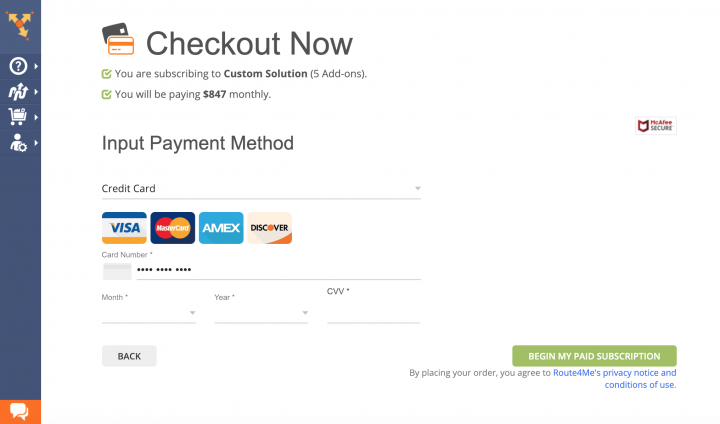 Visit Route4Me's Marketplace to Check out Various Modules: