Delete Vehicles – Deactivate and Remove Vehicle Profiles
With Route4Me, you can build an entire fleet of cars, vans, trucks, trailers, semis, or heavy equipment and then effortlessly and efficiently manage, organize, and coordinate them all from one platform. Route4Me provides flexible vehicle settings that allow you to design detailed vehicle descriptions that can best accommodate the particular needs of your business or unique business model. Moreover, with Route4Me's advanced account-level permissions management, you are able to adjust the visibility of your entire fleet for your team members with just a touch of the button, allowing them to view and edit vehicles, only view vehicles without editing, and so on (learn more). For more convenience, if you are already using the services of a particular telematics vendor, Route4Me enables you to frictionlessly import vehicles from any preferred telematics vendor into your Route4Me account (learn how) and then modify the details of the imported vehicles, assign them to routes, track their fuel expenses, and more.
To delete a particular vehicle from your fleet, first, go to "Vehicles" from the navigation menu to open the list of all vehicles associated with your Route4Me account. To learn more about fleet visibility permissions and the Route4Me Global Vehicles List, visit this page.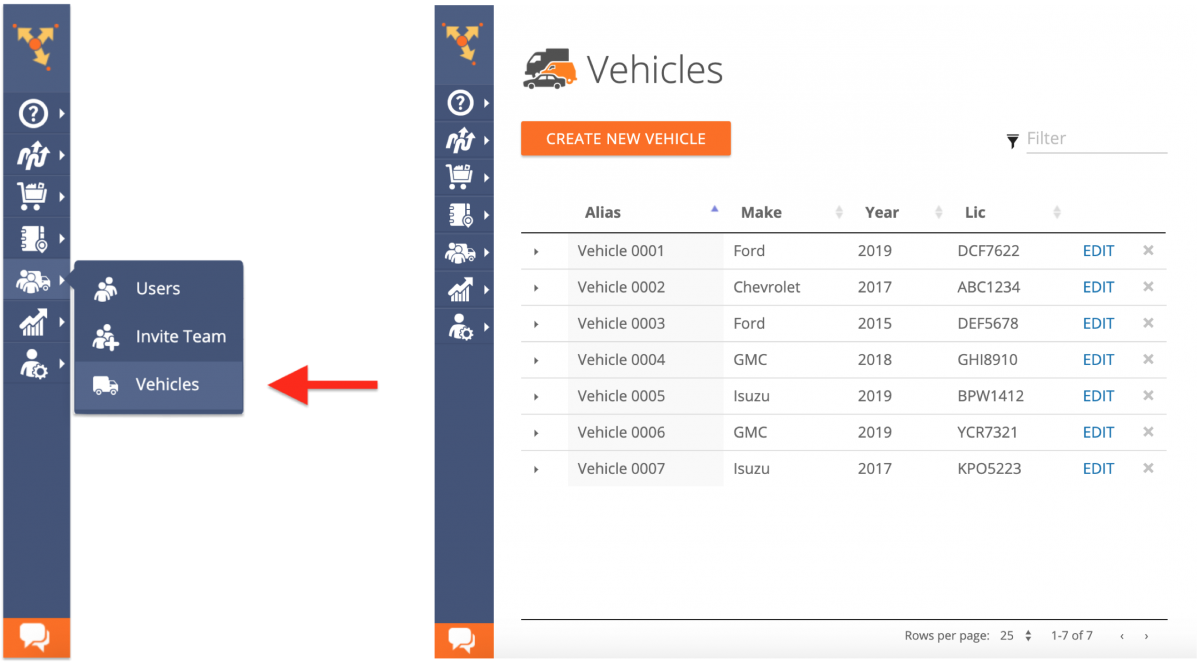 Next, click on the delete icon next to the vehicle that you want to remove from your fleet and then confirm the action when prompted.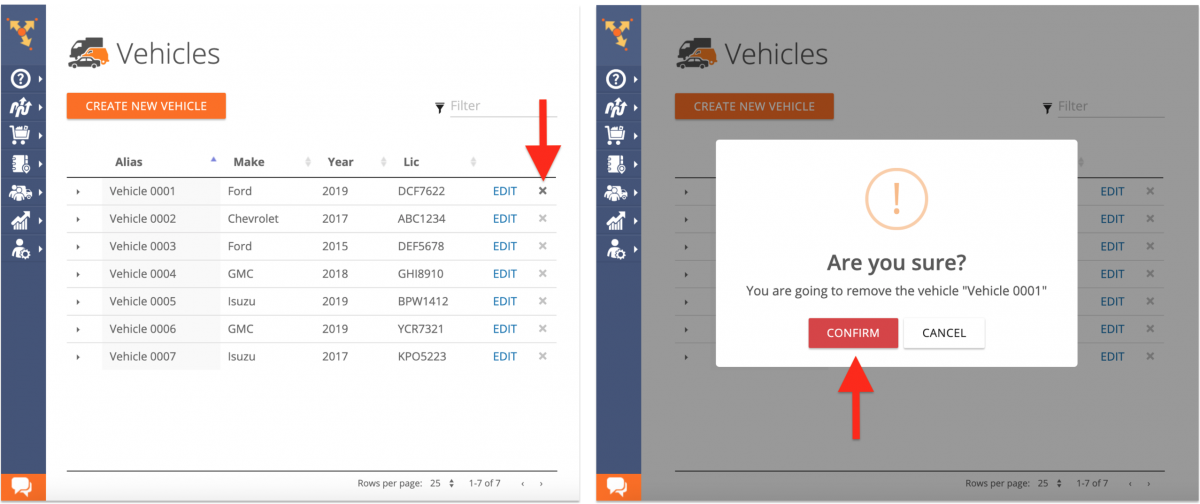 Once the vehicle is deleted, this vehicle is automatically un-assigned from all routes that it was assigned to.

By default, the Account Owner and Administrator(s) can delete all vehicles in the Global Vehicles List. By default, all other users can delete only those vehicles that are created by them or their sub-users. Thus, when a user deletes a vehicle that was created by this user's sub-user, the deleted vehicle is removed from the user's and sub-user's accounts accordingly. All user types (except for the Account Owner) can be restricted from deleting vehicles with the Read Only mode (learn more).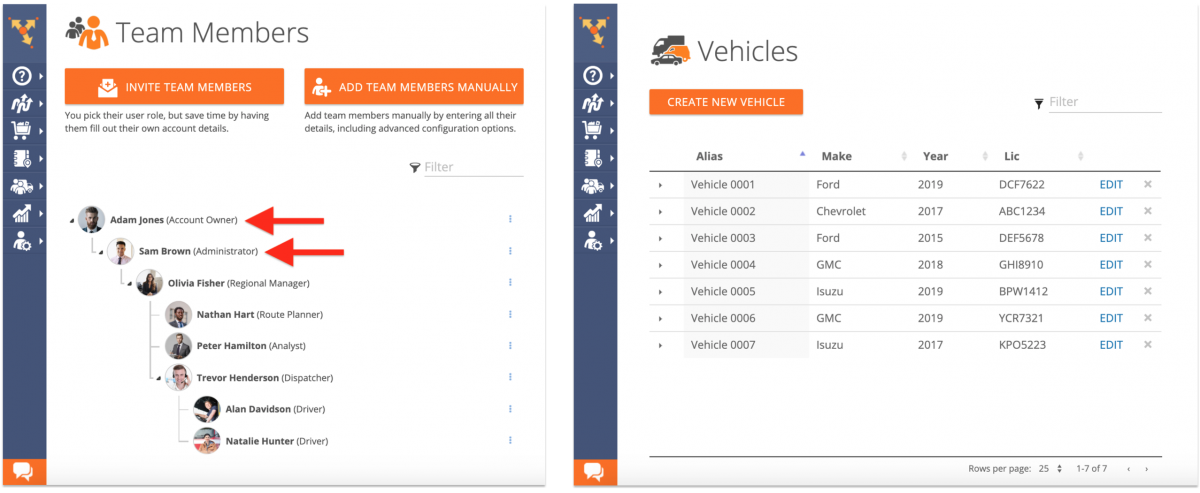 The table below provides the list of default account-level permissions for managing vehicles by user type (learn more about account-level permissions).
Permission
Administrator
Regional Manager
Dispatcher
Route Planner
Driver
Analyst
Vehicle Management
View Vehicles List
✔
✔
✔
✔
✖
✖
Add Vehicles
✔
✔
✔
✔
✖
✖
Modify Vehicles
✔
✔
✔
✔
✖
✖
Assign Vehicles to Routes
✔
✔
✔
✔
✖
✖
Delete Vehicles
✔
✔
✔
✔
✖
✖
With the enabled Read Only mode, users can be restricted from editing the vehicles that are visible to them, as well as from creating new vehicles. To learn more about fleet visibility settings and the Read Only mode, visit this page.
| Permission | Administrator | Regional Manager | Dispatcher | Route Planner | Driver | Analyst |
| --- | --- | --- | --- | --- | --- | --- |
| View Vehicles List | ✔ | ✔ | ✔ | ✔ | ✖ | ✖ |
| Add Vehicles | ✖ | ✖ | ✖ | ✖ | ✖ | ✖ |
| Modify Vehicles | ✖ | ✖ | ✖ | ✖ | ✖ | ✖ |
| Assign Vehicles to Routes | ✖ | ✖ | ✖ | ✖ | ✖ | ✖ |
| Delete Vehicles | ✖ | ✖ | ✖ | ✖ | ✖ | ✖ |
Visit Route4Me's Marketplace to Check out Associated Modules: