How to Choose the Best Route Planner for Delivery in 2023
The best route planners for delivery in 2023 are the backbone of any logistics-intense business – from delivery and courier operations to field service providers, sales, and more. Since the COVID-19 pandemic pushed people out of brick and mortar stores towards online shopping, home delivery has become an essential part of everyone's life. As new consumer behaviors emerged, grocery delivery, food delivery, curbside pickup, and curbside delivery are now the norm.
To fulfill the extensive demand, last mile carriers need to consider investing in routing software, route planner apps for delivery drivers, and other route optimization technology.
On that note, if you're on the lookout for a free route planner app or a subscription-based route planner app for delivery drivers, you need to take into account several criteria before making a final decision. Besides the price point, there are specific features that can make or break a deal when it comes to the best route planner app for delivery drivers out there.
Table of Contents
Is There an App for Delivery Routes?
There are numerous options available on the market in terms of apps for delivery routes. Most of them fall under the category of route planners and will help you plan and optimize multi-stop routes with your customers' delivery and shipping addresses. Although bearing the same name, not all multi stop route planner apps are created equal.
For instance, some use dynamic routing, and some use static routing when planning delivery routes. Some offer you the ability to adjust routing parameters according to your business needs and fleet capacity, and some don't. It's up to you to identify your delivery service or courier business needs and find the best route planner app for delivery drivers that can address your requirements and meet your expectations.
Who Needs to Use a Route Planner in 2023?
A route planner app or route optimization software will benefit any delivery business, sales operation, field service provider, cable and telecom companies, and any other business that has to route more than 10 addresses per day. So, route planner users include:
Enterprise giant couriers like UPS, FedEx, DHL, USPS, etc.
eCommerce retailers that handle last mile delivery in-house, such as Amazon
Small and medium delivery and courier companies
Outside sales or field sales and field marketing teams
Businesses that provide local distribution and middle mile logistics services
Companies that practice reverse logistics and handle product returns
Home services providers
Food catering and delivery firms
Snow removal companies, etc.
Benefits of Using Routing Software
The list of potential route planner users is endless. The point is that any business – be it a small delivery or courier operation or a large retailer – that has a fleet of vehicles and more than 10 customers to visit per day can and should use a route planner to:
Drive savings of up to 30%
Improve collaboration between delivery teams, dispatch, fleet managers, etc.
Track the whereabouts of delivery drivers and fleet assets
Lower employee turnover
Have full visibility into the overall logistics operation anytime by using a route planner app
Improve the quality of customer service
Have digital records of proof of delivery (POD) available at a click of a button
Save time and make more money
Minimize the need for overtime and lower windshield time for delivery drivers
If all of the above are present on your priorities list, you can mark them all as done by finding the best route planner for your business.
What Features Should the Best Route Planner App Have?
In 2023, the route planner app market is filled to the brim. There are so many options to choose from out there – and some of them bear different names.
Routing software, route planning software, route optimization solutions, fleet management software… Which one should you choose?
There is no right answer to this question – at least not one that could apply to all businesses. So, it depends solely on your unique business needs.
Core Features of the Best Route Planner
Although there are many aspects to consider before purchasing a route planner, there are a couple of core features you should look out for. To ensure you're making the right purchase decision when searching for the best route planner app, complete the following feature checklist:
Available on multiple platforms (web, Android, iPhone, iPad, etc.)
Fast route optimization for multiple addresses at once
Uploading addresses in different formats and methods (Excel spreadsheets, drag and drop, copy-paste, cloud data import, etc.)
Geocoding addresses automatically
Planning routes for multiple drivers and splitting the workload equally among employees
Delivery driver tracking capabilities on a live map that enables you to track route progress and driver behavior
Tailoring routes as per your specific business rules (customer availability, vehicle loading and carrying capacity, etc.)
Delivery scheduling capabilities and recurring routing features for repeat orders and subscription delivery services
Voice GPS navigation that updates driving directions according to traffic and weather conditions
Delivery driver team, dispatch, and fleet management capabilities
Customizable reporting and analytics with relevant logistics KPIs
The ability to integrate with your CRM, eCommerce platform, telematics provider, etc.
Other Aspects to Consider
Furthermore, if you're managing field sales, field marketing, home service, or field service teams, you should look for a route planner that offers you the ability to draw territories on a map and plan territory-based routes. If you have a trucking business, you need routing software with truck routing features and commercial vehicle fleet management capabilities. For delivery, you will need to set geofences around your customers' addresses to trigger automatic notifications with the delivery status of their order.
The best route planner for delivery might not be the best fit for sales – unless you find a solution that covers any business' needs.
For example, Route4Me routing software can accommodate any requirements, particularities, and industry needs. You can choose from a wide variety of features and add-ons so you can build your own route planner. With Route4Me, you can create the perfect route planner for your business.
What's the Best App for Delivery Drivers?
Although every delivery business and logistics operation has its own particularities, there are a couple of core features that define the best app for delivery drivers. It's important to settle upon a route planner that can help you enable business growth and handle your future success and expanding customer base.
Your routing software or multi stop route planner app should also be easy to use so your delivery drivers don't have to waste time trying to figure out how it works. There are a lot of things to consider before making your final decision.
The easiest way to find the best app for your delivery business is to follow these 10 steps:
1. Identify Your Routing Needs
The first thing to keep in mind when scrolling through the myriad of route planner app options is what features your delivery business actually needs. Sure, looking at route planner reviews could help you, but your business's unique requirements should guide your selection process.
Do you need to plan daily delivery routes with different customer shipping addresses? Does your delivery schedule change often? For instance, if you route the same delivery addresses on a daily basis and have the same delivery schedule with occasional small changes, you need to look for a route planner that has a delivery scheduling feature for your recurring orders. This will save you time on route planning by automating this repetitive task.
Following this example, you could make a list of your delivery operation needs and see which route planner app ticks all the boxes.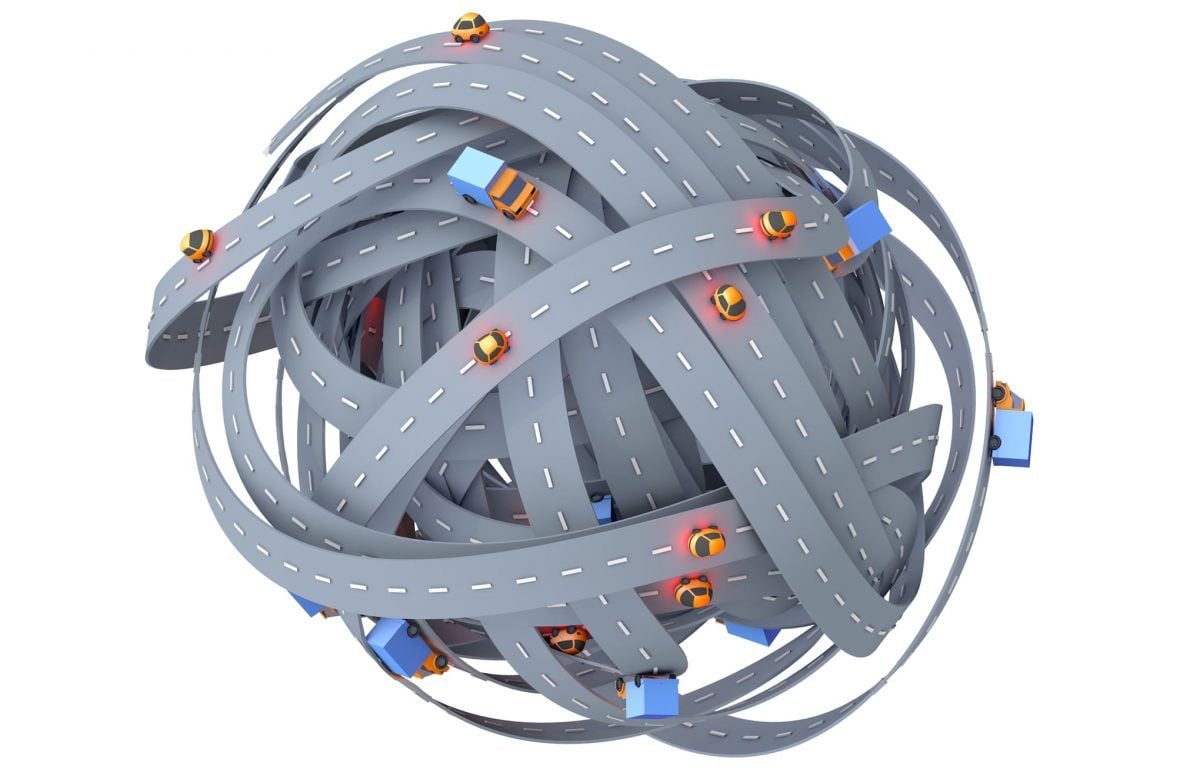 2. Find a Customizable Routing Solution
To ensure you're not spending the extra money you're making with optimized routes on features you'll never use, find yourself a route planner with a flexible, modular pricing model. For example, your business has its particularities, and it probably doesn't require truck routing if it runs a field sales operation. So why should you pay for truck routing?
For this reason, the Route4Me route planner offers you the possibility to mix and match feature bundles so that you can build your own routing solution that addresses all of your needs.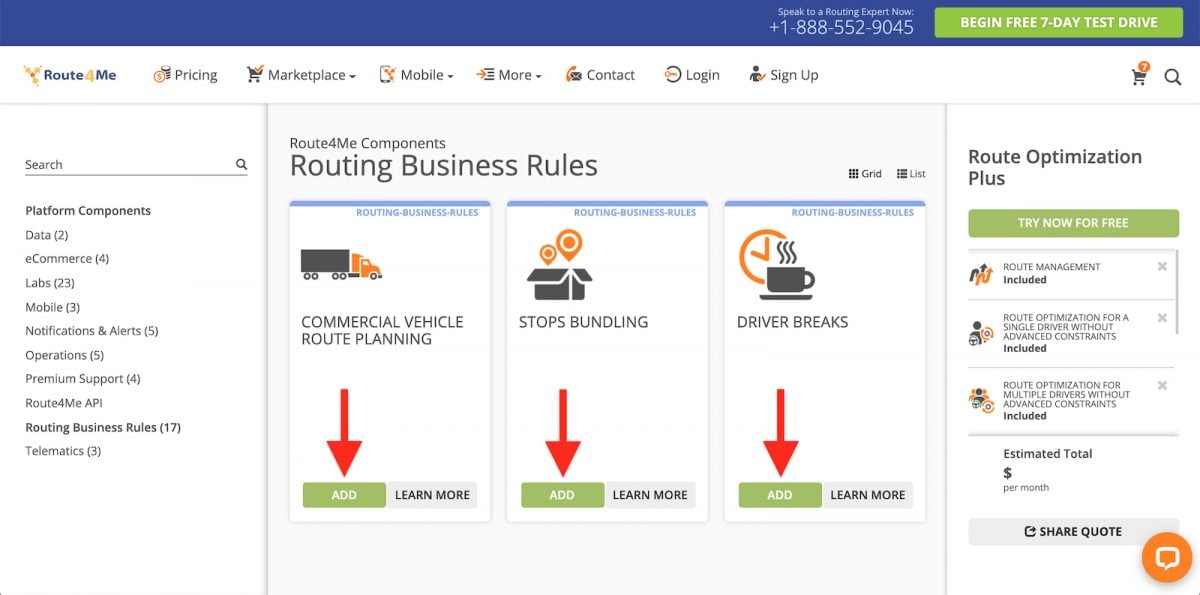 3. Sign Up for a Route Planner App Free Trial
When searching for the best route planner out there, a free trial should be one of your decision-making criteria. When a routing software provider doesn't offer you the chance to try the product before deciding whether you should buy it or not, it's not a good sign. It could indicate that the respective route planner vendor is not confident enough in their product.
Look for a route planner app for delivery drivers that offers a free trial.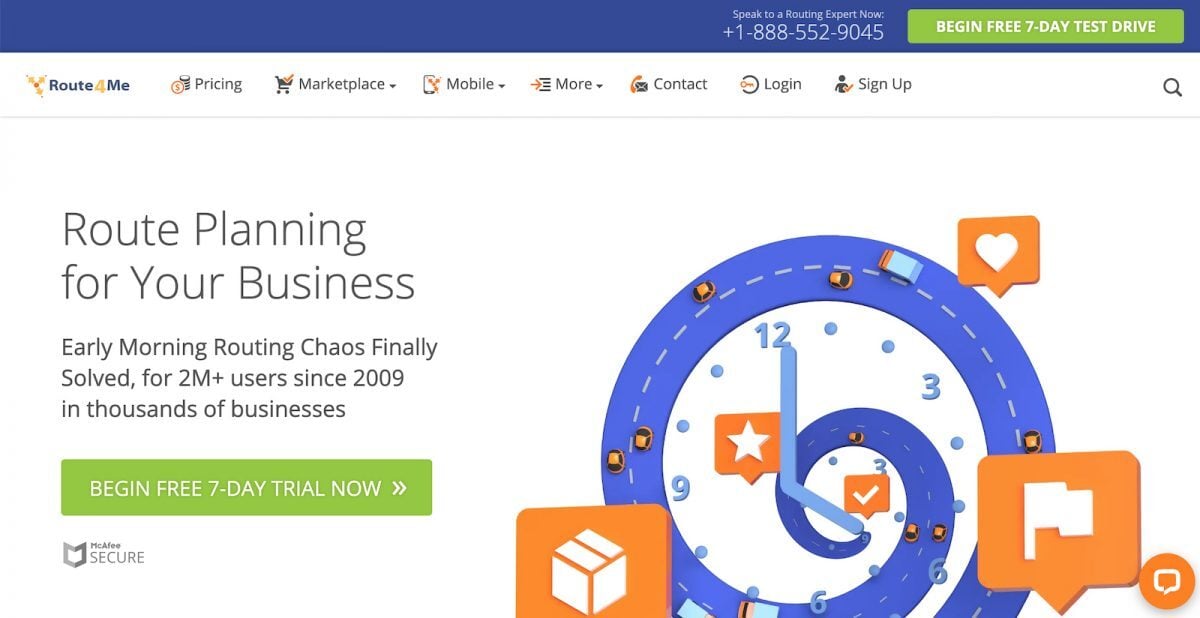 4. Ensure That You Can Seamlessly Integrate the Route Planner With Your CRM or Other Systems
To streamline collaboration between all of your systems and to avoid scattered data and disparate databases, look for a route planner that is compatible and can integrate with your CRM, eCommerce platform, telematics solution, and any other solution for customer relationships, fleet management, etc. By doing so, you will be able to import customer addresses with a click of a button, sync your contacts in seconds, and plan routes with your telematics vehicles.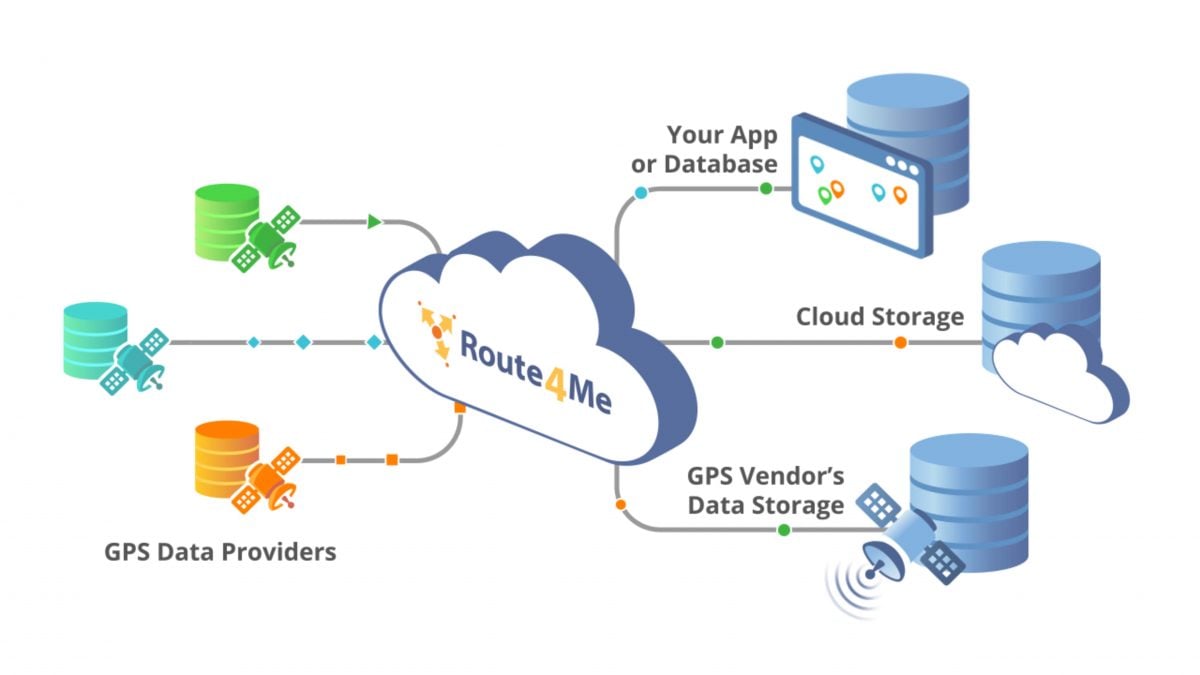 5.  Look for a Route Planner With Geocoding Capabilities
Geocoding sets apart the best free route planners for delivery drivers from average routing software. Geocoding will help you ensure that all your route stops and delivery addresses are correct, saving your delivery drivers time by preventing them from driving around to find an incorrect address. Geocoding is useful. It will help you save money on fuel and prevent delivery delays.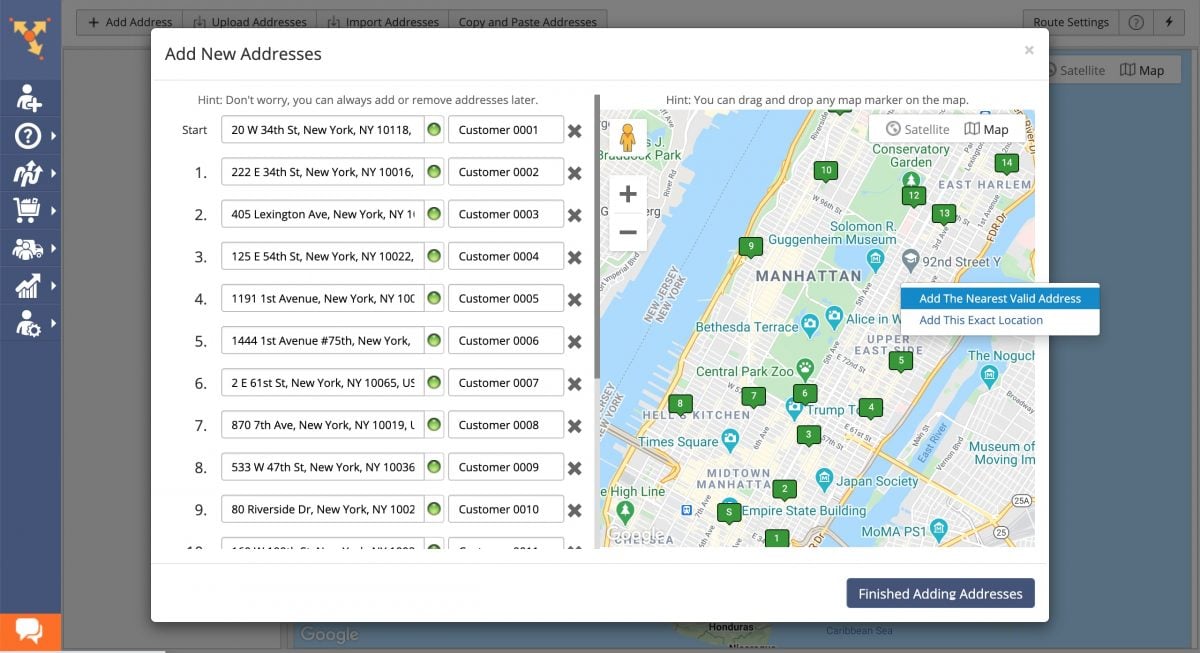 6. Check for Route Optimization Constraints and Business Rules
Another important aspect to look out for is the ability to fine-tune routes as per your customers' availability, your vehicle fleet's capacity, your workforce's availability, etc. These are called optimization constraints or routing business rules and will help you ensure you plan routes tailored to your unique logistics operation.
Since every delivery operation is unique, you might need more than just a route that connects some addresses on a map. Your customer might have different schedules and delivery time windows. Your fleet of vehicles might not be homogenous or uniform, and your delivery cars might have different loading and carrying capacities.
On that note, your routes need to be created specifically for your fleet capacity, customer requirements, and business needs. Choose a route planner app that allows you to plan routes with different optimization constraints.
For example, the Route4Me route planner app for delivery drivers allows you to set up business rules, customer variables, and routing constraints such as:
The more available routing business rules, the better.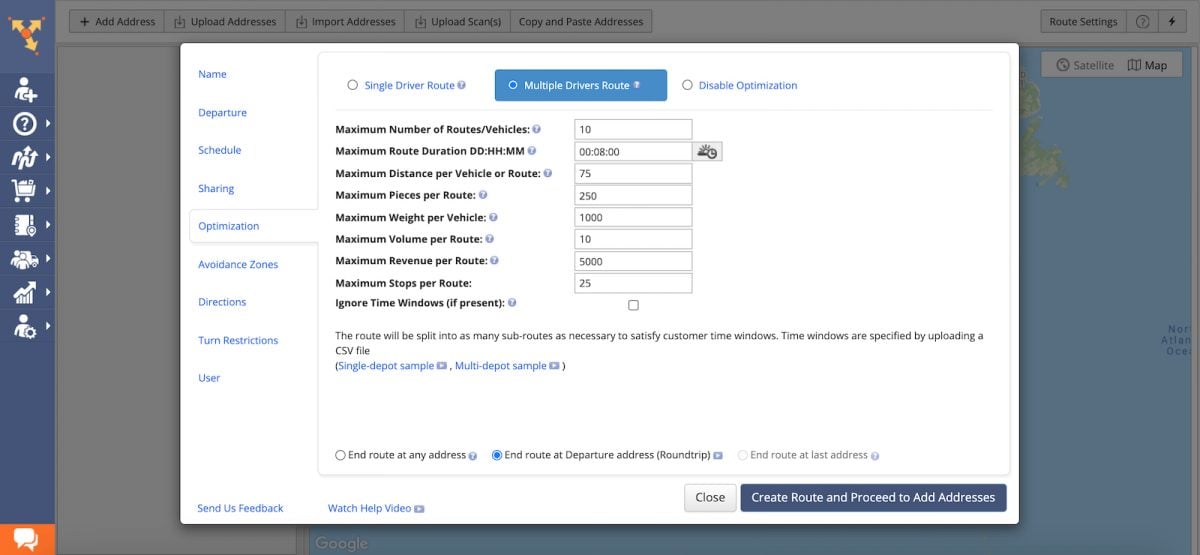 7. Check Out All the Platforms and Environments the Route Planner Is Available On
Your delivery drivers, field sales reps, truckers, or field service technicians need a route planner app that can guide them from stop to stop with a capable in-app GPS navigation that offers voice turn-by-turn directions. Dispatchers and logistics managers need both a web platform and a route planner app for times when they need to plan routes and track delivery drivers on the go.
The best route planner should satisfy your team's needs and should be available as a web platform and mobile app for iOS and Android devices. Moreover, you should consider opting for cloud-based solutions that don't require additional expensive hardware to run on a computer. You should be able to use your route planner on any laptop or desktop with an internet connection.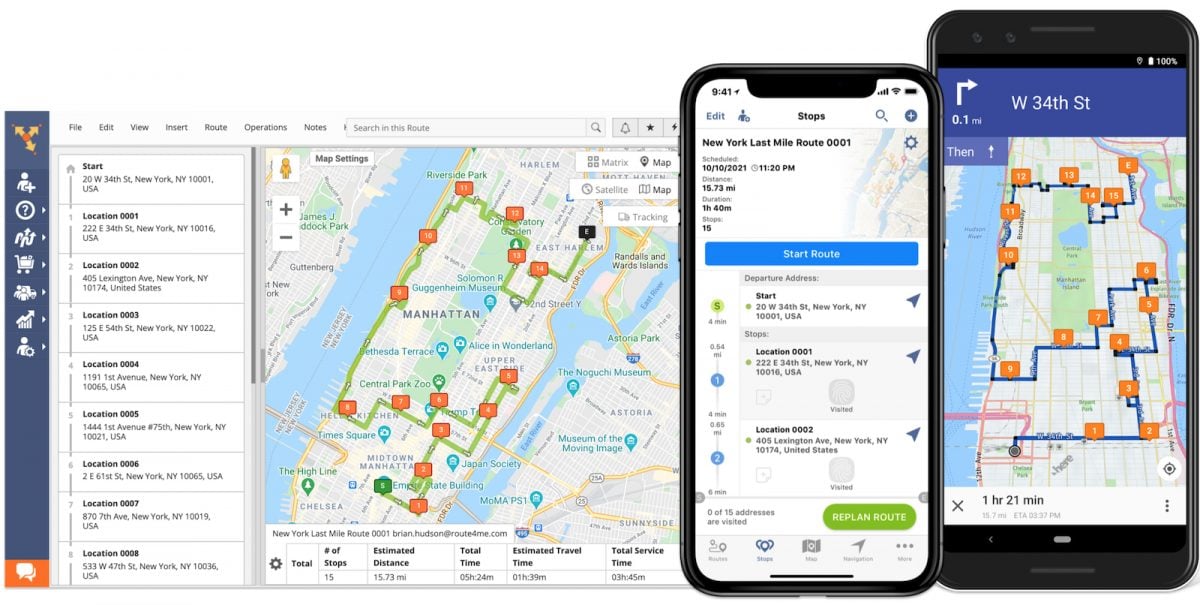 8. Make Sure the Route Planner for Delivery Has Real-Time Tracking Capabilities
Sure, route planners help you plan and optimize your delivery routes. But if you're not making sure that your delivery drivers are actually sticking to the plan, your routing efforts won't benefit your business as expected. Aside from dynamic routing, navigation, and other features, your routing software should also offer you the possibility to track your delivery drivers as they navigate the route you've planned.
For instance, Route4Me enables you to track your drivers on a live map or, after they've completed a route, in a video format.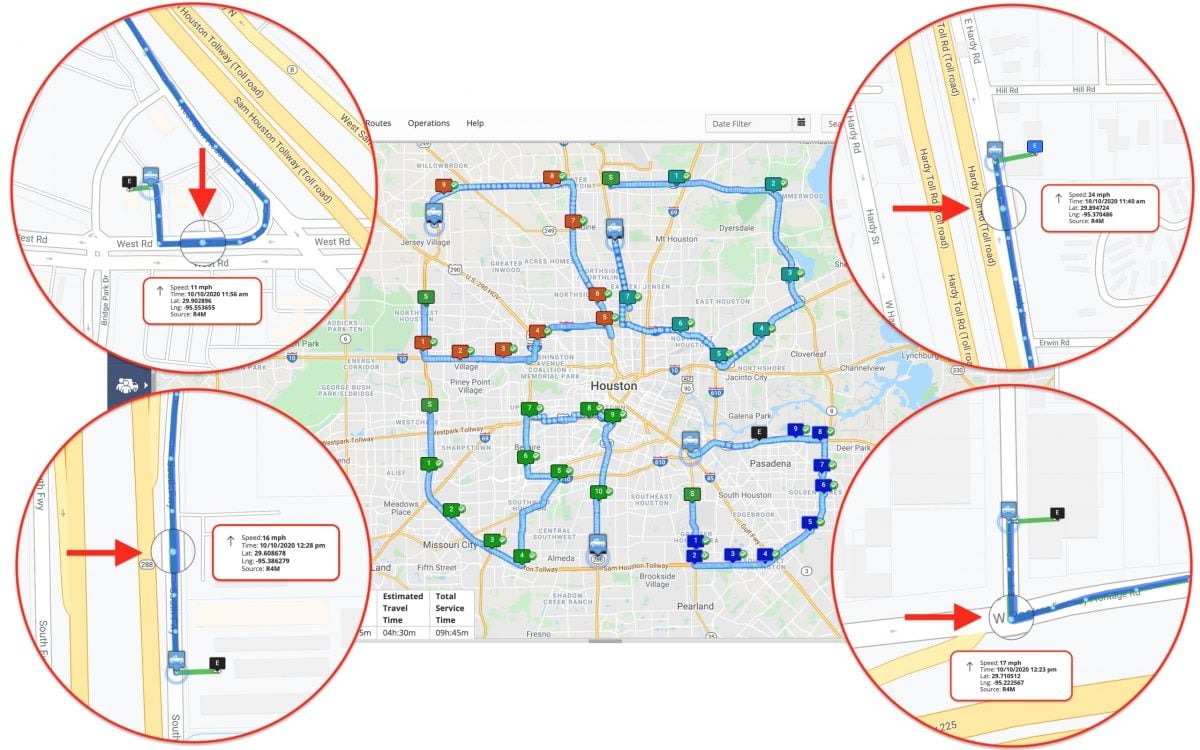 9. Check If the Route Planner Has Customizable Reporting and Analytics
Tracking route progress, employee productivity and performance, and logistics KPIs relevant to your operation is the key to success. By tracking planned vs. actual metrics, you will easily identify what works and what needs improvement.
Make sure that your routing software is capable of collecting and analyzing your routing data. Reporting and analytics will give you full visibility into your logistics processes.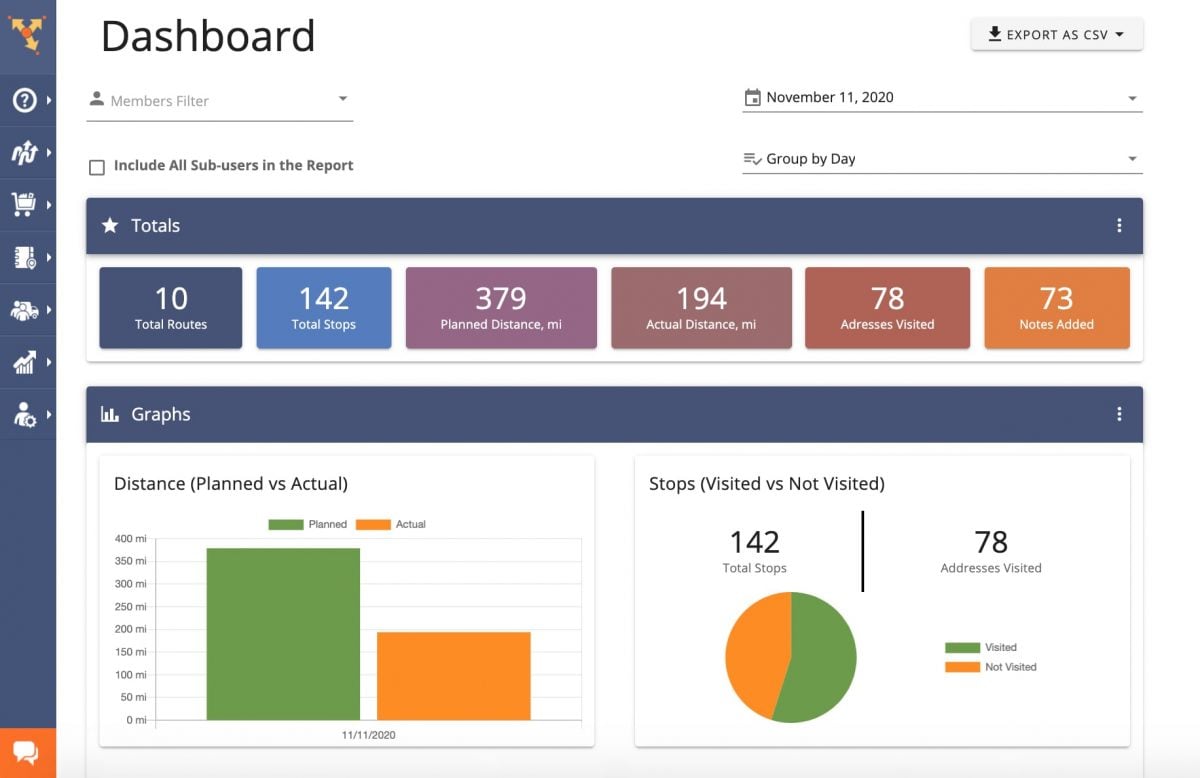 Lastly, before your free trial expires and you make a purchase decision, you should look for hidden fees. Some route planner app vendors charge per optimized stop. As a consequence, you might end up paying a lot more than expected if your business is logistics-intense. Don't fall for such scams.
Furthermore, you should look for a routing solution that allows you to pay only for those features that you really need. For example, the Route4Me route planner enables you to pick from various routing feature modules or packages. This way, you can build a customized route planner app for delivery drivers.
After all, the best route planner app is the one that addresses your specific industry and business needs.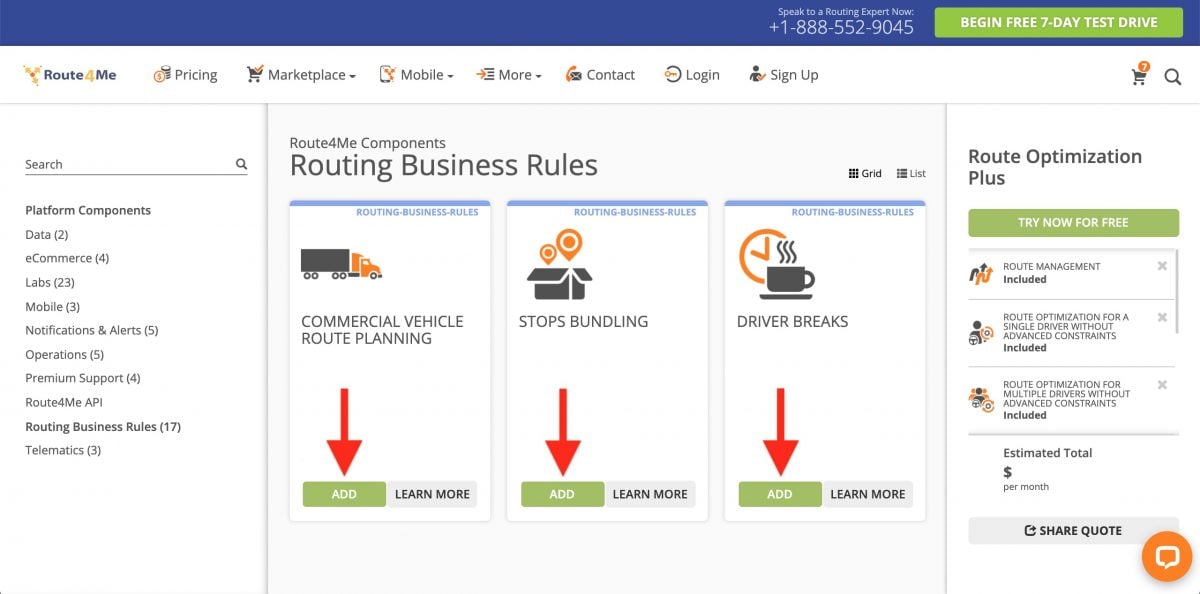 The Best Route Planner Apps in the Market in 2023
The delivery routing planner market has a lot to offer. Today, there are a lot of great route planners out there. And, depending on your preferences and needs, you might have to review and compare several route planners before finding the right one for your business. You can always compare route planner apps using Capterra or GetApp. These online tools will help you evaluate software as per features, pricing, reviews, and more.
Since a complete list of the best route planner apps cannot be covered in a single article, below you'll find only a fraction of the routing software market. These solutions offer multiple useful features, and each has its own functionality and target industry.
Badger Maps
Badger Maps is a complex routing solution for field sales. It can make sales managers' jobs easier with management features for:
Content
Sales territories
Sales goals and quotas
Leads
Sales reps' performance
Multi stop route optimization
And more
As of January 15, 2023, Badger Maps is available as a software as a service (SaaS) web platform as well as mobile apps for Android and iOS devices. This sales route planner offers 24/7 support, and it's suitable for outside sales businesses.
Although it has a lot of useful features for field sales, the Badger Maps route planner doesn't offer features and capabilities to accommodate businesses outside the sales environment. They are focused only on helping sales reps be more productive.
Looking for a Badger Maps alternative?
Start your Route4Me 7-day free trial today.
OptimoRoute
OptimoRoute is an extensive routing solution suitable for businesses of any size. It offers route planning and route optimization features for companies such as:
Last mile carriers such as couriers and delivery businesses
Trucking companies
Food delivery businesses
Waste collection
Field sales, etc.
OptimoRoute is available as a web service and as a mobile route planner for delivery drivers. It helps logistics managers to:
Track delivery drivers on a live map
Plan and optimize multi stop routes
Dispatch planned routes
Track logistics KPIs and routing metrics
Create delivery schedules
Create territories
And more
The list of features is generous and could address many business requirements and needs.
One downside of using OptimoRoute as a route planner is the pricing model. You cannot choose to pay only for the useful features for your business. Plus, you have a limited number of orders you can route at once. The order limit varies from one pricing option to another (as of January 15, 2021).
Try an OptimoRoute alternative for free!
Begin your 7-day free trial right now.
MyRouteOnline
MyRouteOnline aims to address the needs of multiple industries and businesses. The route planner offers useful features such as:
Dispatch management
Multi stop route optimization
Geolocation
Navigation maps
Order management
Route management
Territory management
And more
Although MyRouteOnline helps field service and delivery businesses plan multi-stop routes, the features catalog is quite limited. This solution might be more suitable for small and medium businesses with simpler logistics operations. The pricing is based on pay-per-stop and pay-as-you-go models (as of January 15, 2021).
If you're on the lookout for more routing features and capabilities, you can try a more complex alternative to MyRouteOnline.
Give Route4Me a 7-day try for free today!
RouteXL
RouteXL is a web-based only multi-stop route planner. Its main focus is on helping delivery, pickup, and field service businesses plan and optimize their routes with multiple addresses. RouteXL does not offer other features aside from route planning and address geocoding (as of January 15, 2021).
Since you can plan routes with a maximum of 200 stops, the RouteXL route planner might be more useful for smaller courier businesses than for bigger, more complex logistics operations.
Features include:
Fuel consumption calculator
Geocoding
WEBFLEET integration
Multi stop route optimization
And more
If your business needs more routing flexibility and customization, go for a RouteXL alternative.
Sign up for your Route4Me 7-day free trial and start planing efficient routes for any routing scenario ASAP!
Route4Me
Route4Me is a customizable route planner, suitable for any business – from small couriers to enterprise giants. It offers a wide variety of features that can accommodate any company's logistics-intense needs. Route4Me's pricing is flexible and depends on what add-ons you need. When using our routing software, you can choose from multiple individual features for route planning, fleet management, territory planning, truck routing, and more.
Core features include:
Multi stop route optimization
Route scheduling
Territory management
Live tracking
Dynamic routing
Fleet management
Route dispatch
Pick up and drop off optimization
Commercial vehicle and truck routing
Scheduled driver breaks
Avoidance of dangerous zones
Multiple optimization constraints and routing business rules
And a lot more!
Since the Route4Me route planner offers so many features, it is capable to accommodate any industry-specific need for any small or medium businesses as well as enterprises. Businesses that can benefit from planning routes with Route4Me include:
Couriers and last mile carriers
Field sales and field marketing
Food delivery and home delivery
Local delivery, grocery delivery
Middle mile logistics and local distribution
Fleet maintenance and repair
Trucking
Home health, pharma, nursing, and homecare
Laboratory courier
Field service technicians
And any other business that runs logistics processes
Hopefully, you have a better idea of what the best route planner app looks like in 2023. Now, you should be able to tell apart mediocre software from cutting-edge routing technology.
If you're on the lookout for state-of-the-art route optimization capabilities, you can start your Route4Me free trial today – NO credit card required.
Disclaimer
All the trademarks, logos, and brand names on this page are for identification purposes only. We do not endorse these trademarks, logos, and brand names. All the trademarks, logos, and brand names are the property of their respective owners. If any of the trademarks, logos, and brand names are your property or the property of your company, and you would like us to remove them from our website, please contact us at [email protected] to submit your request.