Export Routes as CSV Files – iPhone Route Planner App
With Route4Me's iOS Route Planner and Android Route Planner apps, you can plan the most optimal routes and navigate them in real-time without leaving the app. Furthermore, both apps provide various tools for team cooperation and communication. For example, you can download route planner routes and share them with your team members with a touch of a button.
Additionally, our app also enables you to share routes with Google Drive, Gmail, Slack, Dropbox, and many other storage and productivity apps. Thus, you can easily share your routes with other team members, keep route statistics, and much more. Learn more about how to export route planner routes on your Android smartphone or tablet.
Table of Contents
Download Route Planner Routes on iPhone or iPad
First, go to "Routes" from the navigation menu and then open the route you want to download. Next, tap on the gear icon in the top right corner of the opened route and then select "Export Route as CSV File" from the menu. After that, select the preferred download or sharing option from the list of all automatically detected apps.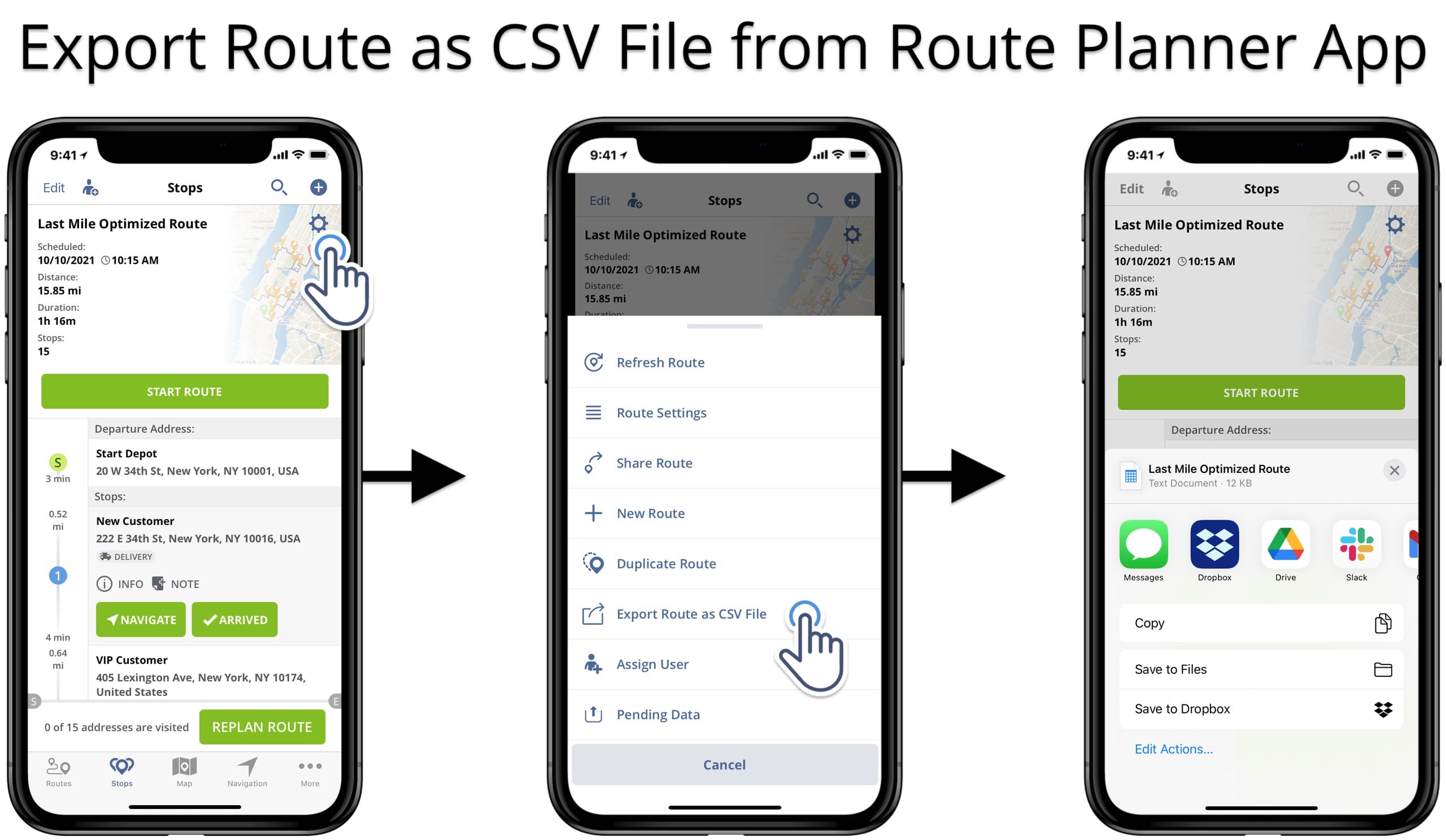 Download Route Planner Route Files to iCloud Storage
You can download route CSV files to your iCloud and then sync them across multiple iOS devices, Specifically, select "Save to Files" when downloading a route and then select the preferred iCloud folder.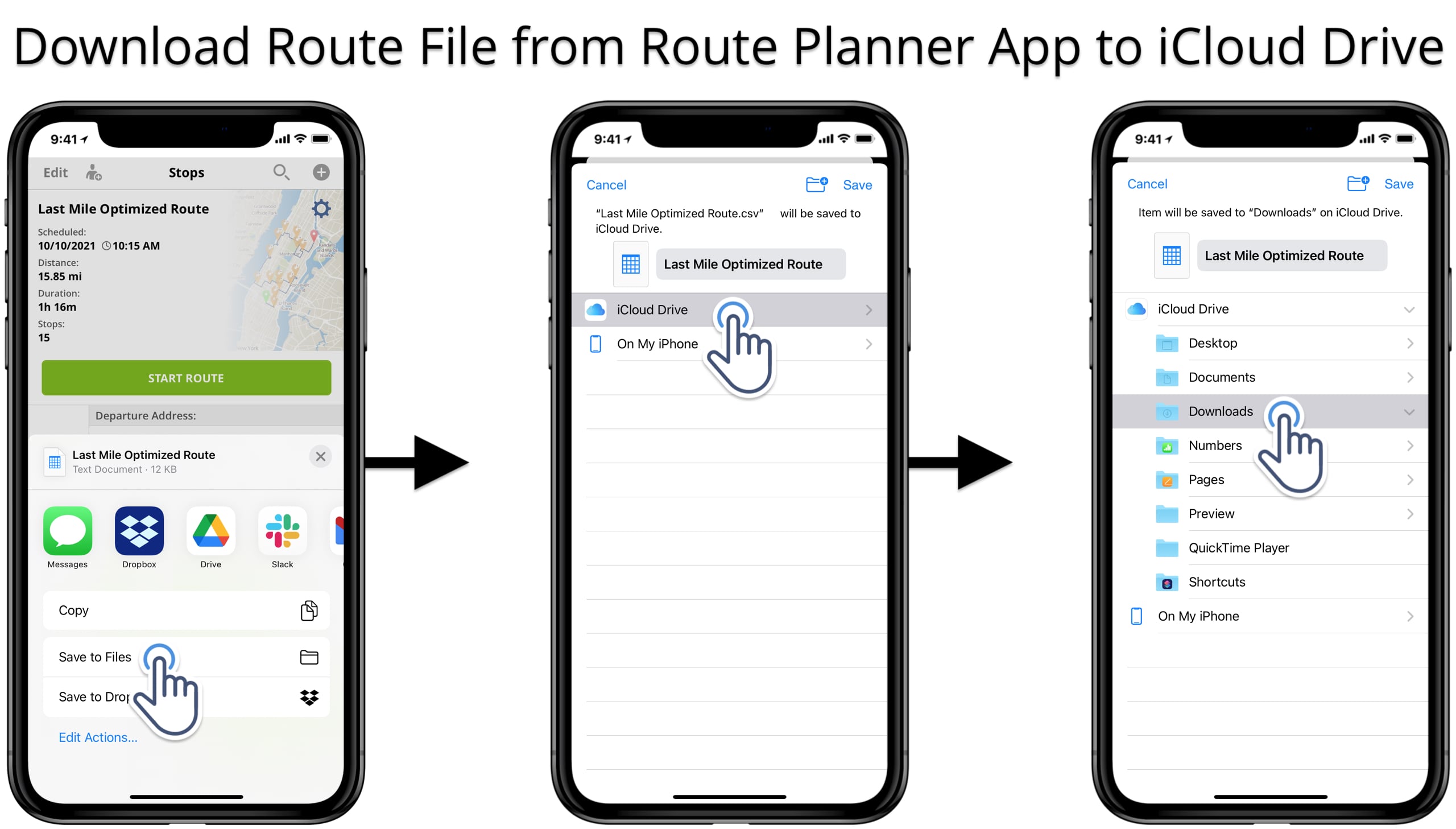 After that, you can find your downloaded route files and share or use them. Normally, go to the "Files" app on your iPhone or iPad. Next, go to the "Browse" tab and then select the "Downloads" folder.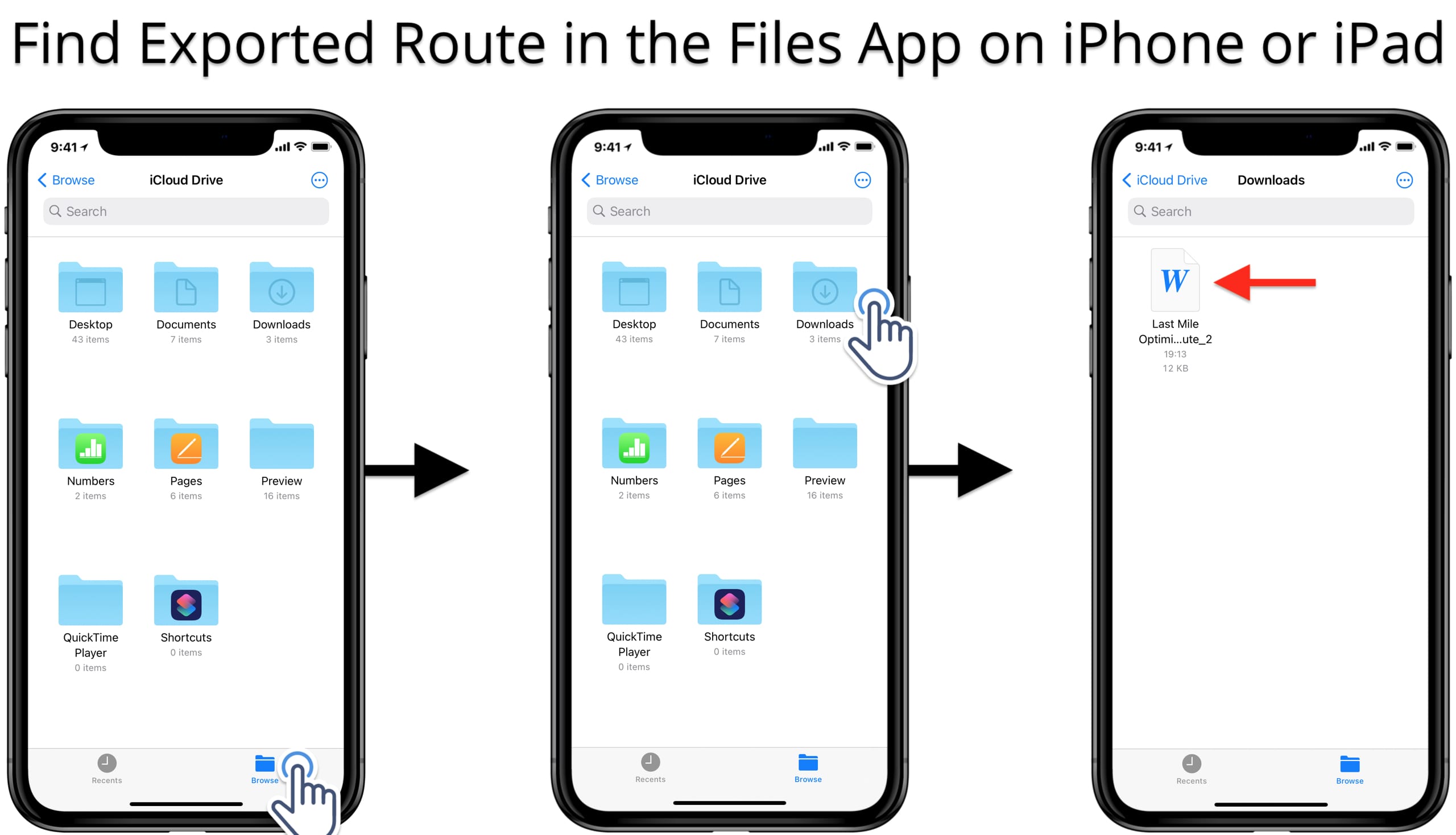 Export Route Planner Routes to Google Drive
To export a route to your Google Drive, select the Google Drive app when downloading a route. Next, select the folder where you want to place the route file and then tap on the "Save Here" button.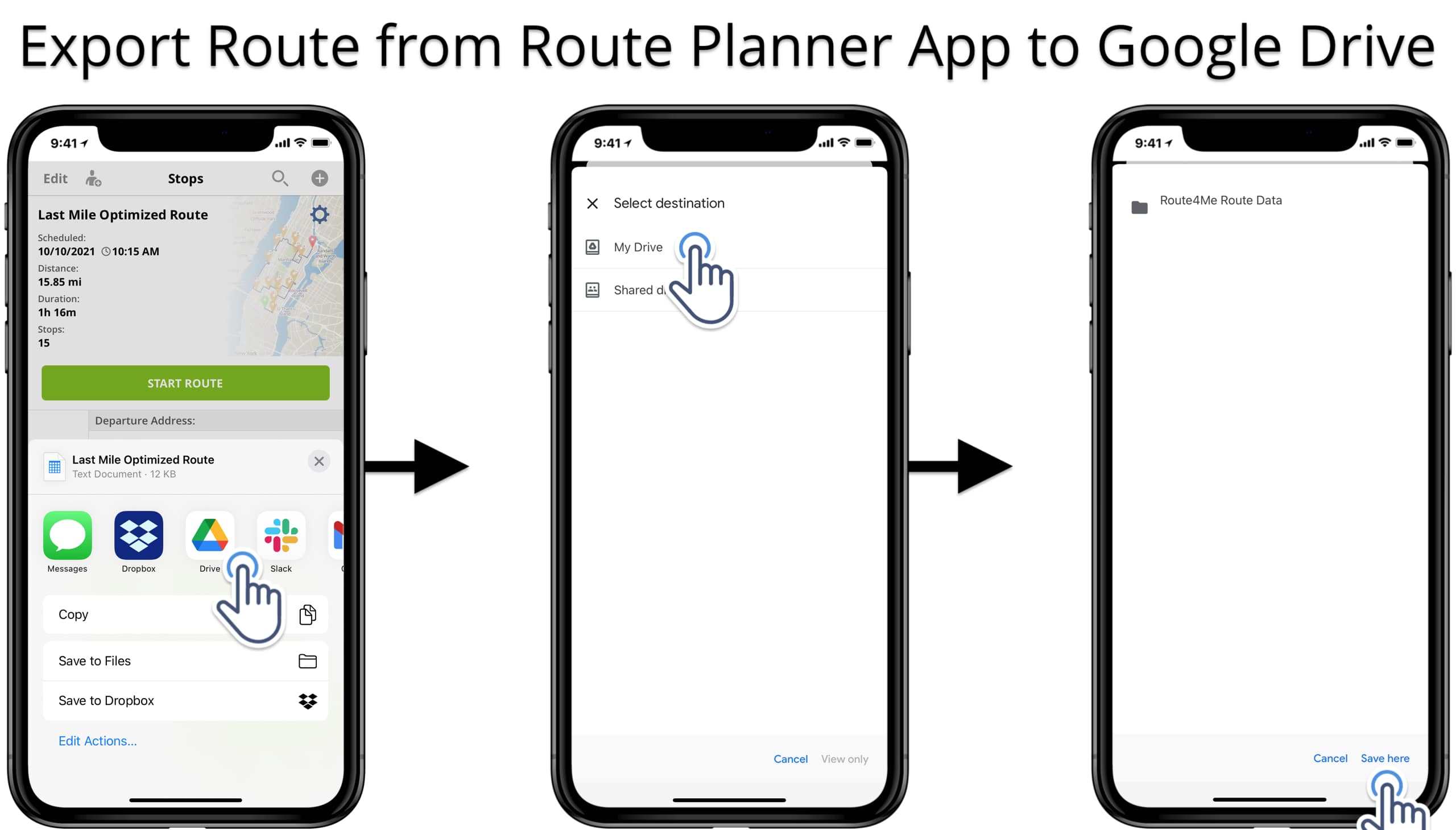 Share Route Planner Route Files via Slack
Furthermore, our route planner app also enables you to share your route files in such team collaboration apps as Slack. Specifically, select the Slack app when downloading a route and then send the route file in the preferred workspace and to the preferred Slack channel.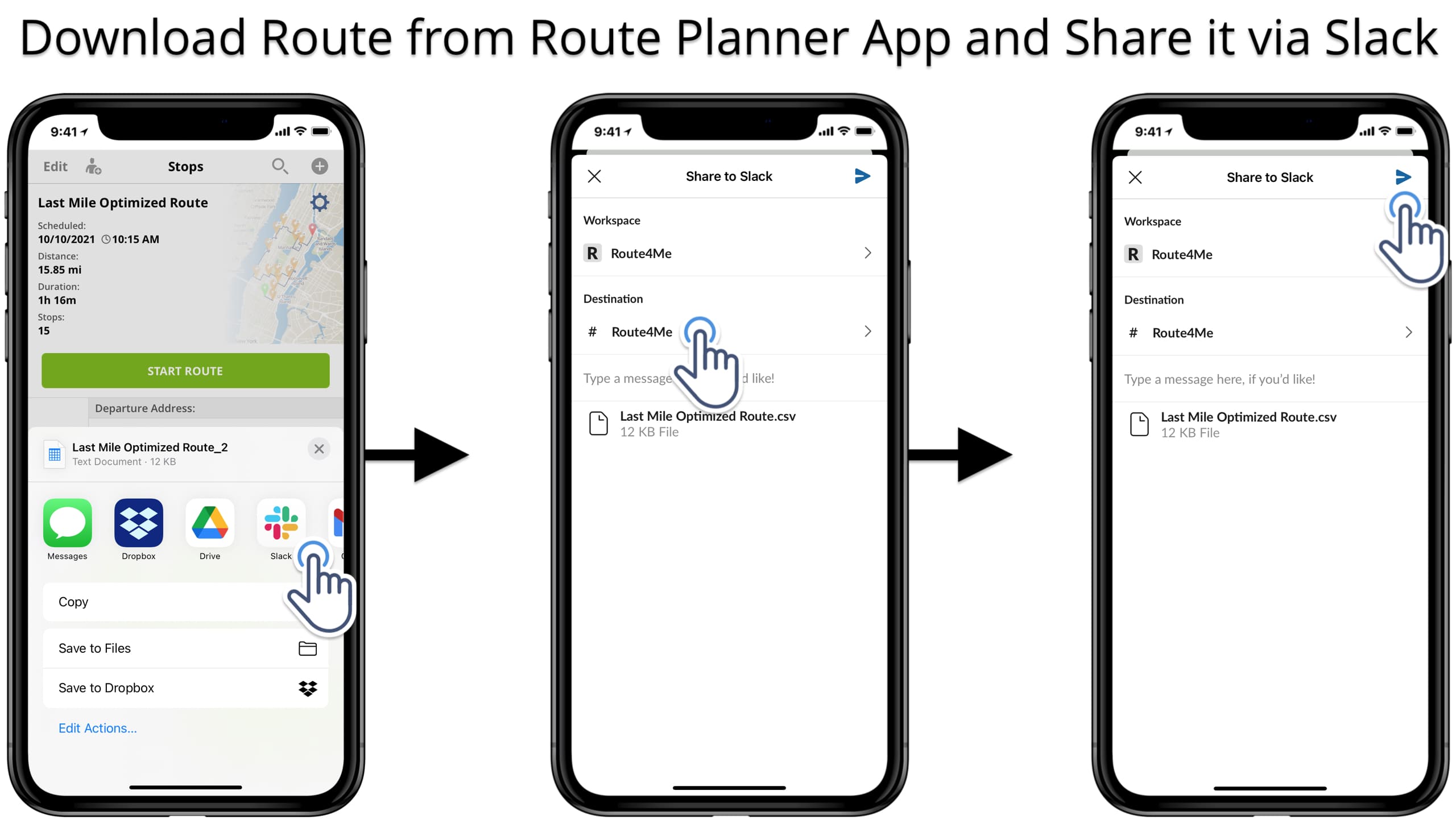 Send Route Planner Route Files in Gmail
Additionally, the app even allows you to send your route file via email. For example, select Gmail when downloading a route to send the given route file via email. Next, specify the email details and then tap on the send button in the top right corner of the screen.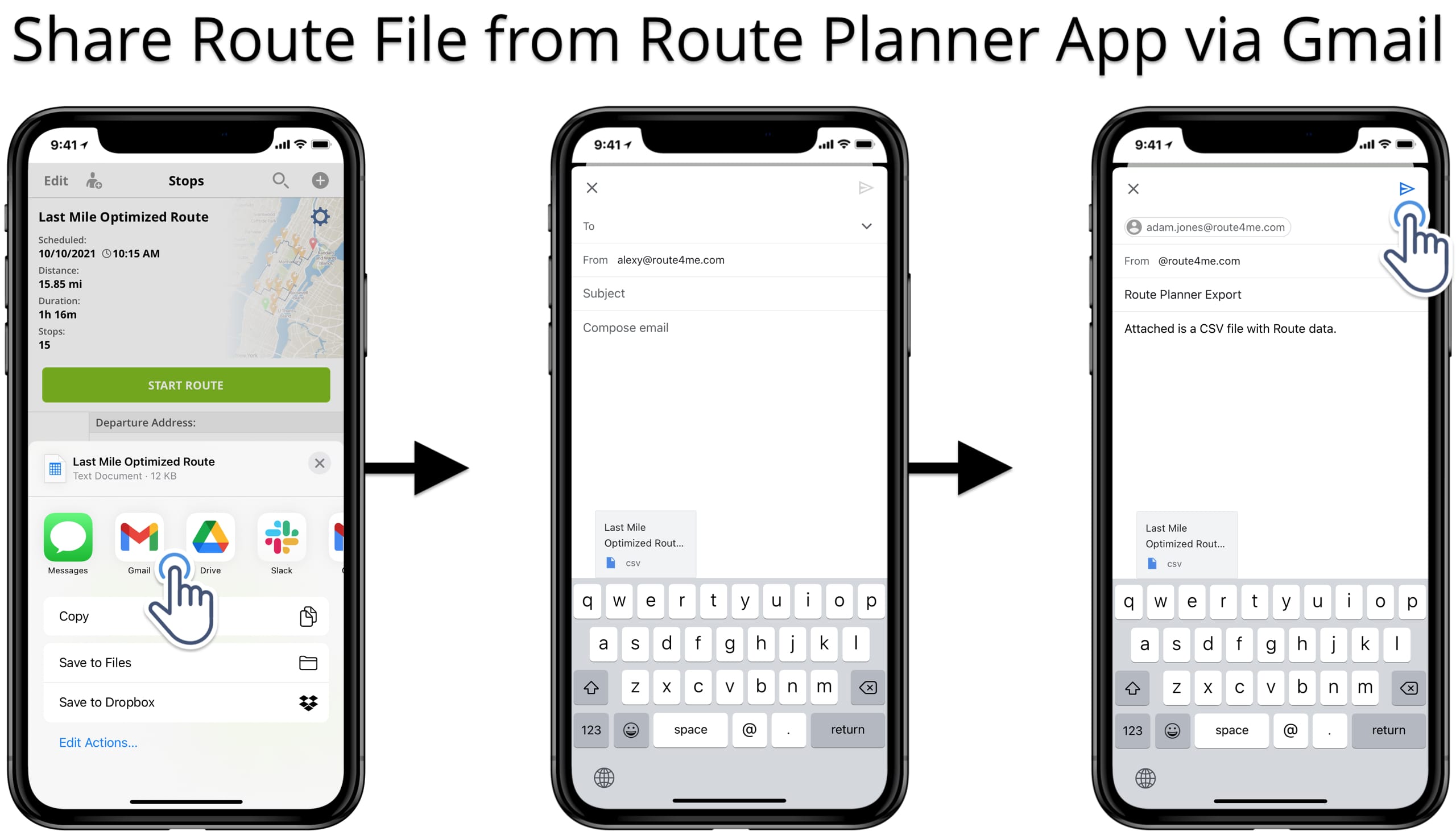 Visit Route4Me's Marketplace to Check out Various Modules and Add-Ons: