Pick Addresses from Map & Add to Routes – iPhone Route Planner
Route4Me's iPhone Route Planner is designed to make your routing operations and transactions as fast and flexible as possible, allowing you to effortlessly plan, optimize, and navigate routes of any complexity on the go. With Route4Me's multi-stop iOS route planner app, users can navigate their planned routes using the built-in voice-guided navigation or any third-party navigation app, including Apple Maps, Google Maps, Waze, etc. Moreover, Route4Me's iPhone app enables you to add addresses to your planned routes by picking any preferred location right from the map. Adding addresses from the interactive map to your planned routes enables you to get a visual overview of your customers' spatial arrangement, improve your routing patterns, and make your logistics transactions more strategical.
To add new addresses/destinations to a particular planned route right from the interactive map, first, open this route by going to "Routes" from the navigation menu and selecting the preferred route from your Routes List.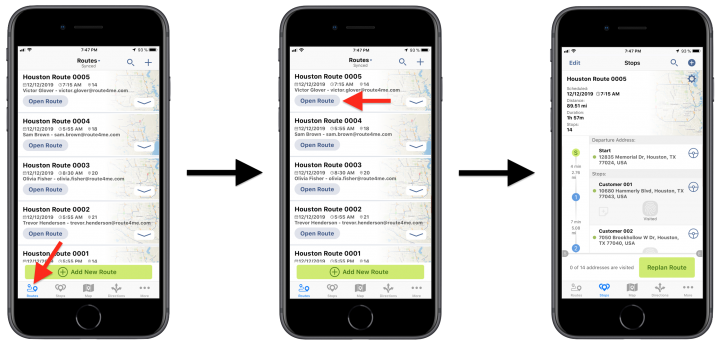 To open the selected route on the interactive map, tap on the mini-map of the route in the top right corner of the route's "Stops" screen.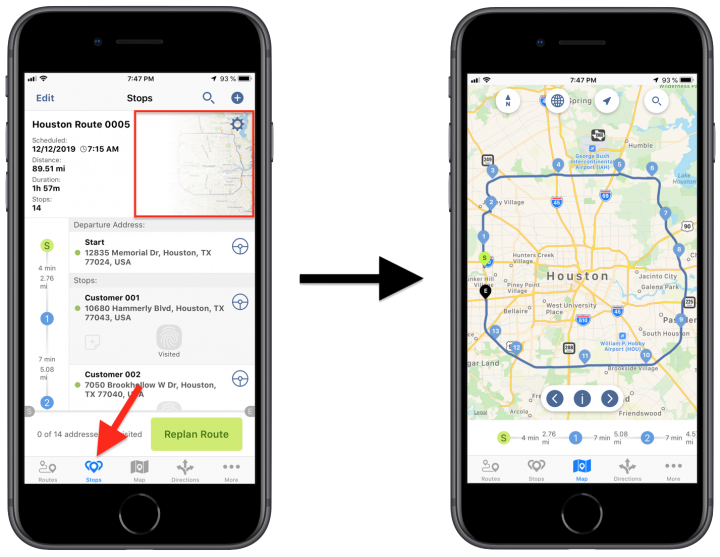 Next, zoom in on the area where the address that you want to add to the route is located and then tap and hold on the location that you want to add to the route as a destination. After that, the app picks the nearest valid street address located next to the selected spot on the map. When prompted, check the address that you are adding and then tap "Confirm" to proceed.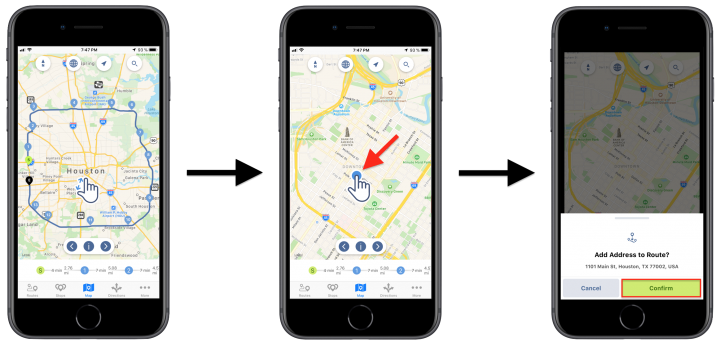 If the route is optimized as "End Anywhere," the newly added address is inserted as the "End" destination on the route. If the route is optimized as "Roundtrip," the newly added address is inserted into the route as the last stop before the "End" destination. To learn more about all optimization types, visit this page.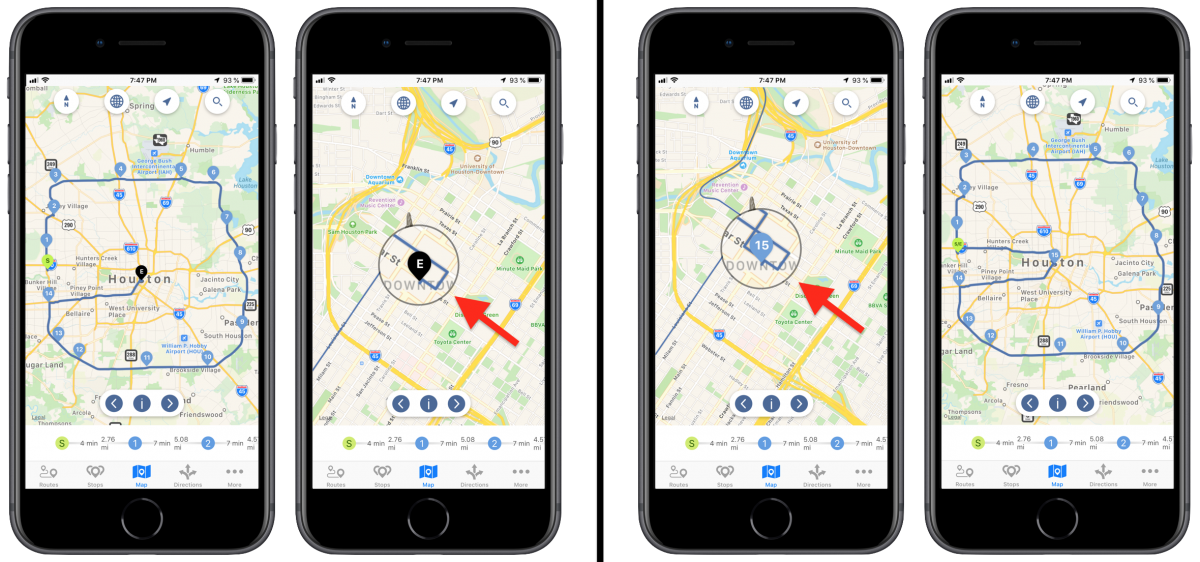 When adding a new address to a planned route, this address is added to the route as the last stop or the "End" destination on the route. To re-optimize the route and place the newly added addresses in the most optimal sequence, tap on the "Replan Route" button and then confirm when prompted.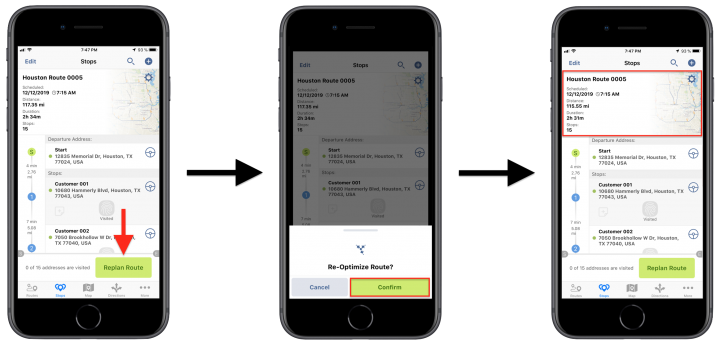 Once the route is re-optimized and the newly added addresses are placed on the most optimal positions based on the predefined optimization settings, the route's total time and distance can change (decrease) accordingly.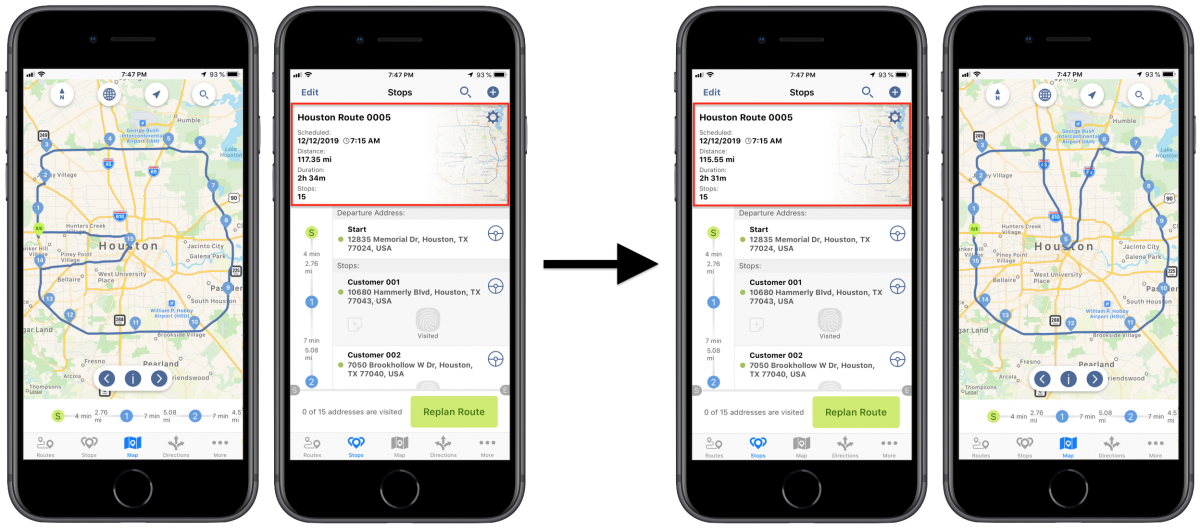 Route4Me provides near real-time data synchronization across all associated computer and mobile devices so that whenever you add new addresses to a particular route using Route4Me's iOS and Android mobile apps, this route can be automatically updated on the Route4Me Web Platform and vice versa.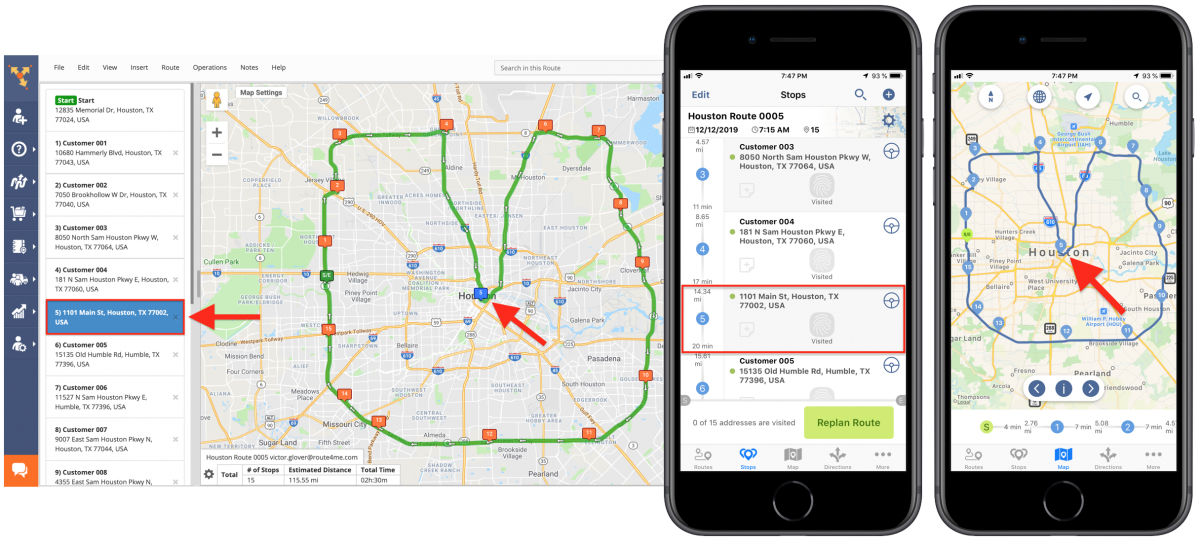 Visit Route4Me's Marketplace to Check out Associated Modules: