How to Automate Retail Distribution Route Planning
Since getting goods from suppliers or manufacturers to a warehouse or fulfillment center can be a repetitive logistics process with very few route variations, route automation for retail distribution is more than an attainable business goal – it's a quick and affordable time-saving solution.
The majority of wholesale distributors and retail distributors are up to speed with retail industry trends, such as automatic route planning. But do they know how to leverage it?
To automate route planning for retail distribution, you only need capable routing software and a few minutes to spare to plan and schedule your distribution routes. It couldn't be easier!
Table of Contents
What Is Retail Distribution?
Retail distribution is the process of transporting merchandise from a manufacturer (direct distribution), freight facility, or storage facility to a transportation hub, distribution center, fulfillment center, or brick and mortar store of a retailer or wholesaler. Aside from getting goods from point A to point B, retail distribution also encompasses backhauling, which implies getting merchandise from point B back to point A.
Usually, retail distribution is done with the help of large commercial motor vehicles such as trucks. Among the challenges that retail distributors have to face, fast and cost-efficient back-haul transportation and truck routing can be the most difficult to tackle.
Truck Routing Benefits for Retail Distribution
Route optimization software for truck routing can help solve the issue of inefficient routes for commercial vehicles. With truck routing software, distributors and suppliers can:
Cut costs on fuel and reduce windshield time
Plan the shortest, fastest, and most cost-efficient truck routes
Schedule routes and automate route planning
Track truckers on a live map
Improve collaboration and communication
Get an overview of the entire distribution operation with a few clicks
Track relevant logistics KPIs and metrics
Automate Retail Distribution Route Planning in 8 Simple Steps
Assuming you've insourced your retail distribution processes already, here's how you can use the Route4Me Route Planner to automate route planning for repetitive distribution orders:
1. Create Profiles for Your Commercial Fleet Vehicles
To ensure your commercial motor vehicles (CMVs) drive only on commercially-approved roads, you have to create a profile for each truck in your commercial fleet. The Route4Me truck routing software allows you to add your trucks one by one, or, if you're using a telematics solution, import vehicle profiles in bulk.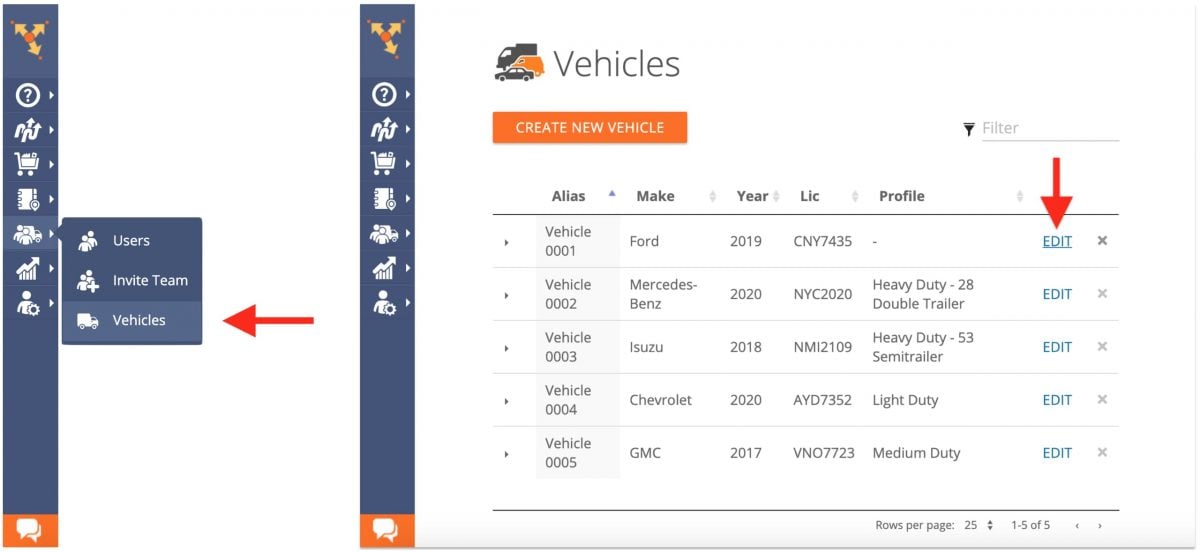 2. Import Addresses from Customer Management Platforms
Next, sync your digital address book with the Route4Me truck routing software. At this stage, you can choose from a variety of methods to import addresses, including: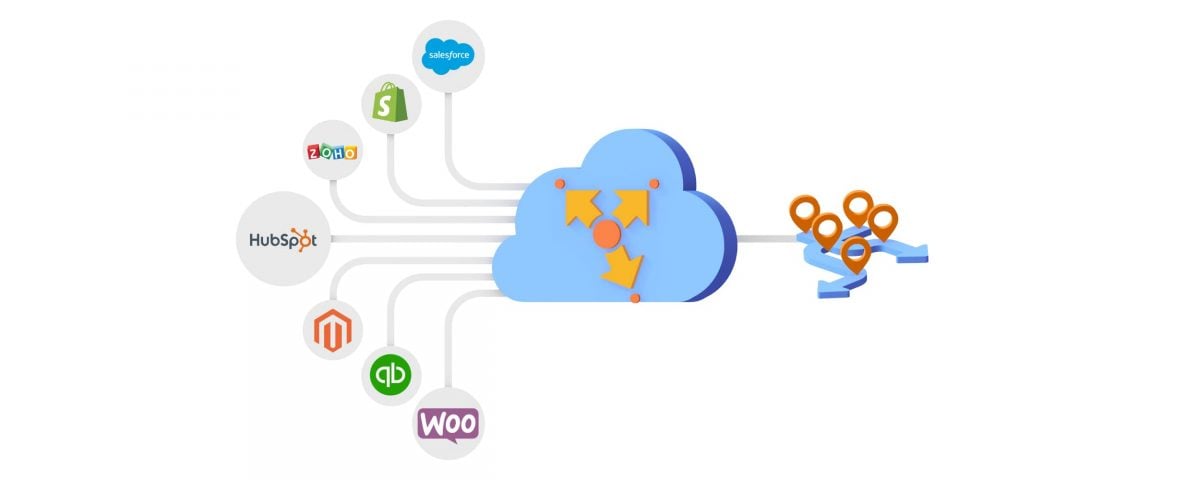 3. Input Route Optimization Constraints for Your Retail Distribution Routes
Now that you've imported all of your addresses, you can start mapping them into optimized truck routes. To ensure the routes are optimized in accordance with your business's particularities, Route4Me offers you the possibility to factor in optimization constraints and route planning business rules, such as: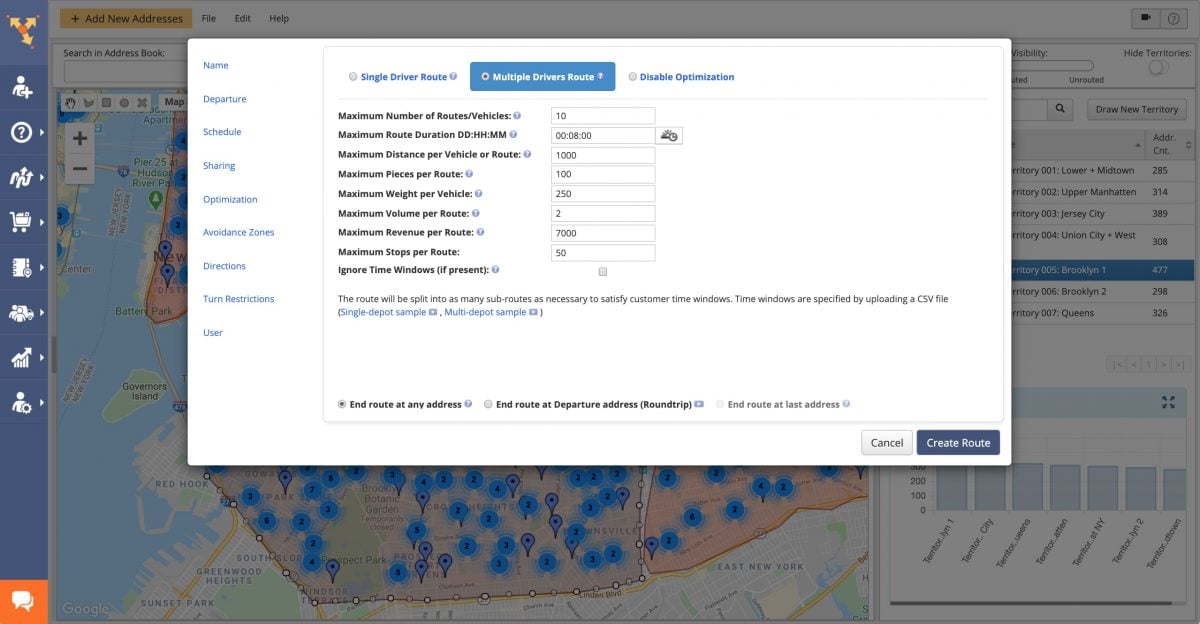 4. Automatically Create Optimized Retail Distribution Routes
After assuring you've added all the necessary route optimization constraints to the truck routing software, you can hit a button, and you'll get the shortest and fastest routes fine-tuned to your business needs. But before that, you must assign one of your trucks to the route. This will ensure that the route will contain only commercially-approved roads. Plus, when doing so, you will be 100% sure that you will not violate any traffic regulations and weight or height limits while navigating the route.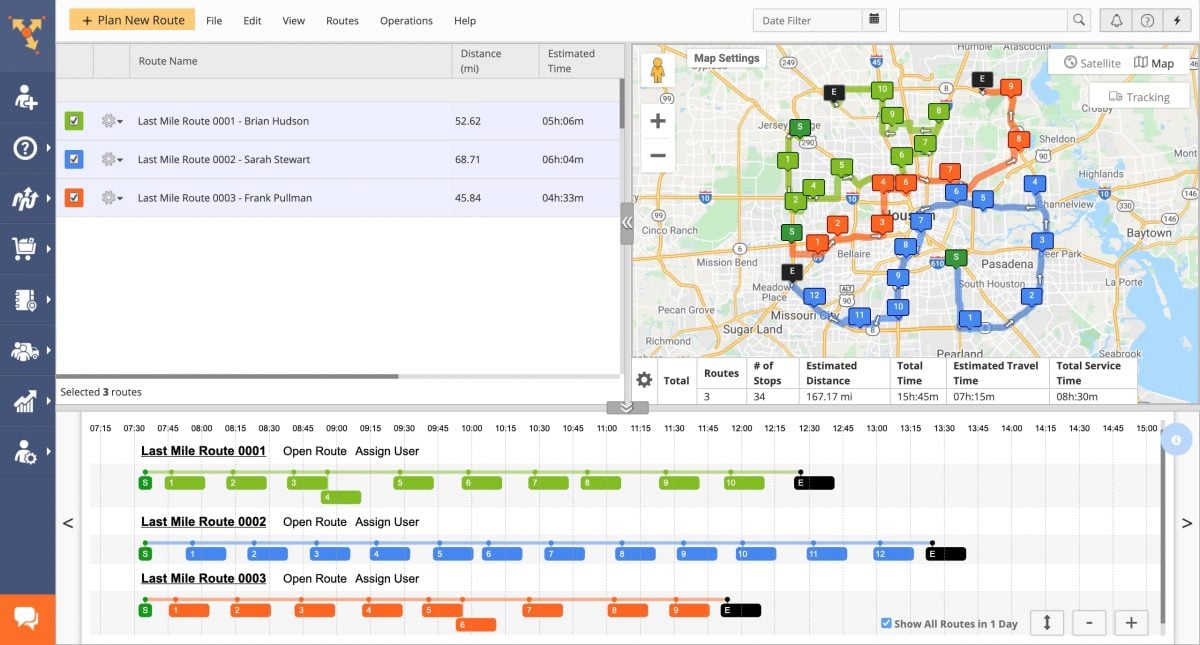 5. Schedule Retail Distribution Optimized Routes
In case your routes don't change much, you can use the optimized routes planned at the previous step as route templates. When doing so, you'll save time – and a lot of it. A template route will allow you to skip directly to step 6: no more address mapping, no more fine-tuning. You only do it once, and the template will replicate all of your settings.
Next, you can create recurring, flexible schedules for each template route as necessary – odd days, even days, daily, weekly, etc.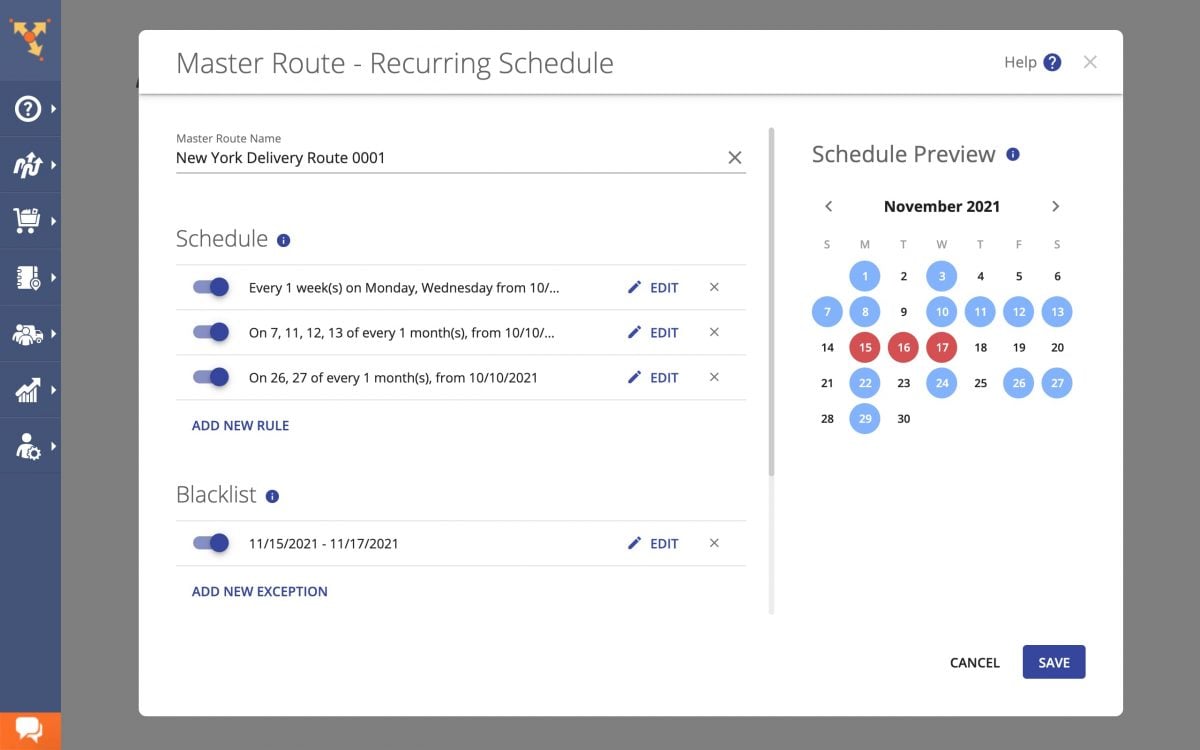 6. Dispatch Scheduled Routes to Your Drivers' Route Planner Apps with Truck GPS Navigation
As soon as you've scheduled your recurring routes, you can assign drivers to them. When you assign one of your distribution drivers to a planned route, the driver will be able to access and navigate that route on the Route4Me iOS or Android route planner app.
The route planner app has built-in voice-guided navigation for trucks, which helps drivers stay safe and focused on the road.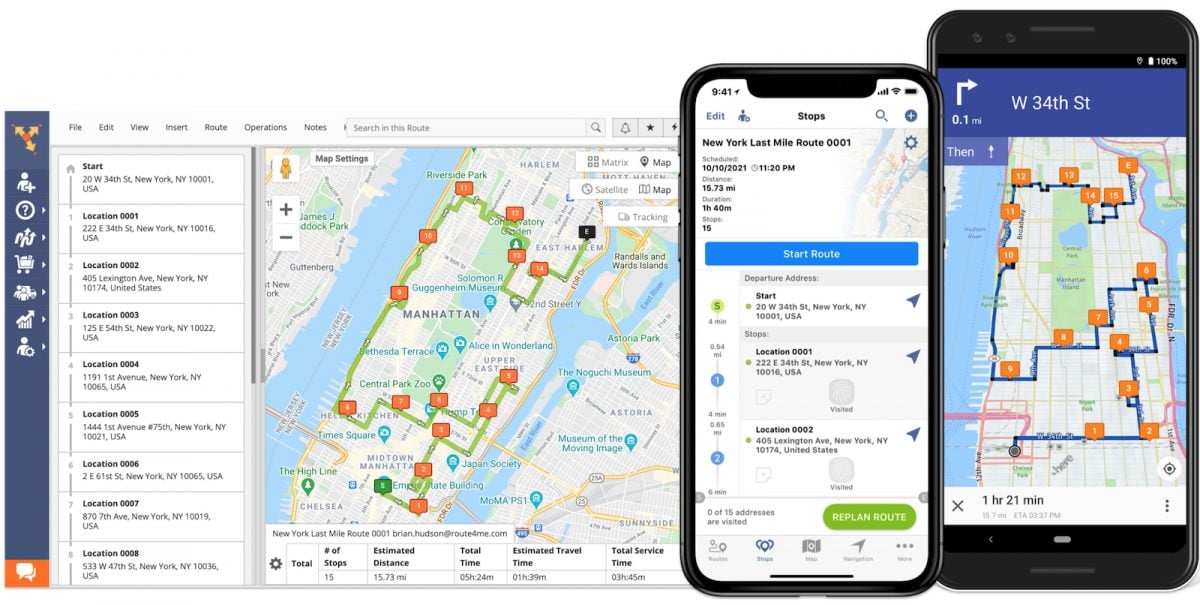 7. Track Truck Drivers on a Live Map
Once the designated truck drivers start navigating the route, you can track their whereabouts in near real-time on a live map. Moreover, you can choose to either track drivers simultaneously as they are driving or after they've completed the routes, in a GPS tracking video.
However, if you don't have the time to keep an eye on drivers' route progress at all times, the Route4Me truck routing software helps you detect unauthorized route detections dynamically. And, every time one of your drivers takes an unnecessary route detour and wastes fuel and time, you will be immediately notified.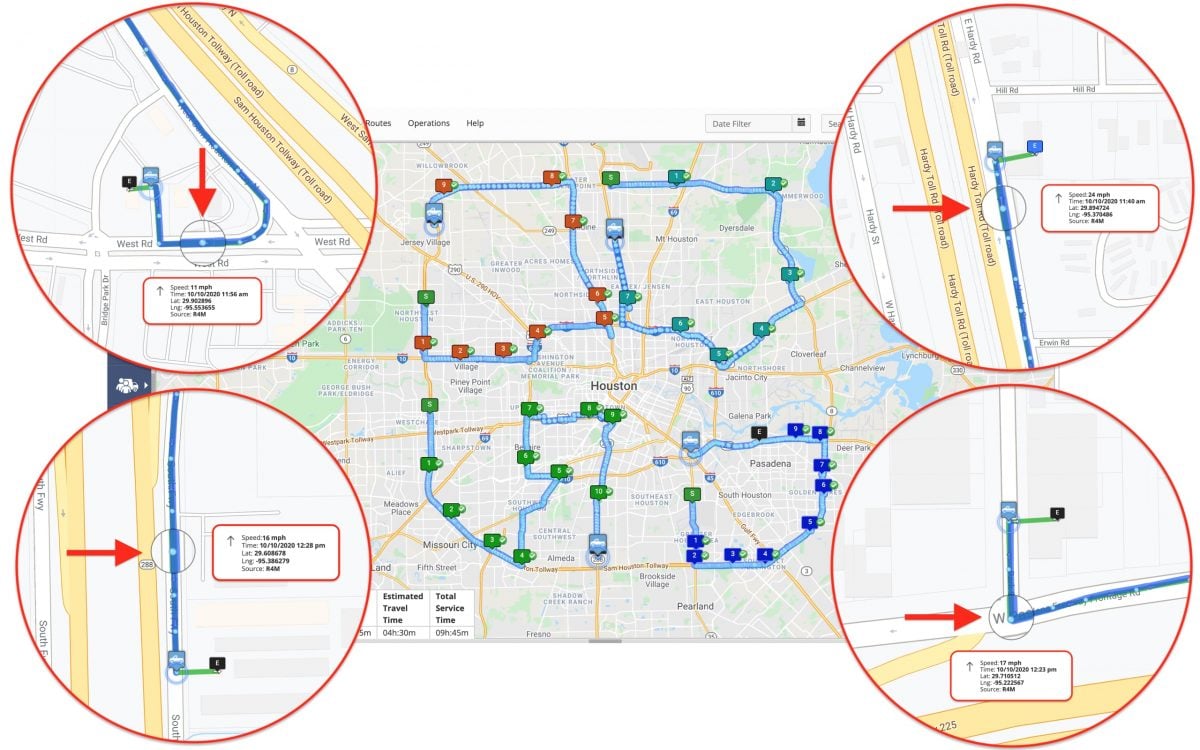 8. Analyze Logistics KPIs and Truck Driver Performance Metrics
Finally, all that's left to do is to track the result of your efforts. On Route4Me's report dashboard, you can analyze relevant logistics KPIs and driver performance metrics that give you valuable insights into your retail distribution operation's efficiency. The reports will help you compare metrics, such as:
Service time
The total number of planned routes
Planned vs actual driven miles
And more!
If you're ready to put route planning for retail distribution on autopilot and give automation a try, sign up for the 7-day free trial today – NO credit card required!