How to Plan, Dispatch, and Navigate Routes on Route Planner
When your business has to route more than 10 addresses per day, runs a logistics-intense operation, has multiple drivers and depots, and is looking to cut costs, save time, and make more money, you need a route planner for multiple stops. Route planners, routing software, or route optimization software solutions have the same goal – to help you plan and optimize the fastest and shortest routes with hundreds of thousands of addresses in seconds.
Route4Me's routing software will help you deliver more with less. By optimizing your multiple-stop routes, you will be able to make the most of your fleet capacity, workforce, time, and money.
Table of Contents
How to Plan Routes With the Route4Me Route Planner
Route4Me route planner is as easy to use as Google Maps. Uploading addresses on the multi stop route planner is even easier than manually typing your destinations on Google Maps. A capable route planner for logistics, delivery, and field service operations will help you improve operational efficiency and service more addresses in less time with fewer drivers and vehicles.
Here's how you can plan a multi stop route on the Route4Me route planner:
1. Select Address Import Method
As opposed to Google Maps, the Route4Me multi stop route planner offers you the flexibility to use multiple methods to import addresses. You can choose to plan multi stop routes with addresses uploaded by copy-pasting or importing data from:

2. Specify Optimization Parameters
After uploading your drop off locations into the route planner, you need to set optimization constraints as per your business needs. The Route4Me multi-stop route planner allows you to plan routes with limited: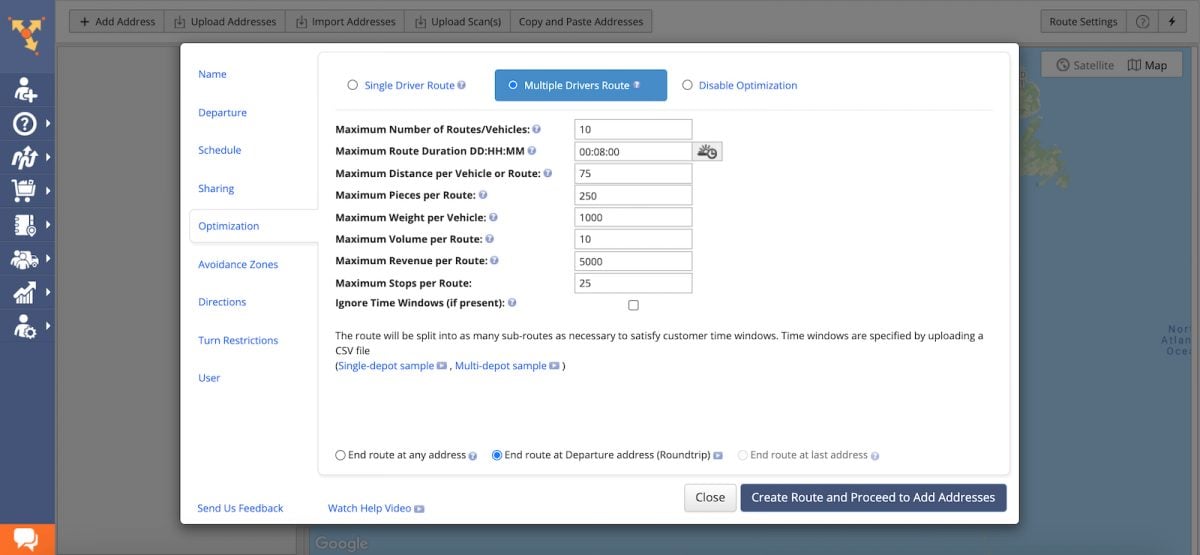 3. Input Your Addresses into the Route Planner
Next, select the addresses you want to route. The Route4Me route planner doesn't limit the number of stops you can include into a route. You can plan routes with as many shipping addresses and drop-off locations as you want. you can either choose to route the addresses uploaded during step one, or you can drop pins on a map to select different locations.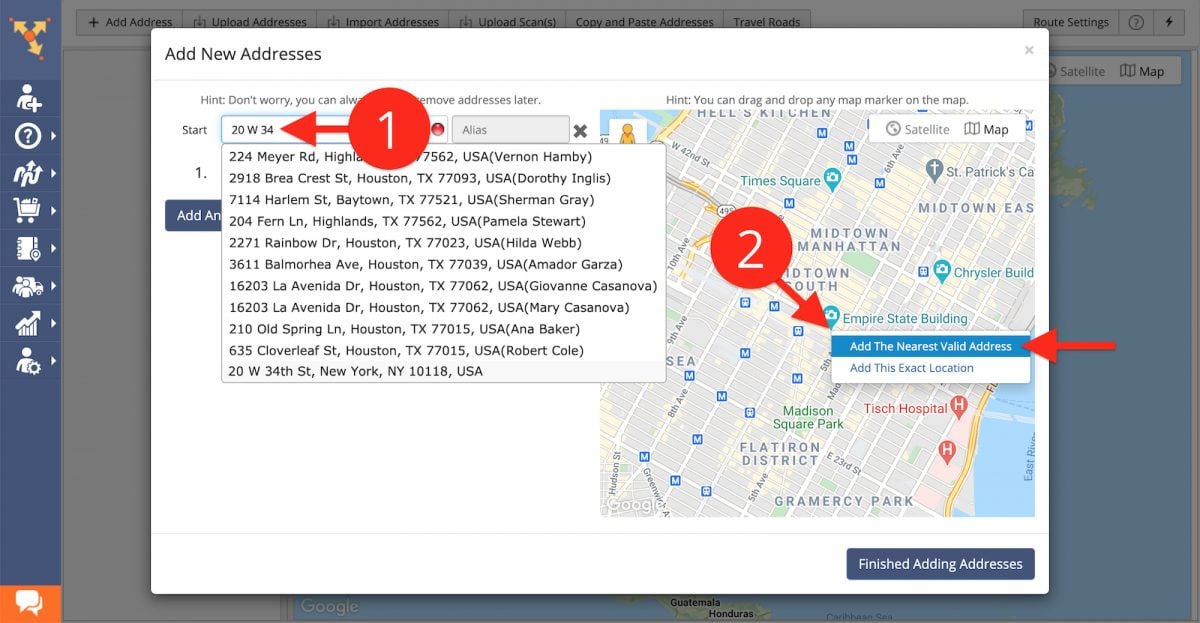 4. See Addresses on the Map and Optimize the Route
As soon as will you finish adding your addresses, you will get a visual overview of the route stops on the map. At this point, all you have to do is to optimize your route and get the most time-effective and cost-efficient way to service all your stops.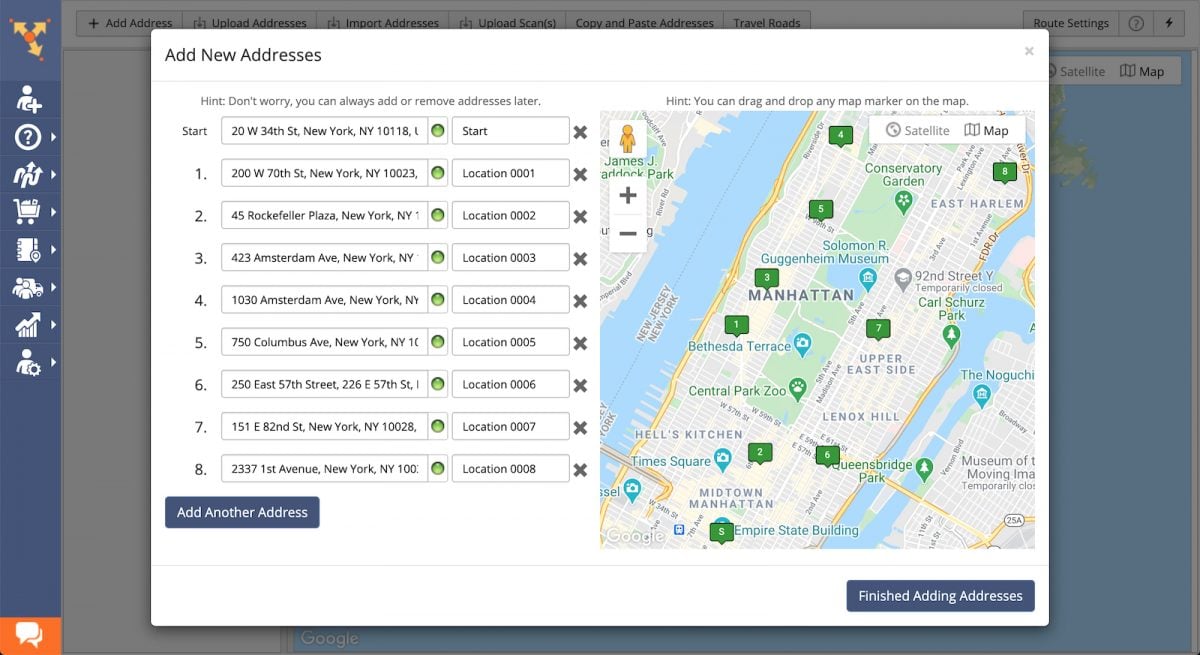 5. Dispatch Route4Me Routes to Route Planner Apps
After planning and optimizing your multi stop route, the Route4Me route planner allows you to send it straight to your drivers' phones. Your drivers can install the Route4Me iOS or Android route planner apps for free and then navigate the planned routes using the in-app voice GPS navigation. On the mobile route planner, your field service reps and drivers can mark stops as visited and departed, collect proof of delivery, and more.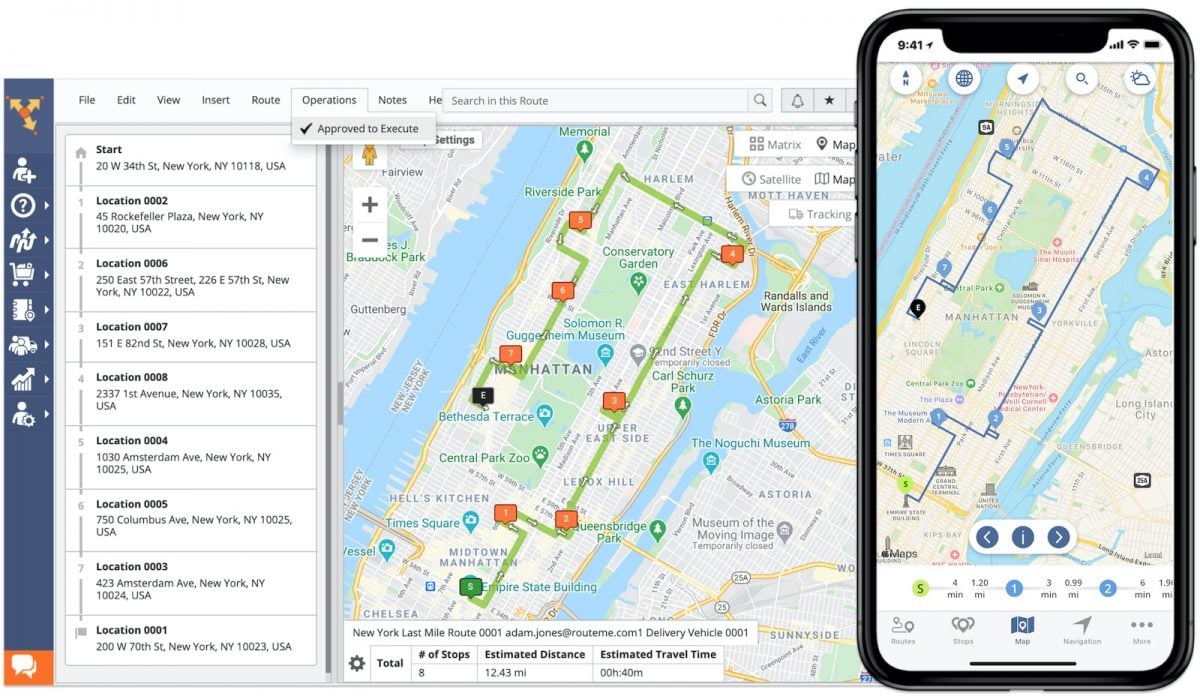 6. Navigate the Route Using the In-App GPS Navigation
Once your drivers or field sales reps receive their assigned routes, they can navigate them with the in-app GPS navigation. When using the Route4Me route planner app navigation, the stops will be sequenced in real-time as per traffic and other conditions at the time the navigation starts.