Google SSO – iPhone Route Planner Sign-In
Route4Me's iPhone Route Planner is designed to make your routing operations and field transactions as efficient and flexible as possible, allowing you to effortlessly plan, optimize, and navigate routes of any complexity on the go, create and manage users, generate orders, and much more. For convenience purposes, Route4Me route optimization software allows you to use Google Single Sign-On on iOS for registering a new Route4Me account, as well as for signing into your existing account. Thus, you can frictionlessly register for an account in a simple, fast, and more refined sign-up process with minimal data input. Moreover, with one-click access to the Route4Me route planning app, you will not have to remember annoying passwords – while having the bulletproof security of Google's world-class safety infrastructure. The amount of time saved on logging in might seem rather small, but all of the time that is normally spent on finding and signing into different applications may add up. In addition to the top-level security, single sign-on also helps to minimize the time your team of delivery drivers, field sales reps, field service technicians, and other field employees on registering their own accounts and dealing with password-related issues since they only need to remember and enter a single set of credentials.
Registering for a New Route4Me Account Using Google-Based Single Sign-On
To register for a new Route4Me Mobile account using Google-based single sign-on, first, tap on the Sign In button on the main sign-in screen. Next, tap on the Sign In with Google button and then tap Continue when prompted.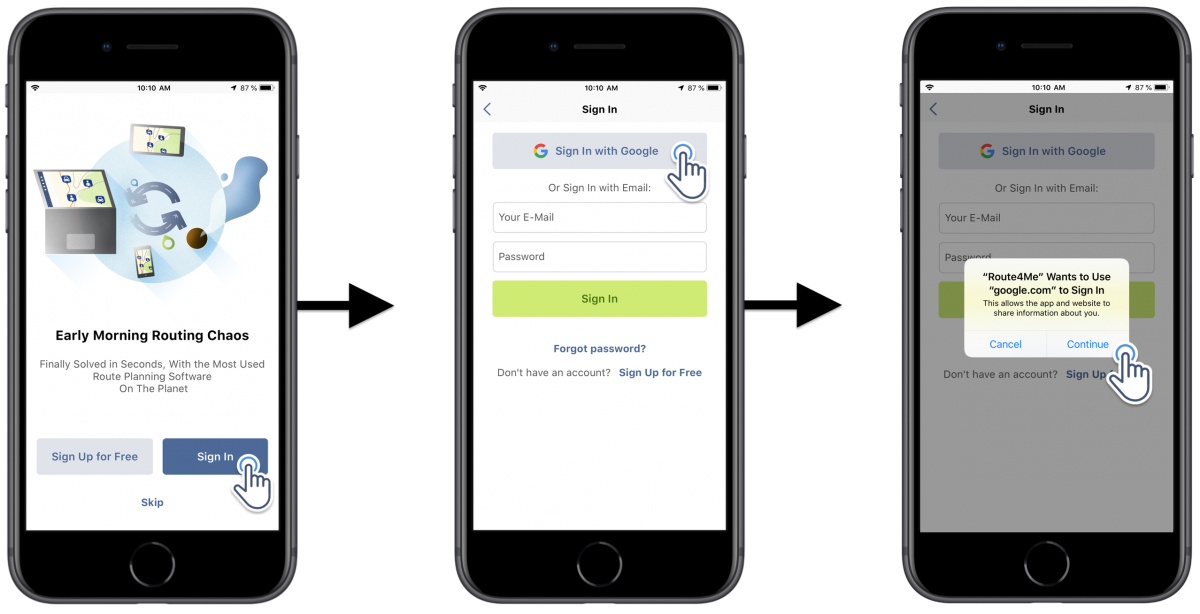 Next, select the Google Account which you want to use for registering a new Route4Me account and then sing into this Google Account accordingly.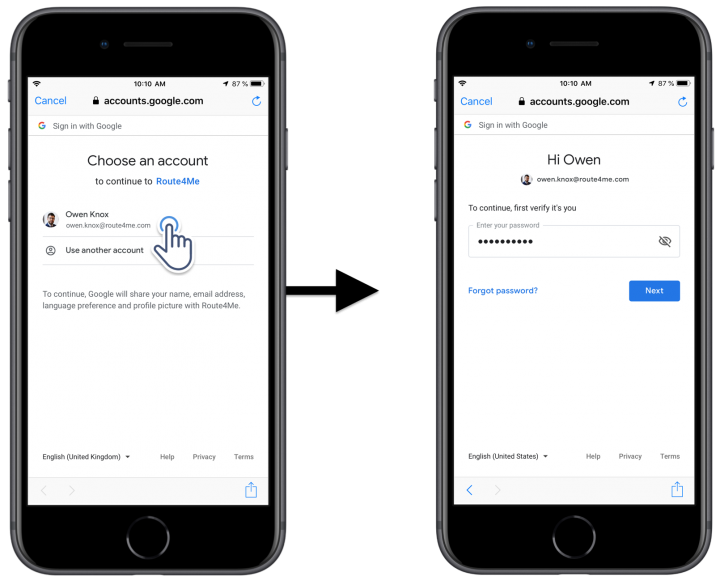 Alternatively, tap on Use Another Account to register with the Google Account that is not on the list.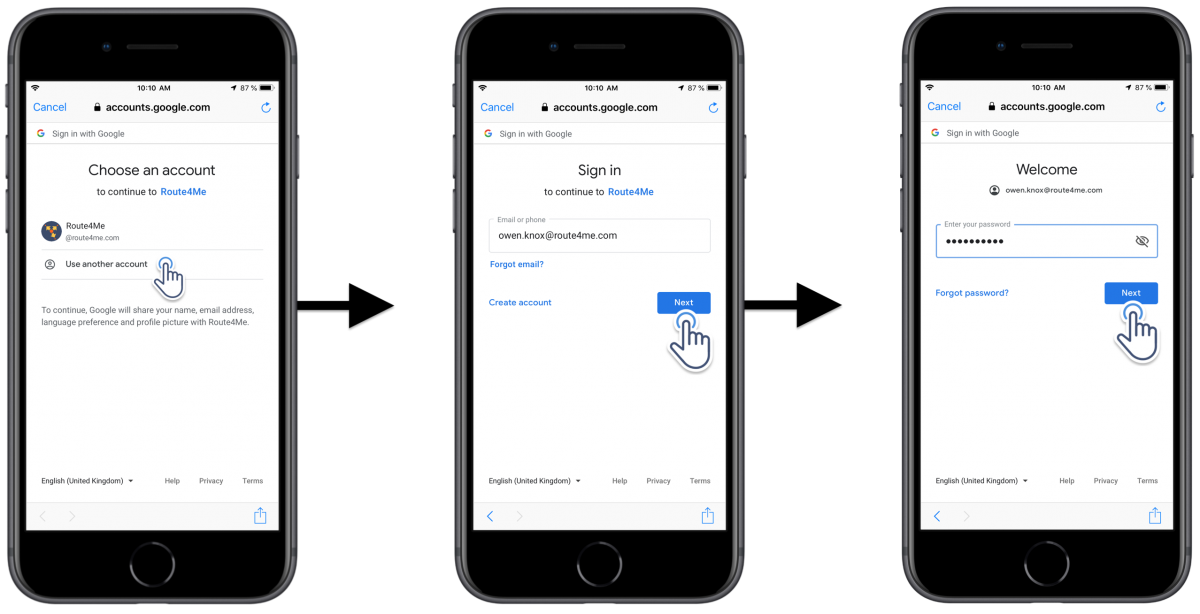 After that, select the industry of your business activities, your role within your business or organization to customize your app experience, and the approximate number of employees in your company or organization. To finish, tap on the Confirm button accordingly. Once registered, you will get a free of charge and any other obligations 7-day test-drive trial (with 10 free route optimizations). To upgrade your Route4Me Mobile subscription, tap on the Upgrade button accordingly.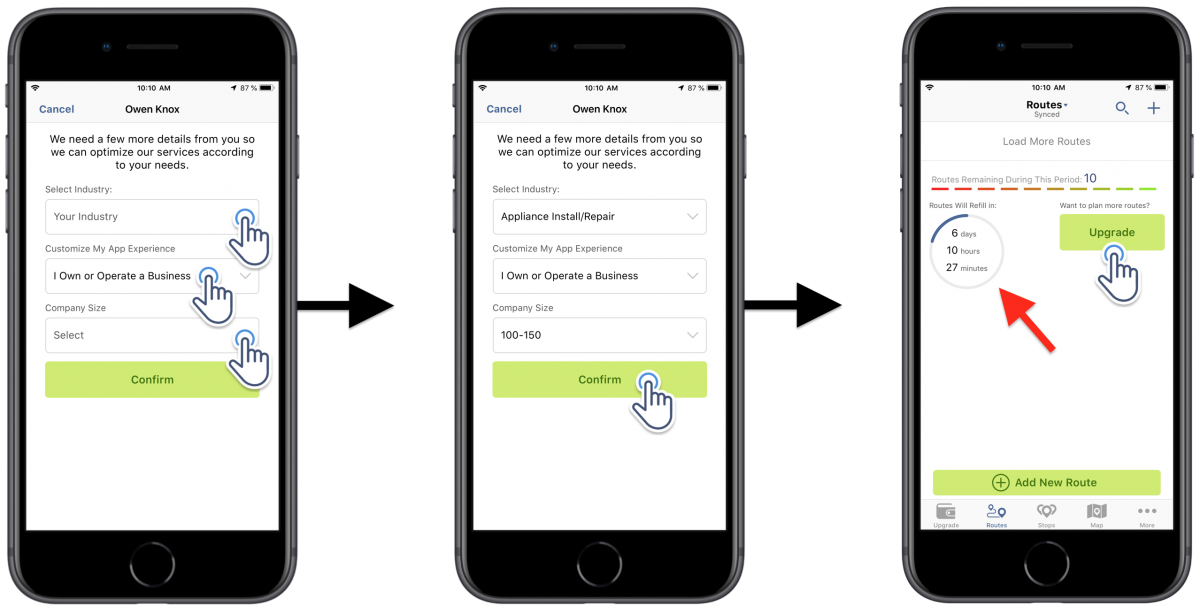 Next, tap on the preferred subscription package, go over the details of the selected subscription and then tap on the Subscribe button to purchase the selected plan through the App Store or iTunes. NOTE: When you purchase a Route4Me Mobile subscription through the App Store or iTunes, this subscription will be linked to the used Apple account and this Apple account will be billed accordingly. For maximum convenience, you can use the purchased Route4Me Mobile subscription from any other iOS or Android device by logging into the app using your Route4Me account credentials.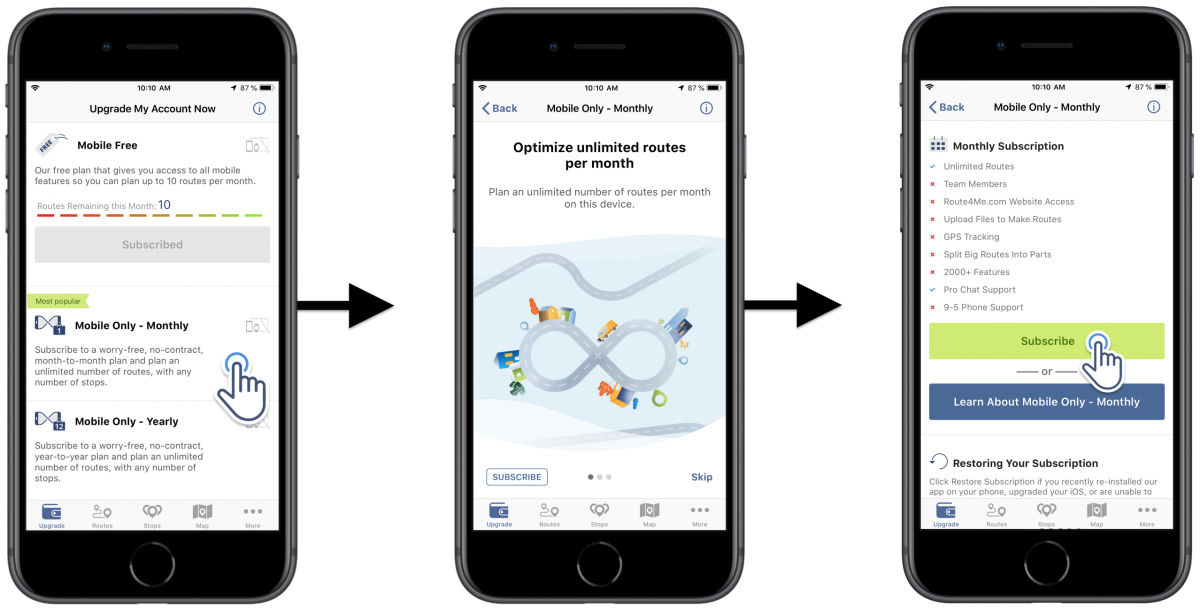 Signing Into Your Route4Me iPhone App Using Google Single Sign-On on iOS
When you register a new Route4Me account using Google single sign-on, this Route4Me account is linked to the used Google Account and you can log into your Route4Me account using only the associated Google Account. To do so, tap on Sign In with Google on the main sign-in page and then select the Google Account that you want to log in with. If you want to create a dedicated password for your Route4Me account so that you can log in with your email and password (without Google single sign-on), you need to reset your password.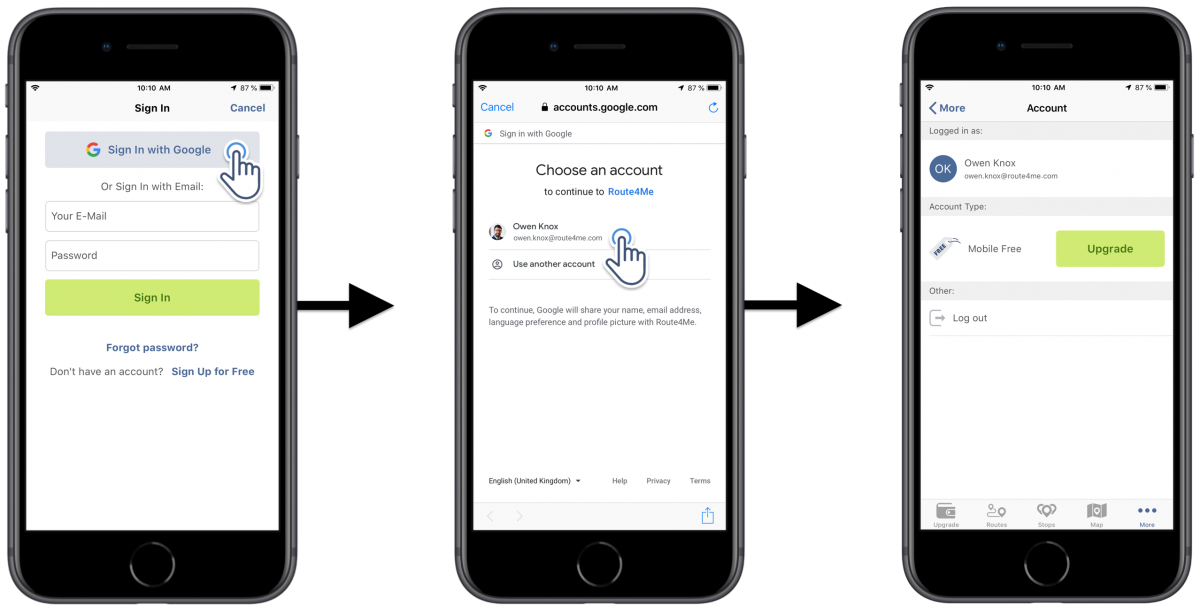 Visit Route4Me's Marketplace to Check out Various Modules and Add-Ons: