Create Orders – iPhone Route Planner App
Route4Me's iPhone Route Planner is designed to make your routing operations and transactions as fast and flexible as possible, allowing you to effortlessly plan, optimize, and navigate routes of any complexity on the go. Route4Me's software is compatible with such e-commerce platforms as Shopify, Magento, WooCommerce, bigCommerce, osCommerce, Squarespace, Volusion and other resources that are widely used by many businesses for supporting their e-commerce sites (learn more). With Route4Me, you can import orders from the preferred e-commerce platform and then use them for planning routes on Route4Me's Android and iOS mobile apps. Alternatively, you and your team members can create new orders using Route4Me's mobile apps when out in the field, and instantly synchronize them across all associated computer and mobile devices in near real-time.
To create new orders using your Route4Me iPhone app, first, go to "More" from the navigation menu and then go to "Orders" to open the list of all orders associated with your Route4Me account.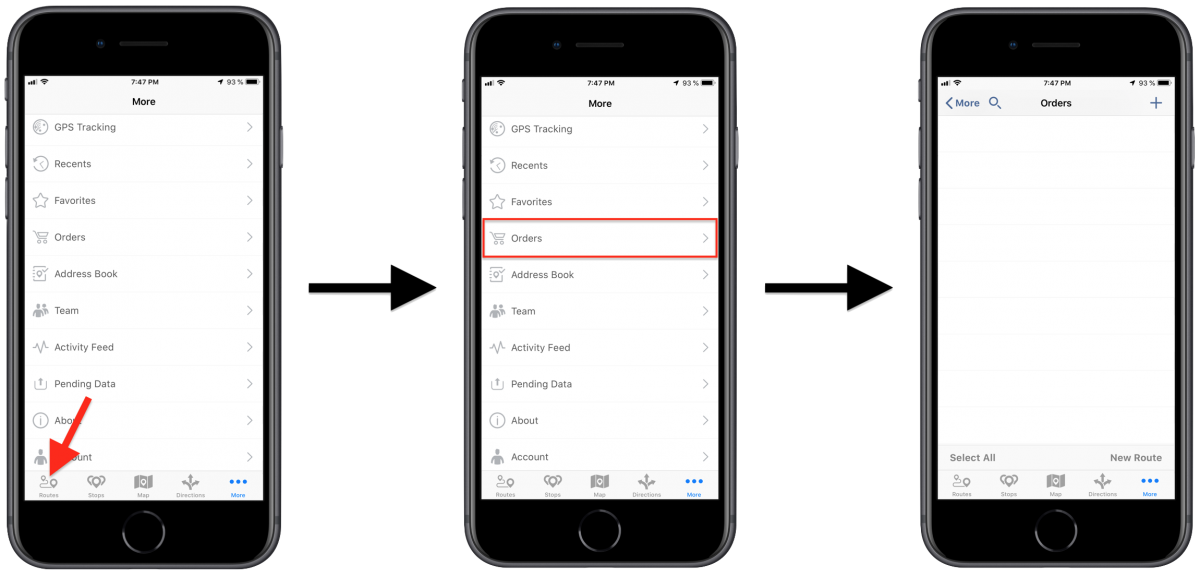 After that, to create a new order, first, tap on the plus icon in the top right corner of the screen and then schedule the new order for any preferred date using the calendar.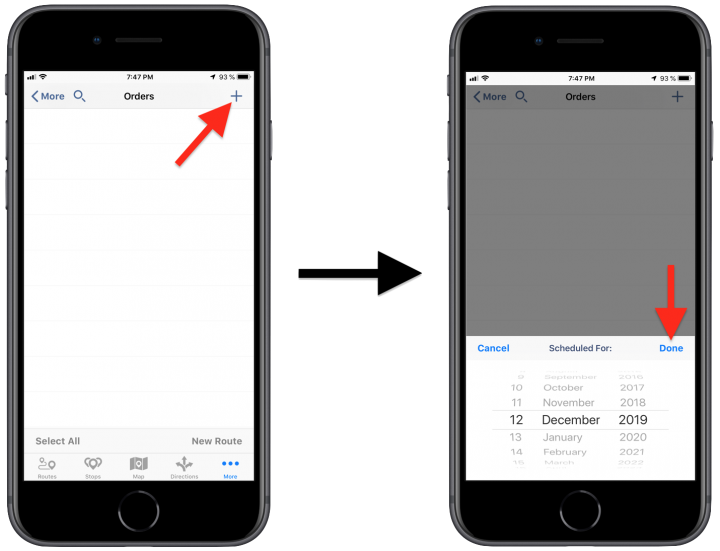 Next, to add the order's address, in the "Address" section, input the full or partial address of the order into the corresponding field and then select one of the suggested geocoded and validated variants accordingly.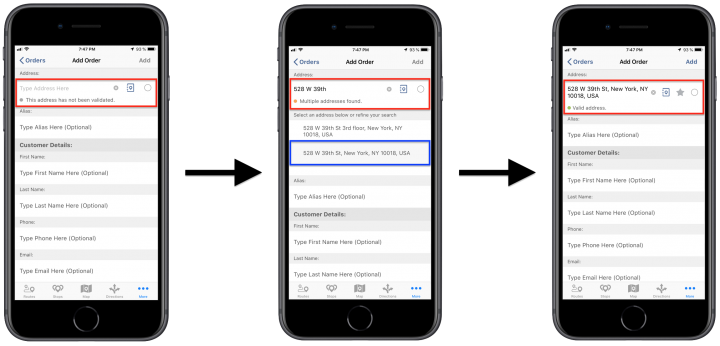 After that, add an alias for the order and then use the corresponding fields to fill out the contact details of the prospect associated with this order.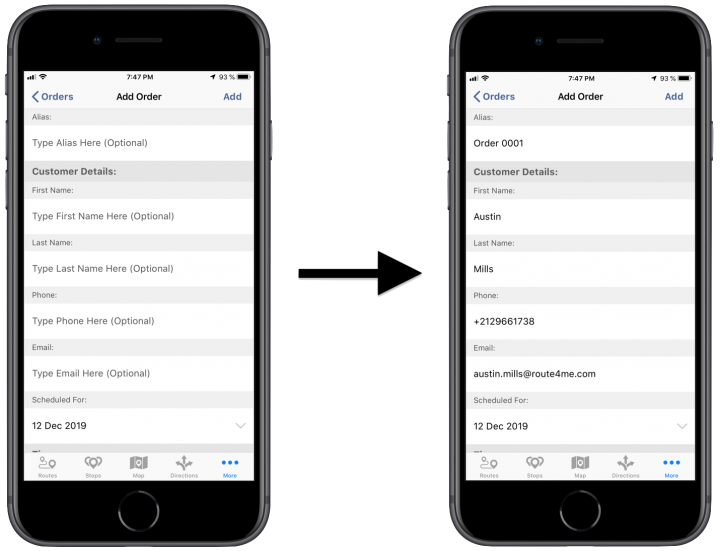 In the "Time" section, you can select the time zone in which the order is located, as well as define the preferred service time for the order. You can learn more about Route4Me's Service Times here.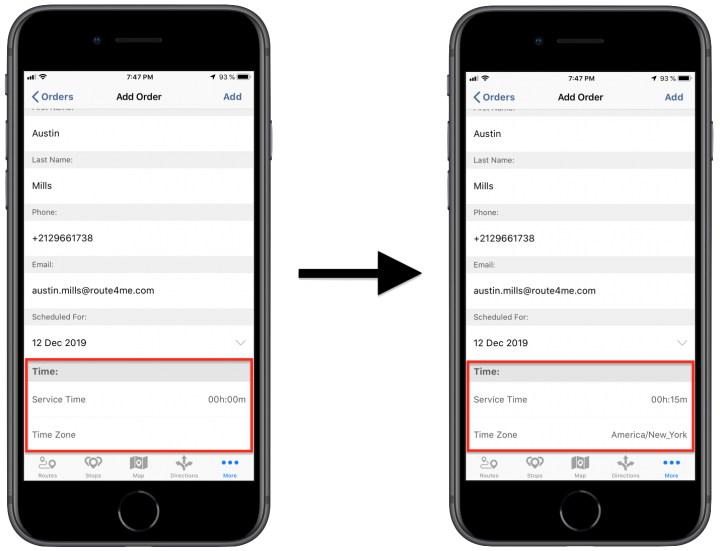 Next, you can color-code the order (learn more), as well as add this order to your Favorite addresses (learn more). To save the order and synchronize it with your Route4Me account, tap on the "Add" button in the top right corner of the screen.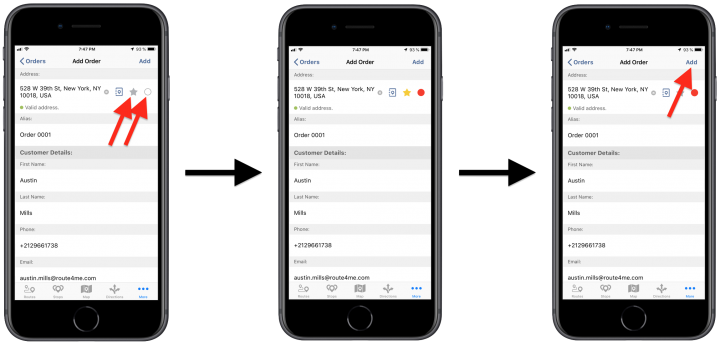 Route4Me provides near real-time data synchronization across all associated computer and mobile devices so that whenever you create a new order using Route4Me's iOS and Android mobile apps, this order can be automatically synchronized with your Route4Me account and instantly become available on the Route4Me Web Platform and vice versa. To see if your current subscription plan includes access to the Route4Me Web Platform, please visit this page.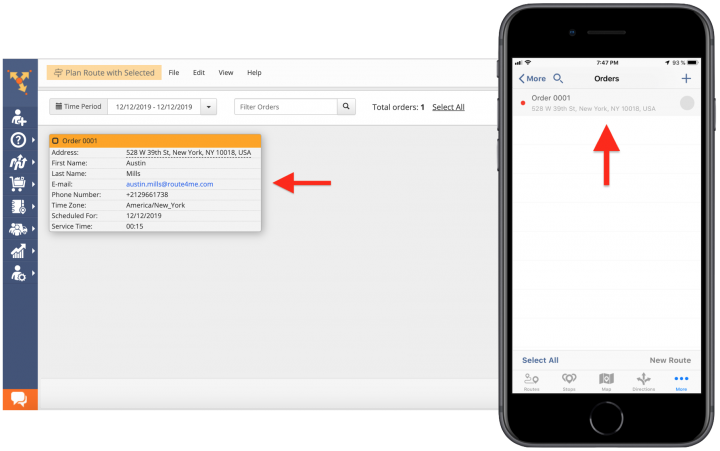 Visit Route4Me's Marketplace to Check out Associated Modules: