Manage and Edit Planned Recurring Routes
Route4Me's Scheduled & Recurring Routing is designed for any industry and any segment of the supply chain – from the very first mile to the middle mile and last mile. With Route4Me's routing schedule feature, any business that has customers with repeating route schedules will be able to automate delivery planning. Route4Me enables you to optimize the most profitable driver routes and then fully automate your route planning, scheduling, and route dispatch activities.
By default, when you create a Master Route, its Recurring Routes are planned 1 hour before the route start time of the Master Route Template. With Route4Me, you can plan routes in advance up to one year ahead of their start time. Planning Recurring Routes in advance will give your business multiple benefits:
Better visibility into the future workload for drivers.
Reporting and auditing of the future workload for executives.
Ability to incorporate day-specific route changes and adjust future routes on an independent basis.
Head start to reach out to customers before starting a route.
And many more…
What is a Recurring Route? A Recurring Route is a route created by the associated Master Route based on its Recurring Schedule. A Recurring Route is an identical copy or duplicate of its Master Route Template. Recurring Routes inherit the same stops, customer details, start time, and other parameters of their Master Route.
NOTE: Please make sure to set up the same time zone on your computer or web browser and in your Route4Me account settings. Recurring Routes will be created using your Route4Me account time zone and displayed based on the time zone on your computer device or internet browser.
You can create a Master Route with a recurring Schedule from the Routes List or Routes Map, using any preferred route as the Master Route Template. To create a new Master Route, click on the Gear Icon next to the route that you want to use as a template and then select Create Recurring Schedule from the menu.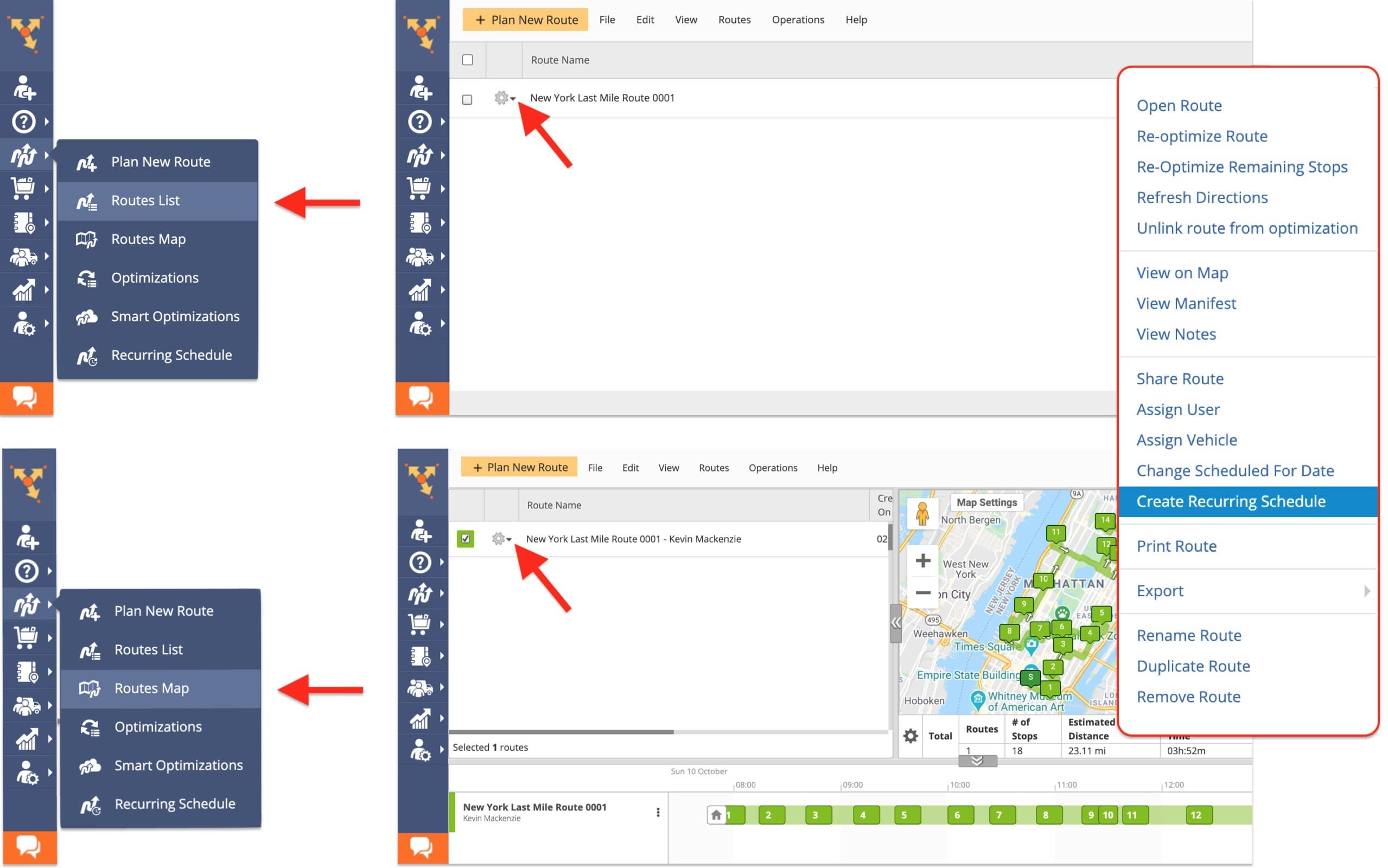 Next, create a Recurring Routing Schedule for the Master Route:
Click on the Save button to save the Master Route with its Recurring Schedule.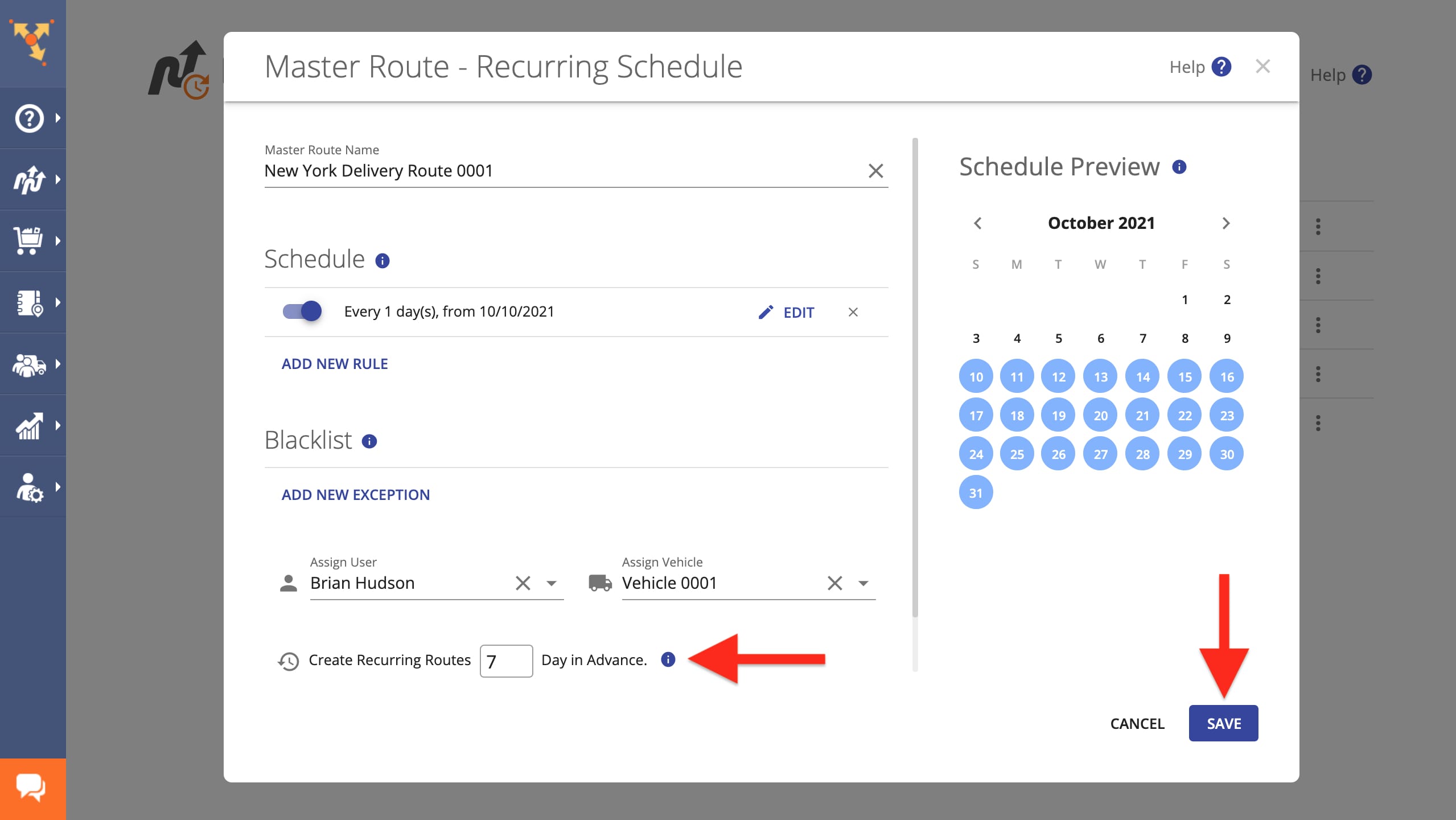 Once the Master Route and its Recurring Schedule are created, Route4Me will automatically start planning Recurring Routes from the Master Route Template based on the Master Route's Recurring Schedule. Depending on the Plan Recurring Routes N Days in Advance value, Recurring Routes will be planned the specified number of days in advance before the Master Route Template's start date.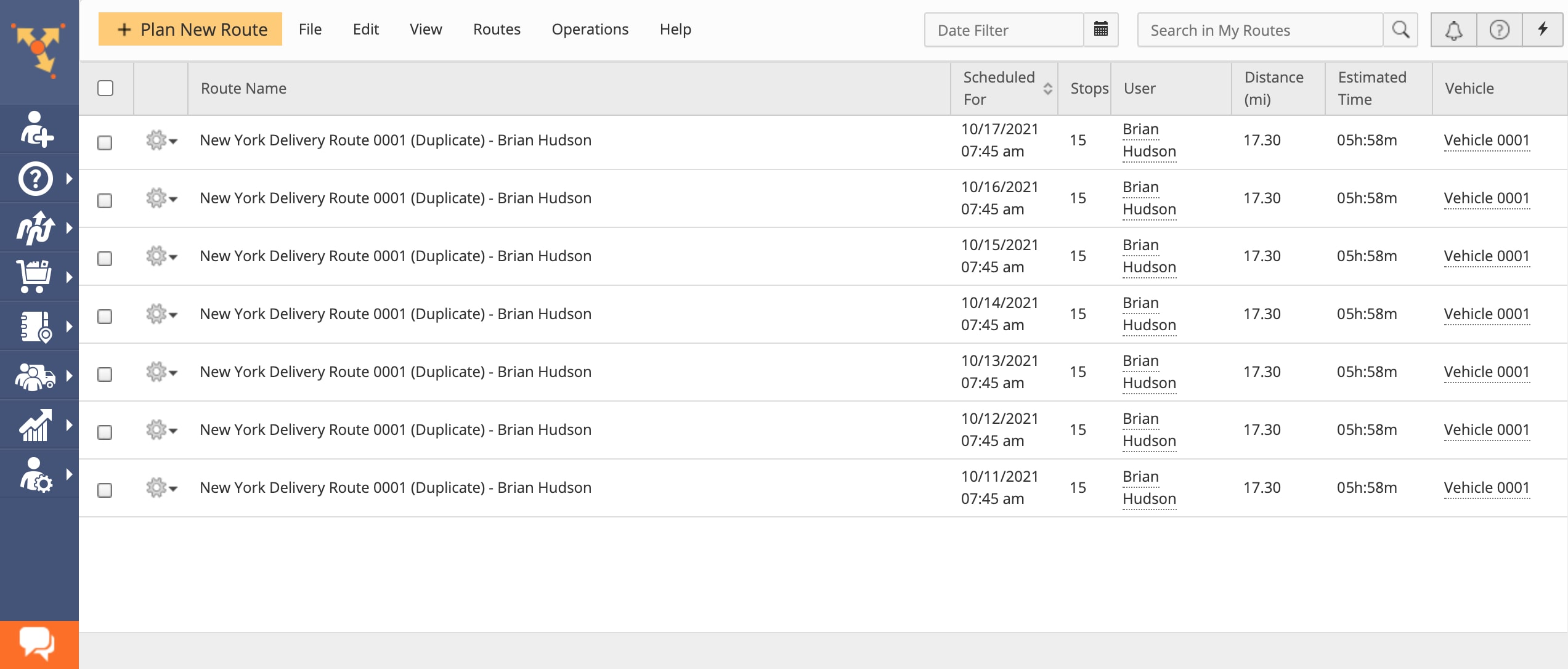 Recurring Routes inherit the name of the associated Master Route with "(Duplicate)" at the end. You can access Recurring Routes in the same way as regular routes, using the Routes List or the Routes Map.
To edit an individual Recurring Route, click on the gear icon next to the preferred route and then make the preferred edits.
NOTE: Editing individual Recurring Routes doesn't affect the associated Master Route or other Recurring Routes in any way.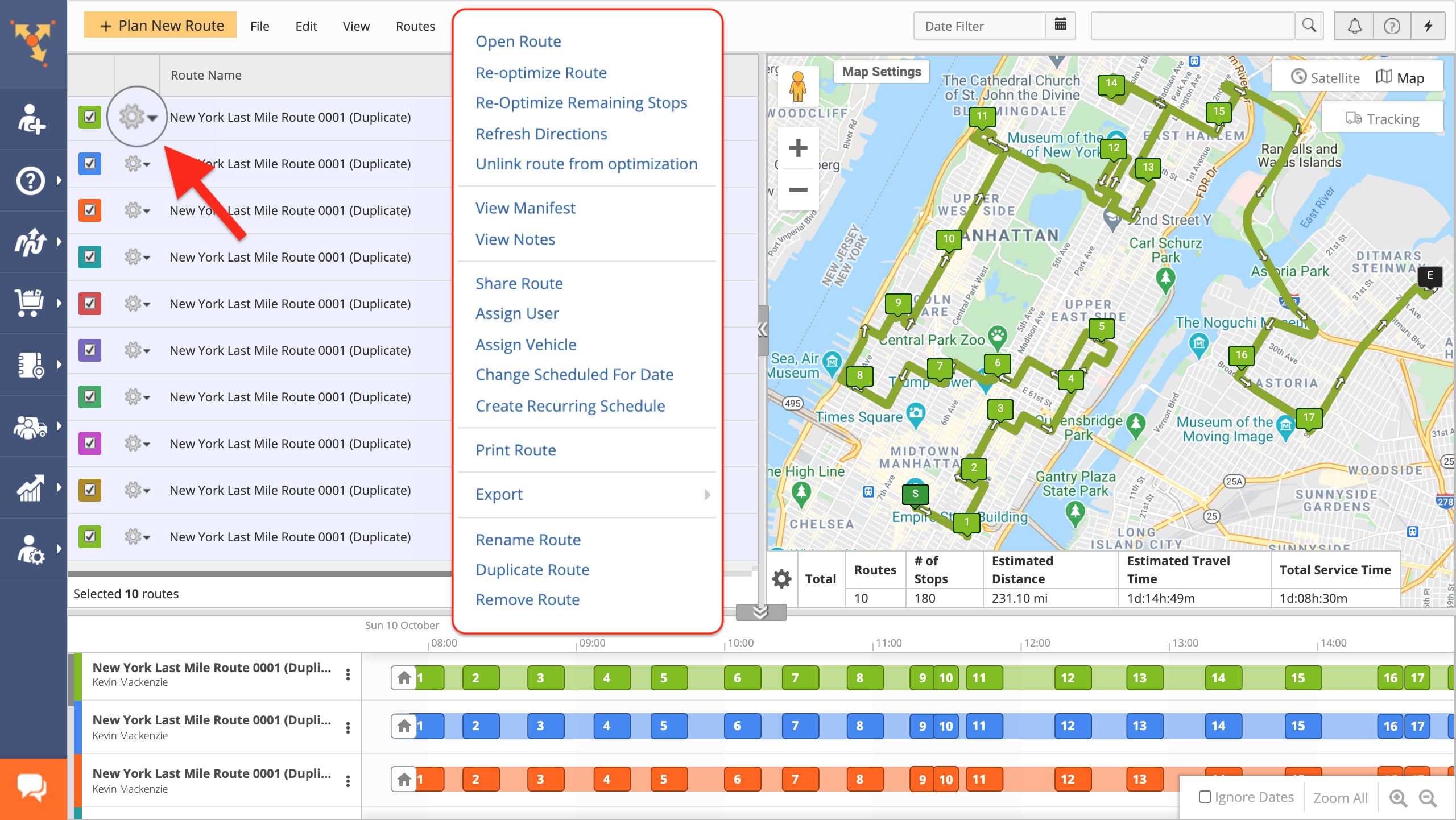 To update all associated existing and future Recurring Routes, you can:
Edit Master Route Template: You can make edits to the Master route Template (i.e., change Master Route Start Time, add stops, remove stops, update order details, change customer information, etc.) and all existing Recurring Routes will be re-planned. Also, future Recurring Routes will be automatically planned based on the new Master route Template.
Edit Master Route – Recurring Schedule: You can update the Recurring Schedule of a Master Route, and all existing Recurring Routes will be re-planned. Future Recurring Routes will be automatically planned based on the new Master Route Schedule.
NOTE: When you update a Master Route or Master Route Schedule, all the already planned Recurring Routes are automatically removed and replaced with new Recurring Routes based on the new route template or schedule.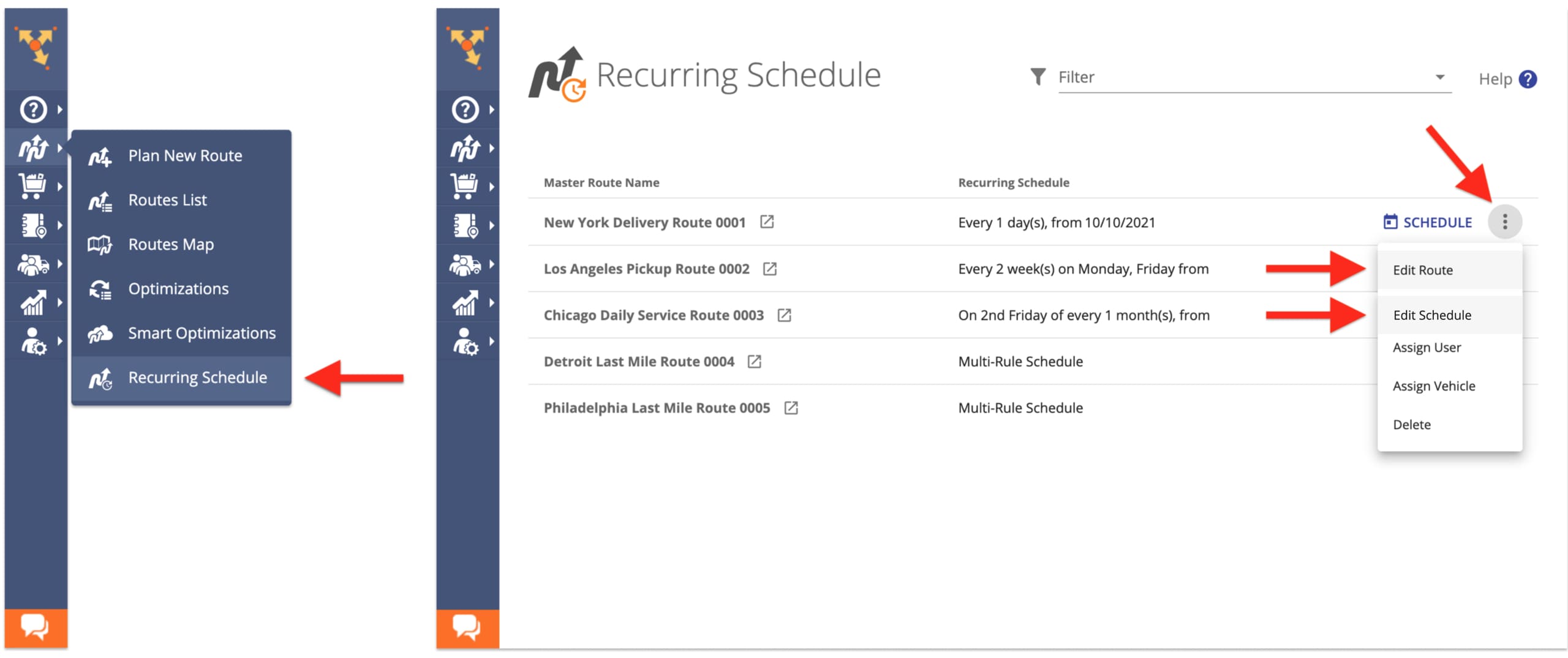 Automate your route planning, route scheduling, and route dispatching operations using the best Scheduling and Recurring Routing software in the market.
Get a Recurring Route Planning & Scheduling Software FREE TRIAL NOW!
Still have questions about how Recurring Route Planning works? Go to our Scheduling & Recurring Routing FAQ and get answers.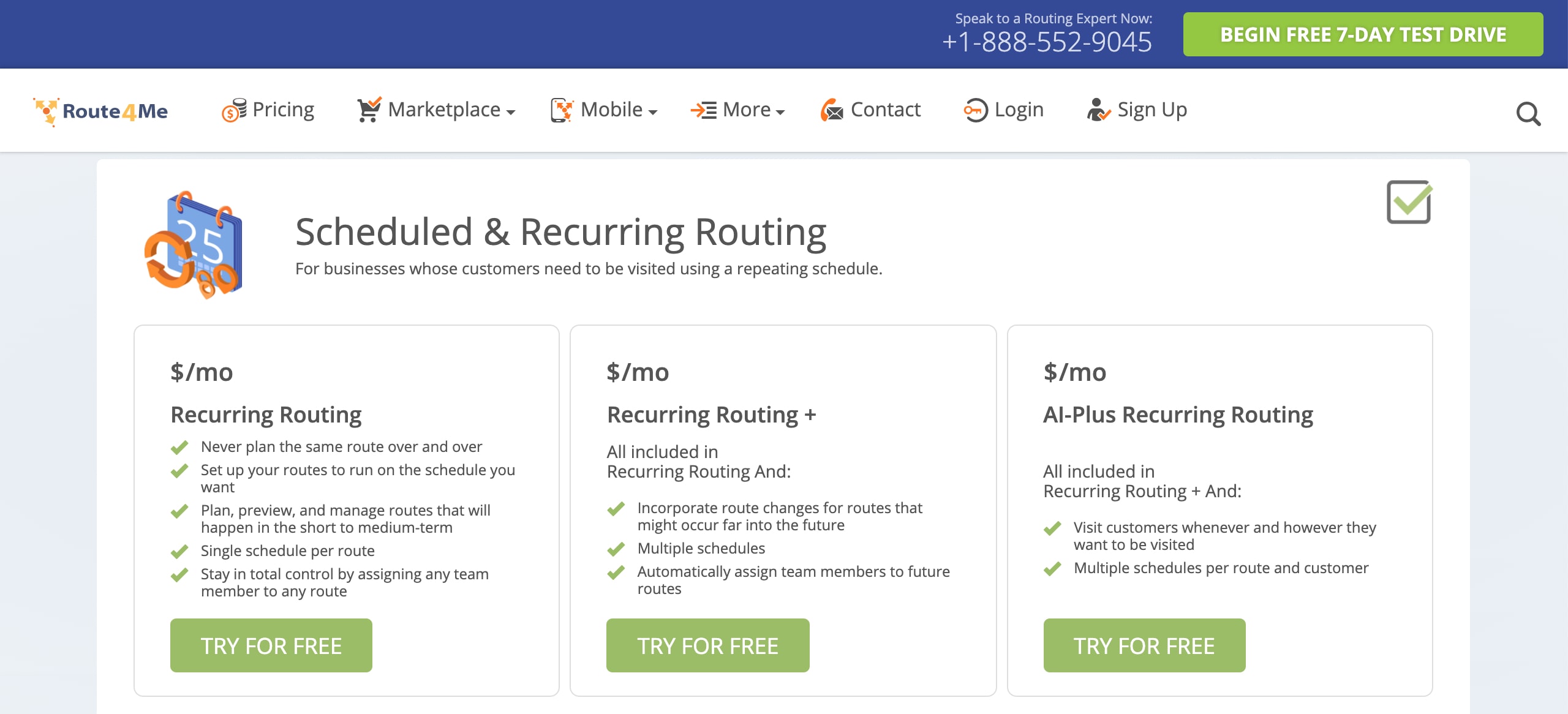 Visit Route4Me's Marketplace to Check out Associated Modules: