Recurring Routing Schedule Exceptions & Blacklist
Route4Me's Recurring Route Scheduling is designed to help you automate delivery route schedules, repetitive deliveries, recurring service visits, auto shipping, and many other recurring routing activities with fixed delivery dates. Furthermore, flexible Recurring Scheduling Rules allow you to customize your schedules for any possible recurring routing scenario with any routing schedule complexity.
For more control over your delivery route schedules and recurring routing operations, you can add Schedule Exceptions. Recurring Schedule Exceptions help you not only to create a perfect auto-delivery routing schedule but also to account for any last-minute shipping schedule changes.
For example, one of your customers cancels a weekly delivery, your vehicles are scheduled for maintenance on a specific day, etc. Or you've already created a perfect Recurring Schedule, and a couple of delivery dates no longer work for you. Just blacklist any date or date range in the Recurring Schedule, and Route4Me will not create any routes on the blacklisted dates. Recurring Routing Schedule Exceptions are an extra layer of customization for your perfect Repeating Route Schedules.
Create Recurring Schedule for an Existing Master Route
You can add Recurring Schedules exceptions when you create a new Master Route with a Recurring Schedule or when you edit an existing route template called Master Route with a Recurring Schedule.
To add a schedule exception for a particular Master Route, go to Recurring Schedule from the navigation menu. Next, click on the SCHEDULE button next to the preferred Master Route to edit its schedule.

After that, click on the Add New Exception button in the Master Route – Recurring Schedule window – to select the fixed delivery dates you want to omit in your delivery schedule.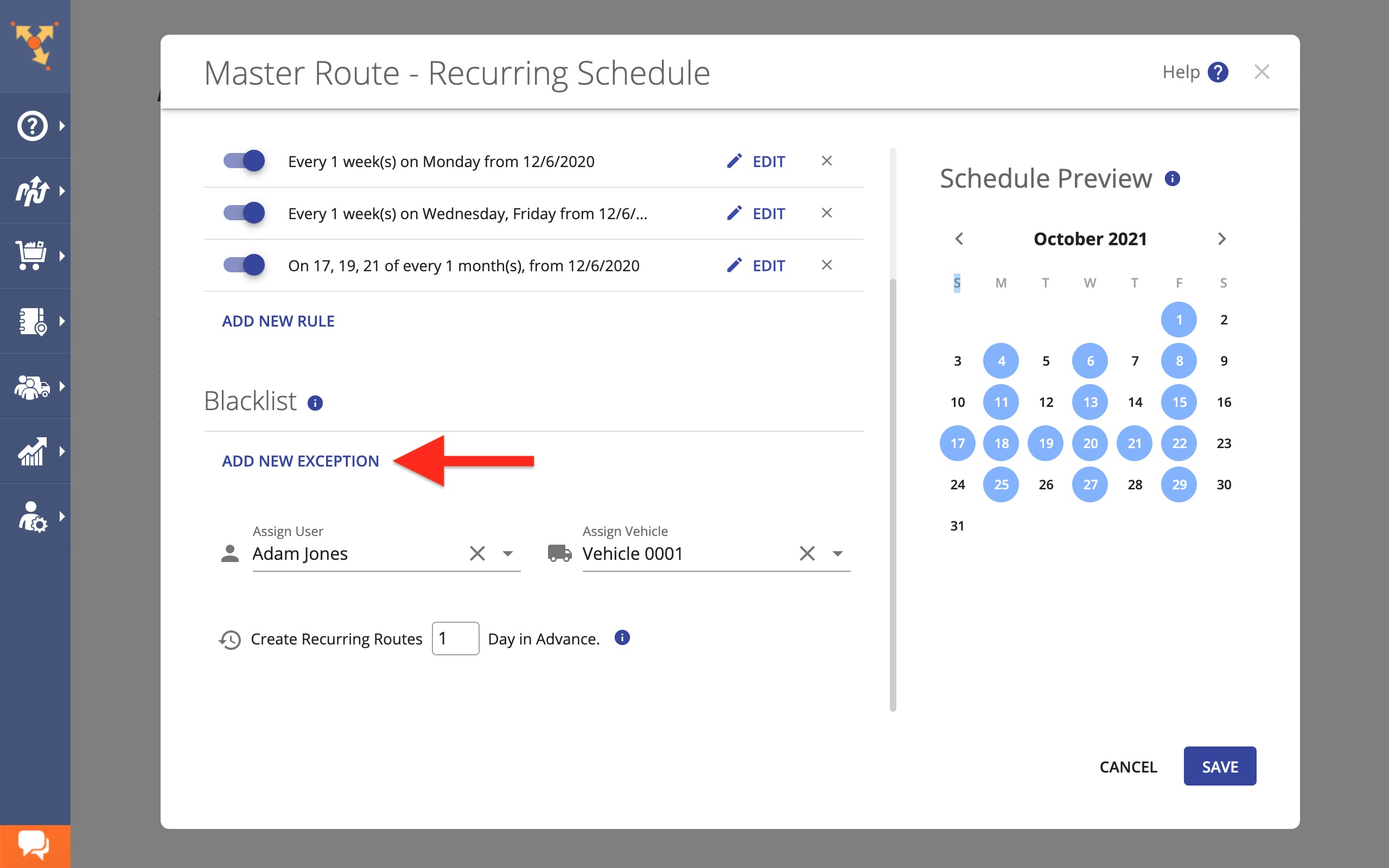 In the Exception window, select the date range with the delivery dates you want to blacklist for the opened Recurring Schedule. To blacklist Recurring Schedule dates, click on the start and the end dates for the range and then click on the Save button.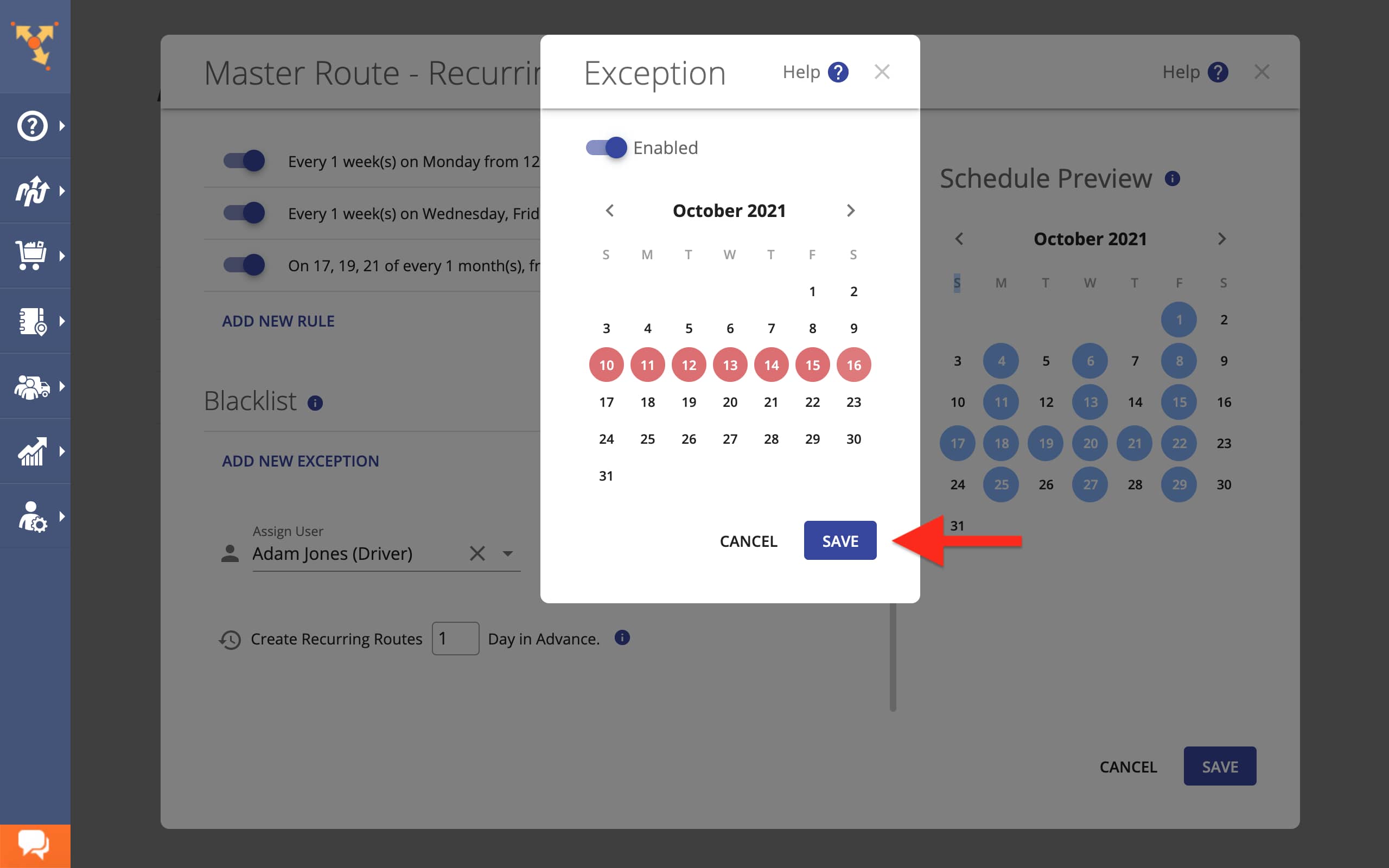 Once the delivery date schedule exception is saved, blacklisted dates will be displayed in red on the Recurring Schedule's Schedule Preview.
If you need to backlist specific dates instead of date ranges or multiple date ranges, you can add multiple Recurring Schedule Exceptions when routing recurring orders. Furthermore, you can add multiple delivery schedule exceptions to customize a perfect Recurring Schedule or to account for last-minute changes and delivery cancelations.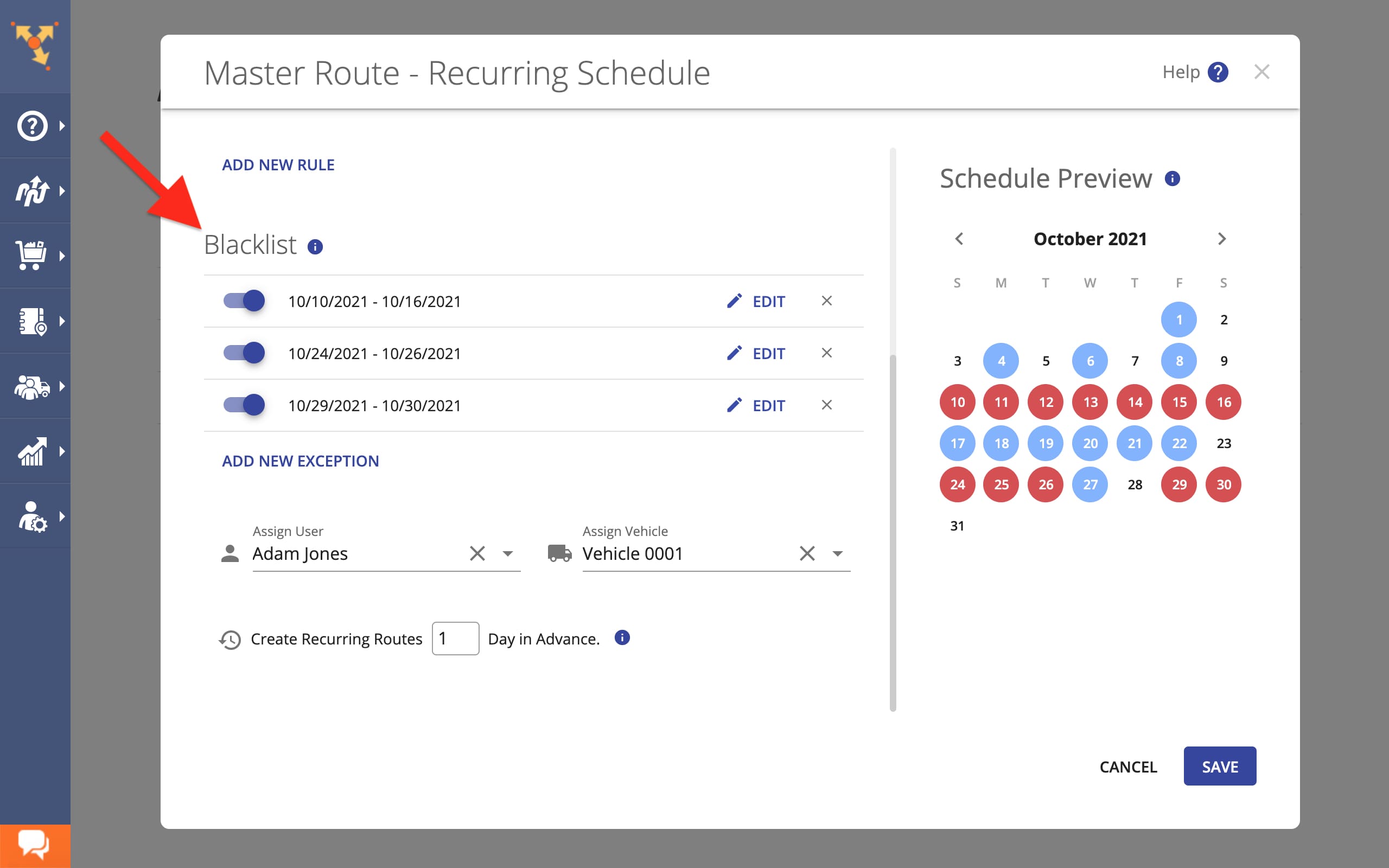 NOTE: After adding new or editing existing Schedule Exception(s) and updating the Master Route Schedule, new settings will override the previous settings. All already planned Recurring Routes will be automatically deleted and replaced by new Recurring Routes based on the new Master Route Schedule settings. Please make sure to account for Master Route Schedule settings override if you have made adjustments to already planned Recurring Routes and you want to update the given Master Route Schedule.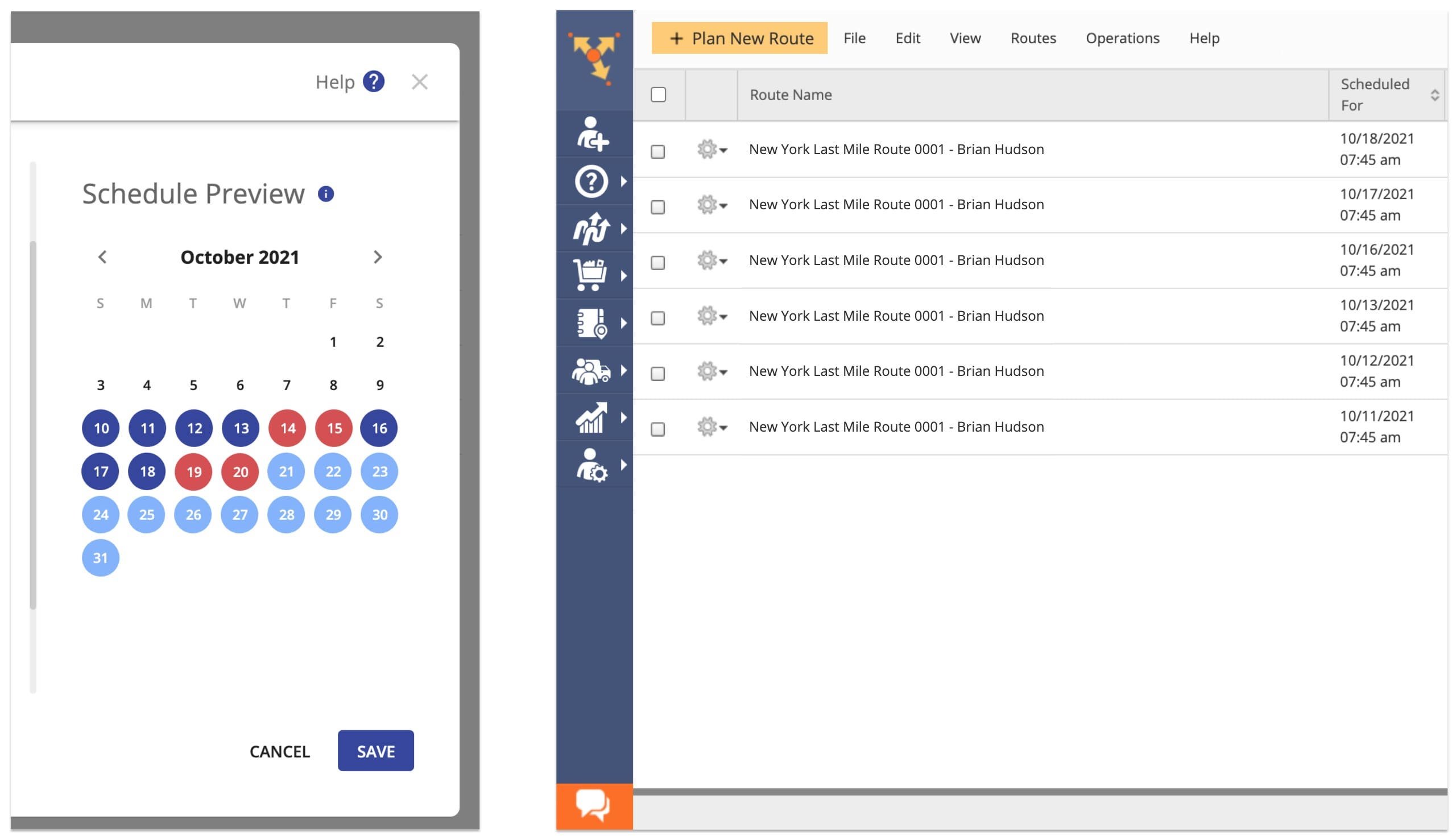 Automate and streamline your repeating route planning, route scheduling, and route dispatch operations. Create custom Recurring Routing Schedules and let Route4Me schedule, plan, and dispatch repeating routes for you.
Get a Scheduled & Recurring Routing Software FREE TRIAL for 7 DAYS right now!
If you have any questions, take a look at what our customers normally ask and find answers to your questions in our Scheduling & Recurring Routing FAQ.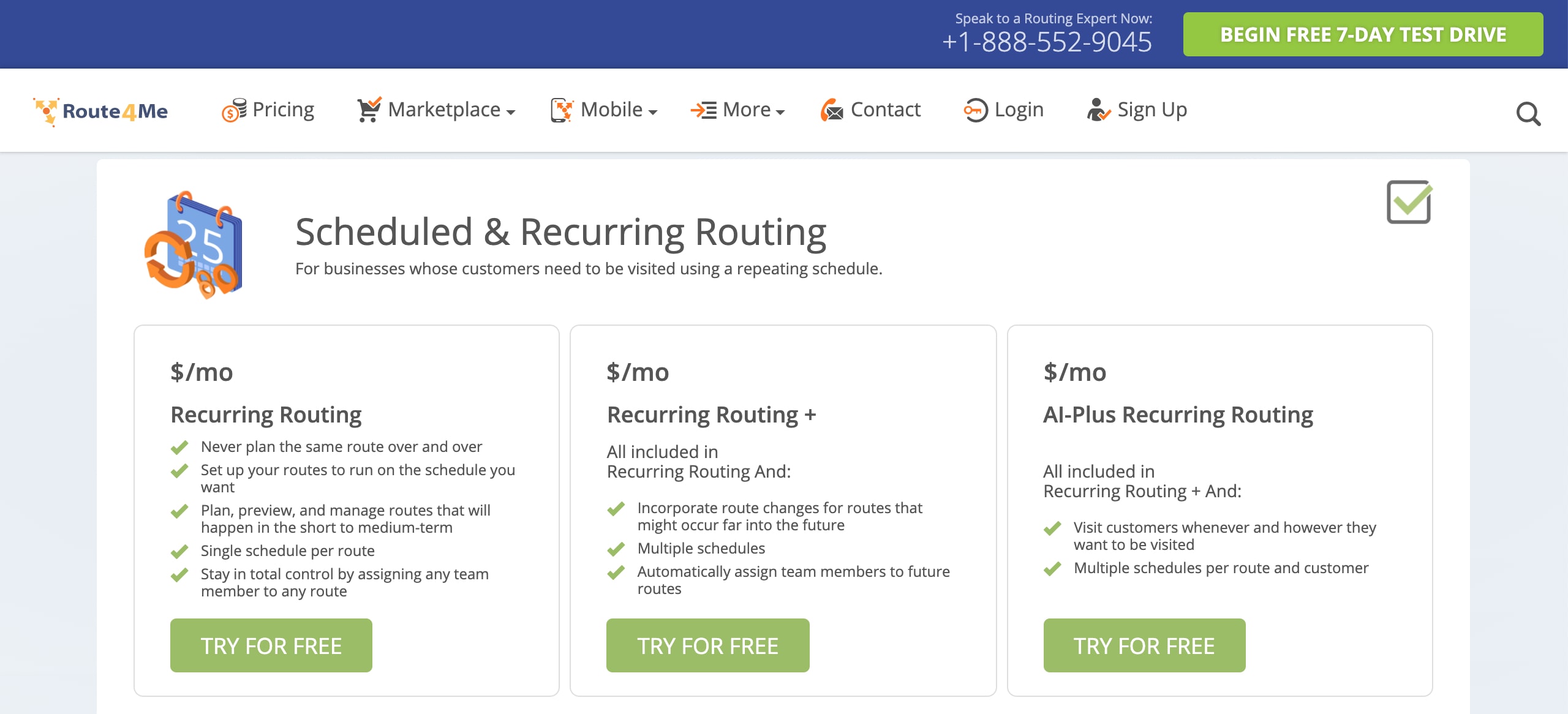 Visit Route4Me's Marketplace to Check out Associated Modules: