Open Routes on Map – Android Route Planner App
With Route4Me's Route Planner app for Android, you can plan and optimize routes in seconds. The route planner app for Android is able to solve two of the most complex route optimization problems: the Traveling Salesman Problem (TSP) and the Vehicle Route Problem (VRP). These difficult combinatorial problems become nearly impossible to manually solve as you add more stops to the equation. Luckily, the Route4Me multi stop Android route planner can handle even the most complex routing scenarios while accommodating your last mile business's unique needs. It will save you time, help you make more money, and improve your fleet resource allocation.
To view a route on the map, first, go to My Routes from the navigation menu on the left side of the screen.
Tap on the route that you want to view on the map to open its options menu.
Select Open Route from the Choose Action menu.
On the Stops screen, tap on the map icon in the top right corner of the screen.
On the map, each stop is marked as a pin with an assigned number that corresponds to its sequence position on the route. The driving lines between the stops are displayed as green lines that connect the stops.
Adjust the size of the map by zooming in and out using the + and – buttons in the bottom right corner of the screen or by using the pinch and zoom gesture.
To center in on your current location, tap on the location icon in the top right corner of the screen.
Tap on any stop on the route to open it.
Use arrows to move between stops. You can mark the stop as Visited and Departed by tapping on the corresponding boxes.
To view the stop's data, tap on the information icon.
Stop Info displays detailed data of the stop.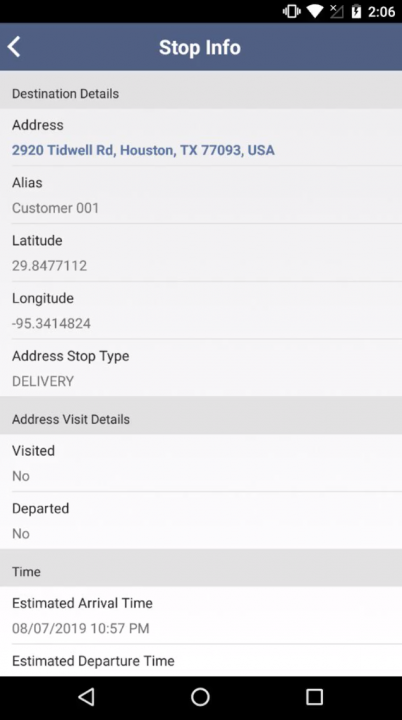 To change the map type, go to Settings from the navigation menu on the left.
Scroll down to the Map Type section and select one of the corresponding map types. In case there are several stops/addresses that are located close to each other on the map, you can enable Marker Clustering in the Map Features section to display those stops as a single cluster instead of individual pins.
Normal: Displays the default road map view;

Satellite: Displays Google Earth satellite images;

Hybrid: Displays the mixture of normal and satellite views;

Terrain: Displays the physical map based on the terrain information.
Visit Route4Me's Marketplace to Check out Associated Modules: