Route Stop Barcode Reconciliation – Android Route Planner App
Table of Contents
With Route4Me's Android Route Planner and the in-app barcode scanner for delivery, you can set up a number of barcodes that must be scanned and reconciled at particular route stops or orders before they can be marked as completed. Barcode reconciliation enables you to improve the security of your transactions and make sure that all tasks are performed as planned. For more convenience, in addition to the Route4Me Android route planning app, barcode reconciliation can also be set up from the Route4Me Web-Based Route Optimization Platform. Thus, managers and dispatchers who are back at the office can use the Route4Me Web Platform for defining how many and what kind of barcodes must be reconciled at certain stops, while the drivers who are out in the field can get live updates and reconcile the corresponding barcodes using the Route4Me Android Route Planner app.
To enable barcode reconciliation for your Route4Me account, use the instructions provided on the corresponding support tutorial.
Adding Barcodes for Reconciliation
To add one or multiple barcodes for reconciliation to a particular route, first, open this route by going to My Routes from the navigation menu and then opening the corresponding route.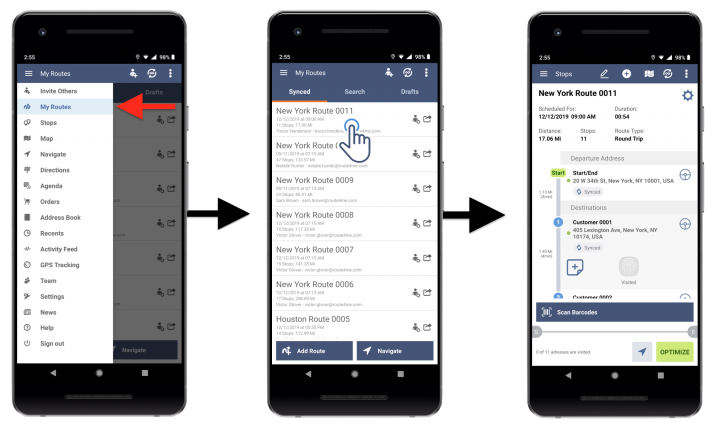 To add the barcode that you want to be reconciled later to a particular stop on the opened route, first, tap on this stop and then select Add Barcode from the stop's menu. After that, use the camera on your device to scan the barcode that you want to be reconciled. Once the barcode is added to the stop, the progress bar on this stop will display how many barcodes are added to this stop and the percentage will show how many barcodes are reconciled.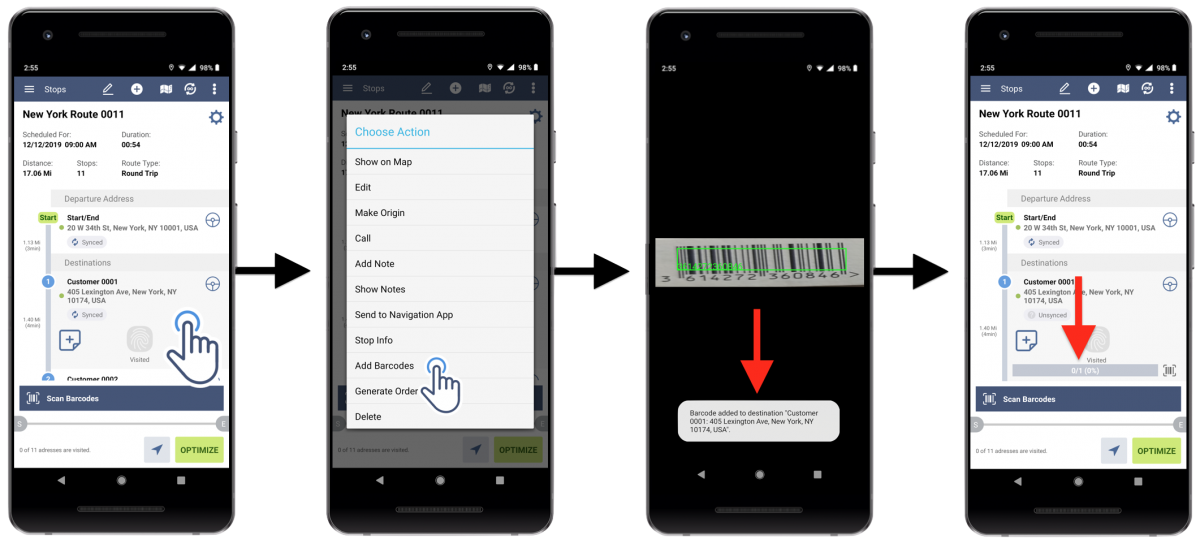 To add multiple barcodes for reconciliation to one route stop, repeat the same process.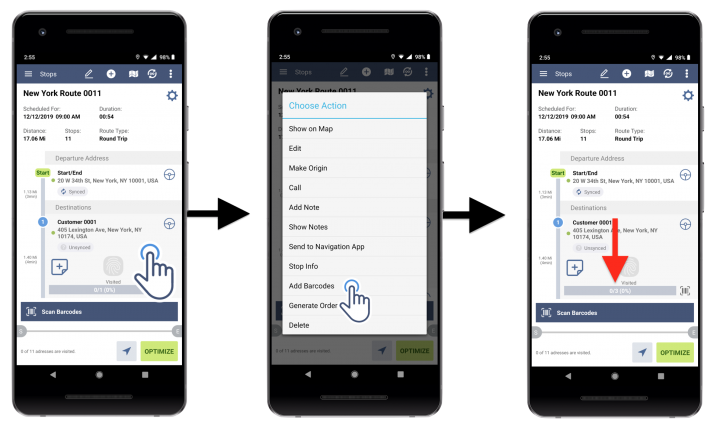 Reconciling Barcodes
To reconcile one or multiple barcodes, first, tap on the Scan Barcodes button and then scan one of the barcodes that must be reconciled for any stop on this route. After that, the app will automatically recognize and assign the scanned barcodes to their corresponding stops and the progress bar on the stop for which the scanned barcode is reconciled will indicate so accordingly.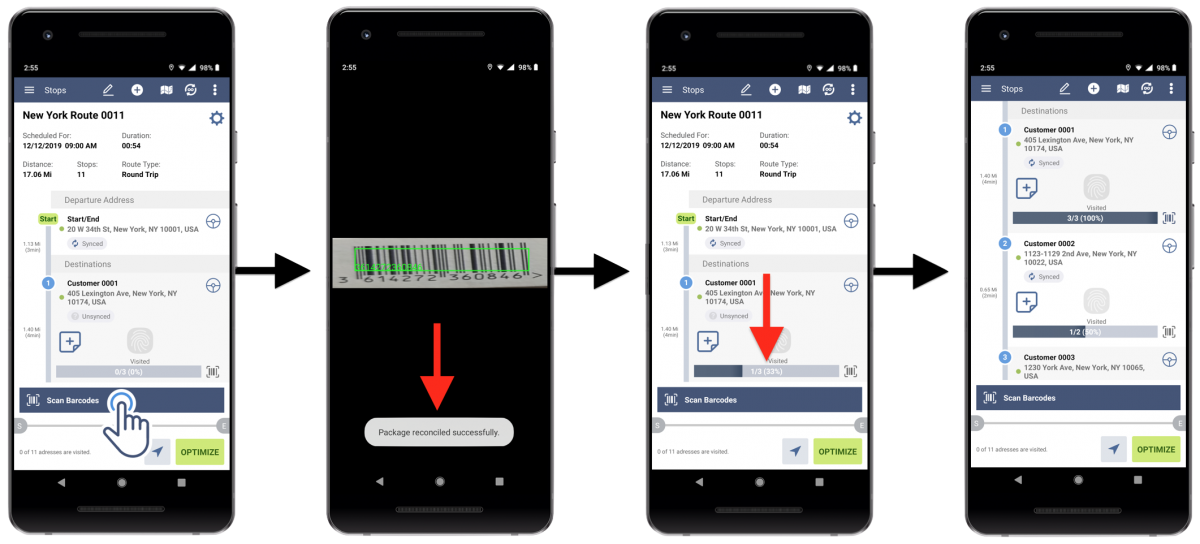 Viewing Added and Reconciled Barcode Data
To view the added and reconciled barcodes for a particular stop, first, tap on this stop and then select Edit Custom Data from the stop's menu. On the Edit Custom Data screen, the attached_barcode fields show the data that was added to the stop by scanning/adding barcodes and the reconciled_with_scan fields show if the corresponding barcodes were successfully reconciled (true – successfully reconciled).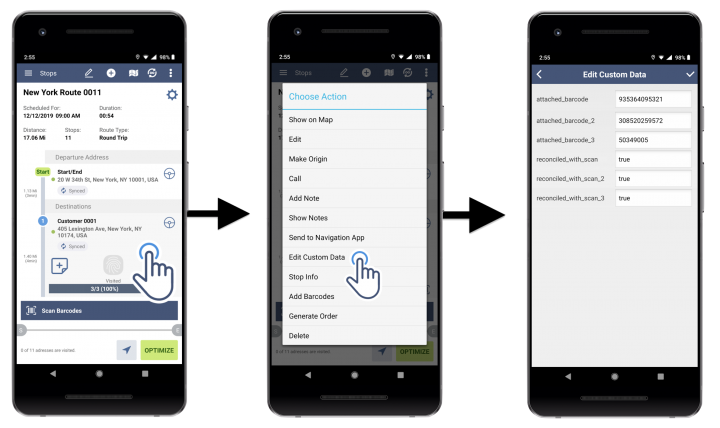 On the Route4Me Web Platform, all reconciled barcodes are displayed in the Custom Data section of the corresponding stop. The attached_barcode value displays the barcode data that was set to be captured from the reconciled barcode and the reconciled_with_scan value indicates whether the right barcode was reconciled (true = success; false = error).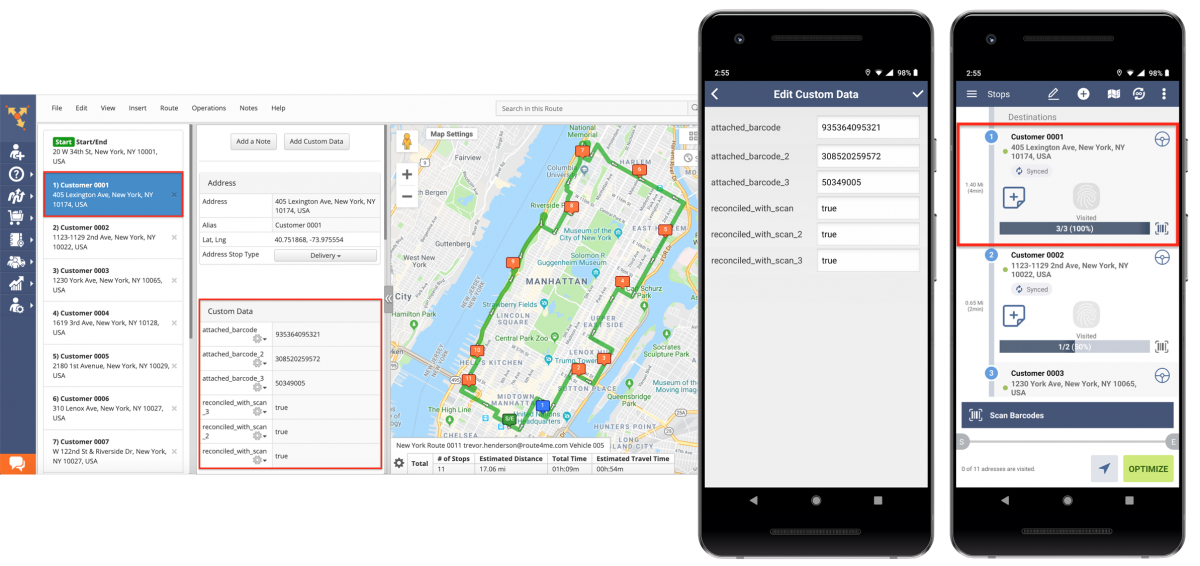 Visit Route4Me's Marketplace to Check out Associated Modules: