About Route4Me Last Mile Optimization Software
For your convenience, we've gathered the list of the most frequently asked requests for proposals (RFP) questions from our users about Route4Me's route planning and last mile optimization software. We hope that the information provided on this page will answer the questions you might have. If you can't find an answer to your question, please contact our Customer Success Team and we'll happily provide you with the additional details.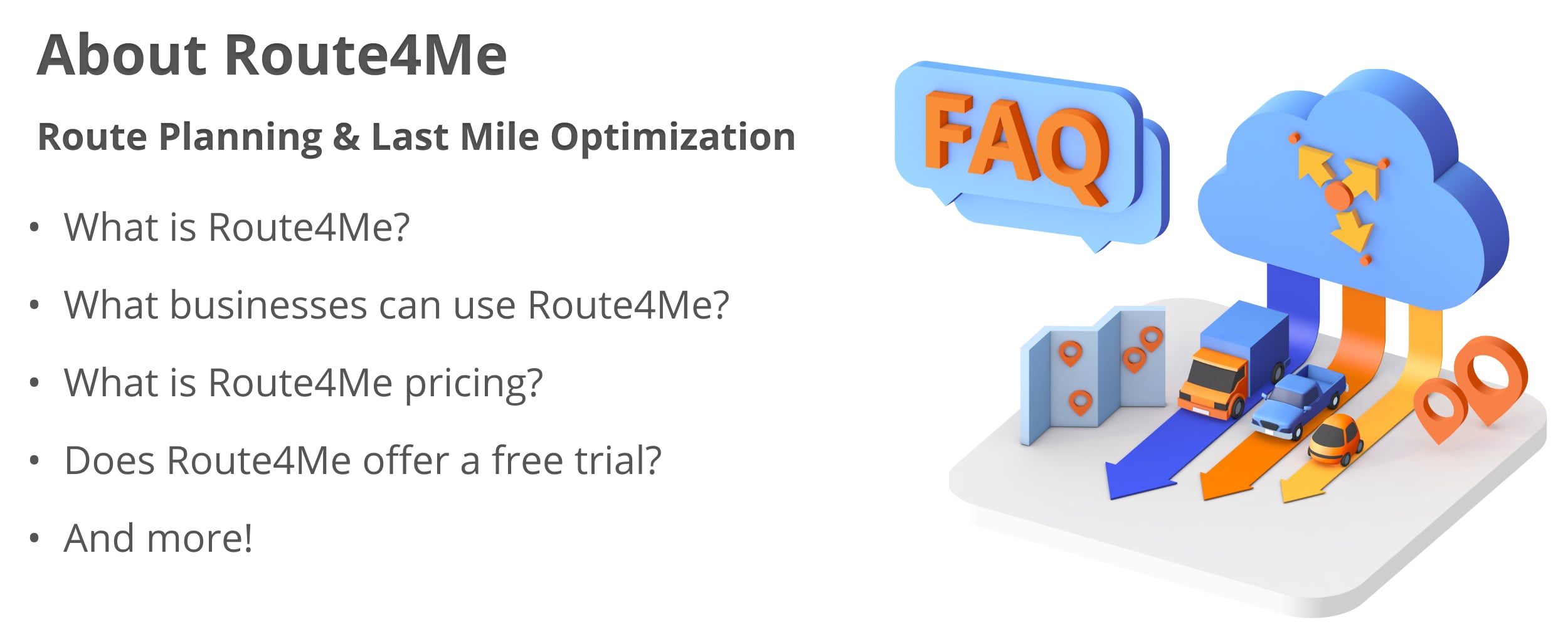 Frequently Asked Questions About Route4Me Route Planning
Route4Me is the world's most used route sequencing and optimization software for small businesses and enterprises. With over 35,000 customers, Route4Me helps last mile businesses save tremendous amounts of money, time, and labor. Moreover, Route4Me provides seamless continuity through the entire route planning, route dispatch, route navigation, and tracking process.
Furthermore, Route4Me provides sustainable and carbon-neutral last mile optimization. Specifically, Route4Me has helped thousands of businesses avoid wasting millions of labor hours annually, and billions of inefficiently driven miles.
Route4Me can be used by any delivery, field service, field sales, field marketing, and any other business that requires multi-stop route planning and last-mile optimization. Here are just a few business types that can use Route4Me to save time and labor and make more money without adding more vehicles or drivers:
Courier Services
Food Delivery
Sales and Customer Visits
Cleaning Services
Distribution and Retail
Electricians
Farming and Agriculture
Fleet Maintenance and Repair
Florists
Home Health
HVAC – Heating and AC
Landscaping
Medical, Homecare, Nursing, Pharmaceutical
Non-Profit Organizations
Pest Control
Plumbing
Snow Removal
Technicians
Telecommunications
Waste Collection
And More!
To sum up, Route4Me enables you to optimize your entire last mile routing operation. Moreover, Route4Me also helps you to make the most out of your existing vehicle, drivers, and other assets.
Furthermore, Route4Me supports multiple optimization constraints and business rules so that you can optimize perfect routes for your unique business requirements. Here are the basic steps of how Route4Me works:
Firstly, add or import multiple addresses and locations
Secondly, set up custom optimization settings and business rules
Thirdly, get the fastest and shortest routes mathematically possible
Next, dispatch and navigate routes using in-app GPS navigation
Then, track route progress in real time
Lastly, get useful operational business insights and performance reports
Route4Me's pricing starts at $10 per month or $79.99 per year for Mobile Route Planner subscriptions that support unlimited routes and destinations.
Specifically, Route4Me's Dynamic Routing packages start at $149 per month and include the following features:
10 free users per month
Route management and optimization
Business rules and optimization constraints
Route dispatch and team collaboration
Multi-driver routing and workload distribution
Real-time route and driver tracking
And More!
Similarly, Route4Me's Scheduled & Recurring Routing packages start at $149 per month and include the following features:
10 free users per month
Recurring route scheduling
Flexible route scheduling rules
Multiple schedules per route and customer
Automated route dispatch
And More!
Furthermore, Route4Me's Marketplace provides a vast choice of various add-ons for customizing a perfect solution for your specific business needs.
Yes, Route4Me offers a free 7-day trial for all subscription types. Route4Me's route planner trial doesn't have any limitations, enabling you to use your own business data. Furthermore, Route4Me's software trial also includes customized solutions.
During the trial period, many last-mile businesses get as much as a 300% efficiency increase in most routing and logistics activities without additional labor, vehicles, or other assets. Equally important, Route4Me's trial doesn't have any hidden fees or credit card obligations.
Set up your free trial right now to discover potential revenue opportunities.
Yes, Route4Me enables you to customize a perfect last mile optimization solution for your specific routing and logistics requirements. Route4Me's Marketplace offers various modules, add-ons, business rules, and optimization constraints that allow you to add more functionality to your account.
If you are creating a new Route4Me account, you can select one of the base packages and then add more add-ons using the Marketplace.  Or, as an existing user, you can use the Route4Me Feature Manager to adjust your current solution.
Equally important, this level of customization allows you to pay only for those features that you actually need.
Route4Me is an international, multi-language last mile optimization platform available in hundreds of countries around the world. Namely, Route4Me's software is supported in North America, Eastern Europe, European Union, Asia, Africa, Middle East, South America, and other regions. Learn more about the Route4Me Supported Countries by Routing Profile Types.
Furthermore, Route4Me's software and mobile apps support multiple languages, such as Arabic, Chinese, Czech, Dutch, French, German, Hebrew, Hindi, Italian, Japanese, Korean, Portuguese, Romanian, Russian, Spanish, and many more. Learn more about Route4Me's supported languages and account language settings.
The Route4Me launch date or date of establishment is April 2009. In other words, Route4Me has been in the business for well over a decade.
Over this time, Route4Me has helped over 35000 thousand small, medium, and enterprise businesses to route over 500 million stops and prevented 10 billion miles from being driven. Equally important, we've managed to help companies make their operations greener and avoid emitting tons of CO2 which is the equivalent of planting over 87 million trees.
No, using Route4Me's last mile optimization software doesn't require any special hardware or software investments. Namely, Route4Me is a SaaS (Software as a Service) – a web-based application or cloud-based route planning software that works entirely in your web browser installed on a Windows, macOS, or another operating system. Therefore, the Route4Me software and hardware requirements are the same as the requirement for using your preferred web browser.
In detail, the Route4Me Web Platform can be used in such web browsers as Google Chrome, Opera, Firefox, Microsoft Edge, and many more. Learn more about Route4Me supported web browsers and technical requirements.
Additionally, you can also learn more about Route4Me's software and hardware requirements, security, ecosystem, etc., in the Route4Me IT Administrator's Guide.
No, Route4Me's software doesn't require any special route planner training or routing courses for you to plan routes and optimize your last mile operation. Route4Me's Web Platform, iOS Route Planner, and Android Route Planner apps are self-service, super intuitive, and extremely easy to use.
Moreover, Route4Me's apps even provide in-app tutorials and instructions that can guide you through all the necessary steps, offering you a frictionless user experience.
Furthermore, if you need additional training, Route4Me happily provides complimentary training and additional route planner training packages for businesses with unique operating requirements and complex routing cases. For your convenience, you can easily schedule a Route4Me training session on the self-service platform.
You can find Route4Me software reviews and customer ratings on such popular business software review platforms, such as:
Furthermore, we are continuously monitoring the feedback of our users and customers to improve their user experience and performance.
Additionally, you can read some of the Route4Me success stories on our blog:
Yes, at Route4Me, we try to give back to the community by participating in various charities and donations. In detail, Route4Me proudly sponsors women's rights organizations, animal cruelty prevention organizations, humane animal treatment organizations, and more.
In addition to making donations to various organizations, we also donate our route planning software. Specifically, Route4Me has been donating route planning solutions to various organizations during the COVID-19 pandemic. For example, Route4Me helped:
Furthermore, Route4Me also provides software discounts to students and educational institutions that study logistics, routing, and other related subjects.
Yes, Route4Me attends various conferences, trade shows, and other networking route planning events.
Normally, Route4Me attends various routing and logistics seminars, conferences, and other events as a visitor rather than a presenter. Attending such events enables us to learn more about new route planning and logistics trends and the best practices. In this way, we manage to implement only the latest technologies and develop cutting-edge routing solutions. Thus, Route4Me continuously stays ahead of the curve in the industry and redefines last mile optimization and smart logistics across the market.
Visit Route4Me's Marketplace to Check out Associated Modules: