About Route4Me
About Route4Me Last Mile Optimization Software
The Route4Me Date of Establishment is 2009. Route4Me was formally incorporated in April of 2009.  In other words, Route4Me has been in the business for well over a decade. Over this time, Route4Me has helped thousands of small, medium, and enterprise businesses to plan and optimize the most efficient and profitable routes.
We've prevented companies from driving millions of extra miles and spending thousands of extra hours on the road. Equally important, we've managed to help companies make their operations greener and avoid emitting tons of CO2.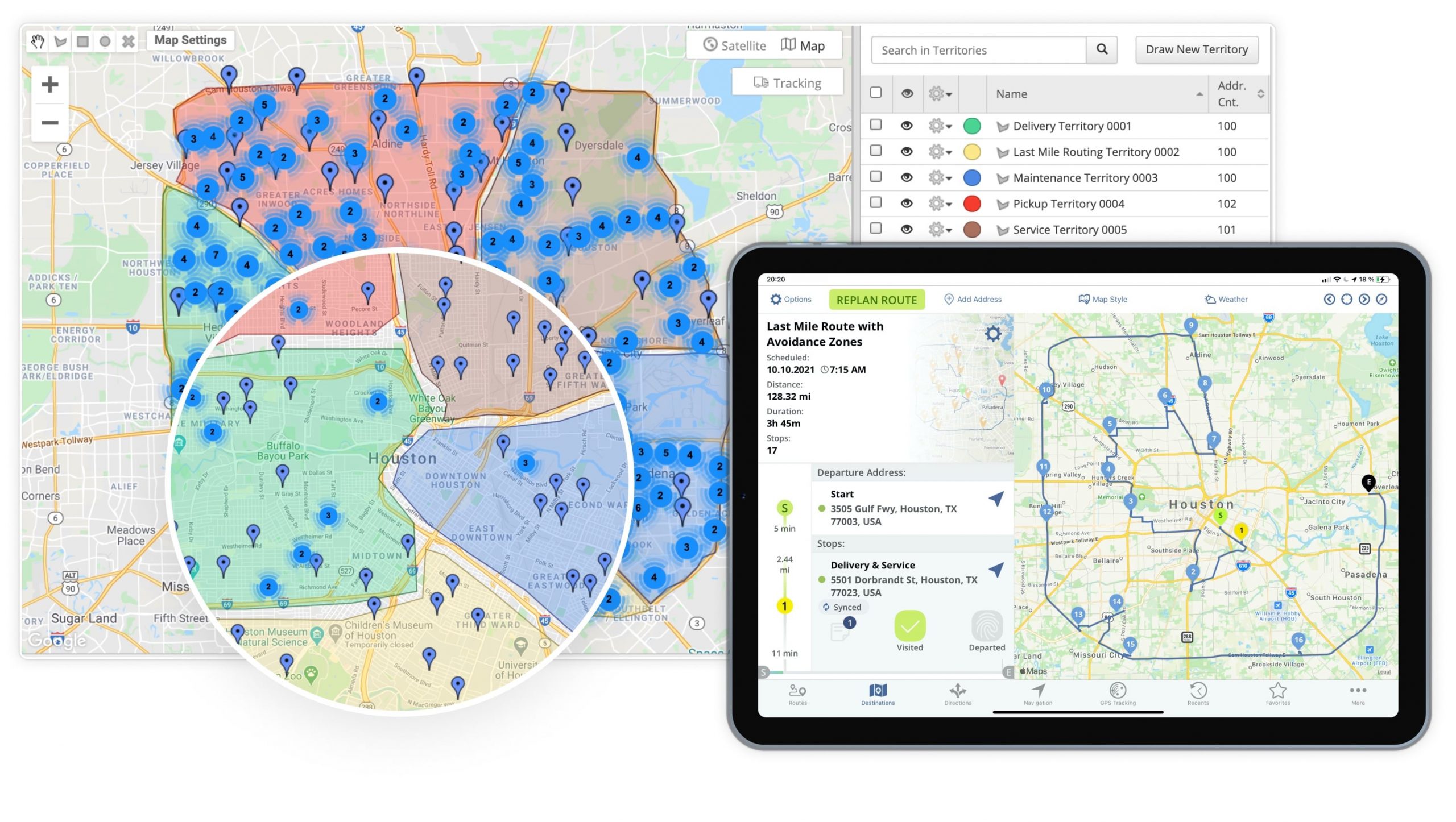 Route4Me's Mobile Route Planners
Since the Route4Me Date of Establishment, we have become the most used route planning software in the world. For example, our Android Route Planner and iOS Route Planner apps are the most downloaded mobile routing apps in the industry.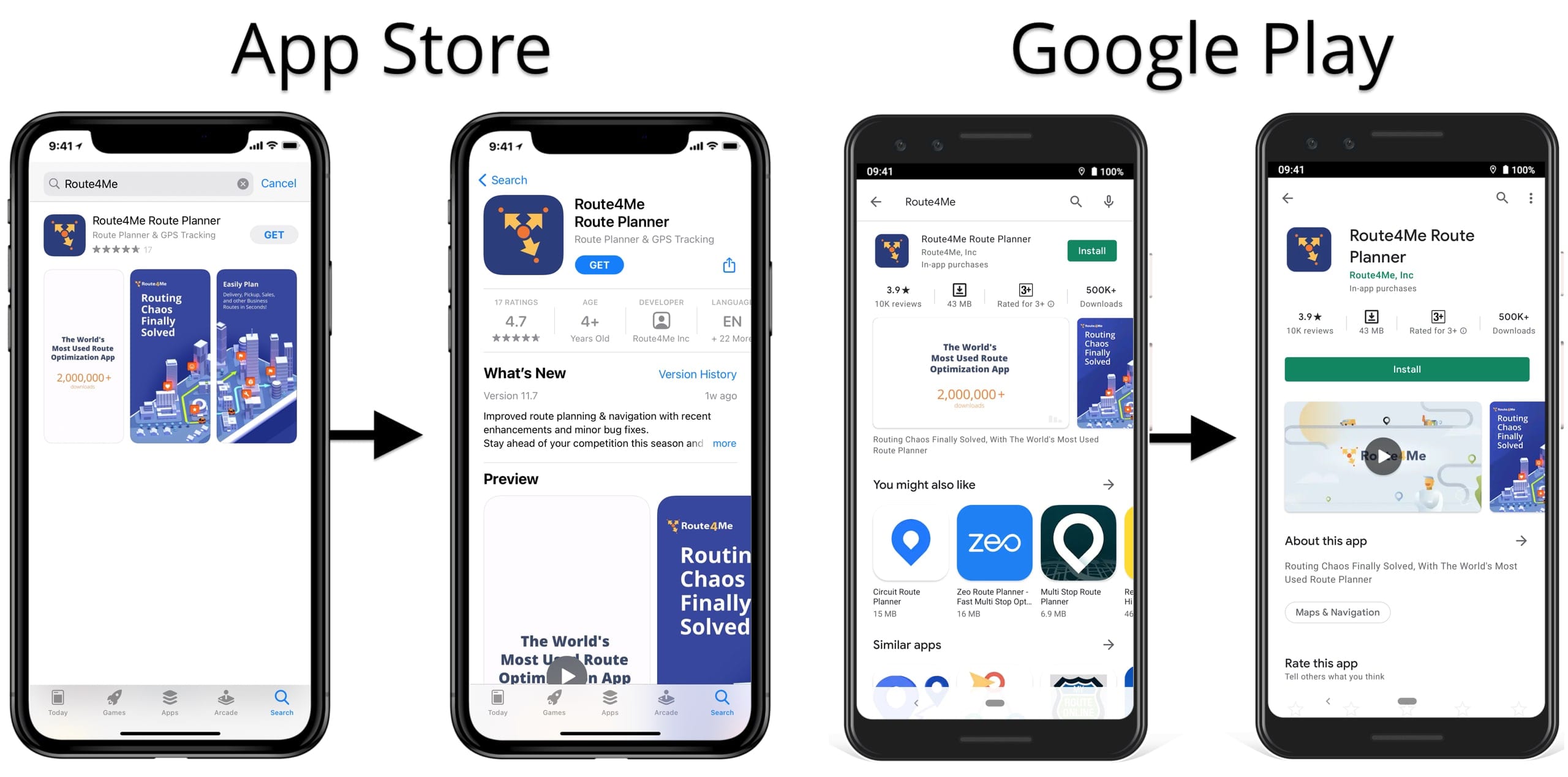 Route4Me Route Planning Software Reviews
Additionally, with thousands of happy customers, we have accumulated thousands of success stories and positive reviews. For example, you can find software reviews about Route4Me on such reputable platforms as Capterra, G2, Software Advice, etc.
Learn more about what other users say about Route4Me on the following platform: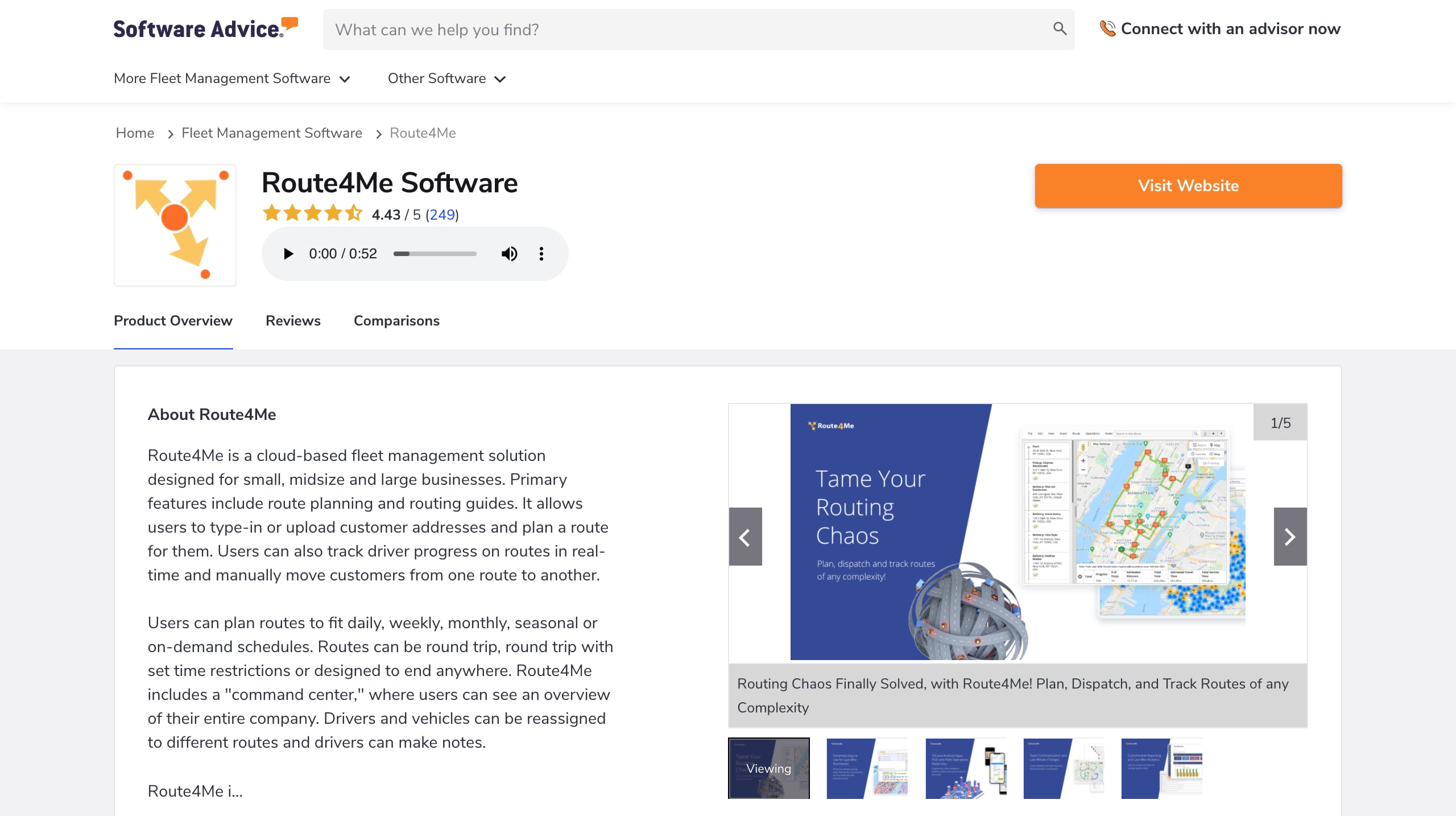 Route4Me Success Stories and Case Studies
Furthermore, we've been continuously using the feedback from our customers and users to perfect our solutions. In this way, we are able to improve the areas that are really important and useful for our customers' productive and smooth user experience.
Yes, Route4Me provides business goal driven routing and route optimization solutions. In addition, our software is extremely flexible and easily customizable. Therefore, all types of last-mile businesses can use our route planning and smart-logistics solutions for their unique routing cases and specific business needs. For example, Route4Me can be used in food delivery, maintenance, service, sales, and many other industries.
Route4Me Marketplace and Business Goal Driven Routing
With Route4Me's Marketplace, you can assemble a fully custom and unique business goal driven routing solution. In this way, you will be able to accommodate your individual operating needs and specific business requirements. To create a custom subscription, select the preferred base package and then add multiple add-ons.
Each add-on on the Marketplace is designed to solve specific business problems. Thus, you can add only those add-ons that will work for your operational and business needs. Additionally, you can always disable the add-ones you are not using to avoid paying for the features you don't need.
Learn more about the Route4Me registration process.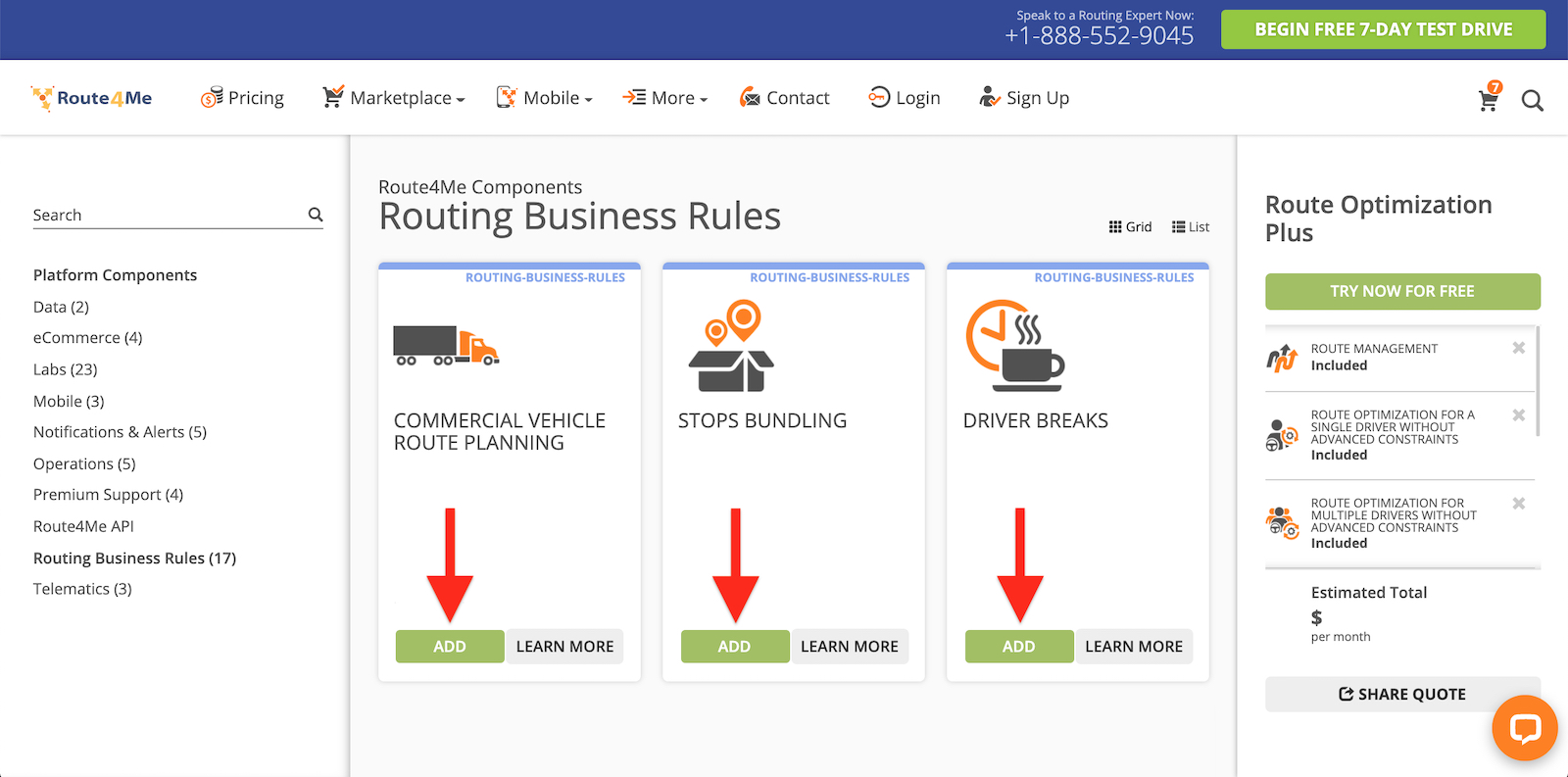 Route4Me Mobile Route Planner Apps
Route4Me's Android Route Planner and iOS Route Planner mobile apps also support multiple goal-driven features. You can use Route4Me's mobile routing apps as stand-alone route planner apps for planning and navigating routes. Furthermore, you can connect both mobile apps to your Web Subscription. In this way, you will be able to use your Web Platform custom solution combined with both mobile route planner apps.
Learn more about the difference between Route4Me's Mobile Subscriptions vs. Web Subscriptions.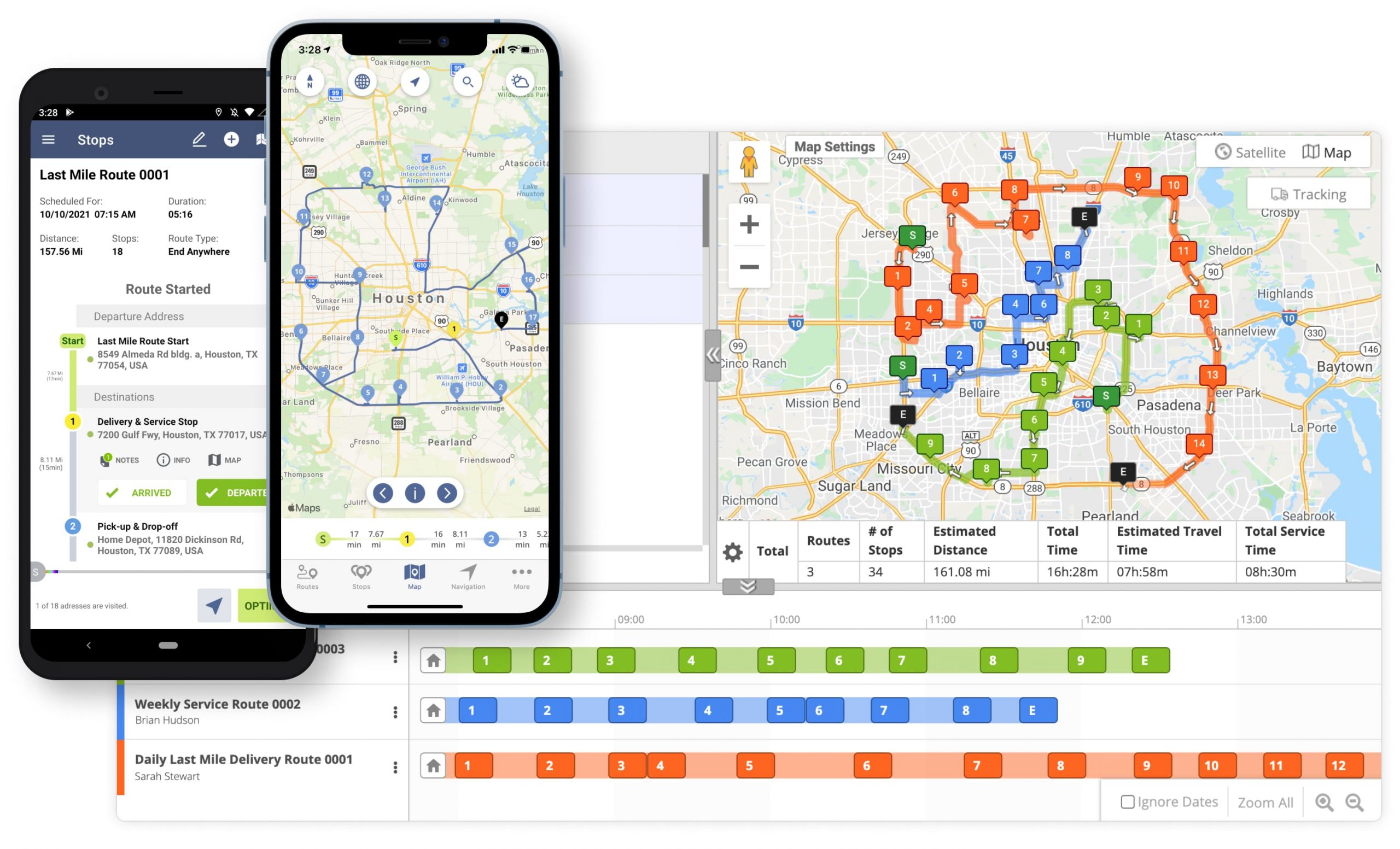 Route4Me Integrations with Third-Party Systems
Additionally, Route4Me supports multiple integrations with various third-party systems. For example, you can use Route4Me's Telematics Gateway to connect to telematics vendors.
In addition, you can integrate your Route4Me account with such CRM platforms as QuickBooks, HubSpot, Salesforce CRM, Zoho CRM, and more. In this way, you can make your Route4Me routing solution even more flexible and easily address your unique business goals.
Get a Free Route Planner 7 Day Trial today! Use your real operational data and see how your flexible routing solution can help you optimize the most profitable routes and complete more orders without any additional assets.
If you liked this request for proposal (RFP) post about business goal-driven routing, check out more Q&As!
Route4Me is an international and multi-language route planning platform available in hundreds of supported countries. Thousands of businesses and users around the world use our route optimization solutions to improve their routing and logistics operations. Therefore, we made sure that Route4Me users can use our software in virtually every region on the planet. For example, you can use our software in North America, South America, Europe, Asia, Africa, and other regions.
Web Platform Supported Countries
Route4Me supports different routing types in different countries. Our main routing types include the following: Regular Vehicles, Commercial Vehicles, Pedestrian or Walking, and Biking. Learn more about Route4Me's routing types by supported countries below.
Route4Me also supports multiple user interface languages. Therefore, all users around the world can have a comfortable and efficient user experience when optimizing their routes. Supported languages include Arabic, Chinese, French, German, Hebrew, Hindi, Japanese, Portuguese, Russian, Spanish, etc. Learn more about Route4Me's Web and Mobile Platforms supported languages and language settings.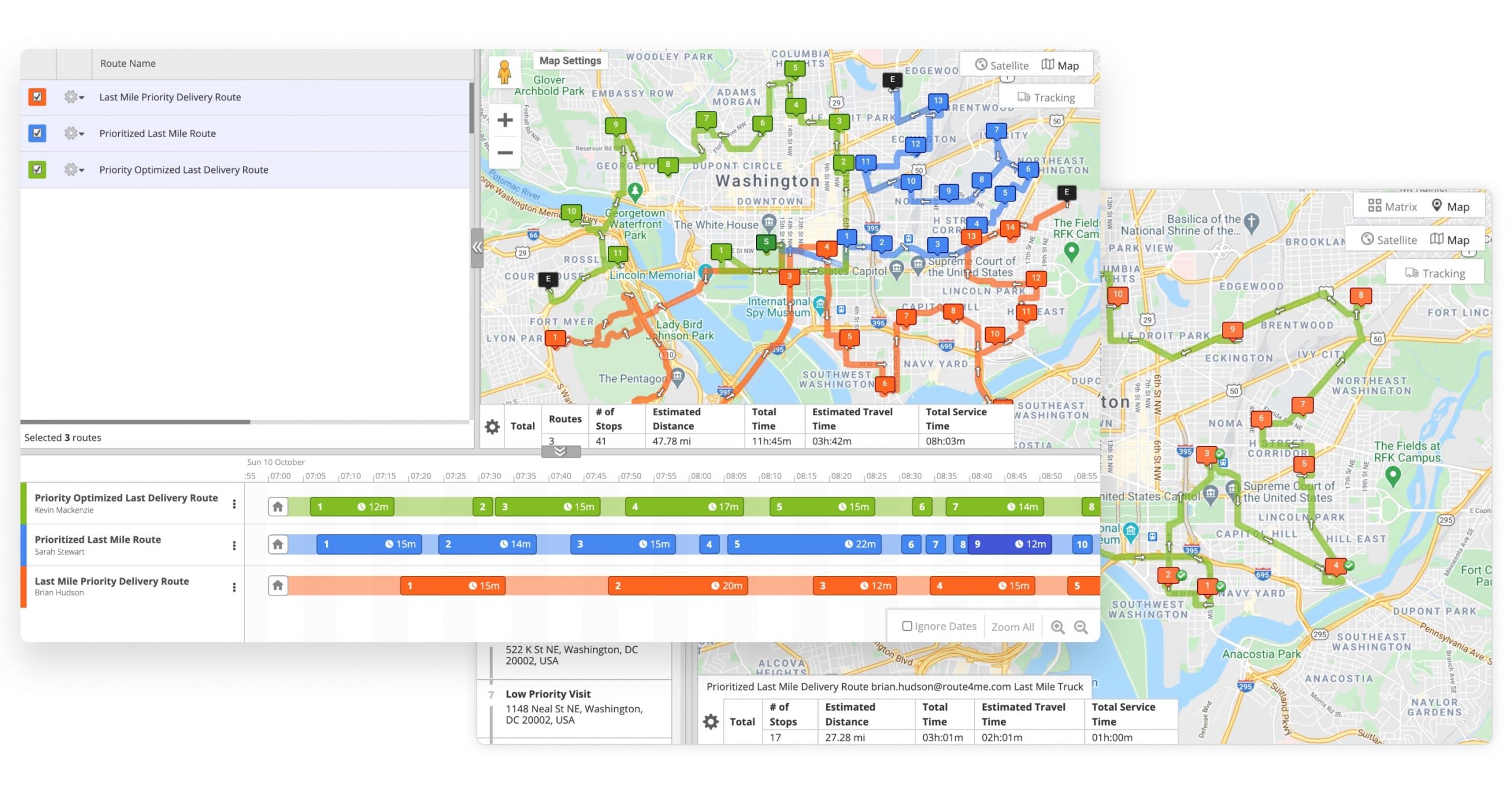 Mobile Apps International Support
Furthermore, our Android Route Planner and iOS Route Planner mobile apps are also available for download in multiple countries. Additionally, both mobile route planners also support multiple languages. For more convenience, our apps' language settings are set up automatically based on the language settings on your device.
You can download Route4Me's routing apps from the Apple App Store for iPhone and iPad and Google Play for Android smartphones and tablets.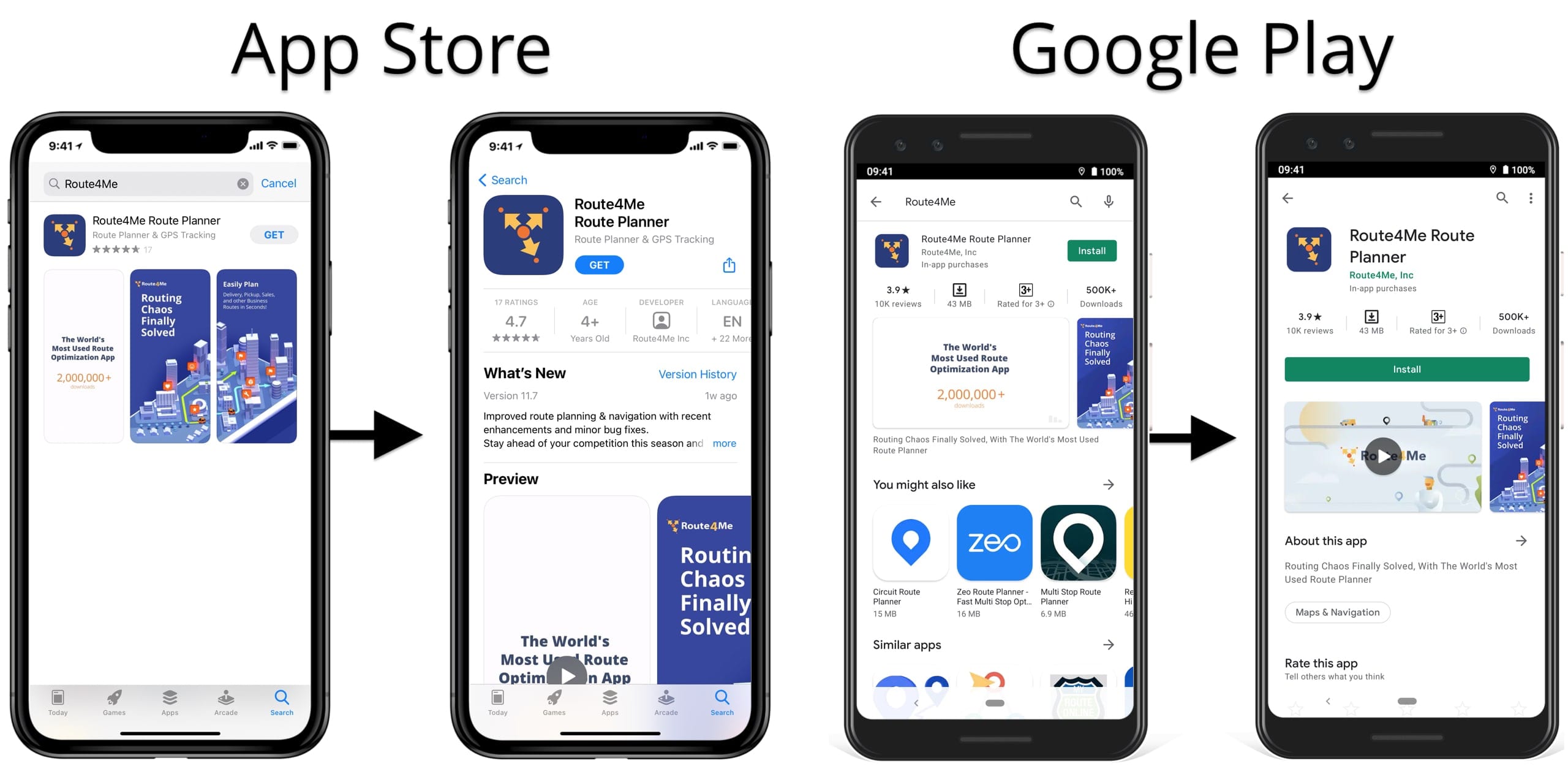 Web and Mobile Synchronization Languages
Equally important, Route4Me supports real-time synchronization between the Web Platform and both mobile route planner apps. However, Route4Me's mobile apps support different routing types and languages than the Route4Me Web Platform. Thus, please make sure to check that your Route4Me solution or app supports that needed language(s) and routing type(s).
Learn more about Route4Me's Web Platform and mobile apps routing profile types and supported countries.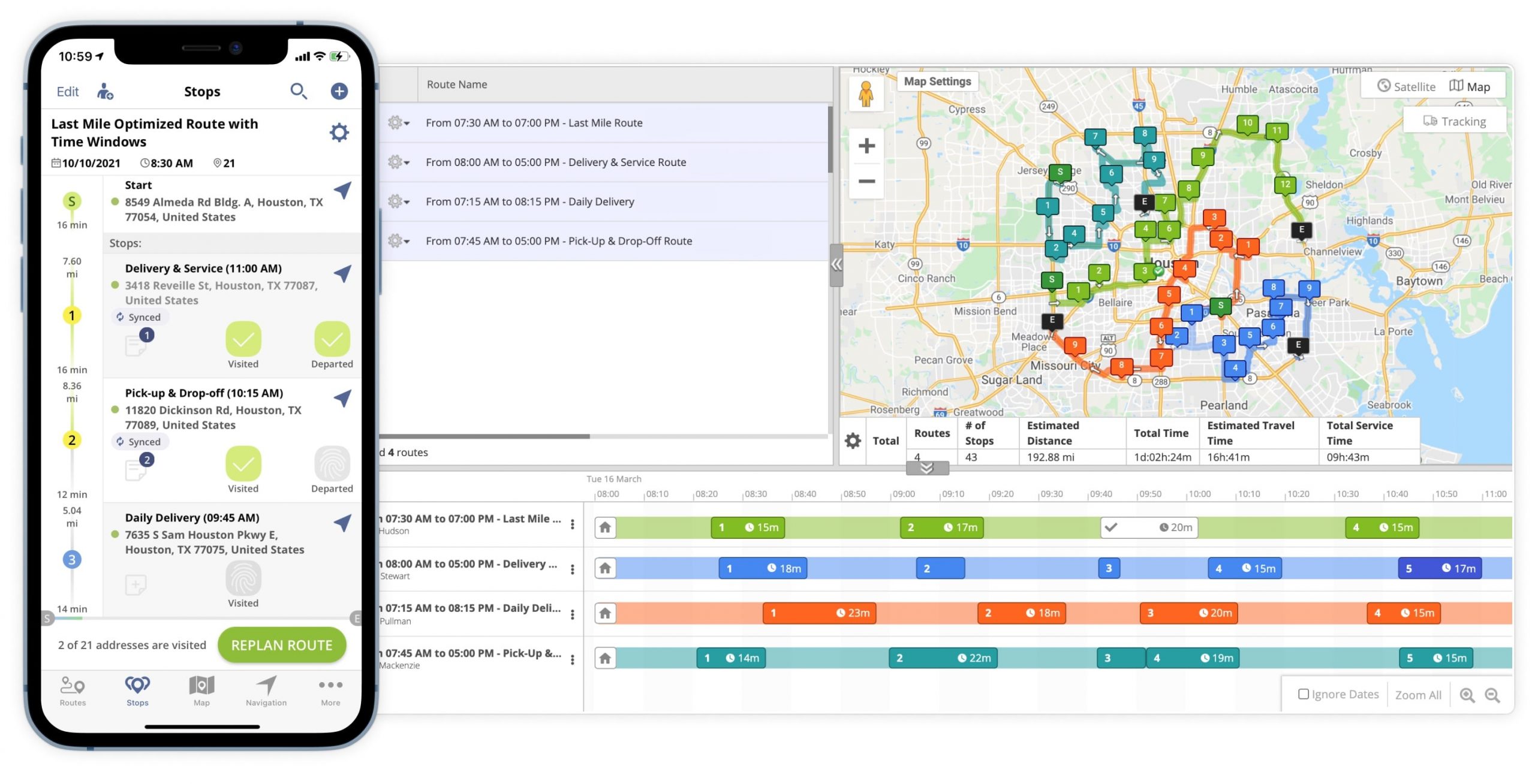 To sum up, if you liked this request for proposal (RFP) post about what countries Route4Me is available for, check out more Q&As!
If you still have questions and don't know whether Route4Me is supported in your country or area, please reach out to our Support Team, and we will help you as quickly as possible.
With Route4Me, businesses can achieve route planning savings and a 300% increase in the efficiency of most routing and logistics activities. Moreover, you can achieve these results without any additional drivers and vehicles. Below, you can learn more about route planning, fleet management, and team management savings.
Route Planning Savings
Route4Me helps to significantly reduce manual route planning time, from hundreds of hours to a couple of hours a week. Our proprietary optimization engine can optimize hundreds of thousands of addresses and provide the most cost-efficient routes in seconds. Thus, instead of an entire team of route planners, you need only one person spending a couple of hours planning routes for your entire organization.
Route4Me supports multiple optimization types that enable you to optimize routes of any complexity. For example, Route4Me's Multiple Driver Route optimization enables you to automatically split all addresses into multiple most efficient routes. Moreover, we will even tell you how many drivers and vehicles you actually need to complete all your orders. Additionally, our optimizations can account for such business rules as vehicle capacity, weight, revenue, and other constraints.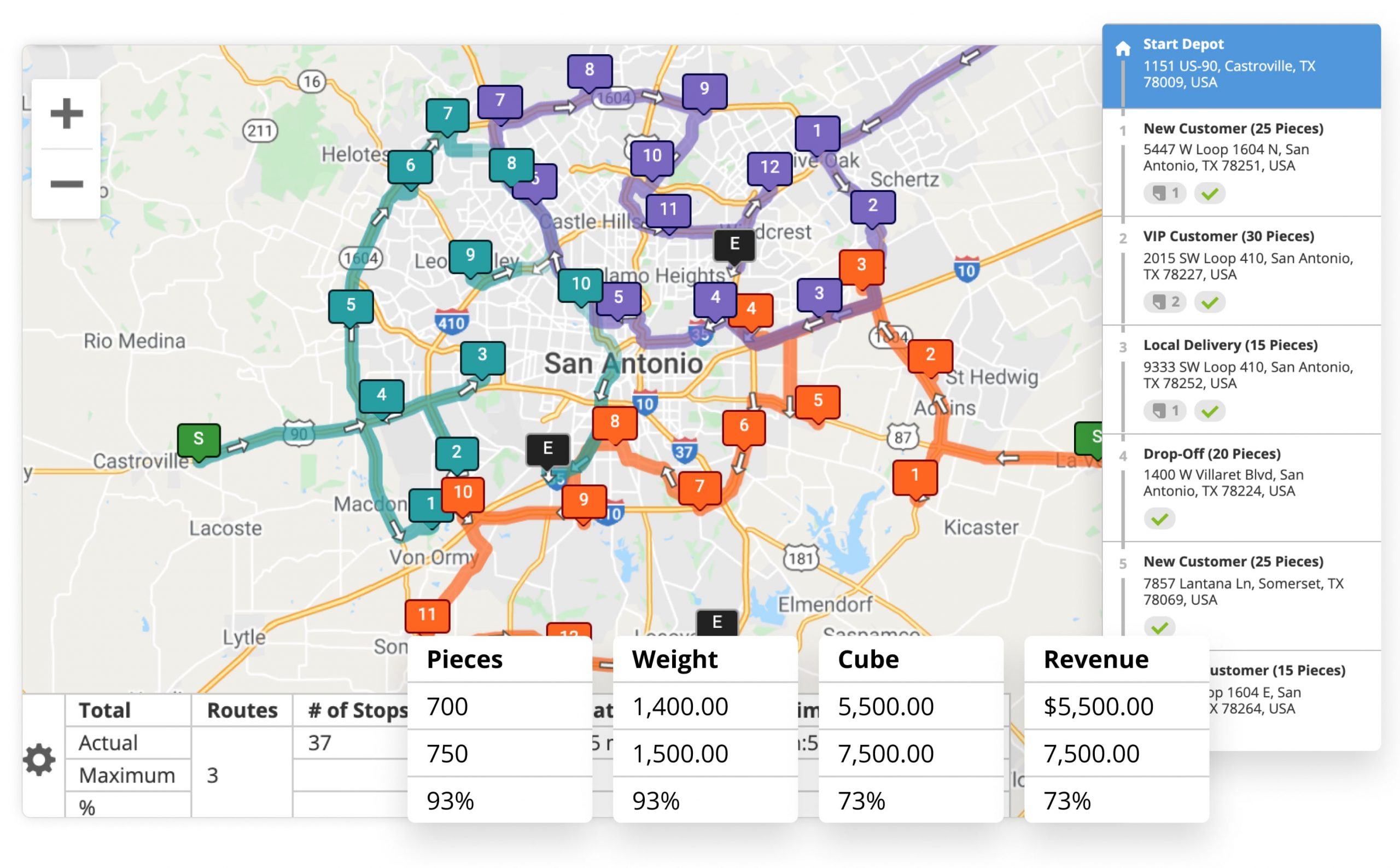 Fleet Management Savings
Route4Me's fleet management solutions enable you to:
Create vehicle profiles with custom vehicle parameters.
Assign the right vehicles to the right drivers and routes.
Manage vehicles on routes in real-time.
Get fleet performance statistics.
Therefore, with a streamlined and organized fleet, you can cut fuel expenses, improve fleet performance, reduce maintenance costs, and more.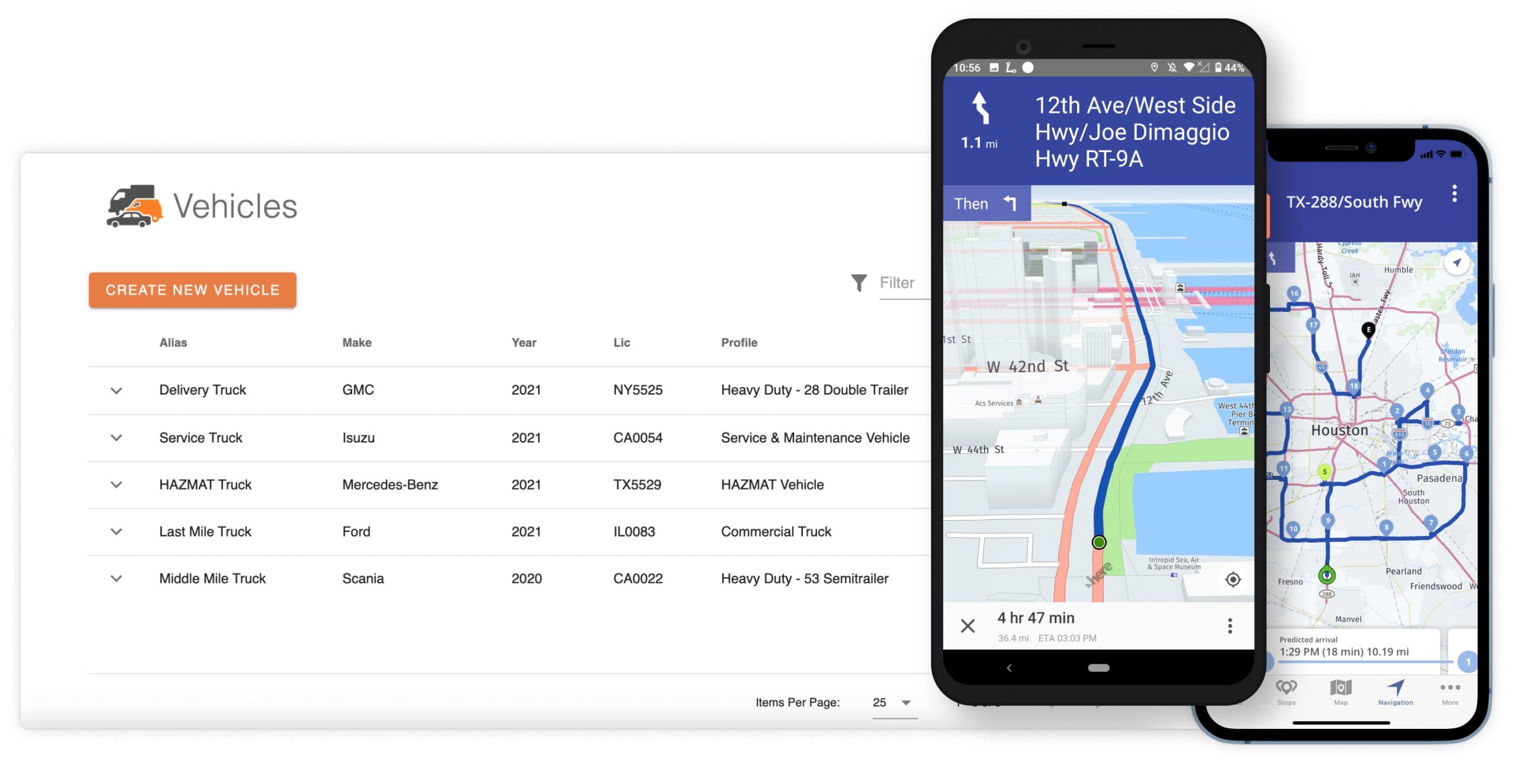 Field Team Management Savings
Route4Me's team management solutions enable you to better manage your field team members:
Build internal team hierarch and structure.
Synchronize route updates with distributed teams in real-time.
In this way, with a well-organized and mobile team, you can not only save time but also complete more orders and make more money.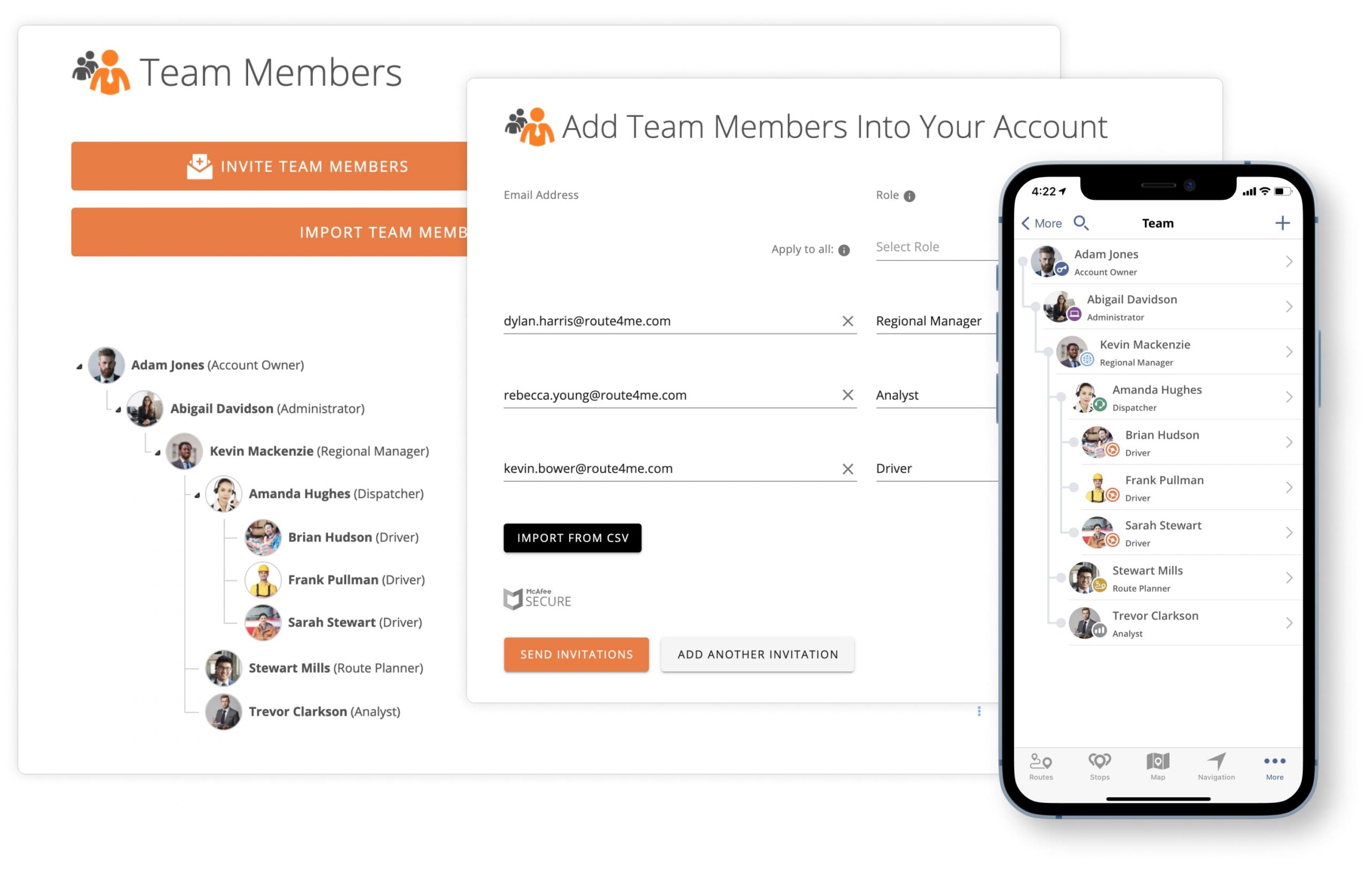 These are some and not all the ways how various businesses manage to save a lot of time and money and get other route planning savings using Route4Me. Learn more about businesses in different industries that are benefiting from using Route4Me's route planning and optimization solutions.
If you liked this request for proposal (RFP) post about route planning savings, check out more Q&As!
No, you don't need any special route planner training or routing courses to plan routes using any of Route4Me's solutions. Route4Me's Web Platform, iOS Route Planner, and Android Route Planner apps are self-service, super intuitive, and extremely easy to use.
With Route4Me's route planning and optimization solutions, you don't need to train your route planners on how to plan routes, dispatchers on how to dispatch and track routes, and drivers on how to navigate and complete dispatched routes.
That's why you can save thousands of dollars and a lot of your team's time with Route4Me. Route4Me's apps even provide in-app tutorials and instructions that can guide you through all the necessary steps, offering you a frictionless user experience.
However, if you need any special or additional training, Route4Me provides route planner training packages for businesses with unique operating requirements or complex routing needs. You can easily schedule a Route4Me training session on the self-service platform and schedule a training session for a convenient time slot.
You can also find recorded onboarding and training sessions on our Route4Me YouTube Channel. On our channel, you can also find other useful video material about route planning, route optimization, logistics, and more.
If you liked this request for proposal (RFP) post about Route4Me's training sessions for route planners, check out more Q&As!
Yes, but you must select a seasonal industry in your account settings page, as well as re-activate your account within one year of the most recent cancellation in order to keep your data.
In general, terminating your subscription in an off-season is not as efficient as keeping it on. During the off-season, you could review your customer list, assign new users, and explore new territories where you can pursue new business.
You can find Route4Me reviews on the most popular business software review platforms, such as:
Looking for Route4Me reviews on such platforms will help you discover how real users are using our route optimization software, what Route4Me features are helping last mile businesses like yours streamline their operations, and more.
Route4Me Route Planning Software Reviews on Capterra
Capterra allows you to compare Route4Me with almost all route planners available in the market side-by-side. This ability will help you choose the best solution for your particular business needs faster. Plus, on Route4Me's Capterra profile, you will find:
Hundreds of independent reviews describing real user experiences
The pros and cons of choosing Route4Me over other route planning software solutions
And a lot more information that will help you make an informed purchase decision
Moreover, Capterra offers details on Route4Me's pricing, features, and alternatives. In addition to all that, you can also easily conduct side-by-side comparisons with Route4Me's route optimization software and popular counterparts. By doing so, you will be able to identify what route planning solution can cater to your unique business needs and business model.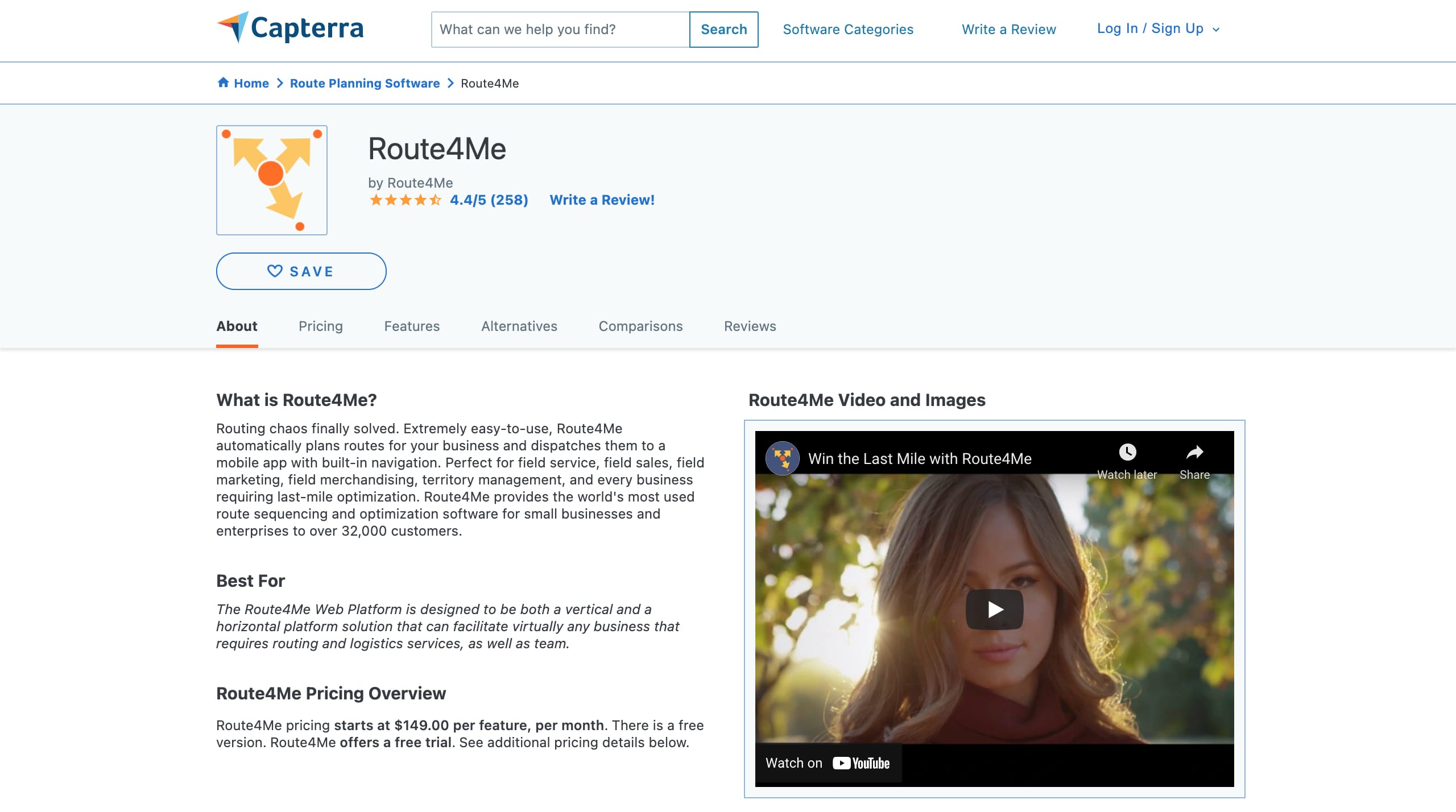 Route4Me Route Planning Optimization Reviews on G2
G2's algorithms are able to spot fraudulent user reviews left by companies reviewing their own or their competitors' software. That's why many independent users and businesses opt for G2 for more accurate software reviews.
When visiting Route4Me's G2 profile, you can discover details about the Route4Me Community, social media presence (i.e., Route4Me on Twitter, Route4Me on LinkedIn, etc.), contact information, and a lot more. As for comparisons on G2, Route4Me is often compared with route planning software such as: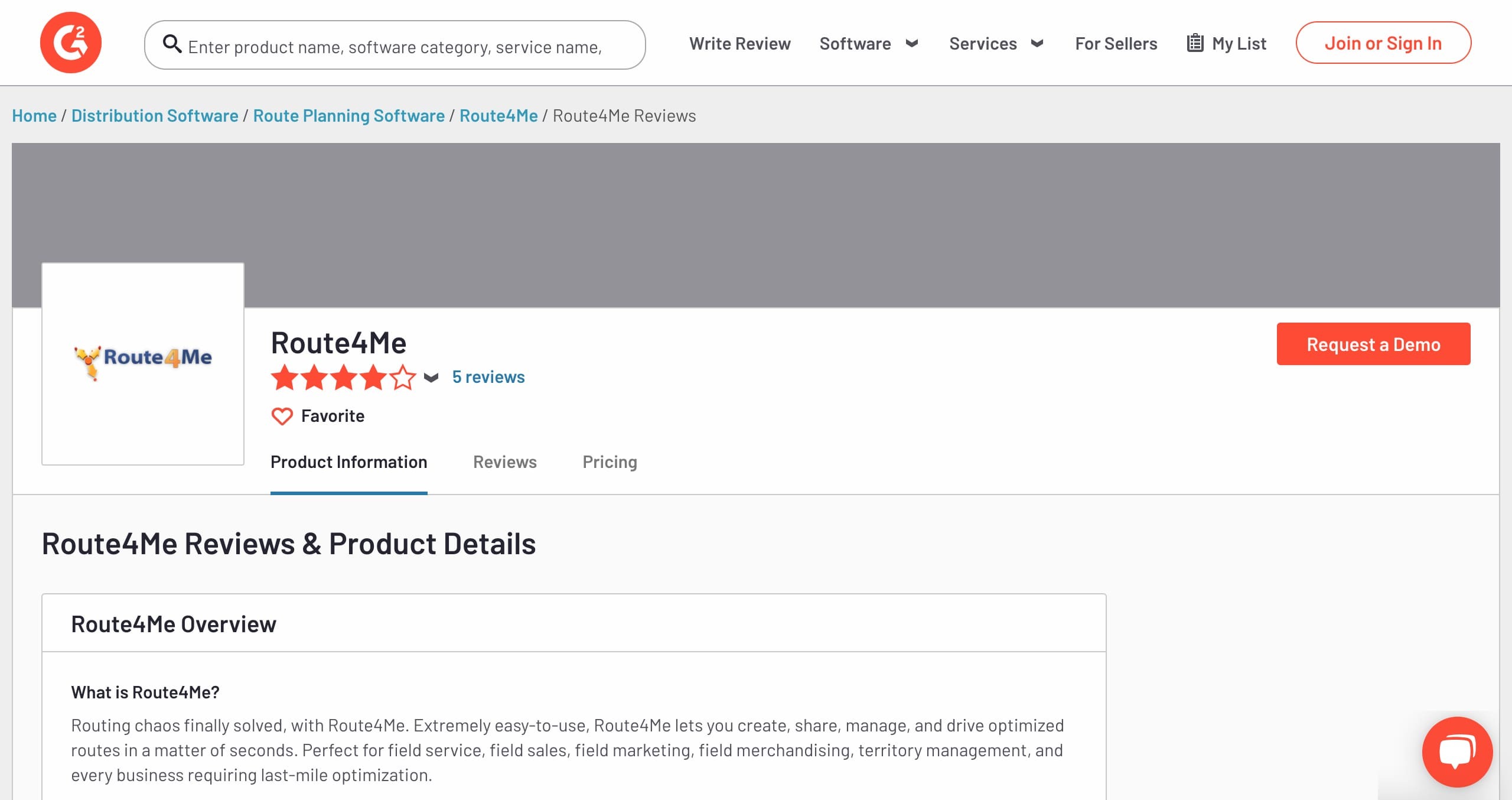 Route4Me Routing Software Reviews on Software Advice
Software Advice as part of Gartner, the world's leader in tech research, helps businesses find the right software for their needs. It does so with the help of over 1 million verified user reviews and insightful advisory services.
Route4Me's Software Advice profile will offer you first-hand insights into the experience our users had while integrating Route4Me's route planning software into their work environment. Aside from user reviews, you will also find a lot of information about our software's features as well as comparisons between Route4Me and other similar route planning systems.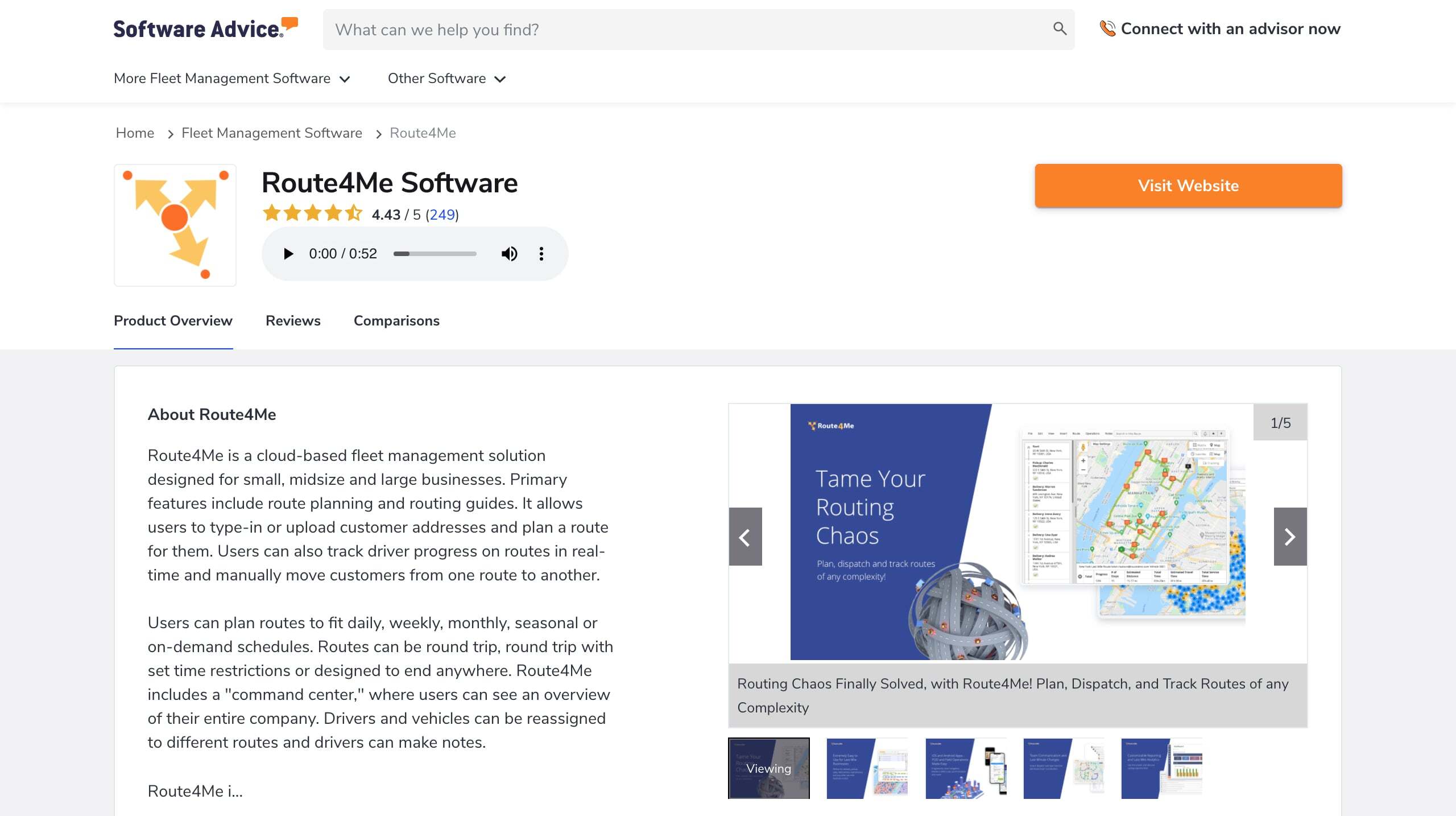 Route Planner Reviews on Apple Store and Google Play
Furthermore, you can also find real user reviews for our iOS Route Planner and Android Route Planner apps on the designated Google Play and App Store pages from where you can also download the apps using any mobile device.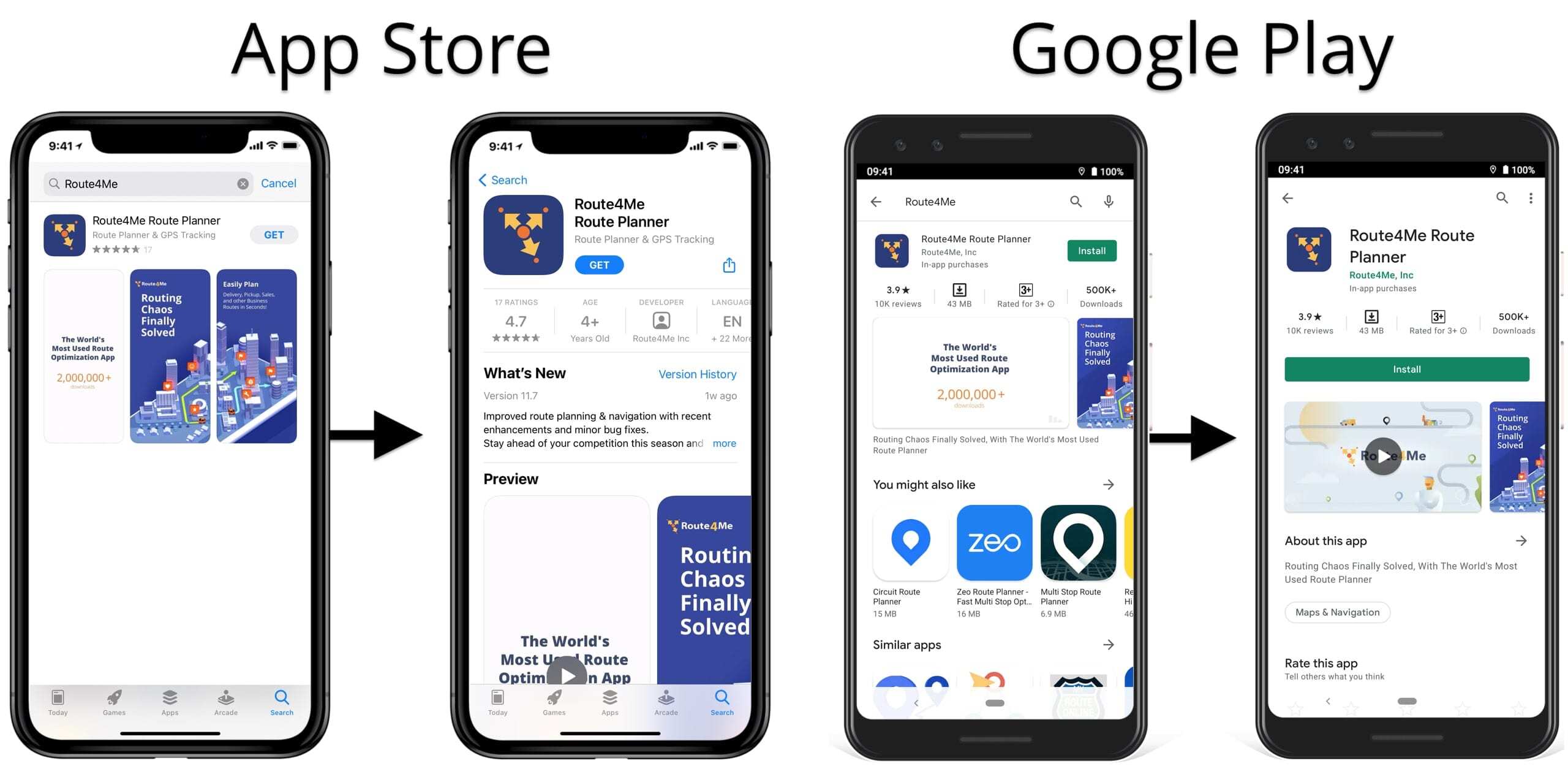 The majority of the Route4Me reviews posted on these software comparison platforms are from verified users. Plus, details about reviewers' positions and companies are available on Capterra, Software Advice, and G2. This information will give you a better understanding of how Route4Me helps businesses of different sizes, giving you the opportunity to compare your business needs with other similar ones.
If you liked this request for proposal (RFP) post about Route4Me's user reviews, check out more Q&As!
Yes, Route4Me is a multi-purpose last mile routing and smart logistics optimization platform that can act as a single routing control panel. Specifically, Route4Me's route planning software is equipped with multiple last mile and middle mile management tools to help you streamline your entire operation. As a result, any logistics-intense business can use Route4Me's route planner as a complete, multi-tool control panel to oversee and optimize any logistics process – from route planning, route optimization, and route scheduling to route dispatch, fleet management, and much more.
Customer Routing Control Panel
For instance, Route4Me's Synced Address Book gives you the ability to store and manage the details and information of all your customers in a single space. To make address management even easier, the Address Book Map will offer you an accurate overview of the spatial arrangement of your addresses. And when it comes to handling large numbers of addresses, you can count on Route4Me's Smart Zones optimization. This feature allows you to automatically split hundreds of thousands of addresses into smart Address Clusters. Similarly, Route4Me also enables you to divide addresses into territories right on the Address Book Map.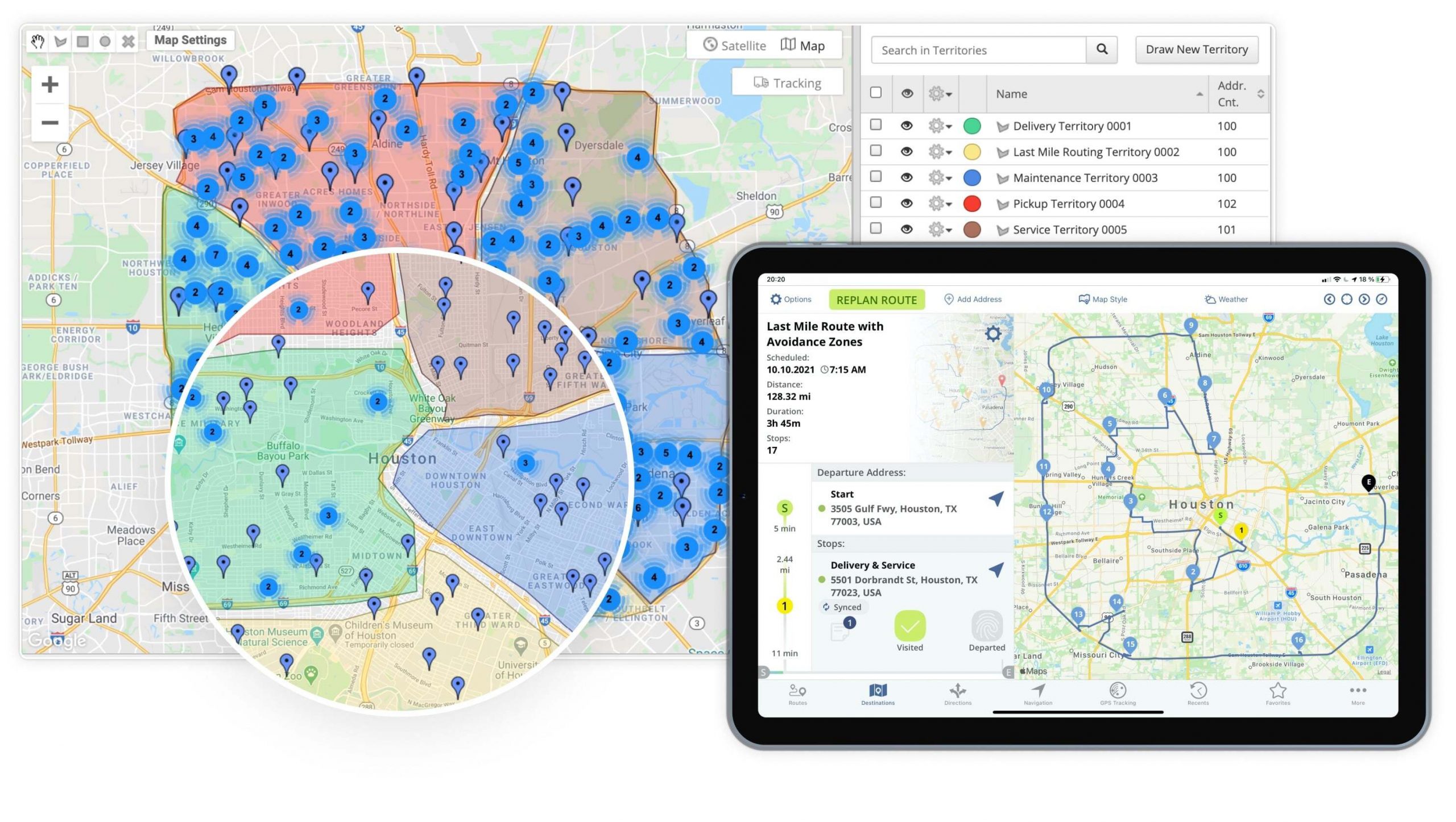 Team Management Control Panel
In addition to customer data management tools, Route4Me offers you multiple team management features as well. For example, Route4Me enables you to create detailed profiles with clearly established roles for each of your team members. Then you can also adjust the visibility settings of team members' profiles, creating a hierarchical organizational structure. As soon as you've created user profiles, you can also easily assign drivers to routes.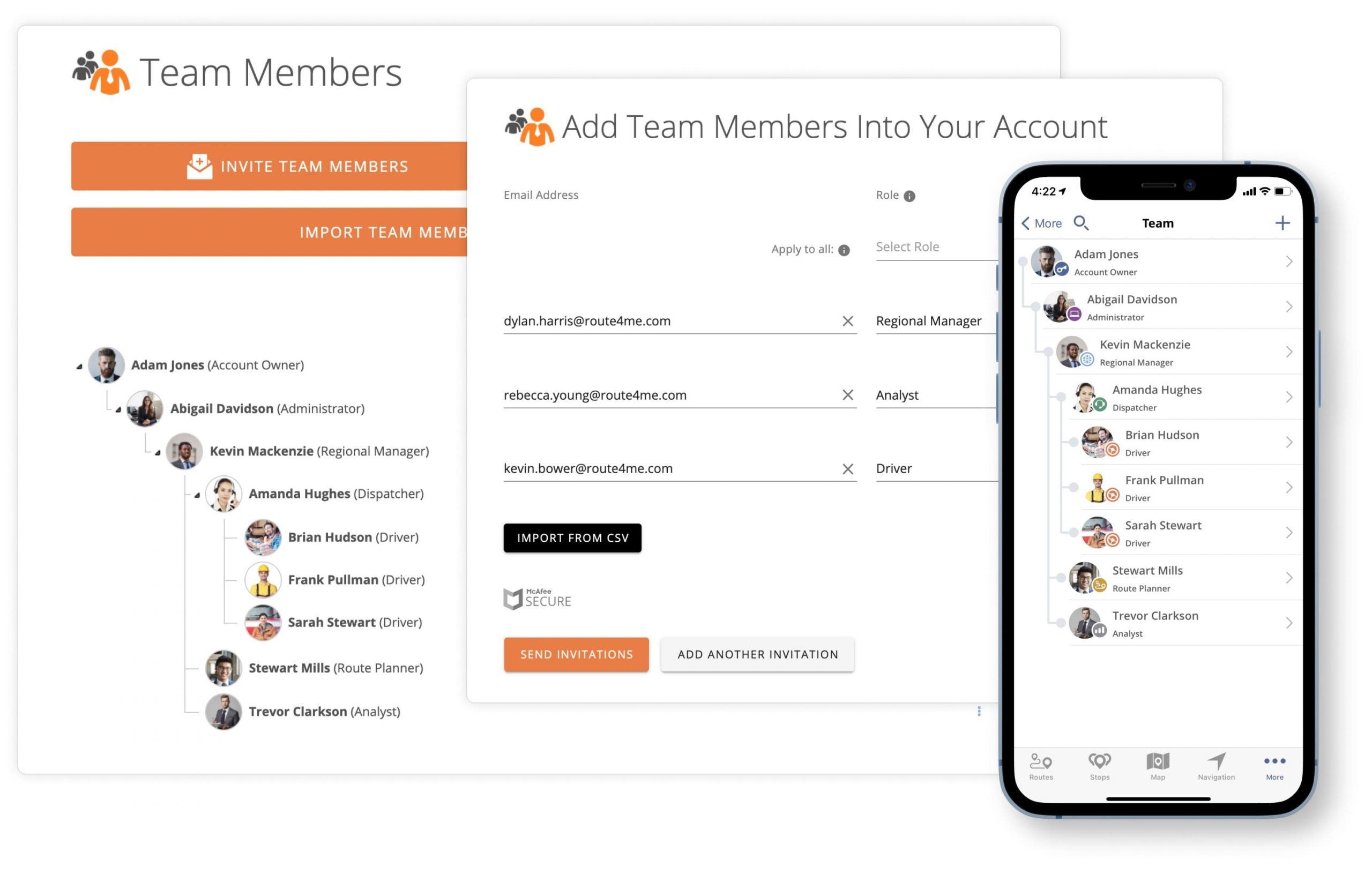 Fleet Management Control Panel
Likewise, Route4Me's fleet management features help you keep track of your fleet and asset information. In fact, you can create vehicle profiles with specific parameters that you can account for when planning routes. Alternatively, you can also integrate Route4Me with any telematics solution in the market. This allows you to import telematics vehicles into our system with a few clicks. Moreover, Route4Me's Scheduled & Recurring Routing Optimization feature makes it easy for you to keep track of your vehicle's maintenance schedule and service appointments.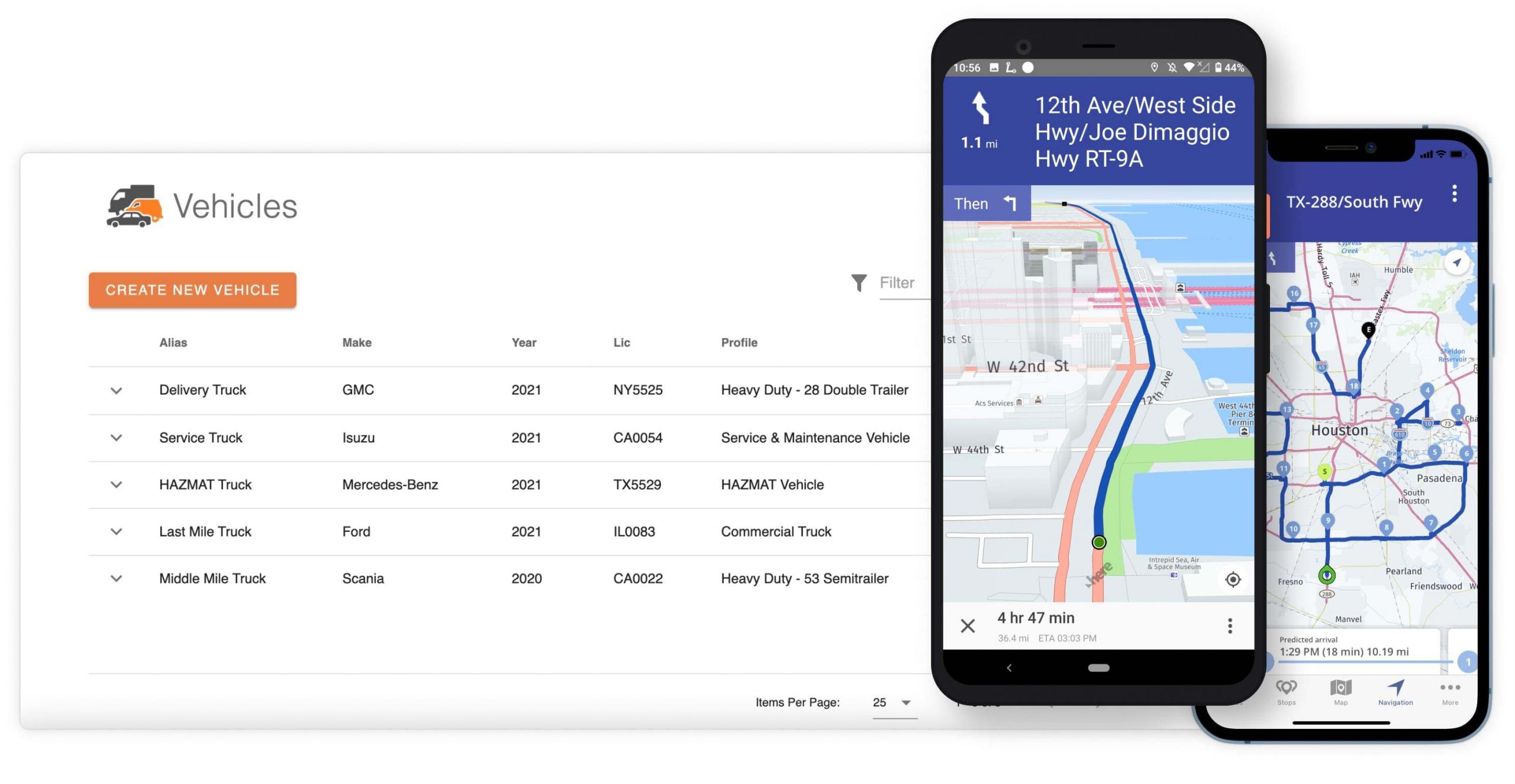 Analytics, Route Planner Apps & Driver Tracking
Furthermore, Route4Me's Analytics and Reporting Dashboard offers you the possibility to monitor team performance and track logistics KPIs. This way, you identify which of your logistics processes are efficient and which ones need to be improved.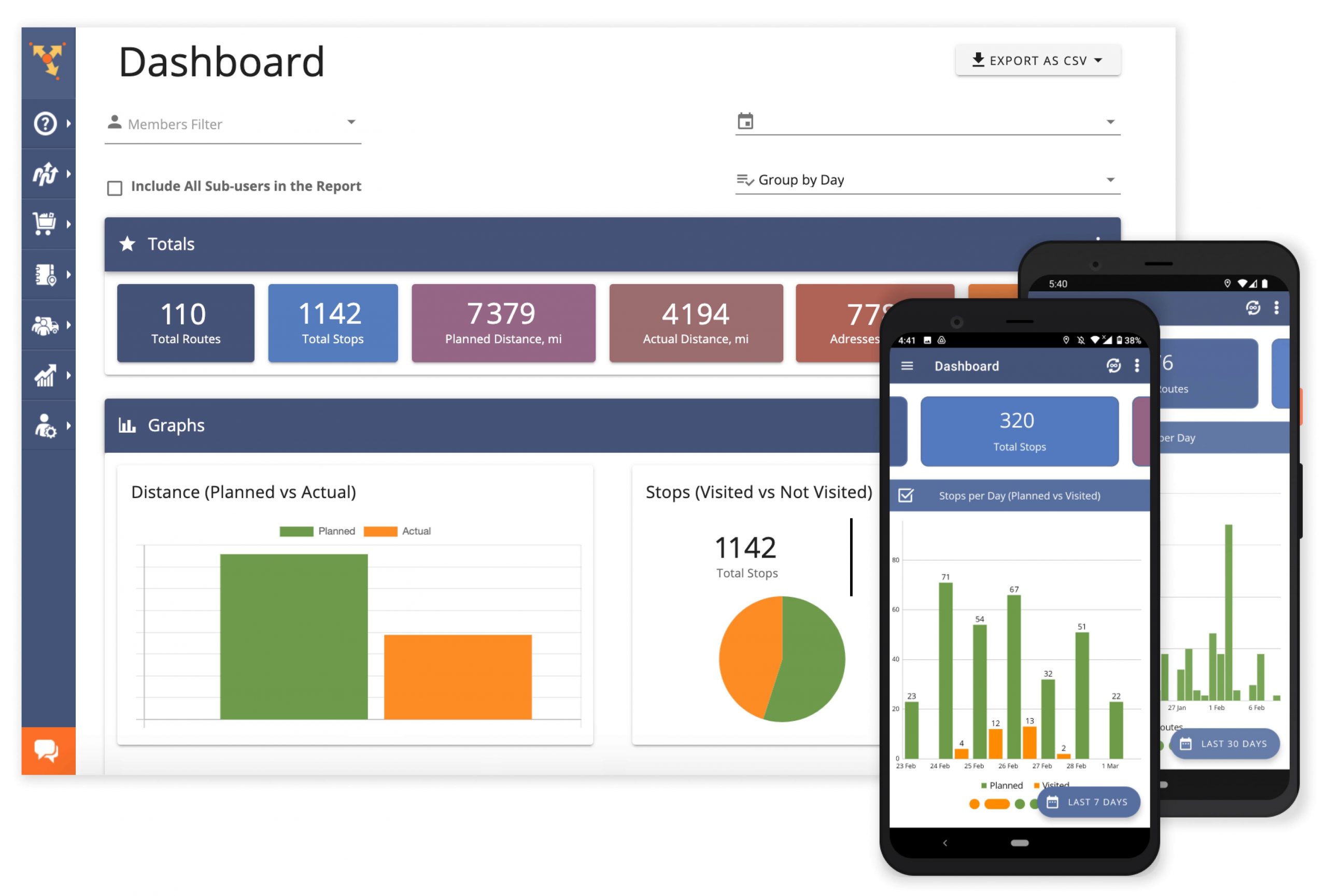 Route4Me's iOS Route Planner and Android Route Planner apps will also help you use Route4Me as a routing control panel. Namely, Route4Me's driver apps will help you stay in touch with your field employees at all times. In addition to improving communication and collaboration, Route4Me's route planning apps help drivers scan barcodes, collect electronic proof of delivery (ePOD), and many more. Plus, all the data collected by drivers on Route4Me's Route Planner apps is instantly synced across all the devices associated with your Route4Me account. And this increases visibility and control over your last mile business.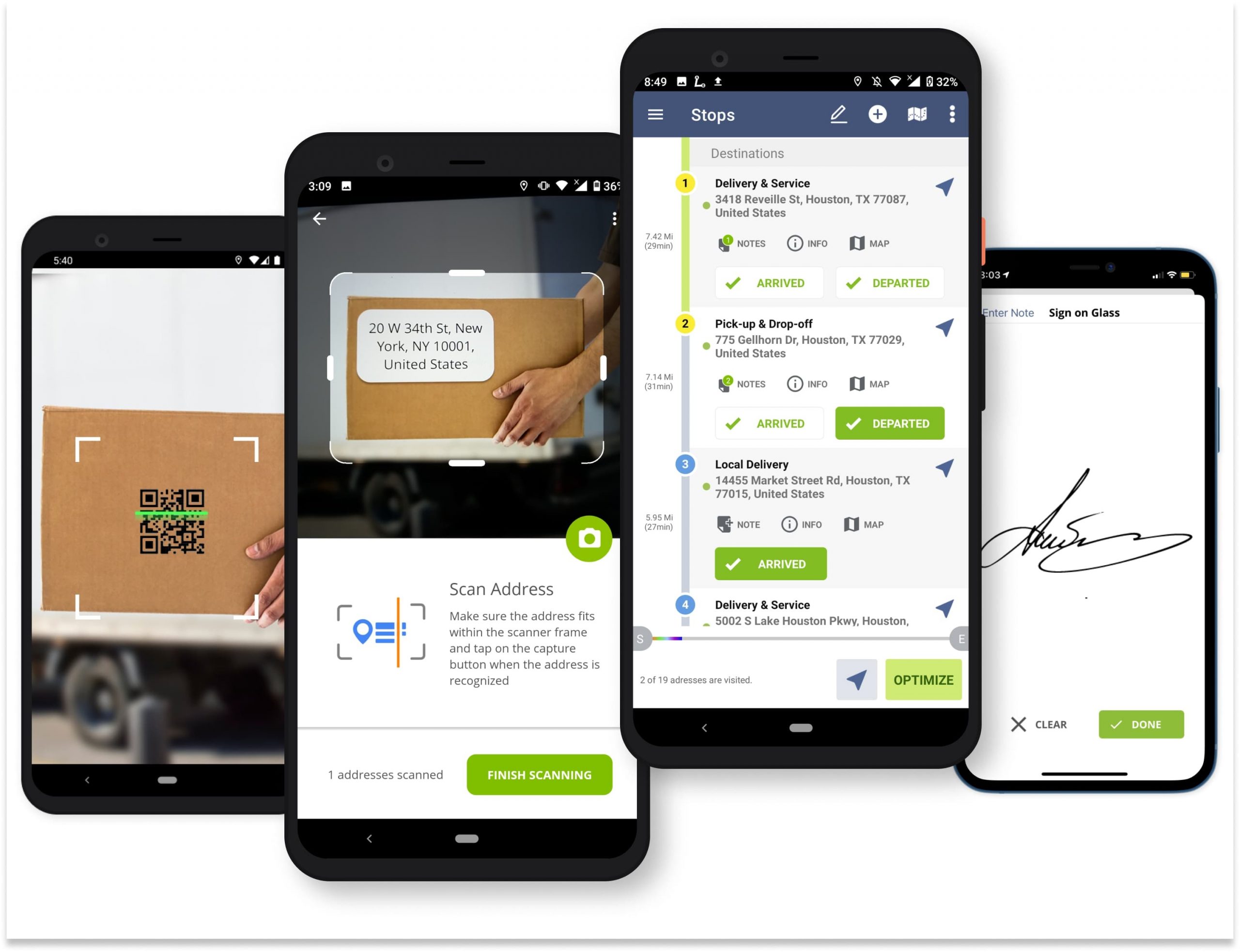 Finally, what makes Route4Me an integrative routing control panel is the ability to provide accurate, near real-time driver tracking. Route4Me's driver tracking tools keep you informed about route progress and driver performance in near real time. In addition to live driver tracking, Route4Me enables you to watch a GPS history movie with an animated recording of all your drivers on a map. This way, you will always be able to track your drivers – either in real time or after the fact. By doing so, you will reduce fuel card fraud, prevent unnecessary idling, and avoid unauthorized route detours.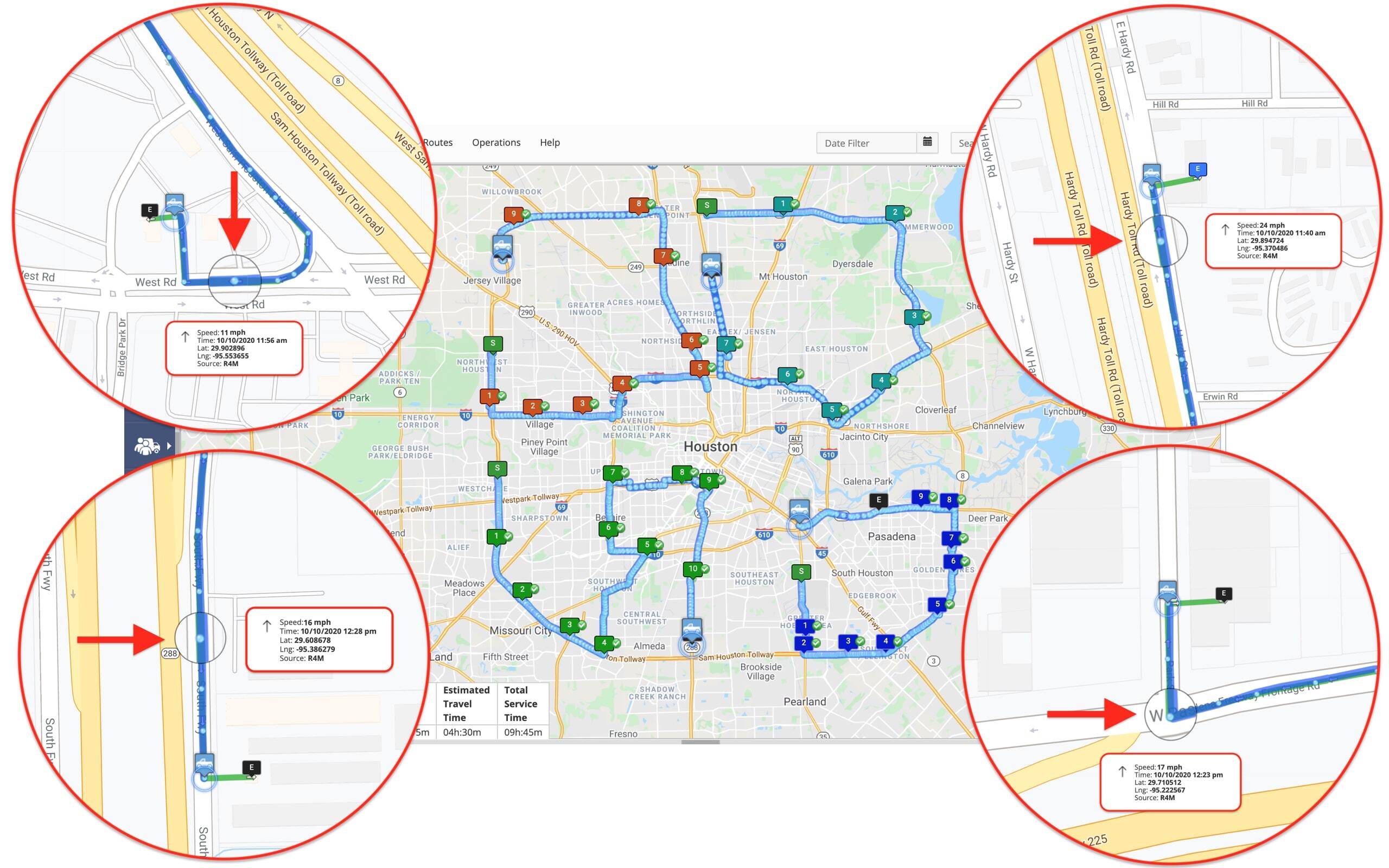 To sum up, Route4Me provides granular tools and solutions to help you efficiently manage your last mile business. Therefore, it can absolutely be used as a routing control panel.
If you liked this request for proposal (RFP) post about how you can use Route4Me as a routing control panel, check out more Q&As!
Yes, you can use Route4Me's software as a daily route planner. In fact, you can easily address your daily last mile needs using Route4Me's flexible route planning and optimization solutions. Route4Me will help you solve your daily routing chaos and sort out any complex routing cases.
Use Route4Me as a Daily Route Planner
With Route4Me, you can plan new routes every day. Alternatively, you can also create recurring routes with a daily schedule. When scheduling routes, Route4Me's Routing Calendar will help you gain insights into your fleet resources and workforce availability.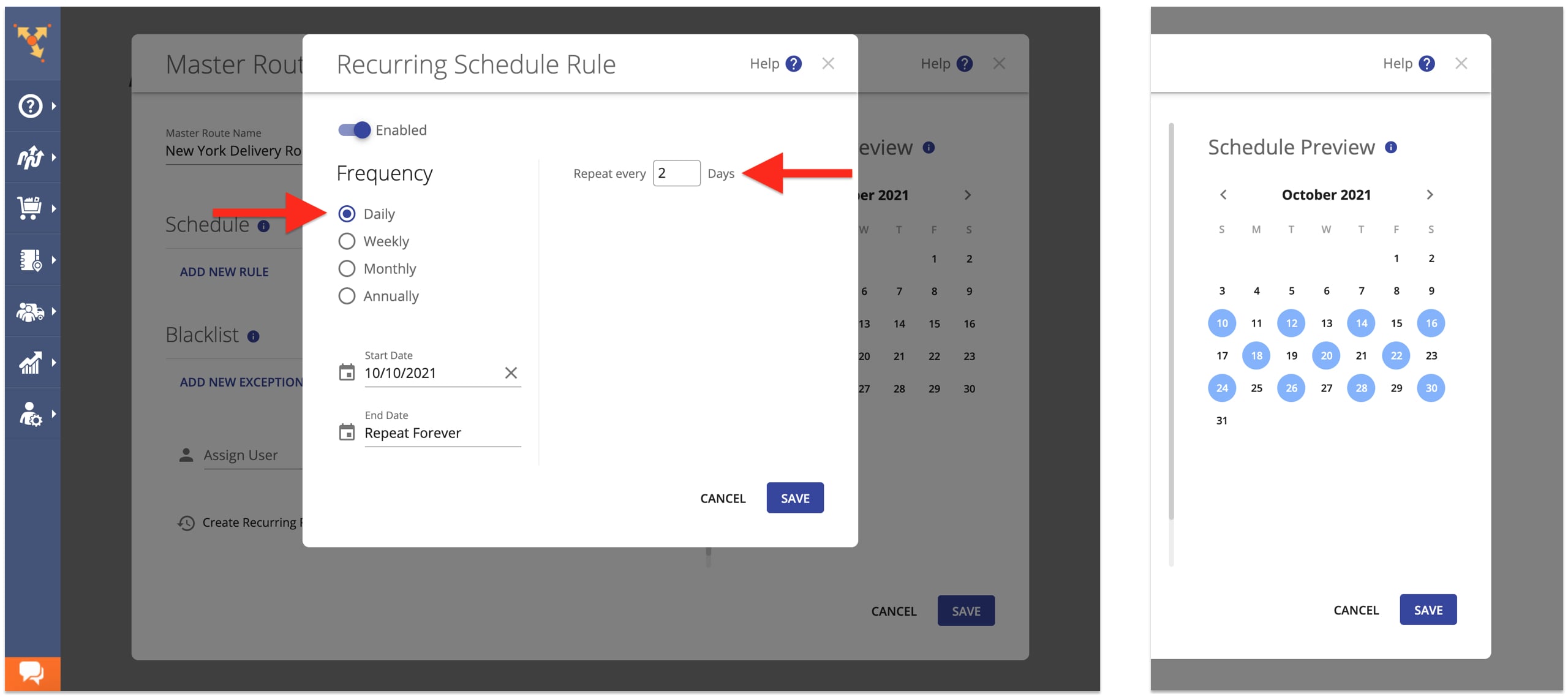 In addition, with Route4Me, you can effortlessly account for daily unplanned customer visits and other similar circumstances. For example, Route4Me can accommodate any route change and modify your routes in real-time. Specifically, Route4Me helps you address last-minute adjustments and enables you to: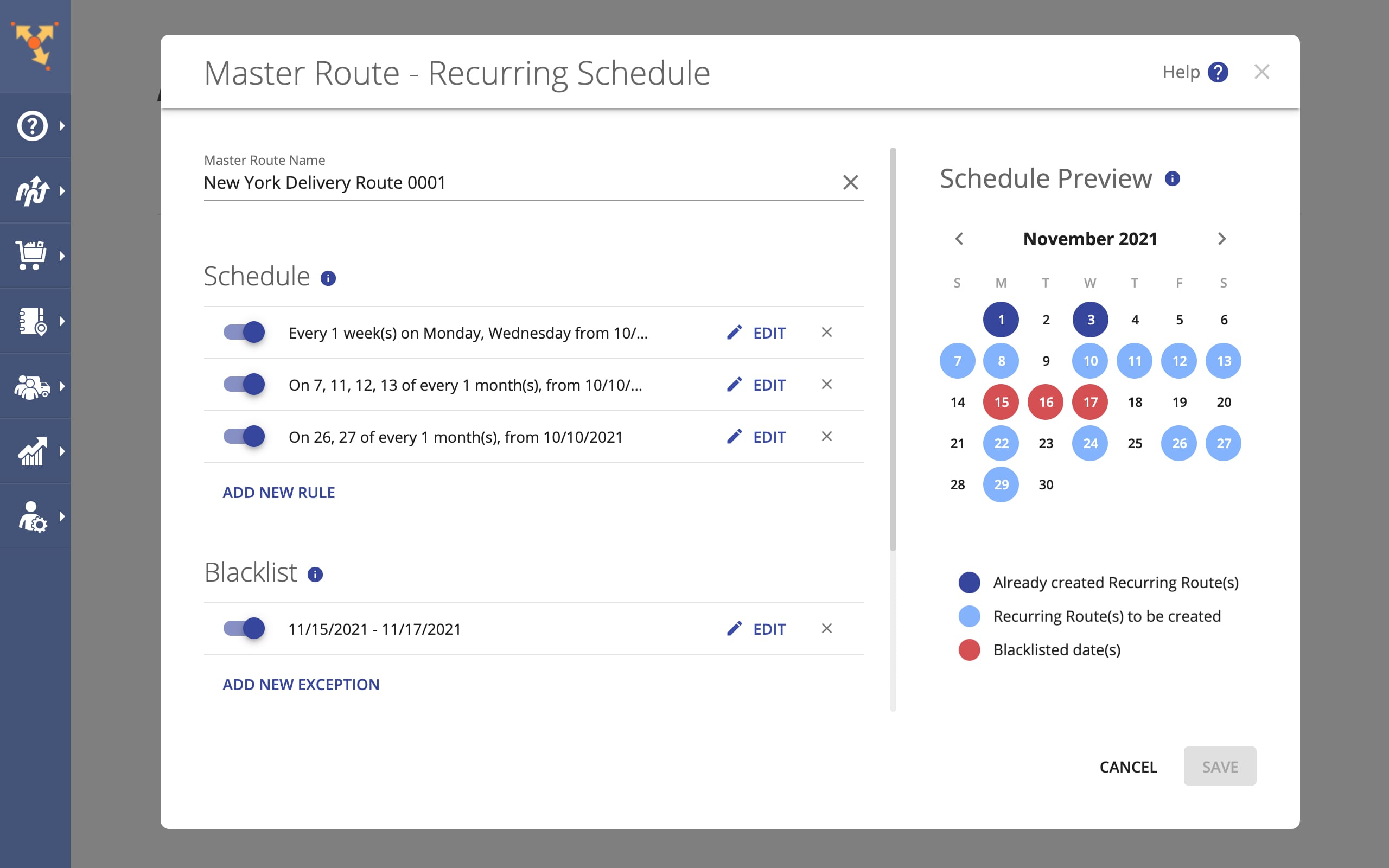 Moreover, the edits you make to your routes will automatically sync with your drivers' iOS Route Planner and Android Route Planner apps. This way, your drivers will instantly have the most recent updates right on their phones. And no extra effort from your side will ever be required.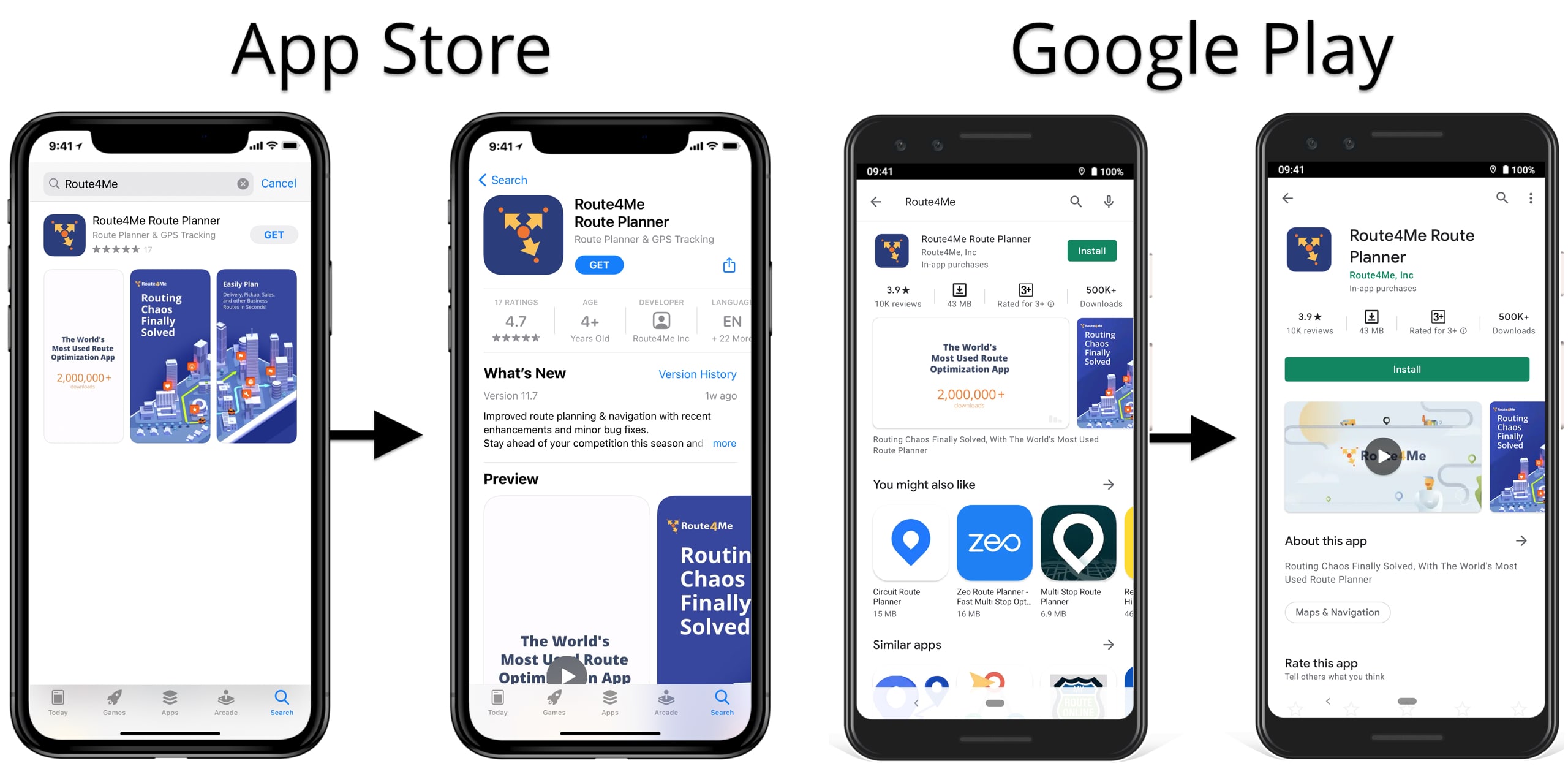 Use Our Driver Apps for Daily Routing
To solve your daily routing challenges on the go, you can also use our Android and iOS Route Planner apps as daily planners. You can plan routes on our apps for daily needs.
Learn how you can plan your daily routes with: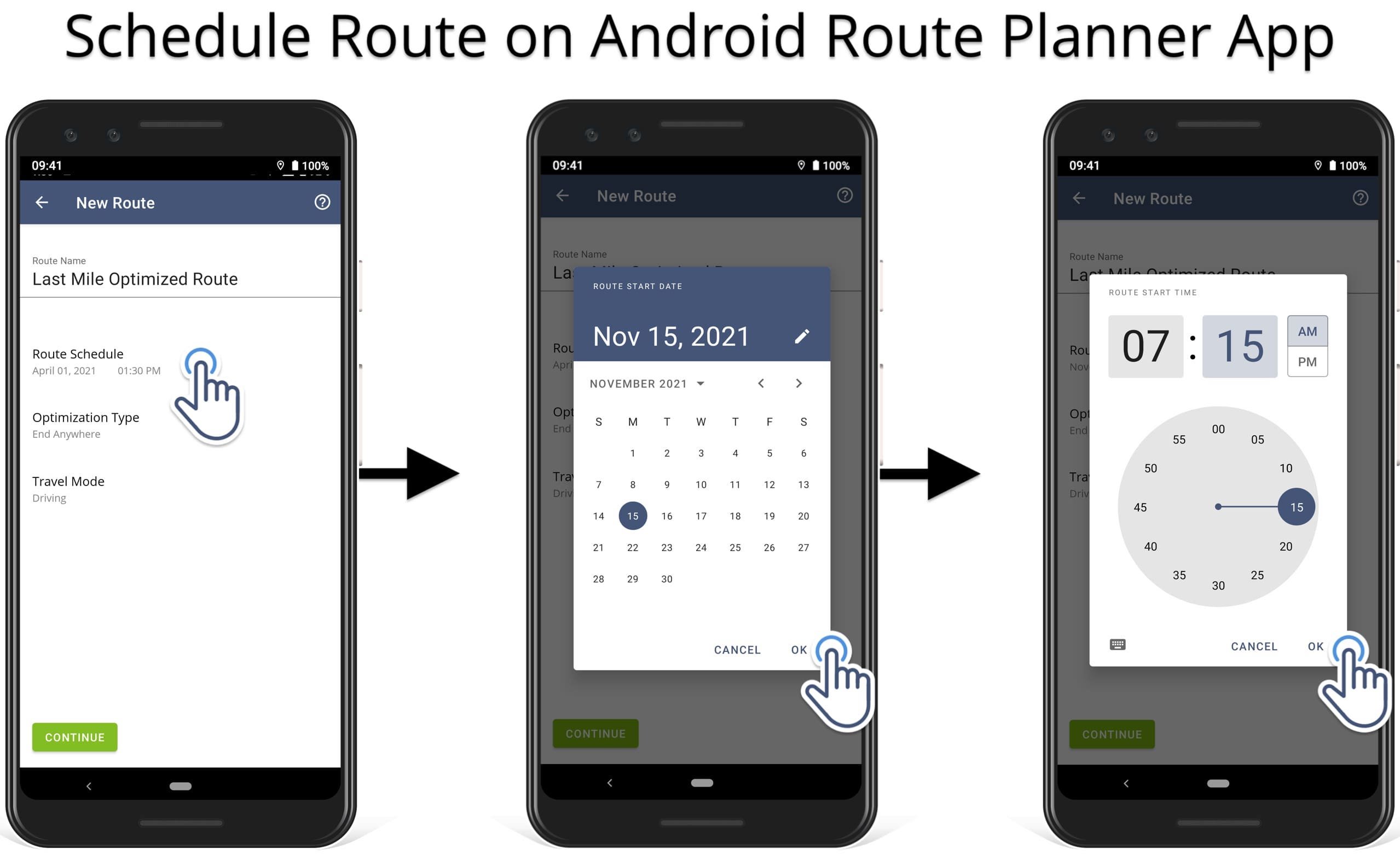 With this in mind, you can most certainly count on Route4Me's route planning software to help you manage your dynamic last mile operation.
If you liked this request for proposal (RFP) post about Route4Me's daily route planner, check out more Q&As!
Yes, at Route4Me, we try to give back to the community by participating in various charities and donations. Route4Me proudly sponsors women's rights organizations, animal cruelty prevention organizations, humane animal treatment organizations, and more.
In addition to making donations to various organizations, we also donate our software. For example, Route4Me has been donating route planning solutions to various organizations during the COVID-19 pandemic. Furthermore, Route4Me also provides software discounts to students and educational institutions that study logistics, routing, and other related subjects.
Give Back to the Community in the COVID-19 Pandemic
The COVID-19 Pandemic forced many businesses and government organizations to either stop working or adapt to a new last-mile operating model. Therefore, since the beginning of the crisis, Route4Me has contributed to public health and safety. As a result, Route4Me has donated its route planning and optimization solutions to various charities, food banks, pharmacies, and government agencies at the federal, city, and municipality levels, in the USA and worldwide.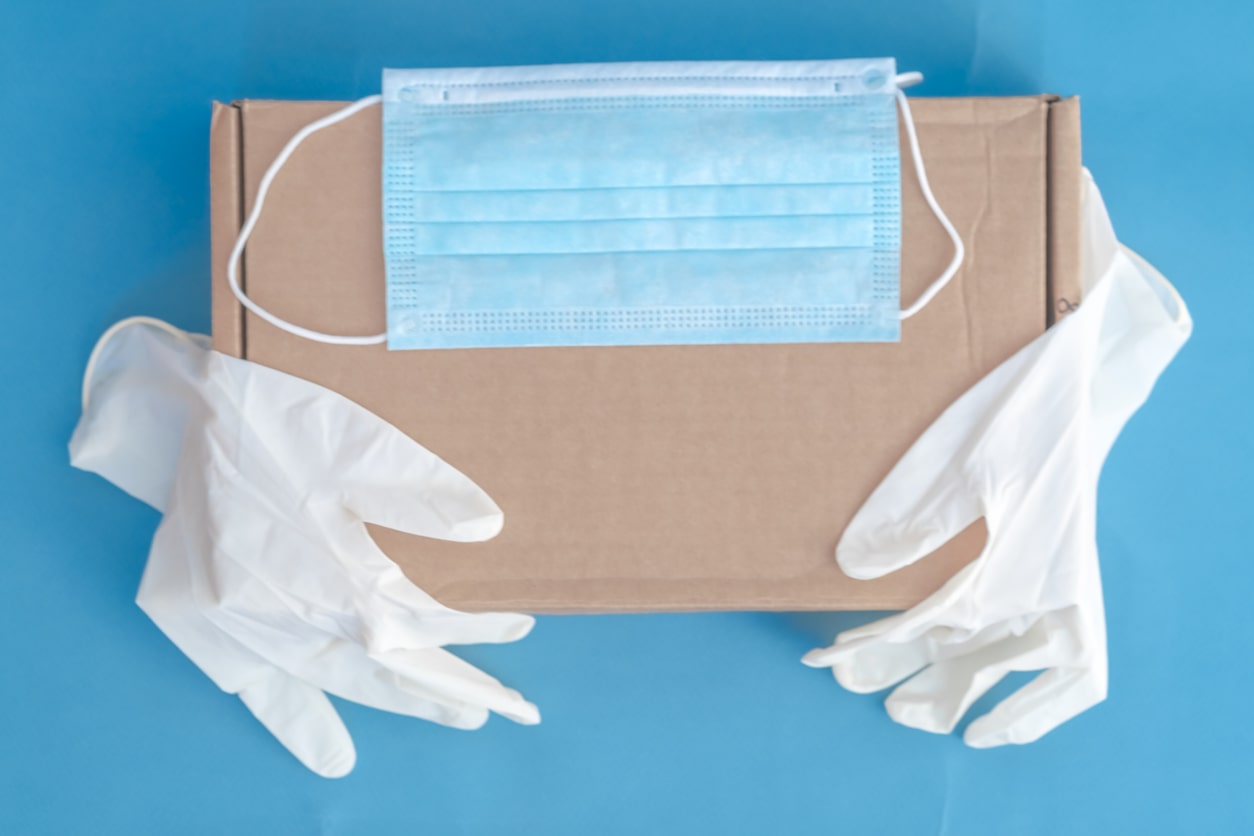 Donated Software Success Stories and Case Studies
By donating its solutions free of charge, Route4Me has helped multiple struggling organizations to overcome the challenge of transitioning to the new operating model. Various organizations and institutions used Route4Me to plan delivery routes, coordinate volunteers, and make the most out of the available vehicles.
Thus, we managed to generate multiple case studies based on the success stories of the organizations that used Route4Me's route planning solutions. Some of the most notable success stories are listed below:
You can find more case studies and success stories on our home page.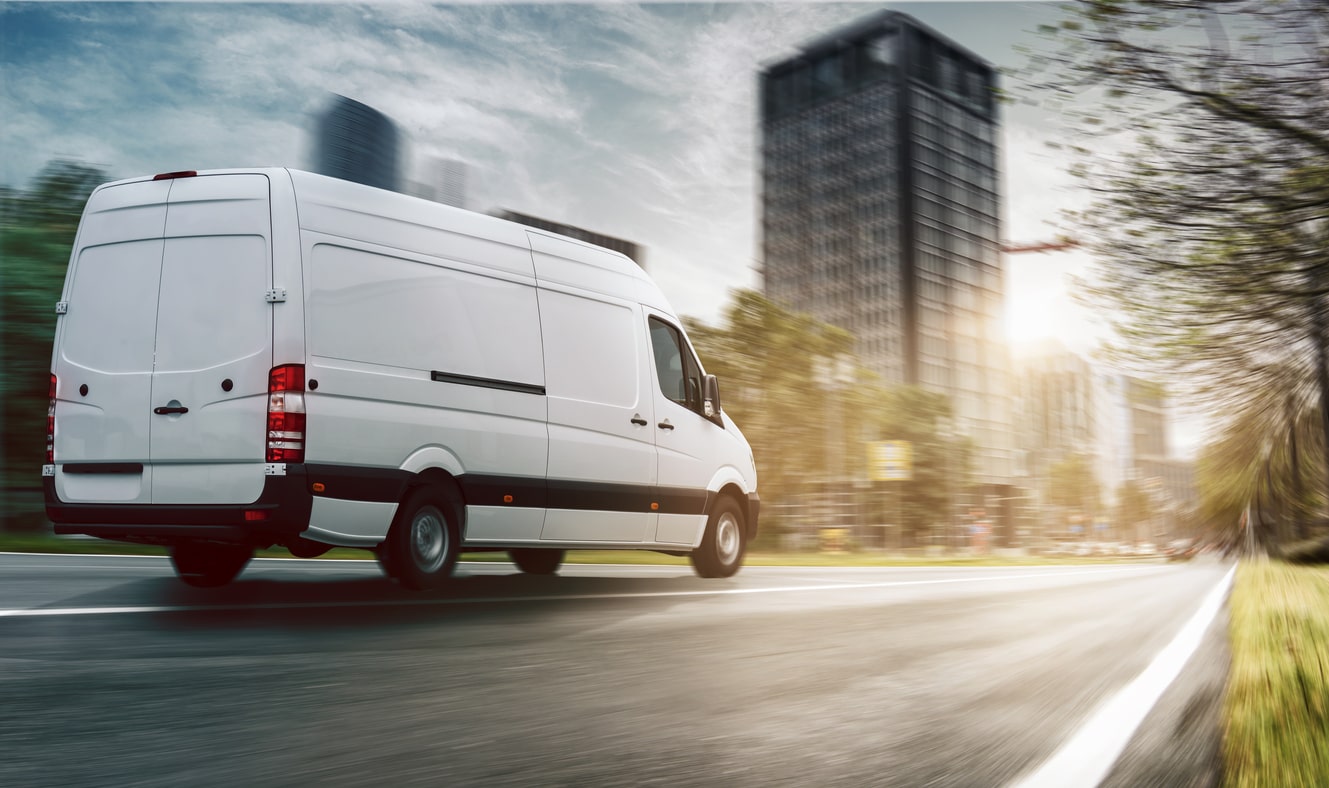 Route4Me Academic – Route Planning Software for Students
Furthermore, Route4Me also offers various discounts for students, schools, universities, and other educational institutions. For example, studies that study logistics can get Route4Me's software at a discount. On the Route4Me Academic page, you can learn more about our initiatives for students.
If you liked this request for proposal (RFP) post about how we give back to the community, check out more Q&As!
Yes, Route4Me attends various conferences, trade shows, and other networking route planning events.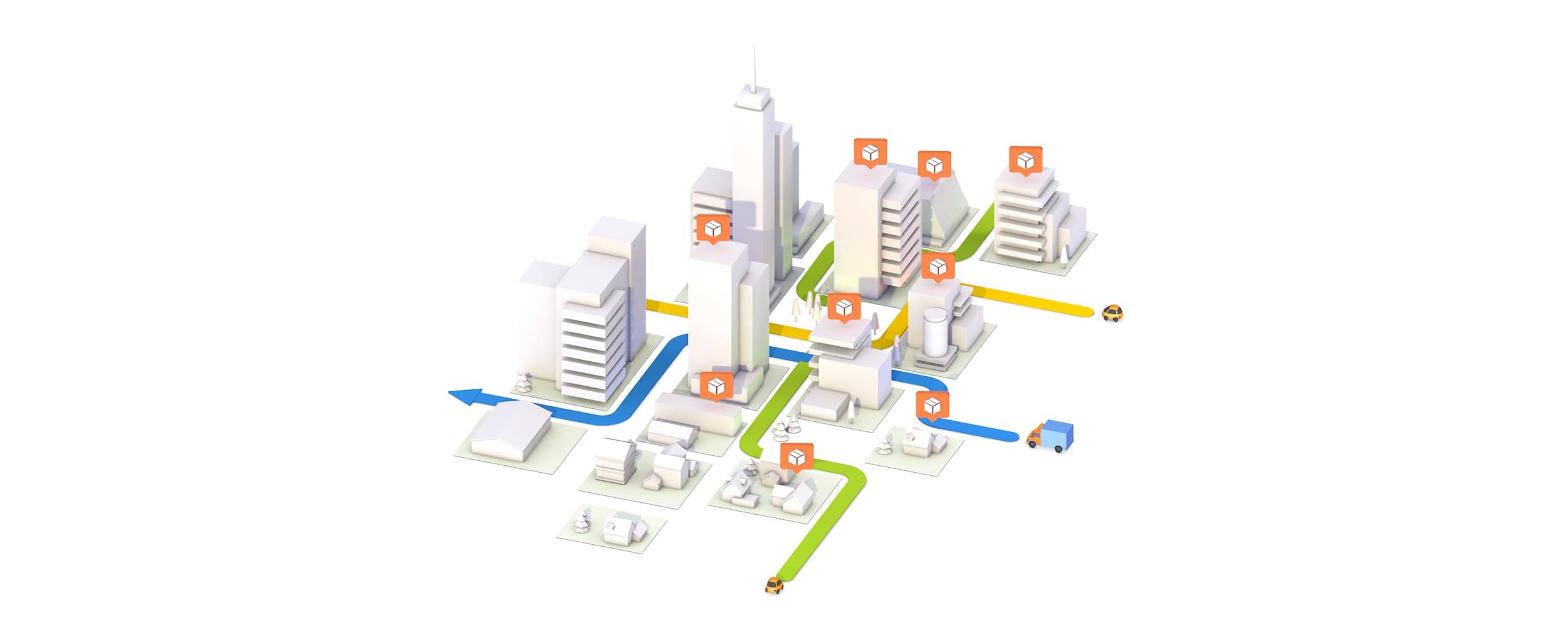 Route Planning Events and Conferences
Normally, Route4Me attends various routing and logistics seminars, conferences, and other events as a visitor rather than a presenter. Attending such events enables us to learn more about new route planning and logistics trends and the best practices. In this way, we manage to implement only the latest technologies and develop cutting-edge routing solutions. Thus, Route4Me continuously stays ahead of the curve in the industry and redefines routing and smart logistics across the market.
Route Planner Webinars
Routing and logistics events don't take place very often. So, in addition to attending route planning events, Route4Me also holds interactive how-to route planning webinars. Our webinars are designed to help you better understand route planning, solve various types of routing scenarios, etc.
During webinars, our Routing Experts walk you through the steps required to solve real or theoretical routing and logistics scenarios.
Furthermore, we can even use your route data to demonstrate how to solve your specific case. Additionally, we'll help you answer any questions you may have about Route4Me or route planning in general.
To make our webinars more interactive and user-friendly, we use screen sharing. In this way, you can actually see what features we use and how we use them to improve various route planning processes.
In addition, on our YouTube channel, you can find more useful information and video materials about Route4Me and the route planning industry. Visit Route4Me's YouTube channel to watch some of the already recorded webinars.

Complimentary Route Planner Training
Additionally, Route4Me offers complimentary route planning training sessions. During training sessions, our Routing Experts will answer your questions and help you solve your specific routing scenarios. We can even use your real routing data to demonstrate how to solve your unique routing case of any complexity. Learn how to schedule a Route4Me training session.
Our training sessions can host multiple participants at a time. Moreover, you can download your route planning training sessions and share them with your team.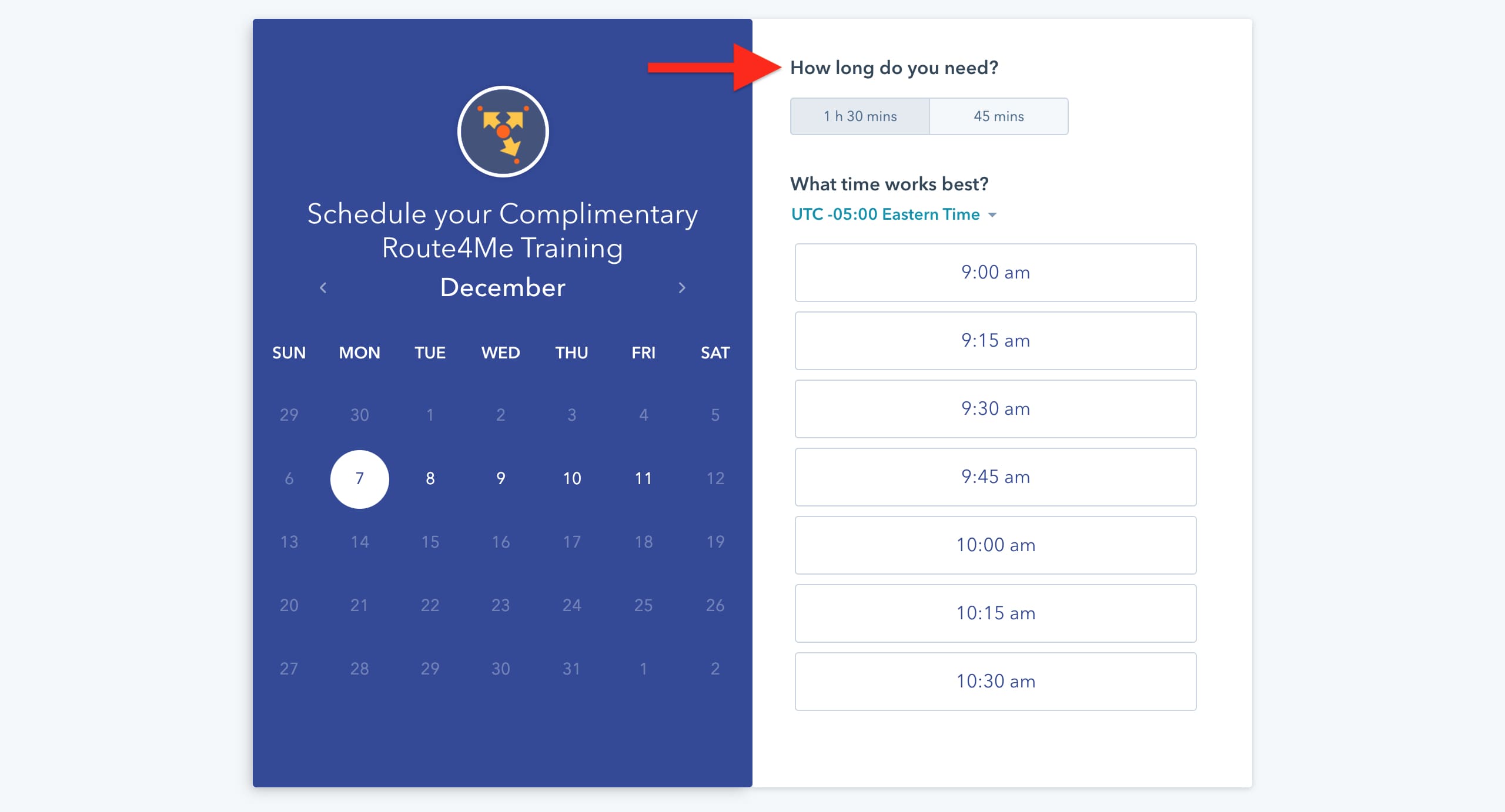 If you liked this request for proposal (RFP) post about routing events, check out more Q&As!