Free Mobile Route Planner With No Registration for Android
Try Route4Me's Free Multi Stop Route Planner app and see how you can save time on route planning, drive less, reduce fuel expenses, and uncover more hidden opportunities. To get started, all you need to do is install the app on your Android smartphone or tablet, and then follow these simple steps:
First, add stops from the map, using the OCR address scanner, or import address spreadsheets.
Next, automatically sequence multiple stops for the fastest travel time, shortest distance, and optimal directions.
Finally, navigate optimally sequenced multi-stop routes with in-app navigation, Google Maps, Waze, or any other navigation app.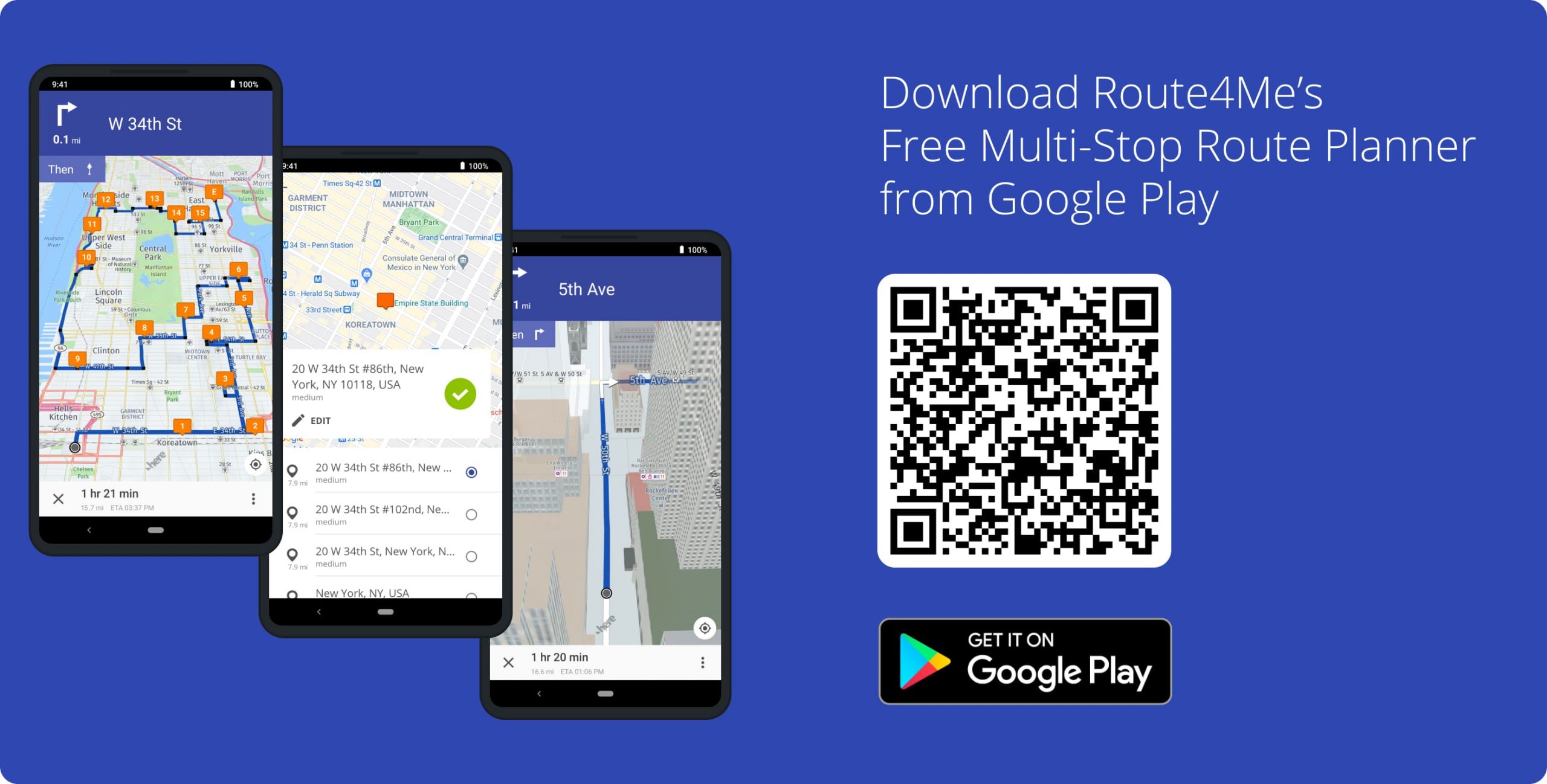 Additionally, if you are already using such free apps as Google Maps route planner, Waze GPS Navigation, etc., learn more about the 7 Best Free Route Planner Apps in 2022.
Download Free Multi Stop Route Planner App for Android
So, to download Route4Me's Free Multi Stop Route Planner on your Android smartphone or tablet, scan the QR Code provided on this page. Or, open the Google Play Store app, search for "Route4Me Route Planner" and then open the app's page. Next, tap on the "Install" button and then close the registration screen. After that, you can use the free version of Route4Me's Android Route Planner app without registration or any payments.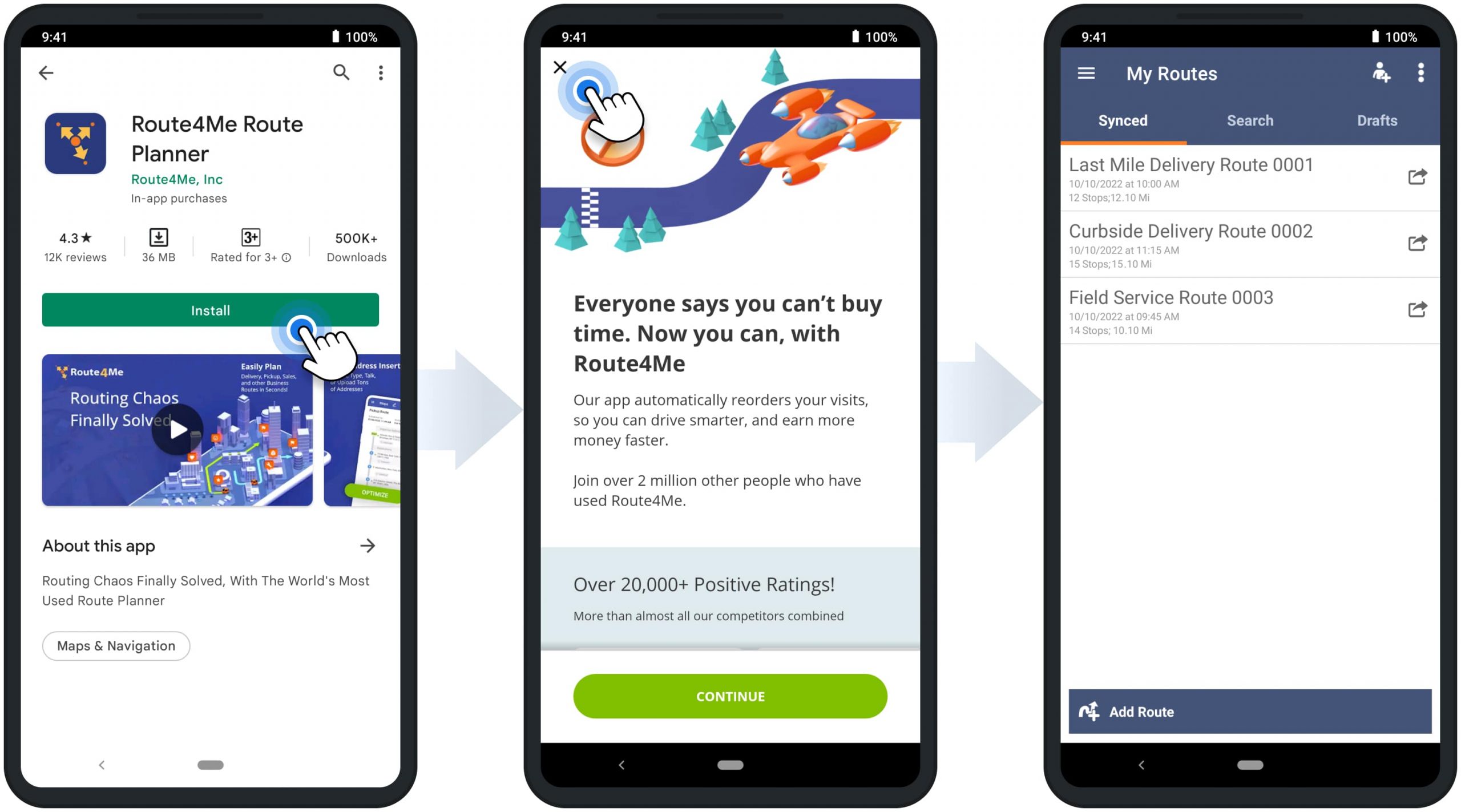 Free Multi Stop Route Planner for Stops Sequencing & Navigation
In short, Route4Me's Free Multi Stop Route Planner app for Android enables you to easily and efficiently optimize your last-mile routing operations proving the following features: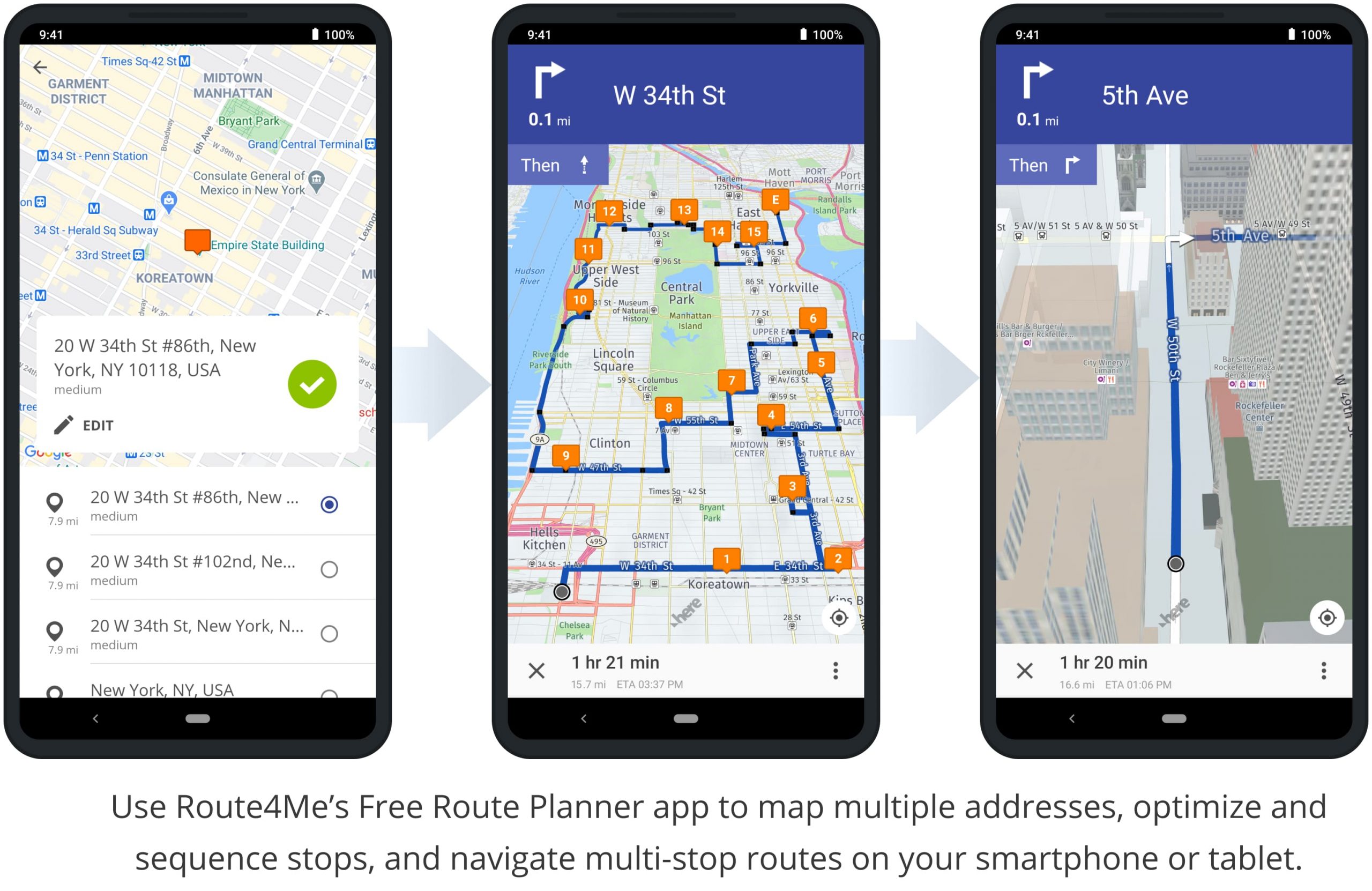 Route Planner Subscription With Unlimited Routes and Stops
To plan unlimited routes with unlimited stops, upload files with unlimited addresses, and get more route planning tools, you can get the preferred route planner subscription plan. To do so, go to "Upgrade" from the navigation menu, select the preferred plan, and then tap on the "Start 7-Day Free Trial" button. Next, read Google Play's subscription terms and conditions, check the billing amount and date, and then tap on the "Subscribe" button. Your Route4Me Mobile subscription will be automatically linked to your Google Play Store account (Google account).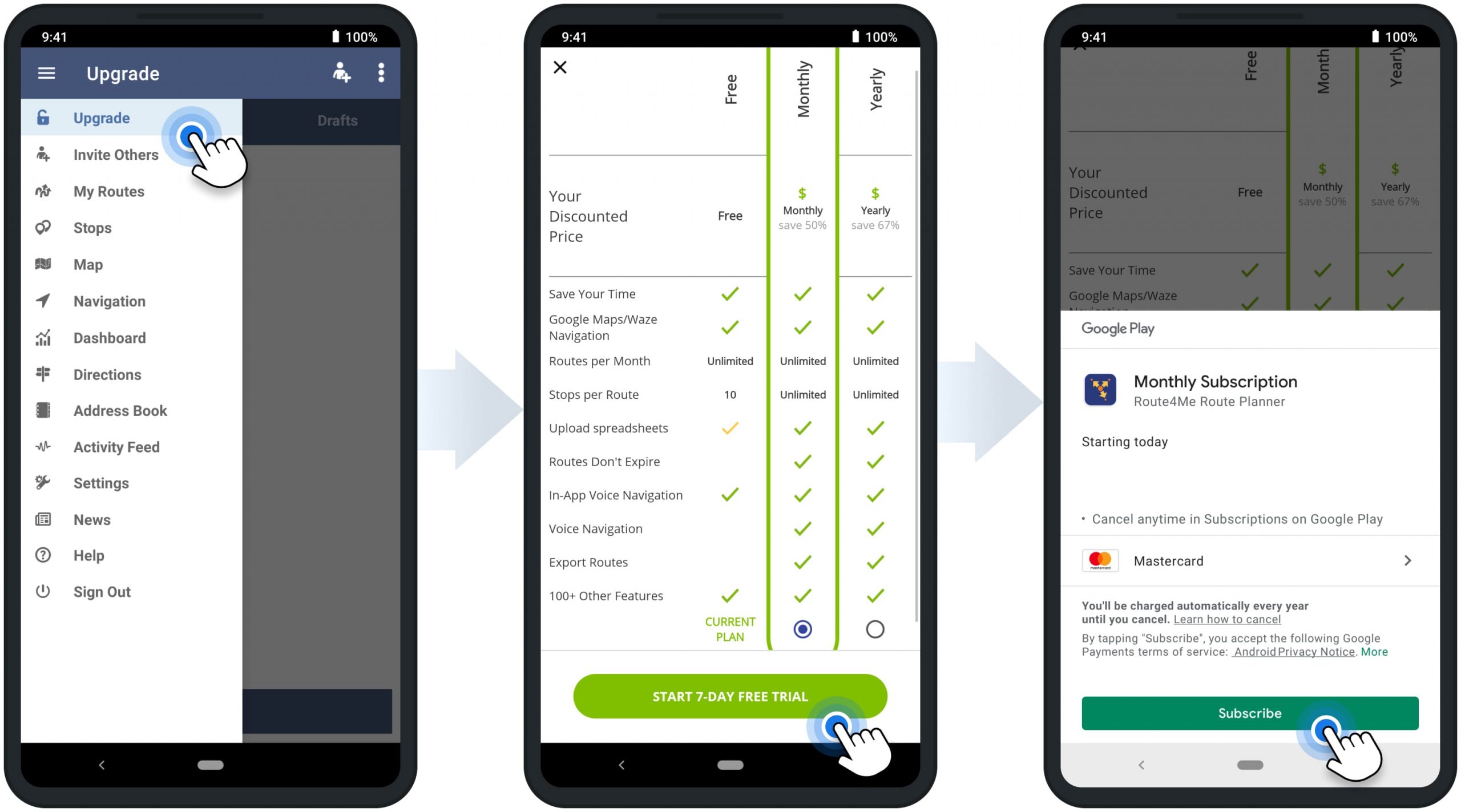 Register Route4Me Mobile Account for Android Route Planner App
Furthermore, you can register for a Route4Me Mobile account when using the free multi stop route planner version or when you already have a paid subscription. To do so, go to "Sign In" from the app's navigation menu. Next, tap on the "Sign Up For Free" button, fill out the registration form, and tap on the "Submit" button.
Next, after creating your new Route4Me Mobile account, you can use such route planner features as:
Use Route Analytics Dashboard
And more!
Additionally, learn more about Account Registration, Subscription, and Trial for the Route4Me Android Route Planner.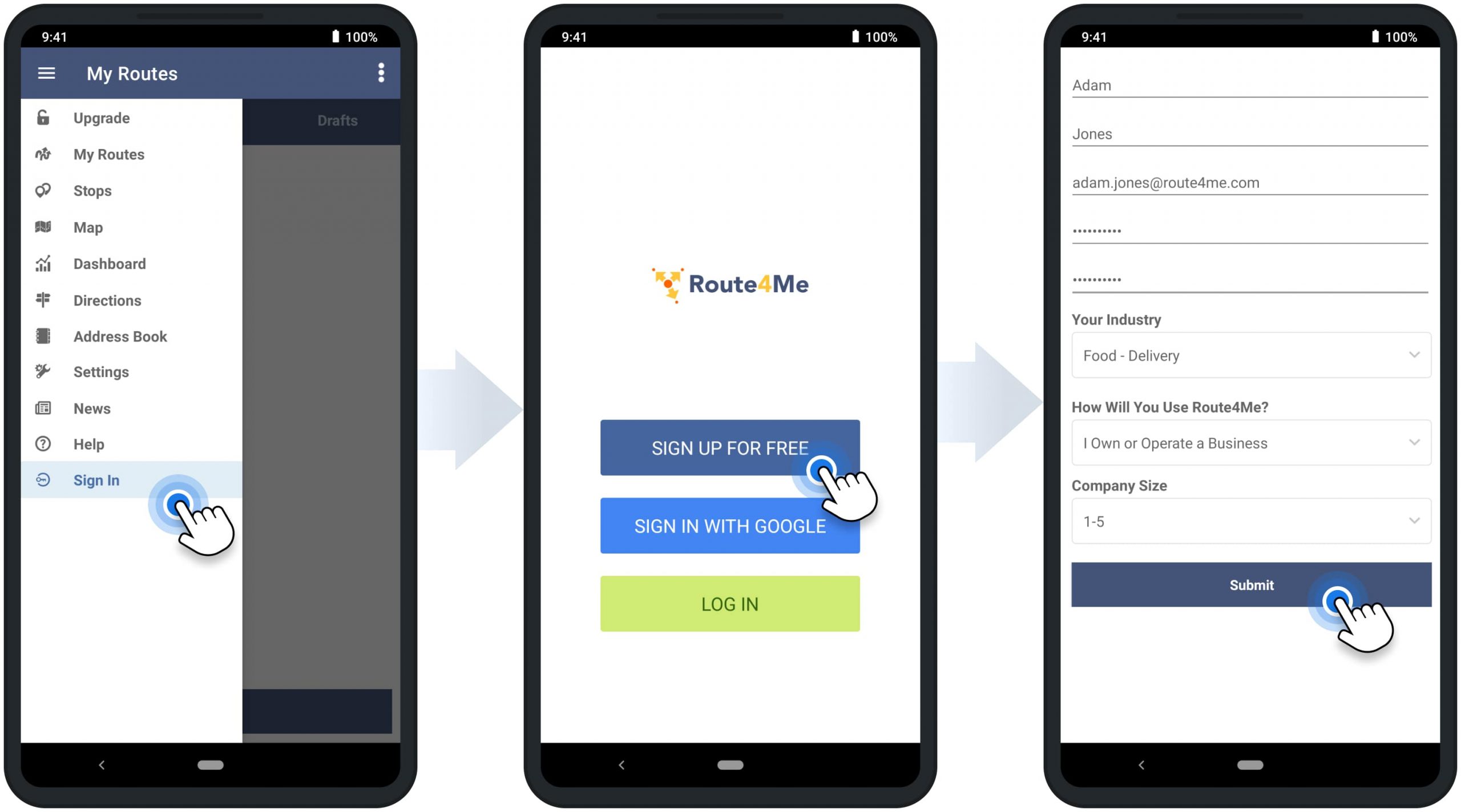 Visit Route4Me's Marketplace to Check Out More Modules and Add-Ons: