Left Turn Avoidance – Optimize Routes That Avoid Left Turns
Many companies such as UPS and thousands of other businesses that have to solve complex routing problems use a unique approach for planning their routes which is to avoid left turns as much as possible (left turns in the countries where they drive on the right side of the road and vice versa). Even though with this approach routes can turn out to have longer distance and total travel time on paper, the routes that avoid left turns can actually be more fuel-efficient, less accident-prone, more suitable for special equipment, and so on.
Save Fuel and Reduce CO2 Emissions: Regardless of the intersection type and whether it is controlled or uncontrolled, the vehicles that are turning left have to idle longer since they either must wait for the traffic light to give the right signal or have to wait for the oncoming traffic lane to clear up. Thus, avoiding left turns makes even more sense in big cities with heavy traffic where idling can add up and result in substantial fuel expenses and CO2 emissions.
Prevent More Accidents: Many studies show that left turns are more dangerous than right turns since making a left turn involves more risks and requires to make such dangerous maneuvers as driving through the oncoming traffic with an obstructed view, etc. Moreover, in certain cases, some insurance companies can consider the vehicle that made the left turn to be more liable for the accident. Depending on your particular business needs or unique business model, with Route4Me's dynamic routing software, you can effortlessly optimize the most efficient and cost-effective routes that will avoid as many left turns as possible. Avoiding left turns in your service area(s) will help you prevent accidents, improve your visitation times, and significantly decrease your fuel expenses.
To plan routes that will avoid left turns, first, go to "Plan New Route" from the navigation menu and then select one of the preferred route data import methods (Interactive Map Editor, Copy-and-Paste, Upload a File, or Import Data).

After that, adjust the following route optimization settings:
Go to the "Optimization" tab;
Select the preferred optimization type: Single Driver Route, Multiple Drivers Route, or Balanced Team Route;
Choose where to end the routes after the last stop on each route is visited and serviced.
To learn more about using such advanced constraints as Pieces, Volume, Revenue, Weight, etc., visit this page.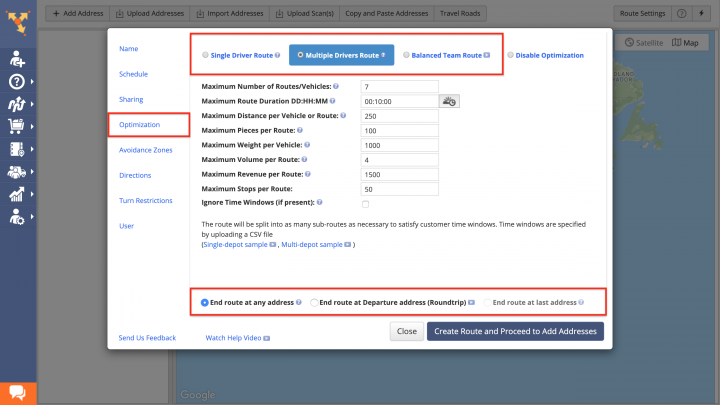 Next, go to the "Turn Restrictions" tab and then check the "Avoid" radio button next to "Permit Left-Turns." After that, specify the rest of the route's parameters to your preference and then click on the "Create Route and Proceed to Add Addresses" button.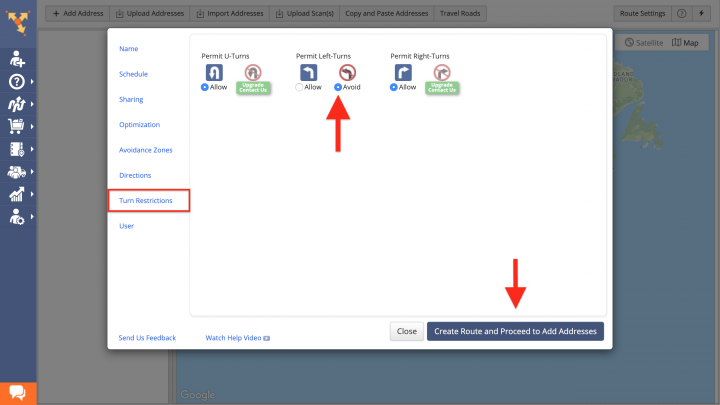 Once the route is planned, the route's directions will avoid all possible left turns while providing the most efficient time and distance.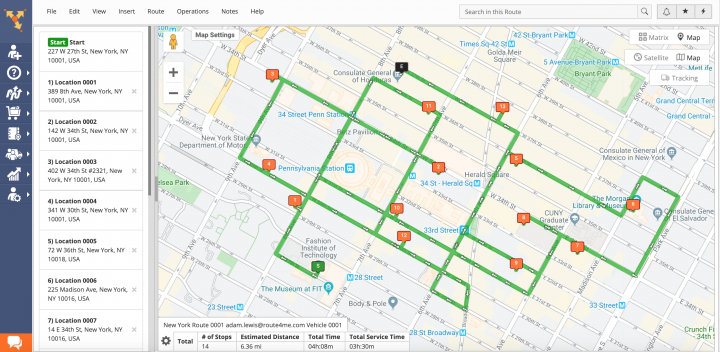 To update an already planned route to avoid left turns, in the Route Editor, go to "Edit" and then select "Route Settings" from the menu.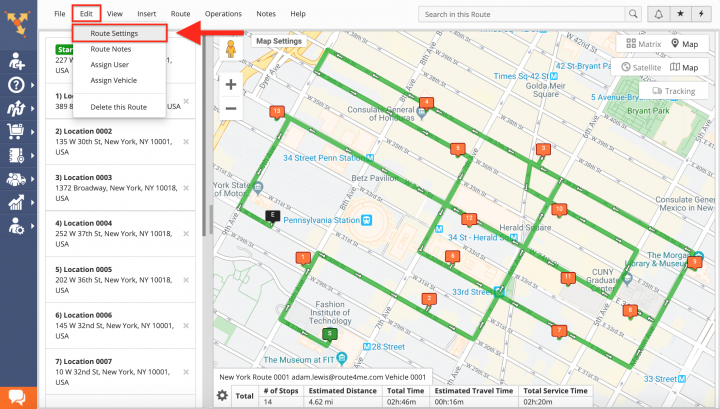 Next, go to the "Turn Restrictions" tab and then check the "Avoid" radio button next to "Permit Left-Turns." To apply the changes, click on the "Update Route Settings" button.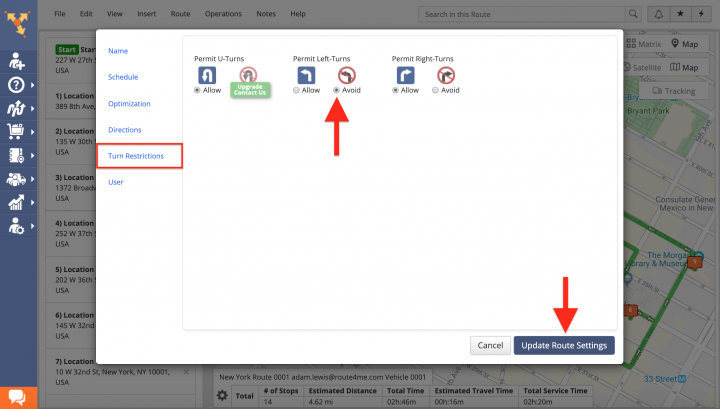 Once the route's settings are updated to avoid left turns, the route's directions are changed to avoid turning left as much as possible while preserving the same sequence of stops. NOTE: Changing the route's directions does not change the route's sequence of stops.

After changing the route's directions to avoid left turns, you can also re-optimize it to get the most efficient sequence of stops with the shortest route time and distance. To do so, in the Route Editor, go to "Route" and then select "Re-optimize this route" from the menu.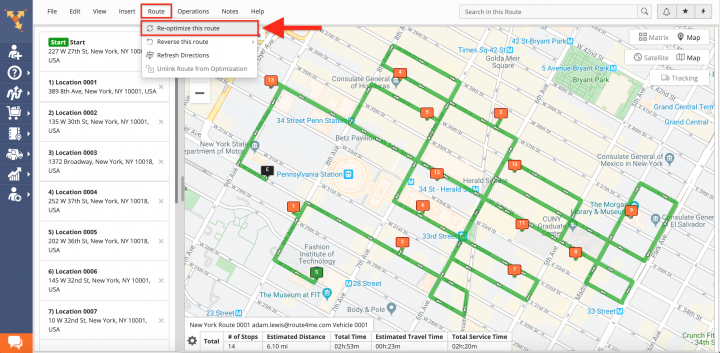 Once the route with updated directions is re-optimized, the route's total time and distance will get more optimized/shorter and the route's sequence of stops will change accordingly.

Visit Route4Me's Marketplace to Check out Associated Modules: