Push Notifications and Alerts for Account and User Activities
Real-time push notifications are available for a series of actions on your Route4Me route optimization account, helping you keep track of the actions performed by your team members. Depending on the Route4Me features that you are using, push notifications usually pop up in the top or bottom corners of the screen to let you know about performed action in real-time, helping your leverage real-time tracking and gain full visibility into your team's productivity levels.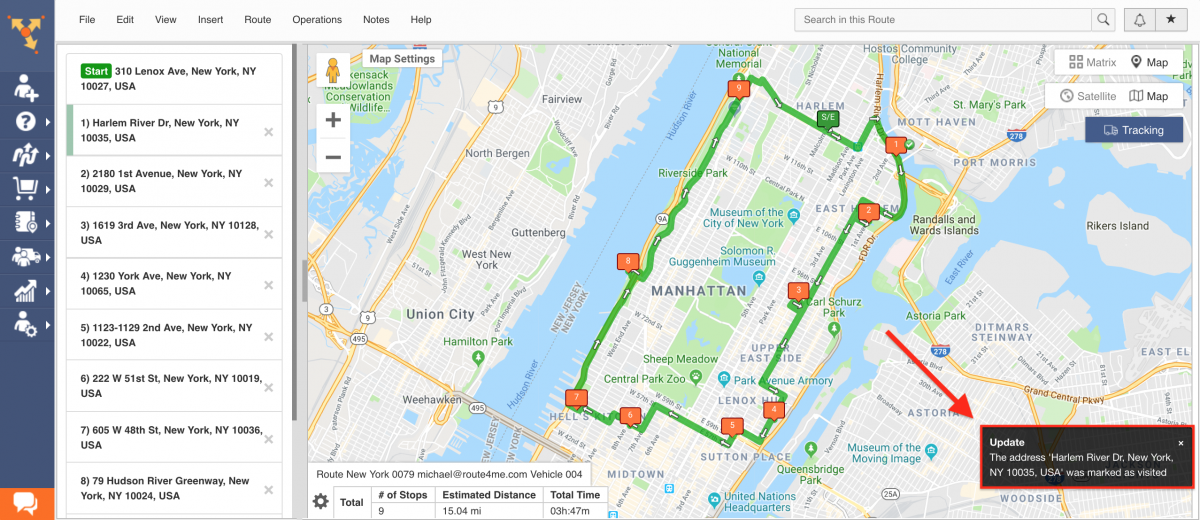 The full list of available real-time tracking push notifications is available below, sorted by device type/website section.
| Real-Time Notification Event | Android Route Planner App | Android Route Planner App for Tablets | iPhone Route Planner | iPad Route Planner | Route Editor | Routes Map | Route Notes | Address Book List | Address Book Map |
| --- | --- | --- | --- | --- | --- | --- | --- | --- | --- |
| Route Optimized | | | | | | | | | |
| Route Sequence Change | | | | | | | | | |
| Address Added | | | | | | | | | |
| Address Removed | | | | | | | | | |
| Address Attributes Modified | | | | | | | | | |
| Route Re-Optimized | | | | | | | | | |
| Note Added / Uploaded | | | | | | | | | |
| Note Removed | | | | | | | | | |
| Marked as Visited | | | | | | | | | |
| Marked as Departed | | | | | | | | | |
| Out-of-Sequence Check-In (Deviation) | | | | | | | | | |
| Speed Limit Exceeded | Pending | Pending | Pending | Pending | Pending | Pending | Pending | Pending | Pending |
| Geofence Triggered | | | | | | | | | |
| Address Moved to Another Route | | | | | | | | | |
| Route User Re-Assigned | | | | | | | | | |
| Custom Data Added to Address | | | | | | | | | |
| New Member Added | | | | | | | | | |
| Existing Member Removed | | | | | | | | | |
| Existing Member Modified | | | | | | | | | |
| Route Removed | | | | | | | | | |
| Territory Added | | | | | | | | | |
| Territory Removed | | | | | | | | | |
| Territory Updated | | | | | | | | | |
| Driver Arrived Early | | | | | | | | | |
| Driver Arrived Late | | | | | | | | | |
| Driver Entered Geofence | | | | | | | | | |
| Driver Departed Geofence | | | | | | | | | |
| Geofence Triggered Custom Form | | | N/A | N/A | N/A | N/A | N/A | N/A | N/A |
| Out of Road Deviation | | | | | | | | | |
Visit Route4Me's Marketplace to Check out Associated Modules: