Pickup Confirmation and QR Code Scanner – Curbside Pickup App
Route4Me's Curbside Pickup App can seamlessly integrate with your e-commerce platform for retailers or restaurants, and allow you to efficiently manage thousands of scheduled curbside pickup orders or buy online pickup in store (BOPIS) orders from one or multiple pickup locations. The app will help you check when customers will arrive for curbside pickup, grocery pickup, or BOPIS, quickly match curbside pickup or in-store pickup orders to the right customers, provide customers with the navigation details to the pickup location, and more.
To confirm a curbside pickup order or in-store pickup order, all you need to do is to match the customer to their order by scanning a unique and secure QR code and tap on the Confirm Pickup button. System-generated QR codes help you eliminate human error, prevent fraud, and ensure that you always give the right BOPIS or curbside pickup order to the right customer. Even when you have thousands of curbside pickup orders or grocery pickup orders coming in, finding and confirming a pickup takes just a couple of seconds.
Whenever a new curbside pickup order is made in your e-commerce store and synced into your Curbside Pickup App, it is displayed in your app with the Ready status and the timestamp for when it was synced. You can directly open new BOPIS or curbside pickup orders using pickup alerts and notifications. Alternatively, you can open orders by scanning QR codes. You can also see the list of all orders in a particular store with order statuses.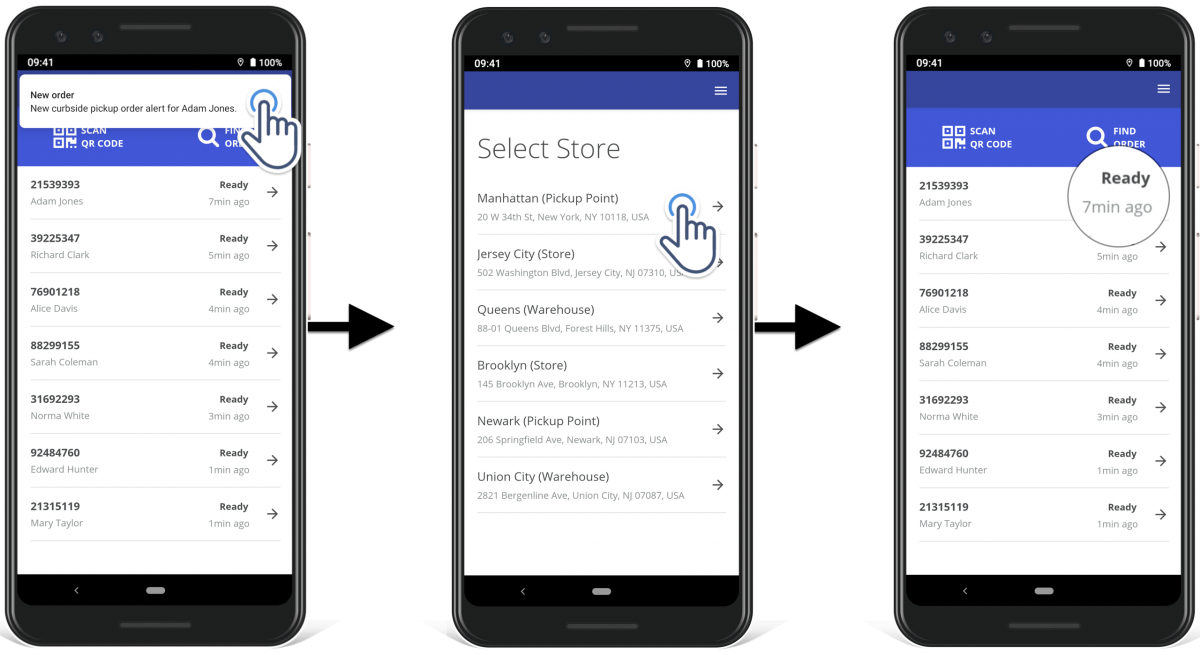 On Route4Me's dedicated Order Tracking Page or Customer Portal, customers can see your store/pickup location on a map together with the estimated travel distance, travel time, and store working hours. Customers can also navigate from their current location to your curbside pickup, in-store pickup, or grocery pickup location using Google Maps by tapping on the navigation icon.
To let you know when they will arrive, the customer taps on the On My Way button. Once the customer arrives, they tap on the I'm Here button to let you know they have arrived at your curbside pickup or BOPIS location and waiting for their pickup. When the customer arrives at your store, they are prompted to provide their vehicle details on the Tracking Page so that it's easier for you to find them.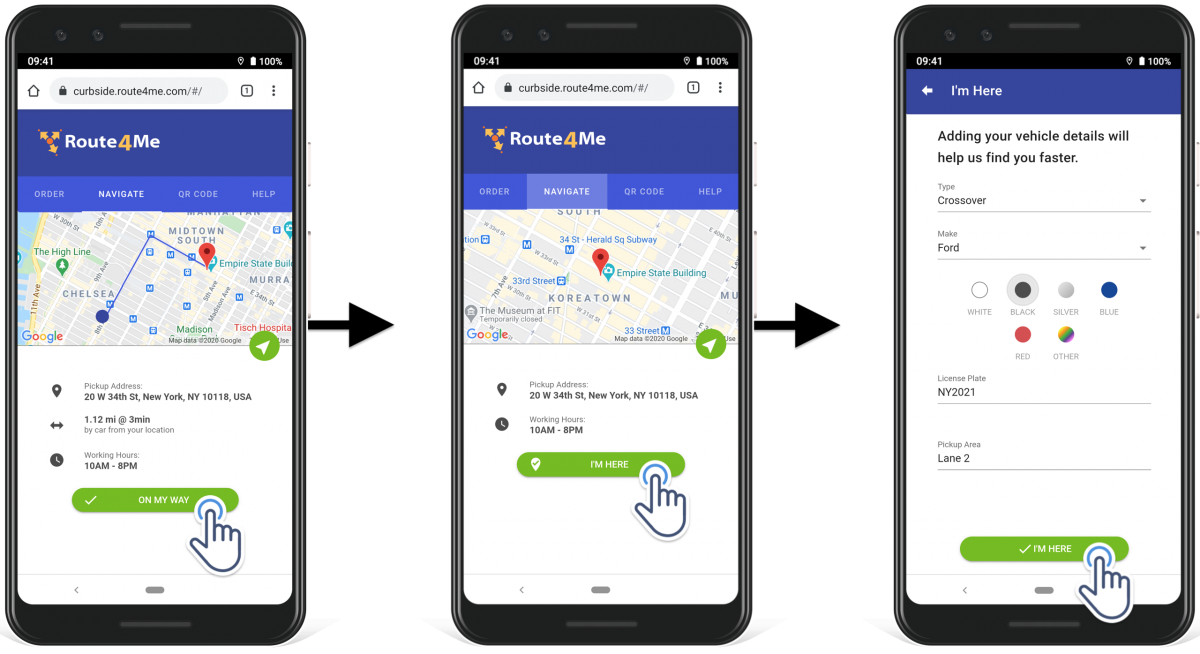 Once the customer has arrived, the Arrived status next to their order will indicate so, and the corresponding timestamp will let you know for how long they have been waiting. If the customer provided their vehicle details, they will be displayed next to the customer's order.
To securely match the right BOPIS or curbside pickup order to the customer, you can scan the QR code of their order. To show you their QR code, the customer needs to tap on the QR Code tab on the Tracking Page. To scan the customer's QR Code, tap on the Scan QR Code button from any screen in the app, and then use your device's camera to scan the customer's QR code.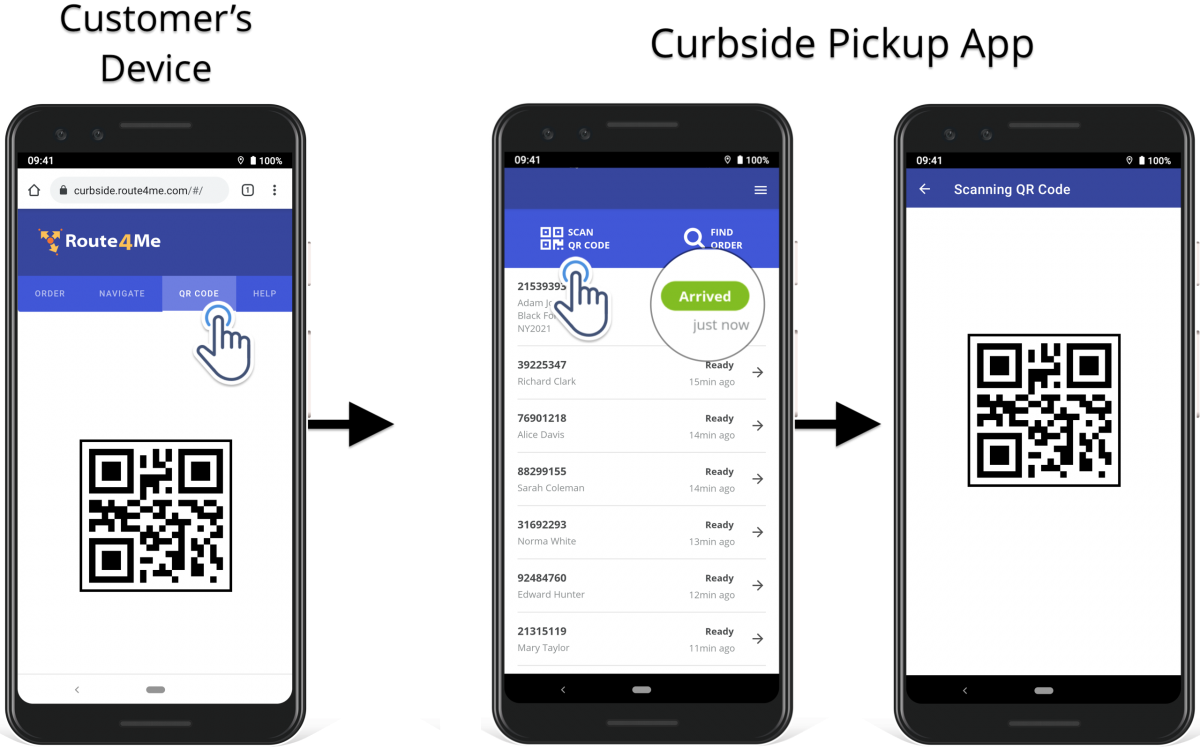 After scanning the customer's QR code, the app will automatically match it to the customer's curbside pickup order and open its Order Details. In the Order Details, you can check the order number, order items, order total, and other information.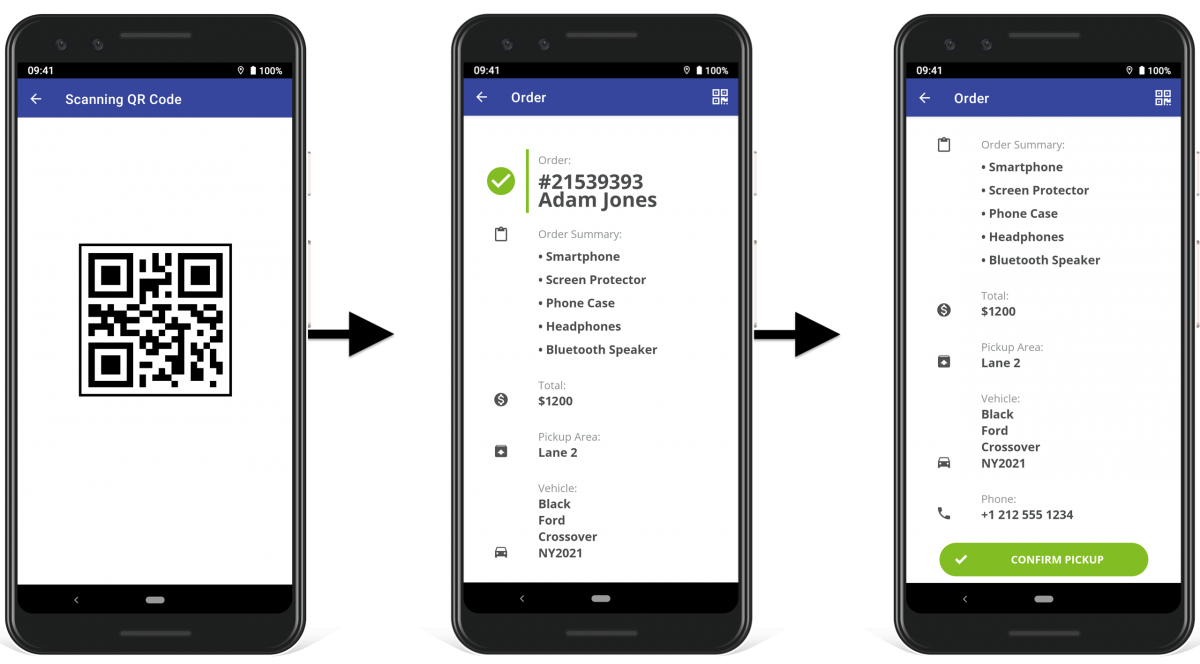 To confirm the pickup of the opened customer in-store pickup or curbside pickup order, tap on the Confirm Pickup button, and then tap OK when prompted. Once the pickup is confirmed, the order's status will change to the Picked Up status. You can hide all confirmed pickups from your orders list to see only the new scheduled pickups.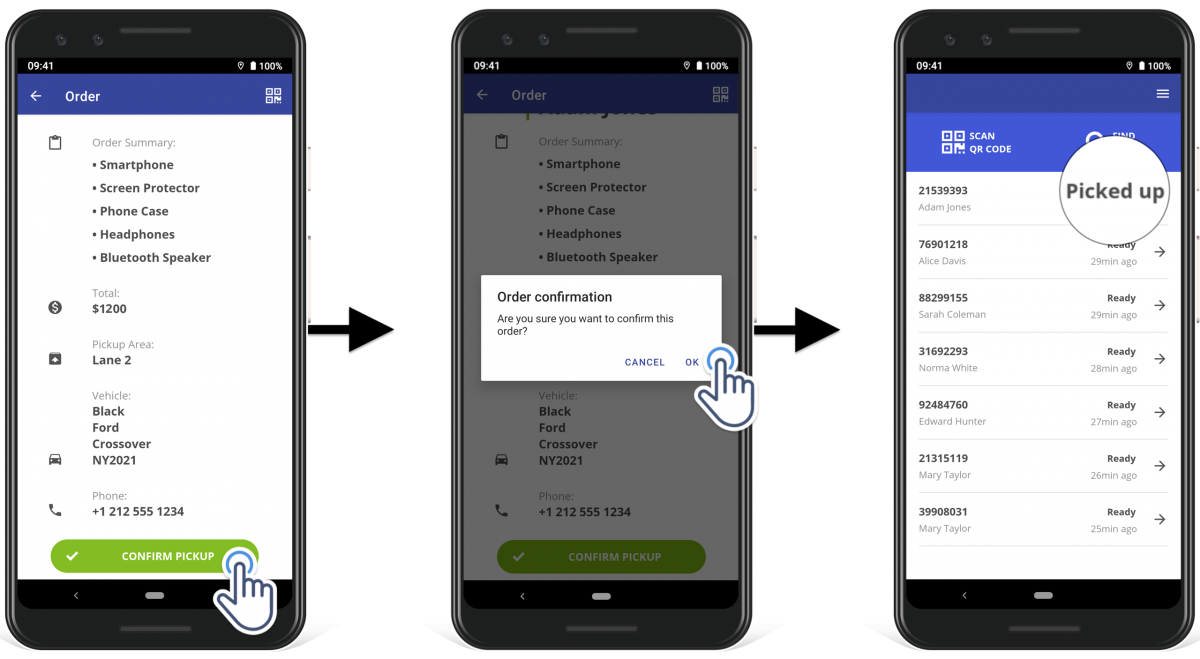 Visit Route4Me's Marketplace to Check out Associated Modules: