Curbside Pickup Locations Management – Curbside Pickup App
Route4Me's Curbside Pickup App is designed to seamlessly integrate with your e-commerce business. After a simple and refined integration process, you will be able to receive, process, and complete thousands of curbside pickup orders or in-store BOPIS orders using only your smartphone. The Curbside Pickup App allows you to see when customers will arrive for pickup, quickly match curbside pickup or BOPIS orders to the right customers, show customers where to find your store, etc.
Furthermore, depending on your unique e-commerce business, Route4Me enables you to manage multiple stores in the same app. For example, you can have multiple curbside pickup, in-store pickup, or grocery pickup locations for different types of products or multiple warehouses or dark stores located in different parts of the city or different cities. Whenever a new BOPIS in-store pickup, curbside pickup, or grocery pickup order is made, it will be automatically sent to the right store on your app. You can easily switch between different stores and open new orders from alerts.
When you log into your Curbside Pickup App, you can choose which store you want to open to view its scheduled and already picked-up orders. If you have a single curbside pickup location, you will automatically enter this store upon opening your Curbside Pickup App.
After you open a particular store, it is automatically added to your notifications menu so that you can open it from most screens on your devices. To do so, pull down the Quick Settings menu and then tap on the Route4Me Curbside notification to enter the last opened store.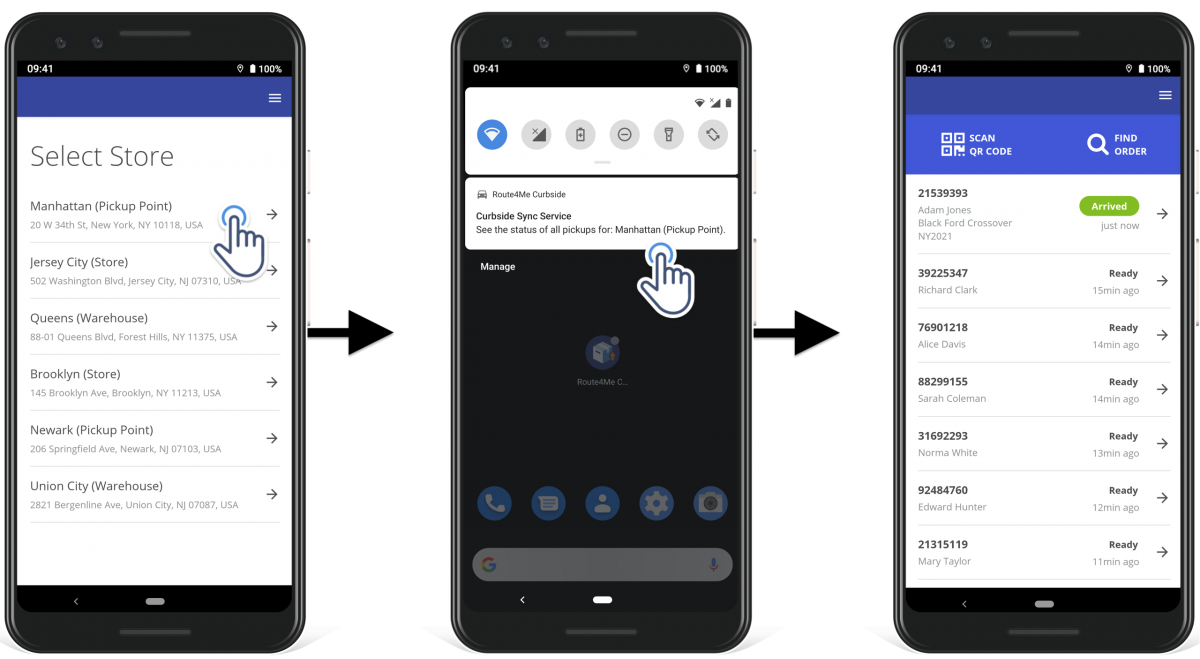 When you open a particular store or grocery pickup location, you can see all orders associated with this store and curbside pickup order statuses. Therefore, you can see when customers will arrive at which store and make sure that their curbside pickup orders are ready for pickup.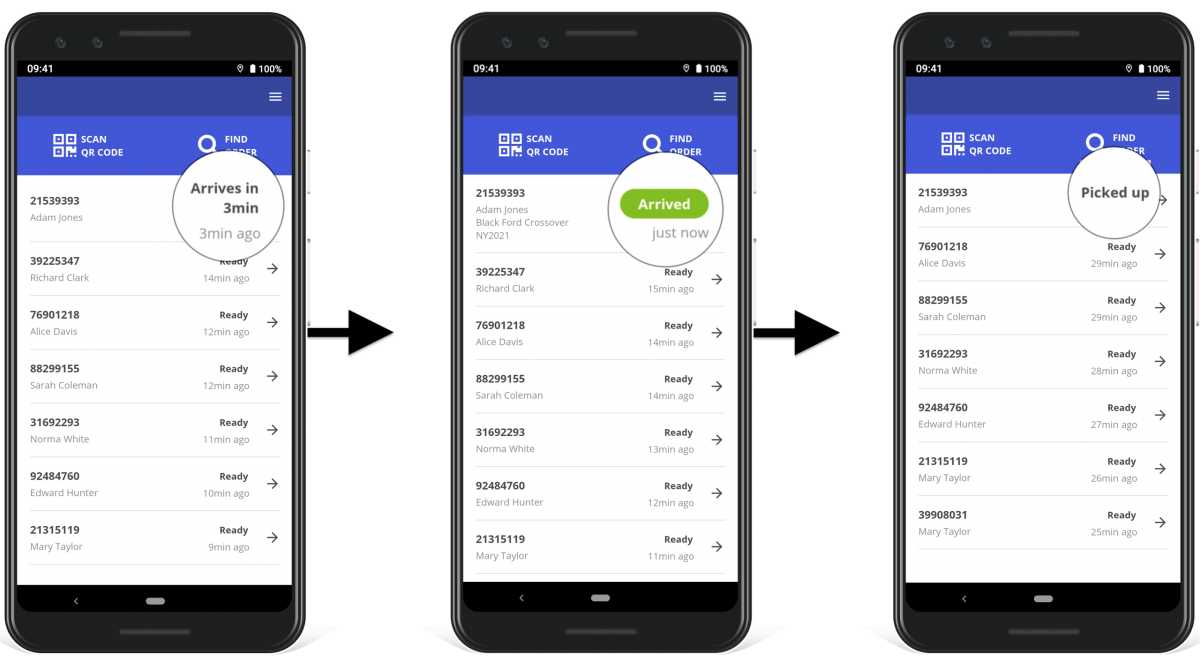 To switch between different stores, curbside grocery pickup points, or in-store pickup BOPIS points, tap on the three dots menu icon in the top right corner of the screen and then tap on the currently opened store to be prompted to the Stores List.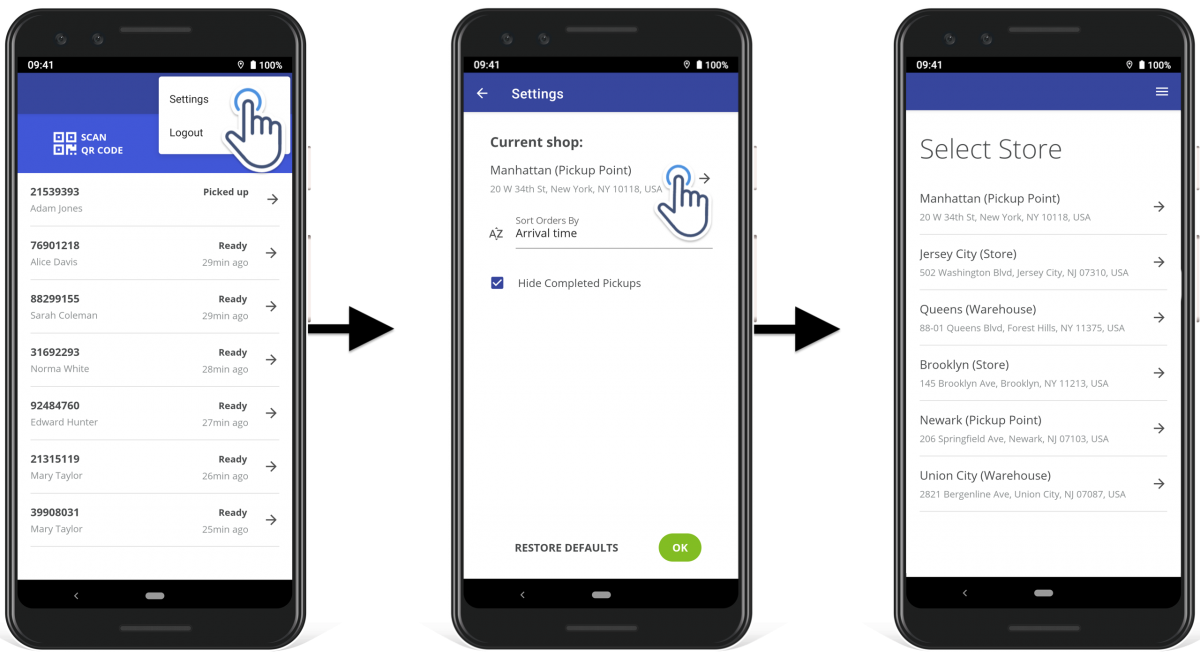 Whenever a new curbside pickup order or in-store pickup order is generated in your e-commerce store and synced to your Curbside pickup App, it is also automatically synchronized into your linked Route4Me account. Each curbside pickup or BOPIS order is suffixed with the name of the curbside pickup store it was synced to.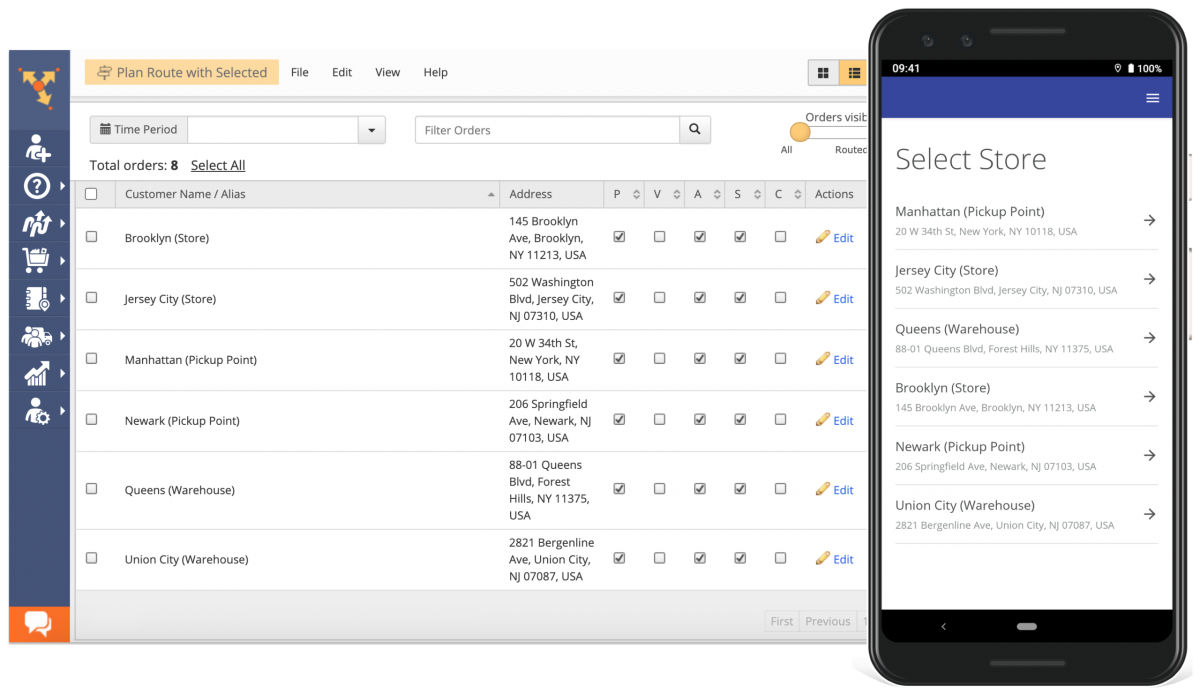 Visit Route4Me's Marketplace to Check out Associated Modules: