G2 (G2 Crowd) Route Planning Software Reviews on Route4Me
G2 (G2.com or formerly G2 Crowd) is one of the most used Business Software Reviews platforms that allows users to find the most suitable solution for accomodating their unique business requirements. One of the primary reasons why so many businesses prefer using G2 is because G2's algorithms can identify fraudulent user reviews by recognizing employees at companies that review their own software or employees at companies that review their competitors' software.
G2 features hundreds of different business software solutions across diverse markets, providing pricing, overviews, and user reviews on such software types as CRM, PDM, ERP, CAD, HR, Marketing Tools, and more. More importantly, G2 features dozens of route planning and fleet management vendors, allowing you to compare them side-by-side and pick the best solution for your particular business or organization.
Route4Me on G2 and Other Business Software Reviews Websites
Since Route4Me is the most used last mile routing and smart logistics optimization platform in the market, we are featured on the majority of the most popular software reviews websites. For example, Route4Me is featured on such websites as Business Software Reviews from Software Advice, Top Software at Capterra, and more. The biggest benefit that such platforms have to offer is the ability to compare multiple route planners or fleet management solutions side-by-side so that you can easily choose the one that suits you the best.
In the Route4Me G2 profile, you can find reviews left by real users, lists of supported and provided features, pricing information, Route4Me user ratings for ease of use, quality of support, ease of setup, and other useful details. Furthermore, G2 also permits you to compare Route4Me specs against other route planning software vendors and various types of routing optimization platforms available in the market.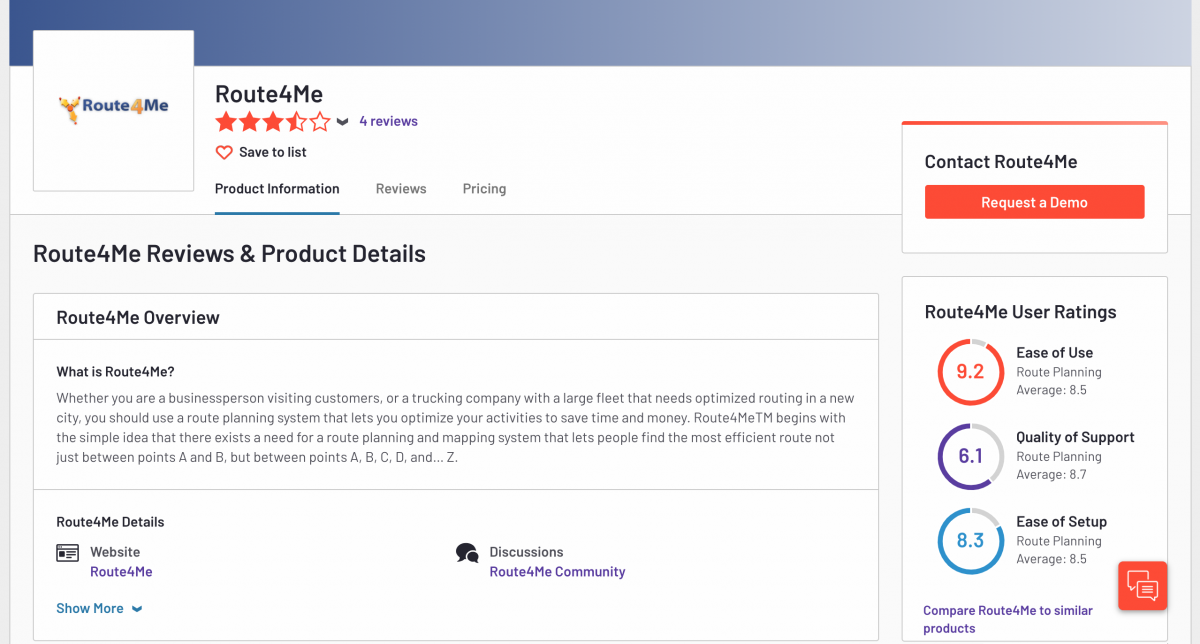 Route4Me Reviews & Product Details
In the Route4Me Reviews & Product Details section of the G2 Route4Me profile, you can learn more about the Route4Me vendor details, Discussions (Route4Me Community), visit Route4Me's social media pages (i.e., Route4Me on Twitter, Route4Me on LinkedIn, etc.), contact details, and more.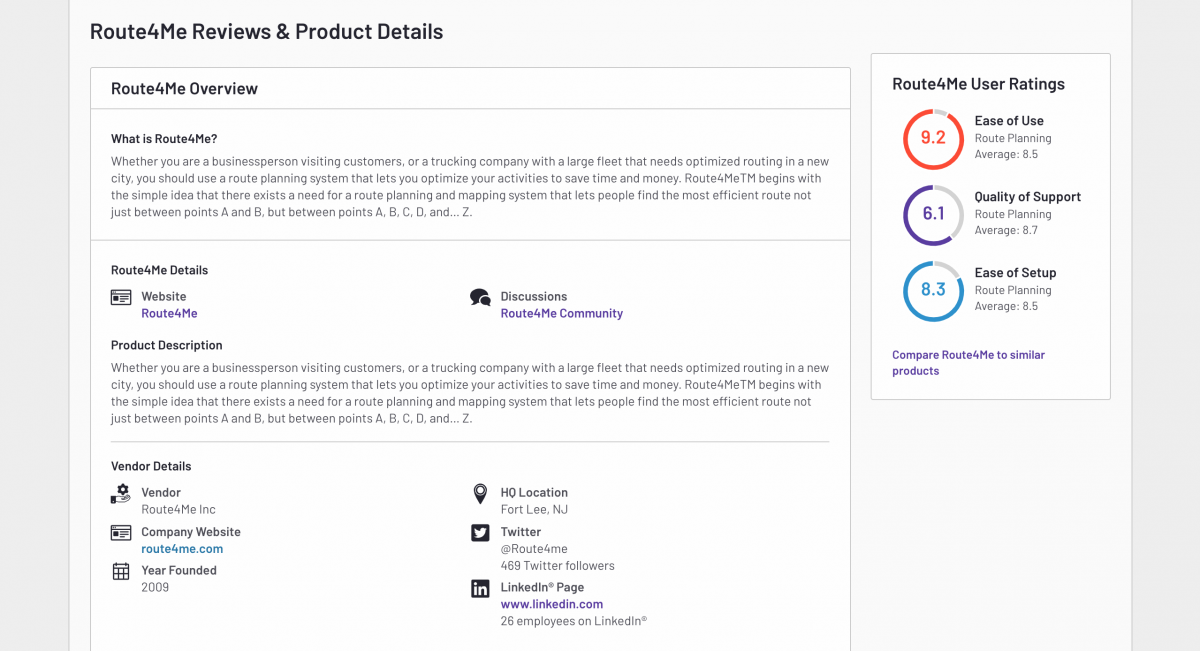 Compare Route4Me to Similar Products on G2
To make sure that you can find and choose the right software for your unique business needs, G2 allows you to compare different vendors side-by-side. Thus, you can compare the Route4Me G2 profile with other available optimization SaaS platforms and see why so many businesses choose to go with Route4Me over other companies. When you compare Route4Me and other products side-by-side, G2 permits you to compare user ratings, star ratings, pricing, supported and offered features, user discussions, and more.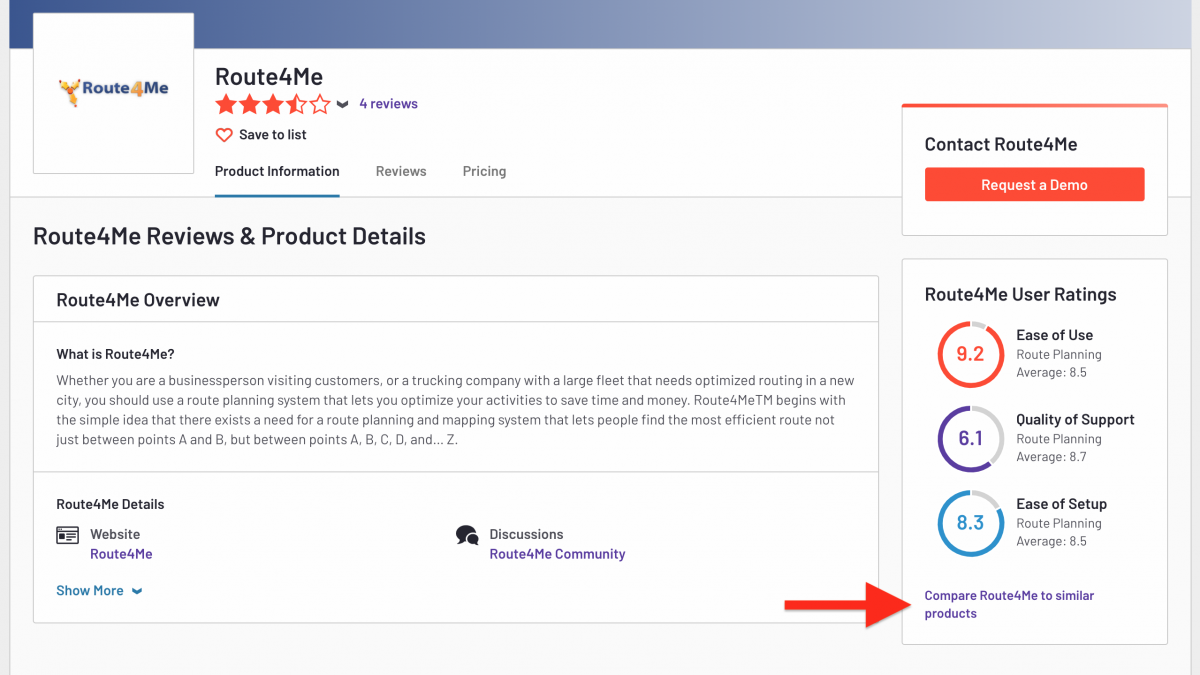 Below you can find the list of the Top 20 most popular comparisons made by G2 users between Route4Me and other route planning and fleet management products featured on the G2 website:
Route4Me vs Geopointe
Route4Me vsVerizon Connect
Route4Me vs Salesforce Maps
Route4Me vs SalesRabbit
Route4Me vs Spotio
Route4Me vs Maptitude
Route4Me vs Workwave Route Manager
Route4Me vs Onfleet
Route4Me vs OptimoRoute
Route4Me vs Routific
Route4Me vs Google Routes
Route4Me vs MyRouteOnline
Route4Me vs DispatchTrack
Route4Me vs PC Miler 30
Route4Me vs RouteXL
Route4Me vs Locus Dispatcher
Route4Me vs LogiNext Mile
Route4Me vs Navigator for ArcGIS
Route4Me vs Supply Chain Guru
Route4Me vs TransCAD
Visit Route4Me's Marketplace to Check out Associated Modules: