Mobile Subscription Plans – iOS Route Planner (iPhone & iPad)
Route4Me's mobile route planning subscription plans are selectively assembled feature packages designed for facilitating the particular needs of large or small businesses and unique business models. Route4Me is supported on both iOS and Android route planning platforms. You can activate and manage your route planning subscription using the Route4Me Route Planner apps that can be downloaded from the Apple App Store or Google Play. Route4Me is also supported on Zebra devices – the world's most rugged devices on the market for extreme conditions. NOTE: Once you purchase a particular subscription plan using one of the Route4Me multi stop Route Planner apps, you can restore and use the corresponding subscription on any iOS and Android mobile device. Business subscriptions also include access to Route4Me Route Optimization Web Platform.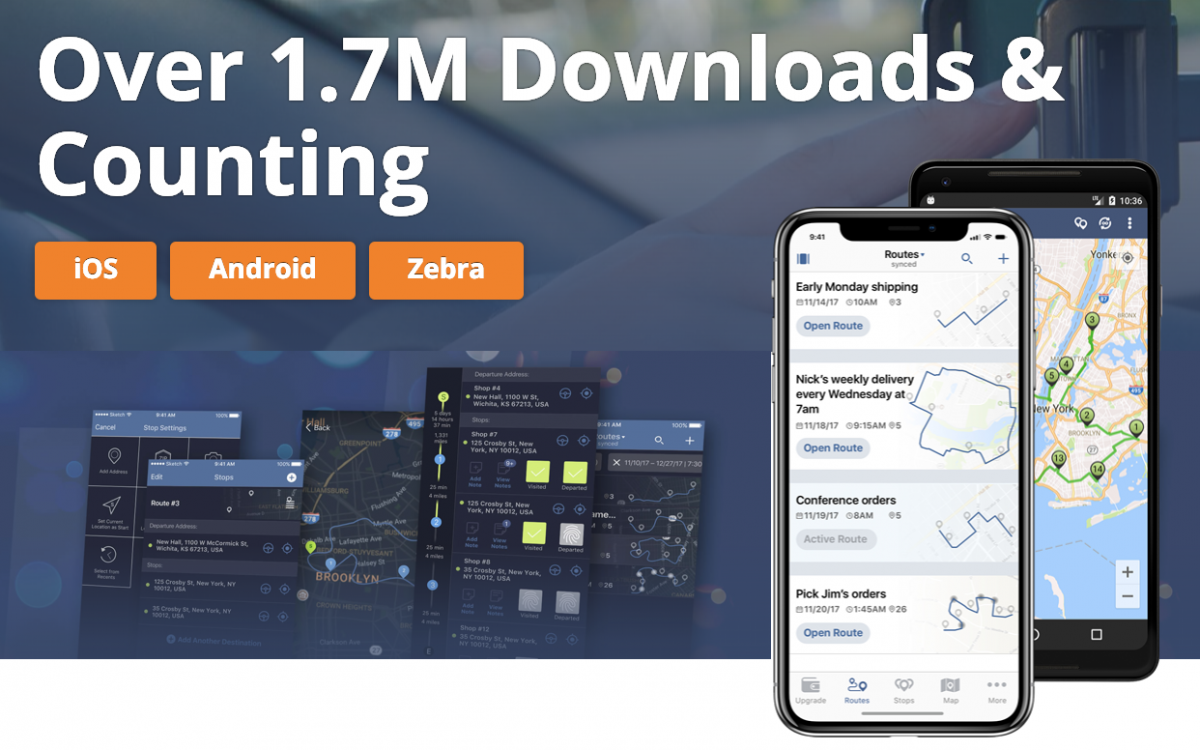 To get you started, Route4Me offers Mobile Free accounts that allow planning and optimizing up to 10 free routes per month without any payments or attachments.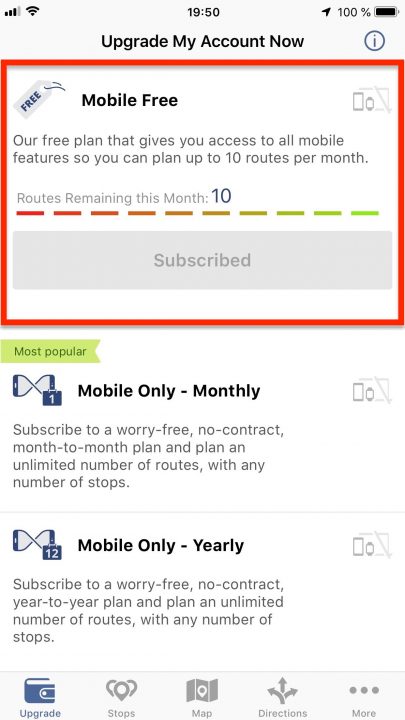 To view all available mobile subscription plans using an iPhone, first, log into your Route4Me account and then go to Upgrade from the navigation menu at the bottom of the screen. If you already have a particular subscription, go to More and then select Account.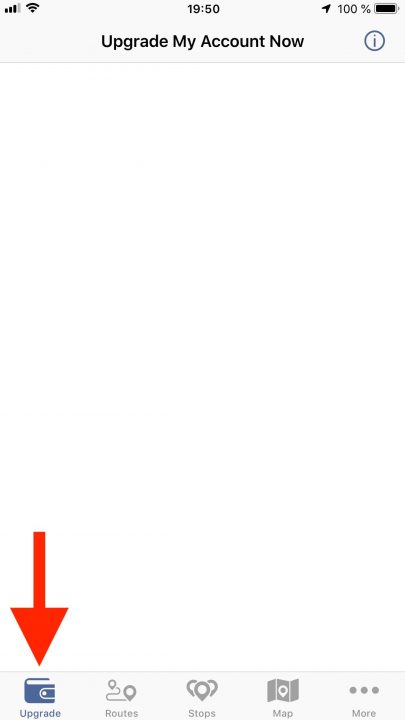 In the Route4Me Mobile tab, you can view and select one of the Mobile Only plans.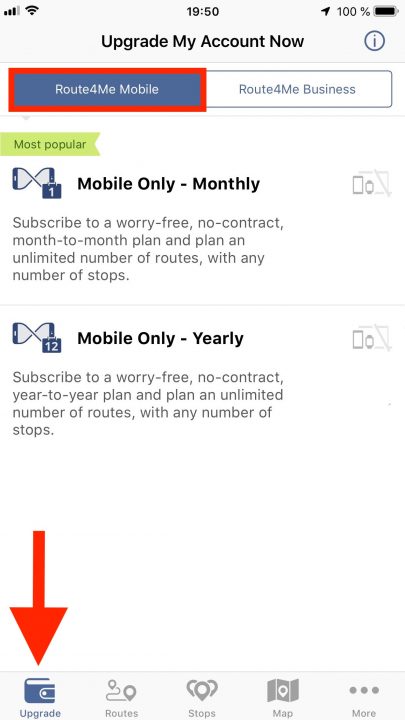 Mobile Only subscription plans are the most suitable and cost-effective options for customers who want to use Route4Me exclusively on their mobile devices.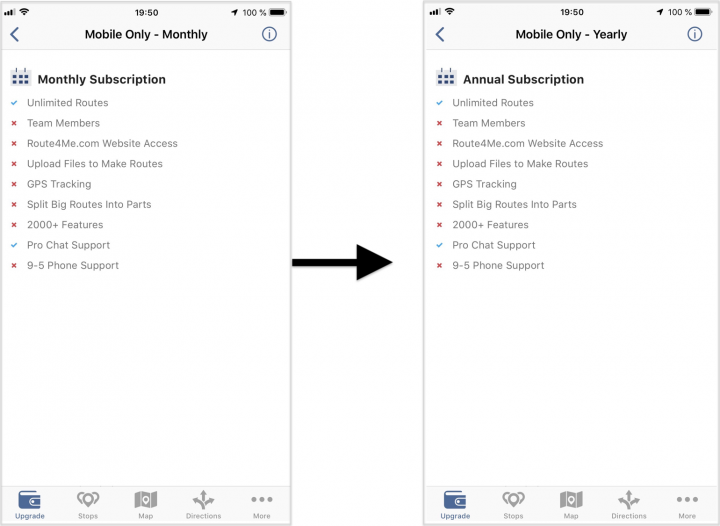 If you want to access more platform functionalities and capabilities, you can opt for one of the corresponding Business subscriptions. To do so, go to Upgrade in the navigation menu at the bottom of the screen and then open the Route4Me Business tab respectively.
Route4Me Business subscription plans offer cost-effective solutions for large and small businesses, providing advanced routing, team management, and tracking features, as well as access to the Route4Me Web Platform where managers and dispatcher can fully benefit from utilizing all available tools for making their operations more efficient and profitable.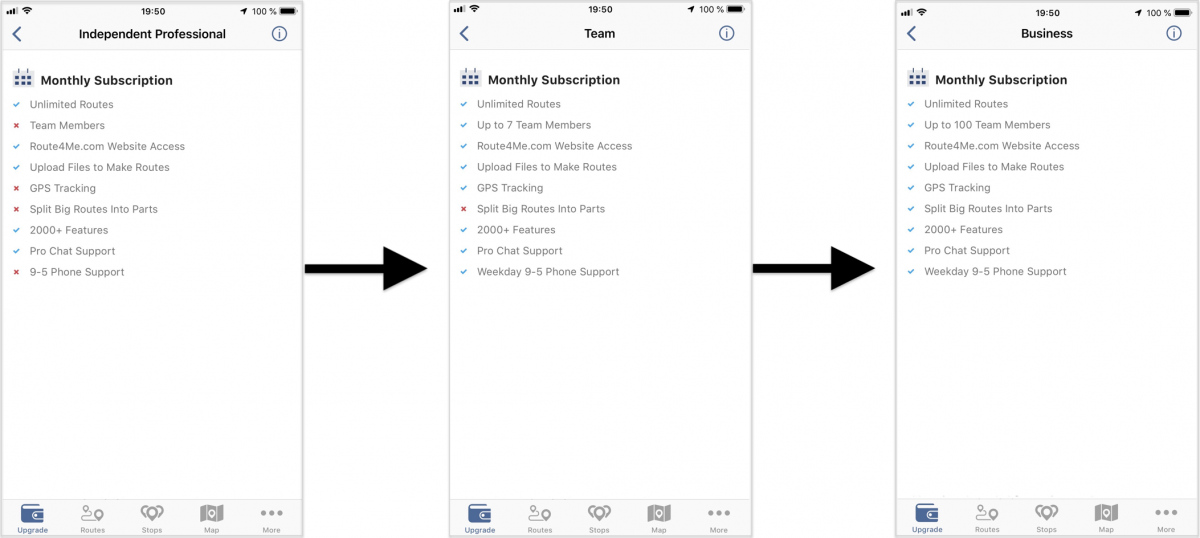 The table below provides the list of all features included into each mobile subscription plan.
| Included Features | Mobile Only – Monthly | Mobile Only – Yearly | Independent Professional | Team | Business |
| --- | --- | --- | --- | --- | --- |
| Subscription Duration | Monthly | Annual | Monthly | Monthly | Monthly |
| Unlimited Routes | | | | | |
| Additional Team Members | | | | Up to 7 Team Members | Up to 100 Team Members |
| Route4Me.com Website Access | | | | | |
| Upload Files to Make Routes | | | | | |
| GPS Tracking | | | | | |
| Split Big Routes into Parts | | | | | |
| 2000+ Features | | | | | |
| Pro Chat Support | | | | | |
| 9-5 Phone Support | | | | | |
Visit Route4Me's Marketplace to Check out Associated Modules: