Privacy and Security Settings – Android Route Planner App
At Route4Me, we are strongly committed to protecting the security of your personal information and your right to privacy. Whenever you use Route4Me's Android Route Planner for optimizing your routing operations, planning routes with contacts from your Android device, or use the camera app on your phone to scan barcodes, your data always stays private and secure. Moreover, Route4Me does not require you to use your personal information to fully benefit from using our services, nevertheless, most customers choose to include personally identifiable information to help achieve their particular business goals.
You Always Know When and What Information You Share with Us
Route4Me offers a vast range of features, and when you use them, some features may require access to such information on your Android device as contacts, camera app, etc. To ensure comfortable and secure user experience, whenever you want to perform an action that requires you to share the data on your Android device with Route4Me, you are always notified about it accordingly. Thus, you never need to worry whether your data is being accessed without your permission.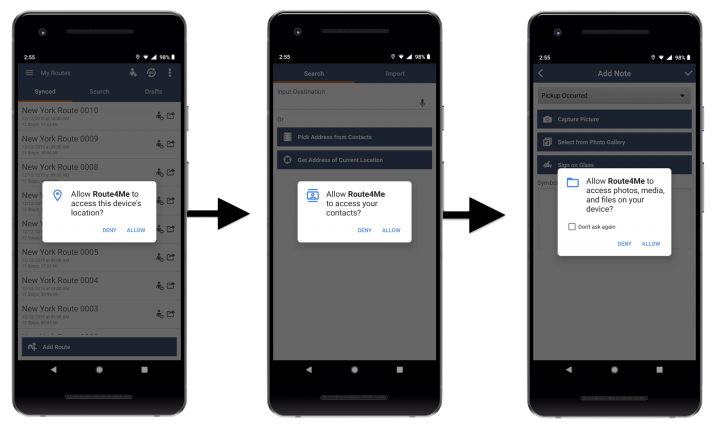 Used and Supported by Hundreds of Thousands of People
Route4Me's Android Route Planner is a certified Android application that can be officially downloaded only from the Google Play store. Thus, you can be sure that our app has passed all the necessary requirements and was approved by Google. Moreover, our reputation speaks for itself – more than half a million downloads on the Google Play store and the positive feedback from our satisfied users show that we work hard to earn the trust of our customers.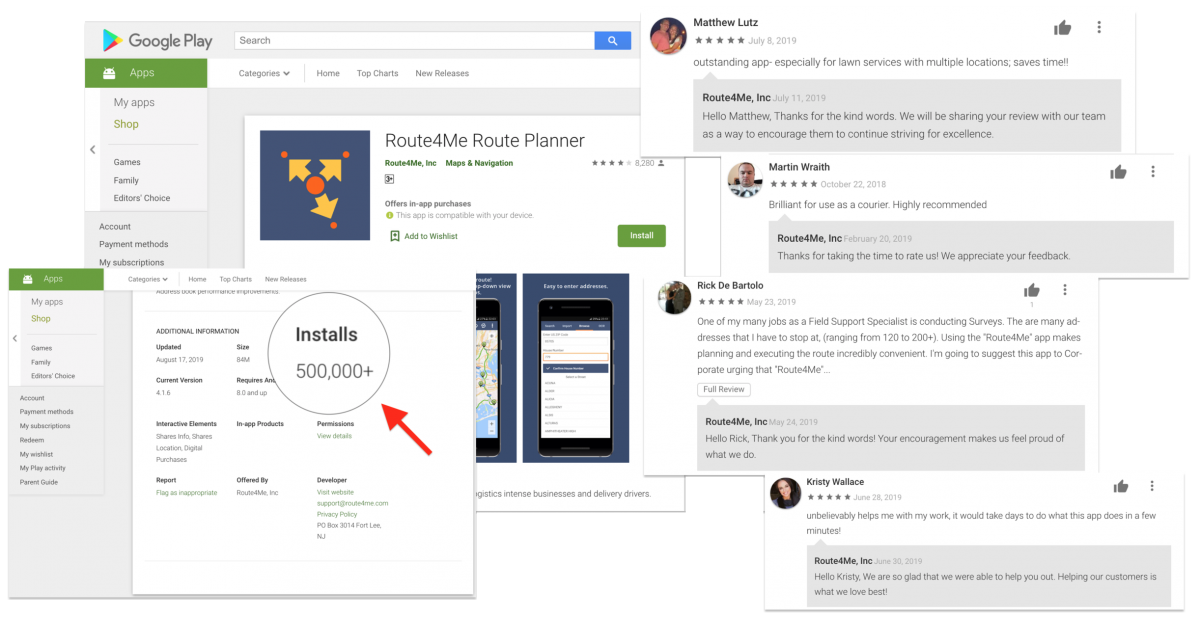 Only You Can Access Your Route4Me's Android Route Planner
To ensure fast and secure authentication, Route4Me uses Google-based single sign-on (SSO) that allows our customers to register for a new account or sign into an existing account in a simple, effortless and refined sign-up process with minimal data input. Thus, in addition to having one-tap access to Route4Me and not having to remember annoying passwords – the privacy of your information is additionally backed up by the bulletproof security of Google's world-class safety infrastructure.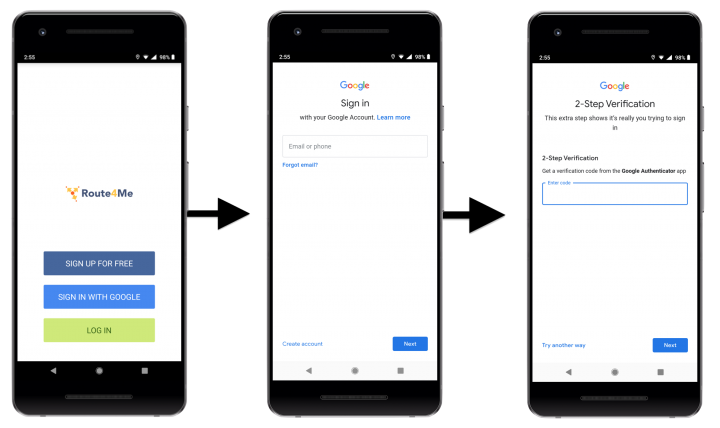 Using Contacts on Your Android Device with Route4Me
With Route4Me's Android Route Planner, you can use contacts stored on your Android device for creating Route4Me Address Book entries, planning optimized routes, and more. When you allow Route4Me's Android app to access contacts on your Android device, you control what data is accessed and how it is used. For example, if you want to use a contact from your phone as a destination on a particular route, Route4Me will not have full access to this contact and will not be able to manipulate this contact on your device in any way. Instead, our app allows you to copy the information of this contact from your phone into the Route4Me app so that you can use it as a separate piece of data.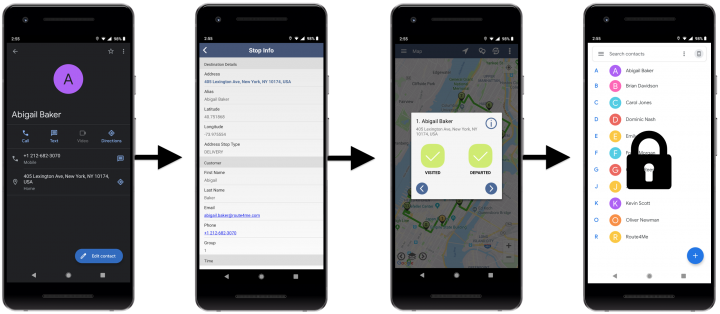 You Are in Charge of What Information You Want to Share
To view and manage all permissions that you give to Route4Me's Android Route Planner on your Android device, first, open the Settings app on your device. After that, use the search to find and open the settings of the Route4Me app on your Android device. To do so, input "Route4Me" into the search field and then select the Route4Me app from the search results. On the "App Info" screen, you can view and adjust the settings of the Route4Me app accordingly. To manage all permissions of the Route4Me app, go to "Permissions."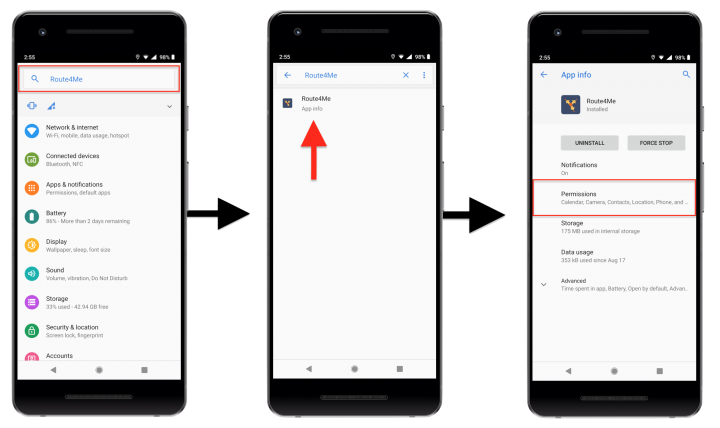 On the "App permissions" screen of the Route4Me app, you can view and manage all permissions of the Route4Me Android app on your Android device. To do so, use the corresponding toggles to enable or disable the preferred permissions respectively.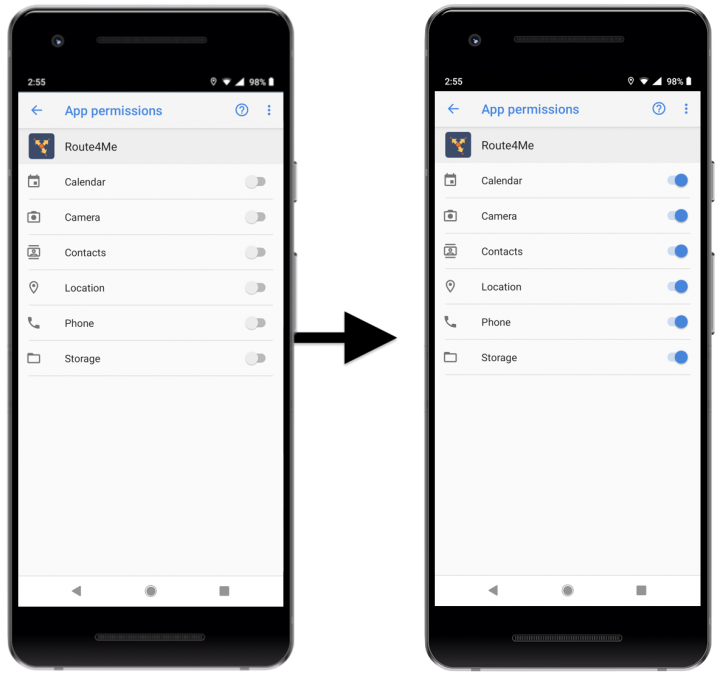 To view more details about each permission, tap on the question mark icon in the top right corner of the "App permissions" screen.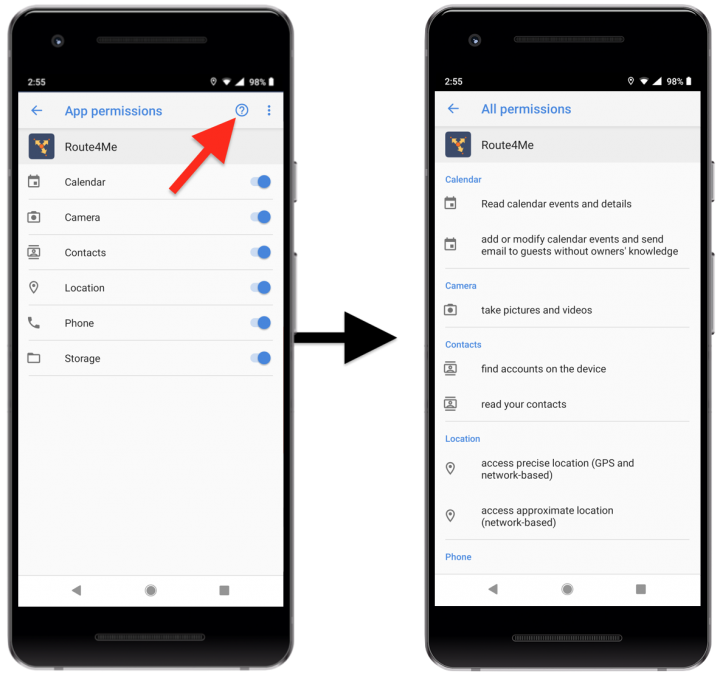 To learn more about what information Route4Me is allowed to collect, how this information is used, and what rights you have in relation to it, please take the time to read our Route4Me Terms of Service and Privacy Policy.