Route4Me for Google Sheets Add-on
With Route4Me for Google Sheets add-on, individual users can simplify and streamline their route planning process, and entire teams can frictionlessly collaborate on common projects in real-time. Now you and your team members don't need to download and re-upload files and jump between apps – geocode addresses, plan and optimize routes all in one space with Google's world-class security infrastructure, seamless data synchronization, and advanced permissions management.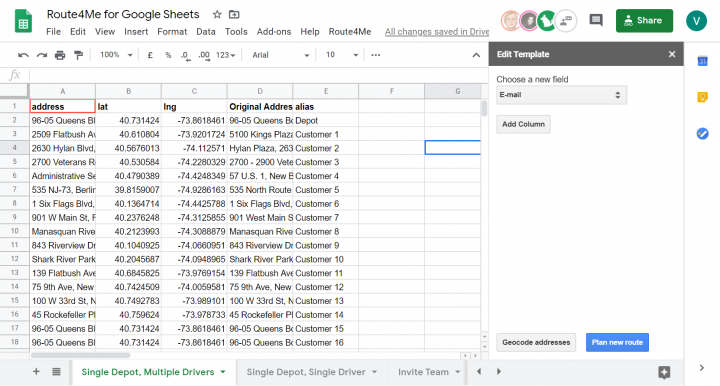 Easy Start
Route4Me for Google Sheets add-on can be easily installed for the entire team with just a few clicks. Moreover, you can pre-set ready-to-use and intuitive templates for first-time-users while experienced Route4Me users can save tons of time by creating, sharing, and using custom templates.
Create, Plan, and Optimize All in One Space
No need to jump between apps – instead of downloading and re-uploading your route data spreadsheets, you can geocode addresses and plan optimized routes right in your Google Sheets files.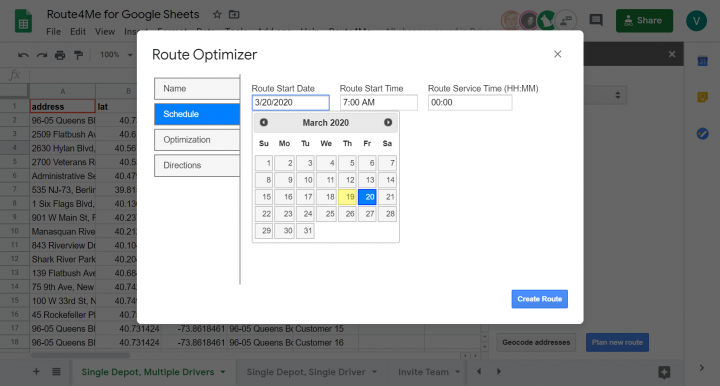 Stay Organized and in Sync with the Team
Route4Me for Google Sheets add-on is enterprise-ready, allowing you to collaborate with your team in real-time with in-editor group chat, commenting, mentions, and task completion tracking. In addition to that, with powerful version control and history revision, you can effortlessly ensure that you and every member of your team is always on the same page.
Permissions Management
With Google's advanced visibility, access, and download permissions, you have full control over who can view and edit your spreadsheets, as well as how you want to share links, files, and folders with your routing data.
Direct Synchronization with Your Route4Me Account
Whenever you plan new routes right in your Google Sheets files, these routes are automatically synchronized with your Route4Me account and instantly become available on the Route4Me Web Platform, as well as Route4Me's iOS and Android mobile apps.
Setup Your Team by Sending Invitations in Bulk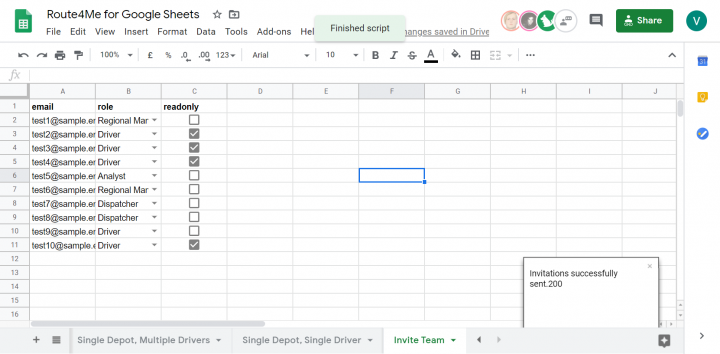 If you have just purchased a Route4Me account and want to set up the team, Route4Me for Google Sheets add-on gives you the possibility to create any size of a team in a sheet and send invitations all at once to the predefined emails.