Recommended Software & Devices – iPhone Route Planner App
Route4Me's iOS Route Planner is designed to make your routing transactions faster and more flexible and permit you to frictionlessly plan, optimize, and navigate routes of any complexity using only your mobile device. In addition to that, Route4Me's iOS app is used by businesses of different types and sizes for dispatching their routes to drivers in the field, capturing proof of delivery or services from customers, communicating and coordinating distributed teams, and much more.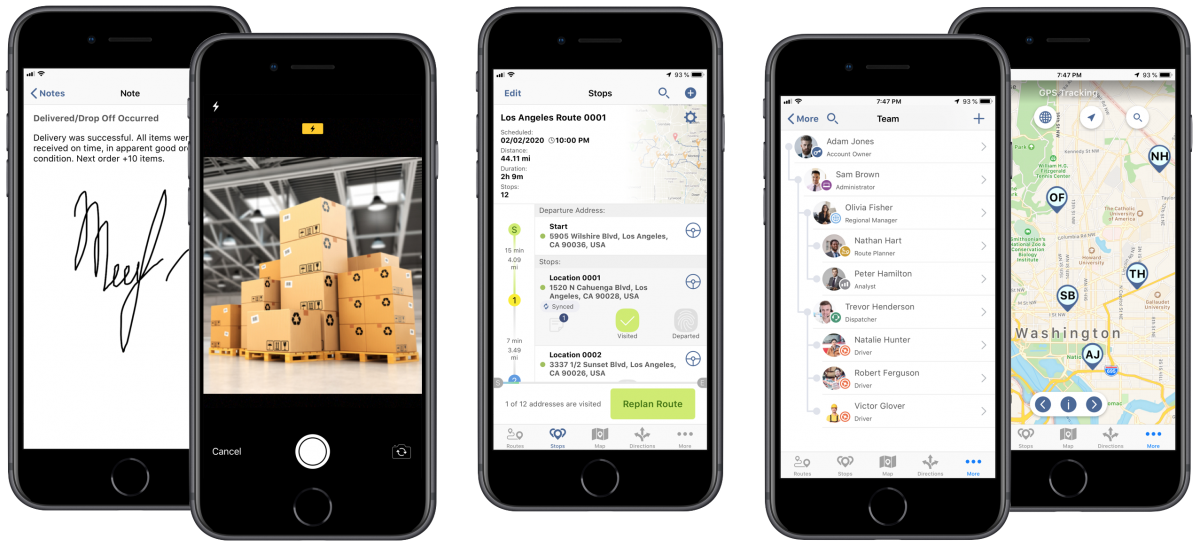 To make sure that you get a smooth, efficient, and productive user experience, Route4Me's iOS Route Planner app can be installed and used on most modern iPhones, iPads, and even iPods. Below you can find the table with the iOS versions and Apple devices that support Route4Me's iOS Route Planner.
NOTE: According to the best security practices, we recommend installing and using the most current version of iOS on your iPhone and the most current version of iPadOS on your iPad for security, performance, user experience, and other purposes.
| Device Model | Device Release Date | Original iOS | Latest Supported iOS | iOS Support Status |
| --- | --- | --- | --- | --- |
| iPhone 5S | September 20, 2013 | iOS 7.0 | iOS 12.4.1 | Latest, exclusive update May 20, 2020 |
| iPhone 6 / 6 Plus | September 19, 2014 | iOS 8.0 | iOS 12.4.1 | Latest, exclusive update May 20, 2020 |
| iPhone 6S / 6S Plus | September 25, 2015 | iOS 9.0.1 | Latest iOS Version | Full Support |
| iPhone SE (1st) | March 31, 2016 | iOS 9.3 | Latest iOS Version | Full Support |
| iPhone 7 / 7 Plus | September 16, 2016 | iOS 10.0.1 | Latest iOS Version | Full Support |
| iPhone 8 / 8 Plus | September 22, 2017 | iOS 11.0 | Latest iOS Version | Full Support |
| iPhone X | November 3, 2017 | iOS 11.0.1 | Latest iOS Version | Full Support |
| iPhone XS / XS Max | September 21, 2018 | iOS 12.0 | Latest iOS Version | Full Support |
| iPhone XR | October 26, 2018 | iOS 12.0 | Latest iOS Version | Full Support |
| iPhone 11 | September 20, 2019 | iOS 13.0 | Latest iOS Version | Full Support |
| iPhone 11 Pro / 11 Pro Max | September 20, 2019 | iOS 13.0 | Latest iOS Version | Full Support |
| iPhone SE (2nd) | April 24, 2020 | iOS 13.4 | Latest iOS Version | Full Support |
| iPad 4 | November 12, 2012 | iOS 6.0 | iOS 10.3.4 | Stopped – September 18, 2017 |
| iPad Air | November 1, 2013 | iOS 7.0.3 | iOS 12.4.6 | Stopped – September 24, 2019 |
| iPad Mini 2 | November 12, 2013 | iOS 7.0.3 | iOS 12.4.6 | Stopped – September 24, 2019 |
| iPad Mini 3 | October 22, 2014 | iOS 8.1 | iOS 12.4.6 | Stopped – September 24, 2019 |
| iPad Air 2 | October 22, 2014 | iOS 8.1 | Latest iOS Version | Full Support |
| iPad Mini 4 | September 9, 2015 | iOS 9.0 | Latest iOS Version | Full Support |
| iPad Pro (1st, 12.9) | November 11, 2015 | iOS 9.1 | Latest iOS Version | Full Support |
| iPad Pro (1st, 9.7) | March 31, 2016 | iOS 9.3 | Latest iOS Version | Full Support |
| iPad (5th generation) | March 24, 2017 | iOS 10.2.1 | Latest iOS Version | Full Support |
| iPad Pro (2nd, 10.5 / 12.9) | June 13, 2017 | iOS 10.3.2 | Latest iOS Version | Full Support |
| iPad (6th generation) | March 27, 2018 | iOS 11.2.6 | Latest iOS Version | Full Support |
| iPad Pro (3rd, 11 / 12.9) | October 30, 2018 | iOS 12.1 | Latest iOS Version | Full Support |
| iPad Air (3rd generation) | March 18, 2019 | iOS 12.2 | Latest iOS Version | Full Support |
| iPad Mini (5th generation) | March 18, 2019 | iOS 12.2 | Latest iOS Version | Full Support |
| iPad (7th generation) | September 25, 2019 | iPadOS 13.1 | Latest iPadOS Version | Full Support |
| iPad Pro (4th, 11 / 12.9) | March 25, 2020 | iPadOS 13.4 | Latest iPadOS Version | Full Support |
Visit Route4Me's Marketplace to Check out Various Modules and Add-Ons: