Group Code Addresses – Add Group IDs to Search Groups Addresses
Your Route4Me Address Book (List/Map) is a centralized database where you and your team members can securely store and manage the information about hundreds of thousands of customers' locations, depots, pick up and drop off locations, delivery addresses, commercial facilities, warehouses, and any other relevant prospects or real-world locations. With Route4Me's Advanced Search Groups Add-On, you can effortlessly structure, filter, and utilize all this data for your particular business needs or unique business model. Moreover, you are also able to group code all your addresses and contacts with custom group identifiers for even easier filtering and searching. Group coding your addresses and contacts with custom-defined group identifiers allows you to create search groups that will filter your entire Address Book by customers with particular statuses or visitation priority, customers that are located in a specific commercial or geographical area, and virtually any other group identifier that you want to create and use. Your addresses can be group coded one by one, as well as uploaded with custom group identifiers in bulk.
To group-code your addresses and contacts, first, go to "Address Book Map" from the navigation menu.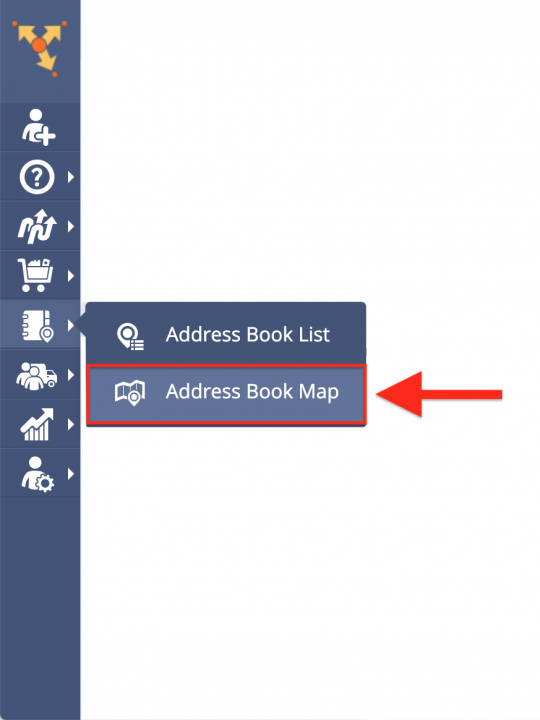 You can group code your addresses when picking them right from the map and adding the addresses to your Address Book. Learn more about how to add addresses with group identifiers using the Address Book List.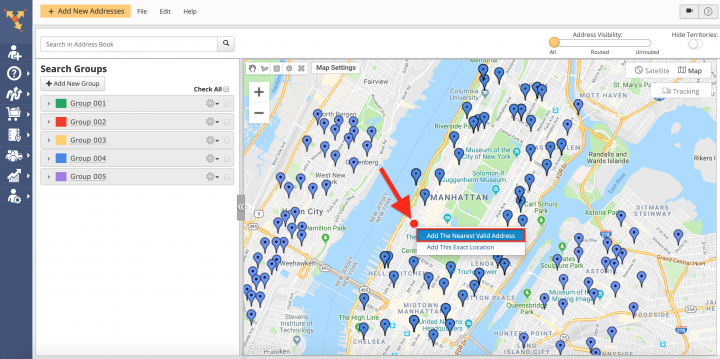 You can also group code your addresses when editing the addresses right on the map. Learn more about how to edit addresses and their group identifiers in the Address Book List.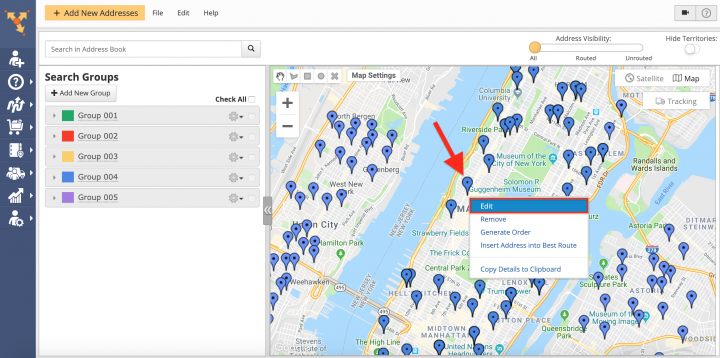 When you are creating a new or editing an existing address in your Address Book Map/List, to add or edit its group identifier, first, go to the "Location Details" tab and then input the preferred custom group identifier (word/number) into the corresponding field.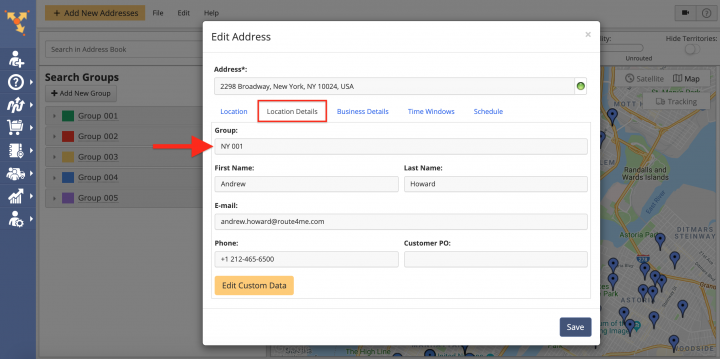 Learn more about how to check group identifiers of your existing addresses in the Address Book List.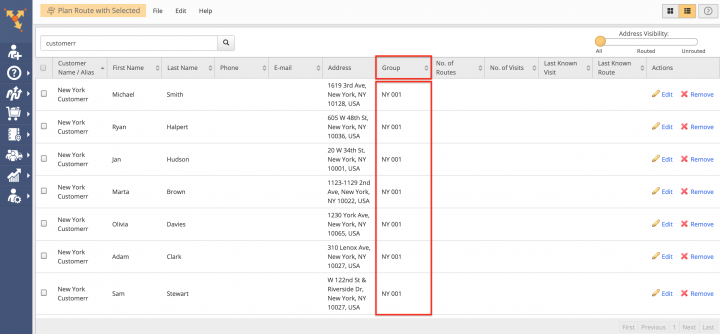 You can also group code multiple addresses in a spreadsheet and then upload this spreadsheet into the system. To upload a spreadsheet with addresses into the Address Book Map, first, go to "File" and then select "Upload Addresses" from the list.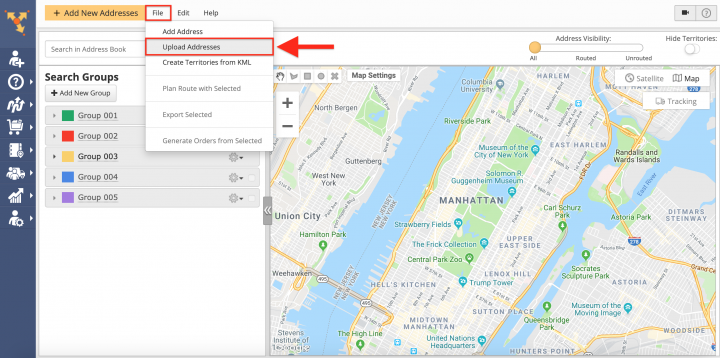 After that, upload a spreadsheet with the corresponding "Group" column and other reserved attributes (i.e., Alias, Address, Cube, etc.) into the system. Learn more about spreadsheet requirements.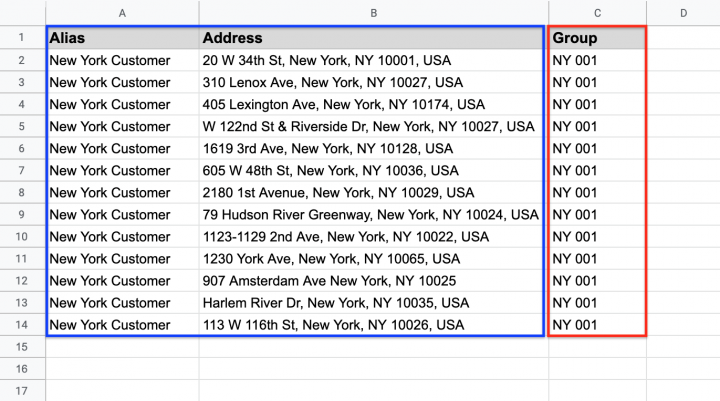 To filter your addresses by their group identifiers, first, create a new rule in a particular search group and then select "Group" as a search field.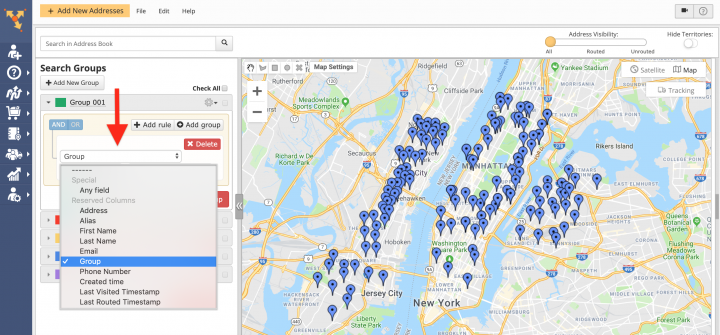 After that, select the preferred operator (i.e., contains, etc.) and then input the group identifier of the addresses that you want to filter. In the example below, the corresponding search group filters all addresses by the "Group" search field and then displays on the map all addresses that contain the "NY 001" group identifier.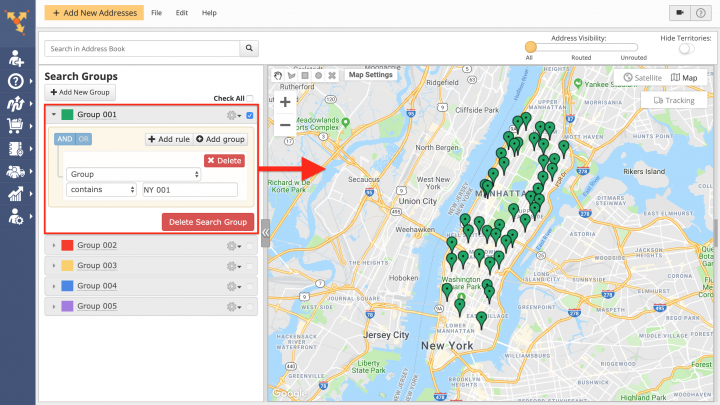 Visit Route4Me Marketplace to Check Out More Add-Ons: