Route Planning Software and Last Mile Delivery Trends in 2023
In 2023, route optimization and route planning software solutions have become imperative for last mile businesses, eCommerce delivery, field service operations, food delivery services, and virtually any logistics-intense business out there. Learn why below.
Table of Contents
1. Why Is Route Planning Software a Must in 2023?
Free route planning software, trip planners, and journey planners such as Google Maps, the AA route planner, the TomTom route planner, or MapQuest have always been popular choices among small couriers and field service businesses. However, a free route planner cannot accommodate the surge in last-mile delivery demand that came together with the COVID-19 pandemic. Nor can they handle complex routing scenarios.
To keep up with emerging trends and ever-changing customer behavior, last mile carriers, food delivery service providers, and field service technicians need more than free driving directions. To run an efficient operation, you have to step up your fleet management game, plan ahead, and stay on top of any challenge or obstacle that could delay your field employees and delivery drivers.
Today's most in-demand route planners will help you make your last mile logistics processes more efficient with a few clicks. Route4Me, Onfleet, Routific, MyRouteOnline, and OptimoRoute are among the best route planners in 2023.
Planning and scheduling, route optimization, route management, GPS navigation with live traffic information, route planner apps: these are the things that matter the most today for any business that has to visit more than a couple of customers daily.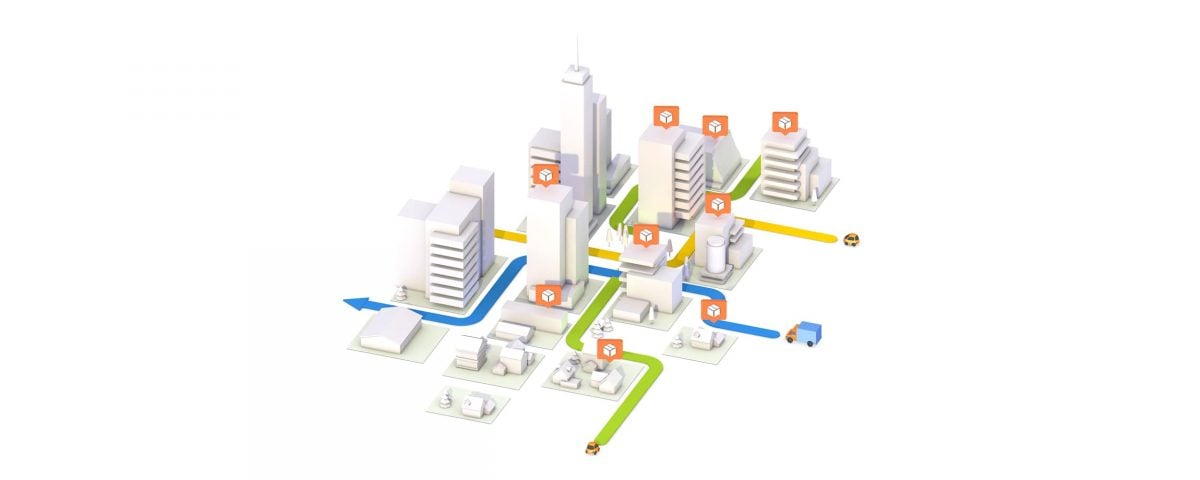 2. 2023 Trends: Retail. eCommerce. M-Commerce
The COVID-19 pandemic pushed customers out of brick-and-mortar stores. 2020 looked like the retail apocalypse for many wholesalers and retailers that were forced to shutter their store windows for good. Yet, consumers moved their businesses elsewhere fast.
People started ordering everything online – from fresh groceries to furniture. On that note, eCommerce and online shopping registered an unprecedented boom. Not only that, but m-commerce or mobile commerce was – and still is – on the rise. In fact, m-commerce is expected to engulf 44% of e-commerce by 2024.
And that's no surprise – more and more internet users are now mobile!
Moreover, almost 49% of today's consumers make online purchases via smartphones.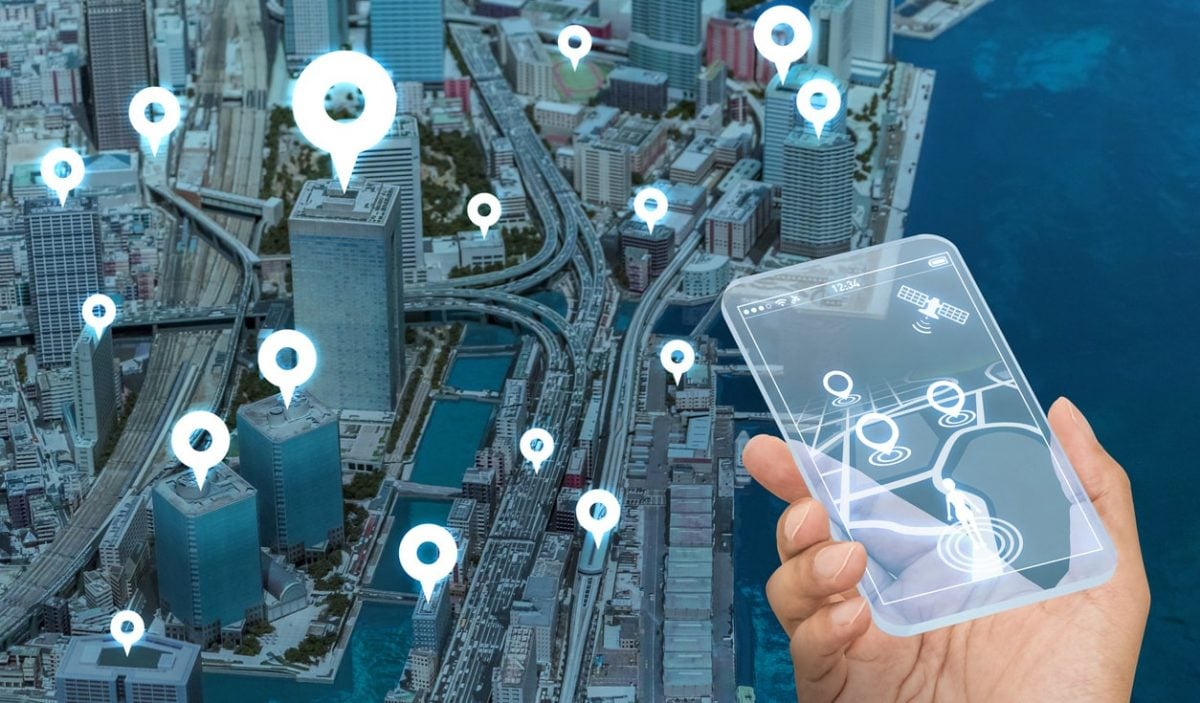 3. Meeting the Expectations of Mobile Customers With Route Planning
To enhance customer experience in an increasingly mobile environment, you shouldn't stop at improving the online shopping experience. As stated in a Convey research paper:
An unsatisfactory last-mile delivery service will make over 80% of customers turn to other brands
Almost 100% of all customers consider delivery as a decisive factor in terms of brand loyalty
Even though the world is going mobile, customer experience shouldn't stop at checkout. On the contrary, you should think about increasing the customer's visibility into the entire order fulfillment process.
How? With a route planner. It's that simple!
For example, the Route4Me route planner enables you to:
Keep your customers updated on the order status with SMS or email notifications
Provide customers with the capability to track and trace their packages in near real-time using their phones
Capture paperless POD with Sign-on-Glass technology straight on a mobile phone
Sync, map, and route your eCommerce online orders in seconds
Plan and optimize the shortest, fastest, and most cost-efficient routes
And a lot more!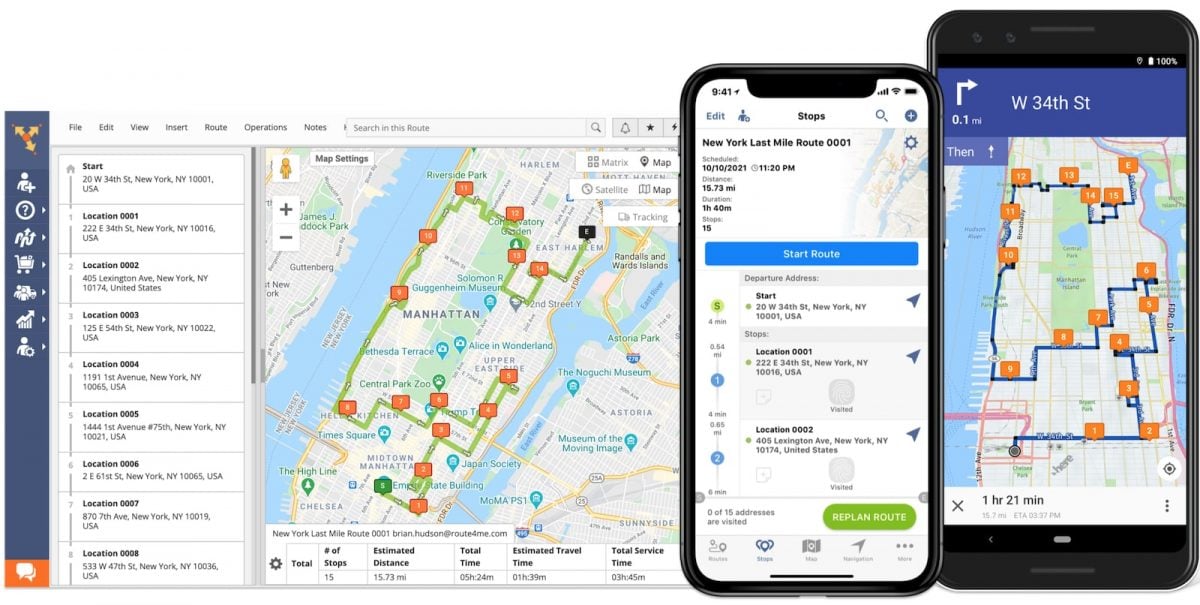 4. What Does a Route Planner Do?
A route planner is a cloud-based software solution or a mobile app that sequences hundreds of thousands of addresses in the most cost-efficient and time-effective routes. As opposed to pen and paper route planning, route planning software goes through millions of routing scenarios before outputting the most optimal visitation sequence for multiple destinations. And it does so in a few seconds.
The route planning solutions market has a lot to offer, from simple, free mapping tools like the Google route planner to cutting edge route optimization software like Route4Me.
Aside from route planning and optimization, some route planners offer additional delivery management, fleet management, and order management features. Other routing solutions provide last-mile carriers and other businesses with a fleet with everything they need to run their logistics operation successfully.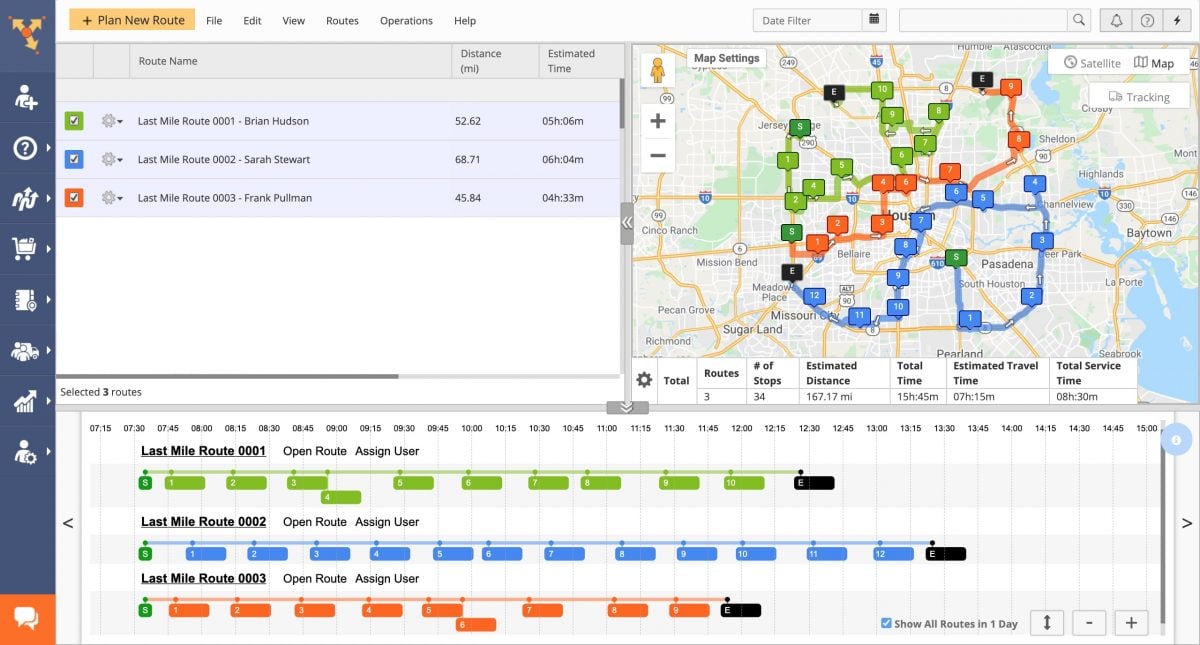 5. 2023 Trends: Last-Mile Delivery. Curbside Delivery. Curbside Pickup
Not only consumers are going mobile. More and more field service businesses, including delivery and couriers, are on the lookout for mobile technologies to help them manage their business on the go, improve communication, and streamline collaboration across their field teams.
Mobile apps for retailers, delivery drivers, and field technicians are becoming more efficient in terms of:
Making customer information readily available
Enabling paperless proof of delivery (POD) and proof of service capture
Simplifying contactless delivery, curbside pickup, and curbside delivery
Speaking of curbside pickup: in order to survive the massive brick-and-mortar store shutdown, shop owners started offering curbside pickup services via online platforms and curbside pickup apps. The result? A staggering growth of 208% in the number of pickup orders!
Although many restaurants and brick-and-mortar stores started adding curbside pickup to their services list, most of them didn't know how to handle it well. According to a Medallia Zingle social report, almost 50% of customers that tried curbside pickup services were not satisfied, reporting that the services have been "a little rocky or poor".
As per contactless delivery, a Statista survey discovered that "37% of respondents had used contactless delivery more than usual".
Since the pandemic has not yet ended, these trends are still valid today – and businesses need to adapt.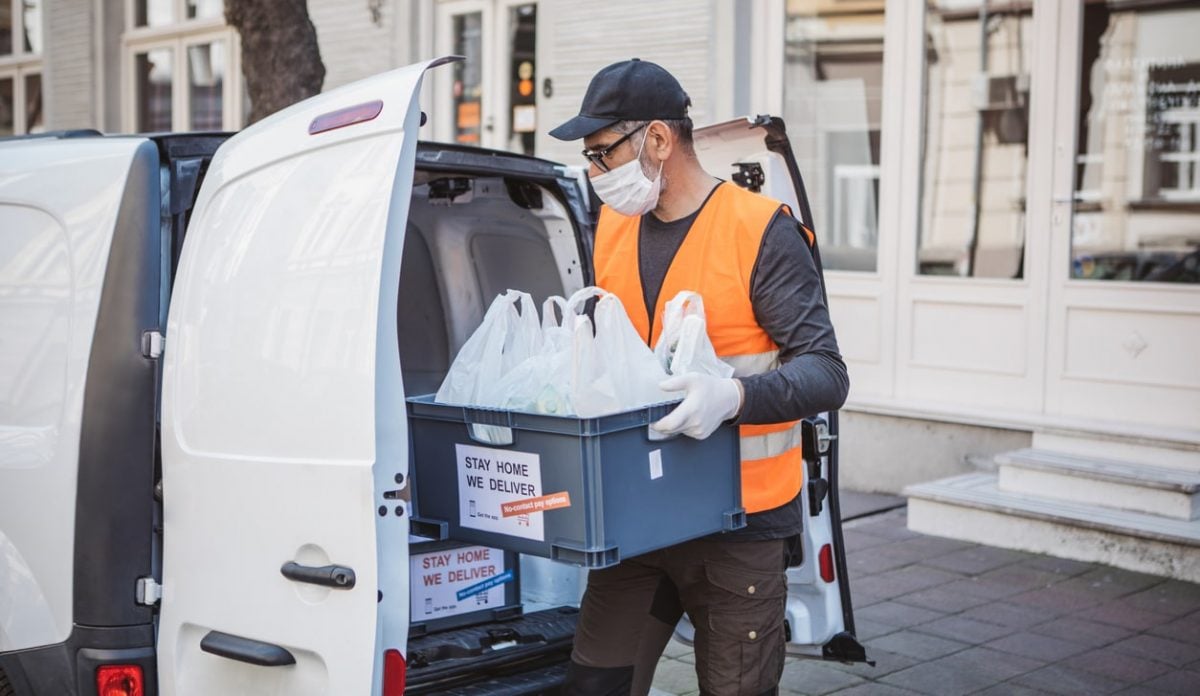 6. Meeting Curbside Pickup and Contactless Delivery Expectations
1. Curbside Pickup App
Just like a route planner is vital for efficient delivery, a curbside pickup app is essential for frictionless curbside pickup service. The Route4Me pickup app helps retailers and restaurants:
Fulfill pickup orders with ease
Identify customers' cars upon arrival
Match the right order with the right customer
Provide contactless pickup
Connect their eCommerce store to the curbside pickup app
Provide customers with driving directions to reach the pickup location
Track pickup statuses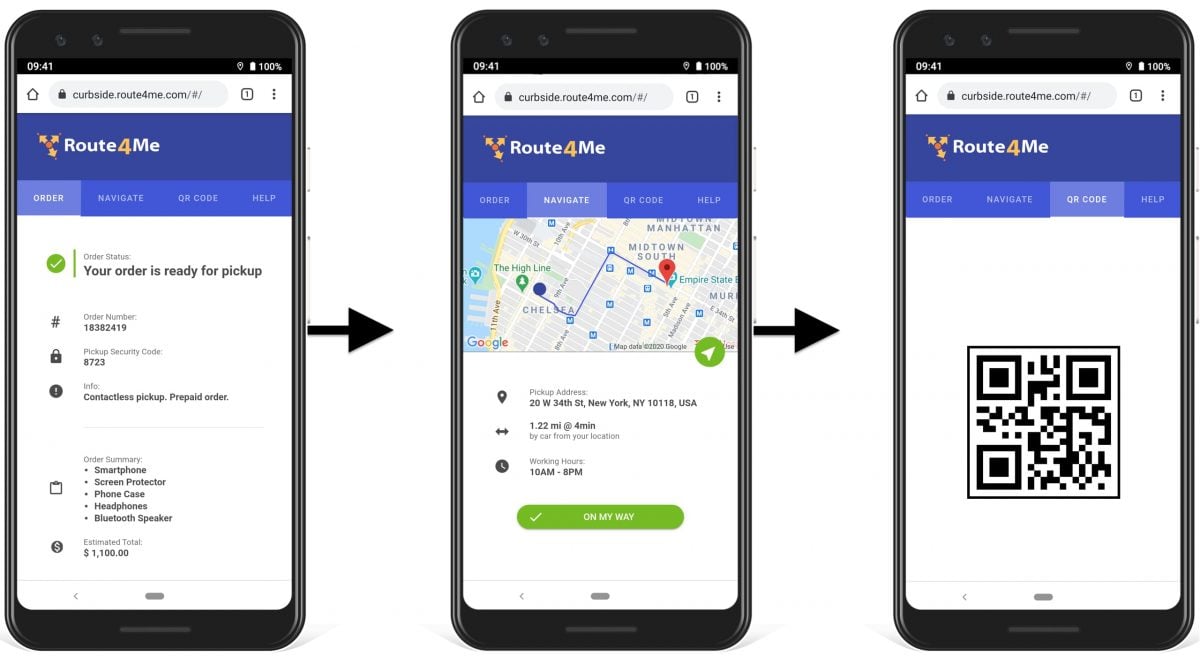 2. Contactless Delivery
To leverage contactless delivery successfully and at scale, you need to improve the communication between delivery drivers and customers. The Route4Me Route Planner for delivery drivers helps you do so by: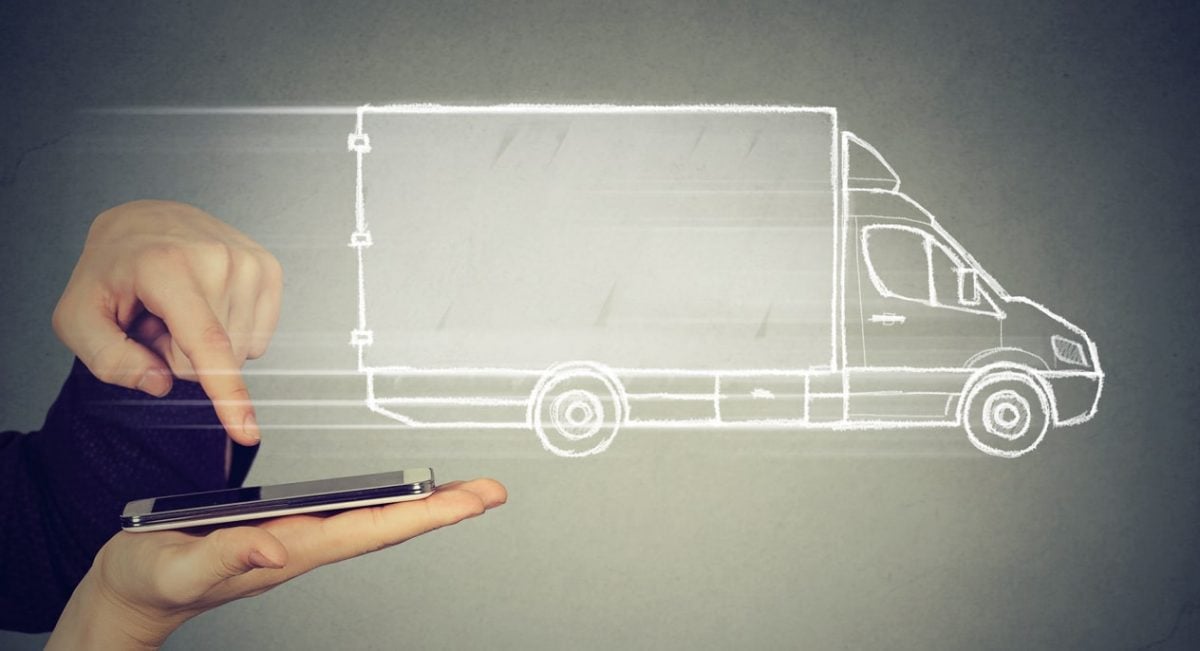 7. Route Planning – From a Nice-to-Have to Industry Standard
According to a GlobeNewswire report on the route optimization software market, today's companies are focused on reducing their environmental footprint as much as possible while also trying to make the most of their fleet assets.
Route planning and optimization can reduce the environmental impact and carbon emissions by shortening driving distances and improving fleet utilization. Moreover, the same GlobeNewswire paper reports that courier giant DHL managed to increase delivery driver productivity by 15% while reducing operational costs after implementing route optimization software.
Route planning has become an industry standard, helping last-mile businesses deliver more packages faster and with fewer fleet resources while reducing emissions.
To support carriers' efforts of going green(er), the Route4Me multi stop route planner enables businesses to measure their Carbon Dioxide (CO2) pound emissions per individual fleet vehicle as well as the entire fleet. This feature offers a real indicator of how much fuel each delivery car uses per day and what carbon footprint it has.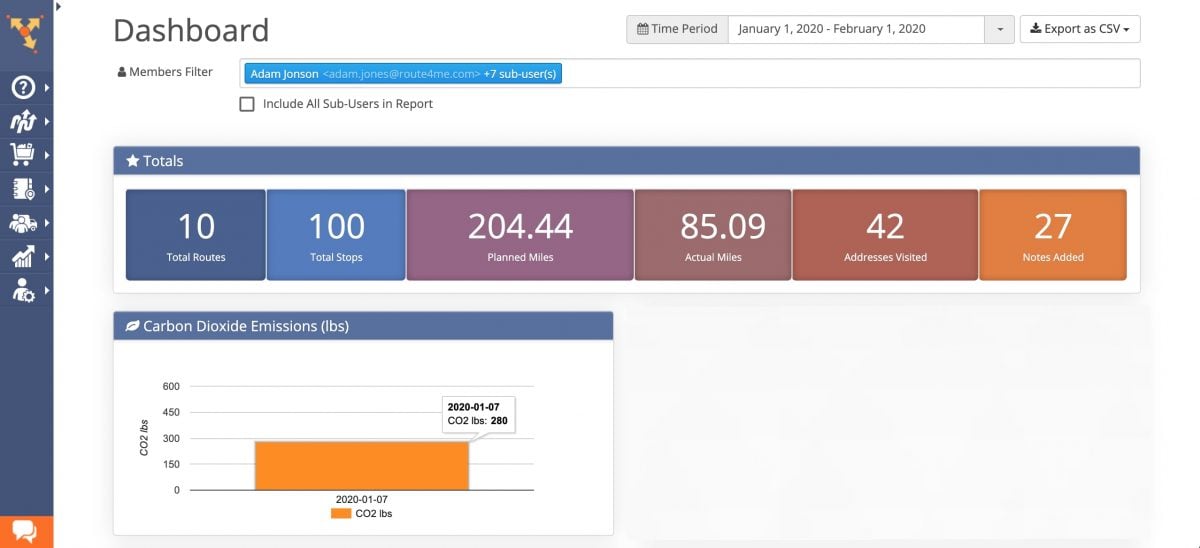 8. Route Planning Benefits
Route planning and route optimization go hand in hand. By optimizing your multi stop routes with a capable route planner, you will:
Increase profits and save time
Improve fleet and driver performance and efficiency
Reduce transportation costs, fuel consumption, and windshield time
Optimize fleet resource allocation
Reduce daily planning from hours to minutes – or even less than 60 seconds!
Improve driver safety and avoid dangerous turns
Simplify scheduling and automate route planning for recurring orders
Ensure even workload distribution among delivery drivers
Reduce your business's environmental impact
AND more!
Moreover, the return on investment (ROI) when purchasing routing software is usually impressive. For example, with Route4Me, your business can achieve a 300% increase in operational efficiency – without additional hires.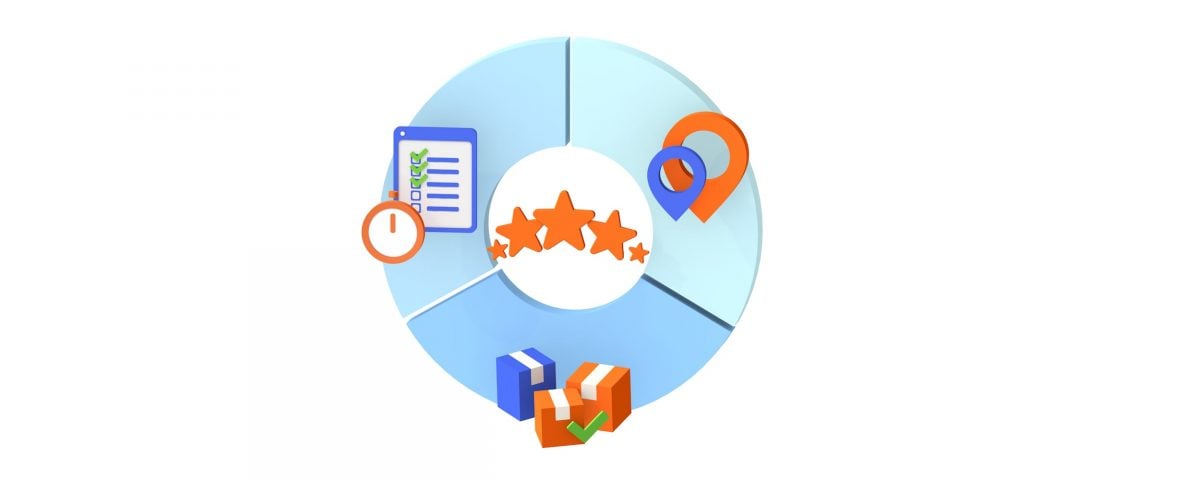 Free Route Planner Unlimited Stops Trial
Before you invest into route planning and route optimization software of any type, make sure that it offers a free route planner unlimited stops trail. The free route planner trial will allow you to test the software within your unique business environment and see how it will benefit your specific business. The unlimited stops will ensure that you can try the software without any limitations and that the route planner will not have any hidden costs after you purchase it.
Want to put your route planning and route optimization on autopilot? Sign up for a Route4Me 7-Day Free Route Planner Unlimited Stops Test Drive.