How to Choose the Best Proof of Delivery App 2023
In 2023, a proof of delivery (POD) app can help you keep both your delivery drivers and your customers happy. Proof of delivery is also useful when transporting important papers such as legal or financial documents. POD helps you stay compliant.
For example, healthcare providers need to keep records of their POD so they can prove that patients received lenses and glasses paid by the Centers for Medicare and Medicaid Services. This is just one of the many instances where proof of delivery can help you avoid fines and legal consequences.
Having proof of delivery for each package drop off will enable you to solve disputes easily and clarify false claims. No wonder so many courier services and delivery businesses think of POD as a safety net that helps them protect their reputation in case a customer falsely claims they didn't receive an order.
Table of Contents
What Is Proof of Delivery?
Proof of delivery or POD refers to delivery documents, such as delivery notes, that are signed by the customer upon receiving a package. POD slips serve as evidence that delivery was successfully made and the customer received their order. Courier and delivery service providers are collecting proof of delivery to ensure that their delivery drivers are honest and their customers don't make false accusations.
Why Is Proof of Delivery Important?
POD can save you from a lot of uncomfortable situations when otherwise you wouldn't know who to believe – your delivery driver or your customer. Plus, when not having POD slips, if a customer falsely claims they didn't have their package delivered, you wouldn't have the evidence to prove they're lying. You would have to refund them, which means that you'll lose money to fraud.
POD or delivery confirmation helps delivery businesses ensure that they're on the same page with the customer. It can enhance the delivery experience and help las mile carriers stay compliant with delivery confirmation and e-Signature regulations and laws.
Proof of Delivery for Contactless Delivery and Curbside Pickup
During the COVID-19 pandemic, last-mile services had to offer contactless alternatives to keep both delivery drivers and customers safe. For a last mile carrier or courier service provider to offer contactless delivery and curbside pickup with POD, electronic signatures were no longer an option.
To help delivery businesses like yours comply with these requirements, the Route4Me multi-stop route planner enables you to capture proof of delivery as photos, videos, voice recordings, and text. This will help your delivery drivers and curbside pickup staff capture POD without having to closely interact with the customer.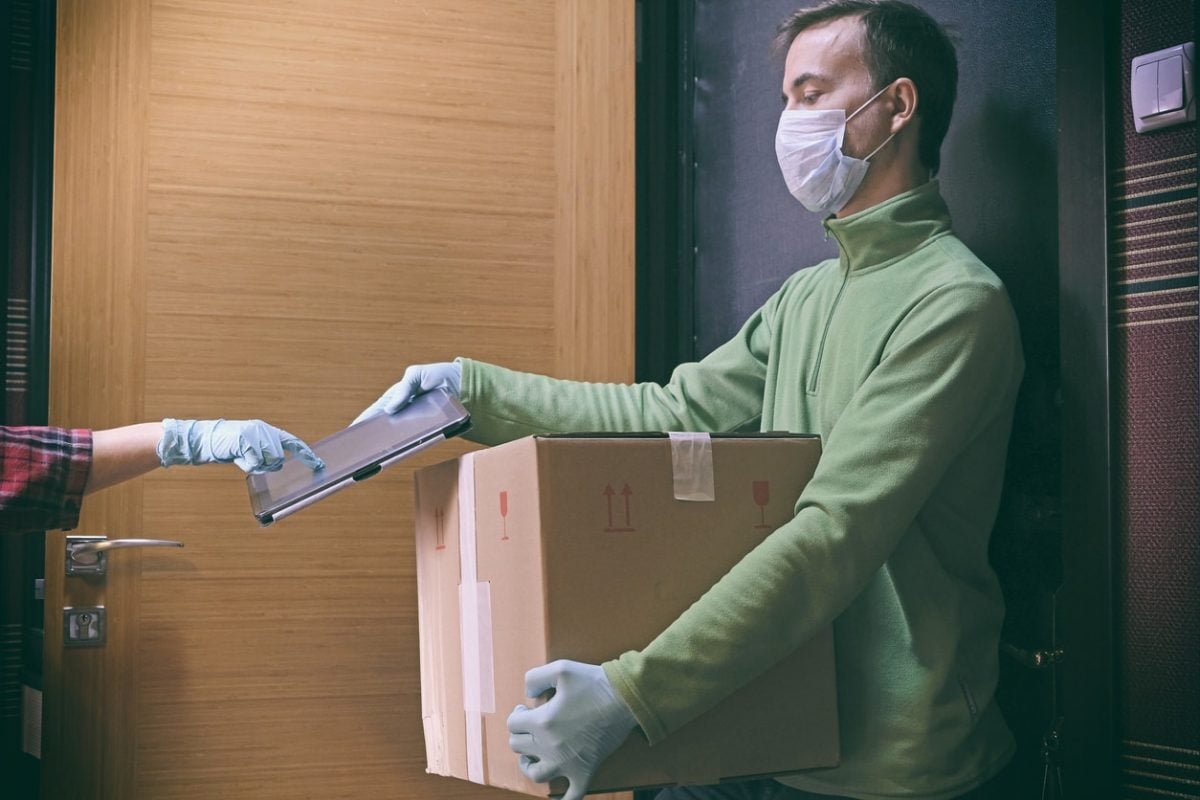 How Do I Get Proof of Delivery?
There are 3 different methods of collecting proof of delivery.
1. Paper Slips as Proof of Delivery
You can use paper slips that customers need to sign whenever they receive a package. The downside of using physical POD is that it's easy to lose or misplace them. They could easily fly out of the delivery car or off your desk if not carefully collected and filed.
2. eSignature Pads for Delivery Confirmation
Another way to collect proof of delivery is by using e-signature pads and similar hardware. When choosing this option, you have to invest money in new, expensive equipment that only serves one purpose: collecting customer signatures.
3. Proof of Delivery Apps
The third and most cost-efficient method to ensure your drivers collect proof of delivery easily without losing any paper slips or without having to invest in 2-signature devices is to use a mobile app. There are apps out there specifically created for collecting proof of delivery. Also, there are delivery management systems that have POD-collecting features.
Which one is right for your local delivery business?
How to Choose the Best Proof of Delivery App in 2023
When you're on the lookout for the best proof of delivery app in 2023, you have to follow 5 simple steps to find the perfect one for your small courier business. Here's what to look for when trying to choose the best POD app for your delivery drivers:
1. Choose a Complete Delivery Management Solution
The first step in finding the perfect POD app for your last-mile delivery operation is to decide on which type of app you'd like to implement across your company. As mentioned above, you could opt for a stand-alone proof of delivery app, or you could choose a more complex delivery management solution with POD features and capabilities.
To avoid disparate systems and having data in more than one centralized database, you should consider implementing a delivery management solution such as Route4Me route planner for delivery drivers.
The Route4Me multi stop route planner with unlimited stops offers you the possibility to plan and optimize your delivery routes, track delivery drivers, notify customers on their order status, enable customers to track and trace their parcels, collect proof of delivery, and a lot more.
When implementing such a complex delivery management system, you'll have all the data you need at hand – all the time. You wouldn't have to switch between a route planner and a POD app to find a piece of information – you'll have it all in one place.

2. Look for Multiple Supported POD Formats
Since delivery ETAs must be met as closely as possible to gain credibility in the last mile carrier landscape, flexibility and adaptability are the keys to success. Plus, during the COVID-19 pandemic, enabling your delivery drivers to add different media attachments – as opposed to signature-only POD – to prove that a drop off was successfully made will keep your employees safe.
With the Route4Me multi stop route planner app, your delivery drivers could attach images, voice recordings, videos, and other POD formats. This will help them decrease delivery service time per stop since they will always have an easy POD format to add to each address. They will not need to wait for each customer's signature.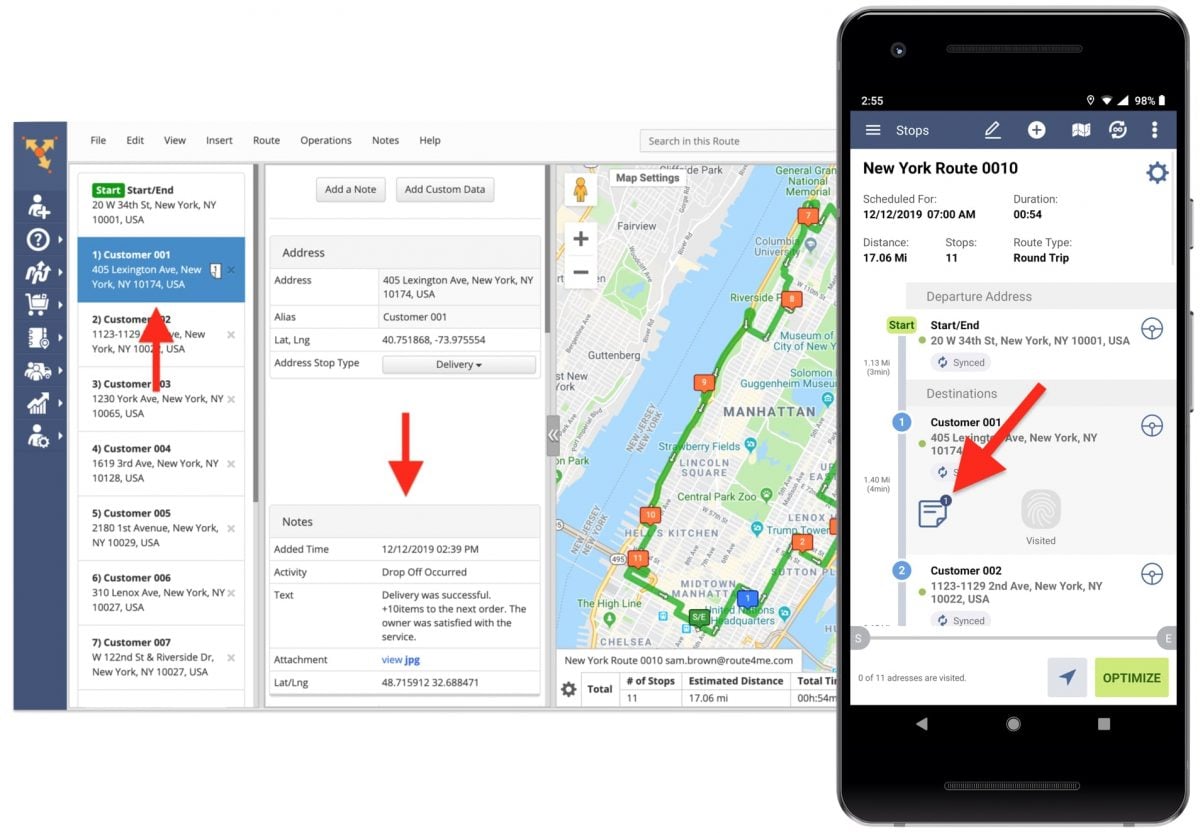 3. Make Sure the Proof of Delivery App Can Capture Signatures
Although it's not the only way to go, e-signature proof of delivery is still one indisputable and incontestable way to collect POD when offering delivery services. eSignature capabilities are a must when it comes to POD apps for delivery businesses.
The Route4Me iOS and Android route planner apps enable delivery drivers to collect customers' signatures with nothing else but their smartphones – no additional eSignature pads needed.
As opposed to using customer signature paper slips, collecting eSignatures with a POD app will help you minimize the risk of losing data and save time on sorting and filing paper-based proof of delivery documents. Moreover, eSignatures and electronic proof of delivery will help you stay compliant with state and local regulations in terms of delivery confirmation.

4. Try to Find a Free Proof of Delivery App
If you've already paid for a delivery management solution and route planner, you shouldn't have to spend a dime on the proof of delivery app. The Route4Me mobile route planner with POD features is free after setting up a Route4Me account. You can also sign up for Route4Me's 7-day free trial and start collecting e-signatures and delivery confirmation with the proof of delivery app.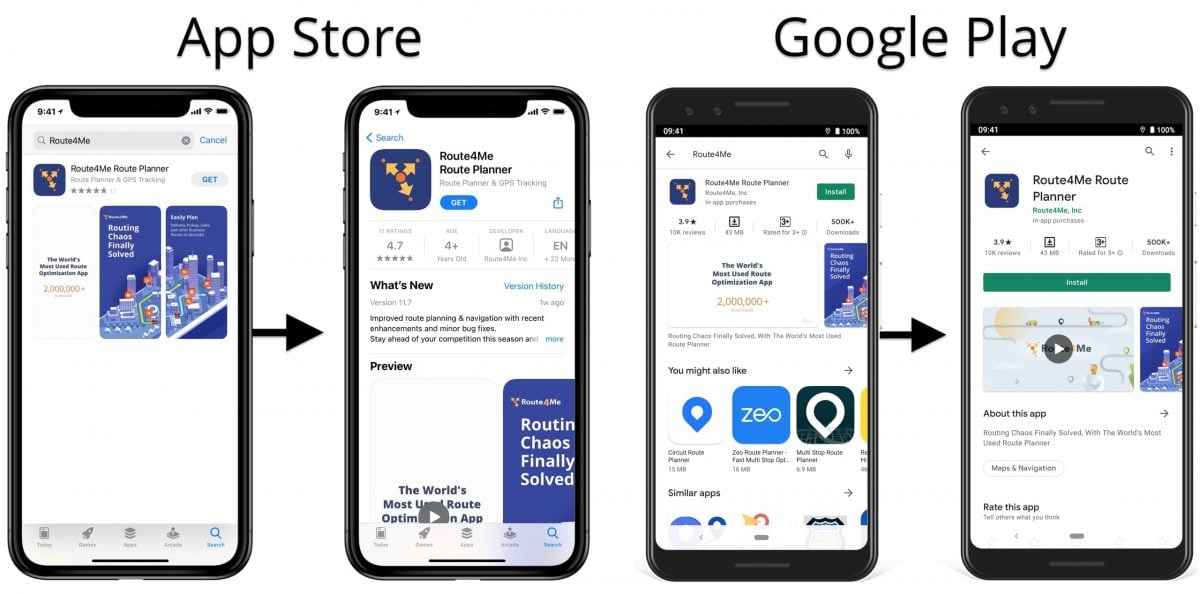 5. Pick a POD App with a User-Friendly Interface
At the end of the day, your delivery drivers will be the ones using the proof of delivery app the most. And since they're usually on a tight delivery schedule, you should always look for ways to make their jobs easier and frictionless. This applies to POD apps as well: you should look for an intuitive design and a user-friendly interface.
The last thing you want when implementing new proof of delivery solutions is to frustrate your employees and have them scrolling through the app every time they need to use it. Choose an easy to use POD app.